Batam is an island in Indonesia, located really close to the coast of Singapore. You may take a ferry from Harbourfront in Singapore which takes about 45 minutes to an hour journey, depending on which port you are heading to in Batam. If you are heading to Nagoya Hill, do take a ferry to Harbour Bay in Batam.
This post is particularly focusing on Nagoya Hill, being the main town in Batam where you will get to know the local cultures and food. There are many Singaporeans or Malaysians that would tour these places by themselves too.
A piece of advice: You may want to take extra precaution and measures if you are visiting Batam by doing sufficient research on the estimated cost/fares such as taxis, and avoid secluded areas. I would suggest staying over a night or two, to really discover its local food and good massage centres.
---
ACTIVITIES & FOODS YOU'D LIKE TO TRY SURROUNDING NAGOYA HILL

This is Nagoya Hill shopping mall where no other building can be as obvious as this. You can find many massage centres and food stalls, located inside and outside of the mall.
If you are merely headed to Nagoya Hill, I'd still think that the easiest place to find a variety of local food is within the shopping mall. There are food stalls located at the food street (probably on the first floor), and restaurants/food point on the upper level.
Insights of Food Street & Food Point in Nagoya Hill Shoping Mall
You may also try the local Ayam Penyet and Bakso and they costs between IDR20,000 – IDR40,000 per plate/bowl. However, I'd prefer the Bakso over the Ayam Penyet.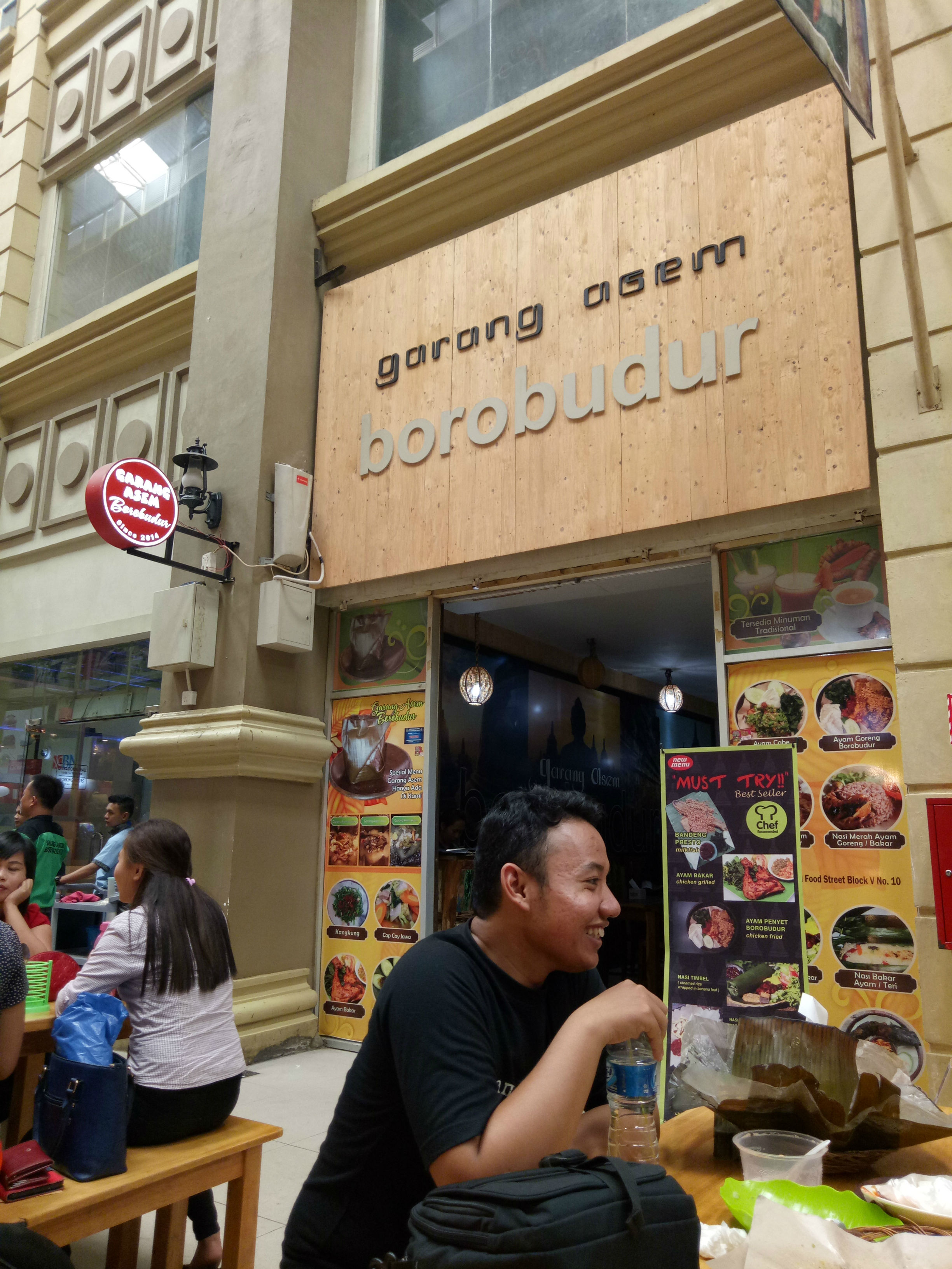 The Garang Asem does serve with a different meat option and I have chosen the chicken meat instead. This is somehow new to me and it tasted acidic; but it was nice to go with some rice, perhaps a separate order of Nasi Bakar?
Ta-da! Sorry, no picture was taken when I opened the wraps for Nasi Bakar (also stands for burnt rice). It tasted a little bit dry but acceptable.
I love the drink though and it was just ideal on a hot day in Batam. It tasted sweet, but who cares when you have good cold icy drink on a hot sunny day.
Meanwhile, there are a large range of different restaurants on the upper level, close to the arcade.
You may find "EAT NO PLATE" within the food point, located at the upper level of Nagoya Hill shopping mall. The stall itself is situated just at the corner of the food court and they are not easily spotted.
The concept was interesting though, having no plates and by just laying the crabs onto the white paper on the table, and eat em'! I ordered the salted egg crabs and they do have different other flavours as well. Taste wise, it was saltier than expected but tasty.
You may also try Rojak (traditional mixed fruit and vegetable) too.
They have got a hypermarket that is relatively bigger than expected, and the beers are reasonably priced too! Spam em'!
What Else to do in Nagoya Hill?
Spa Secret is one of the highest ends for any massage centres available in Nagoya Hill, and indeed it was superb (they have got the strength)! I would suggest you taking the Balinesse Aromatic Massage and it costs IDR330,000 for 90 minutes; or IDR380,000 for 120 minutes. Tipping however, is optional.
You'll have choices of aromas for selection and once the massage treatment is done, I was served a ginger tea. The service was friendly and exceptional and they have got food and drinks bar available as well.
You may visit Spa Secret – Website for more information, and booking in advanced may be required.
Another great massage centre which I believe that IndoThai is somehow related to Spa Secret, located just 50 metres away. They are sharing the same WiFi connection too.
In IndoThai, I did the Foot Reflexology for 2 hours and they've proved to me that they do have unlimited strength (very satisfying). This treatment costs IDR240,000 for 1.5 hours; or IDR290,000 for 2 hours. Well-worth it.
You may visit IndoThai – Website for more information.
There are a lot more shops to see in Nagoya Hill, such as souvenir and boutique shops.
---
RECOMMENDED MEANS OF TRANSPORTATION
By Taxis
To move from one place to another (not within the same area), one of the quickest and easiest way is to take a taxi. Just be aware of how much you will be paying!
By Foot
You may explore Nagoya Hill by foot, unless you are planning to travel elsewhere in Batam. Do however, be careful when you hit the road by foot!
---
TYPICAL COSTS AND MONEY SAVING TIPS
Accommodation
I would highly recommend putting your days at Grands i Hotel in Batam, just about 5 – 7 minutes walk away from Nagoya Hill shopping mall. Although this hotel is rated at a higher end, though it was worthwhile to pamper yourself! It costs about IDR 1,100,000 per night for 2 pax, in which a bathroom tub was provided as well. You may also be required to place a deposit (about IDR400,000 which I did) at the reception. Here is how the surrounding of the hotel looks like:-
Oh yes, the hotel's breakfast was superb too! Trust me.
Food & Drinks
Typical restaurant: An average meal could cost about IDR15,000 – IDR30,000; and
Good restaurant: Could start as high as IDR50,000 – IDR70,000 for an average meal.
Transportation
If you are travelling from Harbourfront, Singapore to Harbour Bay in Batam, you may consider taking the following ferry companies:-
Horizon Fast Ferry; or
Batam Fast Ferry.
I last took a ferry from Horizon Fast company at SGD48 (about IDR 450,000) for a return journey and my experience was so far a pleasant one. Indonesian however, do have a reduced fare to travel between Batam to Singapore, and vice versa. Just a glance of how the ferry (inside & outside of Horizon Fast company) looks like: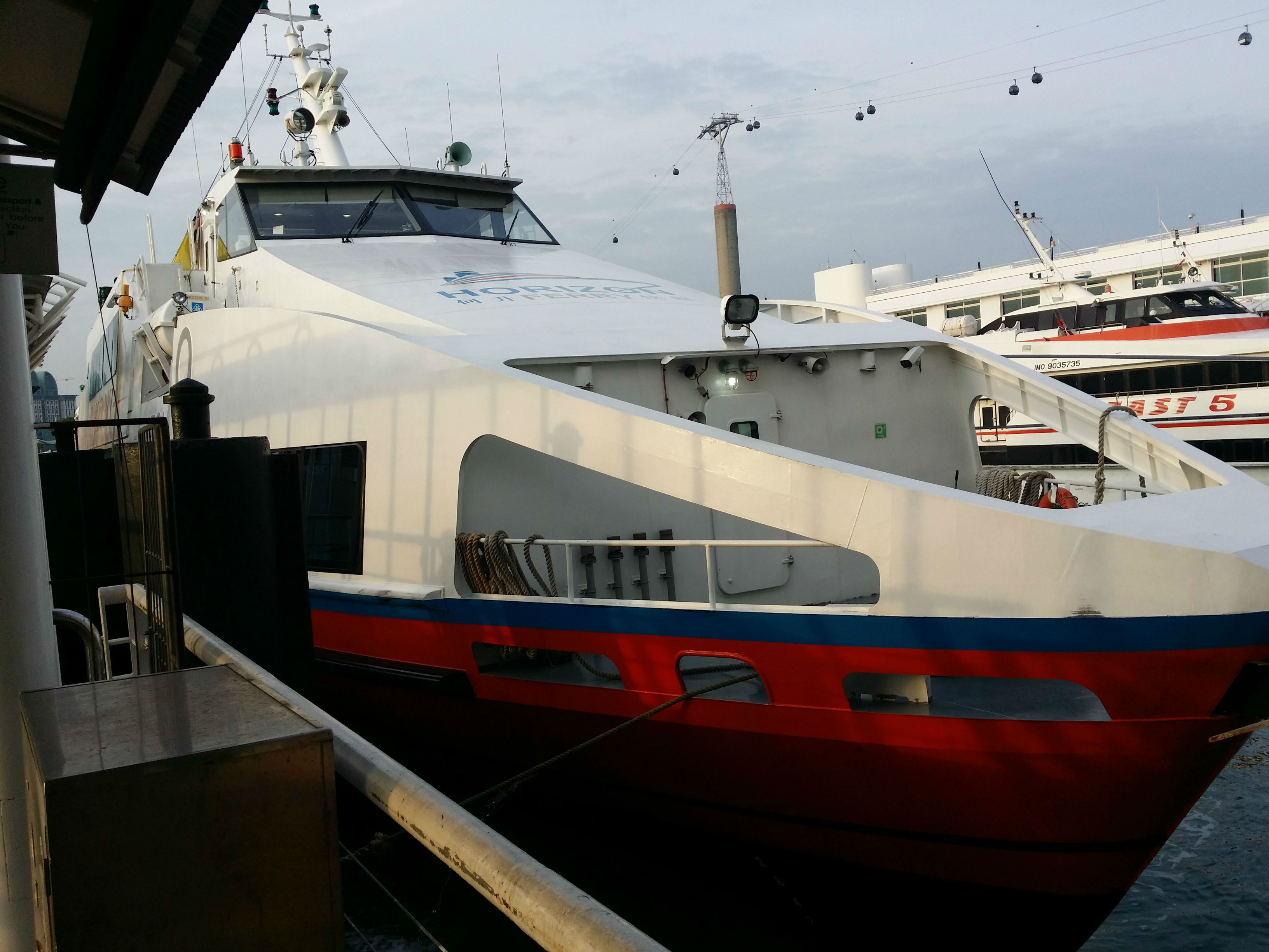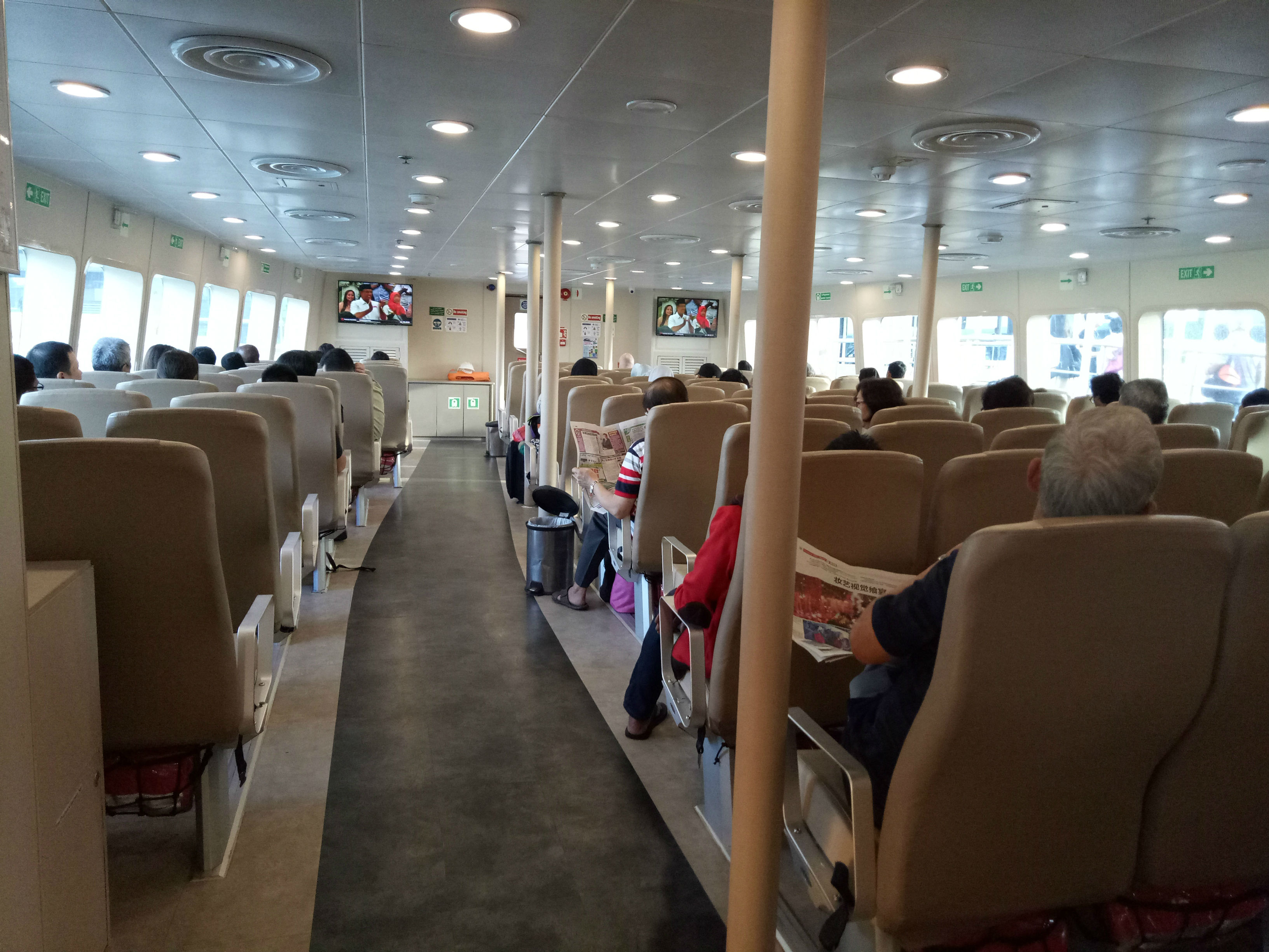 You may visit Horizon Fast Ferry – Website or Batam Fast Ferry – Website for more information.
Next, you may need to take a taxi from Harbour Bay in Batam, to Nagoya Hill which takes about 10 – 15 minutes ride, that costs about IDR50,000 – IDR60,000. If you are unsure about ticket prices, you could proceed to the available counter at the taxi area by telling the officer of where you'd like to go. Thereafter, you will be given a receipt, indicating the location you are heading to, and be given to the driver.
---
Copyright © | Aspen See
Disclaimer: All the information and prices (as at February 2017) provided on this website are based solely on experience and you agree that you use such information entirely at your own discretion and will.