Iceland, filled with beautiful landscapes and glaciers are easily accessible by flight if you ever plan to visit the Scandinavian countries or the European region. If you are traveling from Asia, it will be more economical to visit the Scandinavia, before taking a flight to Iceland. Flight includes Icelandair, WOW air, or SAS Airline that are able to take you to Iceland.
The people here in Iceland, are friendly and able to speak fluently in English. I would advise making earlier bookings for activities such as Ice Caving, Glacier Walk, and so on if you plan to do this in Iceland (as they can be fully booked, during off and peak seasons).
I rented a car (most flexible, most exciting, and a cheaper option) to travel around Iceland, rather than taking a tour. I had a good experience driving on the opposite side of the road and best if you can drive a car with a manual transmission which gives you more flexibility in terms or price and vehicle selection. Also, be geared since you will be driving with all kinds of different weather and road conditions (especially during the winter season) in Iceland. Don't trust me? Here you go..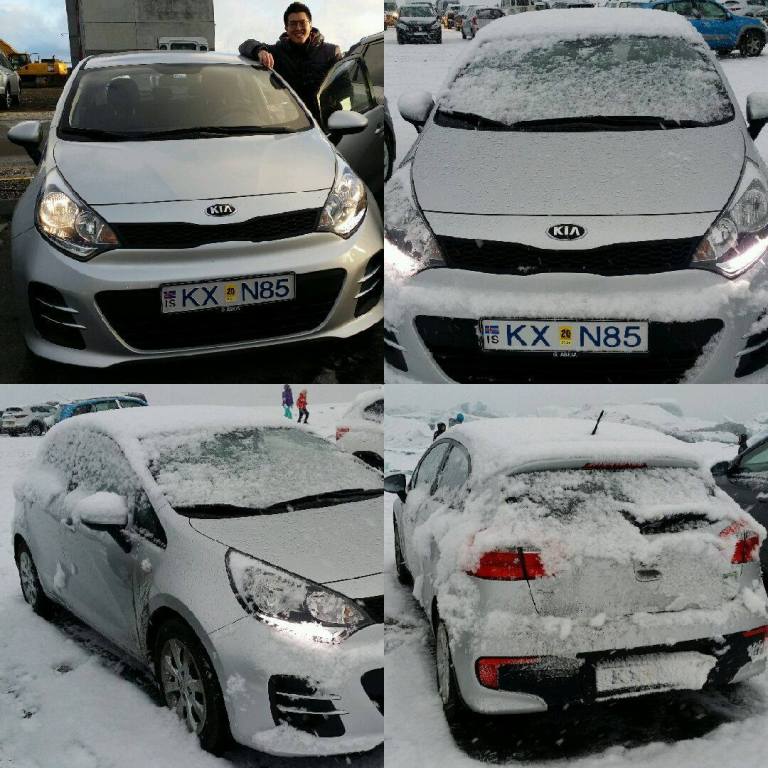 ---
PLACES TO VISIT AND THINGS TO DO IN ICELAND
Hallgrímskirkja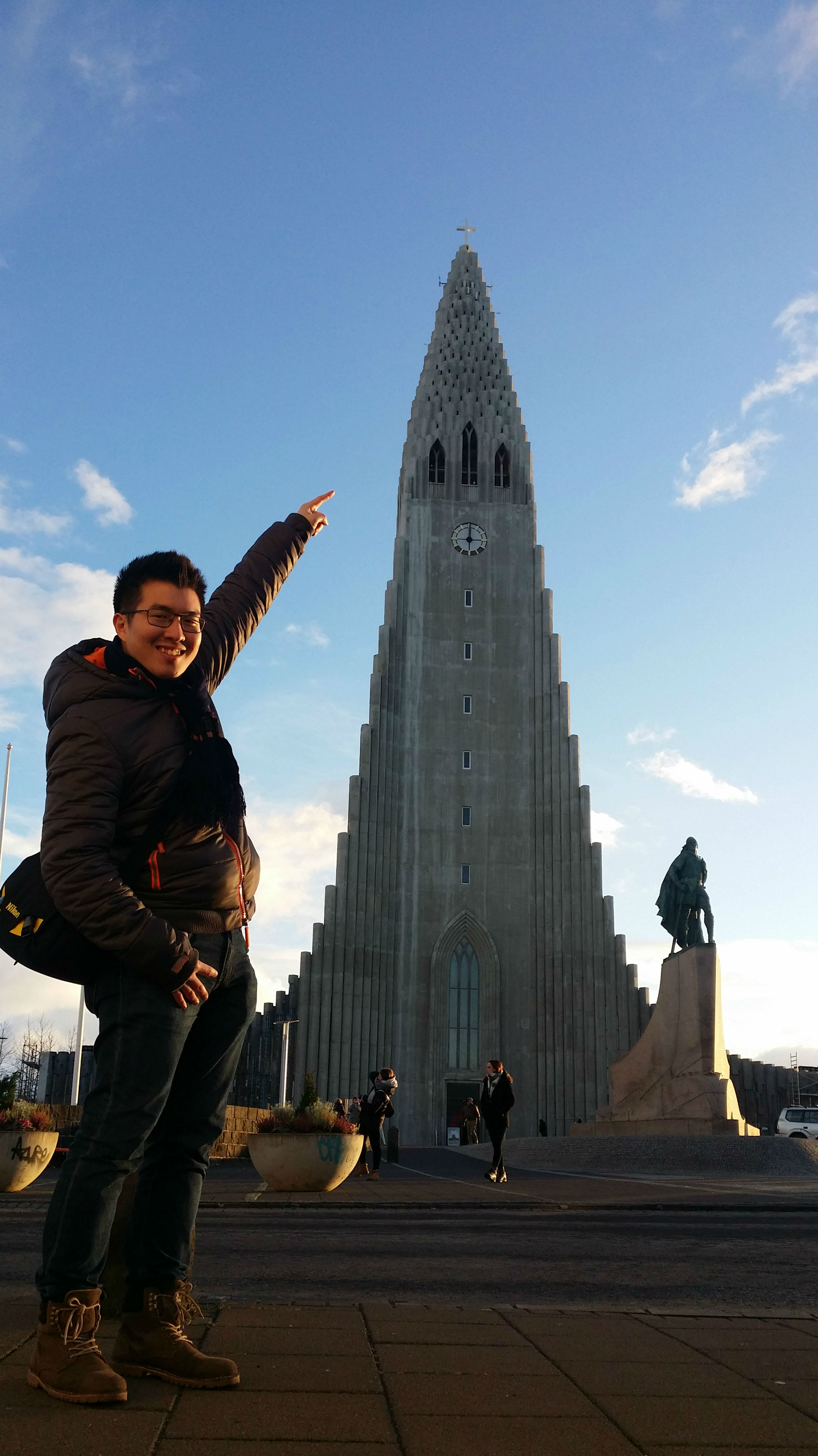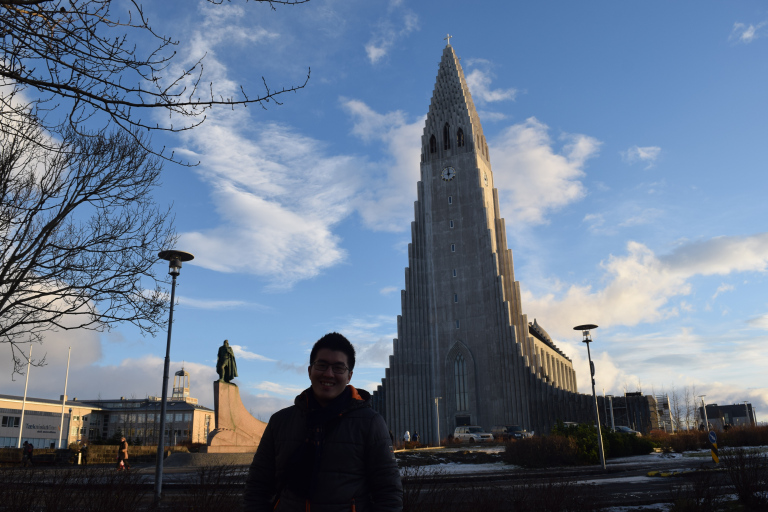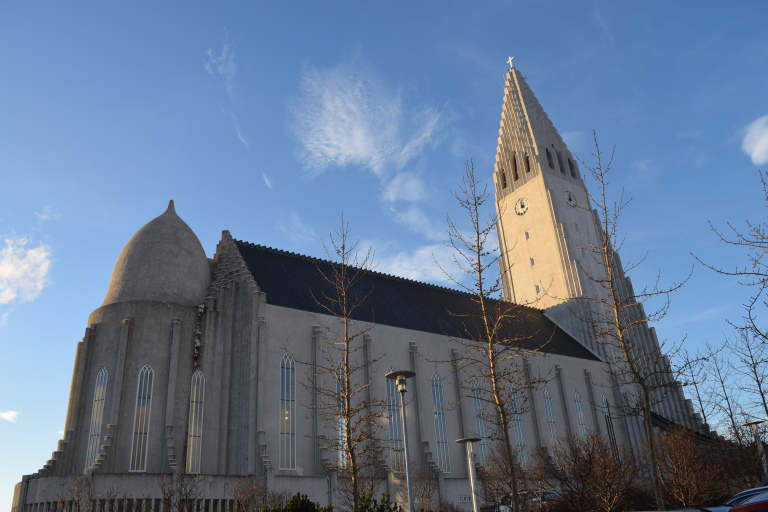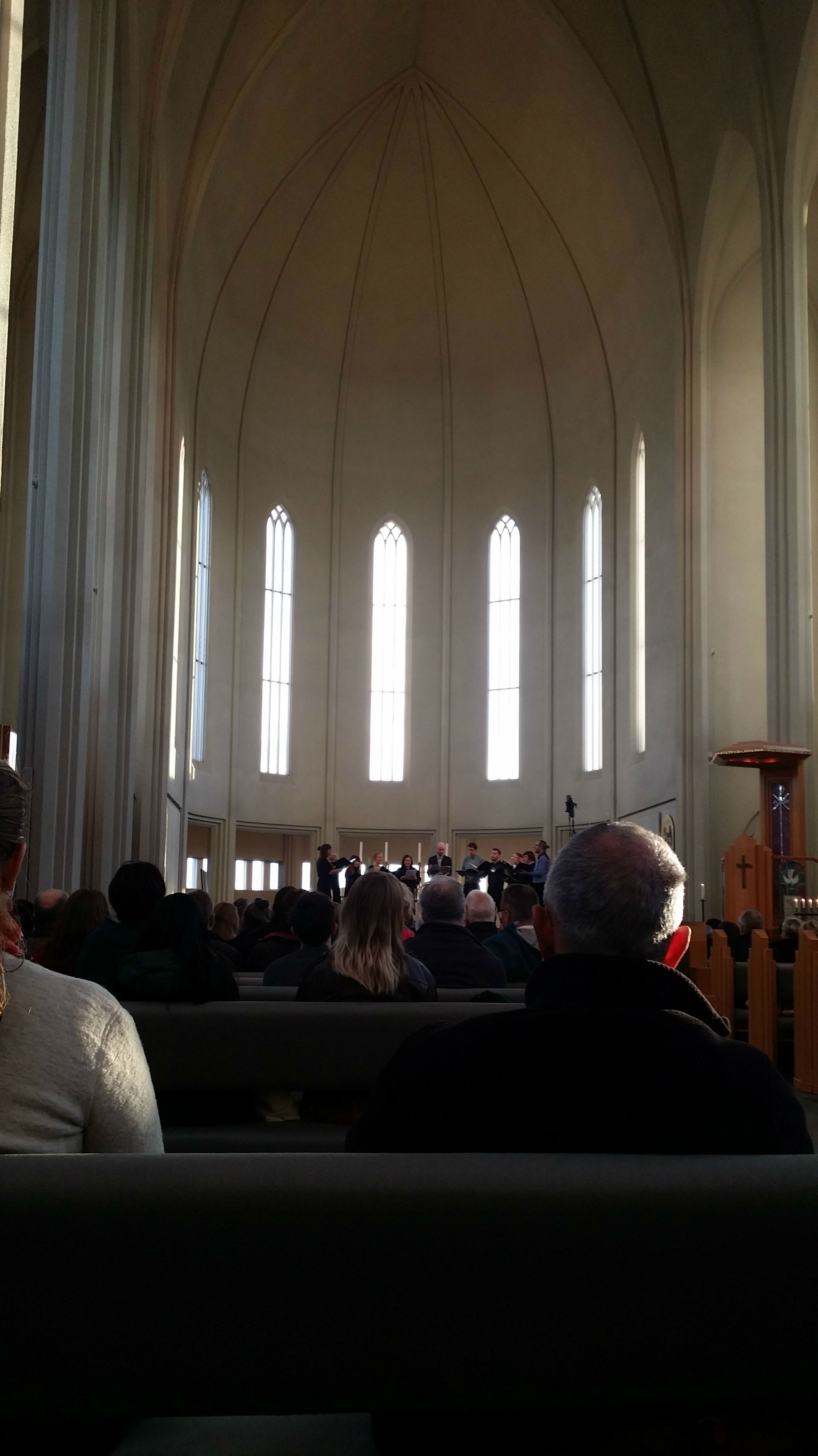 This is the largest church in Iceland and among the tallest structures in Iceland. Obviously I was thinking that I am already touching the tip! There are car park spaces and during my visit, they were having a ceremony which you will be to required to stay within for the entire period of an hour (but we stayed for just 15 minutes).
In the church, you will find a souvenir store and a queue to access the tower for ISK900 per person.
The Sun Voyager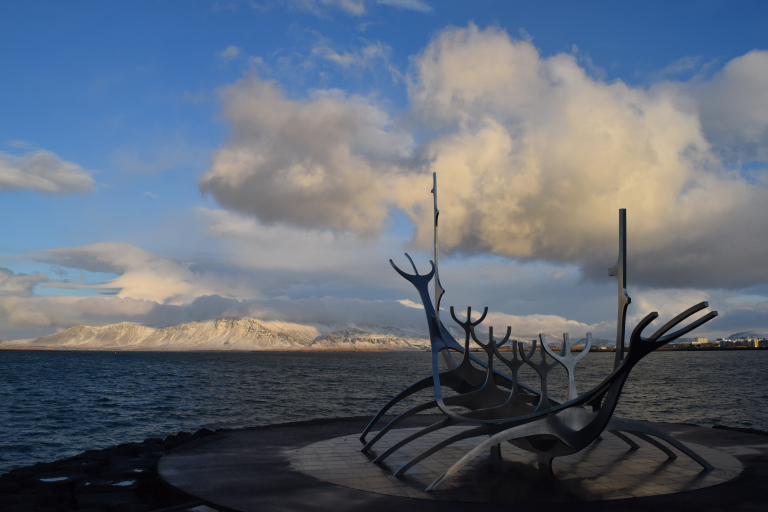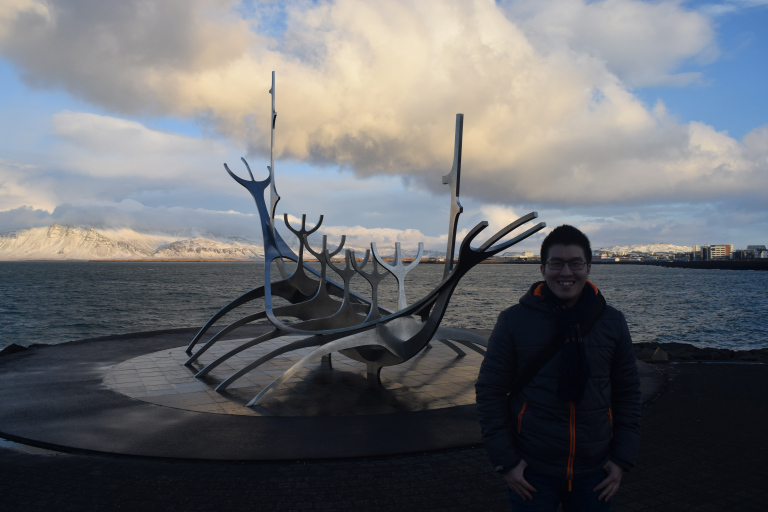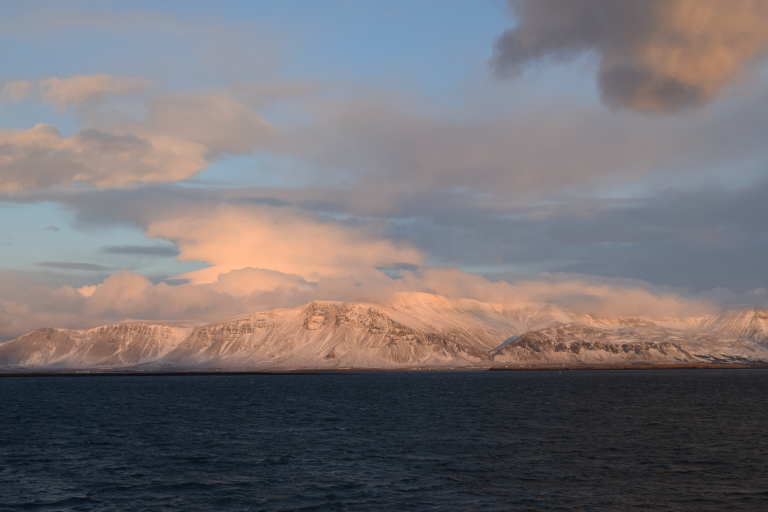 Not too far away from Hallgrímskirkja church, you will find this interesting sculpture by the coast, called The Sun Voyager accompanied by an awesome view of its mountain at the back.
Worry not, there are car park spaces available on a mini lane, just opposite of the sculpture.
Þingvellir (Thingvellir National Park)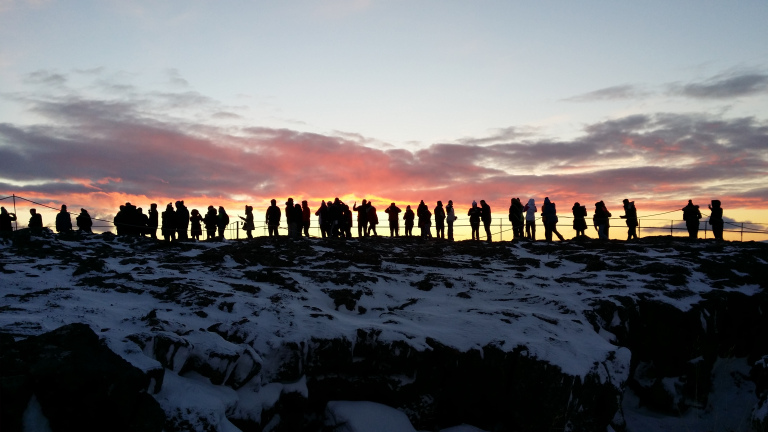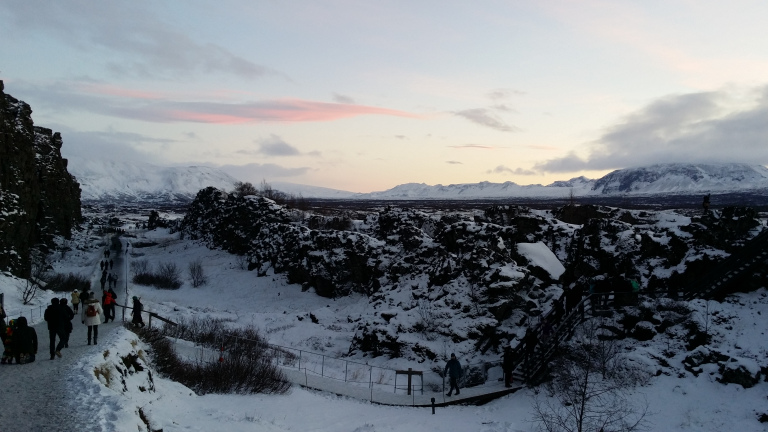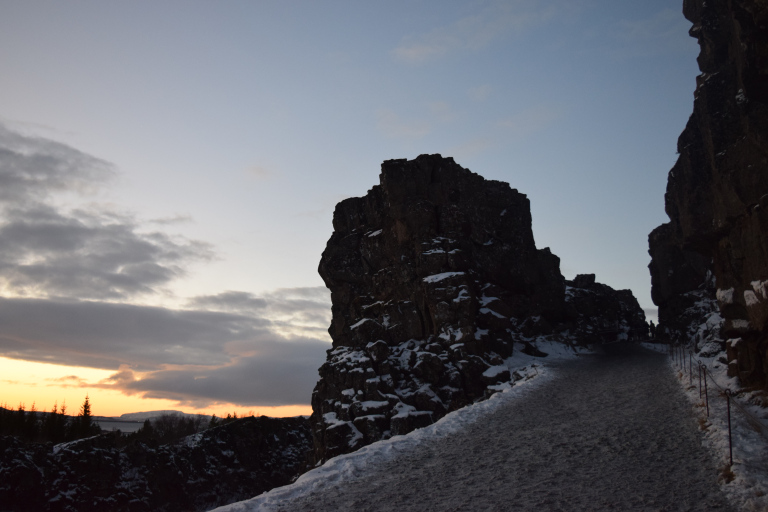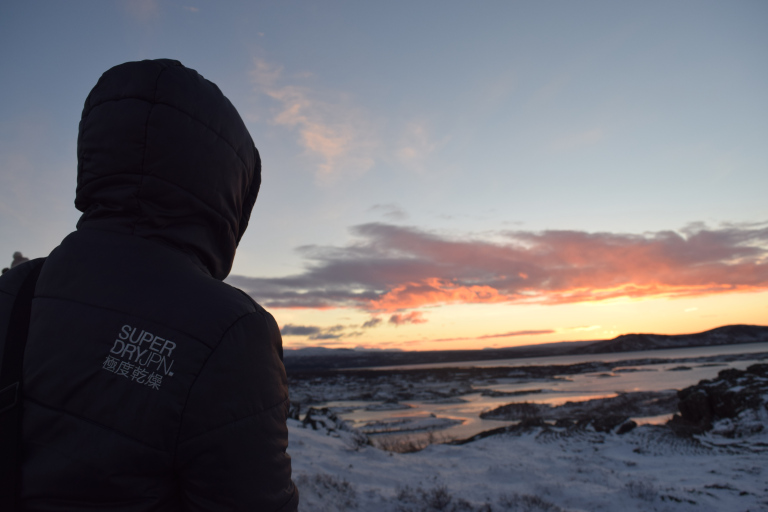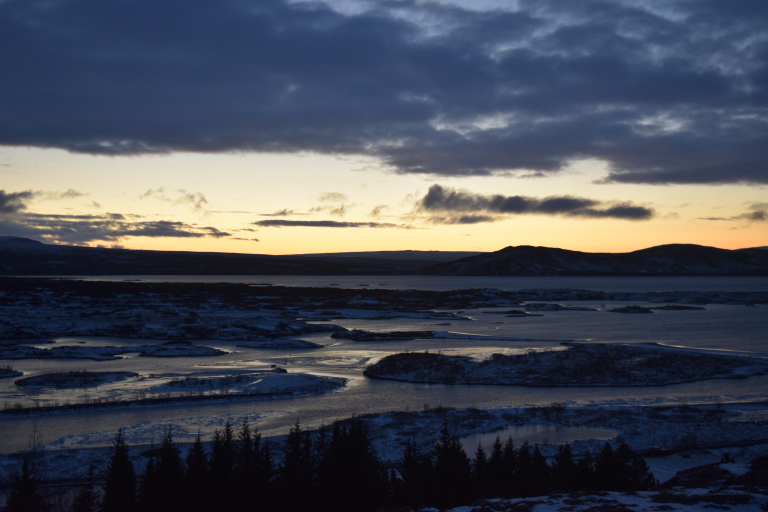 During the winter season, I would suggest driving out earlier so that you will reach your first destination when the sun rises. That way, you can efficiently visit more places since you will have limited daylight during the winter seasons.
In the National Park, it was indeed a beautiful place but be prepared to spend a long walk, only if you have the time. You will also be required to pay to park on the designation areas (unlike other attractions/destinations).
Gullfoss Waterfall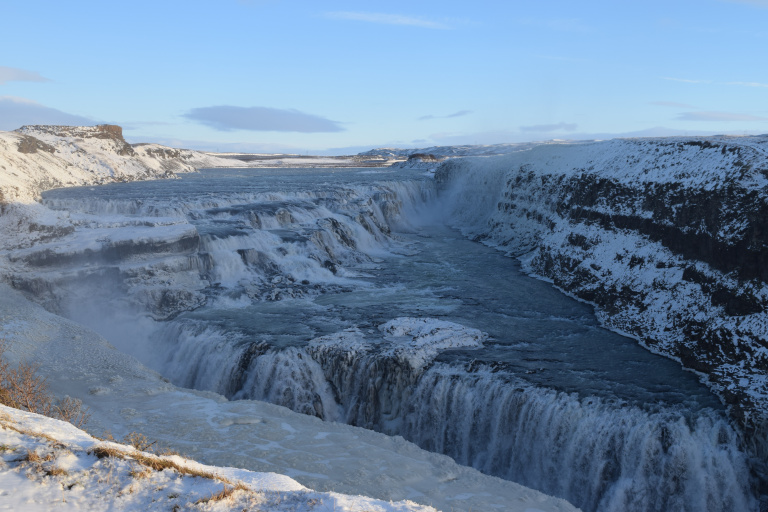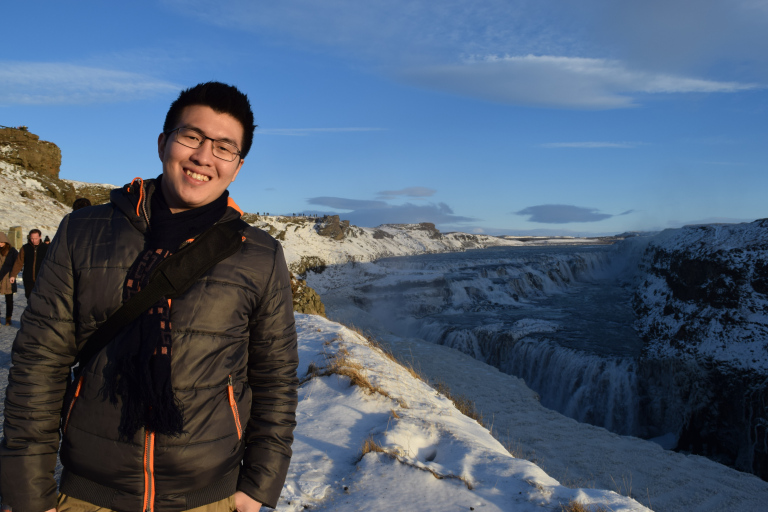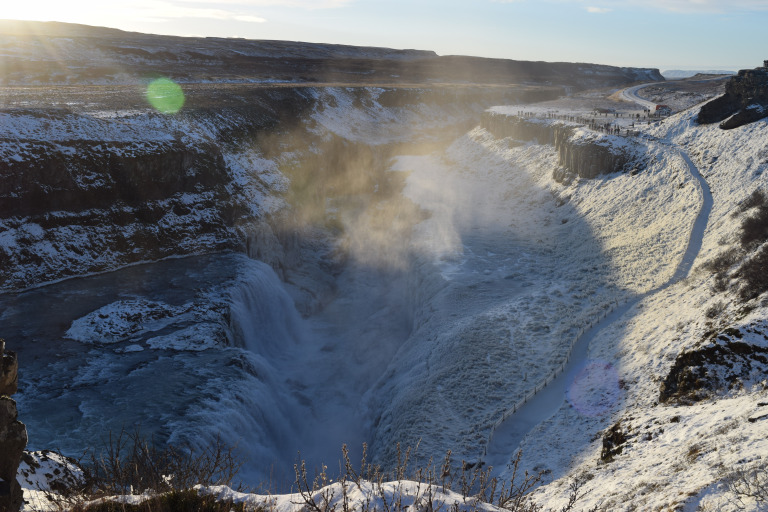 Gullfoss Waterfall is an iconic waterfall that is located within the Golden Circle which offers you a spectacular view. However, I find that this place may not be as great, compared to visiting during the summer seasons.
During the winter seasons, day time are limited and the sun will not rise as high during the summer seasons. As a result, the waterfall may not be seen as a golden waterfall as it claimed to be and therefore, rainbows may be difficult to be formed.
Geysir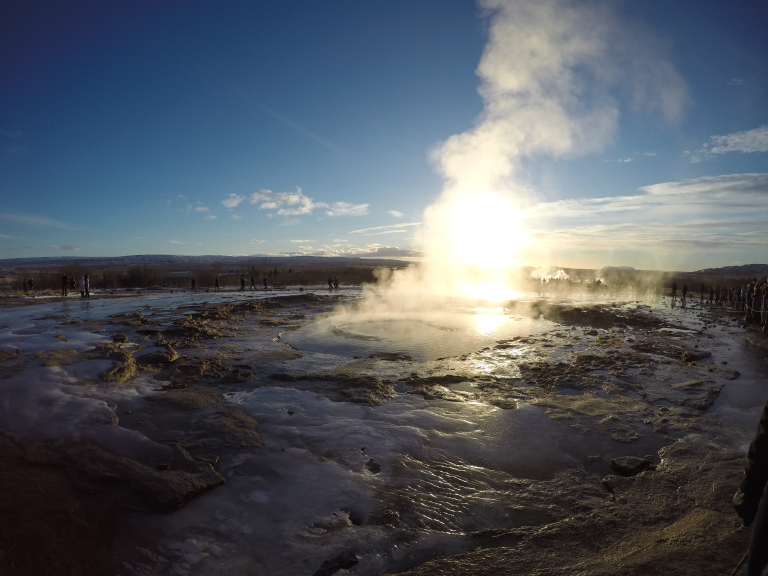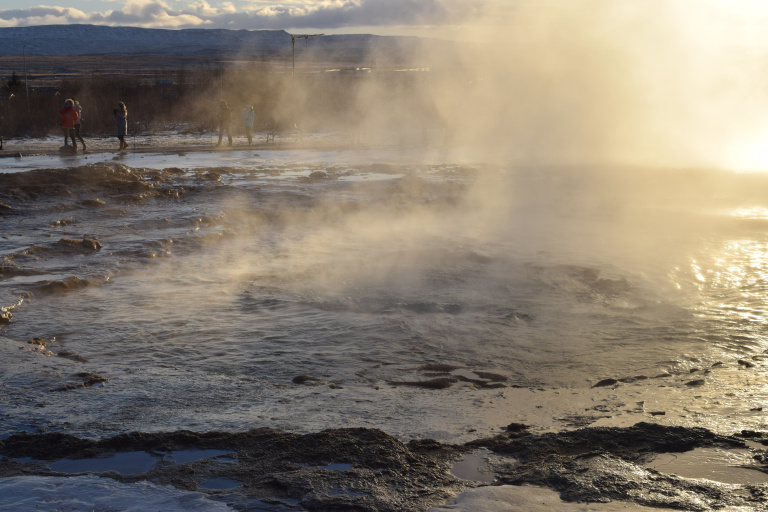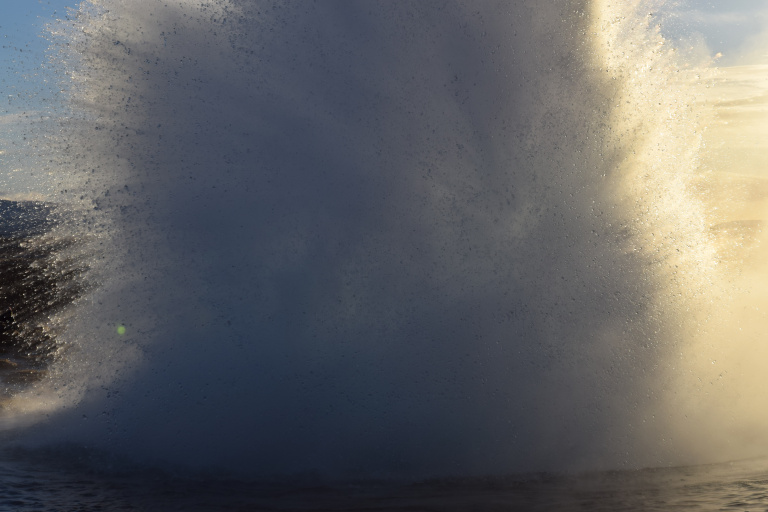 Geysir, also known for its Hot Springs is located in the Icelandic geothermal field which simply blasts at random times (I had two blasts continually and another with a 8-minute interval). Need to fry an egg?
Geysir is located not too far from Gullfoss Waterfall and the intersection turning to the southern drive, leading to Selfoss town and Vik. Not to be missed and get your camera ready till it blasts!
Kerið Crater Lake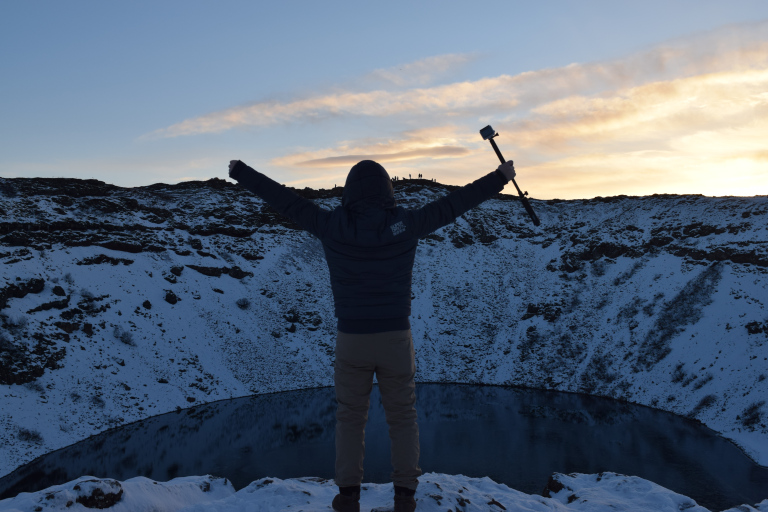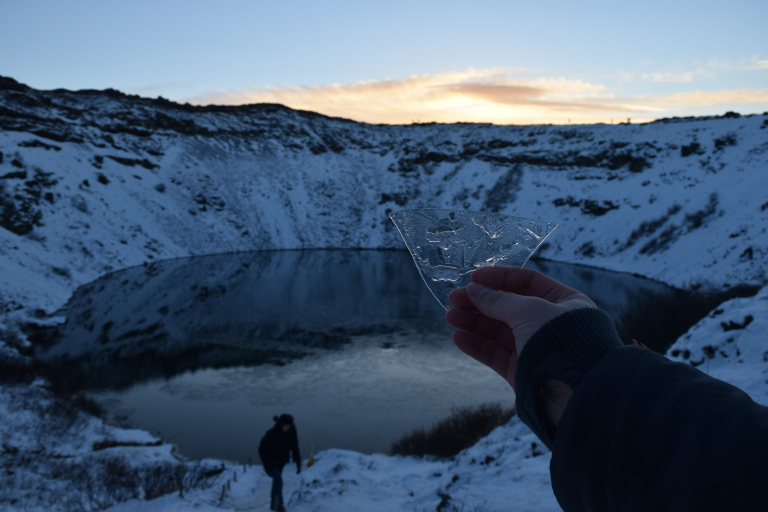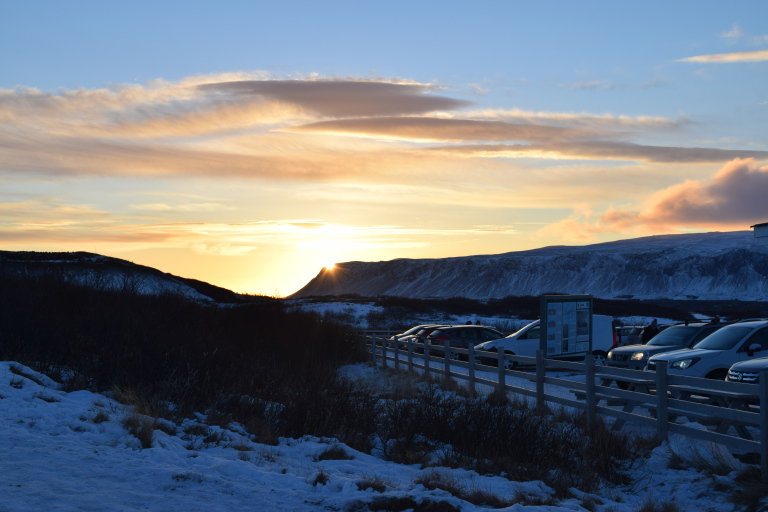 Kerið is actually a volcanic crater lake that is about 3,000 years old that is located in South Iceland. From the intersection turning point leading to Selfoss town, please do not miss visiting the Kerið crater lake!
Admission costs ISK 400 per person and upon entry, you can either walk on the crater's ring or walk down by taking the stairs to the waters, but watch your steps! During the summer seasons, you may even go into the waters, when the waters ain't frozen.
Seljalandsfoss Waterfall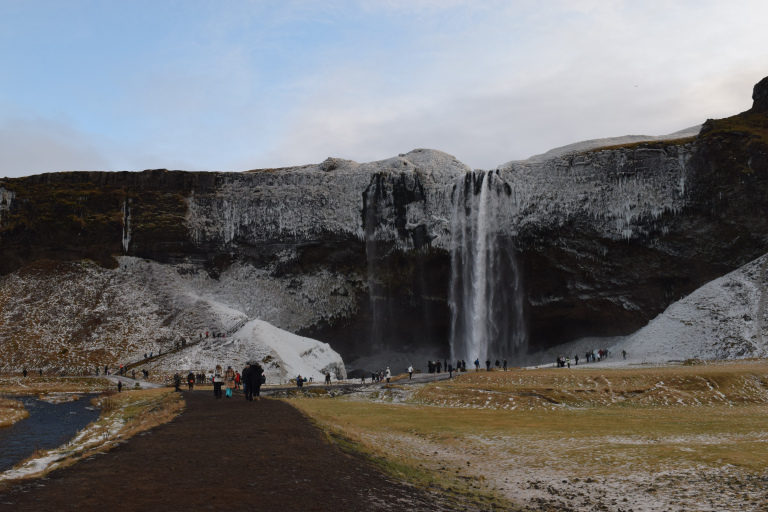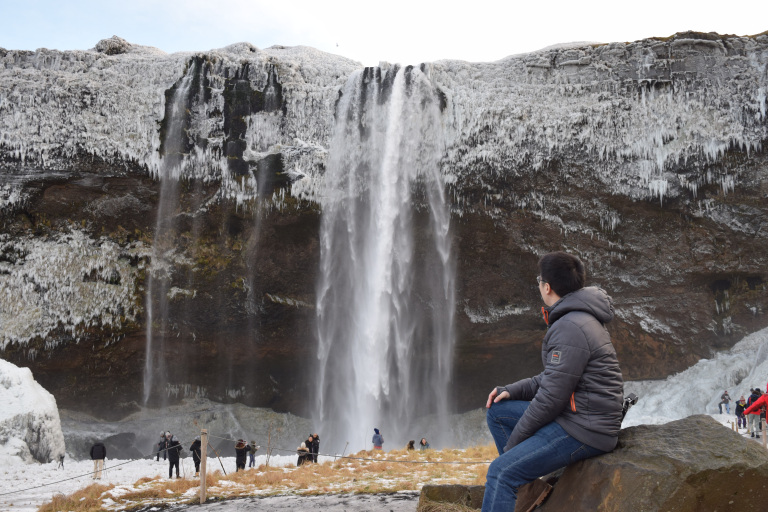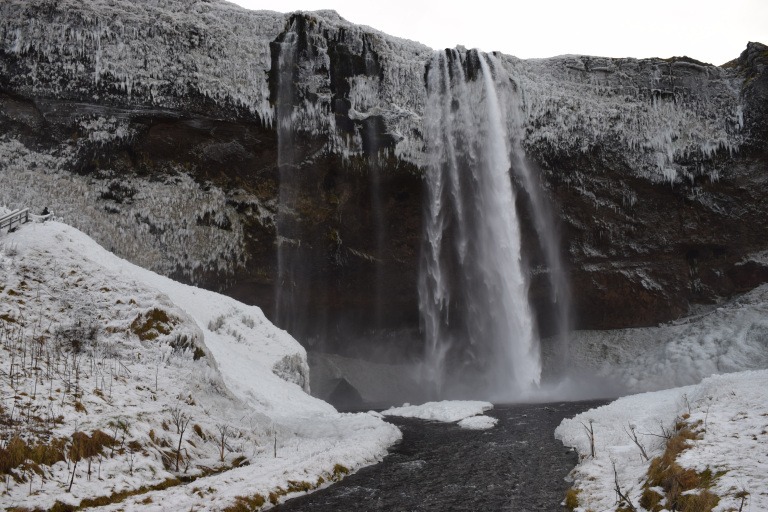 This is one of the waterfall that reminds you about Iceland on the internet, where you will be able to access the back of the waters where it gives you pretty awesome pictures. However one of the biggest drawbacks of having snow is "NO ENTRY" to the back!
Pretty disappointing but understandable due to safety reasons as the grounds can be really slippery. Unless you'd bring your swimming trunks and able to tolerate the sub-zero temperatures, before you risk!
On the other hand, you may also want to consider visiting at night, where lighting are available. Some pictures below are taken during my visit at night.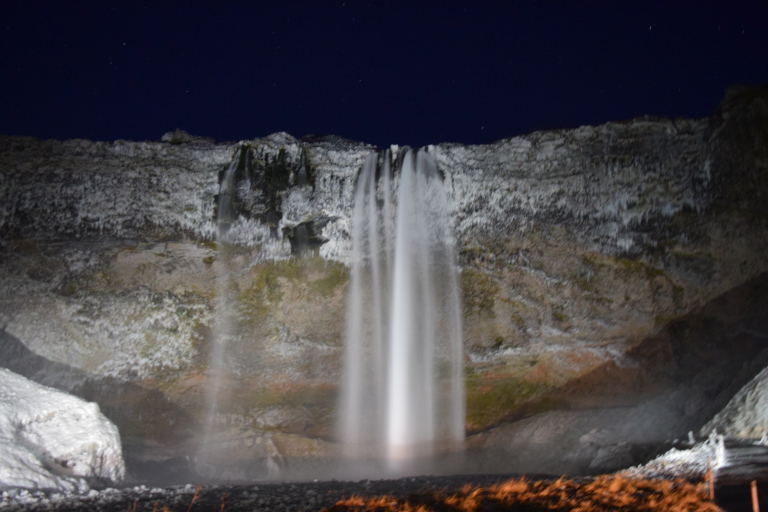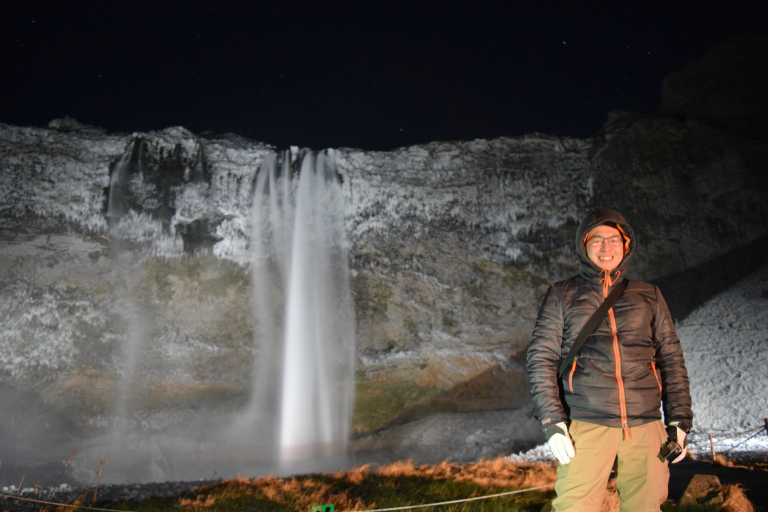 Not many will visit at night, but it seems worthwhile as it doesn't look ordinary. It may also be creepy to go to the back of the waters alone as it seems so much quieter at night!
Skógafoss Waterfall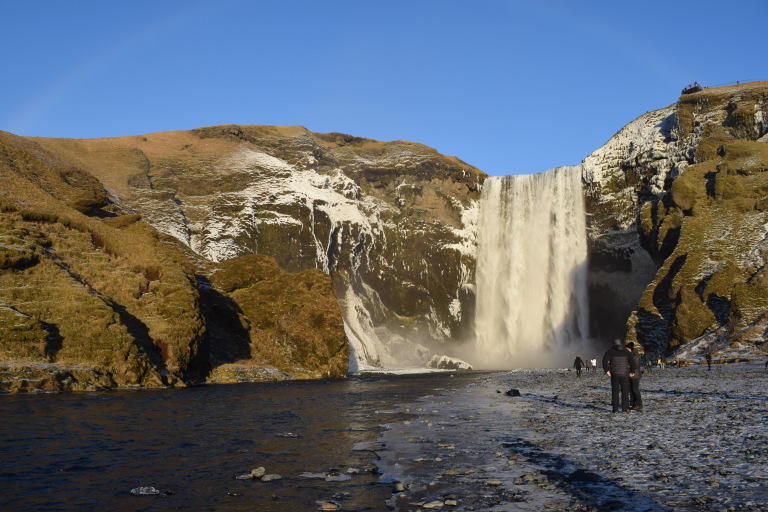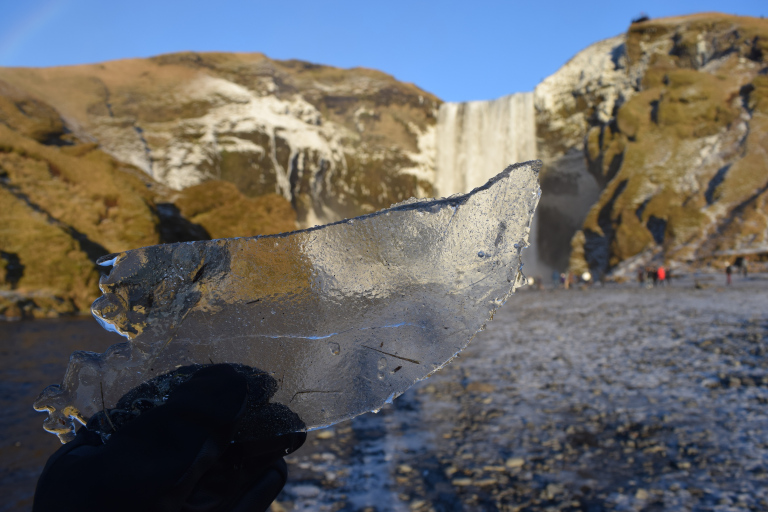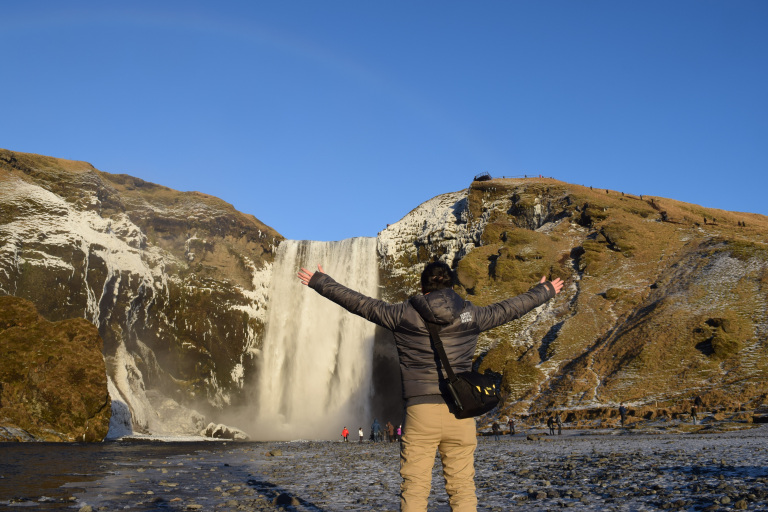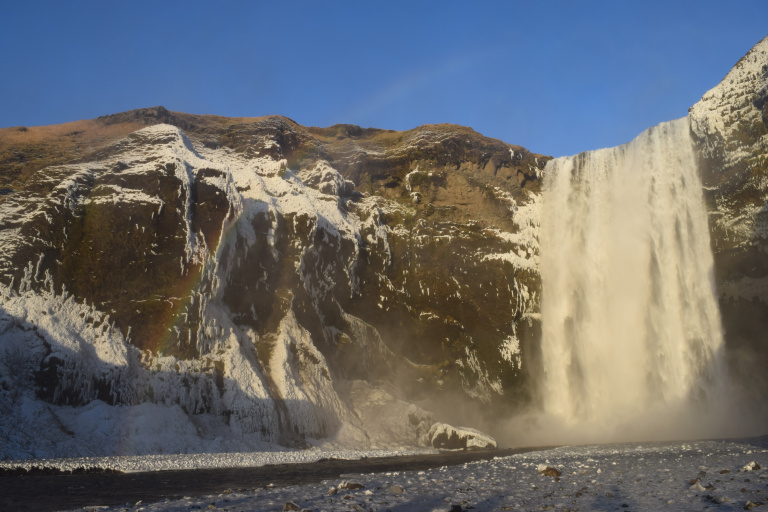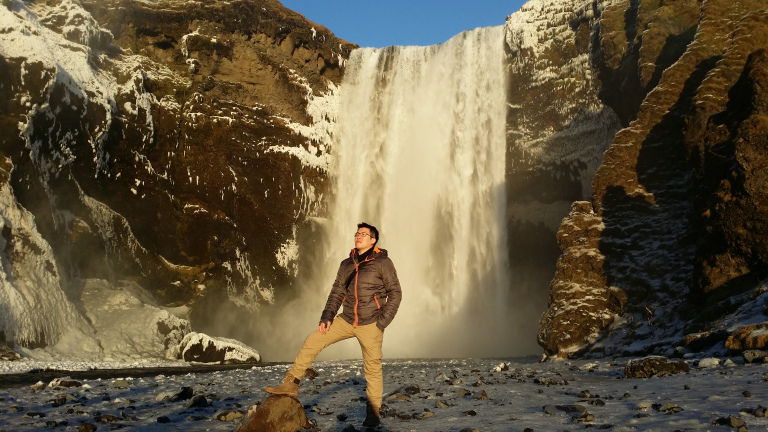 This is it! With the right combinations and recipe, you will see rainbows! The closer you get, the easier you'll get soaked! I would highly recommend coming here on a sunny day, and I was glad to have sunny days during the winter seasons.
At Skogafoss Waterfalls, you will be able to go to the top, by taking the stairs available at the side which gives you an awesome view.
Dyrhólaey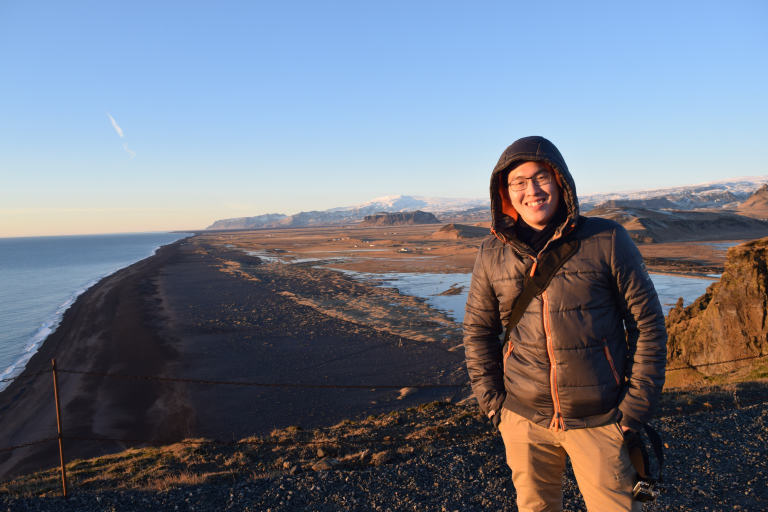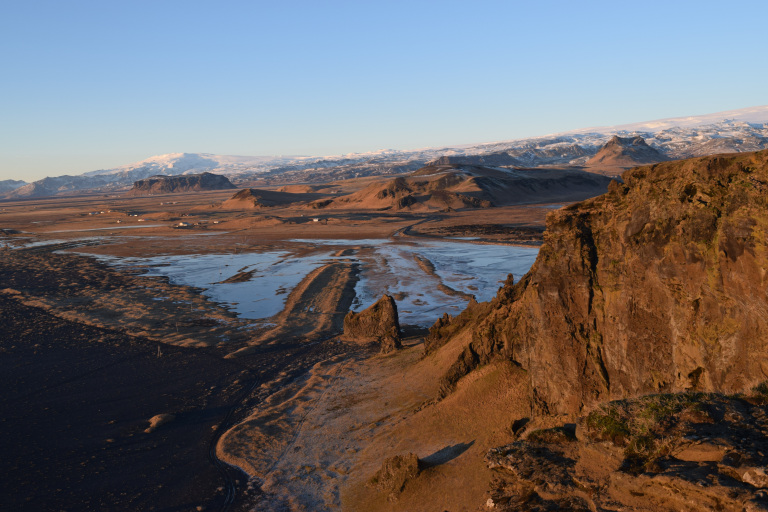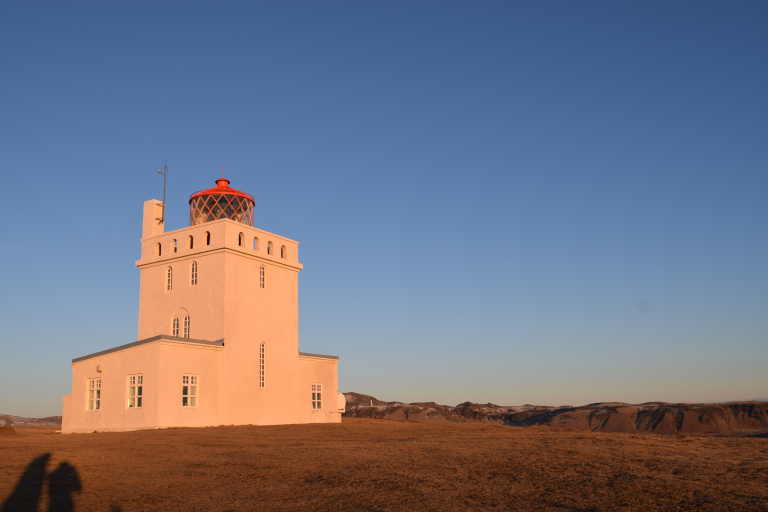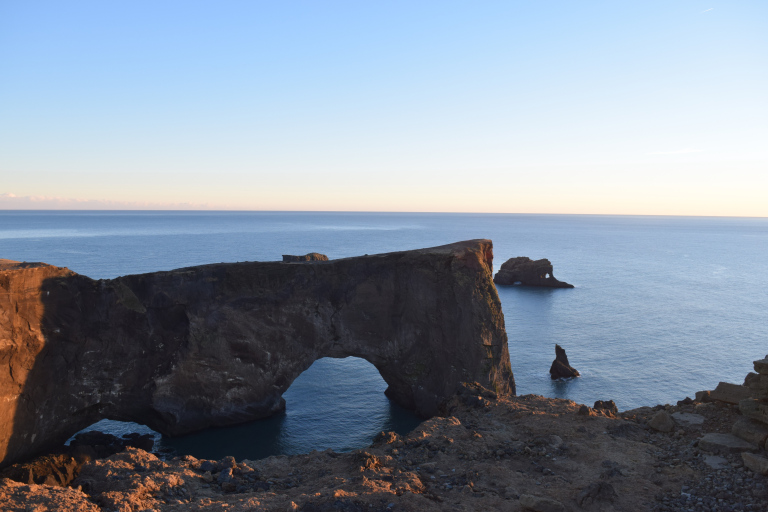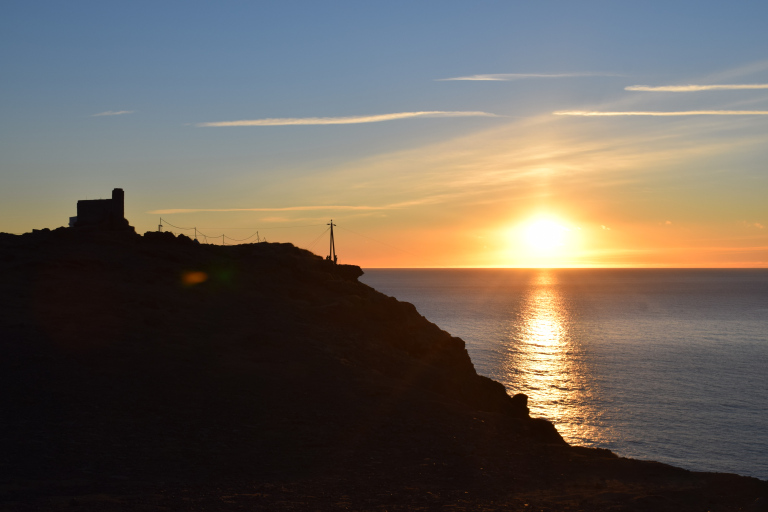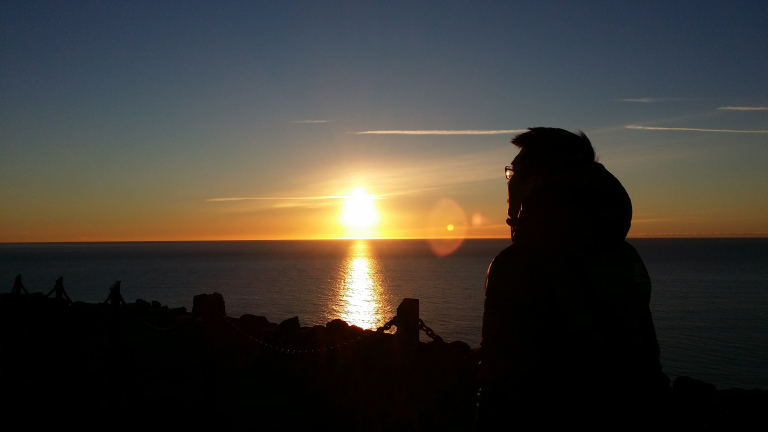 Dyrhólaey is located not too far from the village of Vik. I remember climbing the hill using a 2WD vehicle and worry not, you are not alone. Just be stressed being pushed really close with another 4WD behind you.
I would highly recommend visiting Dyrhólaey to witness the awesome sunset that Iceland has to offer. All you have on the cliff, is a lighthouse, and a beautiful Icelandic "Egg Yolk". After that, I had a quick drive (about 15 minutes) to Reynisfjara Beach (also known as the Black Sand Beach) before the sky goes dark.
Reynisfjara Beach (Black Sand Beach)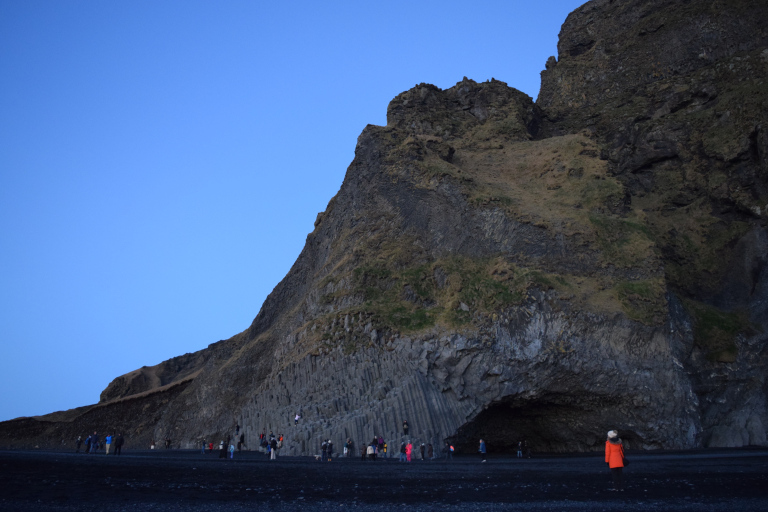 As mentioned earlier, this is the Reynisfjara Beach (also known as the Black Sand Beach) and very much visible from the lighthouse and the cliff that I have visited earlier.
At the Black Sand Beach, you will also see the popular stack of rocks (basalt sea stacks) and there is where you'll start climbing and get a good snap shot! Don't get annoyed by the many people climbing the rocks and stealing the show, but bear with them!
Jökulsárlón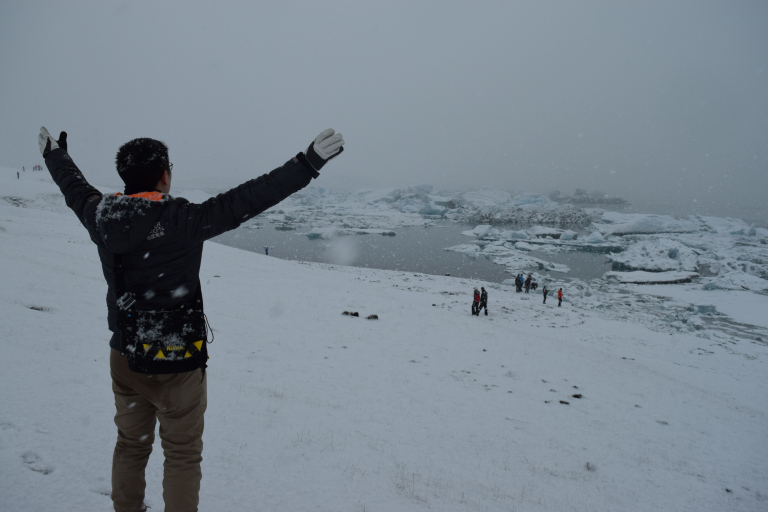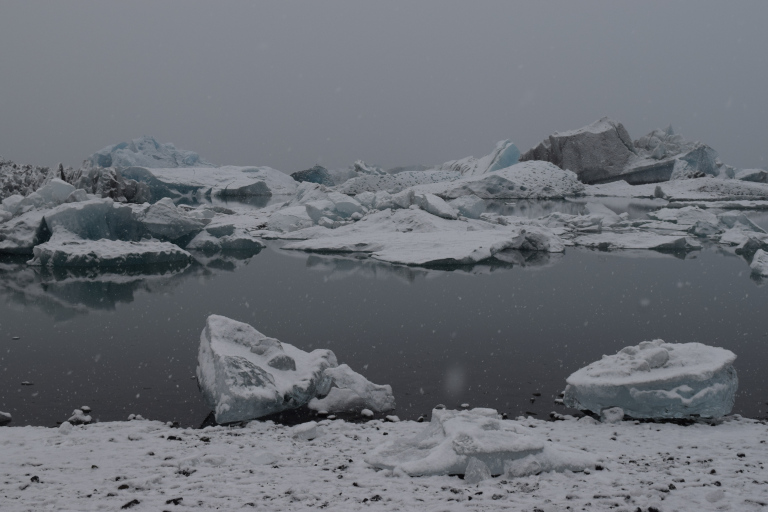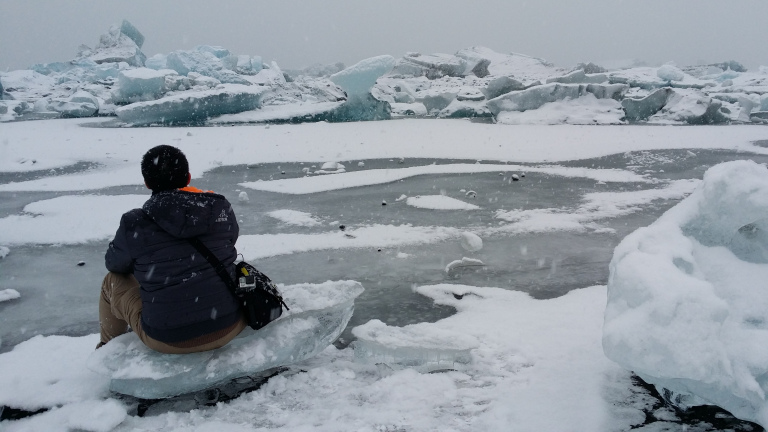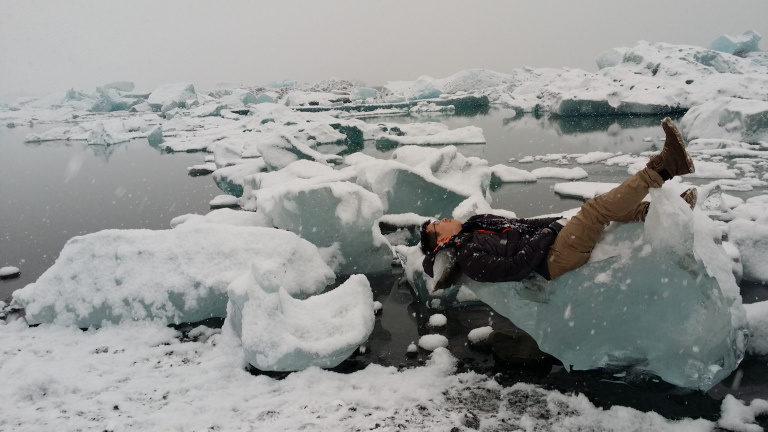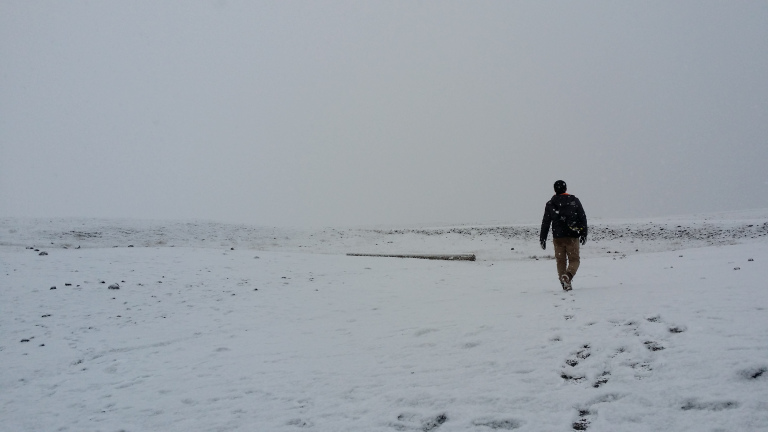 Jökulsárlón is a lake filled with icebergs and tourists. A place like Jökulsárlón is not to be missed if you ever visit Iceland. If you are lucky and at the right time, you might even see a seal!
It was snowing during my time in Jökulsárlón and due to the weather conditions, no boat tour were available for a ride. Jökulsárlón is also seen to be really beautiful when it is covered with snow as the texture itself is no ordinary as it feels like cotton candy, unlike other places.
Svartifoss Waterfall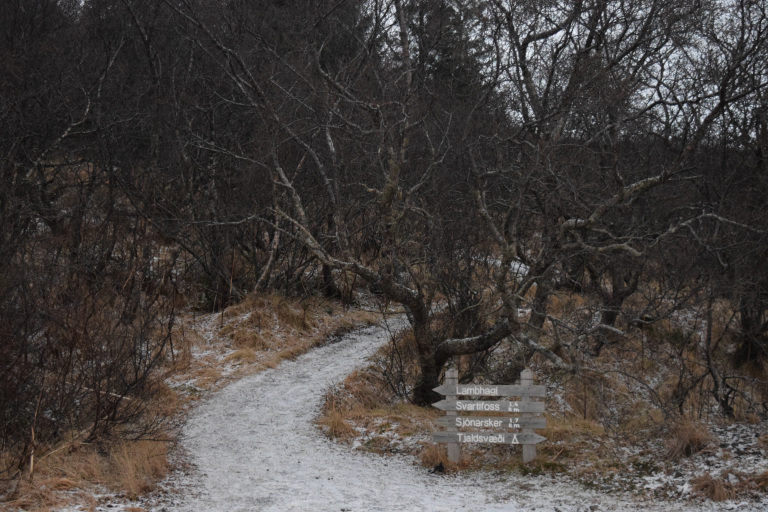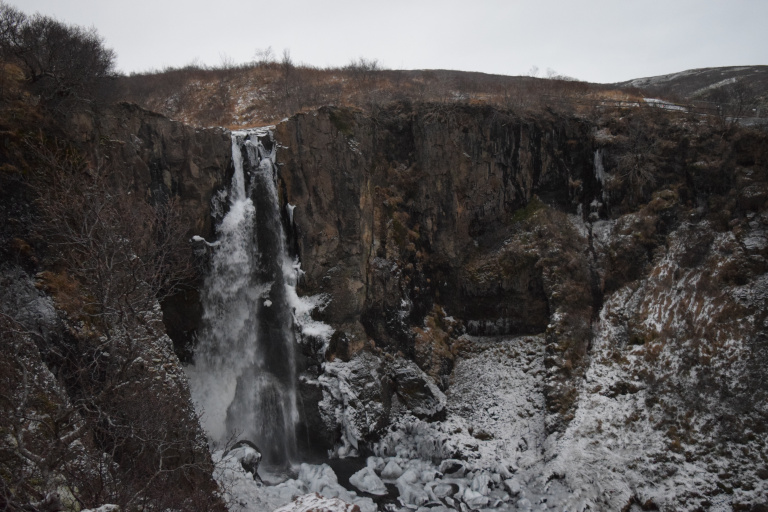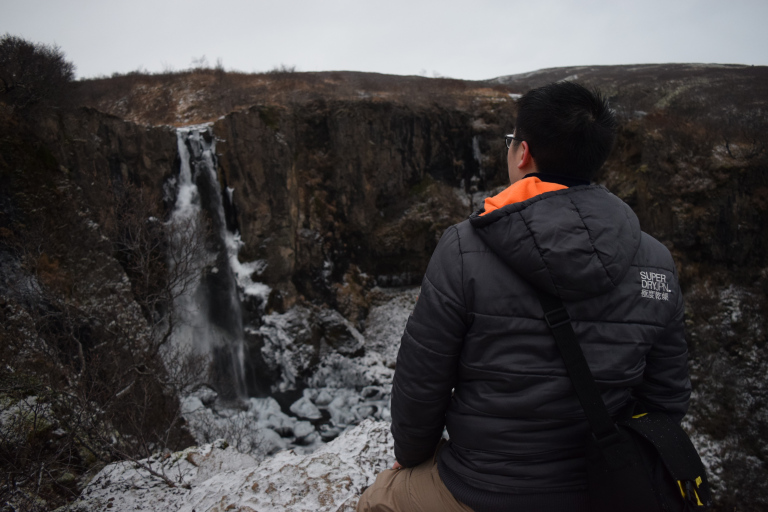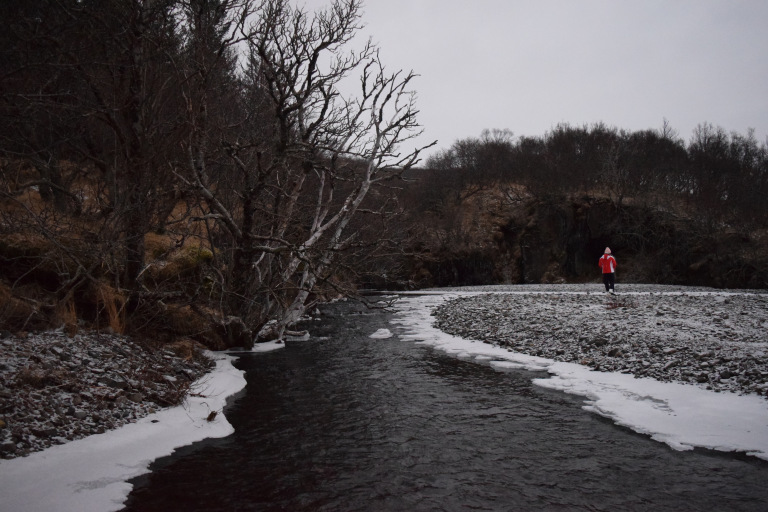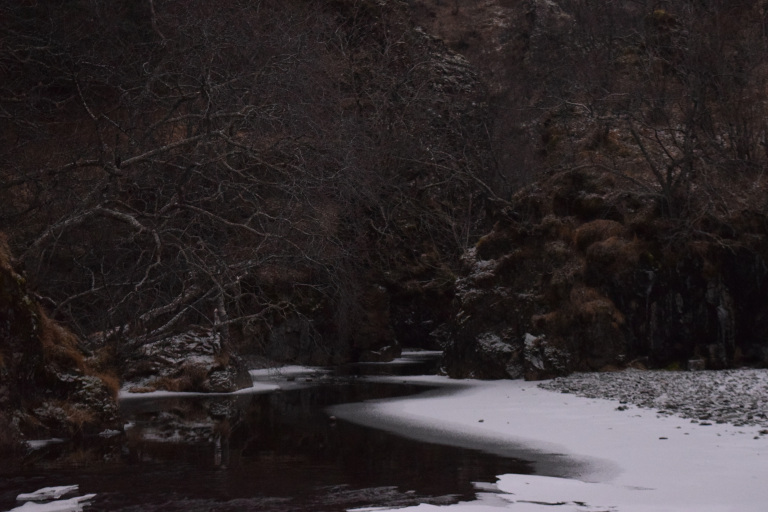 If you are heading to Jökulsárlón from Vik and vice versa, you will not miss a turn leading to the waterfalls of Svartifoss. It was getting dark during my visit and this limits you from going any further. My advice is to allow spare or additional time to explore Svartifoss especially if you have limited daylight. You might need to walk over 1km (through stairs and bushes) and if its snowy, watch your steps so you wont trip!
I managed to reach the side cliff, witnessing the Svartifoss waterfall but ain't good enough if I ever had the chance to walk and proceed further.
Sólheimasandur

Plane Wreck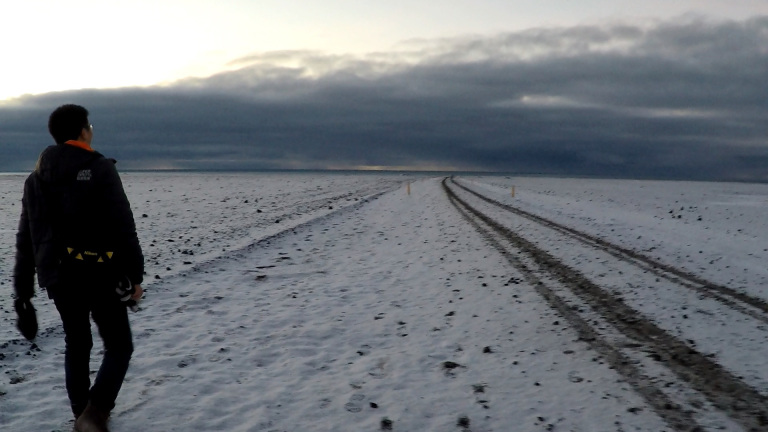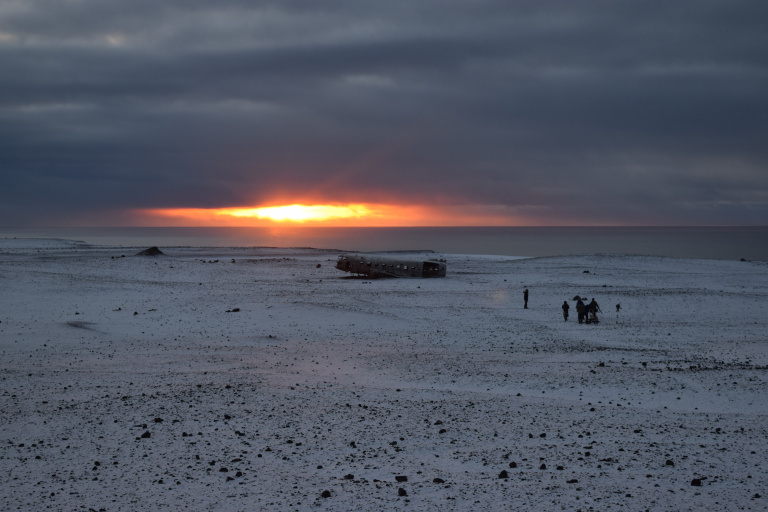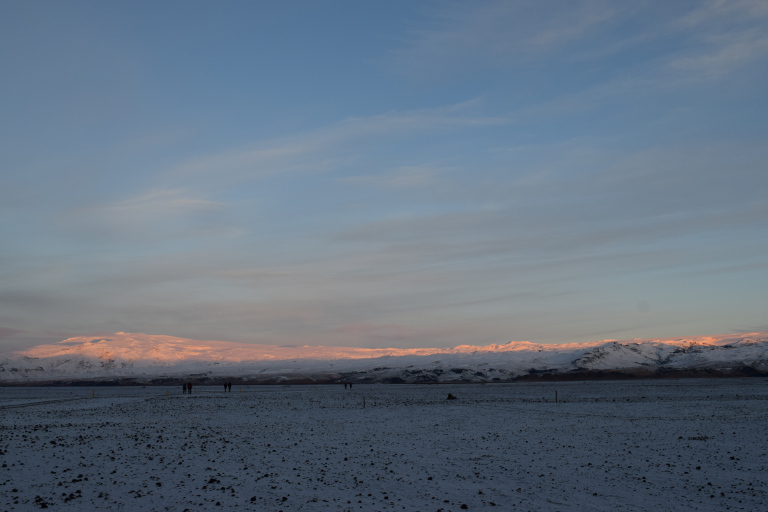 If you like something more challenging, you may want to visit the
Sólheimasandur
Plane Wreck in which a U.S. Navy aircraft crashed and abandoned since 1973. I would suggest going as early as possible (I have visited the plane wreck during winter, when the day breaks).
From the main road (southern ring), you may need to drive slowly and pay attention to the entry point, before you walk your way to the plane wreck. Parking spaces are provided upon reaching the entry point. If you are wondering, one way by foot takes about close to an hour, or by distance, close to 4km. Hence, you can estimate how long it would take if you were to walk through and back, and try to avoid visiting at night before the sky goes pitched black!
Be creative when you visit, and make a music video of yourself. Ideal place to be!
Blue Lagoon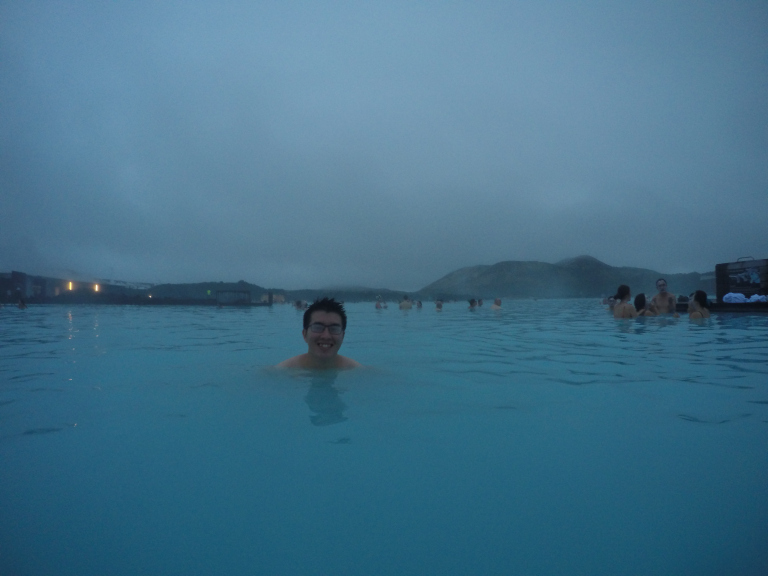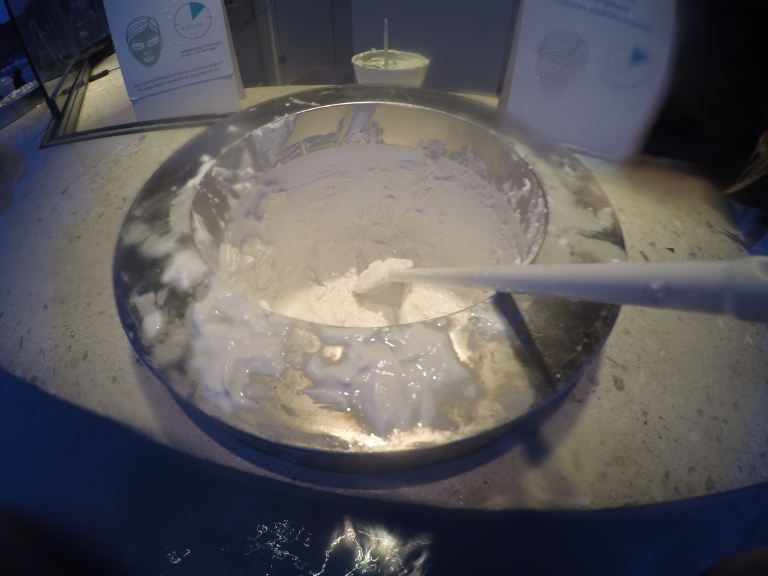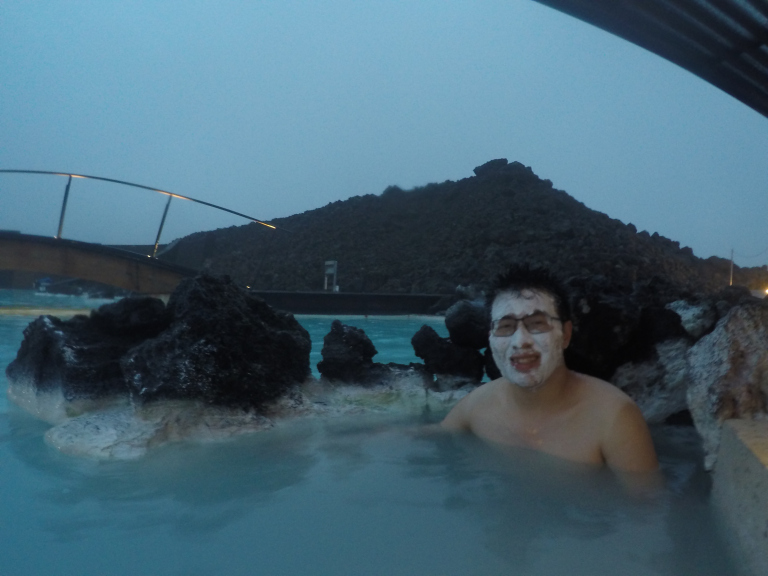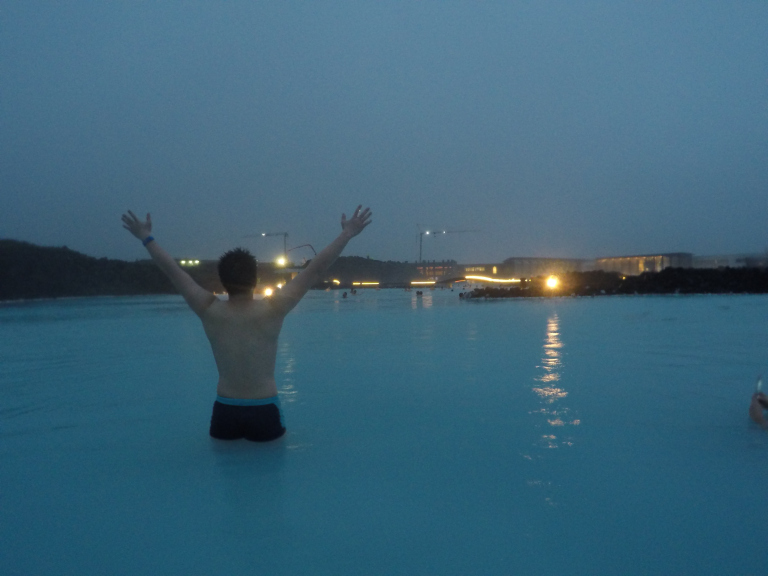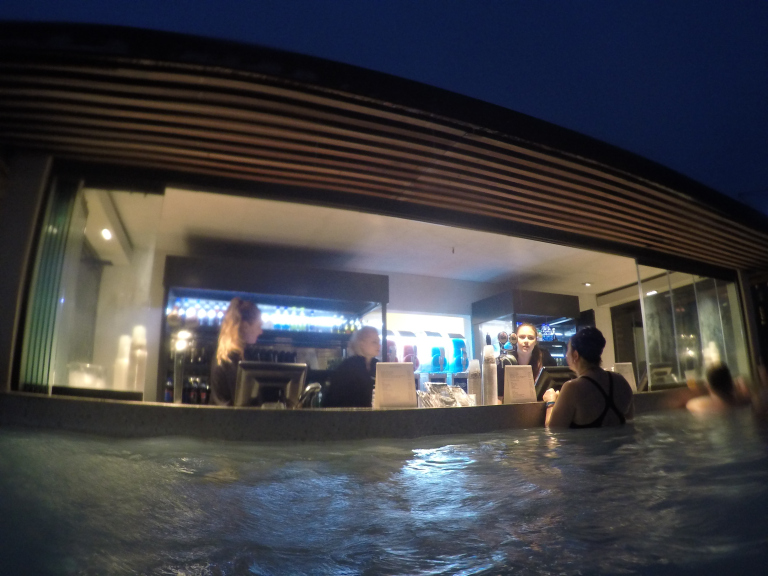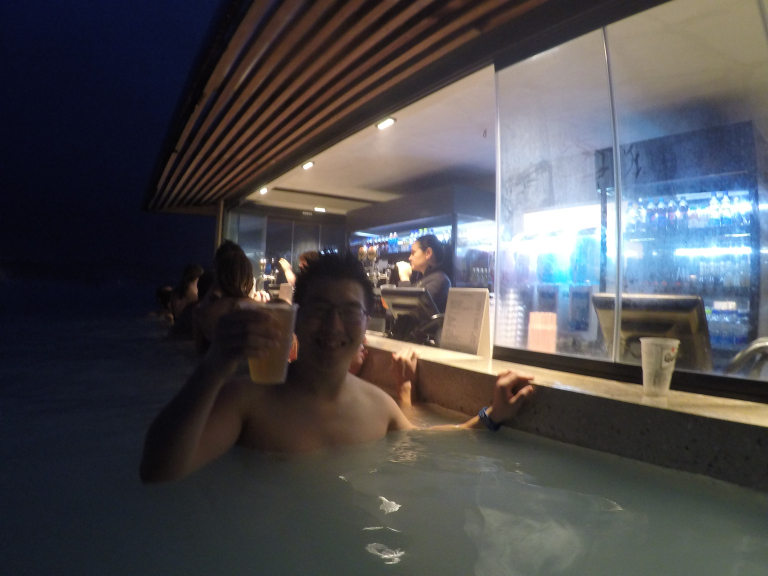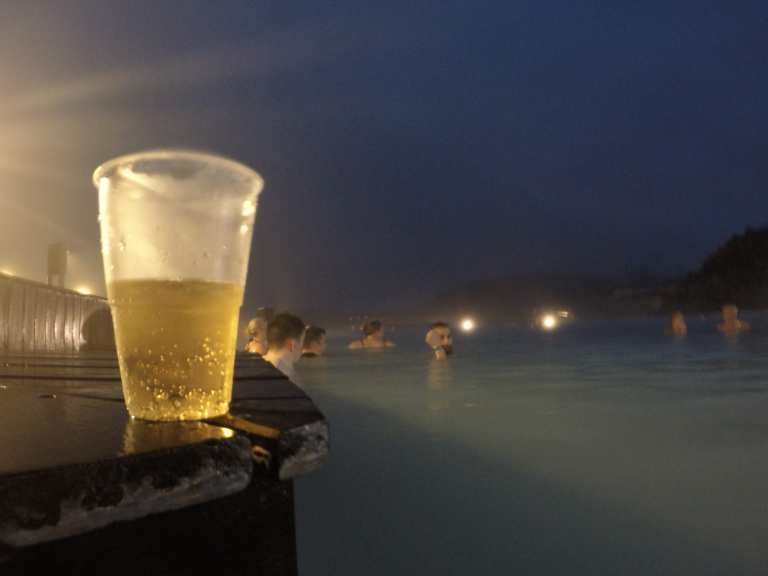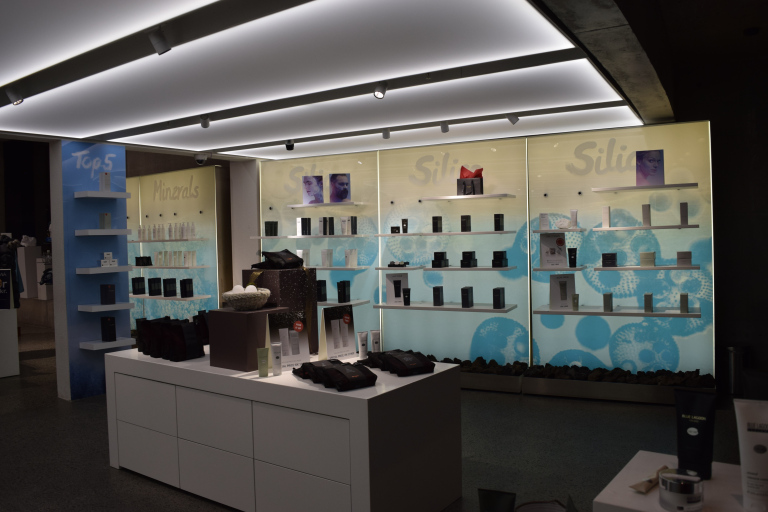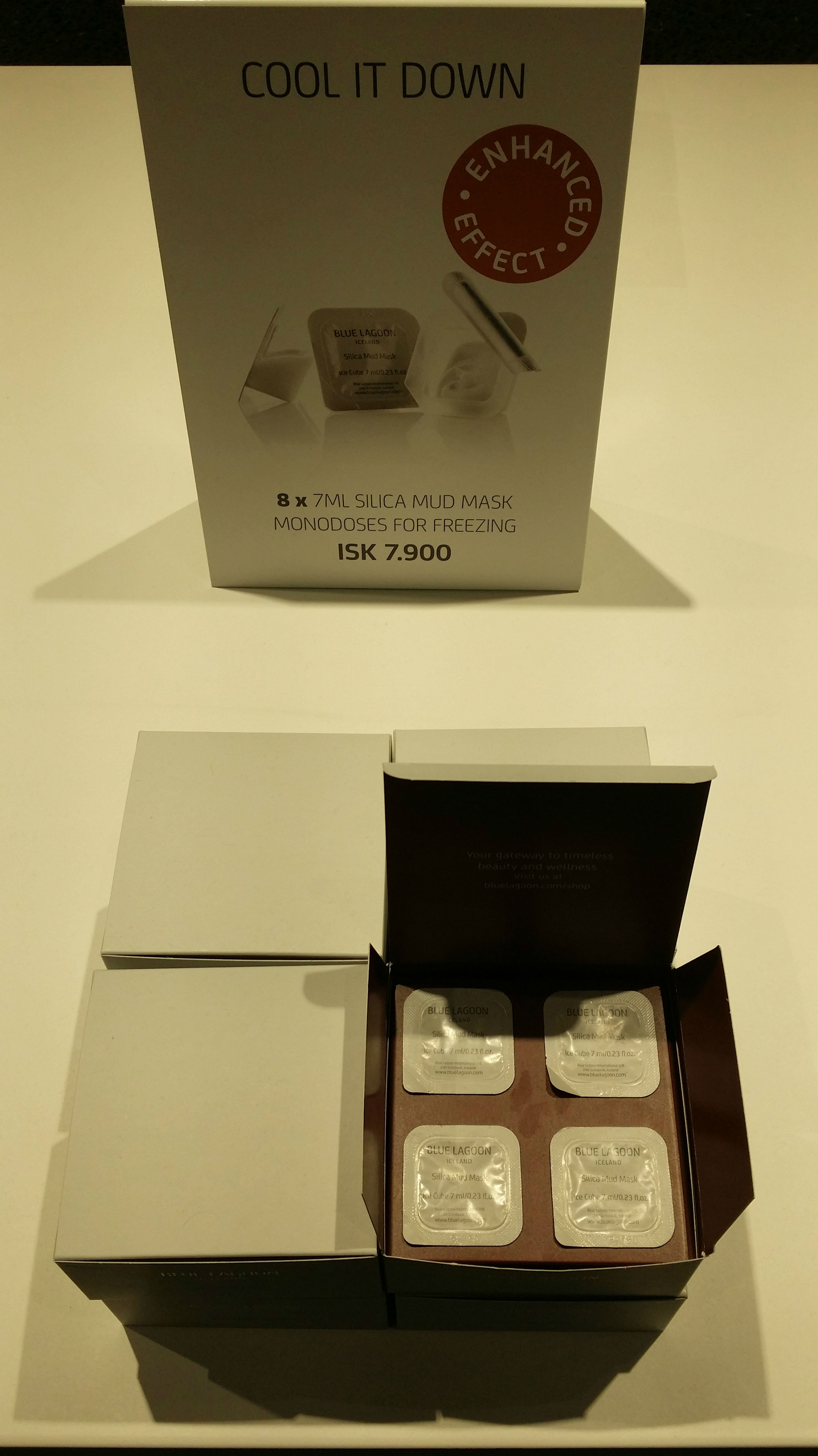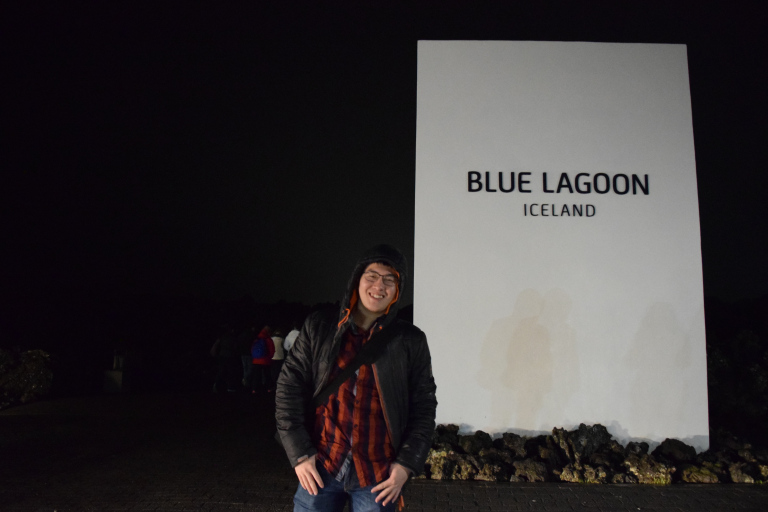 You must not skip the Blue Lagoon if you ever visit Iceland and it is not located too far away from Keflavik International Airport. You may want to book your tickets online in case no tickets are available during your visit. You may visit Blue Lagoon – Website for more information on ticket prices/packages and to know what they will include.
In addition to the add-on (if any), you will also be provided a blue watch that you can make purchases when you are in the lagoon (i.e. drinks from the bar), and to lock your lockers in the changing room. You will then need your blue watch to check out and pay your bills (if any) when you exit.
The Blue Lagoon is of huge spaces, and you can simply find your silica masks at the booth. It is really relaxing and you can stay for as long as you like but you will really get dehydrated if you stay within the lagoon long enough. So do drink plenty of water before and after hopping in.
Participate in the Glacier Walk Activity at Sólheimajökull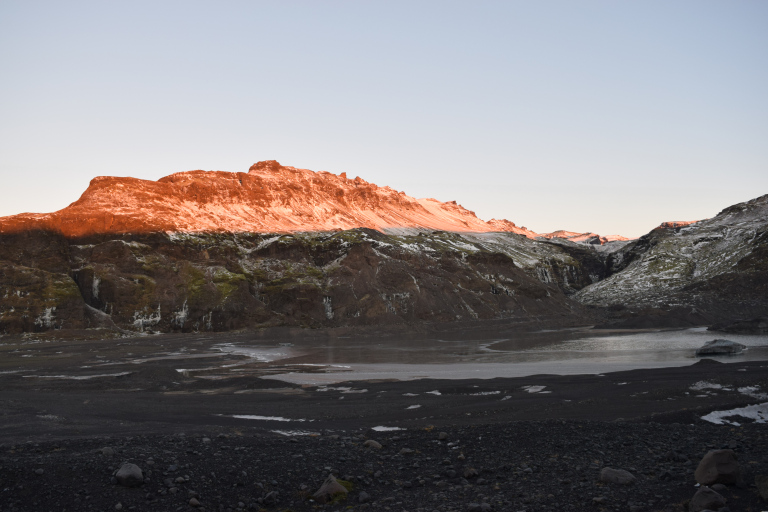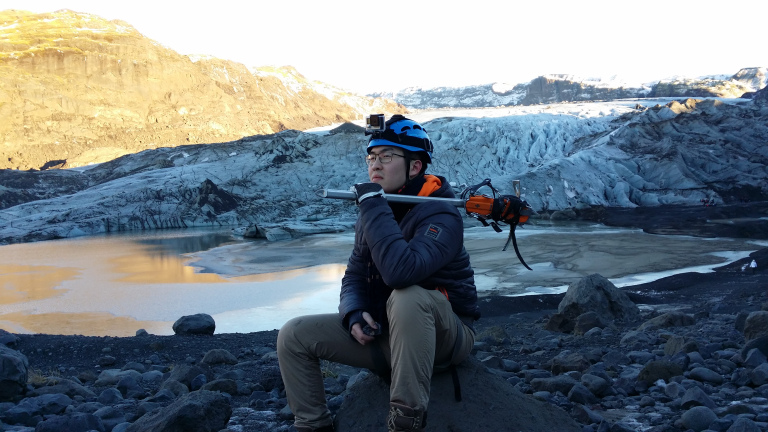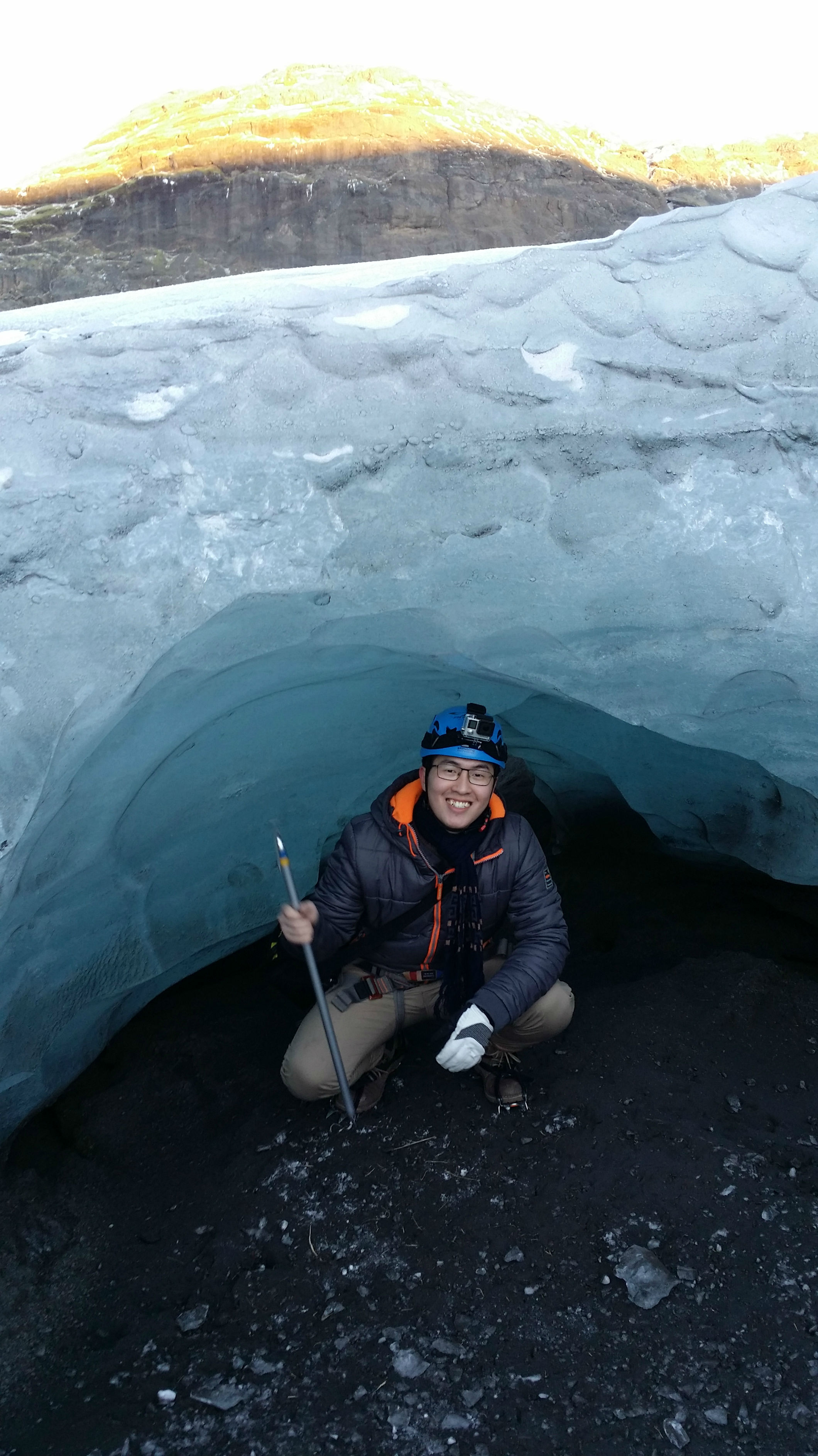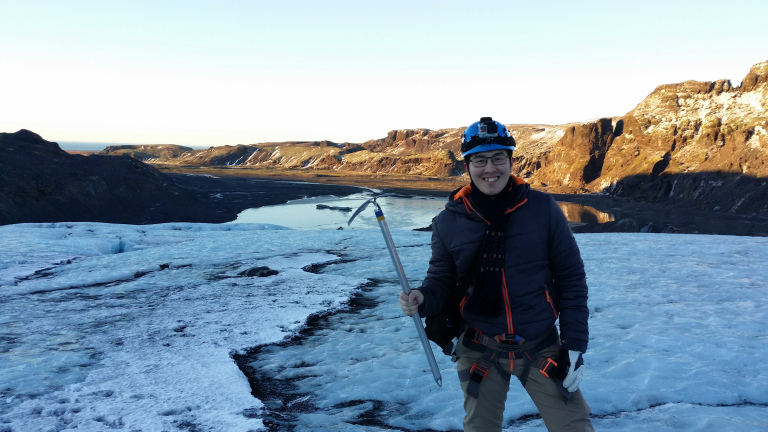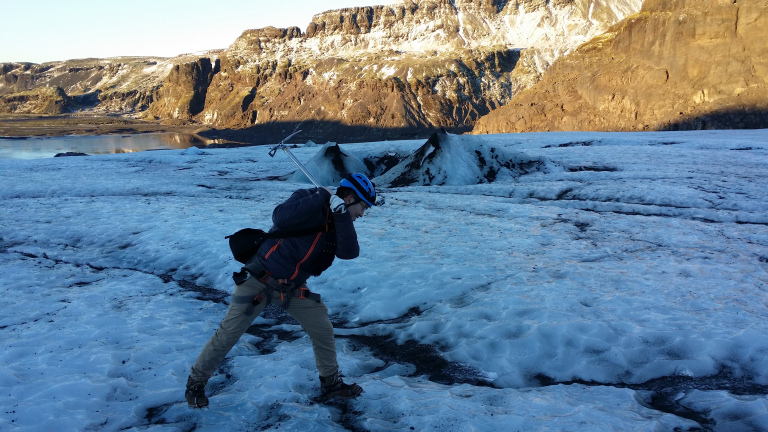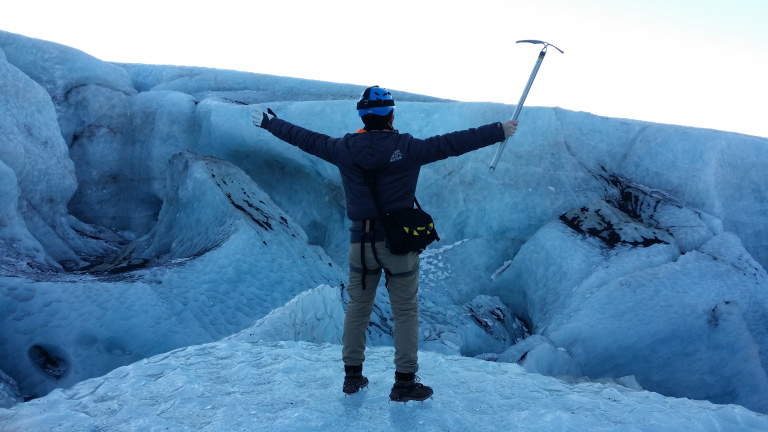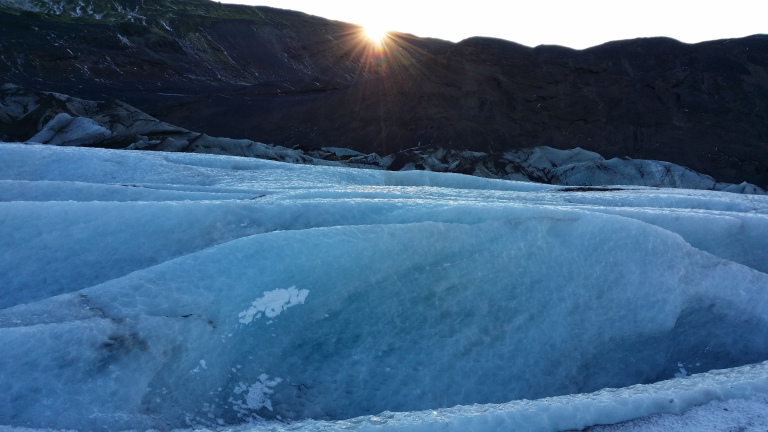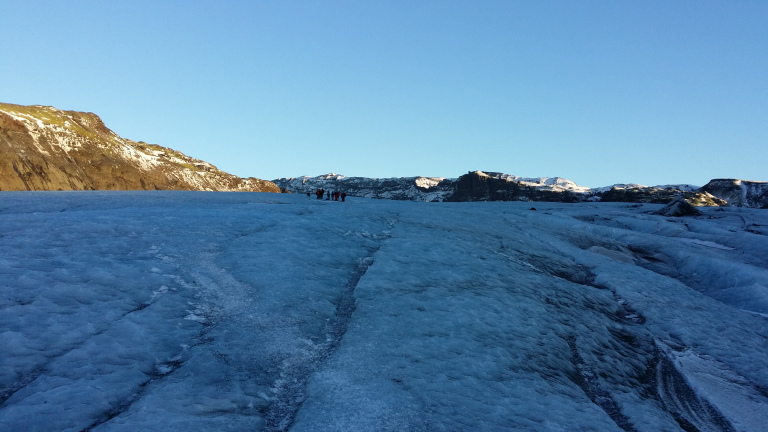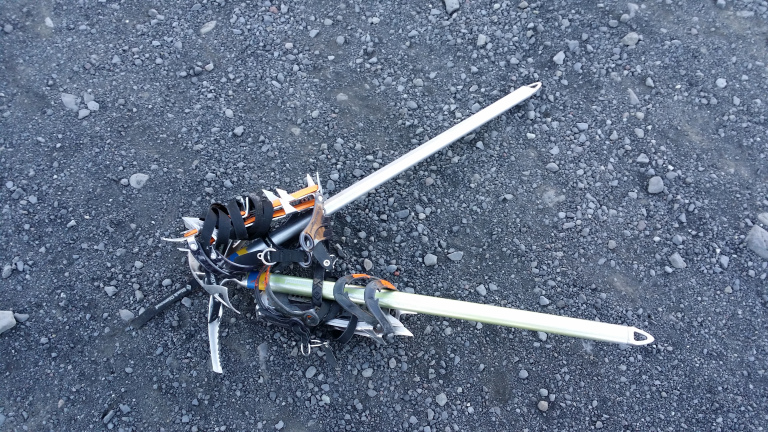 There are several activities available at the glaciers of Sólheimajökull, giving you full experience before the glaciers are gone in the future! We were briefed that the glaciers has been reduced tremendously over the years, and you can even see the different within weeks!
There are many tour companies offering glacier walks in Iceland and the prices may vary. This tour that I joined for this activity costs ISK14,990 per person (activity may take between 2-3 hours) and you may need to participate in order to enter these restricted areas/zones. Worry not as you will normally be provided with proper equipment (such as crampons and an ice axe) as well.
You may visit Extreme Iceland – Glacier Walk Activity for more information.
Participate in the Ice Caving Activity in Vatnajökull Glaciers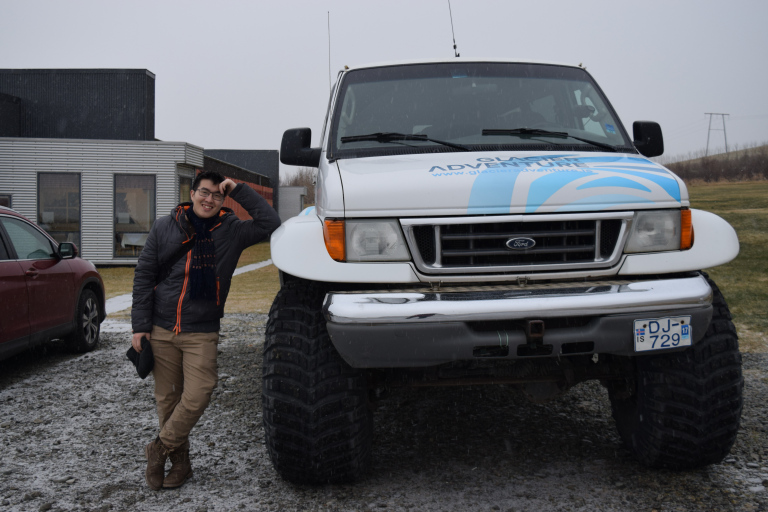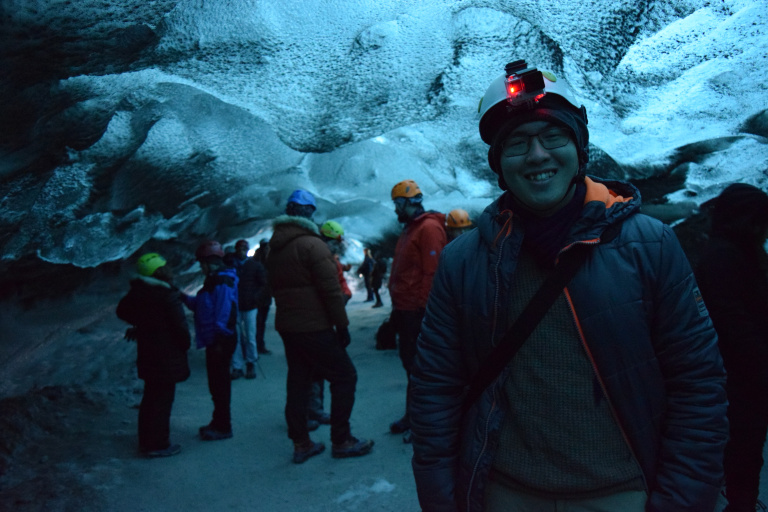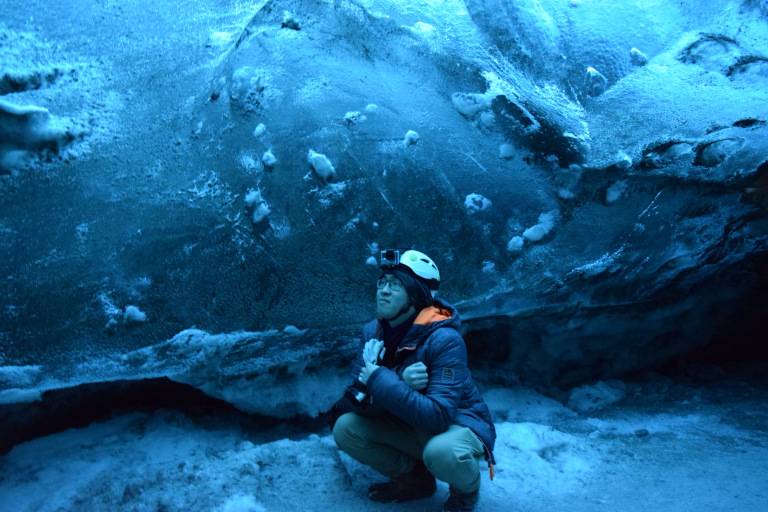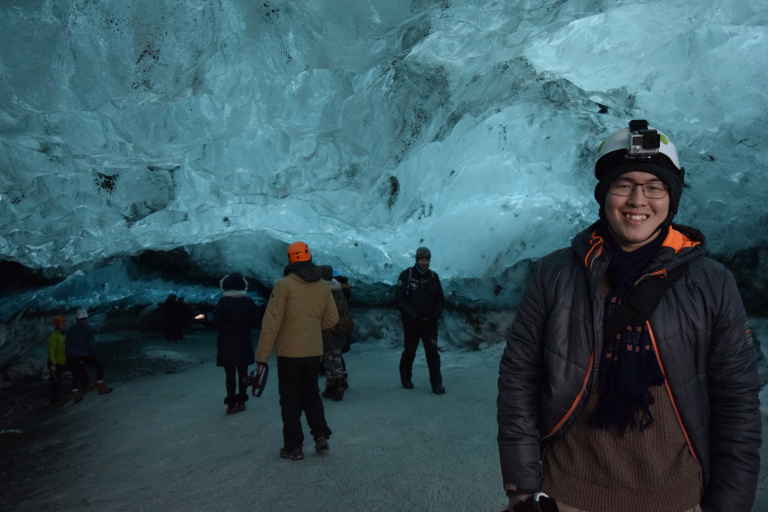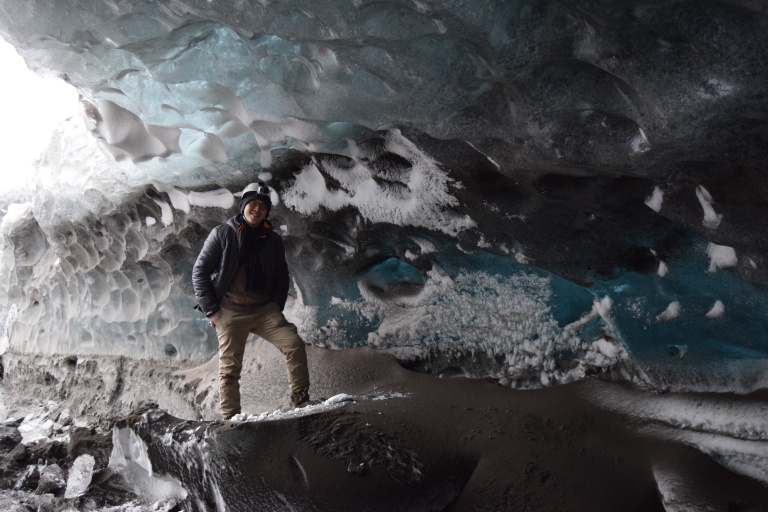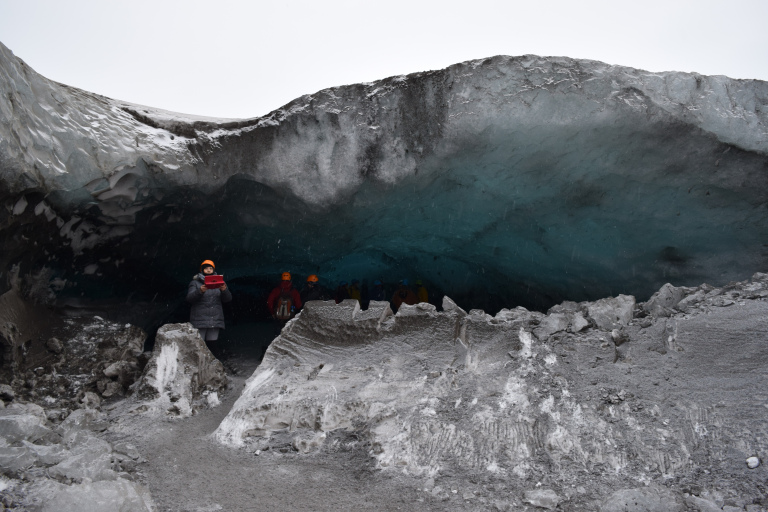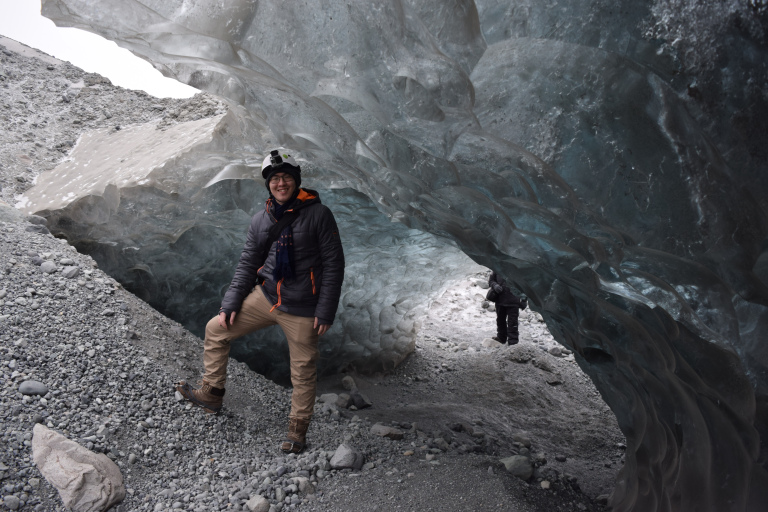 You may browse on which tour company you should participate for its ice caving activity. By participating, you will be provided with proper equipment such as micro-spike (different than crampons) as it is easier to wear on. Transport will be provided as well and you will be hopping into a 4WD that goes off-road, suitable for this course of activity, leading to the ice cave. The activity costs ISK19,500 per person and the entire activity may take about 2-3 hours as it can be really packed at times since ice caving is normally available during the winter seasons.
The ice cave that I visited was located within Vatnajökull, being the largest and most voluminous ice cap in Iceland! However, the ice cave does not seen to be as depicted in the internet but nevertheless, it was still beautiful and a good experience but do blame the effect editing pictures on the internet. Mine's original!
To describe further, the ice cave I have visited was about 500 meters in depth within and it just gets darker inside. It is also accessible at a period of time (during winter season on specific dates) as it was still a river back then.
You may visit Extreme Iceland – Ice Caving Activity for more information.
Breaking the rules by driving off road!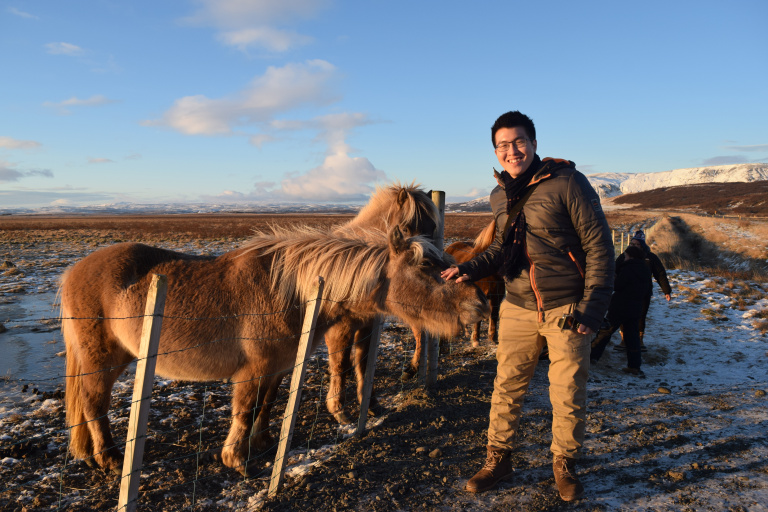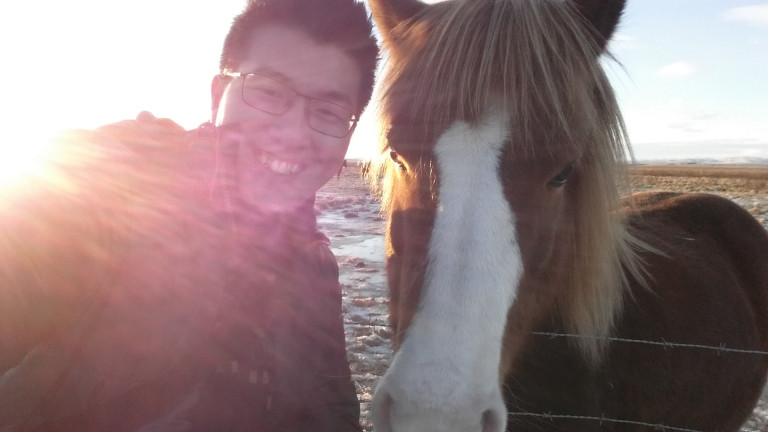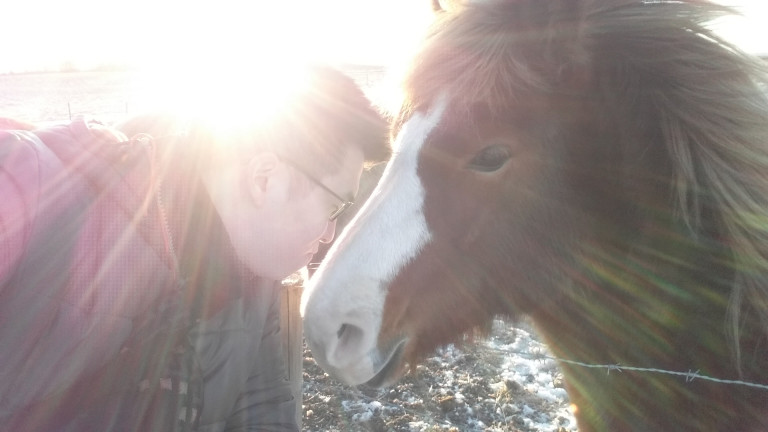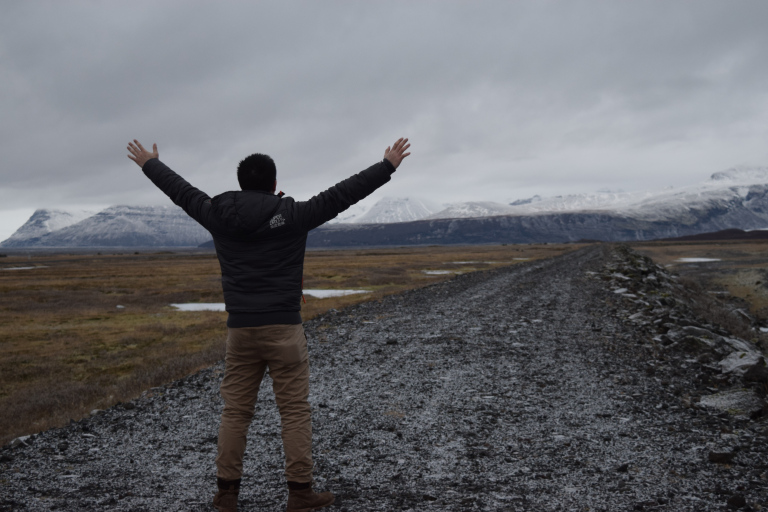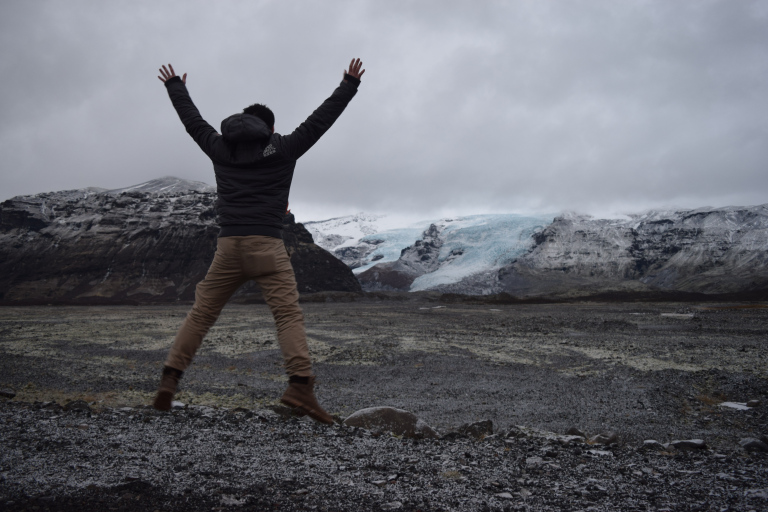 In Iceland, you will find horses in the field that just doesn't move and if you get closer, they would rub their head against you. I love touching its hairs though.
On the other hand, you may want to be careful if you were to park off-road (some spaces may be provided) and take your time for an awesome snapshot!
---
OTHER OPTIONAL PLACES WORTH VISITING
Harpa
Harpa is a concert hall located in Reykjavik that is close to the port and not too far from The Sun Voyager. You can anyhow drop by if you fancy visiting a concert hall in Iceland, so why not? Nothing to shout about but what interest me was, FREE PARKING SPACES! (if available).
Selfoss Town
If you are traveling via the Southern ring of Iceland (the direction to Vik or back to Airport's direction), you will definitely drive pass Selfoss Town. Nothing much of a town, except to restock your food, snacks, and fuel (grab your prepaid cards)!
---
FOOD AND DRINKS YOU'D LIKE TO TRY
Bæjarins Beztu Pylsur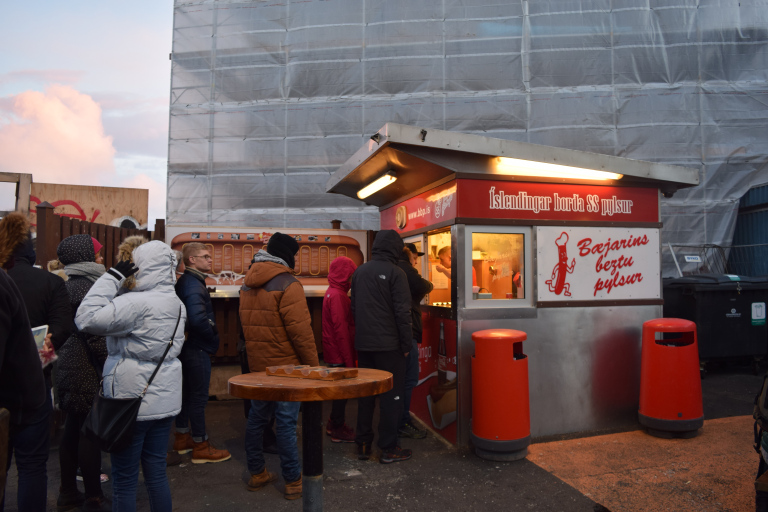 If you ever visit the Reykjavik, the capital city of Iceland, please do visit any one of these stores! They are located at several places and I have heard the best store (if really its true), is the one near to Harpa (Concert Hall). At the store, you can pay by currency card too!
You may visit Bæjarins Beztu Pylsur – Website for more information.
Fish Company Restaurant
I find the food in Fish Company in Reykjavik to be really good, and they have got good service too! The food were fresh, but very full as well (if you spam on breads). Thumbs up for the complimentary dishes as well and overall, it is highly recommended.
In Iceland, you must at least try the lobster and if you could grab them in Höfn town, that is even better!
Prices are as follows:-
IRELAND – BEER (main course): ISK5,300; and
ICELAND – FINEST FISH (main course): ISK5,400.
You may visit Fish Company – Website for more information.
Icelandic Fish and Chips Restaurant
In Iceland, you must at least try some fresh fishes and near to the port in Reykjavik, you will find Icelandic Fish and Chips Restaurant. Taste wise, it was acceptable and I prefer the Cod fish over the Pollock.
Prices are as follows:-
Cod (Catch of the Day): ISK580 (2 pieces);
Pollock (Catch of the Day): ISK450 (2 pieces); and
Rosemary Garlic Potaties: ISK590.
Fridheimar Farm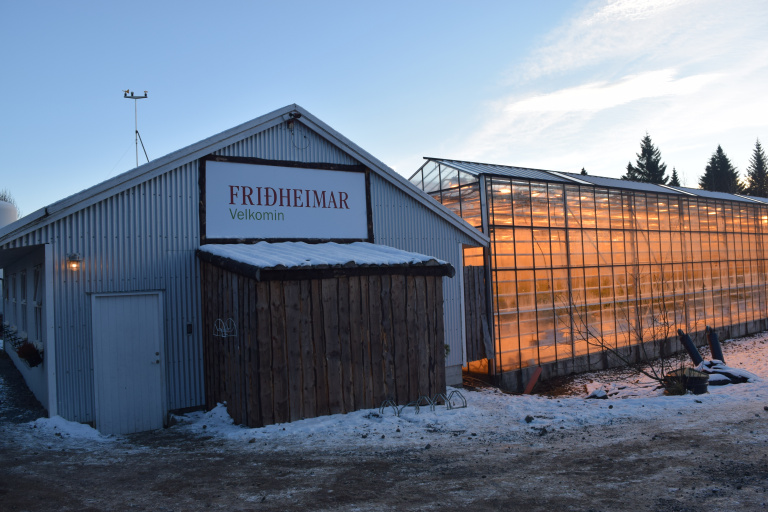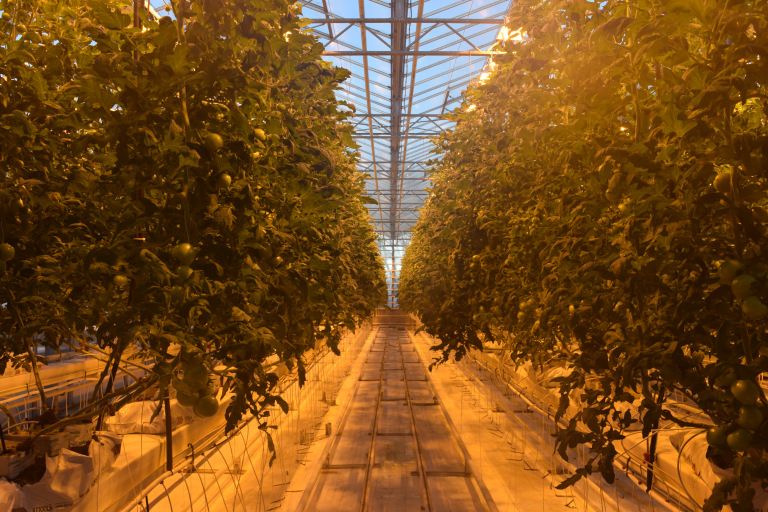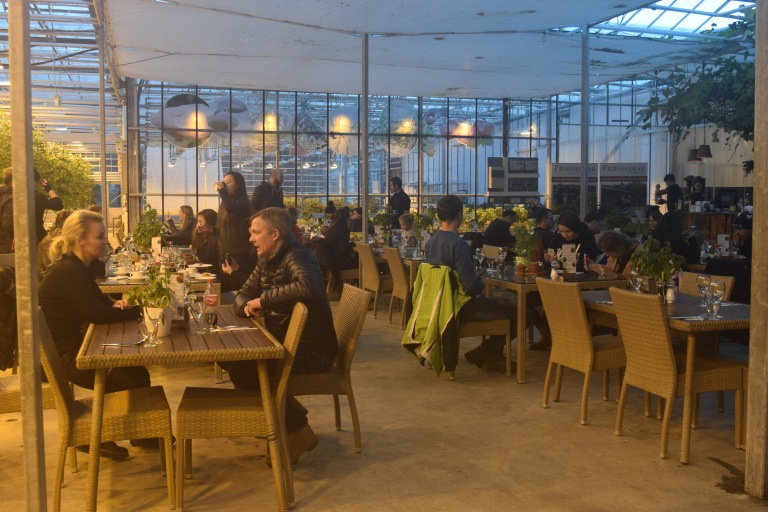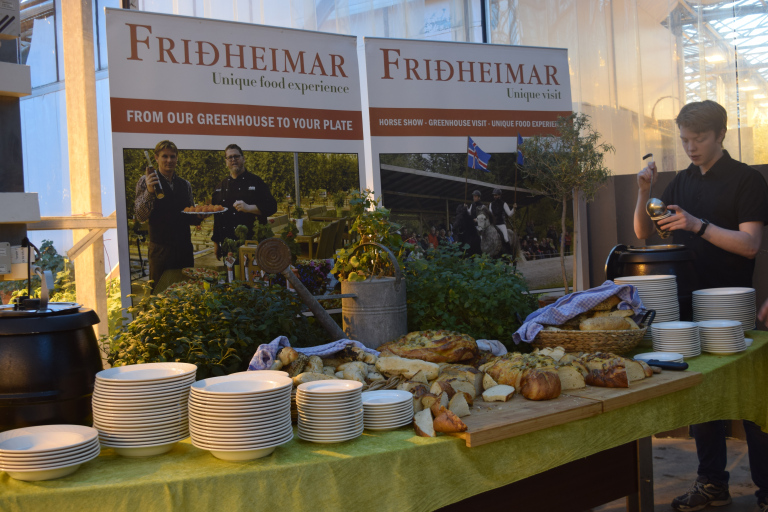 If you are heading down to Selfoss Town or Vik's direction, do remember to stop by at Fridheimar Farm, that is located not too far away from Kerið Crater Lake. It is highly recommended as it was the best tomato soup I have ever tasted in my life. The taste was so pure and organic and I cannot get enough without it!
You can either dine in as a buffet (not too sure what was included but definitely has tomato soup, breads, etc.) or you could take away. If you were to take away, it costs ISK1,000 per cup and you can simply grab some breads along with you (I grabbed 3 breads). I have forgotten how much if you were to dine in as a buffet, but probably over ISK3,000 per person.
I had a cup of tomato soup and some bread, thinking it was enough. I was wrong. Upon having a sip, I knew that I will go for another portion (which I did). In Fridheimar Farm, they had a farm in it and they do sell some other stuffs on the rack as well.
You may visit Fridheimar Farm – Website for more information.
Suður-Vík Restaurant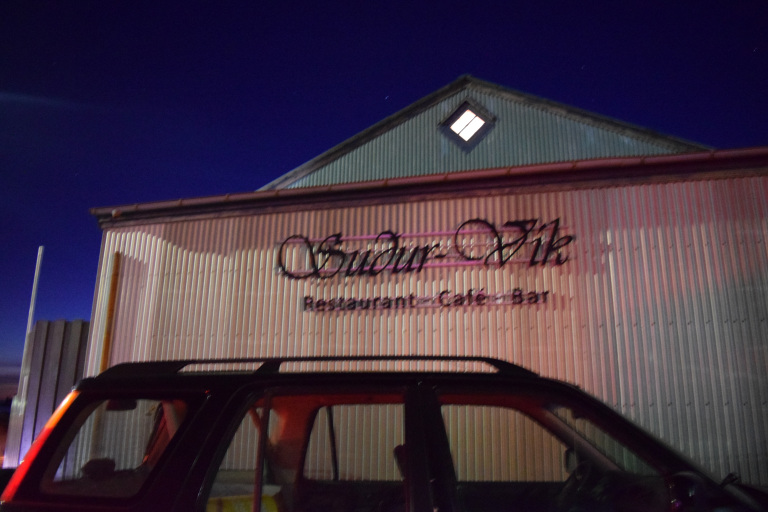 If you are craving for some Asian food, this would be a good place to visit! It is located in Vik and I was told that the restaurant's owner is a Thai. It was tasty and tasted exactly like an Asian food. The place was quiet for a little while, but gotten crazily packed (till no tables are available) during dinner time. Glad we finished ours, on time!
Halldorskaffi Restaurant
There are limited restaurants in Vik and these are some of the good ones. These food were good but not the best tasted. I like the Icelandic viking beer though. No complains when they are not much of a restaurants in Vik, but they are overall recommended to visit.
The total bill of all the above is ISK6,000 as I forgotten how much they are individually priced.
Bónus Supermarket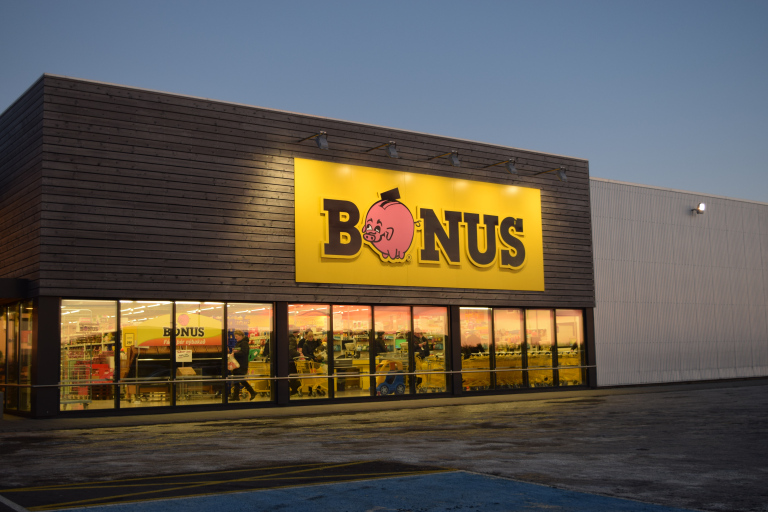 Do remember to visit the Bónus Supermarket as you will be able to know how much the groceries would cost! You may refer to several items as listed below for your knowledge!
Bacon Snacks (by packet as above image): ISK259;
A bottle of coca-cola (250ml): ISK89;
A bottle of coca-cola (500ml): ISK139; and
A bunch of bananas: ISK249/kg.
I believe that you were curious about how coca-cola tasted like in Iceland as Icelandic water were used!
VÍÐIR Express Supermarket
VÍÐIR Express Supermarket is open from 9am – 11pm as many other supermarkets in Iceland closes between 6pm-7pm. Therefore, VÍÐIR Express Supermarket saves the day as it gives you a later chance to grab your groceries (for the night, or prior to heading out from the city).
You may refer to several items as listed below for your reference:-
A bottle of Iceland's stilled water (1 litre): ISK198;
A loaf of bread: ISK 548; and
An Icelandic yogurt (that you must try): ISK168.
---
DRIVING EXPERIENCES / COSTS / TIPS IN ICELAND

In Iceland, it will be normal if you can't resist by driving off-road, but please be cautious of incoming cars. You can be easily distracted by the awesome landscape but do focus on the road as there are all kinds of different weather and road conditions too!
Again, it would be best if you can drive a car with a manual transmission which gives you flexibility when comes to vehicle selection and they are usually cheaper than automatic transmission. Personally, I would think that manual transmission gives you extra need when you are climbing hills, like the one at Dyrhólaey.
I have experienced driving in various weather (sunny, foggy, windy) as well as the dark and very snowy road conditions in Iceland. It all has it own disadvantages of the following:
Sunny: You are likely to drive against the sun, when it shines bright like a diamond, that you are unlikely to see the road ahead (even with car shades on);
Foggy: That your visibility are affected to 500metres;
Windy: Your car will do the creepy shakes (especially if you are driving a 2WD);
Dark: During winter, you will not be able to see anything at night as the skies and landscapes were pitched-black, that your car's odometer will give you a painful glaring experience, especially when you are driving at a longer distance); and
Snowy: Your car can easily skid even if you are driving slowly. If you are on the main road, do follow the clear path and ensure that your vehicle is equipped with winter studded tires.
If you are visiting Iceland during the winter seasons, you will not likely to encounter animals crossing the road, but these skies will be of pitched-black at night. If you have a clear sky during the day, you are likely to see the Northern Light (Aurora Borealis) when it gets closer to midnight and the skies are filled with many stars too (like you have not seen one before). As captured in the picture, I find that the Northern Light is not as bright, but very much lighter and mild than expected, though it dances throughout the night.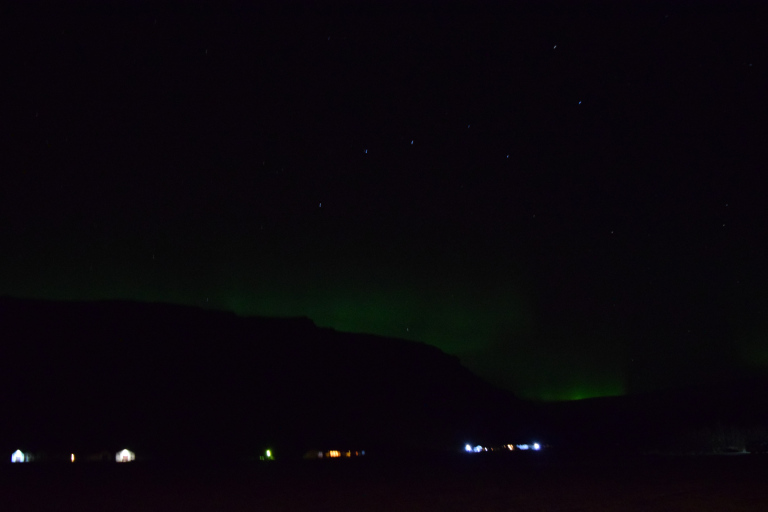 You may visit Iceland Weather Forecast – Website for more information, and weather forecasts on upcoming days. I believed that the weather forecast is primarily focused in Iceland and I find it reliable.
If you are driving on a highway (outside the city/town), the speed limit is normally 90km/hour and varies based on the road conditions. Very often, you are likely to drive by a speed tracker that flashes at you, if your speed limit is beyond the actual limit. I first got frustrated due to the sudden changes in the speed limit, placed just under the speed tracker. However, I get to know that the speed tracker was not to give you a summon, but just to warn you about your speed (it has a smiley on the speed tracker). Normally, if you see a flash when you drive in Asia, it's a summon!
Above all, I would highly recommend you to subscribe for a portable 4G WiFi or GPS from your car company, which will be super helpful during your trip. Although it seems easy to navigate without having WiFi or GPS in Iceland, but you never know what awaits you. It helps me a lot, especially when it comes to finding your right turn, and gives you and estimation of arrival. I would think that WiFi is generally more useful than GPS, as I will be able to use Waze application (better than Google Maps due to navigation accuracy) to navigate my route and at the same time, browse internet wherever I am (if signal allows). This way, you will save more time and ease your journey!
---
RECOMMENDED MEANS OF TRANSPORTATION
Hire a 2WD or 4WD vehicle (recommended)
This is highly recommended in Iceland that gives you flexibility and a better time management of your own will. Hire a 4WD if you need one (if you are going off-road and will be adventuring some climbing terrains) or otherwise, a 2WD will be sufficient. If you have bigger group, you may want to consider a SUV. My journey in a 2WD was well but will have to be careful with the constantly changing road conditions due to winter seasons.
Book a tour
If you are not a planner, you may also consider taking a tour in Iceland. This is generally less flexible and more expensive of course. There are several tour companies you can book with, but do read reviews and make the right choice!
---
TYPICAL COSTS AND MONEY SAVING TIPS
Hostel Prices
Shared dorm rooms: Starts at ISK2,500 per pax/night, but ISK3,000 is average.
I am not too sure about hosteling in Iceland and based on estimated prices, you could save money this way.
Hotel/Guesthouses Prices
Hotel/Guesthouses rooms: Starts about ISK10,000 per night but a room at a 3-star hotel could possibly be about ISK12,000-13,000 at average per night for 2 persons.
Food & Drinks
Typical restaurant: An average meal could cost about ISK1,000; and
Good restaurant: Could start as high as ISK4,000 for an average meal.
Transportation & Fuel
1. Vehicle
KIA (2WD-Manual Transmission-Diesel) hired from Blue Rental Company;
5 Days: ISK36,500 (prices may vary) and it includes certain insurance;
Subscribed additional insurance for Sand and Ash Protection (SAAP): ISK7,500 (5 days);
Subscribed a portable 4G WiFi with USB cable: ISK9,500 (5 days); and
Vehicle hire is chargeable on a basis of 24 hours.
2. Fuel
Fuel costs me about ISK10,000 for running 1,162 kilometers; and
I have pumped my car's fuel with N1 station, instead of any other stations, though Orkan fuel pump station may cost slightly cheaper than N1's.
Do remember to get the car washed and fuel pumped to the same indicator/fuel level at the time you first hired the vehicle (or the car company would charge your credit card for these, with a service fee). Buying a fuel prepaid card is essential if you are traveling out of the city, as some other pump station will only provide you with a standalone pump panel with no counter. This way, only a fuel prepaid card will work! For instance, if you are buying a N1 fuel prepaid card, it can only be used for any other N1 stations to pump fuel as well to do any other purchase within the station.
3. Review
Blue Car Rental was good to excellent. The staffs were friendly and you will be required to inform the staff beforehand if you will be expecting to return the car at closing hours or midnight, so that they will be expecting you in the office. The prices are reasonable, and the staff were flexible if we were to add on little more scratches to the car (that they may just ignore). Upon returning the car, the staff seems quickly satisfied with the car and signed off without problems.
You may visit Blue Car Rental – Website for more information.
Admission Fares (excluding activities)
Most places and attractions in Iceland will not impose an admission fare, unless you participate in activities). However, I would think that your admission fares may not exceed beyond ISK2,000 (excluding activities such as glacier walk and ice caving).
As mentioned previously, activities such as glacier walk costs ISK14,990 per person while ice caving costs ISK19,500 per person.
---
Copyright © | Aspen See
Disclaimer: All the information and prices (as at November 2016) provided on this website are based solely on experience and you agree that you use such information entirely at your own discretion and will.