København! This is how it is spelled in Danish and pronounced differently. If you ever visit Copenhagen, be ready to spend a little bit more than expected as they have got really awesome food, pastries, and coffee! Plus, it was near to Christmas during my visit and they had all kinds of Christmas Markets and food to try!
Copenhagen, was also known to be one of the best places in the world for its coffee and you must definitely try em'! I find Copenhagen to be really organized and systematic, friendly people, and again, these people in Scandinavia are really fluent in English. They have good souvenir shops too, and I have gotten some from the Carlsbery's breweries, where the beer was originated from as you will see products that is no where else to be seen.
If you may, Malmö, Sweden is really close and you have nothing to lose to pay a visit. Do take note that some money changers (probably all) do charge a service fee (I was charged DKK35), unlike some other countries in the European region.
---
PLACES TO VISIT AND THINGS TO DO IN COPENHAGEN
The Little Mermaid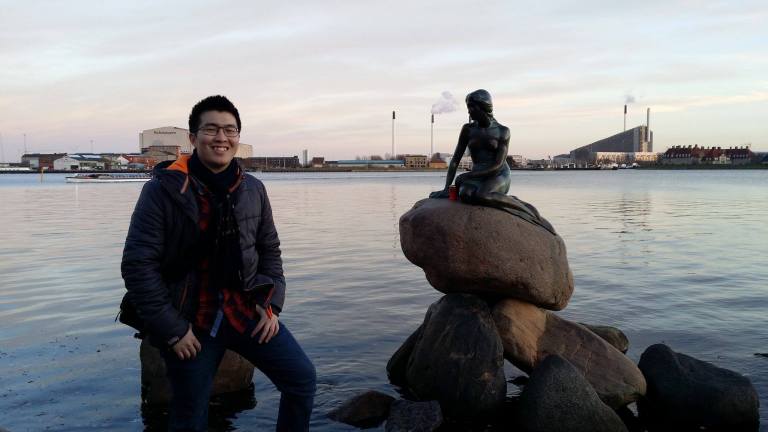 They do have their own iconic statue even in Copenhagen among other cities like Mannekin Pis in Brussels, the Statue of Liberty in New York, and even Merlion in Singapore.
At the same time, there are statues that looks almost similar to The Little Mermaid and there were copyright issues going on in the past.
Nearest S-Train station: Østerport Station
Kastellet Fortress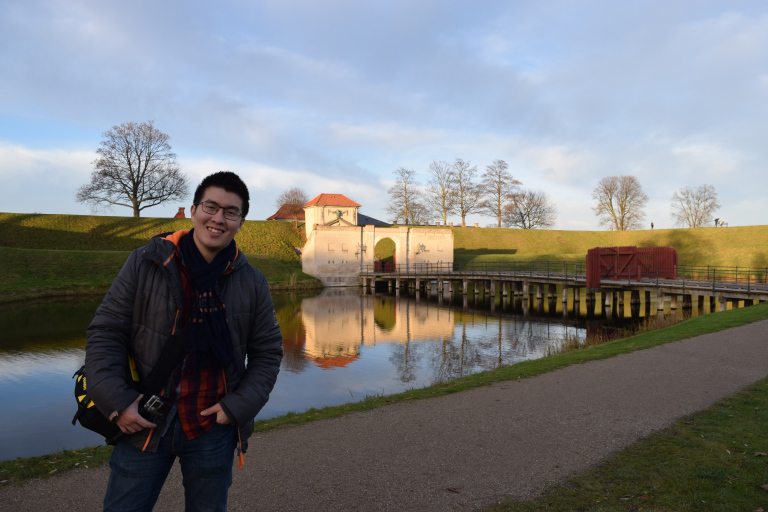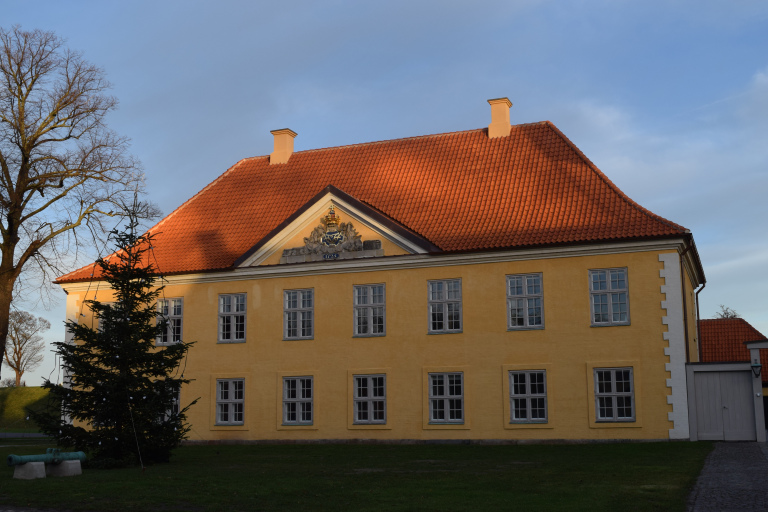 To be honest, Kastellet Fortress looks simple enough but worth the view walking around the pentagram where Kastellet is situated within. If you look at Google Maps, you will see that the land was beautifully shaped as pentagram with bastions at its corners.
Nearest S-Train station: Østerport Station
Gefion Fountain and St. Alban's Church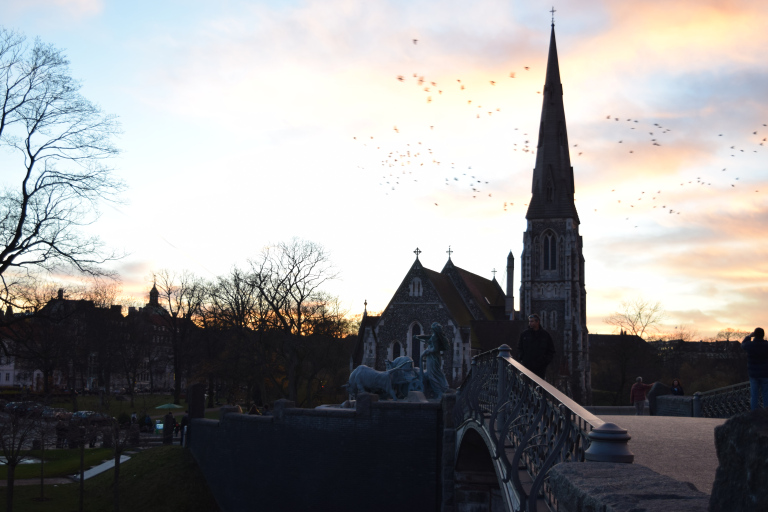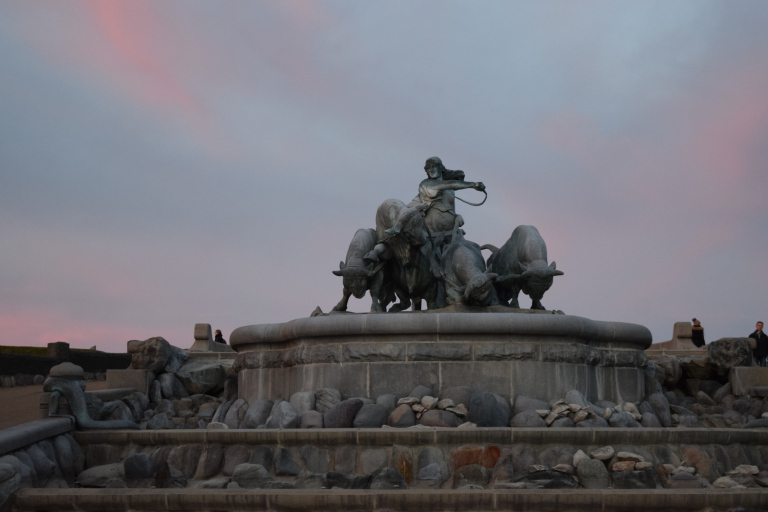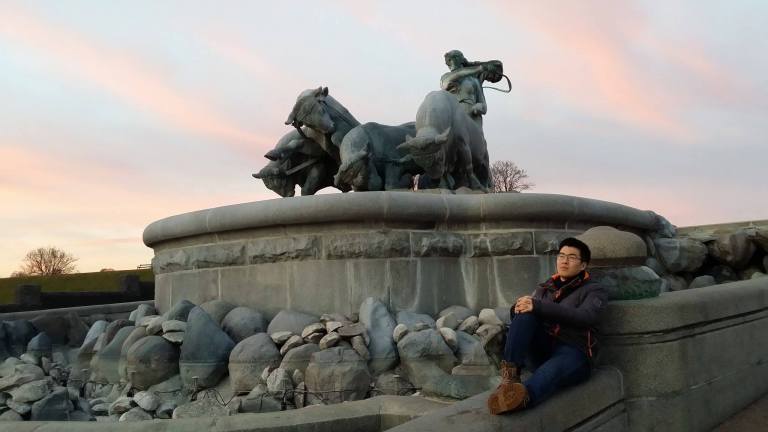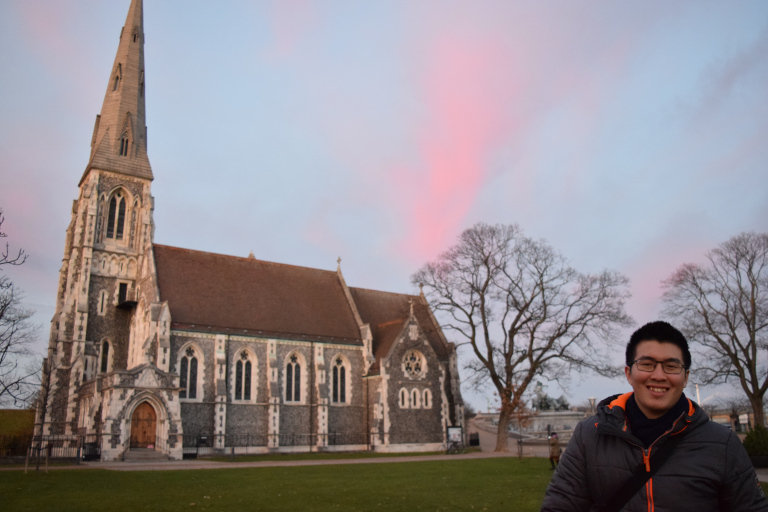 These places are located close to Kastellet Fortress and The Little Mermaid statue. The skies are beautiful and worth the walk from the nearest S-Train (approximately 15 – 25 minutes).
I can remember how tired and sleepy I am upon arriving Copenhagen on Day 1 from Iceland (not having to sleep the night before due to check-out of vehicle and to catch the earlist flight). But nothing stops me from moving ahead! These were a few places to visit on Day 1, before having to really know Copenhagen on Day 2 and beyond!
Nearest S-Train station: Østerport Station
Rosenborg Castle and its Garden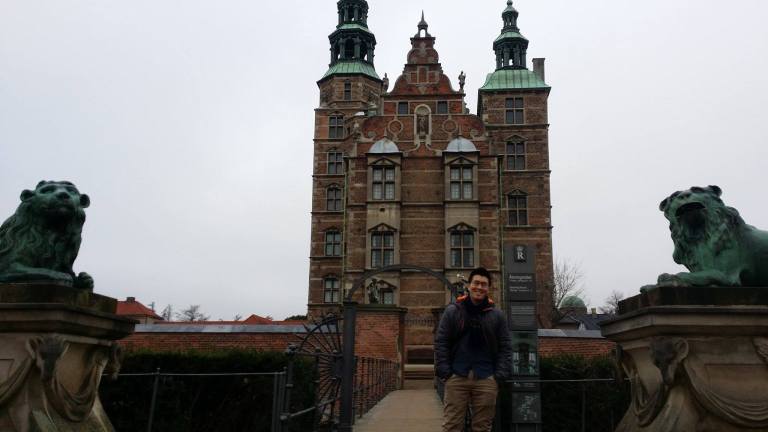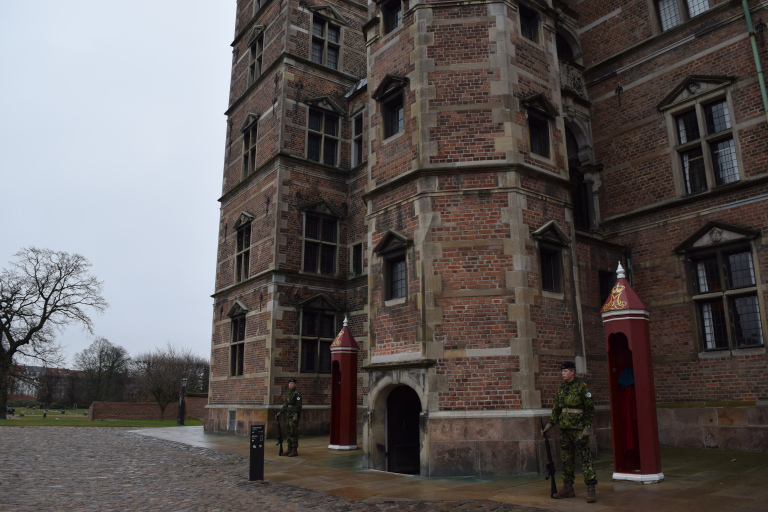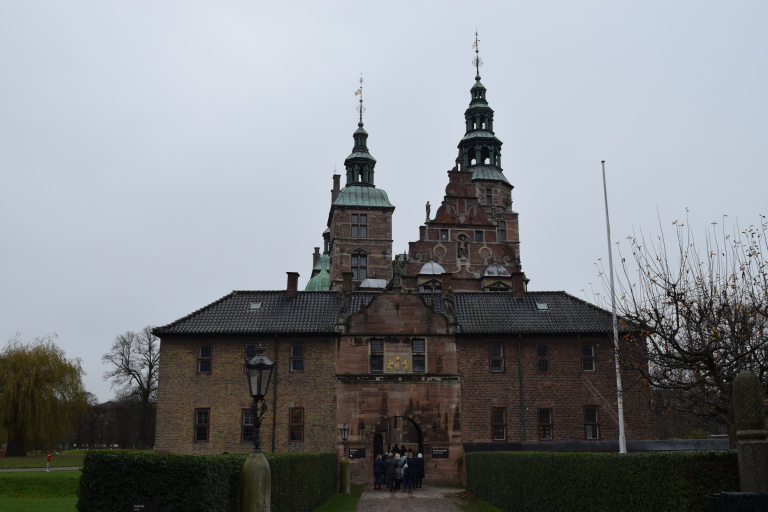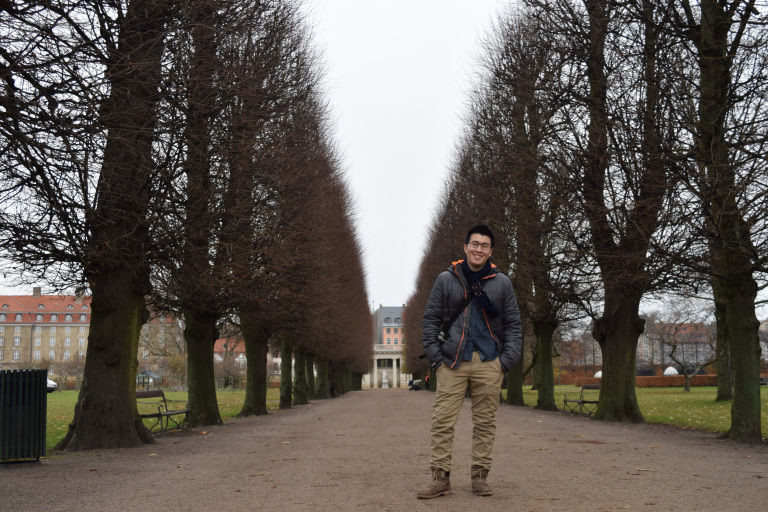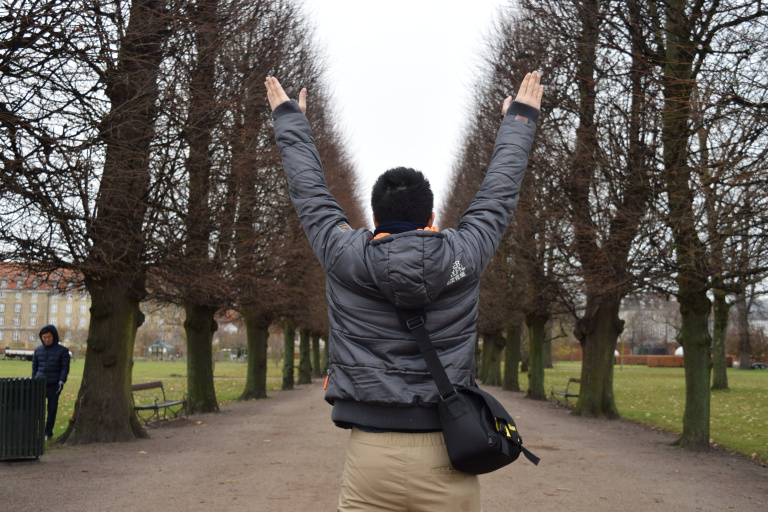 I realized one thing in Copenhagen, that the Castles here seems rather taller than wider. It was beautiful but a little bit spooky. However it's worth coming here for the marching of the guards!
Admission into the Rosenborg Castle costs between DKK105 – 145 per person depending whether you needed a combination ticket with Amalienborg Palace.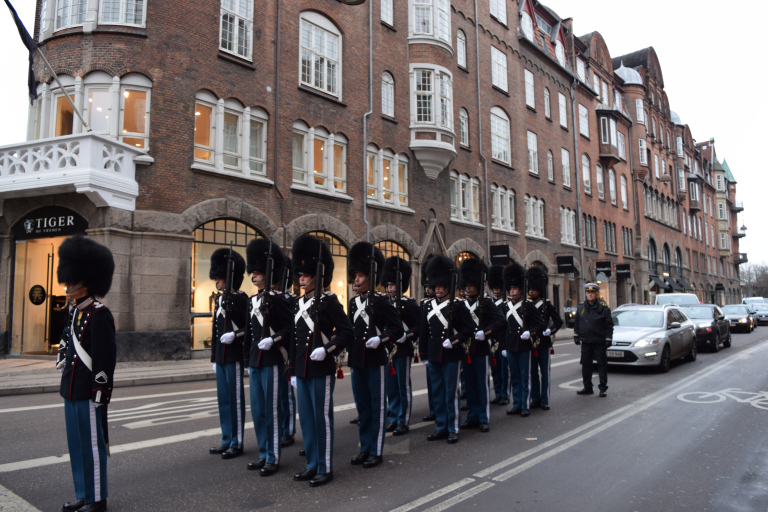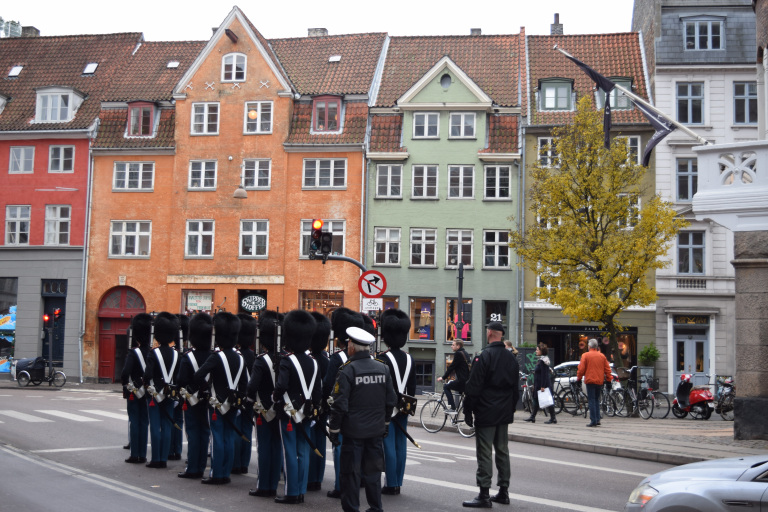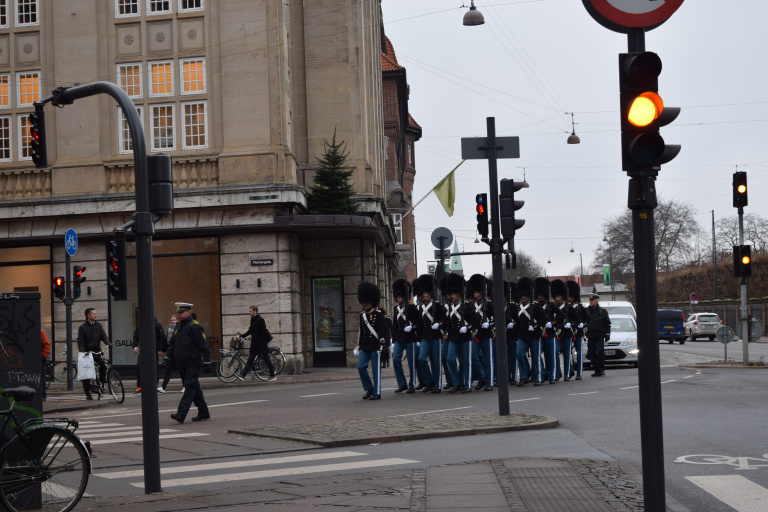 During the winter season (at least that I know), the marching of the guard will commence at 11.30am, from Rosenborg Castle, to the streets and traffic lights, before arriving Amalienborg Palace. It is actually quite cool when you see them marching while the cars are following at the back.
You can actually follow their foot path, but do remember to keep it up! Personally I felt that sometimes it could be difficult to follow with their route because you will certainly be distracted with major streets, and beautifully decorated buildings as Christmas was approaching.
Nearest S-Train/Metro station: Nørreport or Kongens Nytorv
Amalienborg Palace & Frederik's Church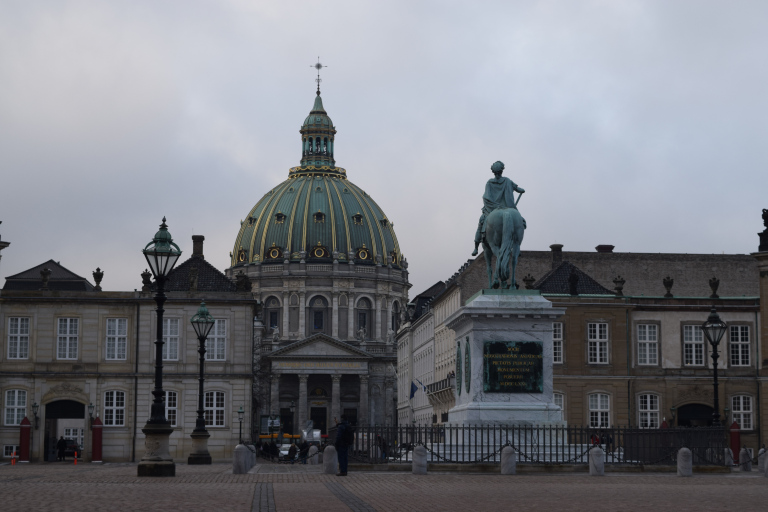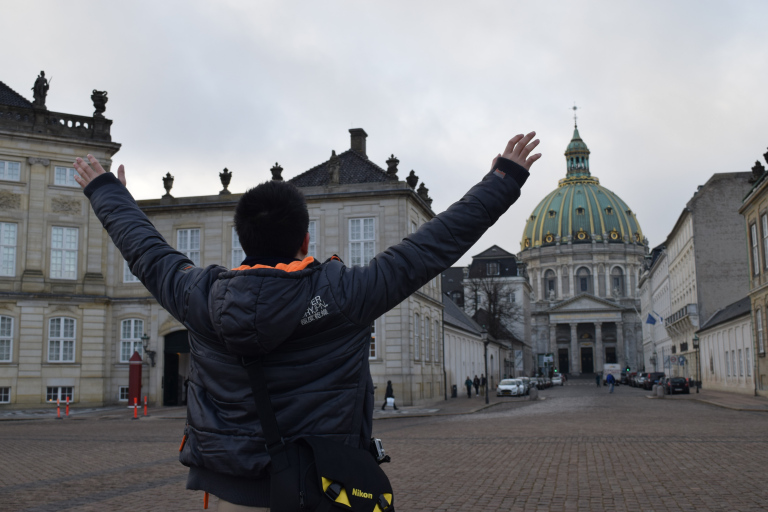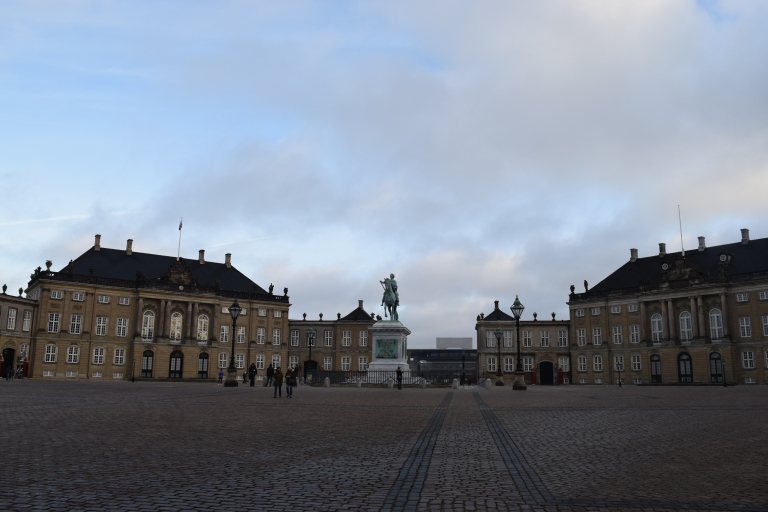 This last picture depicts the Amalienborg Palace where the marching of the guards stops. I didn't know it was a palace because it didn't look like one and given the huge space outside. With this, you will also notice the Frederik's Church that is also known as the Marble Church.
Nearest S-Train/Metro station: Kongens Nytorv
Nyhavn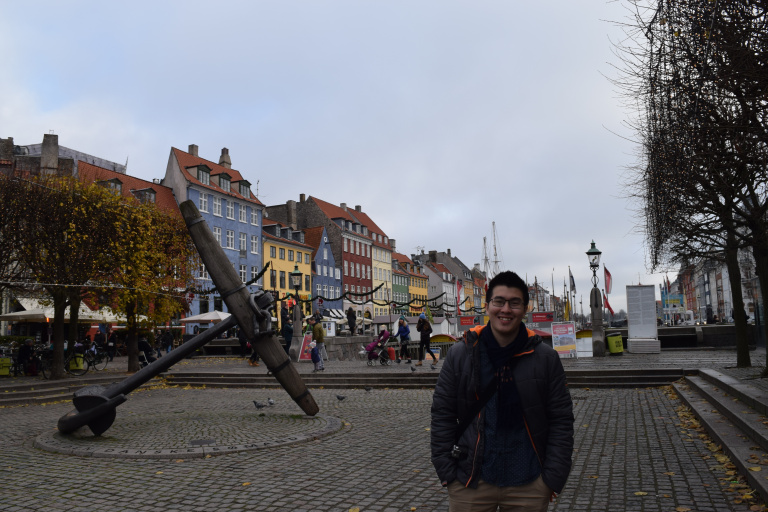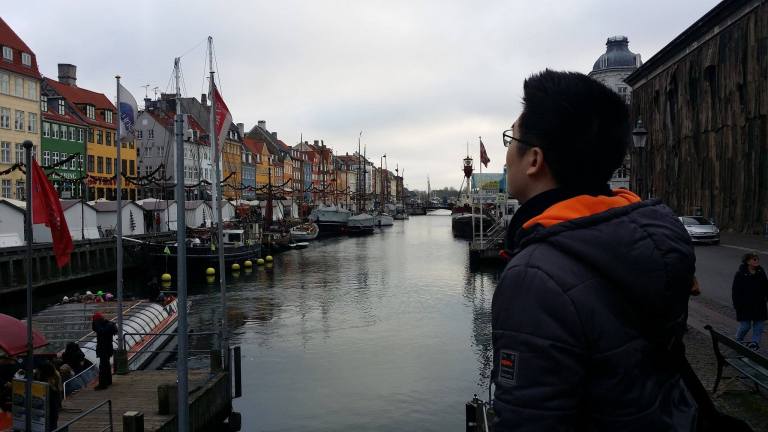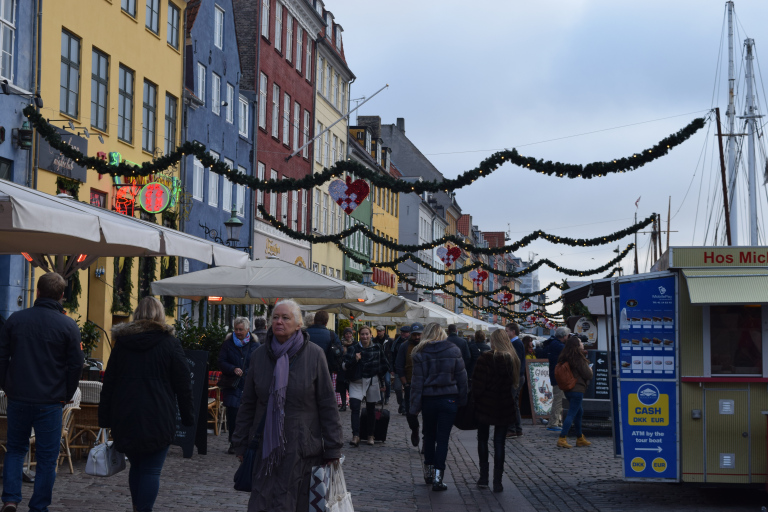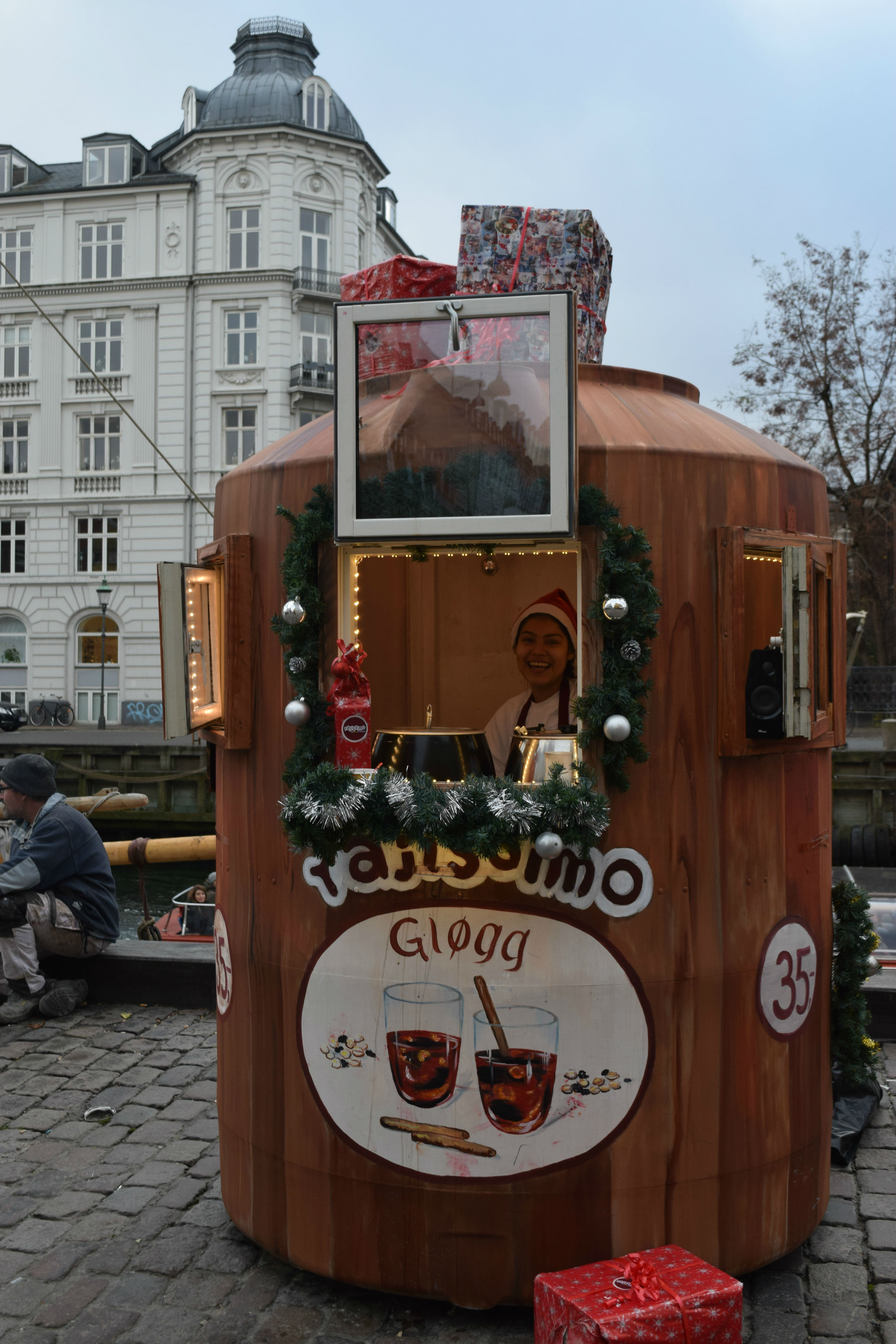 Nyhavn is also known as a canal and an entertainment district with colourful buildings and was great to know that the Christmas Markets are up and running! Otherwise, there are cruises running through the stream of river, giving you an awesome sight of the inner city.
Nearest S-Train/Metro station: Kongens Nytorv
The Round Tower (Rundetaarn)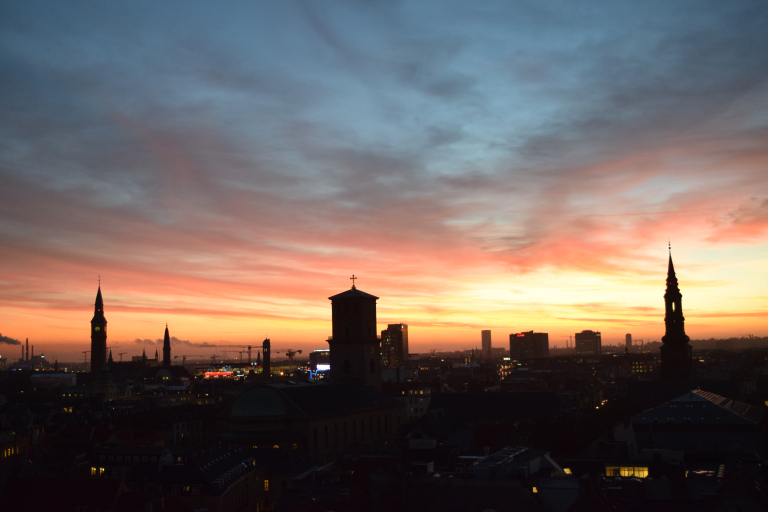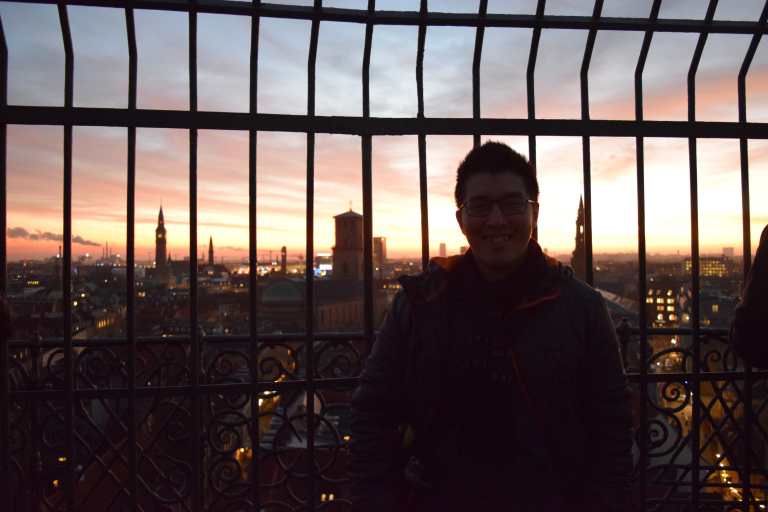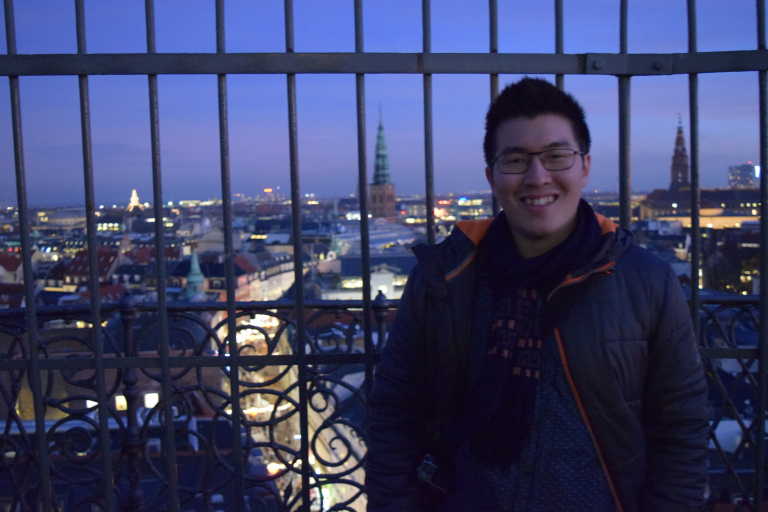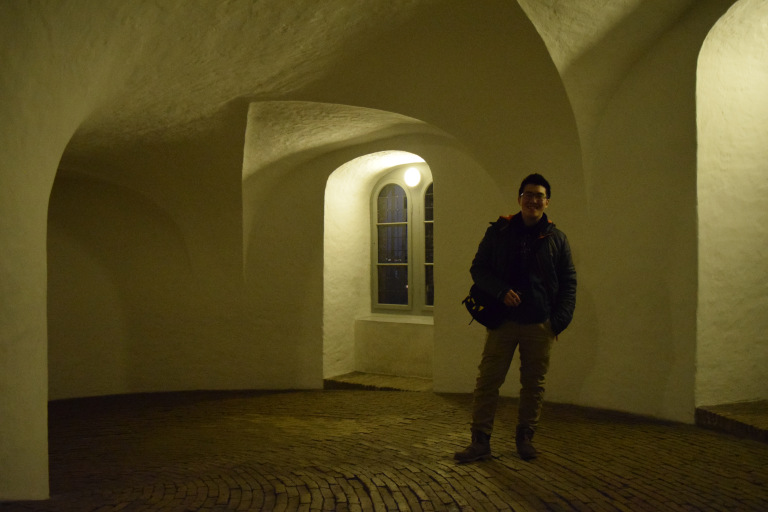 This is the Round Tower, giving you a panoramic view of the city, Copenhagen! The admission however, costs DKK25 per person and all you need to do is to climb the tower on a circular path, before you could reach the top (with some stairways as well). Glad that they had a toilet (WC) halfway.
The sun was setting when I was at the top and somehow you had to grab a good spot, as the top can be packed with people. The view was good, but wished if they could get the rail bars removed even though that was for safety reasons. That way, you will need to slip through your cameras over the railings to snap better pictures!
Nearest S-Train/Metro station: Nørreport
Taking a stroll by Strøget street & Visiting the Lego Store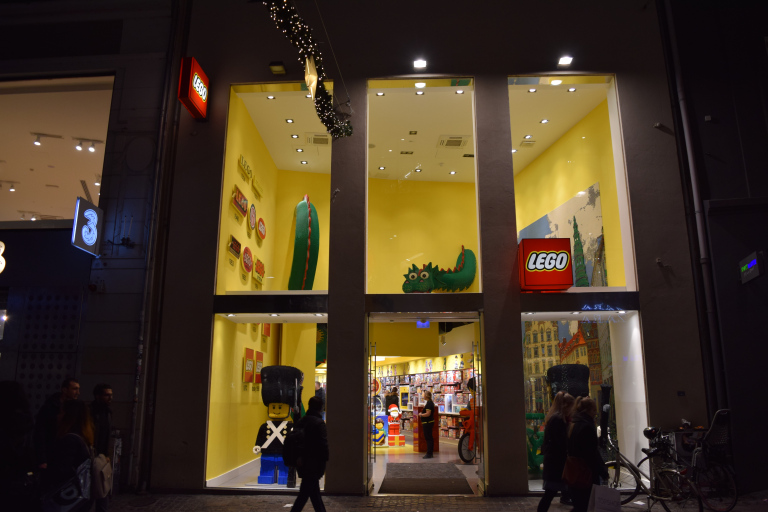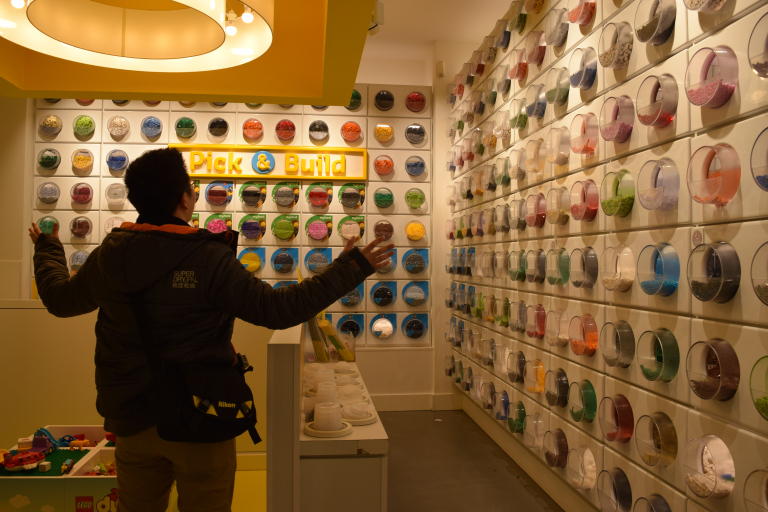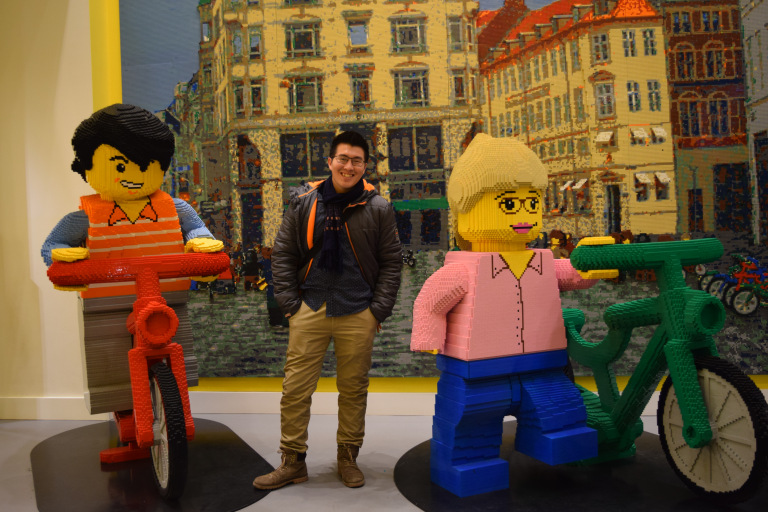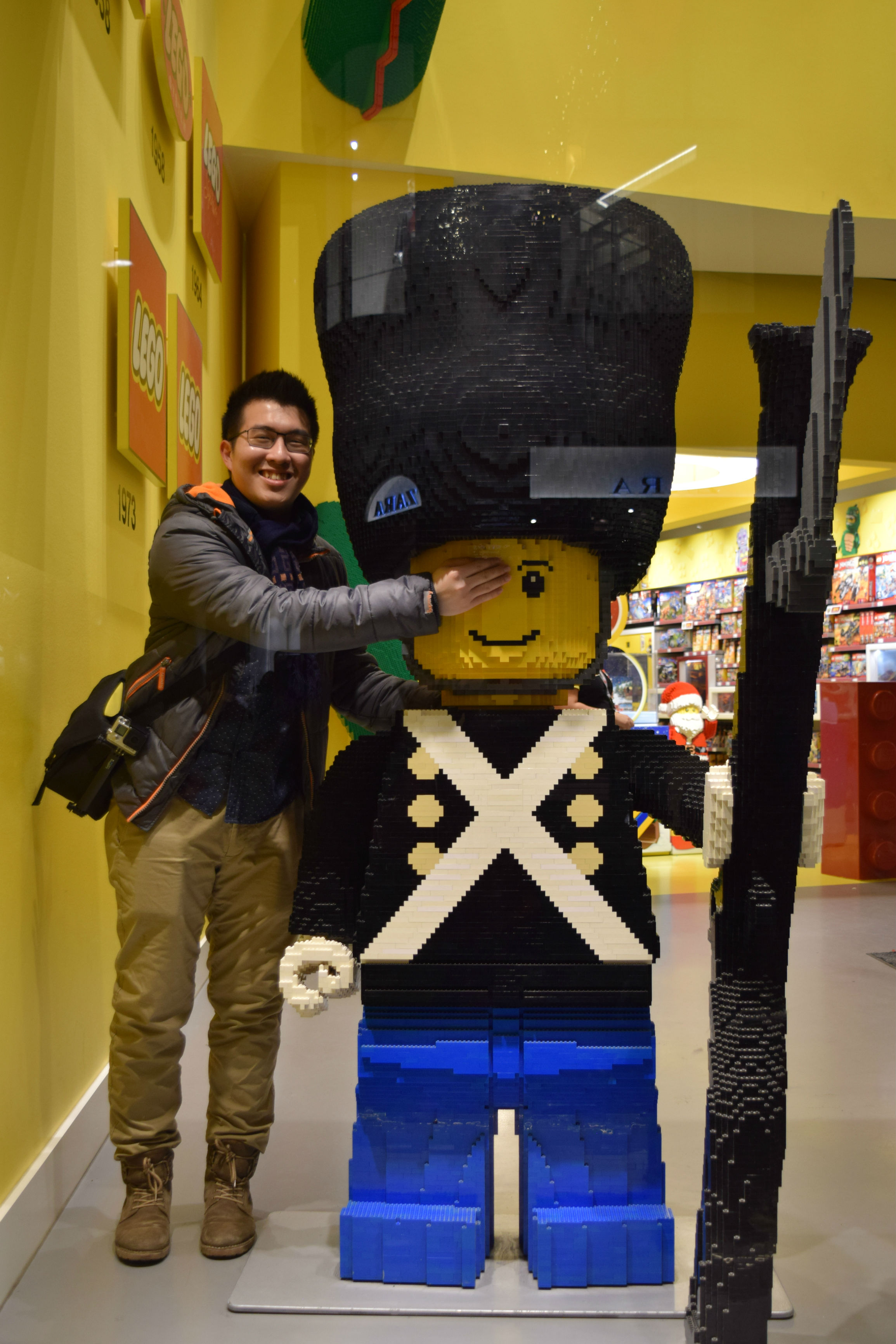 Strøget road is known as one of the best places to do your shopping. During Christmas, the street will be well decorated and lid with decors and in November 2016, they had this Black Friday sales that items can go up to 50% off! Nearby streets are mesmerizing as well and couldn't take your eyes off. Do explore and burn your credit cards!
Do not forget to visit the LEGO store if it has been part of your childhood. LEGO is originated in Denmark and I realized that some of its products/items can not be found elsewhere, particularly in Asian countries.
Nearest S-Train/Metro station: Kongens Nytorv
Carlsberg Breweries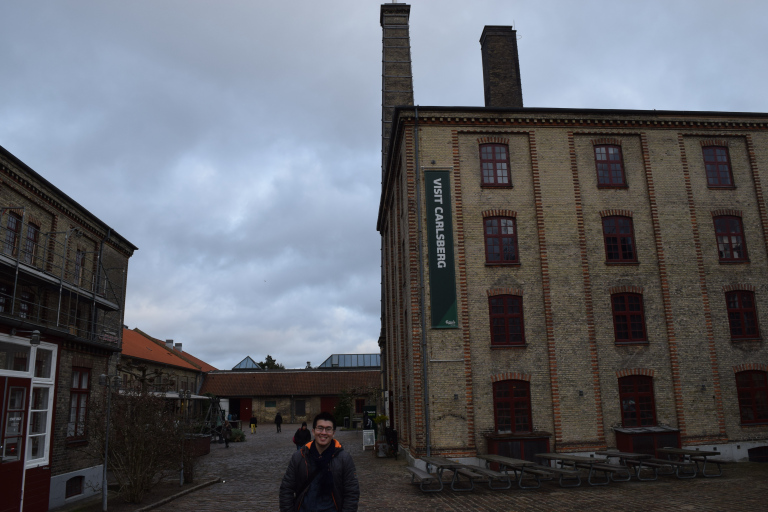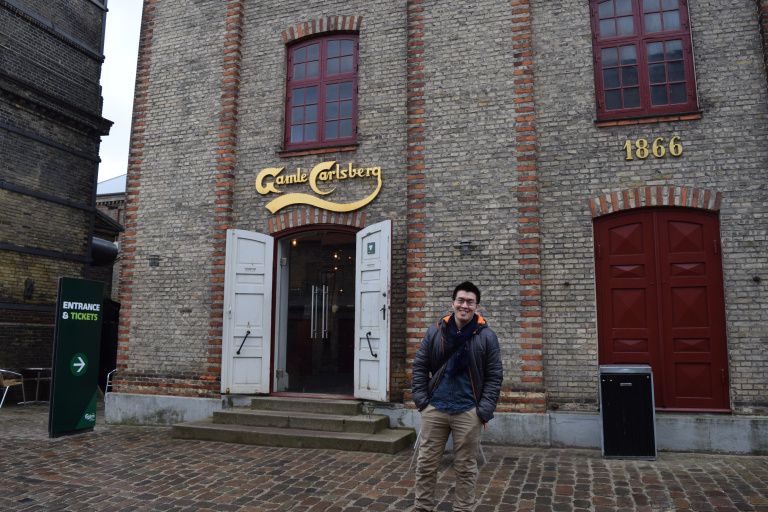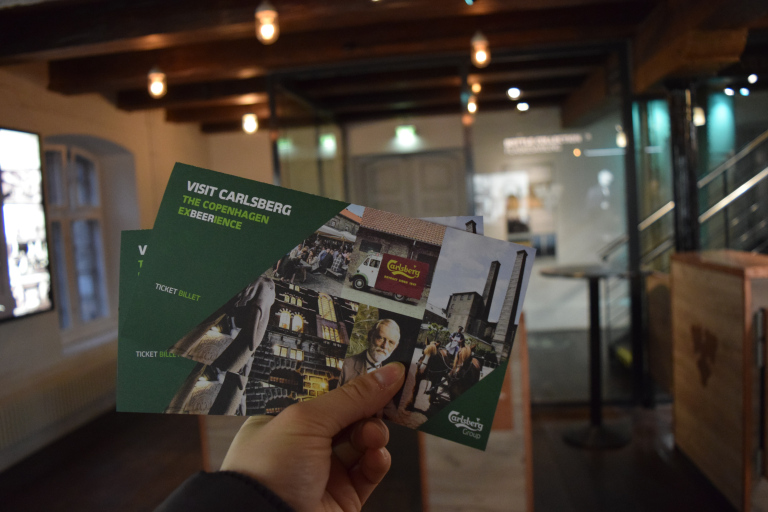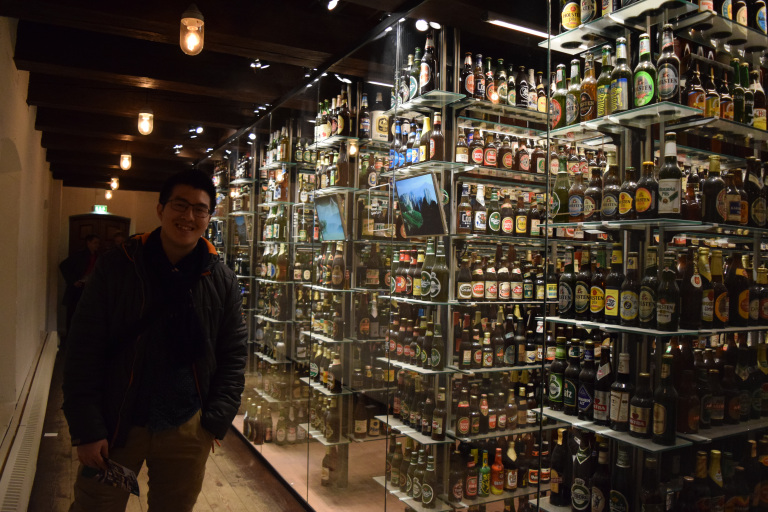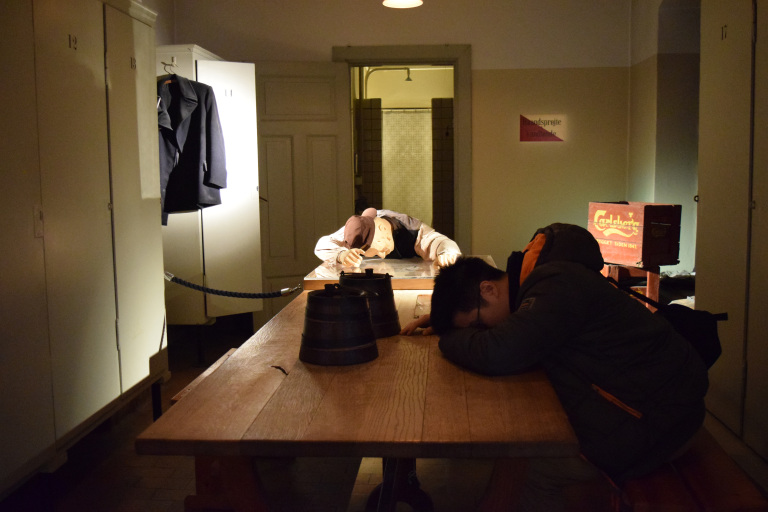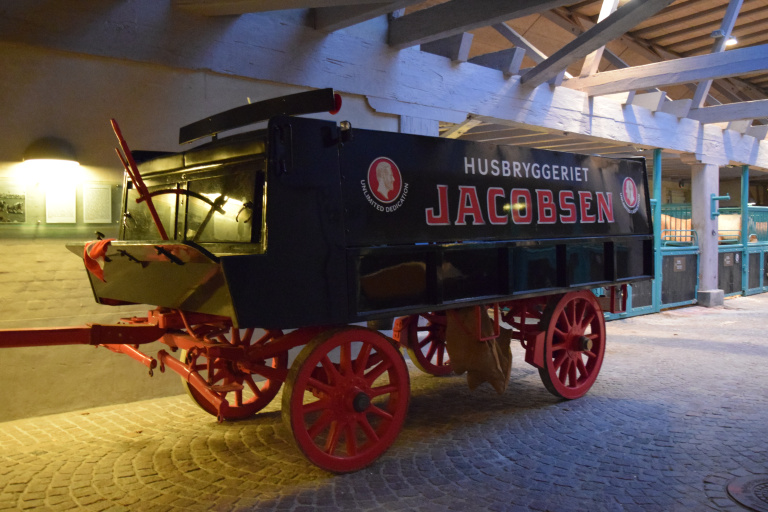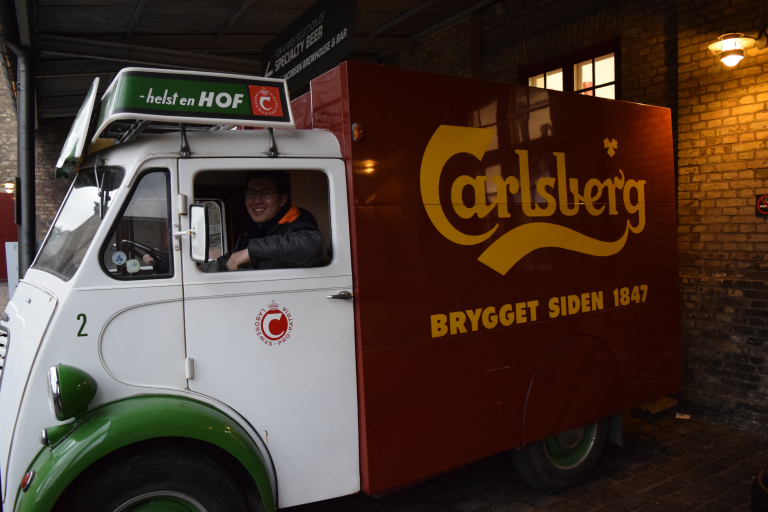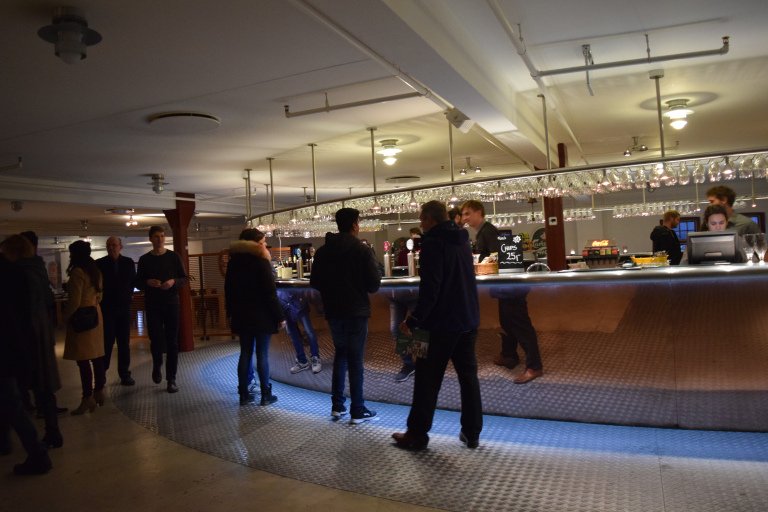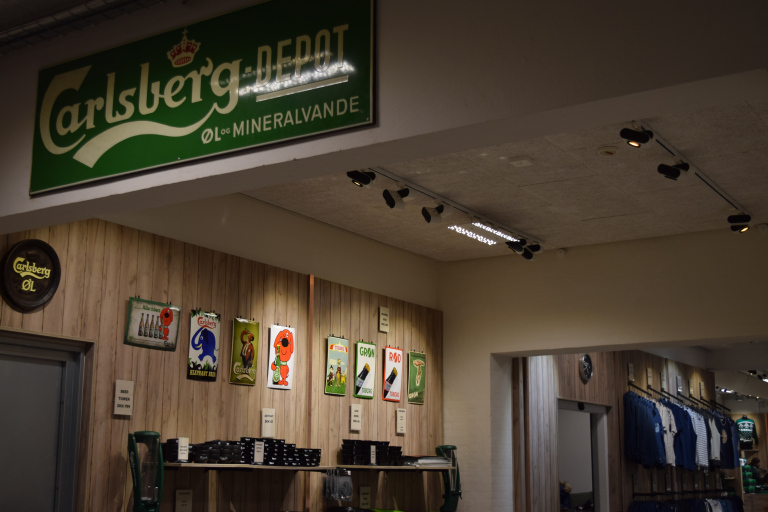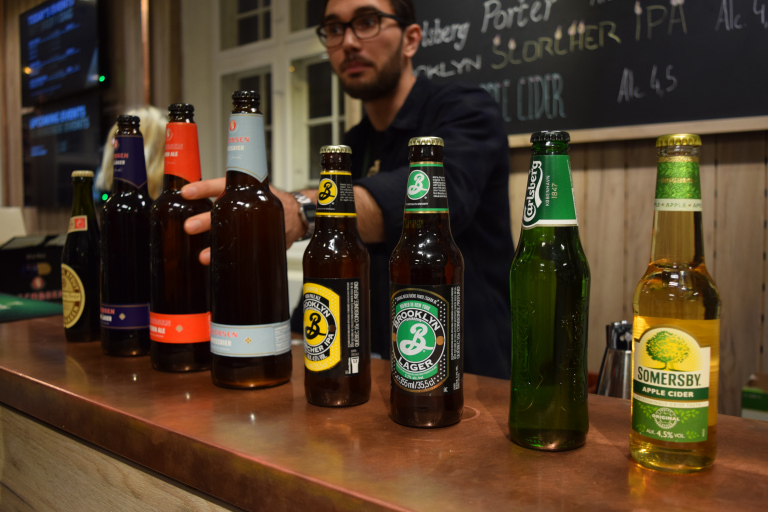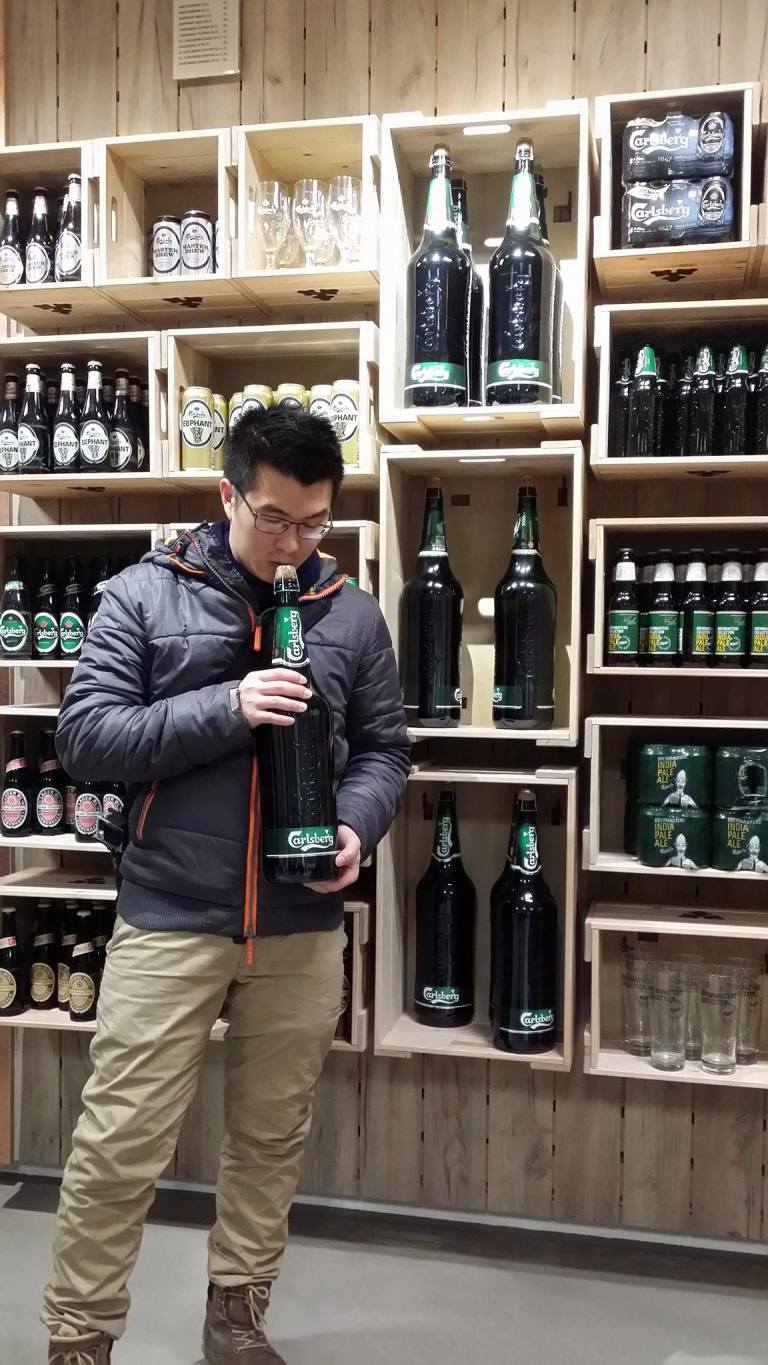 This is it, the Carlsberg breweries and stores. I have been growing up in a family that pretty much drinks alcohol and one of the memorable ones were Carlsberg! Glad to be able to visit the breweries and share some really good experience here.
The self-tour costs DKK95 per person and you will be given two (2) coupons per persons. These coupons can be used to claim a drink either at the bar, or the depot. In the breweries and stores, I see products that I cannot see elsewhere, such as Carlsberg bowl! Not to mention the different beers they have got, but all tasted very differently.
While you were doing your self-tour, be prepared to come early if you were to study the Carlsberg's history. Otherwise I bet that you gonna' walk through quickly before the bar or depot closes, in order to claim your beer, "PROBABLY THE BEST BEER IN THE WORLD".
Nearest S-Train station: Carlsberg Station
Tivoli Gardens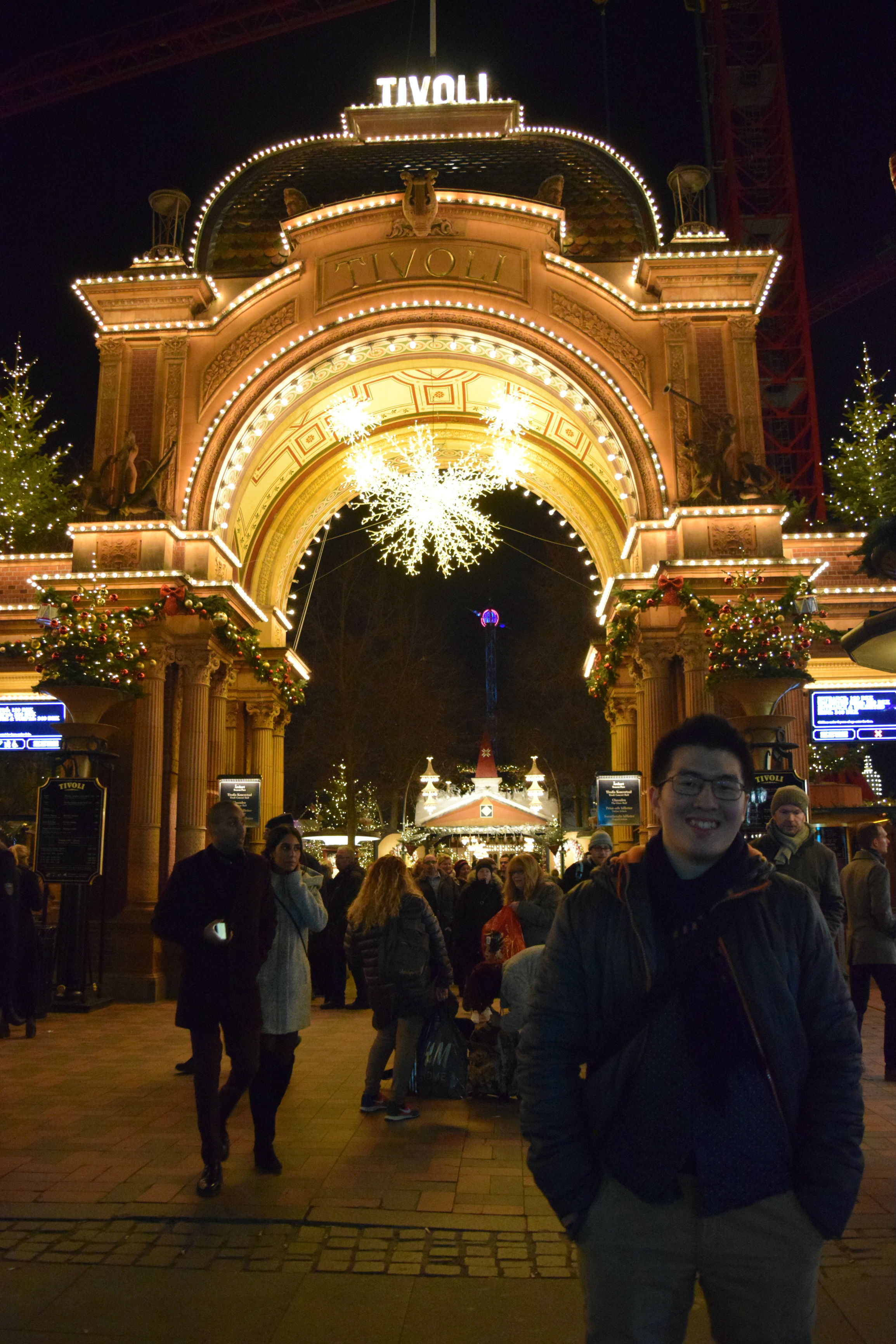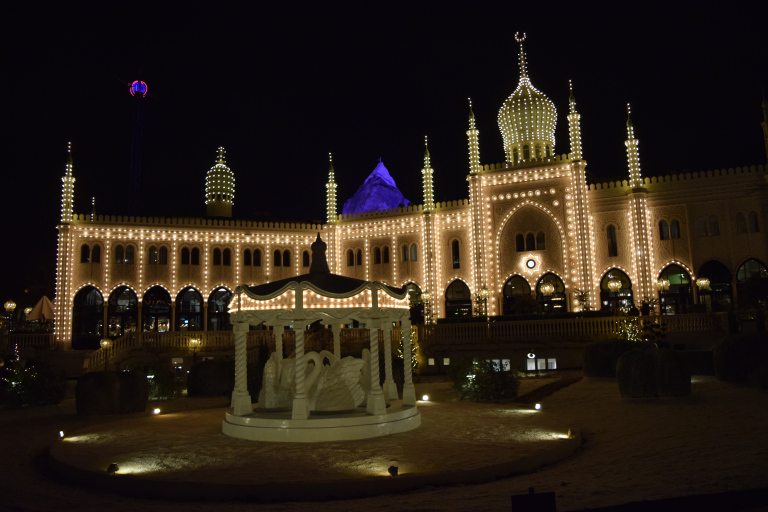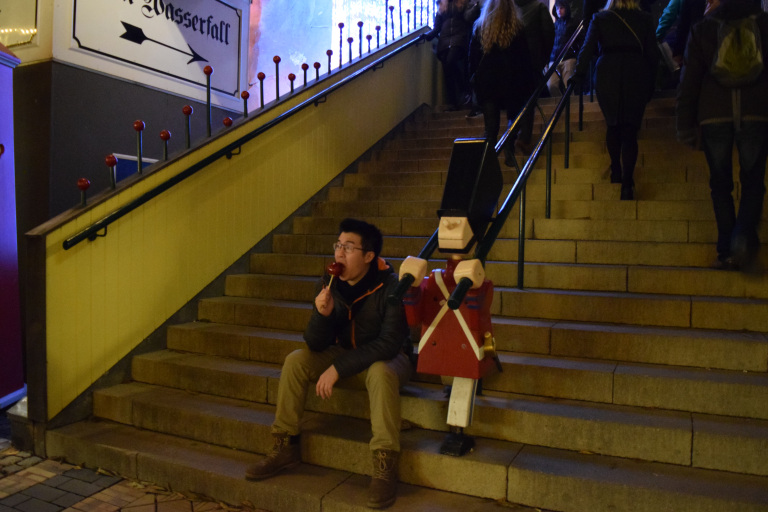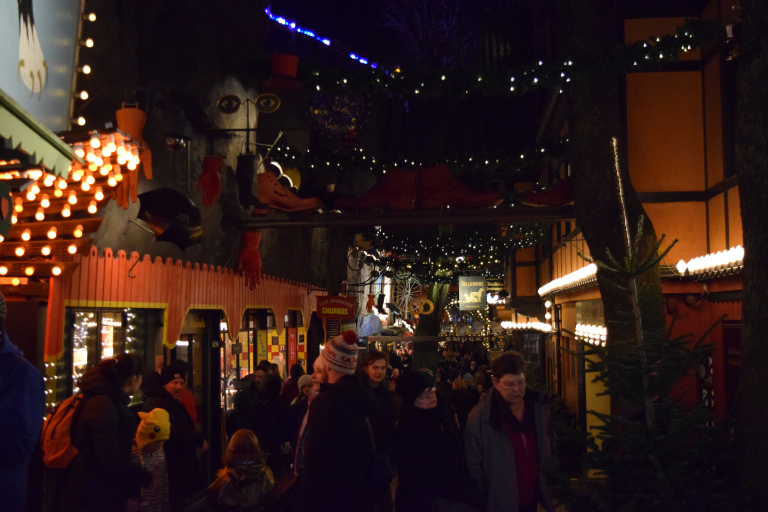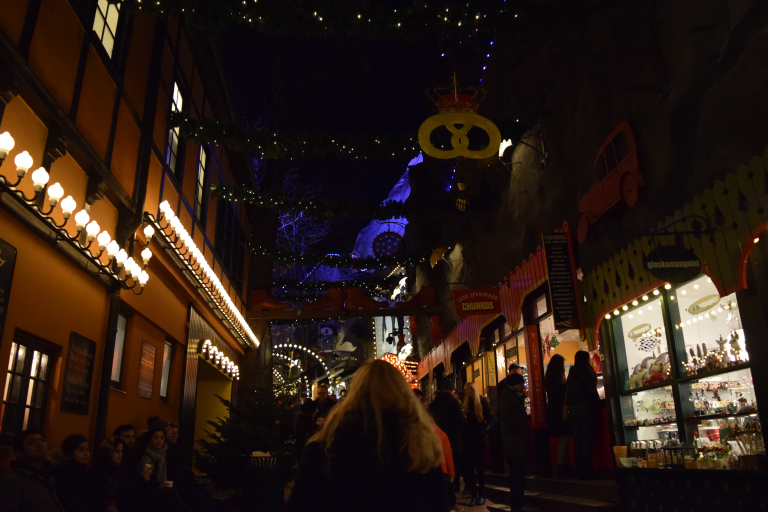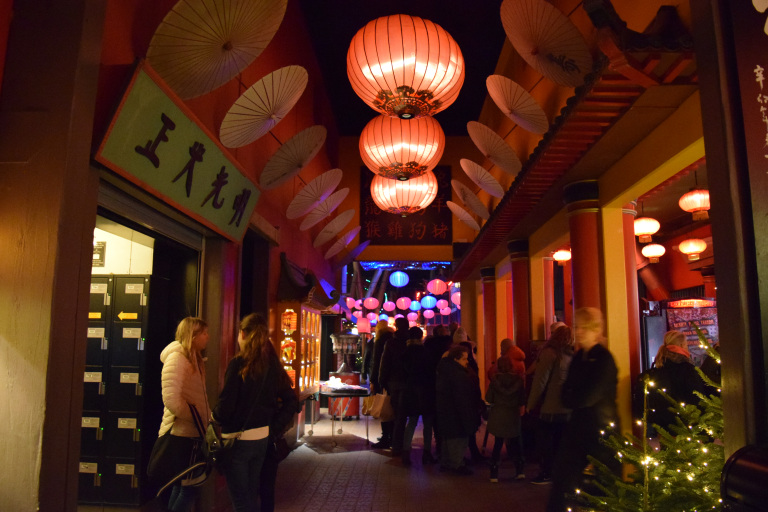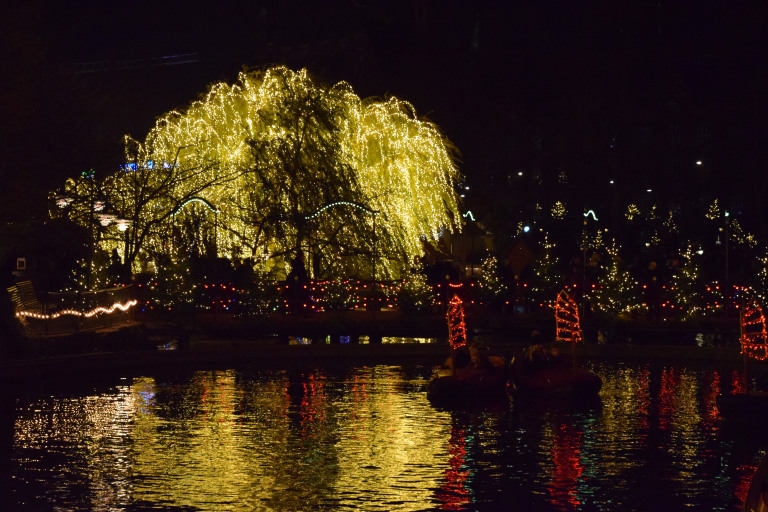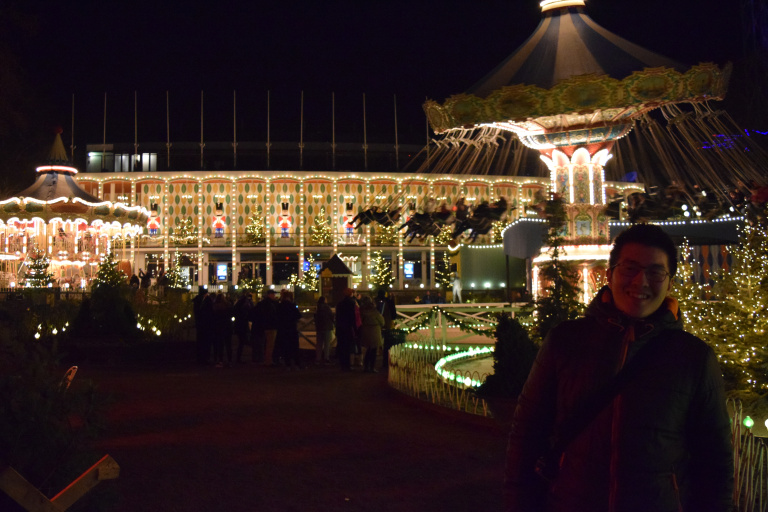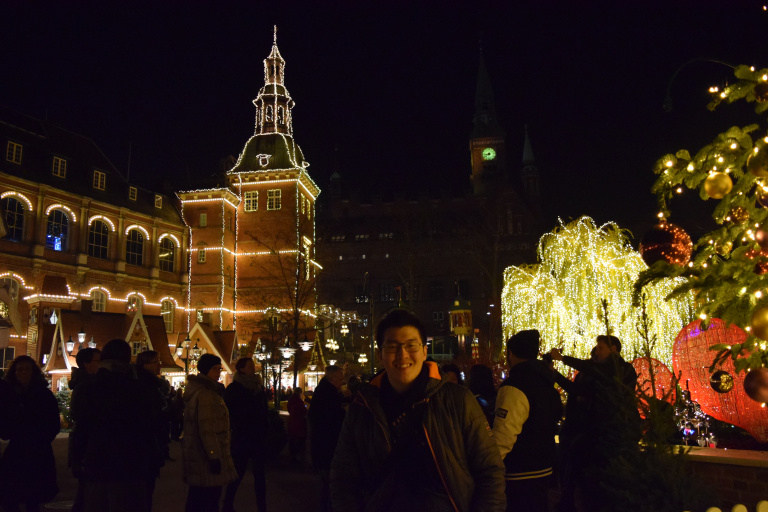 I would highly recommend going to Tivoli Gardens, especially if Christmas is round the corner. Admission costs DKK120 per person (Friday & Saturday) and may be slightly cheaper on other days.
Please go there at night! I have been to so many amusement parks in Europe and this is one of the best, so far. It's really beautiful at night with the lighting and decorations they have put up, and the park alone is enormous. You can spend hours walking through and not be disappointed. Do take note of the events they had during Christmas, such as light shows! You may visit Tivoli Gardens – Website for more information.
Nearest S-Train station: København Station
Christmas Markets in Copenhagen!
1. Kongens Nytorv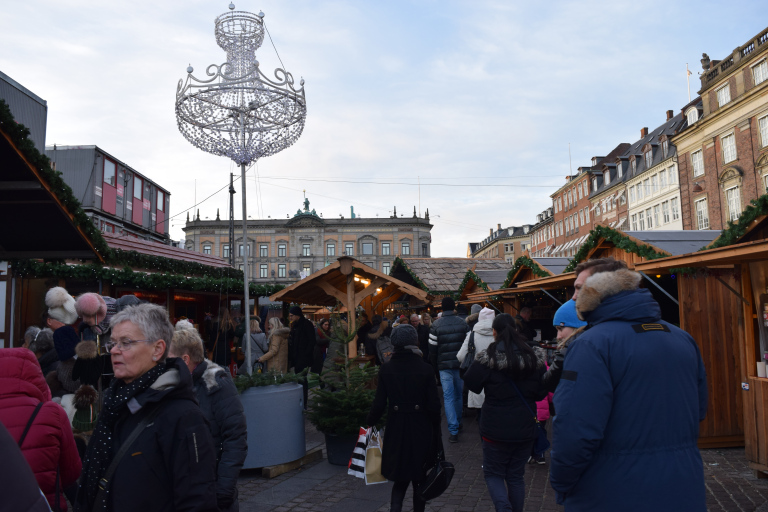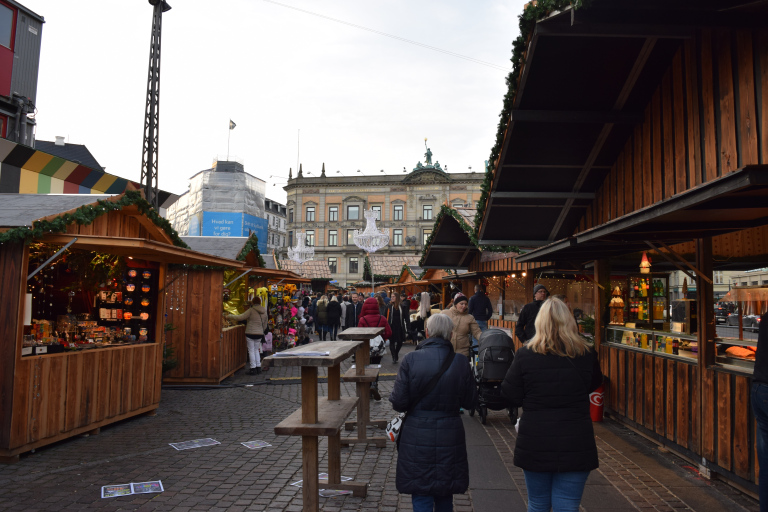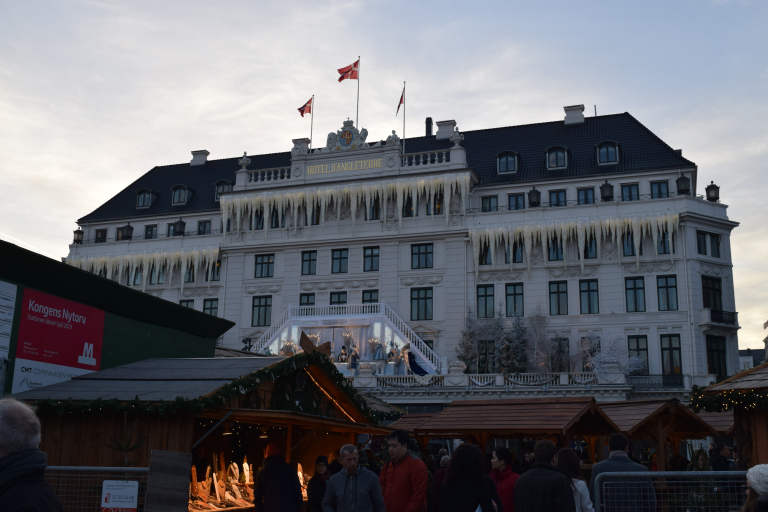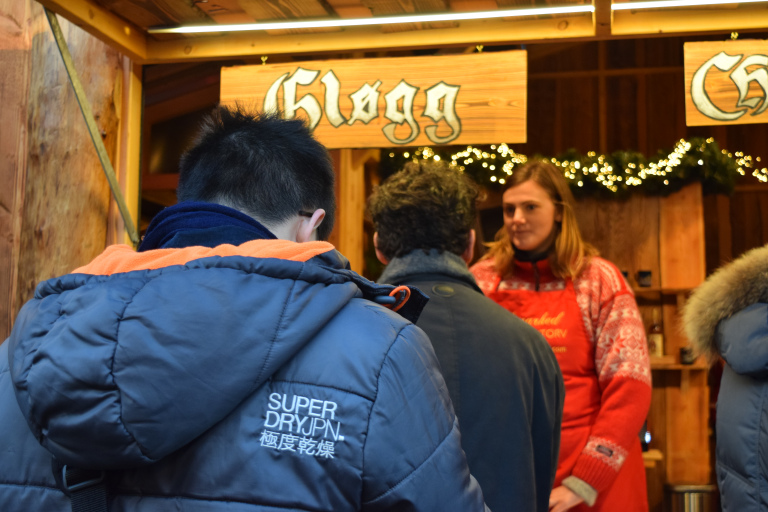 If you are at Nyhavn, you will not miss the Christmas Market on the field of Kongens Nytorv. Check that out!
Nearest S-Train/Metro station: Kongens Nytorv
2. Deutschs Christmas Market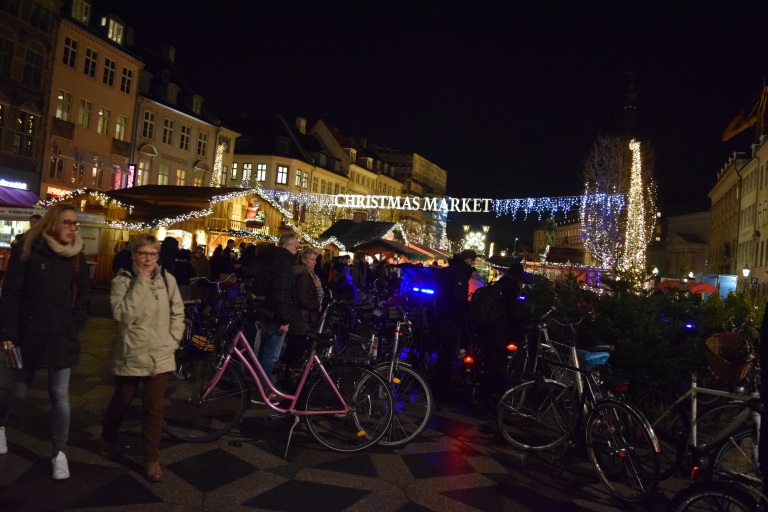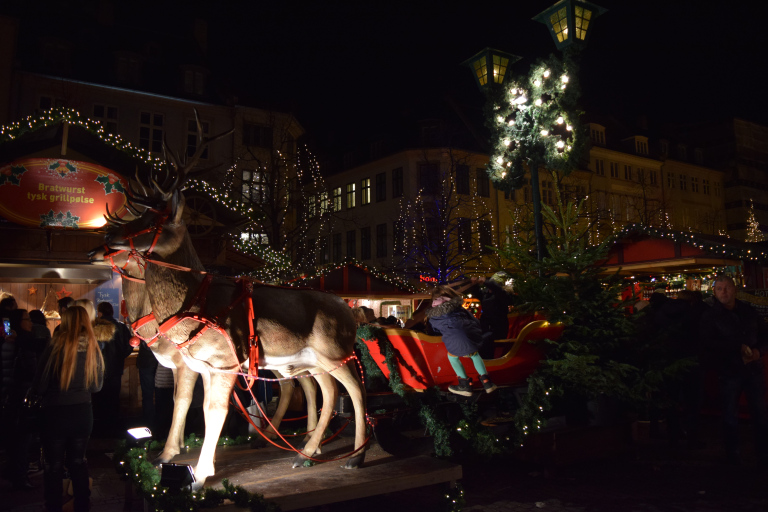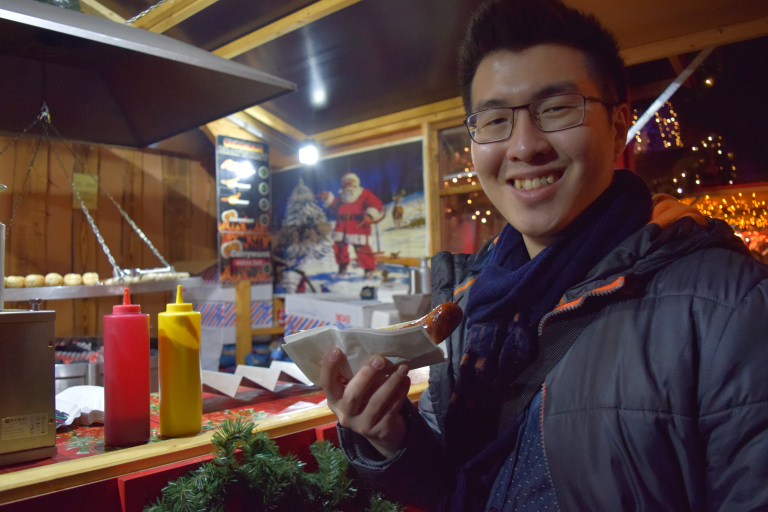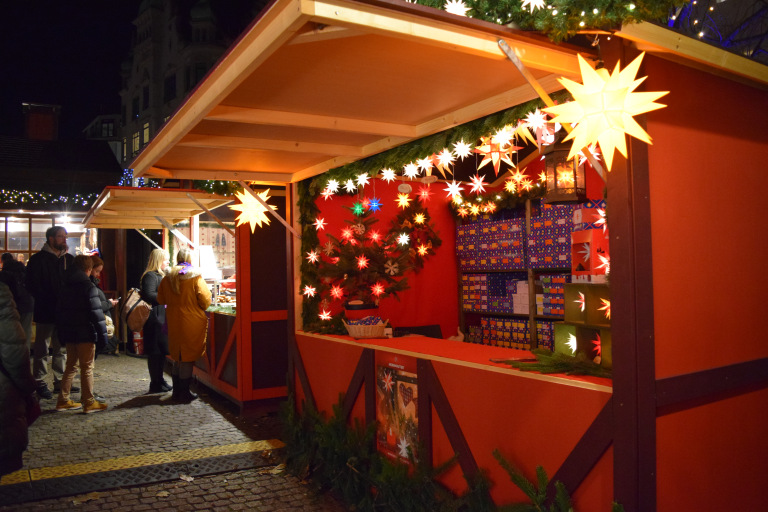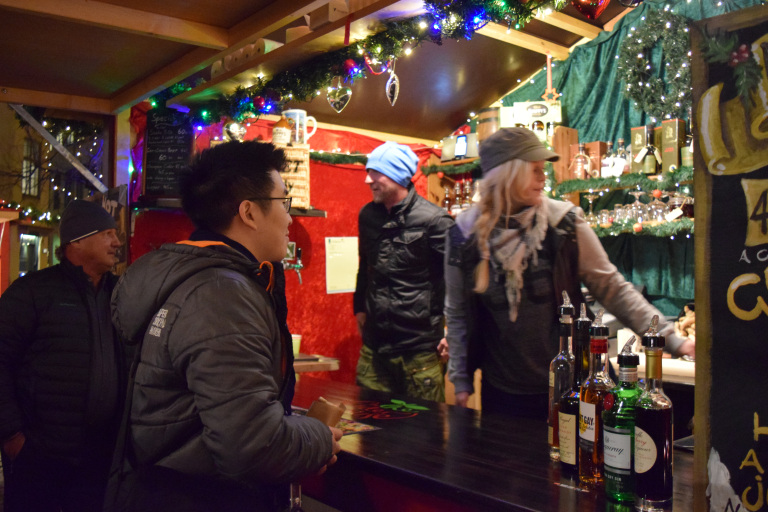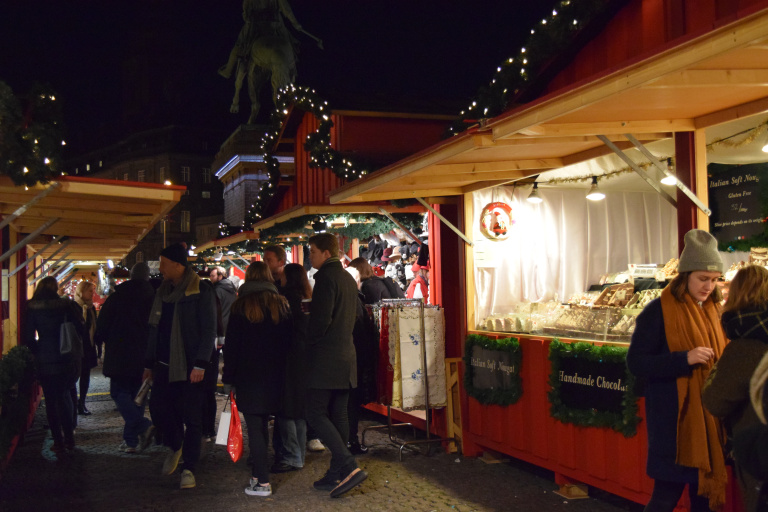 There is another Christmas Market that you will not miss if you are heading to Christiansborg Palace. Worth to stop by and grab some eats!
Nearest S-Train/Metro station: Kongens Nytorv
3. Hans Christian Andersen Christmas Market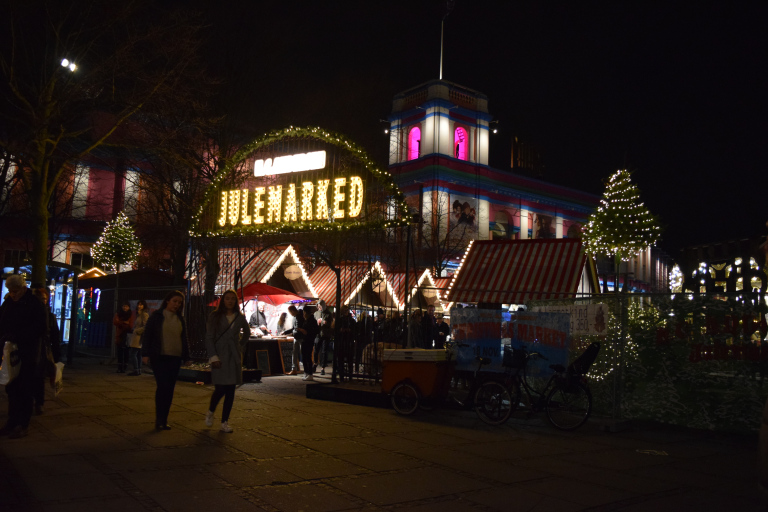 It is relatively smaller and quieter here at H.C. Andersen Christmas Market that is located across from Tivoli Gardens. Limited food and choices, but no harm to pay a visit. Worry not, you will find Christmas Markets in Tivoli Gardens as well.
Nearest S-Train station: København Station
---
OTHER OPTIONAL PLACES WORTH VISITING
Christiansborg Palace
The Christiansborg Palace is located pretty close to the Deutschs Christmas Market. It is a hotspot for tourists but we were there when the skies turned dark. The palace itself is tall in the center, and wide on both sides. Personally it gives me a sense of being in a residential area.
Another thing is, just look-out by the waters when you cross over the bridge from Deutschs Christmas Market. You will see sculptures underwater with its spotlights and they look really creepy especially at night.
---
FOOD AND DRINKS YOU'D LIKE TO TRY
Copenhagen Street Food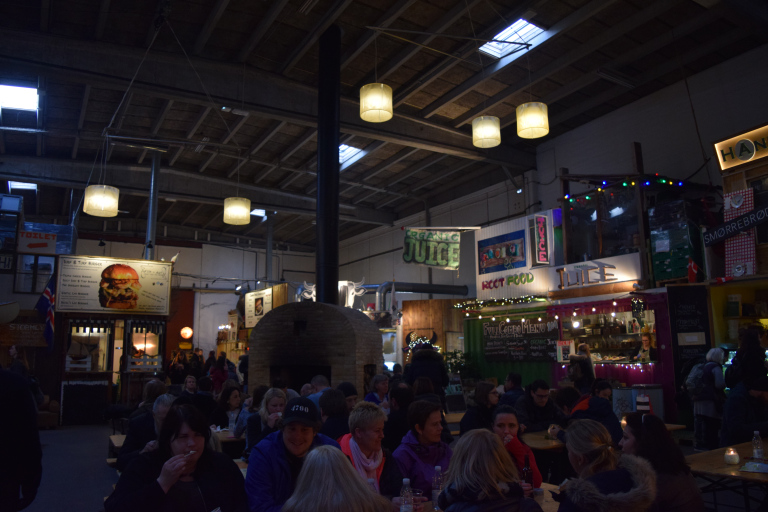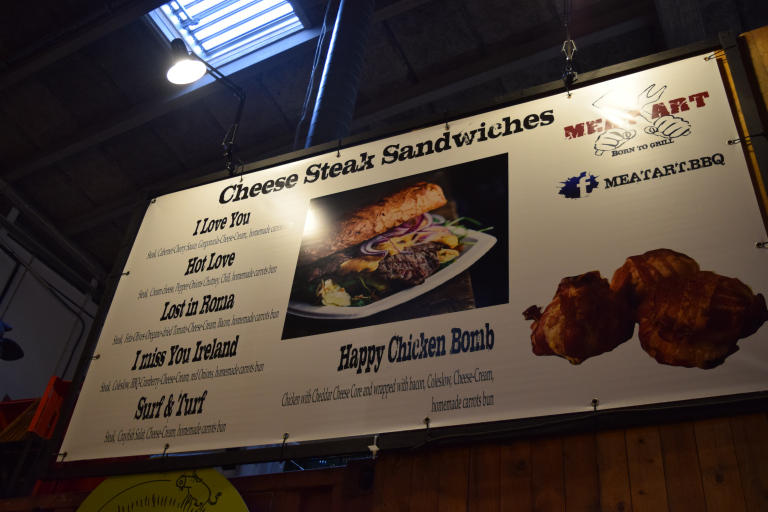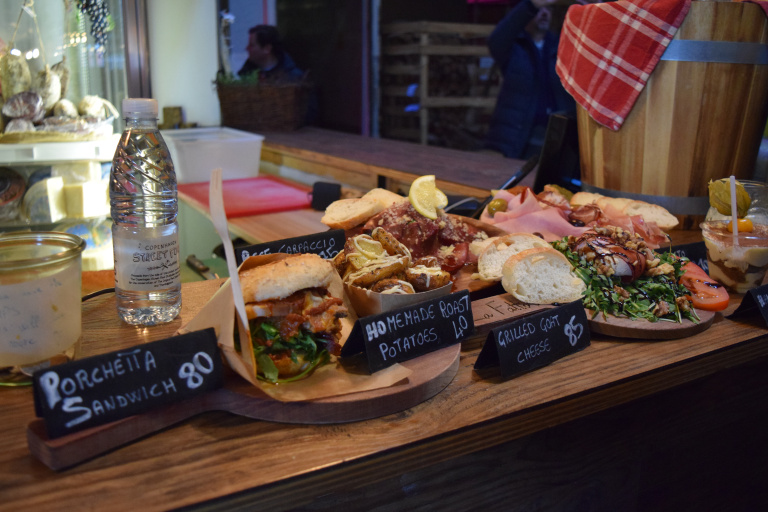 Check out the Copenhagen Street Food! Just watch out that some booth owners does not allow photographing of their booths.
Personally I love the Mixed Meat more than the Porchetta Sandwich, but there are more variety of fusion food internationally, to choose from!
Bento Restaurant & Cocktail Bar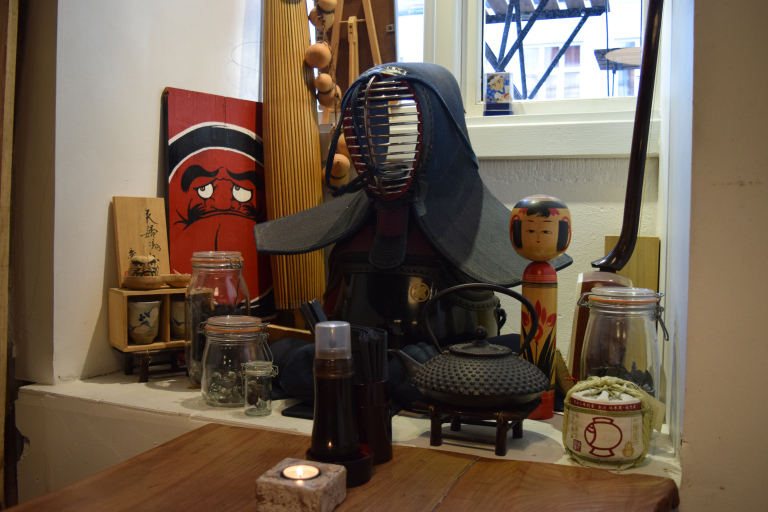 This restaurant is located pretty close to the Central Station in Copenhagen. If you are craving for some Japanese fusion food, I would recommend this place! Apparently, the restaurant has been running for 3 generations now and has been providing a very casual dining experience. The decor was awesome and very traditional as well while the food was great!
I have also tried the Teriyaki Salmon at DKK100 per set for takeaways but taste wise, was just okay. Probably I have had better ones in Edinburgh, Scotland as I may be particular when comes to Japanese food, because I have been to some of the best restaurants, back in the United Kingdom.
Lagkagehuset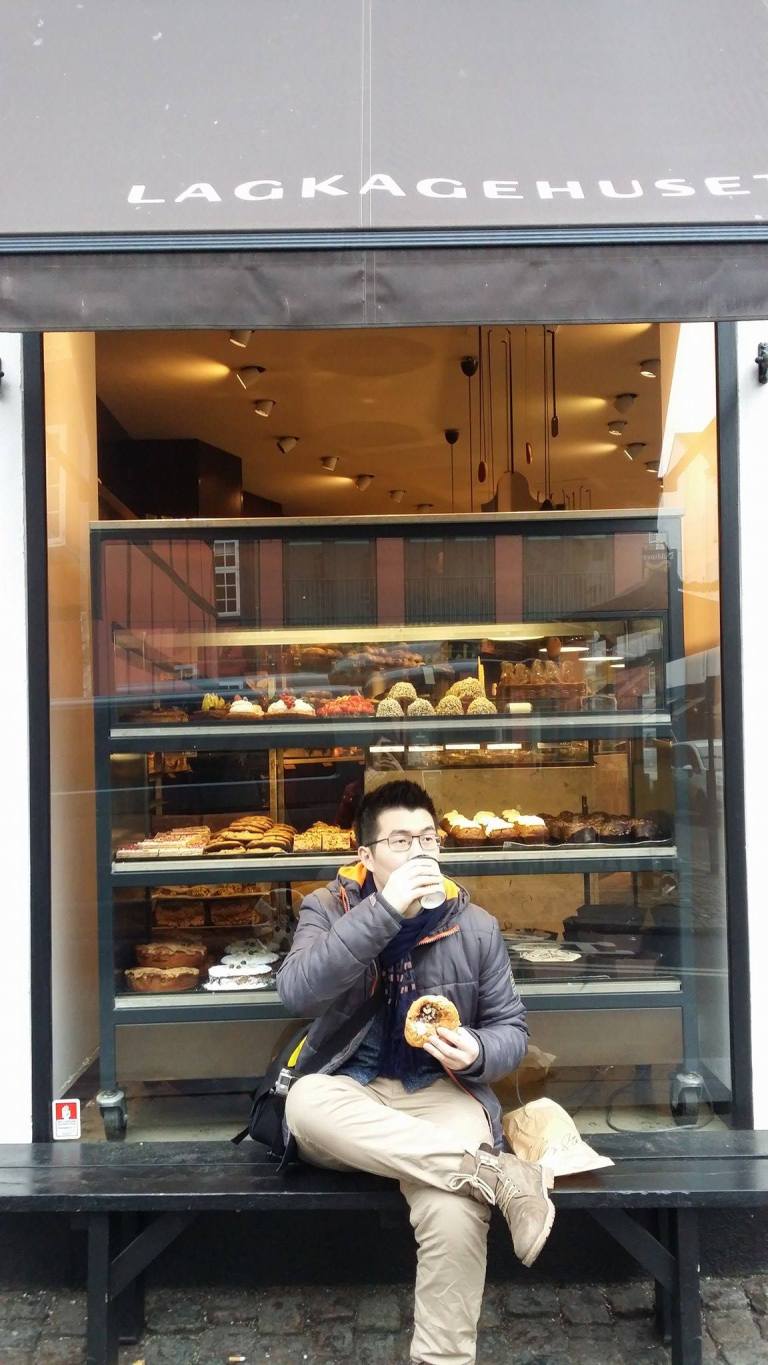 Cincai buy, cincai nice! Which means simply buy, simply good! I would also highly recommend visiting Lagkagehuset as the pastries and coffee here was superb! It was the taste that I am looking for in Europe.
I bought the pastry and coffee in a bundle and it costs cheaper at DKK45.
Café Baresso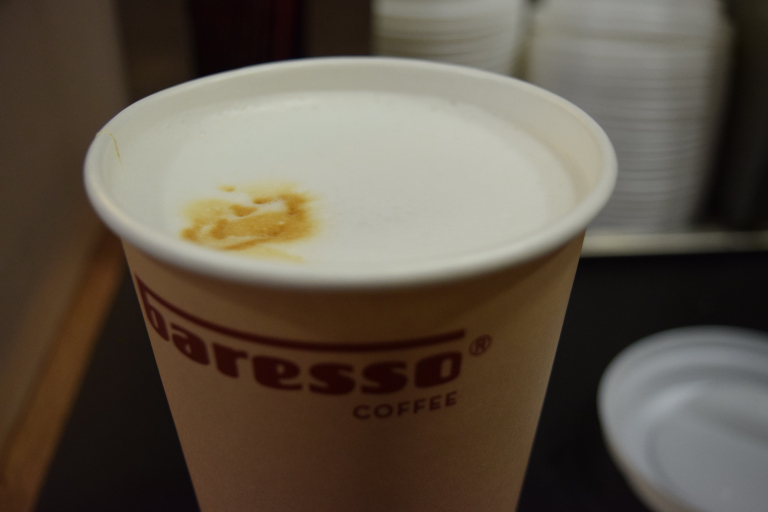 No harm trying some extra booze of coffee from Café Baresso. You can spot them easily at many Metro / S-Train stations and they taste really good too.
Glögg (Mulled Wine) at Kongens Nytorv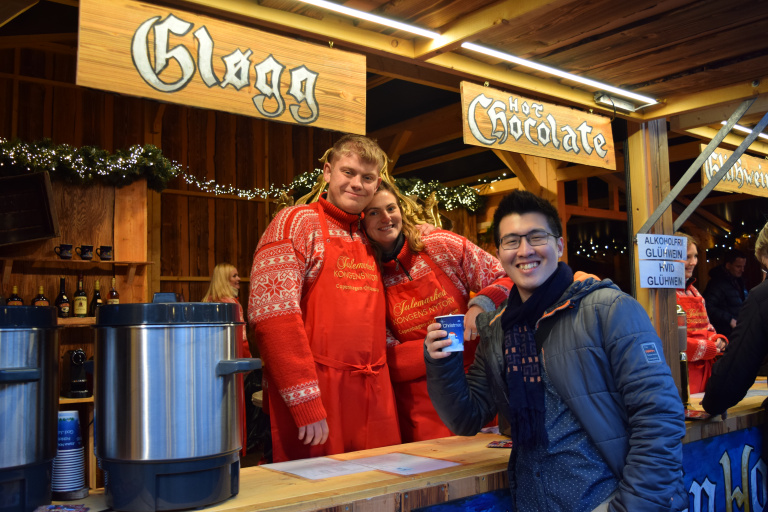 In Scandinavia, you must of course try Glögg (pronounced like "Glug"), also known as the Mulled Christmas hot wine that you may not see anywhere else, except in Scandinavia. You may buy them from Christmas Markets but some costs differently between DKK30-40. Try em' out!
Food at Deutschs Christmas Market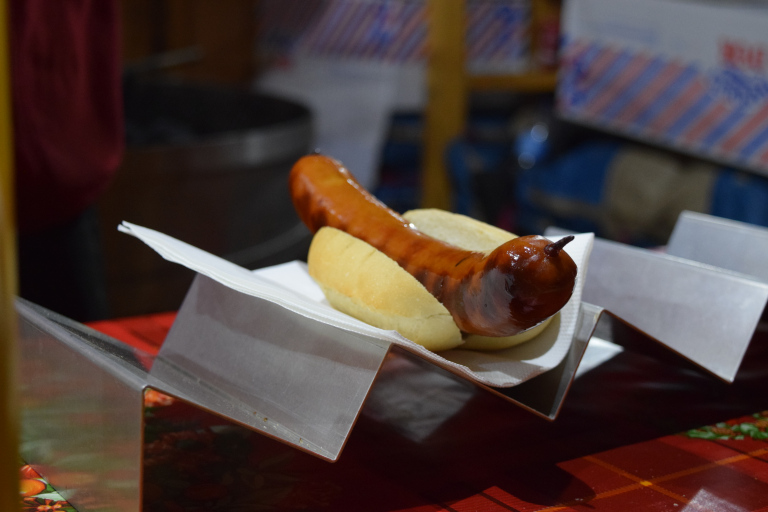 The Crêpe was spread with Nutella and Banana and tasted okay.
However the hot Mulled Cider does not taste like Glögg and personally, I love both of them! I can't really describe the taste but no where else you can find like this!
Carlsberg Breweries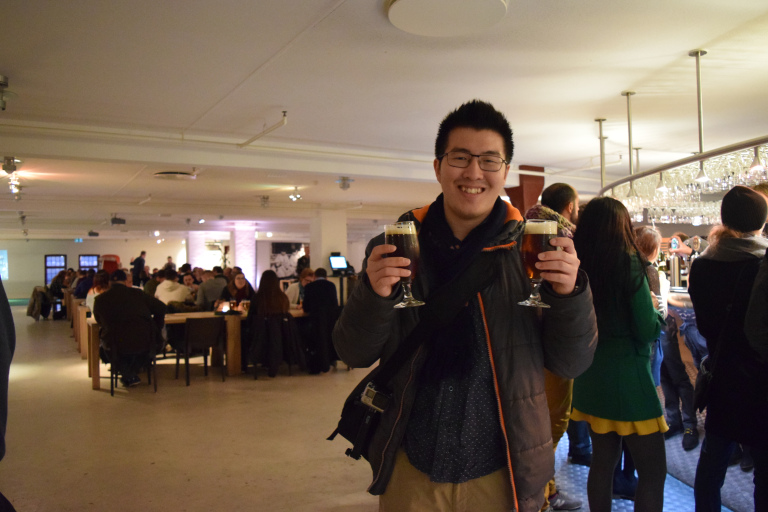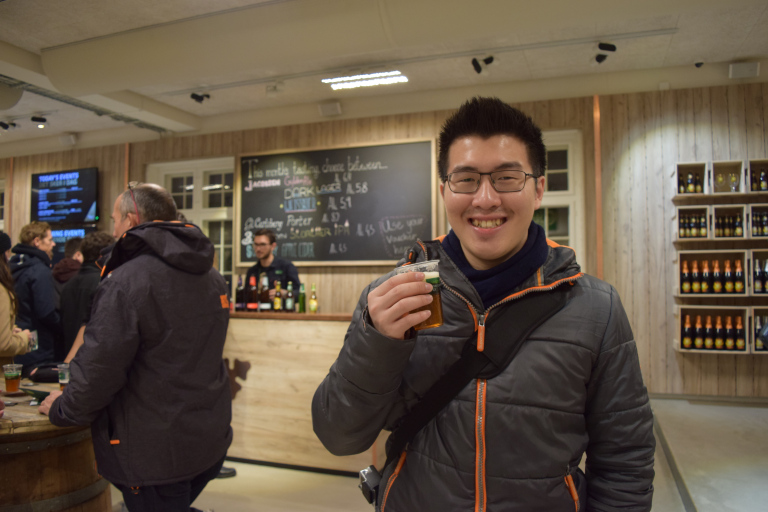 Don't forget to visit the pub and depot (if you had the coupons from self-tour) when you visit Carlsberg Breweries! They had all kinds of other range of different brands under Carlsberg Group. It is like so rare to drink in its origin, Copenhagen and the different range of beers you will not find in other countries.
Caramel Apple Candy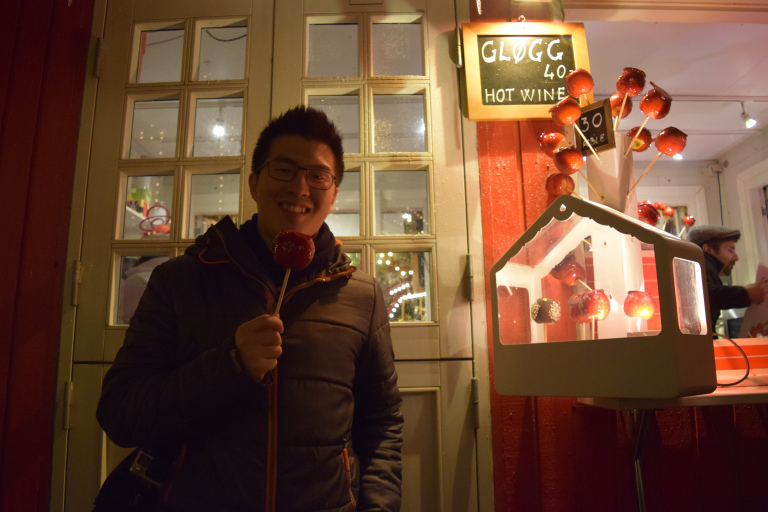 You can find these Caramel Apple Candy at Christmas Markets but I bought to try this in Tivoli Gardens and it costs DKK30. The kids here loved them so I would give a try! Rated good!
Wok-On
I have come across Wok-On in Copenhagen and found that the food are priced reasonably. They served Asian food, mostly vegetables with a sauce of your choice, and if you would like to have an extra, you can add on meat too.
The basic set (just vegetarian option with no extras) costs DKK39 and may be enough for just one person.
Paludan Bog & Café
Be prepared to spend some time finding tables to sit in! It is usually packed and I believe it is a good spot for students to hang out. The decors was uniquely designed with full of shelves filled with books.
The food was above above average but not the best. You may only order two portions if both persons are hungry, as you can see that these portions are huge! The Americano coffee and smoothies tasted good and very much different than the Americano I had anywhere else.
---
RECOMMENDED MEANS OF TRANSPORTATION
Metro or S-Train Stations
In Copenhagen, Metro and S-Trains operates differently but its ticket can be used both ways.
Visit Metro Station – Maps, or S-Tog (Train Stations) – Maps for more information on both Metros and S-Trains respectively.
For Metro, you may lookout for the symbol "M" while for S-Train, it will be "S" like Superman. In my opinion, you will definitely use S-Trains more often than Metros due to the availability of stations. On top of that, I felt that S-Trains runs frequently with many available tracks (you will probably just need to know the end stations).
By Foot
I would recommend you to walk along the streets in Copenhagen upon reaching your metro or s-train stations. You may plan your point of interest by alighting at the designated metro station, and walk your way through.
---
TYPICAL COSTS AND MONEY SAVING TIPS
Hostel Prices
Shared dorm rooms: Starts at DKK120 per pax/night, but DKK150-180 is average.
I am not too sure about hosteling in Copenhagen and based on estimated prices, you could save money this way.
Hotel Prices
Hotel rooms: Starts about DKK520 per night but a room at a 3-star hotel could possibly be about DKK700-900 at average per night for 2 persons.
Food & Drinks
Typical restaurant: An average meal could cost about DKK80-150; and
Good restaurant: Could start as high as DKK200-300 for an average meal.
Transportation
Airport to the City (København Station): You can simply take either the Metro or S-Train from the Airport to København Station. However, I suggest you taking S-Train as no changing of train will be required. You needed a ticket that goes 3 zones if you are travelling from the airport to the city, and vice versa.
Metro & S-Train:-

Tickets within 1 – 2 zones costs: DKK24 per person;
Tickets within 1 – 3 zones costs: DKK36 per person; and
Day tickets of 24 hours costs: DKK130 per person.
Tickets within 1-3 zones are valid for 60 minutes and you can hop on and off as much as you like as long as your last journey starts within the validity period.
All tickets are valid from the time of purchase from the machine, or counter and they are usable for metros, s-trains, and buses.
You will not be required to tap your cards before you board the train, and once you have arrived your destination. However based on my observation, longer journeys will usually have a conductor on board to check your tickets. If no ticket is held, you may face a fine of DKK750.
S-Train runs frequently on various tracks for some stations, so do check out the timetable to learn the end station of the incoming s-train before hopping in!
You may also visit Metro Website – Tickets for more information.
Admission Fares
This could be an average of about DKK345-DKK605 per person depending on your interest.
If you plan of purchasing the Copenhagen Card when you first visit Copenhagen, it costs DKK379 and DKK529 for 24 hours and 48 hours respectively of unlimited public transportation, with free entrance to more than 72 attractions and museums.
---
Copyright © | Aspen See
Disclaimer: All the information and prices (as at November 2016) provided on this website are based solely on experience and you agree that you use such information entirely at your own discretion and will.