There's [No]rway I'd miss this place, so here I am! I find Oslo to be very much like a modern city and if you are ever visiting Norway, do not miss the fjords! By visiting the fjords, you will see huge mountains that is located between high cliffs and beyond.
Back in Oslo, I would merely recommend a 2-3 days of visit. It was kind of foggy in the evening during my visit and has a slight visibility of less than 500m. However, the people here are friendly and all are very fluent in English!
---
PLACES TO VISIT AND THINGS TO DO IN OSLO
Akrobaten Pedestrian Bridge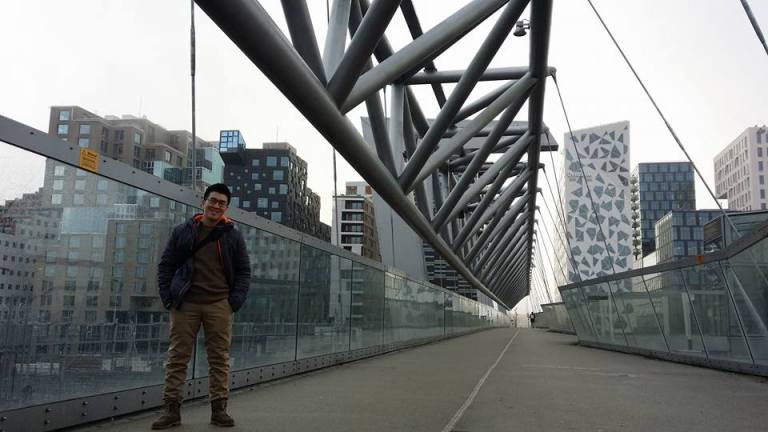 Next to Oslo's Central Station, you may find your way to the Akrobaten Pedestrian Bridge that overlooks the Barcode Project. If you are wondering what the Project is, it is actually the row of high-rise buildings at the back that was redeveloped back in 2014. From here, you can also easily spot the big 4 auditing firms. These buildings are shaped uniquely and has various patterns on it.
Nearest Metro station: Jernbanetorget
Oslo Opera House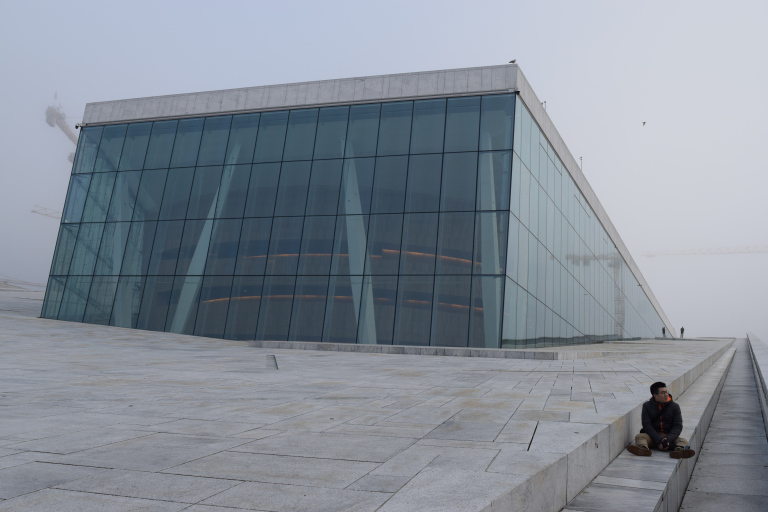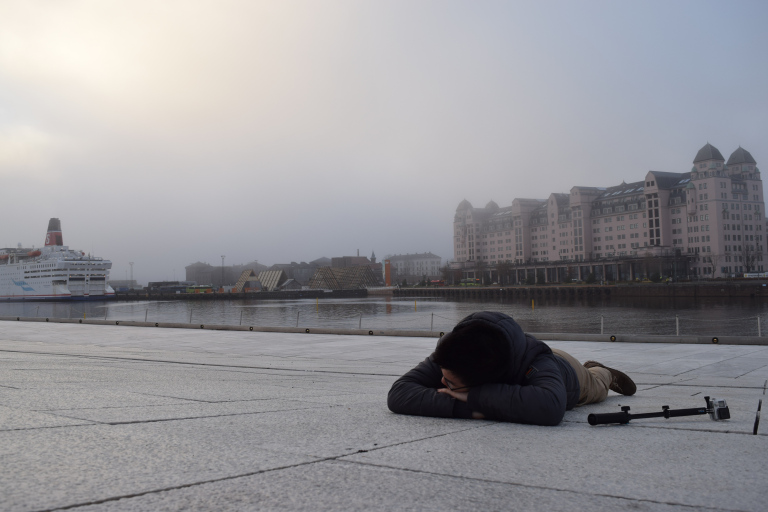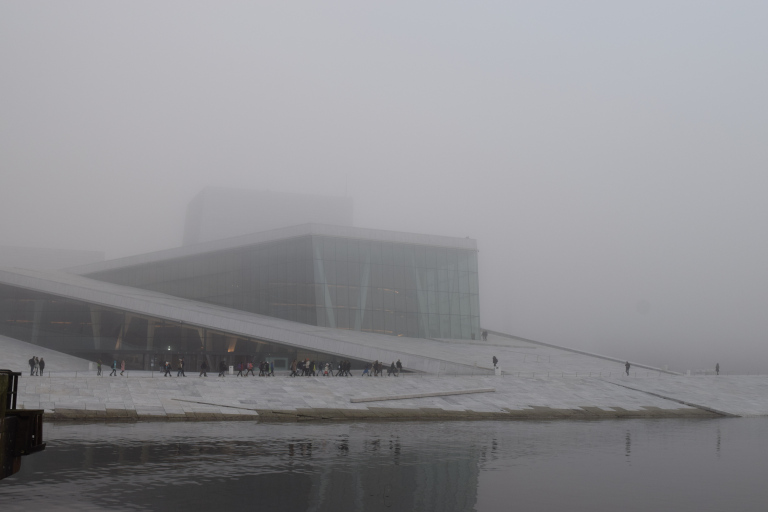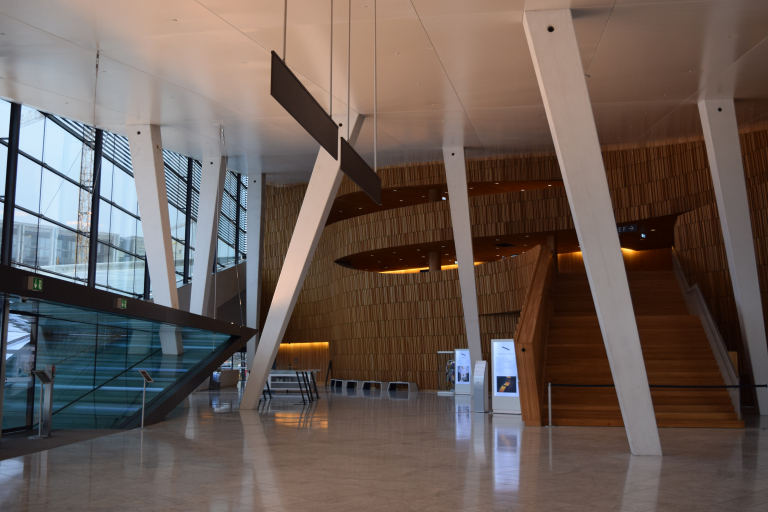 Of all Opera Houses I have visited (including the popular ones in Vienna, Austria), I find this Opera House in Oslo to be one of the most unique and memorable ever built. The Opera House has its unique roof that is accessible to the public!
Going to the roof allows you to have a panoramic view of the city (though it's not that high, but tell me which Opera Houses would allow you to do that). Good thing about this Opera House, the toilet is free for public use!
Nearest Metro station: Jernbanetorget
Akershus Fortress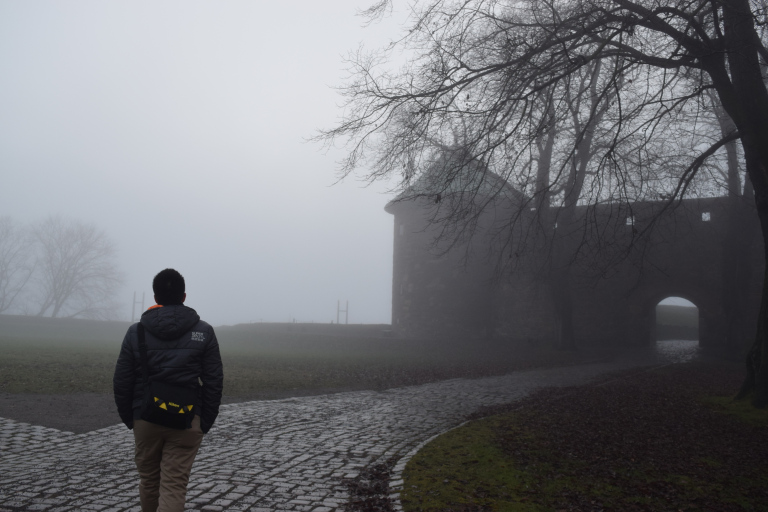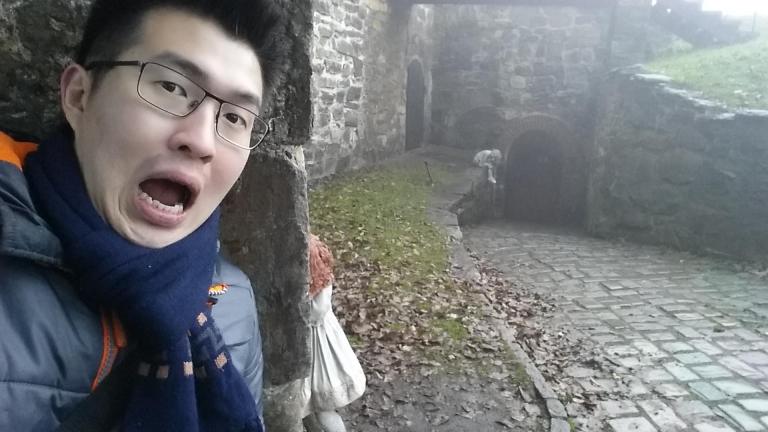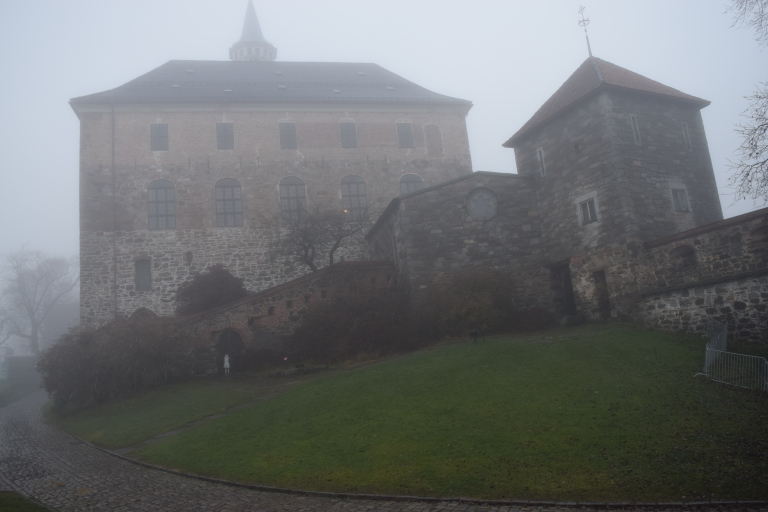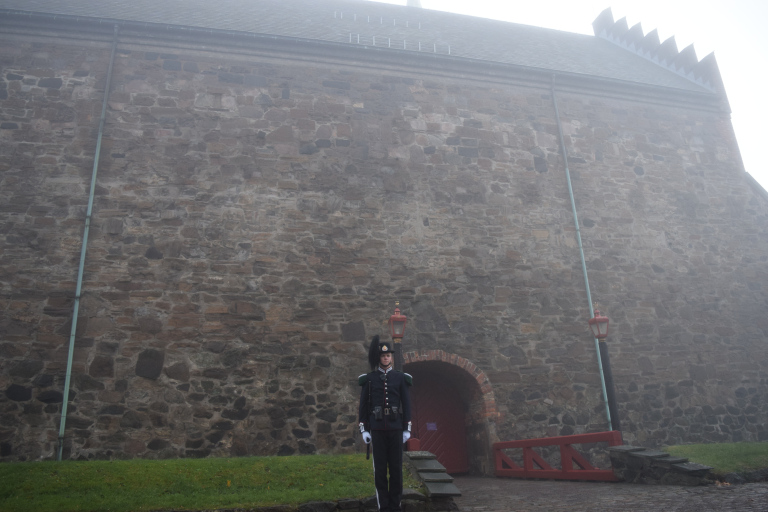 Seems creepy of a place isn't it? It was really foggy on the day of visit and it seems to be really quiet during winter seasons. To get here, it takes about 15-20 minutes walk from the Oslo Central Station.
In Akershus Fortress, you will be able to walk around spotting scary statues and it was used as a prison before. Some sources that it was a haunted place, but that remains a mystery?
Oslo Royal Palace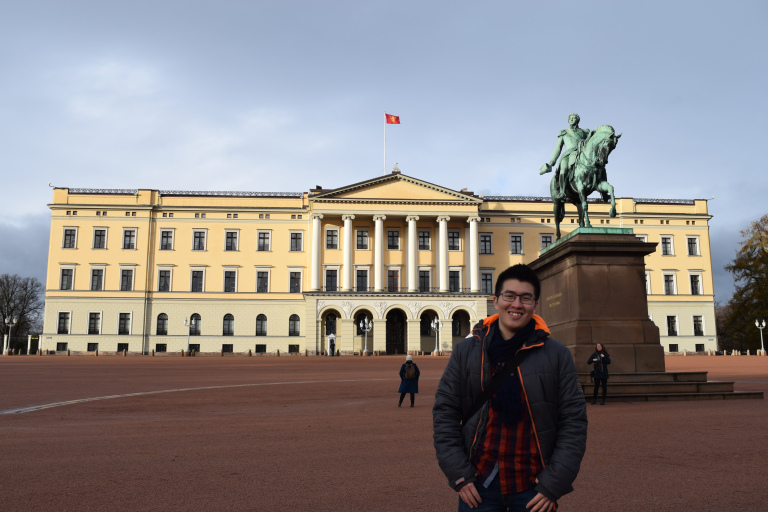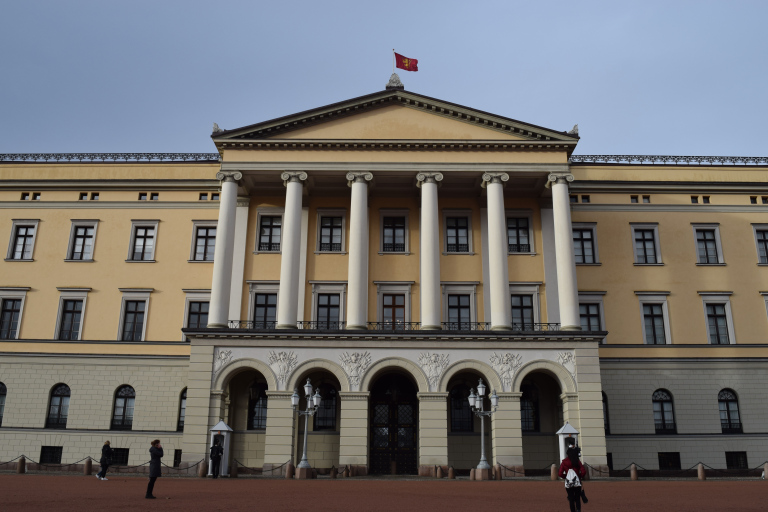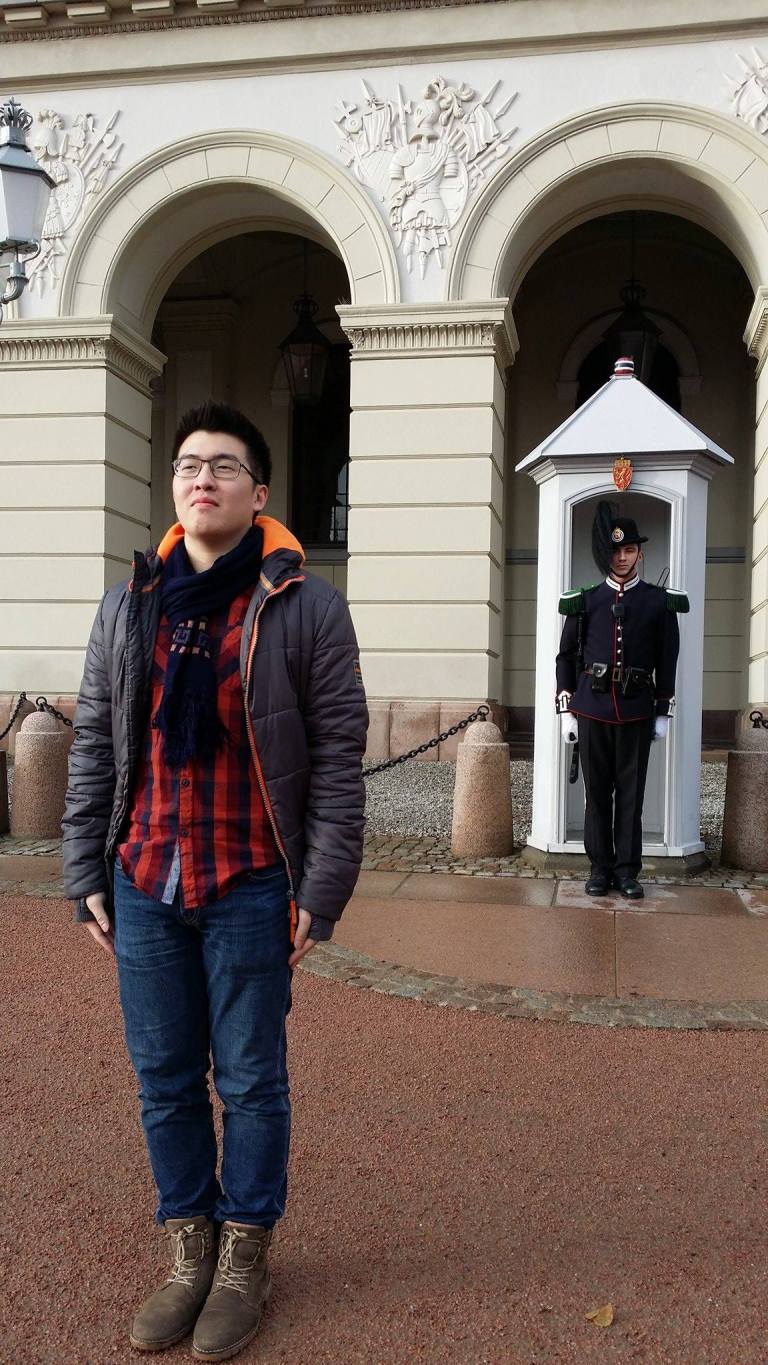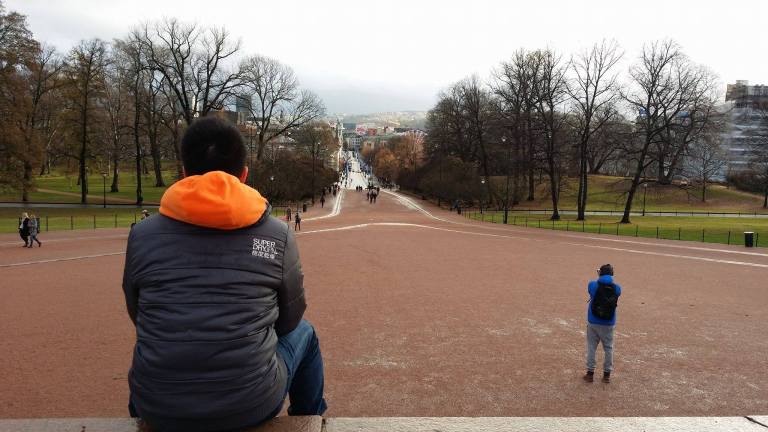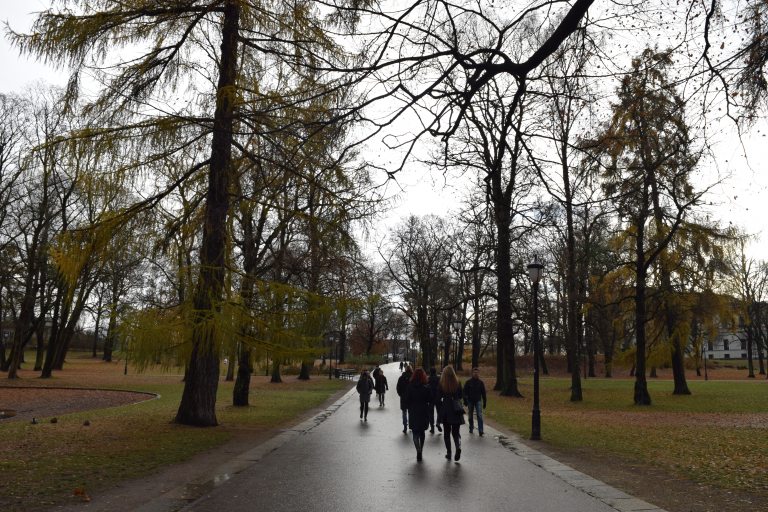 At the Royal Palace, you can take really good pictures as it overlooks the street (Karl Johans Gate). You however, cannot get too close to the Royal Guard as it is prohibited. I even noticed that a group of people has brought a video recorder that is used for movie productions and what happened next was a troop came marching telling them that recording (based on their gadgets) in that area is restricted.
Back of the Royal Palace, you will see a garden that you can explore freely.
Nearest Metro station: Nationaltheatre
The Vigeland Park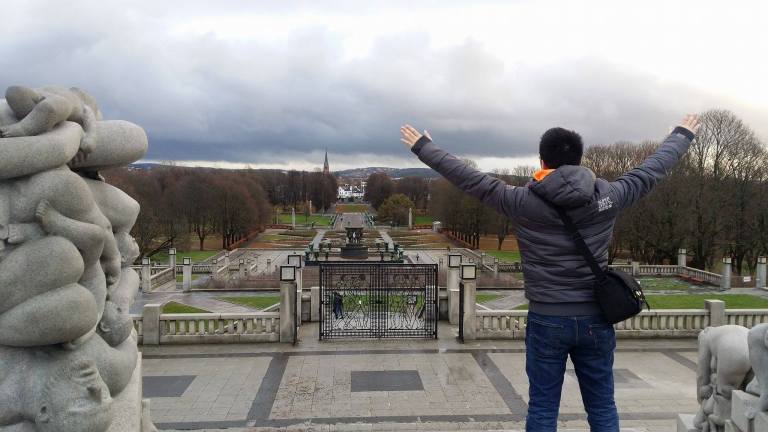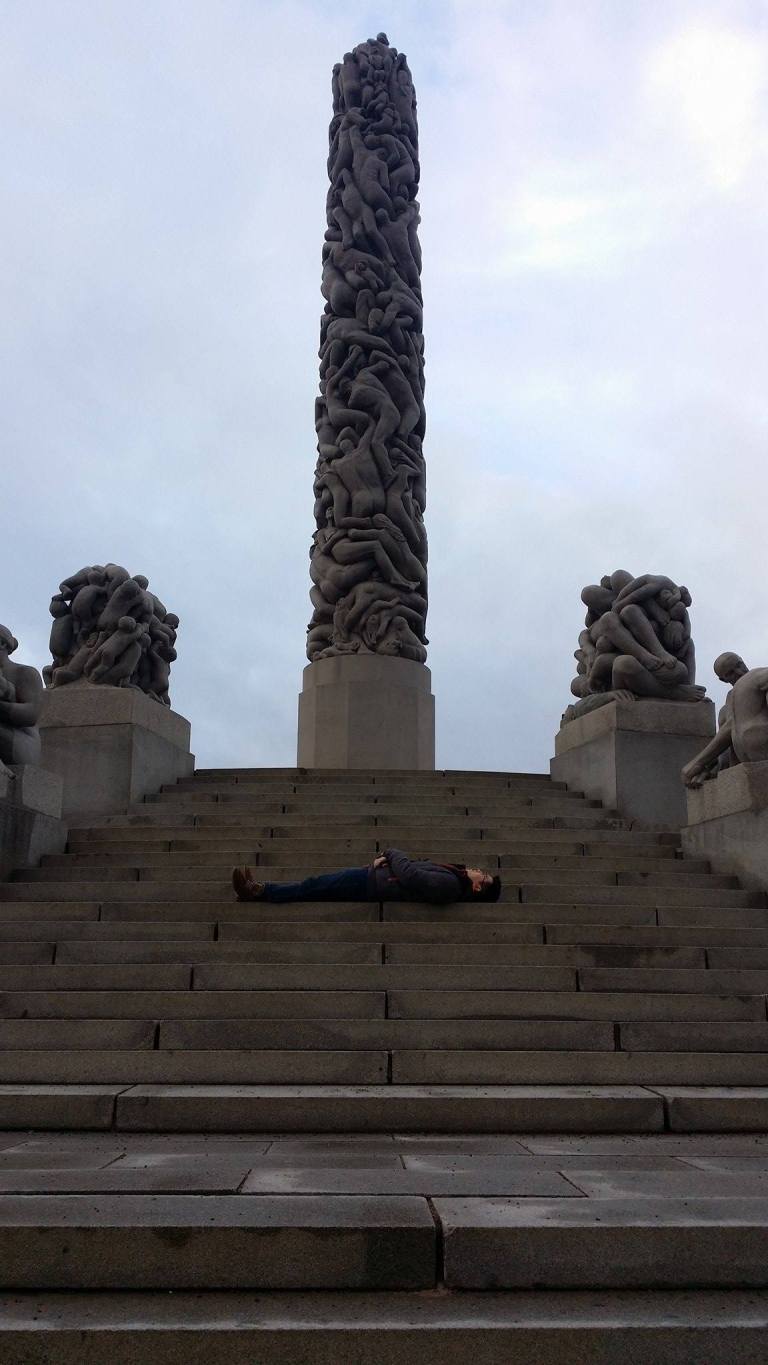 At Vigeland Park, you will see many sculptures and naked statues with interesting postures. You may then take the stairs to the top while it can be really windy but it gives you an awesome panoramic view of the skies (glad it was sunny by then) and very little of the city.
Overall, it was a good walk in the park.
Nearest Metro station: Majorstuen
Taking a stroll at Torggata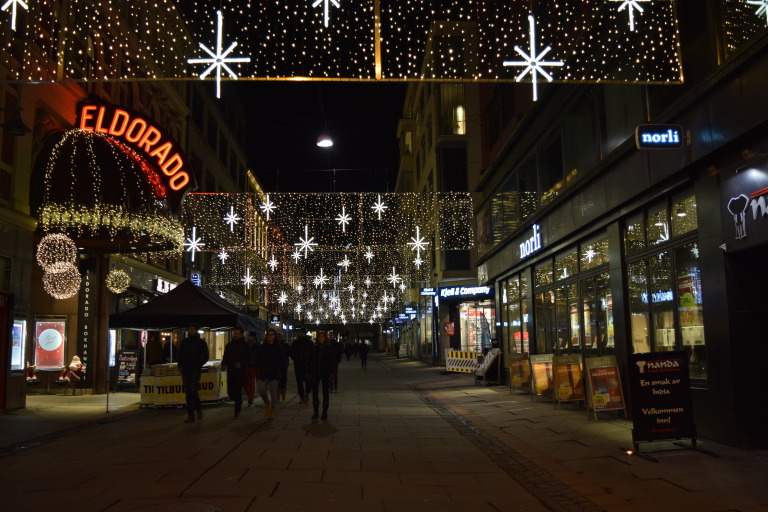 You can choose to take a stroll here at Torggata and you will find various shops and brands! Maybe Christmas was just around in the corner, so it gets decorated properly.
Nearest Metro station: Jernbanetorget
Taking a stroll surrounding Karl Johans Gate & Oslo Cathedral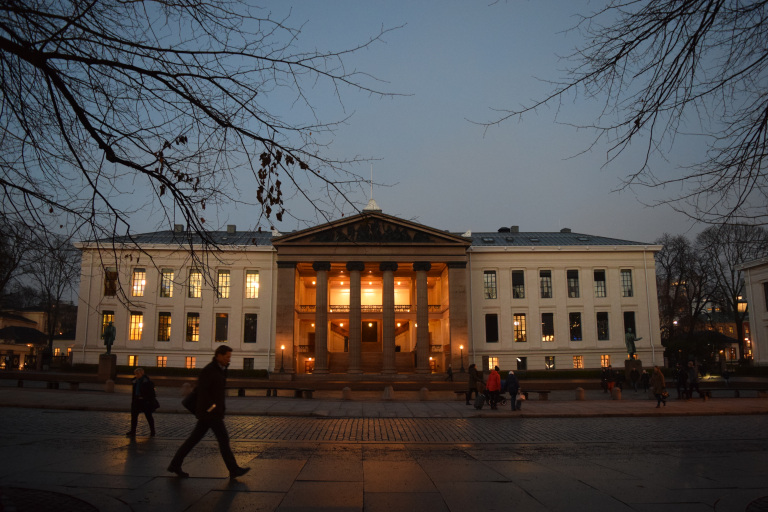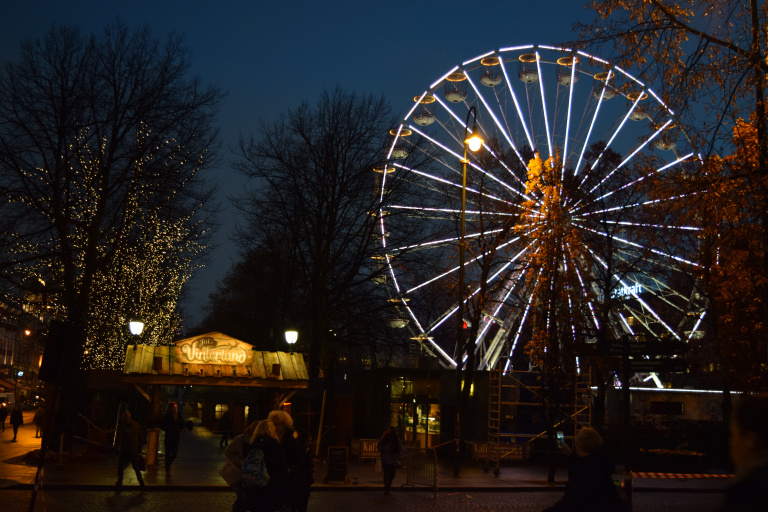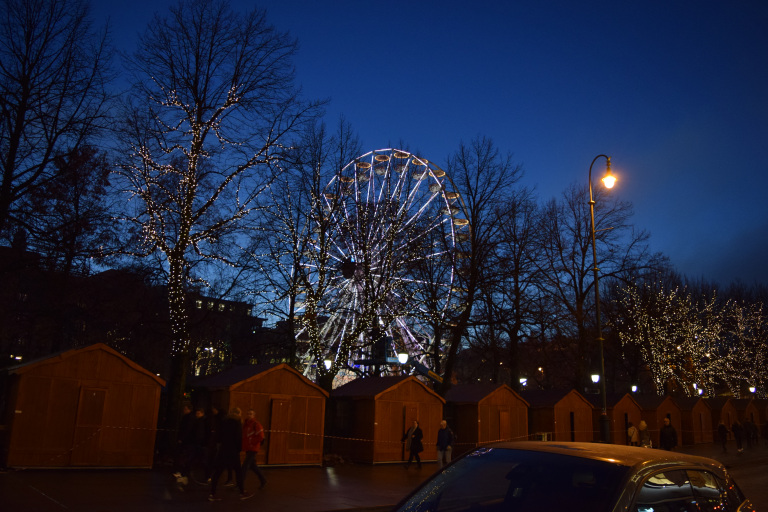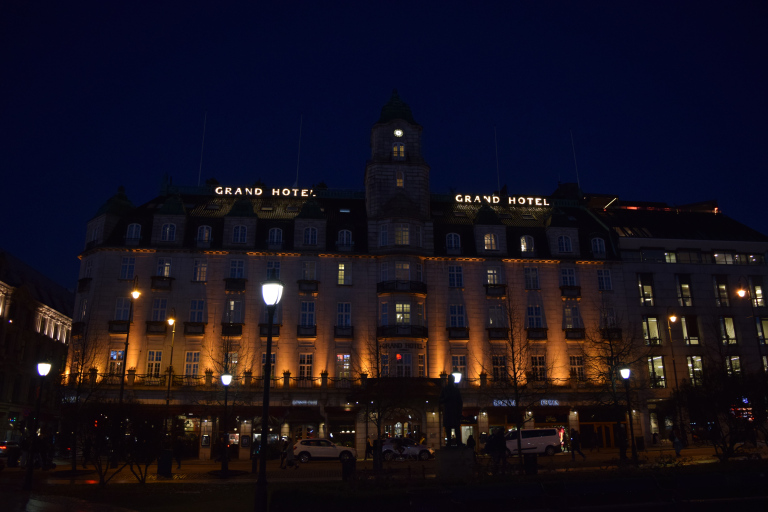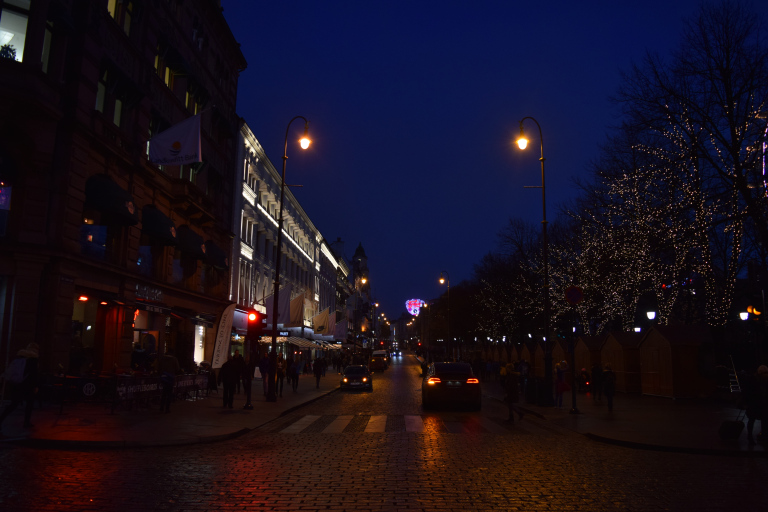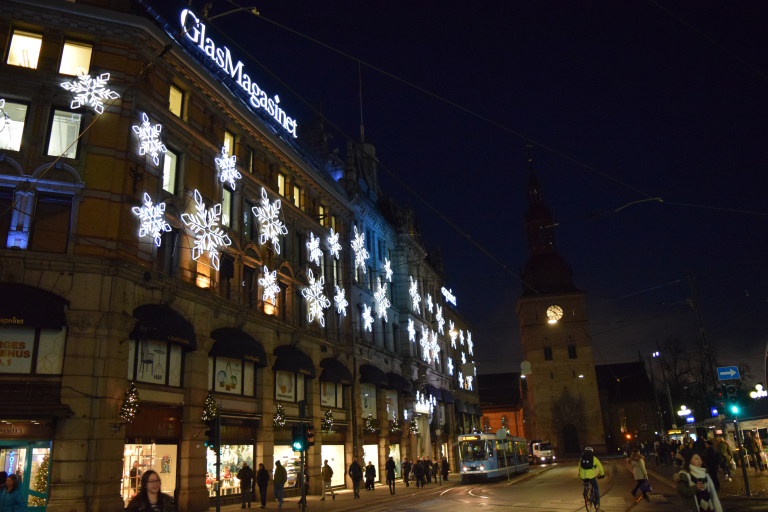 It is recommended to take a stroll at the Karl Johans Gate road which leads to various roads such as Grensen which you can find various landmarks, eatery, stores and brands if you fancy shopping. Apart from just that, you will see a park (Eidsvolls plass) and it can be really beautiful during Christmas.
You will also see Oslo Cathedral and if you fancy, pay a visit!
---
OTHER OPTIONAL PLACES WORTH VISITING
Nobel Peace Centre
The walk was not too far from Akershus Fortress (approximately 15 – 20 minutes by foot) and if you are keen to visit the Nobel Peace Centre, you may do so. I have not visited the inside of the Centre, but merely standing on the outside.
Viking Ship Museum
I have not visited the Viking Ship Museum but it was said to be worthwhile. I don't really fancy museums but if you are heading there, you may do so by taking a direct bus from Oslo Central Station.
---
FOOD AND DRINKS YOU'D LIKE TO TRY
Mathallen Oslo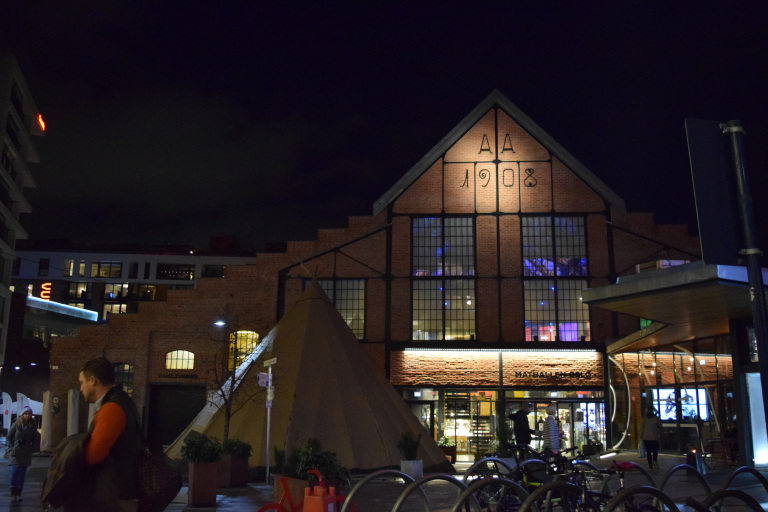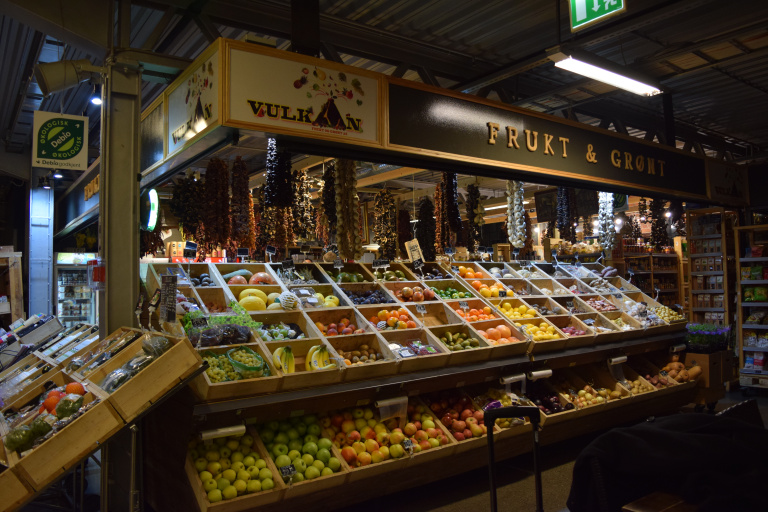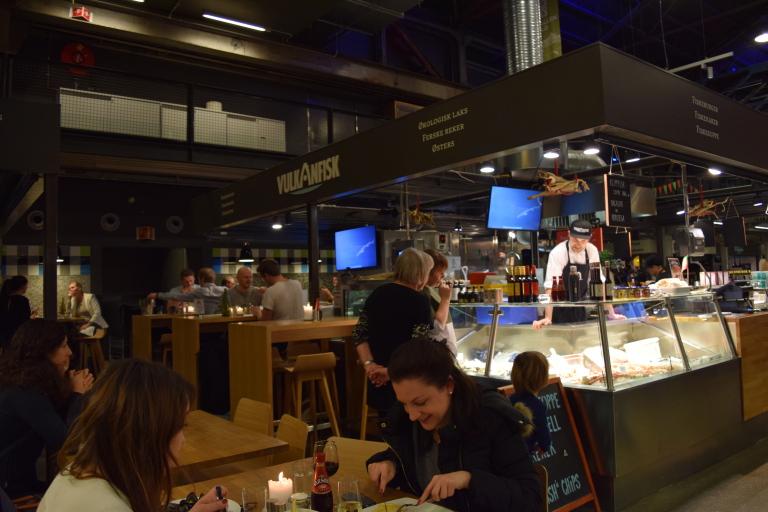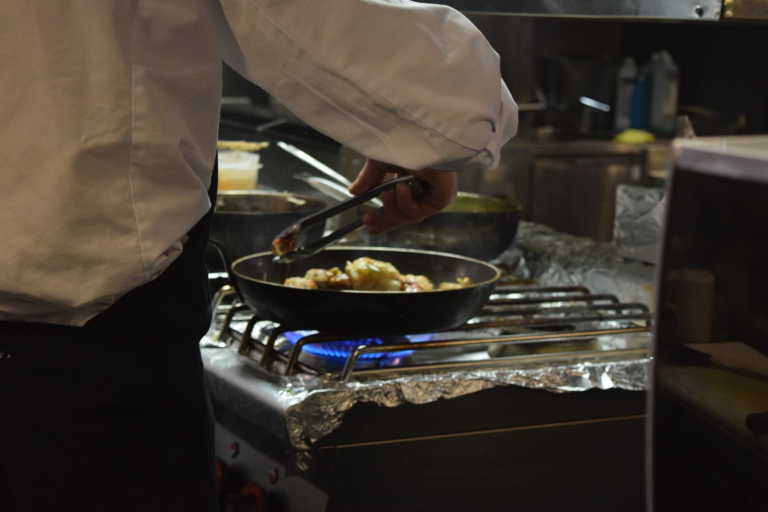 Mathallen Oslo is inspired by the great European food courts and this place is a little hidden out from the main roads. With a proper map, you can then locate this place (another building may be blocking) and your visibility of Mathallen Oslo are limited and may be blocked out of the way.
The prices are as follows:-
Catfish: NOK259; and
Pepper Fried King Crab: NOK395.
It is highly recommended to at least try the fresh king crabs and fishes in Norway (best known of). We even get to know that Gordon Ramsey travels to Norway for its king crabs and mentioned how great and tasty they were. Taste wise, little bit sweet and tender while the taste is excellent! Not disappointing and will definitely be back to hunt for more king crabs and fishes!
Eat Sushi & More (Sushi Restaurant)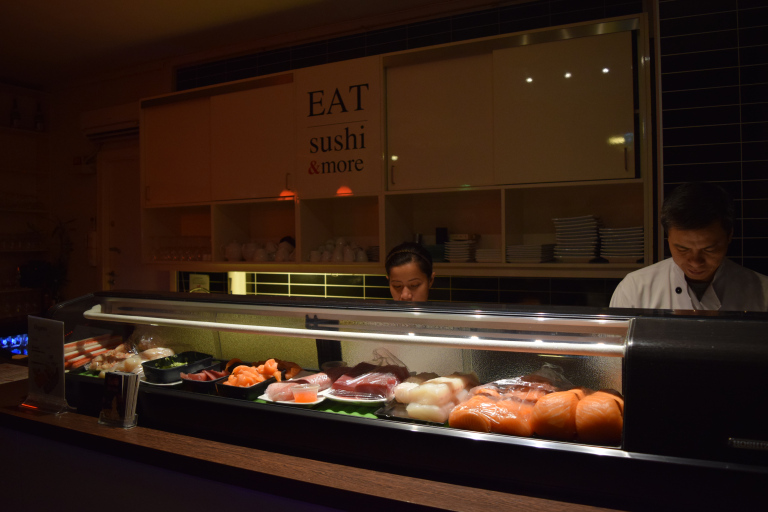 As what everyone says, you must actually try the fresh Norwegian Salmon in Norway! We had it via sushi. I have bought a bento box that consists of nigiris and rolls (probably enough for 1 person) that costs NOK129 (a set meal with no drinks). Otherwise, you can share with another person, and walk your way to Mathallen Oslo for more awesome food!
Max Burgers (Swedish Fast Food Chain)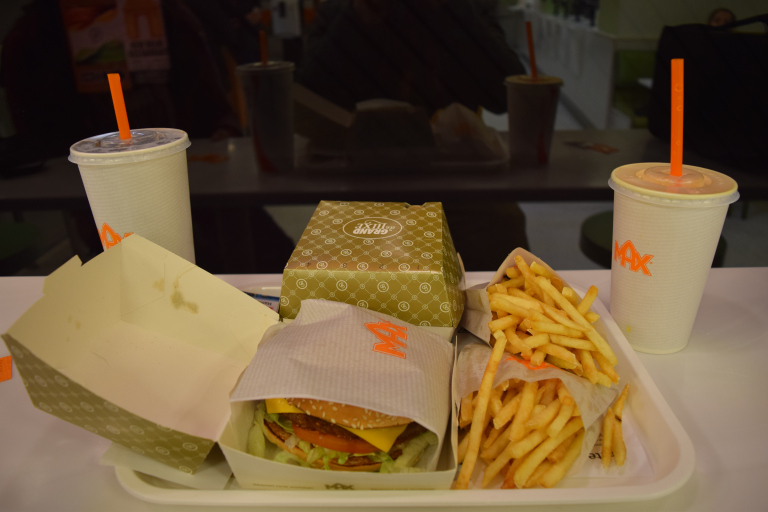 Something different to try, that is Max Burgers! In Asia, we will normally get to know about McDonald's, KFC's, Subways, and other fast food chains. However, you will not find something like this, being the Swedish fast food chain, Max Burgers!
I find that Max Burgers are kind of big of its size, and tasted pretty good too. Worth it! However, a set meal costs about NOK126 as per menu.
Freia Norwegian Chocolates
You must not miss the Freia Norwegian Chocolates and they can be found at most supermarkets! They tasted really good and some comes with hazelnuts, berries, etc.
---
RECOMMENDED MEANS OF TRANSPORTATION
Metro Station
The metro station in Oslo is easy to be read and they will be able to direct you to various areas and places of interest. Just lookout for the symbol "T" when it comes to metro. Just be reminded that there are several trains that leads to the same directions.
Metro Station (Ruter Company) – Route Maps
By Foot
I would recommend you to walk along the streets in Oslo upon reaching your metro stations. You may plan your point of interest by alighting at the designated metro station, and walk your way through.
---
TYPICAL COSTS AND MONEY SAVING TIPS
Hostel Prices
Shared dorm rooms: Starts at NOK200 per pax/night, but NOK200-300 is average.
I am not too sure about hosteling in Oslo and based on estimated prices, you could save money this way.
Hotel Prices
Hotel rooms: Starts about NOK700 per night but a room at a 3-star hotel could possibly be about NOK800-900 at average per night for 2 persons.
Food & Drinks
Typical restaurant: An average meal could cost about NOK100-250; and
Good restaurant: Could start as high as NOK250-400 for an average meal.
Transportation
SJ High-Speed Train from outside Oslo: You may take a SJ train from Stockholm which takes about 4 hours 30 minutes (depending on time of departure). The ticket I have gotten from Stockholm to Oslo costs SEK390. The ticket prices varies based on time of departure and point of destination.
Metro Station: I have purchased a single ticket within the same zone for NOK32 per adult. You may visit Metro Station (Ruter Company) – Tickets and Fares for more information.
Oslo Central Station to Lufthavn (Gardermoen) Airport:-

NSB Train (Regular Train): Costs NOK92 per way/person and it takes about 25 minutes. The train will probably be operating from 6.50am onward and runs regularly (check departure board); and
Flytoget (Airport Express Train): Costs 180 per way/person and it takes about 22 minutes. Train will probably be operating from 5am onward and runs regularly (check departure board).
Essential Information: The above information is essential to deciding which Company you will be taking from Oslo Central Station to Airport, and vice versa. However from the departure board, please take extra precaution on its remarks to ensure that departure was for NSB trains, or Flytoget trains. For Flytoget trains, they will usually departs from Platform 13 and you should avoid taking Flytoget if you are holding NSB tickets (to ensure you don't top-up when you board the wrong train). Based on my experience, I nearly board Flytoget trains while I have noticed that NSB platform was on another side. You may visit NSB Trains Website or Flytoget Trains – Website for more information.
Admission Fares
I have not paid for any admission fares in Oslo because places I have visited do not require me to pay anything. However, toilets are not free and costs about NOK10 per person (depending on places as prices may vary).
If you are required to use the locker services at Oslo Central Station, it costs about NOK60 for 24 hours (depending on the size of your locker) and my locker was enough to fit two big carry backpacks, and one small carry bag.
---
Copyright © | Aspen See
Disclaimer: All the information and prices (as at November 2016) provided on this website are based solely on experience and you agree that you use such information entirely at your own discretion and will.