Budapest is the capital city and one of the hot spots in Eastern Europe where a beautiful city lies a good place to hunt for beautiful landmarks, and good food that are reasonably priced!
I flew to Budapest from Lisbon, Portugal via Wizz Air, being a Hungarian low-cost airline. Do take note that baggage restrictions are indeed the biggest issue with this airline as they are not flexible with you having an additional bag to be brought into the cabin. Do remember printing your boarding passes or you will be charged a fee! Well, I was glad that I have got everything prepared, though I had alcohol in me on the night before departure.
People are friendly and tend to be really helpful (for some). When I first touched down in Budapest, it was near midnight and one man helped me with directions. I was skeptical and cautious at first as I was unfamiliar with the place but eventually, everything went well.
---
PLACES TO VISIT AND THINGS TO DO IN BUDAPEST
Great Market Hall (Nagy Vasarcsarnok)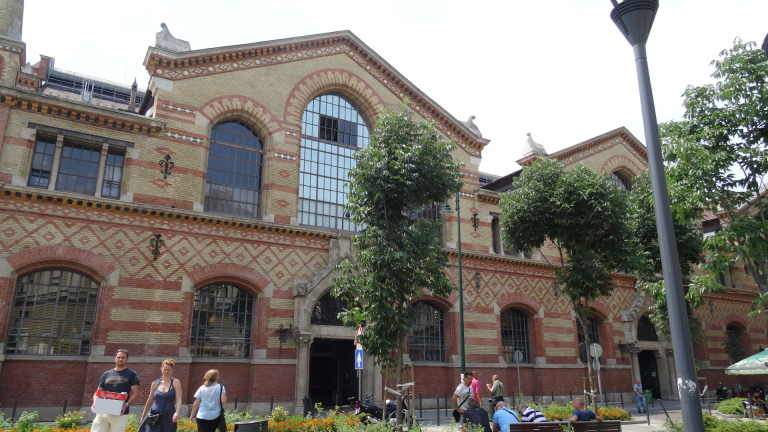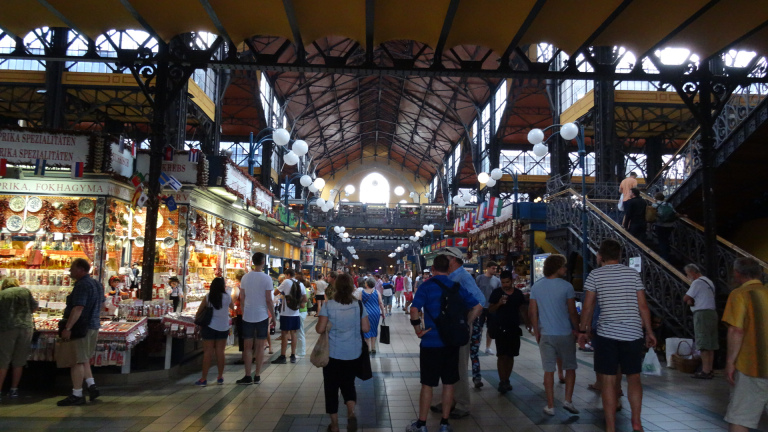 There are plenty of eats to choose from especially in the Great Market Hall. Interesting to know, that you will find a supermarket in the basement level and still, a good place to try some local food and I have heard that Hungary is popular of its Paprika Chili Powders too. These powders are packed in various ways, and they are ready to be given as souvenirs.
Nearest Metro station: Fovam ter / Nearest Tram station: Fovam ter M
Váci utca (Váci Street)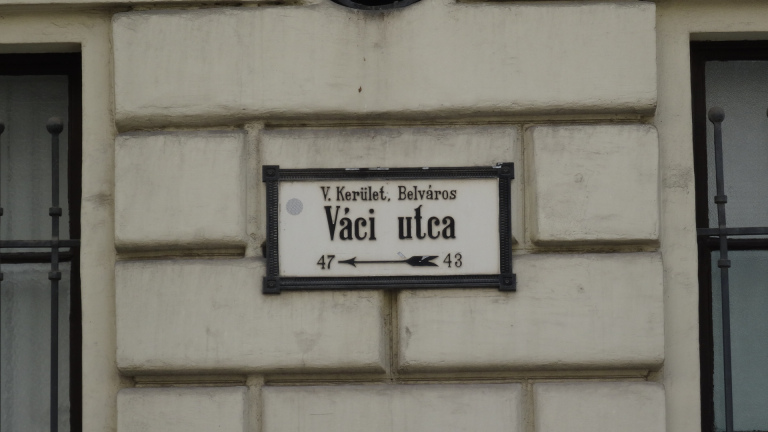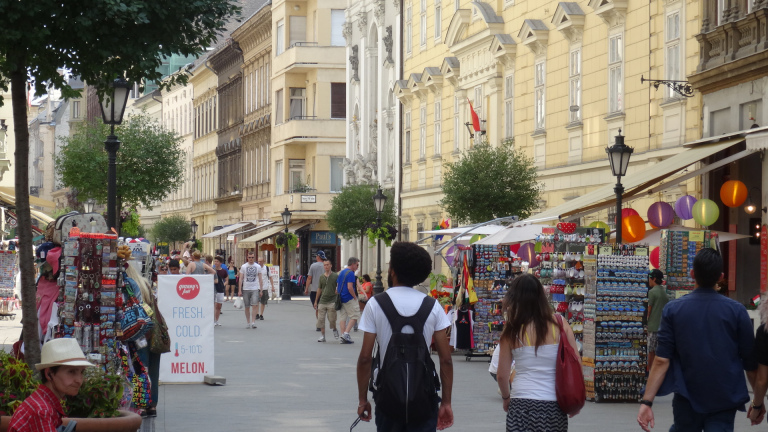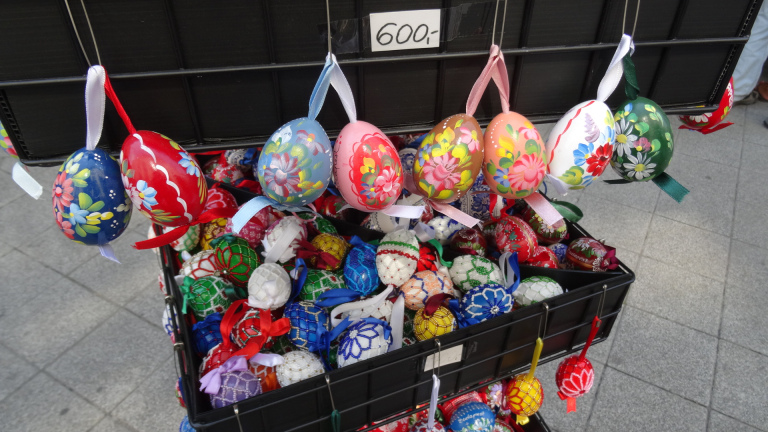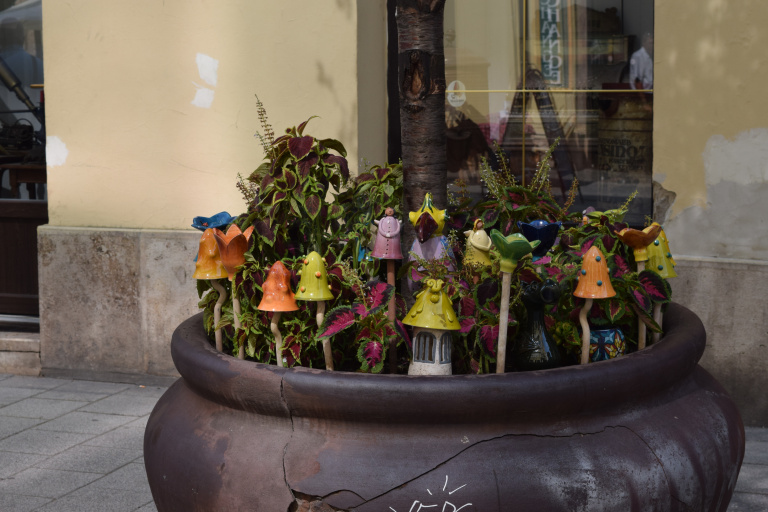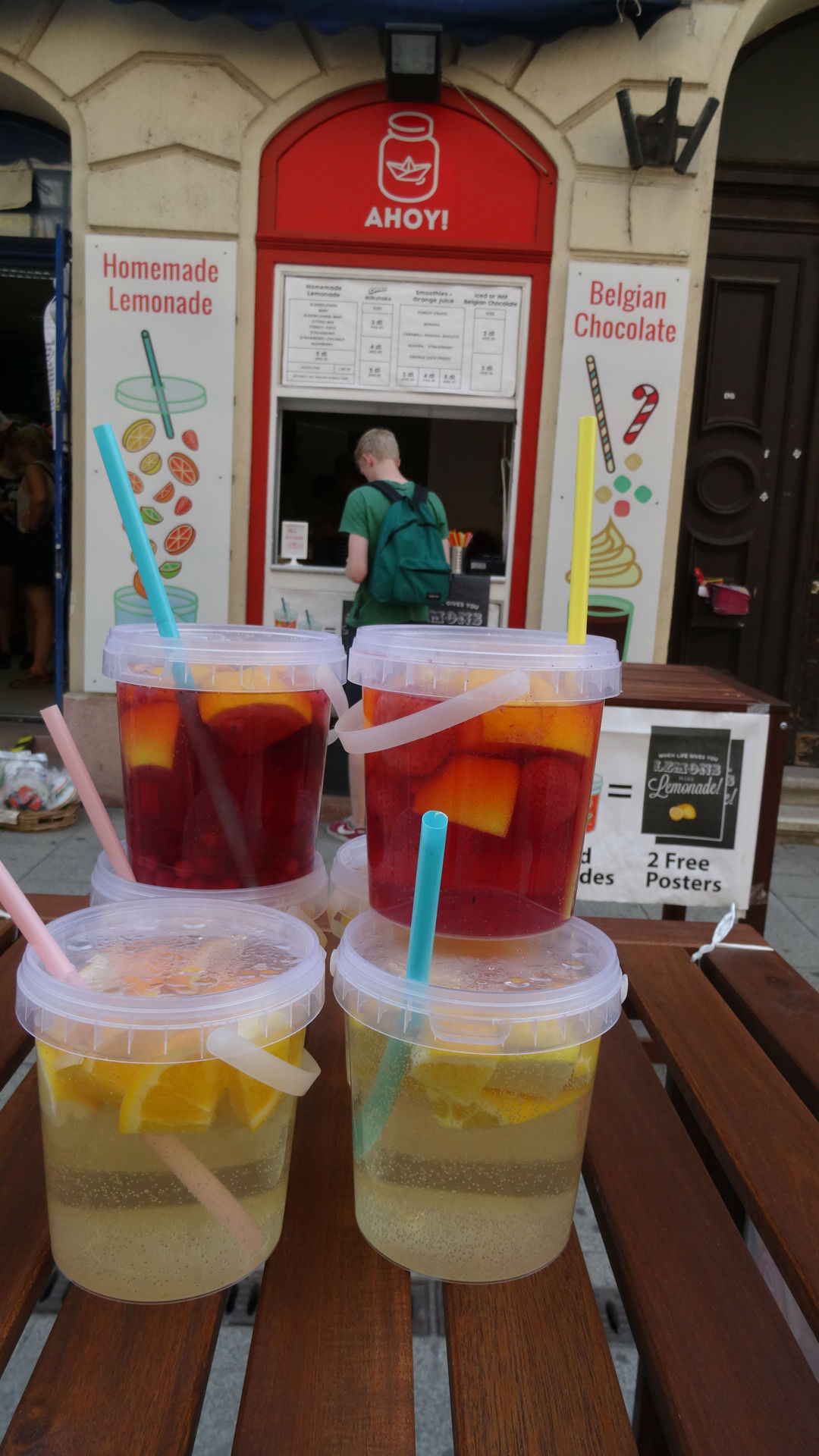 This street is known for being the most popular street in central Budapest where you will be able to find souvenirs and restaurants. They do have drinks stalls and do consider to replenish your thirst!
The street itself is relatively long and by walking through, you will come across various restaurants, cafes, and Hungarian Shopping Market where you will find many souvenir shops within!
Nearest Metro station: Ferenciek tere
St. Stephen's Basilica (Szent Istvan Bazilika)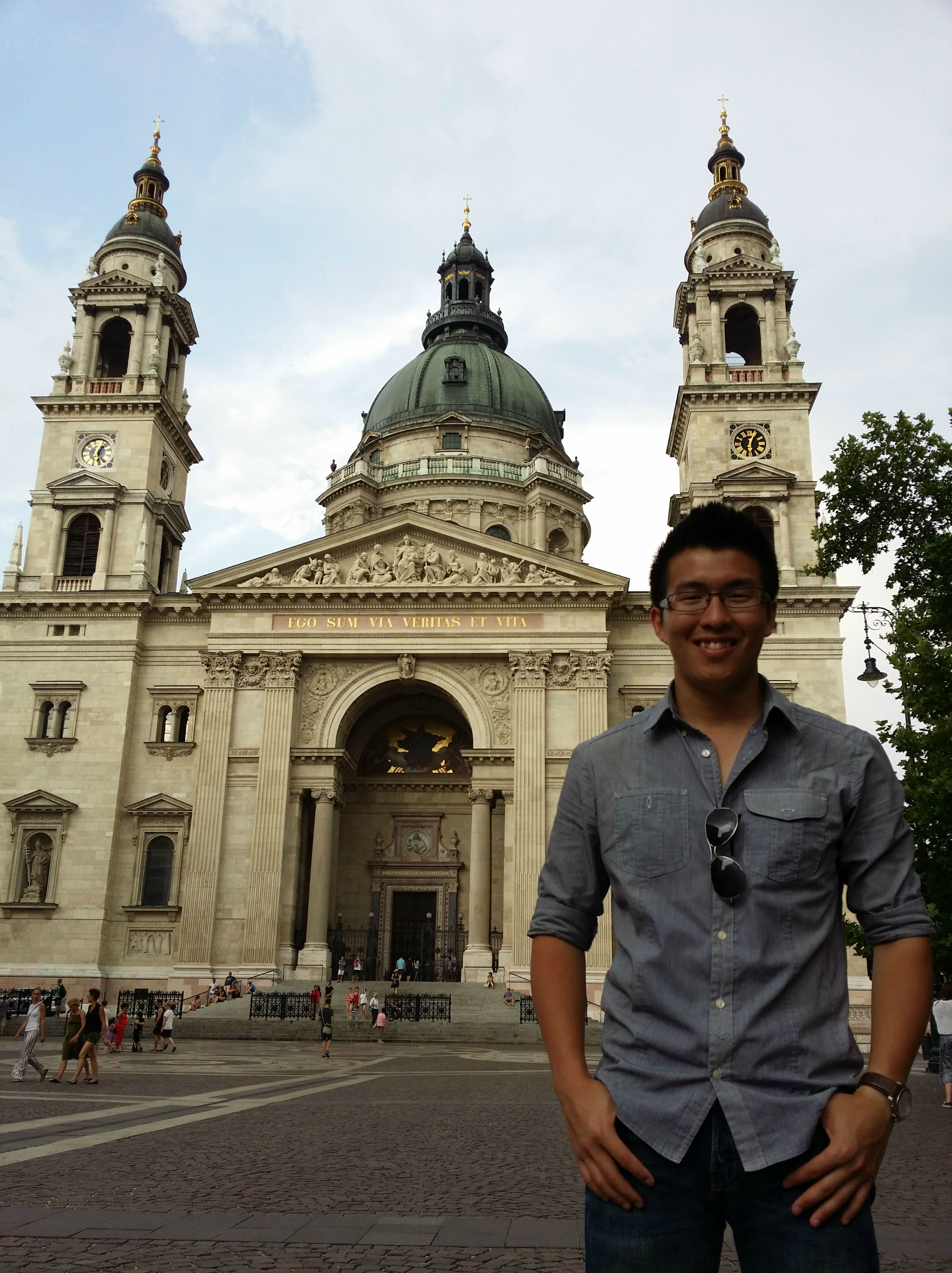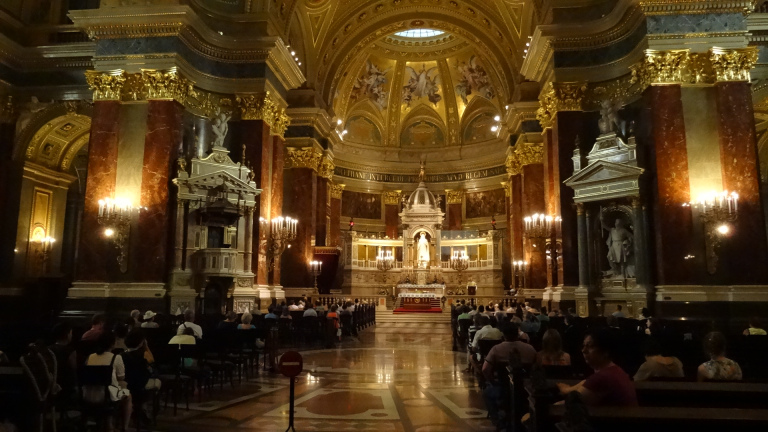 St. Stephen's Basilica is one of the largest churches in Hungary, and one that you should not miss! From my face above, I know that I've just got out from a sunburn and the skies were getting dark at that time too.
The interior were great and fascinating while there were ceremony being conducted in the church and no pictures we allowed (I am good at smuggling pictures).
Nearest Metro station: Bajcsy-Zsilinszky ut
Hungarian Parliament Building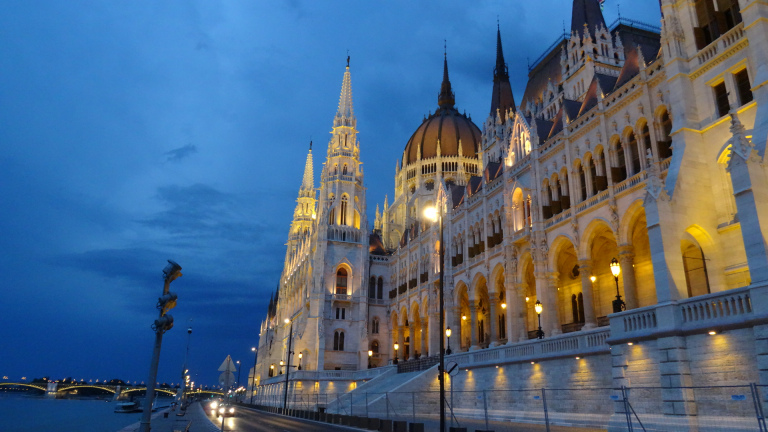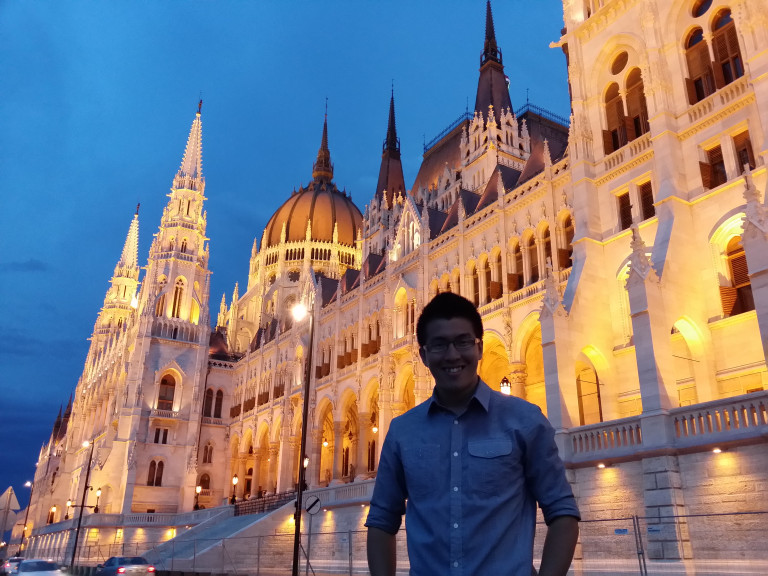 Once the sky turns dark, the light shed pretty quick and it is pretty awesome to see this at night too. The Hungarian Parliament, is one of the most iconic building in Budapest and one that you should visit!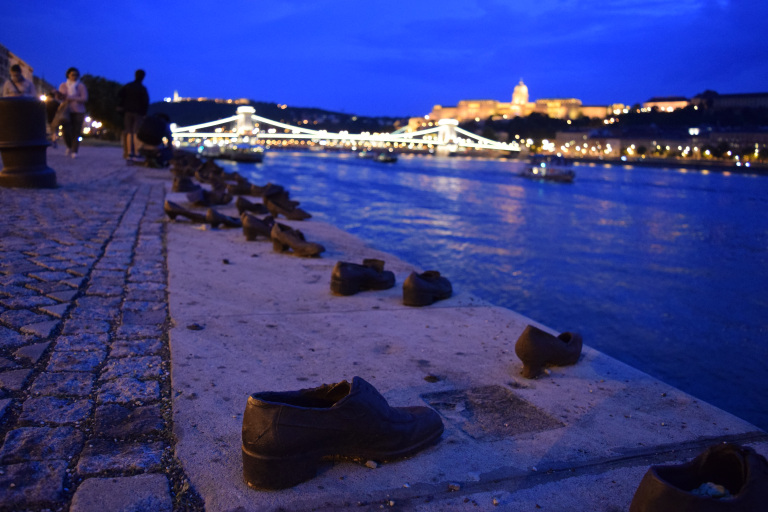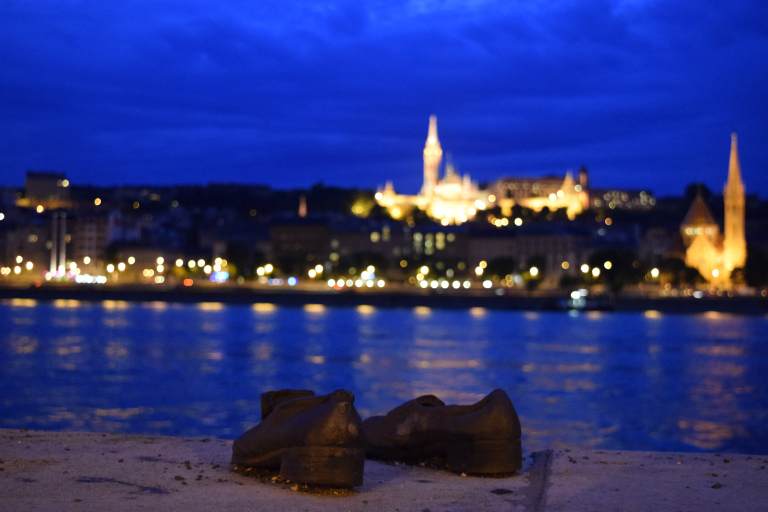 Just adjacent to the building, you will find the unique placed Shoes on the Danube Bank. Watch your steps and don't commit a scene!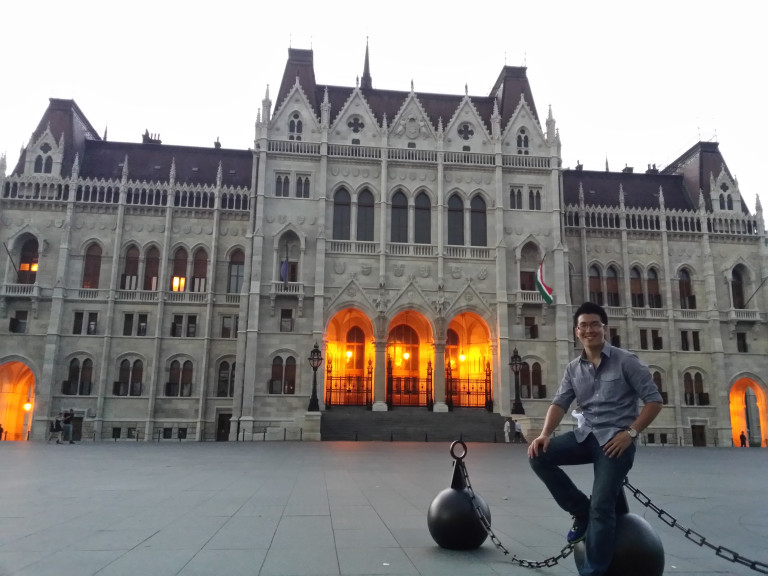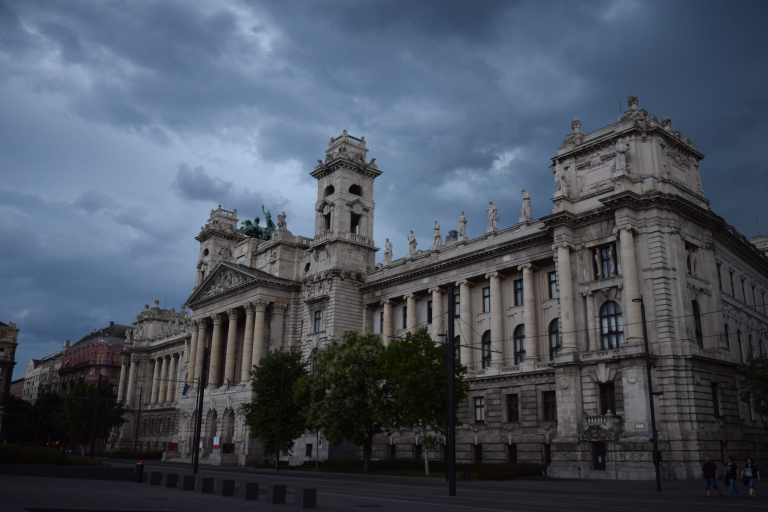 While on the other side of the Hungarian Parliament building, you will find the Museum of Ethnography and Gresham Palace, with a good space to give you a spacious snapshot of iconic buildings!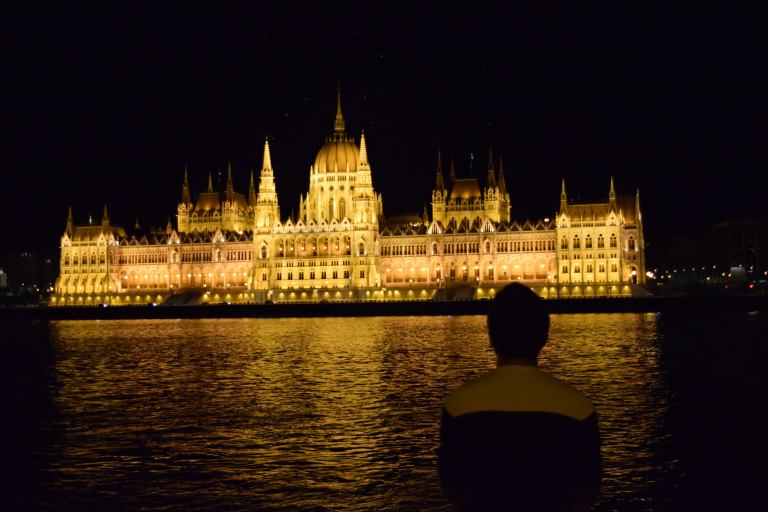 Not to forget the best spots of all is to get over to the other side of the river. Obviously with a different top I was wearing, I got here on other days when I visited landmarks on the other side of the river. Plan your time and visits accordingly!
I do remember my time finding one of the best spots I've got, by climbing some edges as you may not want to get too close to the waters. Trust me, the public then starts coming to queue for your spot.
Metro Station station: Kossuth Lajos Ter
Take the Cruise on Danube's River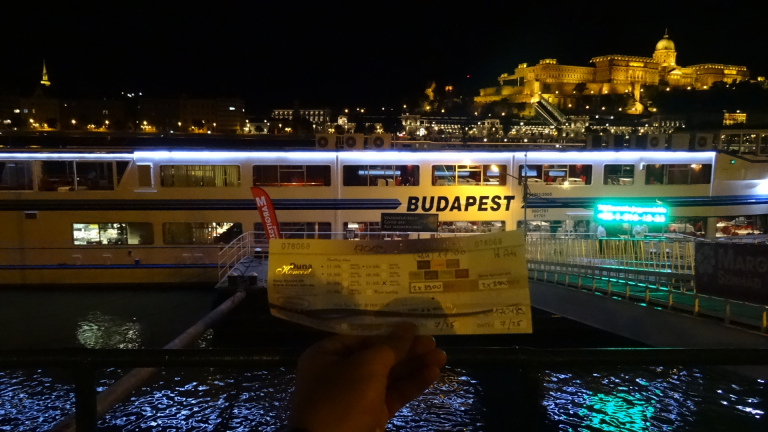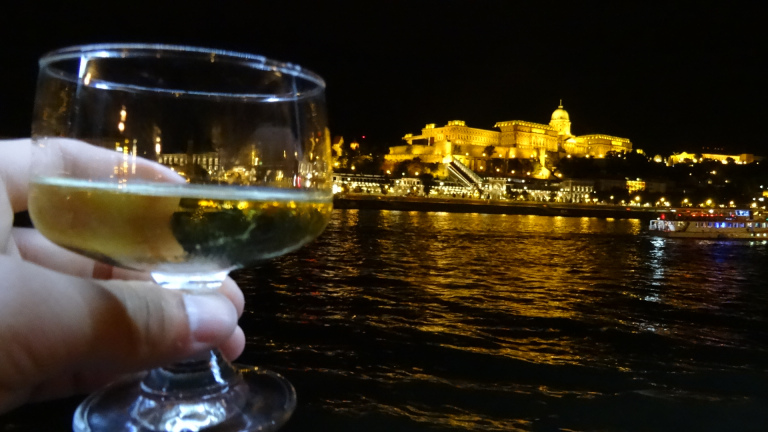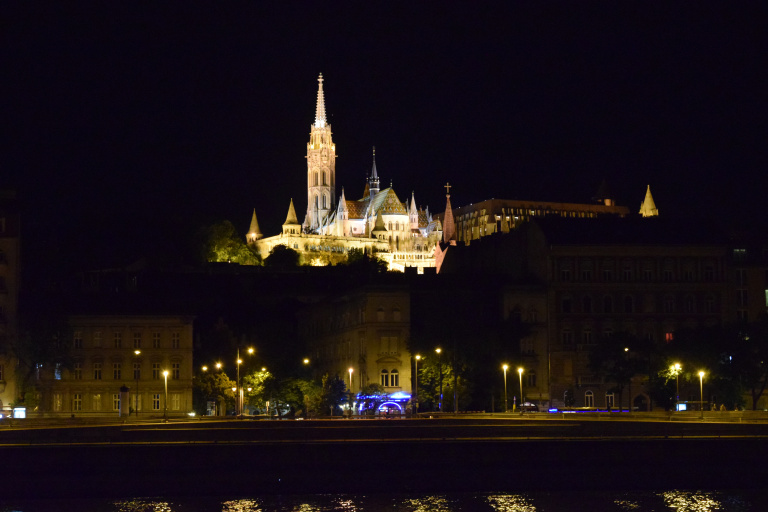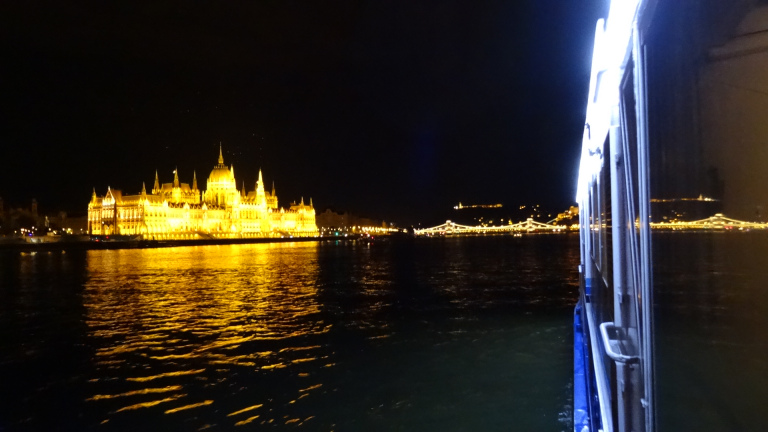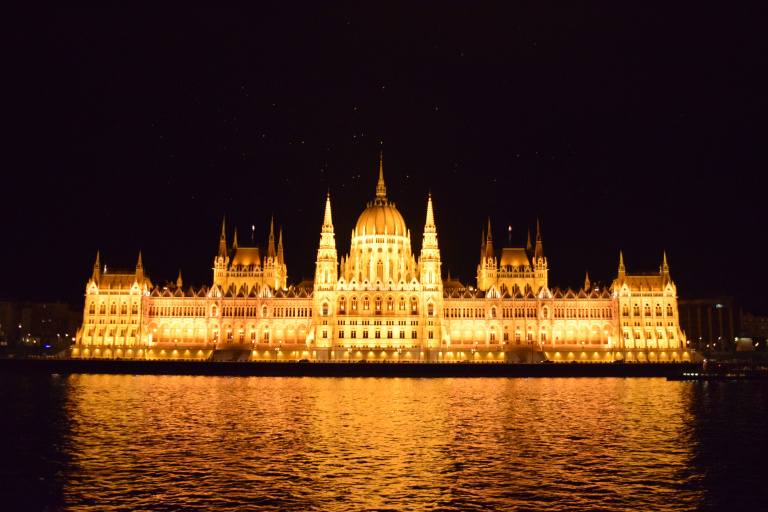 By the way, if you were wondering what are the white spots above the Hungarian Parliament building, I was told by the locals that they were bats! Interesting.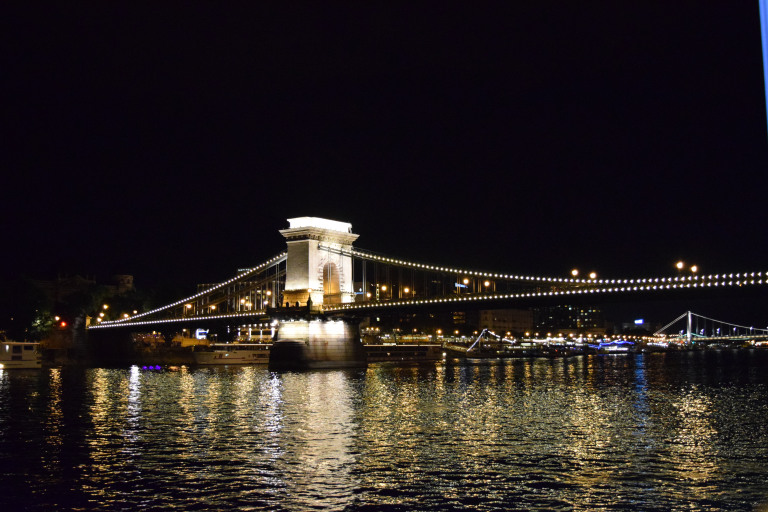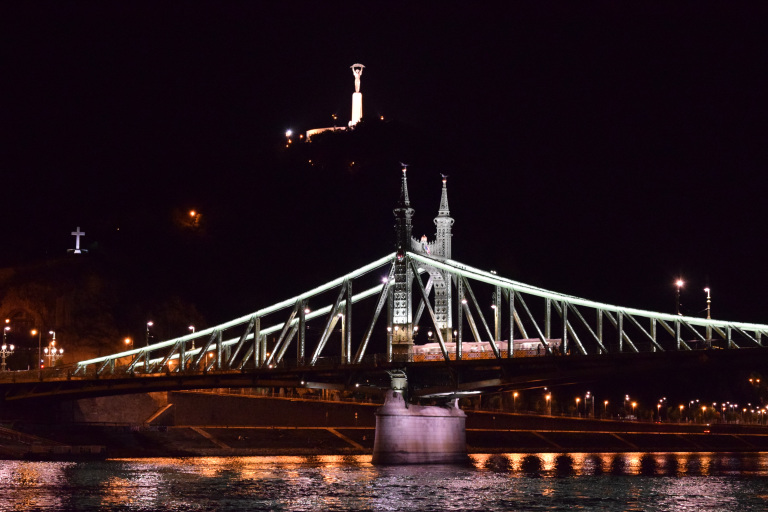 I would say that it was worthwhile taking the cruise and it costs HUF3,900 per person. In Budapest, you will find many shipping tour agents (even on the streets) selling and promoting cruise tickets (make sure they are from the official cruise company), and asked where the gather point would be.
In the cruise, each of us was given with 2 complimentary drinks (they've got wines). You will be entitled for a buffet with if your ticket says so, but it will definitely cost more than HUF3,900 that I paid for. They ship along Danube River and back, going across various landmarks/bridges and I believe that it's so much more beautiful to do cruising at night! On board, a man walks around with his DSLR taking pictures of you, and you can purchase them for like EUR6-8 if I remember correctly as it comes with a cover/frame.
Chain Bridge (Szechenyi Lanchid)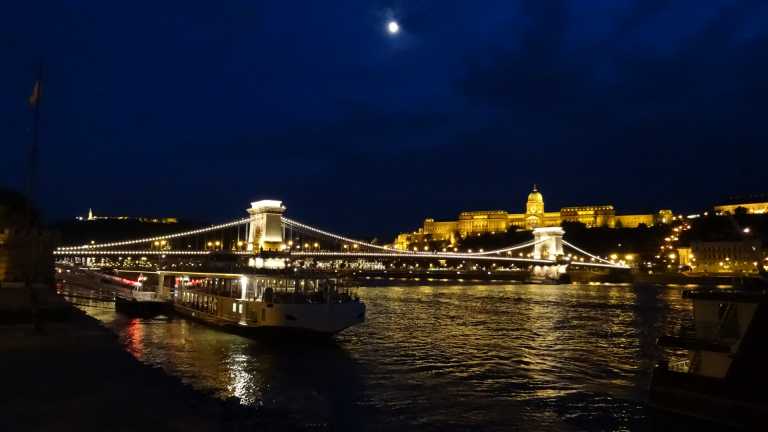 One of the most iconic bridge in Budapest was the Chain Bridge as it is a connection bridge that spans the Danube River between Buda and Pest, the western and eastern sides of Budapest. Got an idea?
Nearest Metro station: Vorosmarty ter / Nearest Tram: Szechenyi Istvan ter
Gellért Hill Cave Church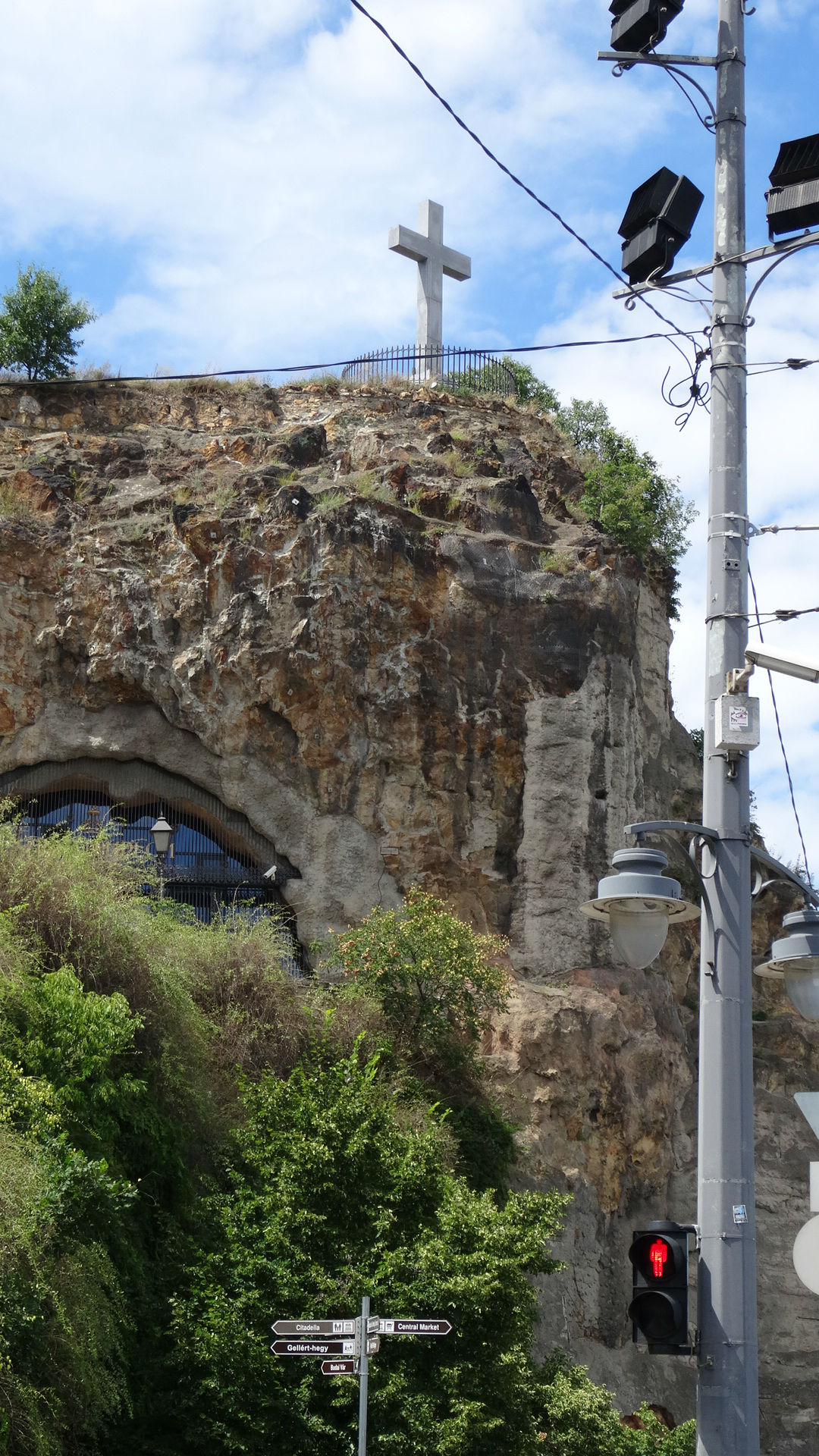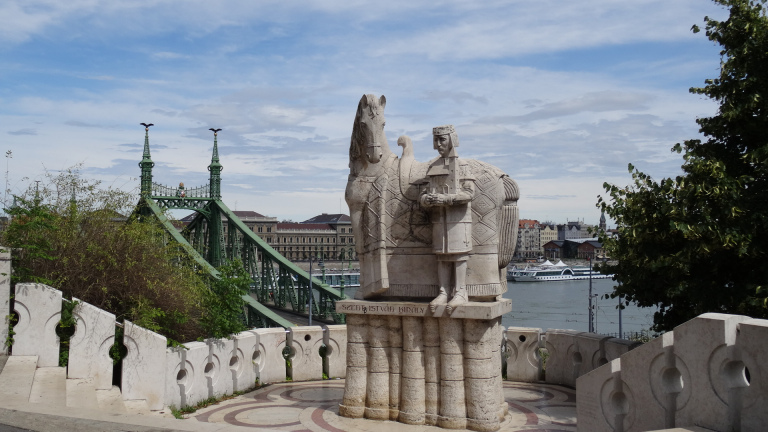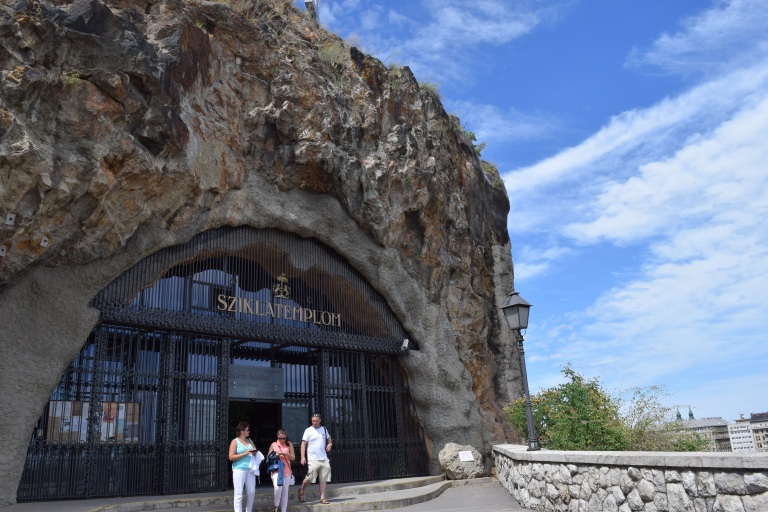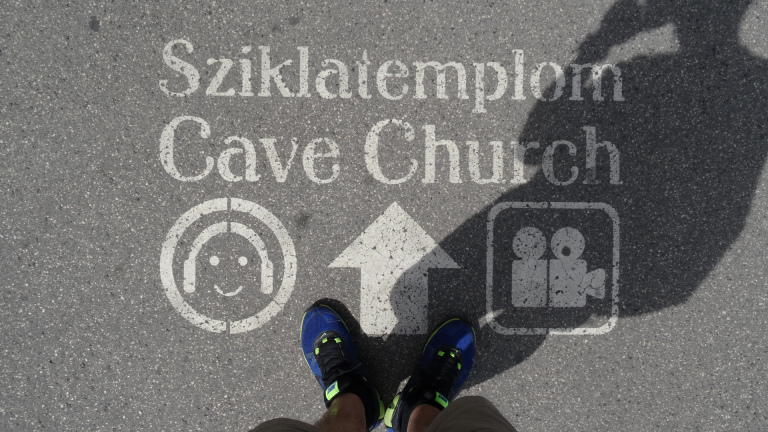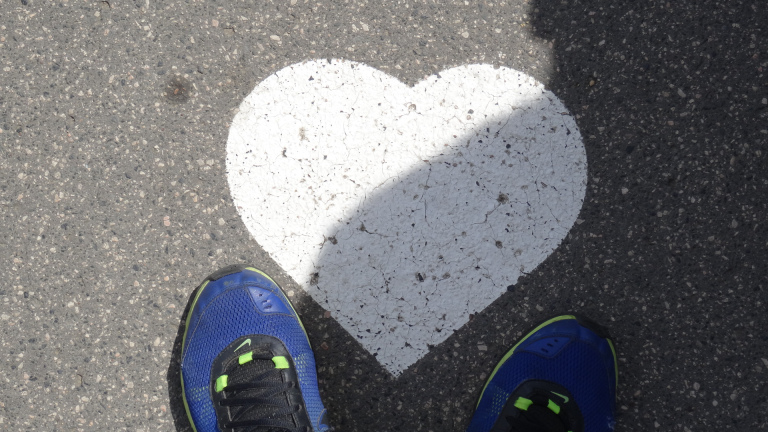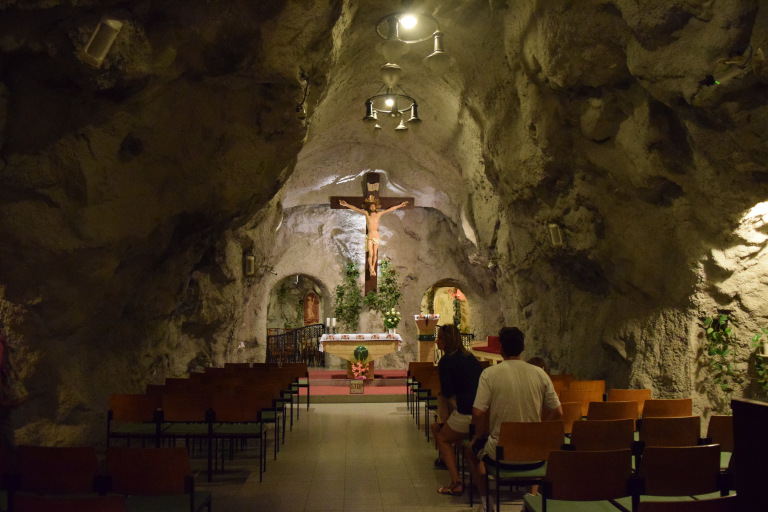 I found this church to be really unique as it's built within a cave, located uphill across the Danube's river. This was one of the most unique church I have ever visited, among the others having just amazing interiors.
Nearest Metro station: Szent Gellért ter / Nearest Tram: Szent Gellért ter M
Liberty Bridge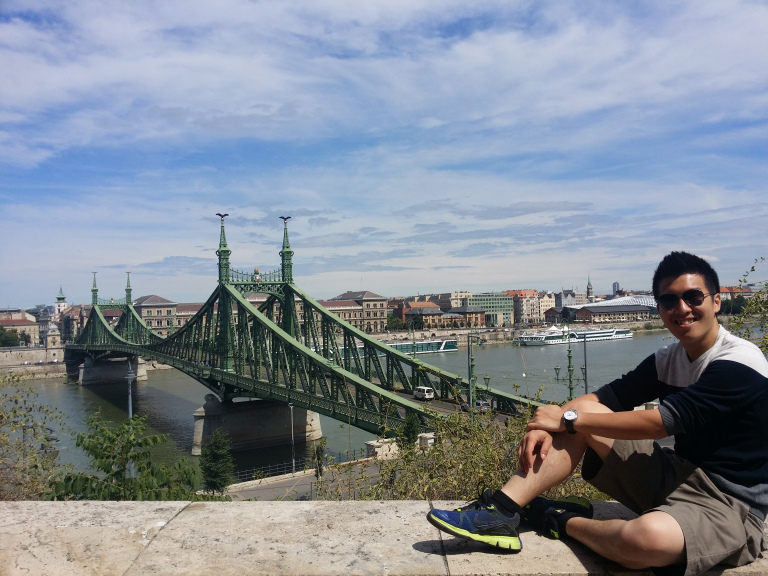 By heading to the Cave Church, you will reward yourself with an awesome snapshot of Budapest's Liberty Bridge. Cheers for a sunny day!
Nearest Metro station: Szent Gellért ter / Nearest Tram station: Szent Gellért ter M
Citadella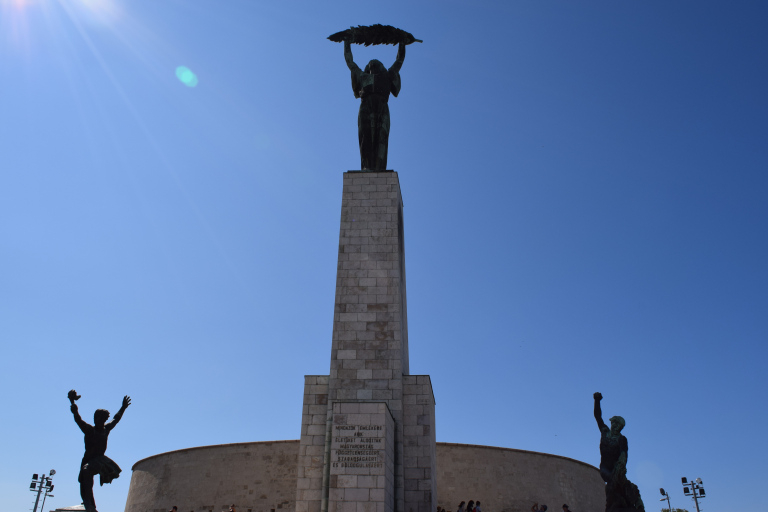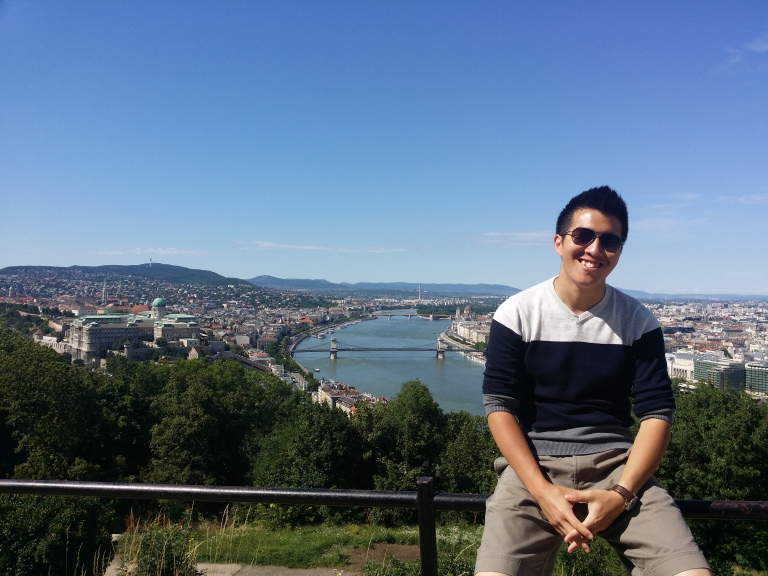 Citadella is the Hungarian word for citadel, that is located on top of Gellért Hill that is about 235metres high which gives you a panoramic view, overlooking the Danube River and the spectacular city!
I wish to highlight that you may bump onto a group of people while you were making your way to the top, at Citadella. They were a group of scammers or gypsies (full of gimmicks) playing the (can-you-find-the-ball) game in paper cups. Do not entertain, or they'll pull you into the game, and make you lose your money. They tend to make you win some first, but that was all the trick for.
Nearest Metro station: Szent Gellért ter / Nearest Tram station: Szent Gellért ter M
Buda Castle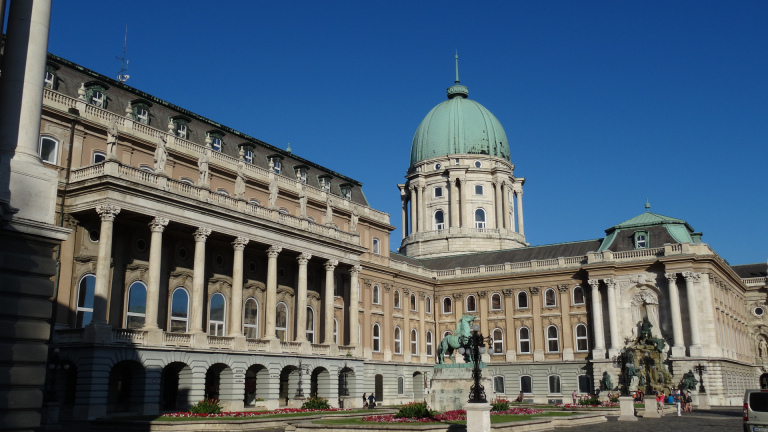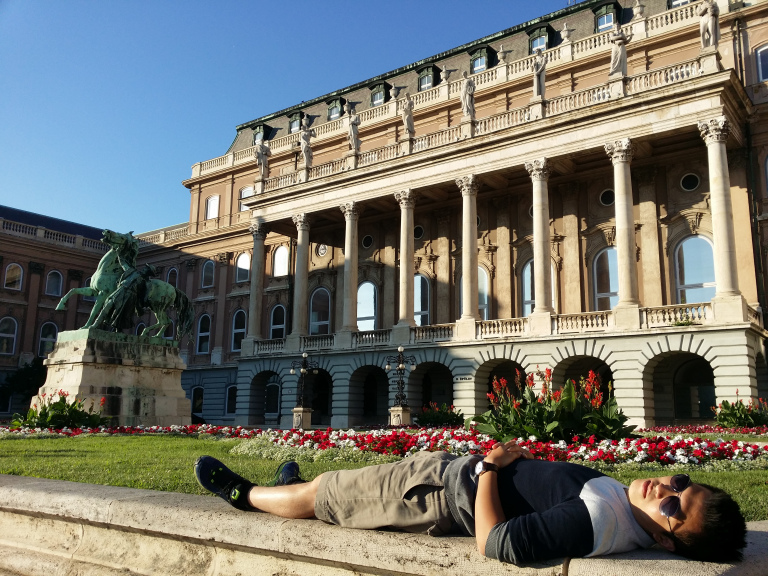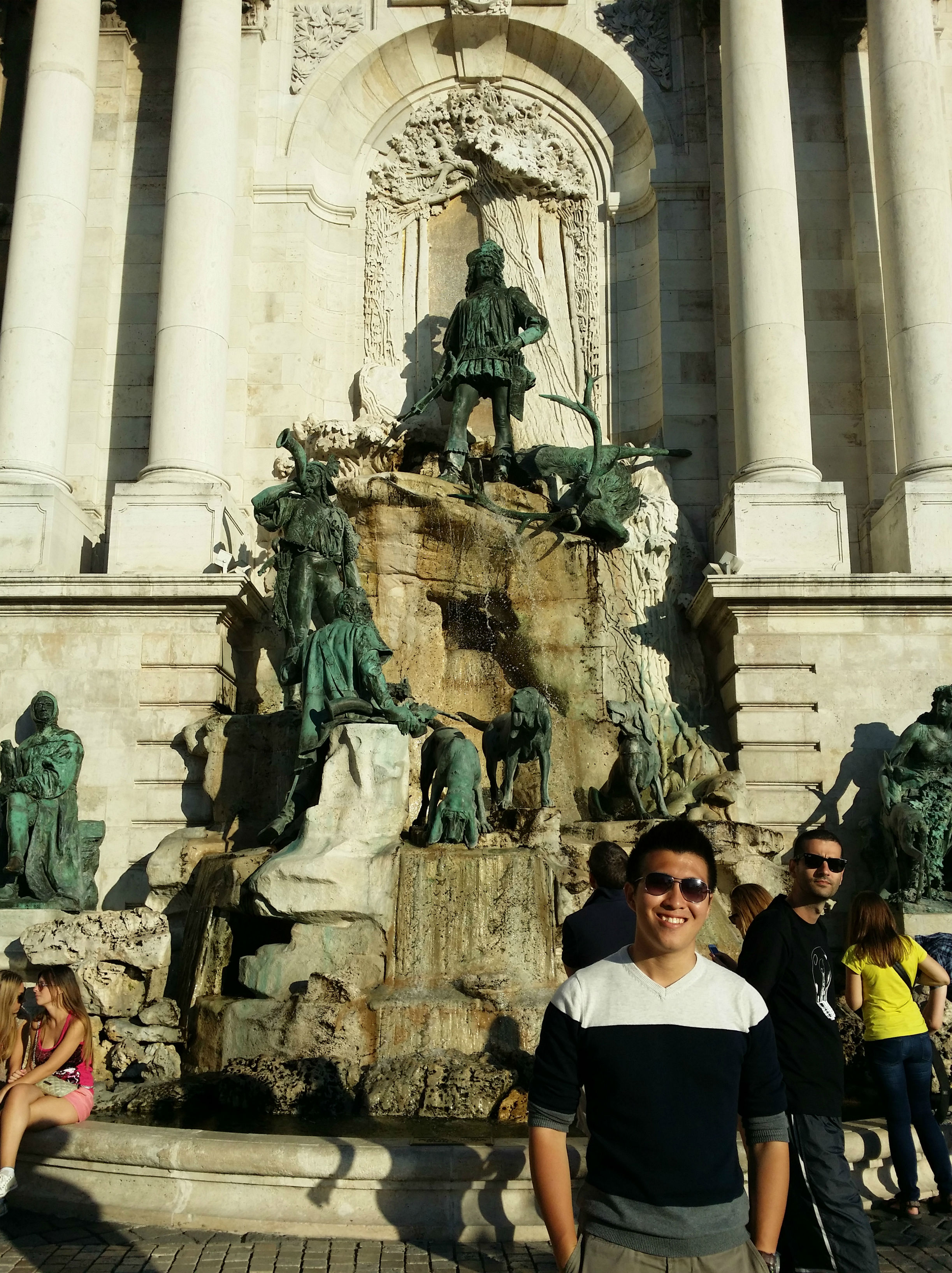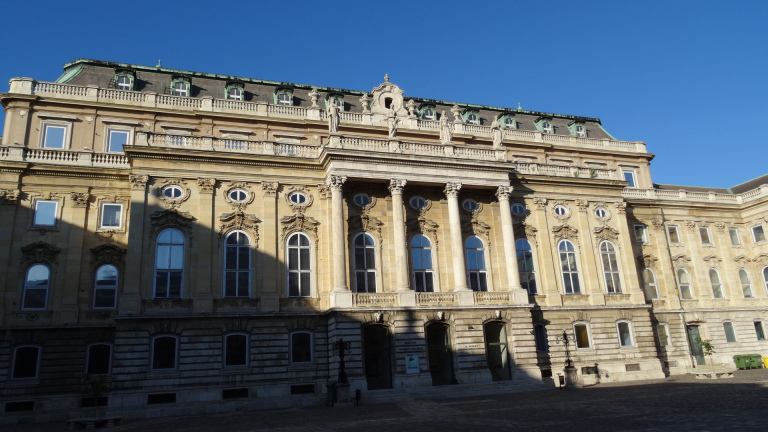 About 30minutes away by foot from Citadella, you will find the Buda Castle that is historic and built in 1265. There are beautiful flowers during summer, and games like Archery!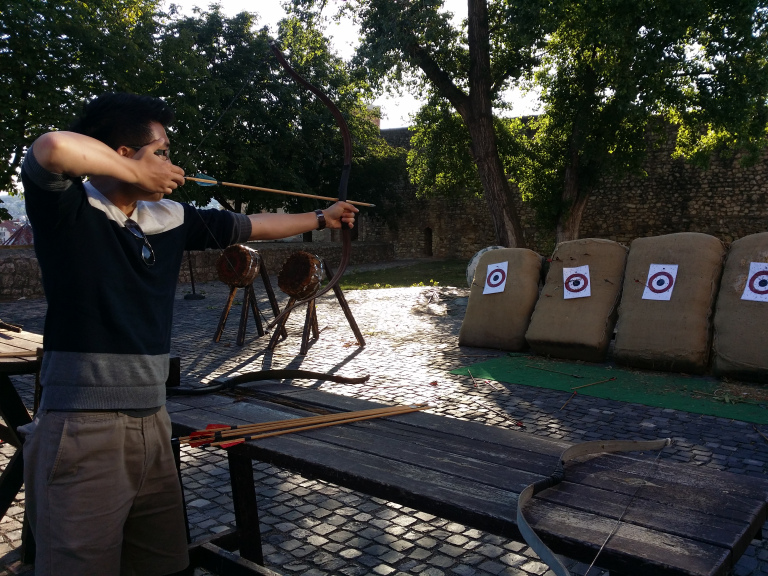 This is the Archery range that costs HUF600 or EUR2 for 5 arrows and you will get a prize if you've got a direct hit, even with 1 arrow!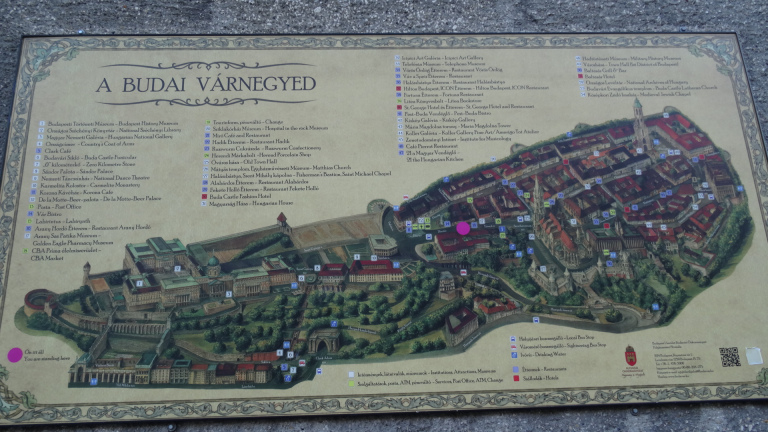 Back of its Buda Castle, you will find a route into the town, with various shops and interesting buildings. I find the town to be vibrant and clean and they have got convenience store too.
Nearest Metro station: Batthyany ter / Nearest Tram station: Clark Adam ter
Matthias Church (Matyas Templom) & Fisherman Bastion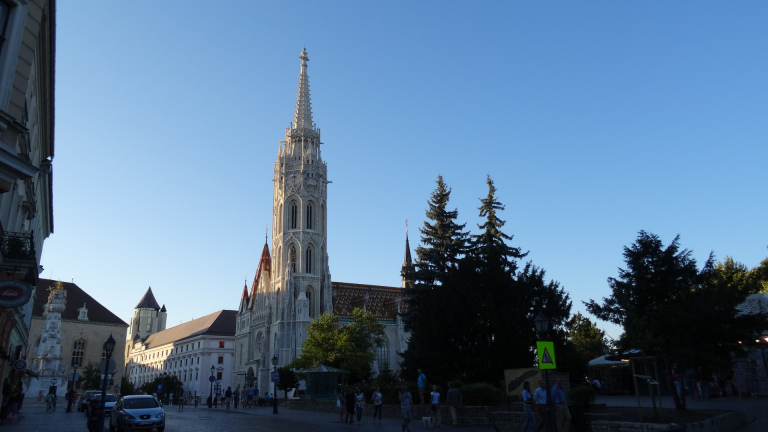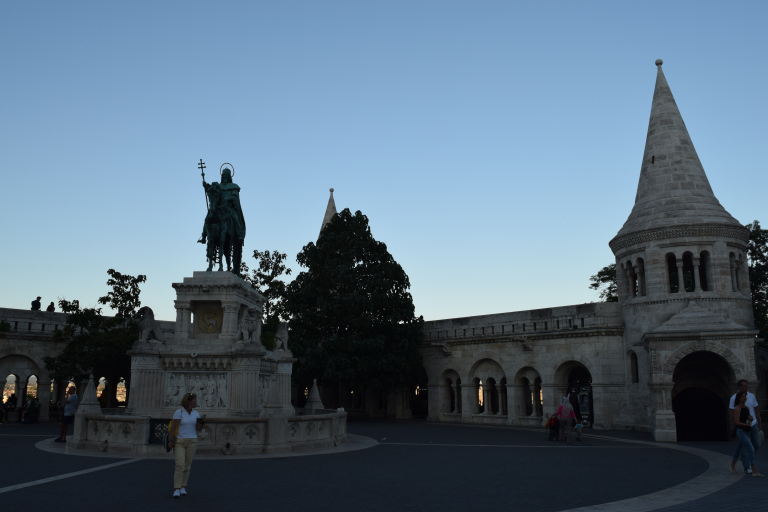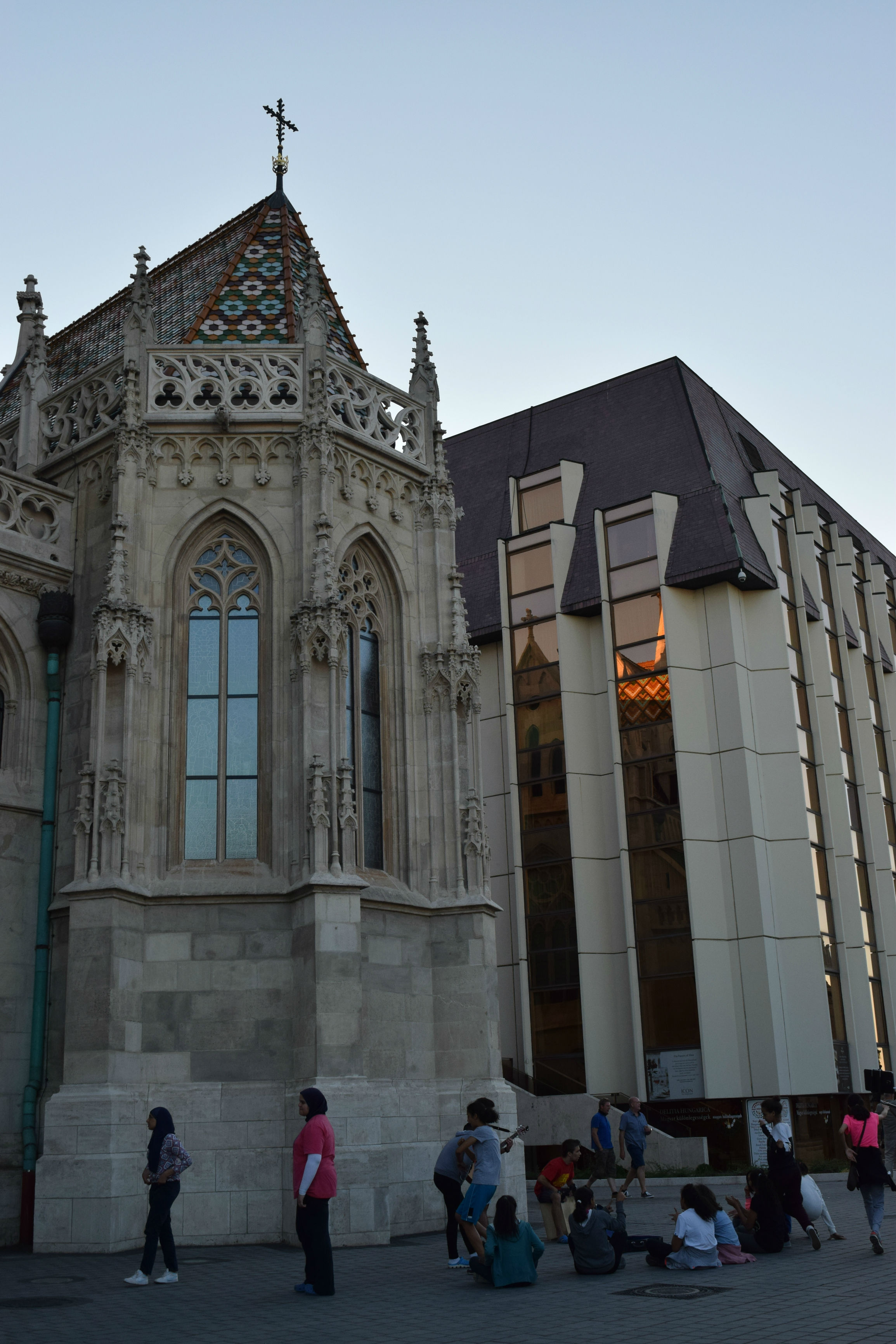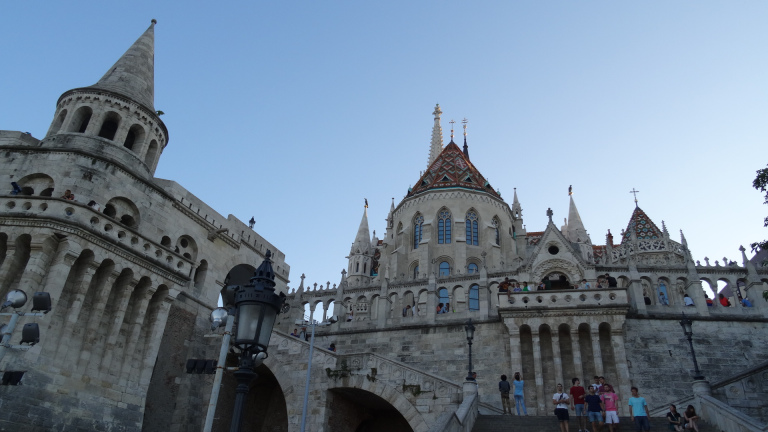 These landmarks are located within the Castle Hill, back of the Buda Castle. There are interesting performances and it was worth a visit, but don't get lost getting out from this spot, as you might go along the unprecedented residential area.
I remembered that it was a hot day, and very much craving for a Coca-cola! Cheers!
Nearest Metro station: Batthyany ter / Nearest Tram station: Miko utca
Széchenyi Thermal Bath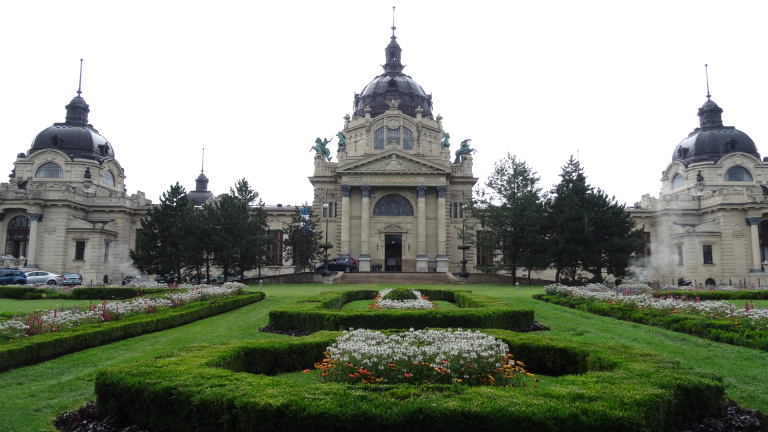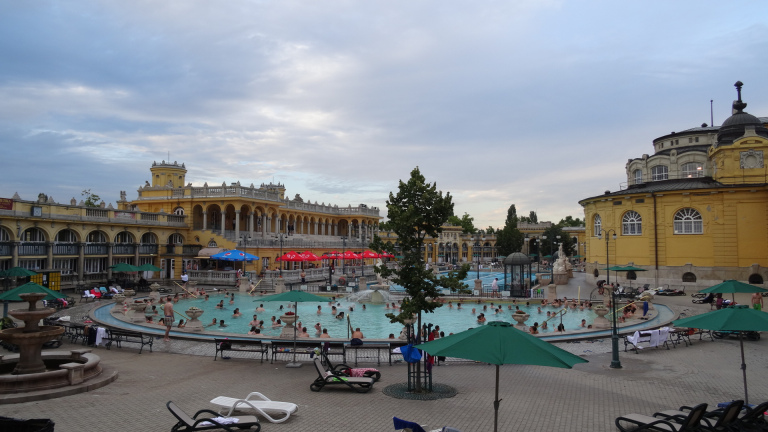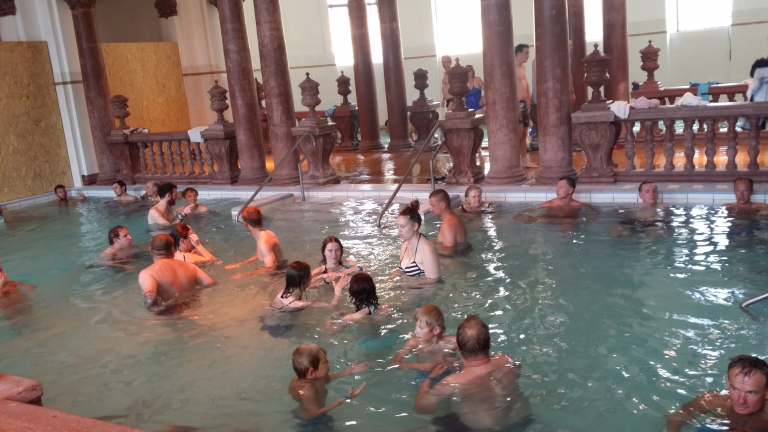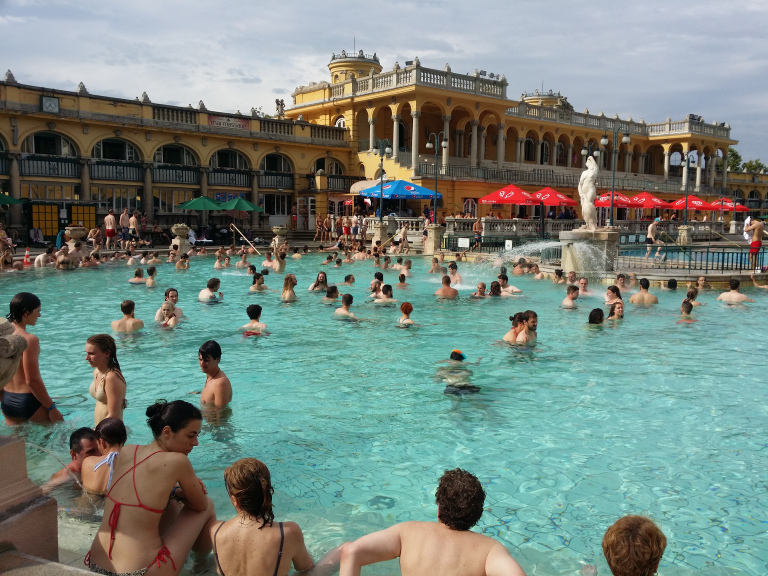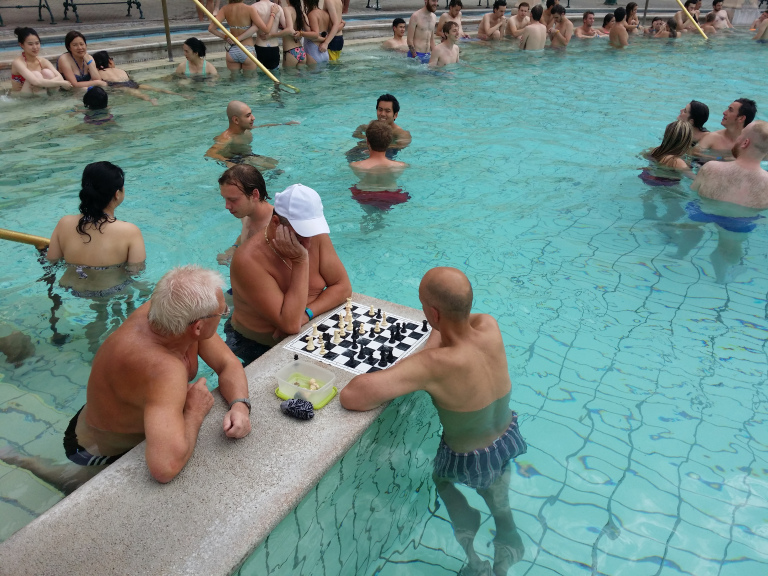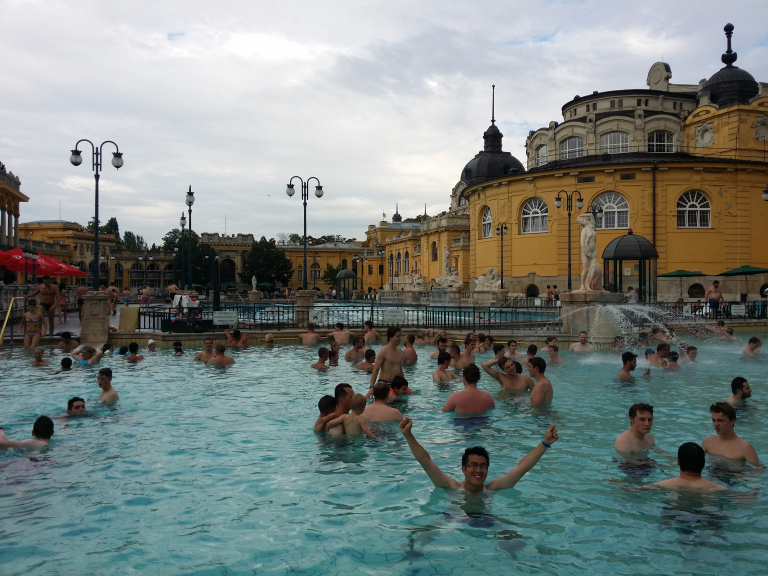 One of the best and most popular thermal baths in Europe is the Széchenyi Thermal Bath in Budapest! This Széchenyi Thermal Bath is built in 1913 and containing approximately 1,000 natural spring water sources in Hungary.
The entrance fee costs HUF4,500 per person, which includes the basic package (literally nothing, but a watch strap that allow access to your locker. I would advise bringing your own towels if you are paying for the basic package, however, hairdryer are provided. Shower spaces are available too, but I don't think that you will find a shampoo.
There are different kind of pools and facilities available in Széchenyi Thermal Bath, but I like the one that flows water in circular motion.
Nearest Metro station: Szechenyi furdo / Nearest Tram station: Kacsoh Pongrac ut
---
OTHER OPTIONAL PLACES WORTH VISITING
Hungarian National Museum
Nothing much, but only if you fancy visiting museums!
War Memorial and its Gardens
On your way to the Hungarian Parliament building, you may notice the gardens and its War Memorial monuments.
Opera House and Audrassy ut
Not as popular as Austria's Opera House, but worth to visit! You may also walk by Audrassy ut, that is used to be a boulevard back in 1872.  There are shops and restaurants located along the street, but not too happening.
Heroes' Square (Hősök tere)
You will walk by the Heroes' Square if you are heading to Széchenyi Thermal Bath from Audrassy ut. This includes monuments in remembrance of the Seven Chieftains and other important national leaders.
---
FOOD AND DRINKS YOU'D LIKE TO TRY
Great Market Hall
It was worth visiting the Great Market Hall in Budapest, serving a variety food and souvenir goods. I would highly recommend going for the local food, most popularly known as Goulash (Gulyas) in which contains chunks of beef, potatoes, and plenty of paprika and spices!
I don't remember how much they costs but I can assure that food here in Budapest is affordable, and you can expect how reasonably priced food in market halls got to be.
Tabáni Gösser Étterem
I would highly recommend dining in at this restaurant, Tabáni Gösser Étterem, one of the gem found located between the Citadella and Buda Castle. The food were unforgettable and definitely worth a try. These dishes costs the following:-
Hungarian Goulashsoup: HUF890;
Country Goose thigh: HUF3,290; and
Veal paprika stew: HUF2,490.
Menza Restaurant
The food was good and unsure how much these dishes costs. The menu on its website have changed, and seems like they are no longer serving the above dishes. You may find more information from clicking here: Menza Restaurant – Menu Cart.
Some local snacks from the supermarket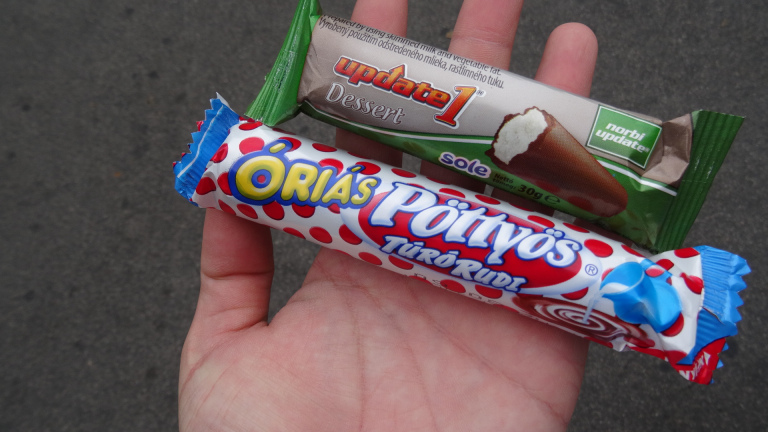 I believe that you will not find these in any Asian markets but worth to try! *I thought that these doesn't look appetizing*.
---
RECOMMENDED MEANS OF TRANSPORTATION
Metro Station
You may look for the symbol "M" and while you are in Eastern Europe, you will not require a valid ticket to access these metro platforms. However, you will be fined if the inspector found that you have got no tickets!
Metro station – Budapest service network maps (unofficial)
Tram Station
I find that the tram stations just next to Danube River can be really helpful, especially at night. One point to another may require you to walk a long distance and the metro is located within the city, on the other side of the blocks. Simply hop into the trams!
Bus Station
You might need to take a bus from the airport (may involve transiting to another bus) to the city center and vice versa. Different time varies for different buses, and you may visit this link at Airport to City Centre & Vice Versa for your information.
By Foot
If you're planning to walk, it would be a great idea to do so from one point to another. In Budapest, metro and tram stations are easily accessible and you will then do most of the walking!
---
TYPICAL COSTS AND MONEY SAVING TIPS
Hostel Prices
Shared dorm rooms: Starts at HUF3,500 per pax/night, but HUF6,000 is average.
I am not too sure about hosteling in Budapest and based on estimated prices, you could save money this way.
Hotel Prices
Hotel rooms: Starts about HUF7,500 per night but a room at a 3-star hotel could possibly be about HUF9,000 to 10,000 at average per night for 2 persons.
Food & Drinks
Typical restaurant: An average meal could cost about HUF3,000; and
Good restaurant: Could start as high as HUF5,000-6,000 for an average meal.
Transportation
During my time in Budapest, I have bought two different type of tickets that you may use for metro or tram rides. You may purchase the following:-
Single ticket: HUF350; or
A block of ten (10) tickets: HUF3,000.
By purchasing a block of 10 tickets, you will save HUF500 in comparison to purchasing single tickets. Do remember that one ticket is entitled to one person, per ride. So plan your trip accordingly, so you will know how many tickets you will need!
Day tickets and Budapest Card for metro/trams are available and for more information, you may visit Metro Website – Tickets to download the metro map as well!
Admission Fares
This could be an average of about HUF11,000-13,000 per person depending on your interest. Fares do include cruising, and the awesome thermal bath as well!
---
Copyright © | Aspen See
Disclaimer: All the information and prices (as at July 2015) provided on this website are based solely on experience and you agree that you use such information entirely at your own discretion and will.