Madrid is the capital and the largest city in Spain and you'll find very convenient to travel throughout the city via Metro station because it has a wide range of network. It was great visiting Madrid with its fascinating infrastructures and landmarks and if you're a fan to the Real Madrid C.F., you must not miss a city like this! The nightlife may differ than what you will experience in Barcelona, for instance, dinner time in Madrid may start very much later between 9pm-11pm!
---
PLACES TO VISIT AND THINGS TO DO IN MADRID
Royal Palace of Madrid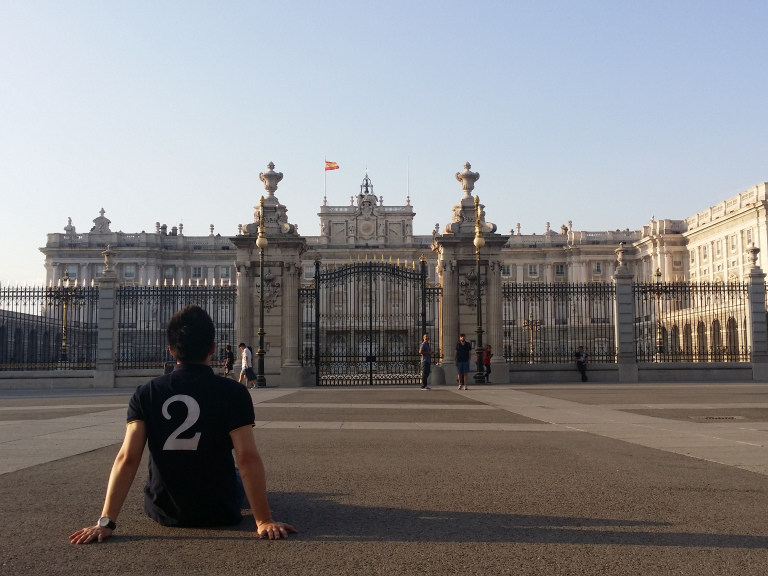 The Royal Palace has a very spacious area and it's the official residence of the Spanish Royal Family located just next to Almudena Cathedral. You'll find this place really calm and you could day dream all day long.
Nearest Metro station: Sol or Opera
Almudena Cathedral (a.k.a. Catedral de la Almudena)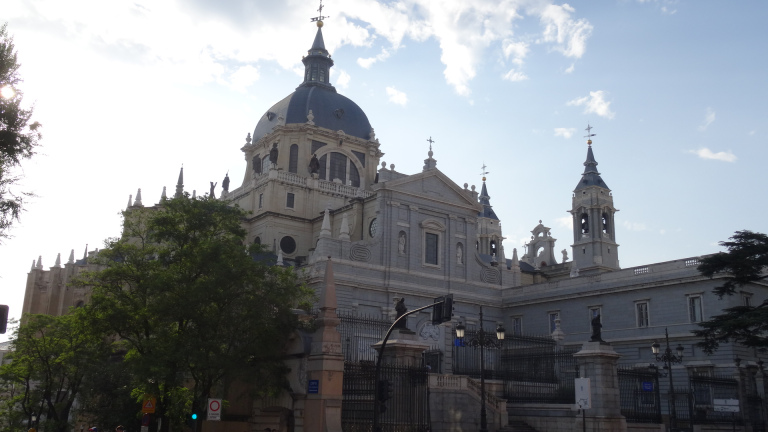 If you ever plan to visit the Royal Palace, you'll definitely come across the Almudena Cathedral. You'll find a good shop in there as well and it has good a interior that you shouldn't miss!
Nearest Metro station: Sol or Opera
Temple of Debod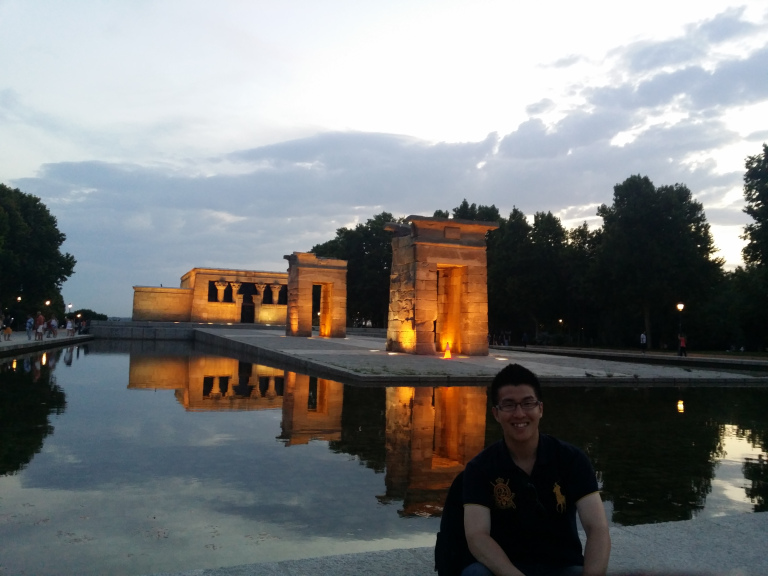 It's actually an ancient Egyptian temple in the 2nd century that was dismantled and rebuilt in Madrid. The lights will only be turned on in the evening, so you'll have to grab a good spot!
Nearest Metro station: Plaza de Espana
Plaza de Espana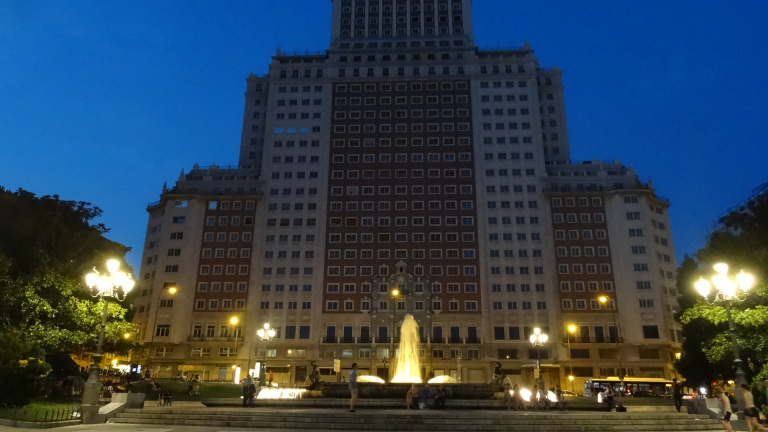 The fountain does have beautiful colours and it was crowded when I was there but you'll not find this place dull because you'll find many shops leading to Gran Via street as well.
Nearest Metro station: Plaza de Espana
San Jeronimo el Real Madrid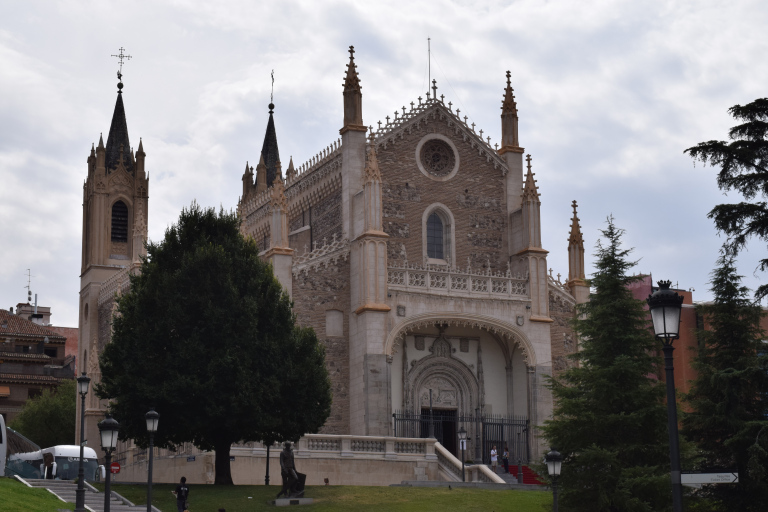 This is a Roman Catholic church from the early 16th century located just behind of the Prado Museum (a.k.a. Museo Nacional del Prado).
Nearest Metro station: Anton Martin
Buen Retiro Park (a.k.a. Parque del Retiro)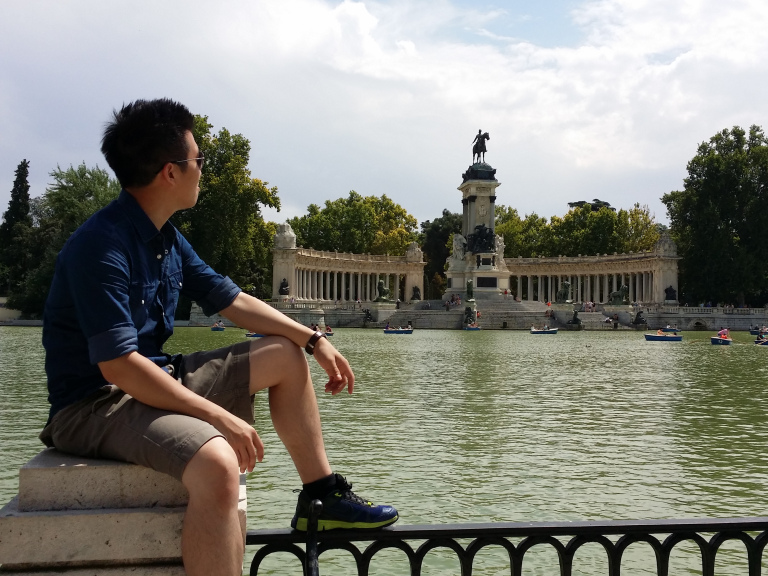 This is the monument to King Alfonso XII in Buen Retiro Park and you'll be able to hire a boat! This park has a great history and it'll be a great place to take a stroll on a sunny day. So, do sit back and relax!
Nearest Metro station: Retiro or Atocha
Puerta del Sol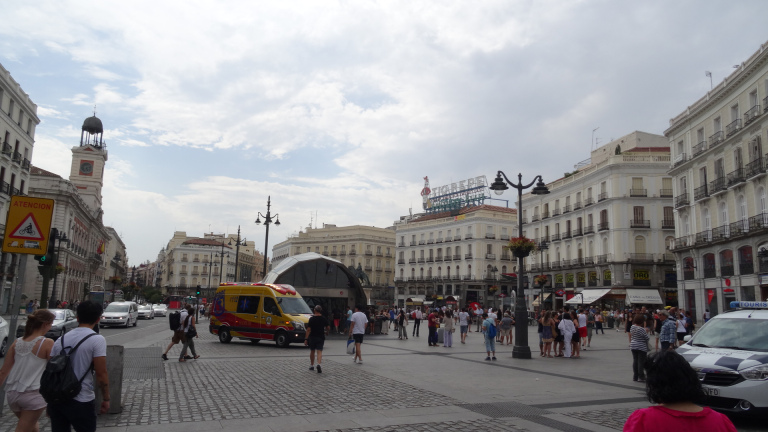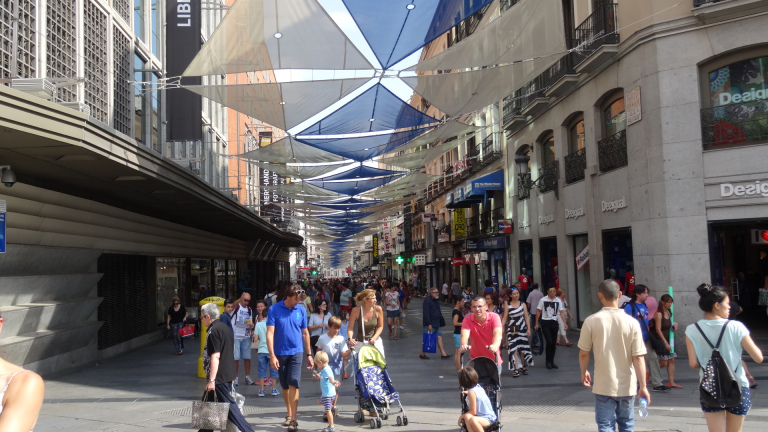 You will find many shops at each corner here in Sol, leading to various routes, one of which is Gran Via street that offers great shopping experience! Watch out for pickpockets as this place can be really crowded.
Nearest Metro station: Sol
Gran Via Street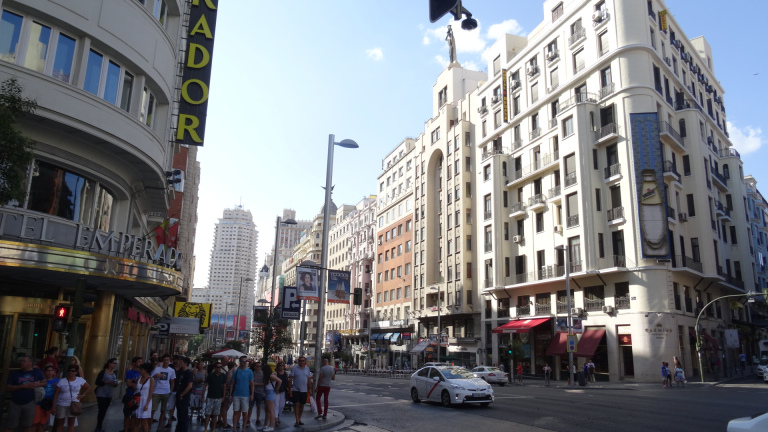 This street does lead you from Sol to Plaza Espana, and vice versa. Again, it's all about shops and restaurants!
Nearest Metro station: Gran Via
Plaza Mayor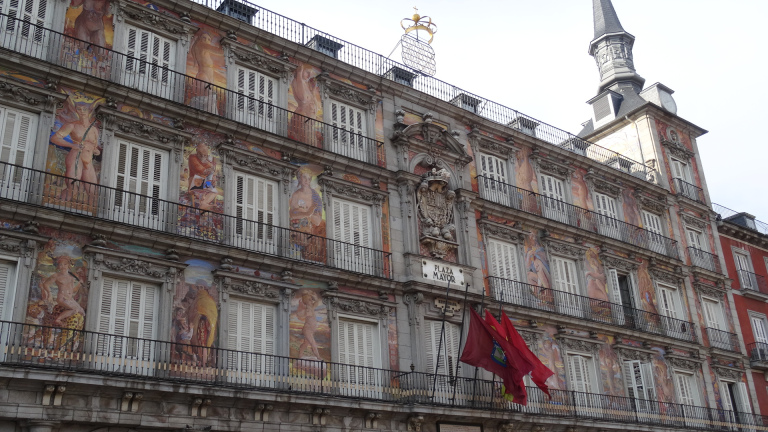 This plaza seems to be a square to me and you'll find many restaurants within the plaza. So, if you're planning to have something proper to dine-in, this is the right place for you!
Nearest Metro station: Sol
Market of San Miguel (a.k.a. Mercado de san Miguel)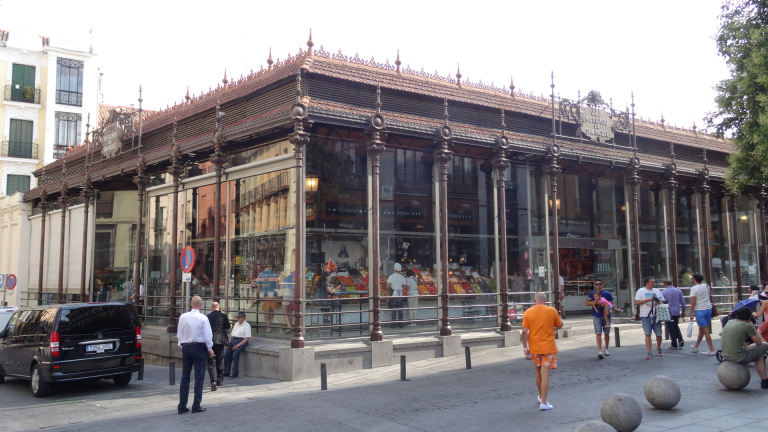 I find this market to be very trendy and you'll find many local food and drinks in there. Do stop by and grab something to bite!
Nearest Metro station: Sol
Santiago Bernabeu Stadium (a.k.a. Estadio Santiago Bernabeu)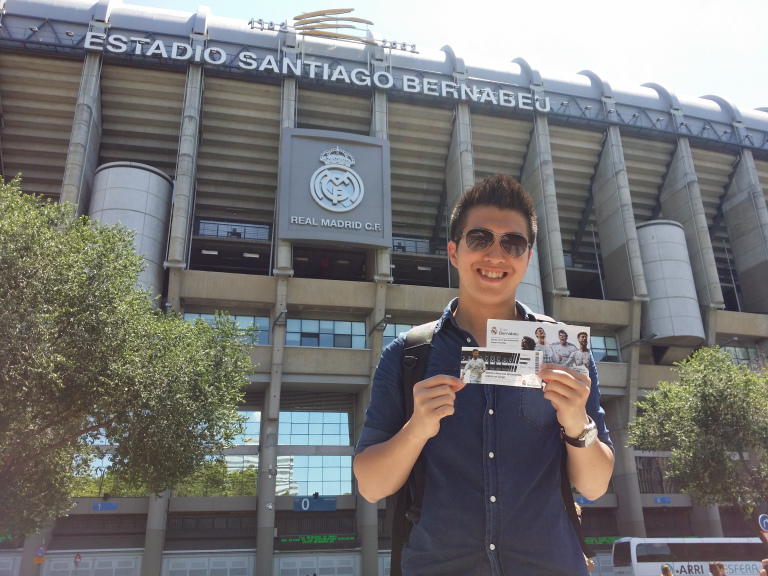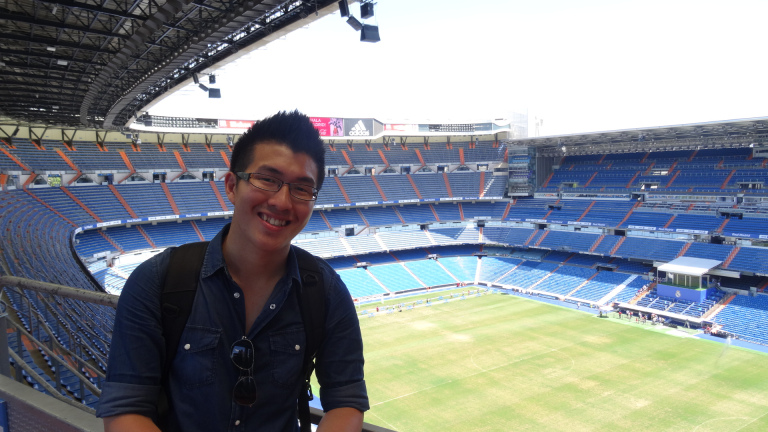 This stadium is indeed one of the world's most famous and prestigious football venues that is owned by Real Madrid C.F. So if you're a fan or not, I would recommend taking a tour and you'll be impressed with its advanced technology that guides you through the tour! This tour costs EUR19 per person/entry.

Nearest Metro station: Santiago Bernabeu
---
OTHER OPTIONAL PLACES WORTH VISITING
Prado Museum (a.k.a. Museo Nacional del Prado)
If you're a fan for arts, here is the right place for you! Prado Museum is the main Spanish national art museum, located just in front of the San Jeronimo el Real Madrid.
Nearest Metro station: Anton Martin
Alcala Gate (a.k.a. Puerta de Alcala)
This gate is a neo-classical monument and it's located just few meters away from the main entrance of Buen Retiro Park.
Nearest Metro station: Retiro
Plaza de Cibeles
This is a prominent building and it's impressive for its marble sculptures with fountains.
Nearest Metro station: Banco de Espana
The Royal Basilica of San Francisco el Grande (a.k.a. San Francisco el Grande Basilica)
This is a Royal Catholic church in central Madrid and I've experienced a sunset from an awesome panoramic view at the garden area, just next to the church.
Nearest Metro station: La Latina
Metropolis Building (a.k.a. Edificio Metropolis)
This is one famous and an iconic office building, an eye-opening structure that is decorated with numerous sculptures and has beautiful lighting at night.
Nearest Metro station: Sevilla
---
FOOD AND DRNKS YOU'D LIKE TO TRY

I have tried all of the above at the Market of San Miguel and they do taste really good.
Churro
This goes with some warm chocolate dippers and it can really be a good snack, but it's not the best I have tried.
Mozzarella sticks
This is quite good only if you'd like Mozzarellas, otherwise, it's a no go.
San Miguel beer
They'll put a slice of lemon in it so do grab and beer and chill out. No second thoughts!
Arroz con Costra
I know "Arroz" stands for rice, but I don't think that this is similar to Paellas. I'd think that Paella tasted must better too!
Gulas (white fish)
Though I'd really thought that I'm eating worms, but it was quite tasty. Do this try, because I'd rarely see this anywhere to be found; and
Iberico ham ciabatta & Margarita
Could be a good combination. The ham's quite good and if you don't already know, the Margarita's glass is coated with salt.
This dish is originated in Spain and it's good to go for breakfast/brunch. I had this at Cafe del Principe in Madrid, pretty close to Sol and I find this to be really really good! Good thing, it comes with a glass of orange too.
This store, La Pizzateca offers one of the best pizzas in the city! It's really close to Anton Martin Metro station and the staffs are friendly as they'd help you to get your taste right! Tell them what's best and I find that these pizzas like the ones I had was mushrooms (right), and not too sure what the other one called was awesome! Go and hunt some of these pizzas!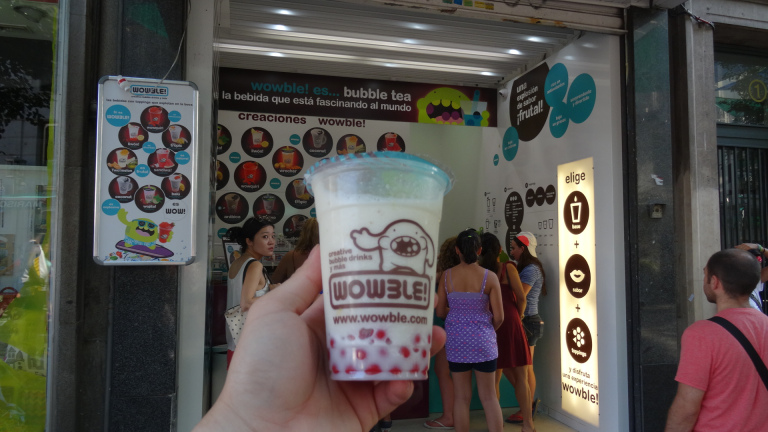 Well obviously I was craving for some bubble milk tea and so I managed to find one in Sol, Madrid. The one I had here was called "Balu", though I've forgotten what mixtures it has. Taste wise, just average and a little bit tasteless. However, that doesn't mean that the other ones are of the same!
I had these two dishes at Udon – Noodle Bar & Restaurant, pretty close to Sol Metro station. I was curious how Japanese cuisine tastes like in Spain, so I'd give a try. It was good, but probably not the best around. The portion was average, but it comes with a Kirin beer that fills the other side of my stomach.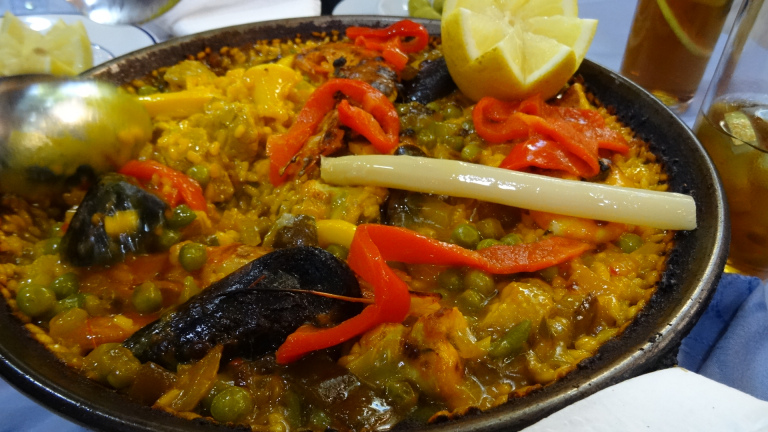 Here's a Seafood Paella, a Spanish dish to die and to try for in Spain. I fell in love with the rice as well as the huge portion because I do eat like a lot of rice. This obviously have made me a happier man and I think you'd be able to find a dish like this easily. If you're wondering, you can find many shops like this by the streets close to Sol Metro station.
I had these at Nebraska restaurant for lunch and it was quite good, and stuffed as well! It's not too far from Sevilla Metro station, and located just opposite of Starbucks (which is on the other side of the road). I am not too sure whether it was a Nebraska Hamburger, but I am pretty sure that I had Perritos too!
---
RECOMMENDED MEANS OF TRANSPORTATION

Metro station
Trust me, the Metro station could take you to many places and close to everywhere in Madrid. The Metro station has a wide coverage of its city, as well as the availability of major buses and trains heading out from the city.
By Foot
Of course, you'll need to get around by foot and if the next destination ain't that far, this works best. Don't be lazy!
---
TYPICAL COSTS AND MONEY SAVING TIPS

Hostel Prices
Shared dorm rooms: Starts at EUR15 per pax/night, but EUR20 – EUR25 is average; and
Private rooms: EUR35 – EUR60 at average per night for a double room.
I am not too sure about hosteling in Madrid and based on estimated prices, you could save money this way.
Hotel Prices
Hotel rooms: Starts about EUR35 per night but a room at a 3-star hotel could possibly be about EUR40 – EUR75 at average per night for 2 persons.
Food & Drinks
Typical restaurant: An average meal could cost about EUR15;
Good restaurant: Could start as high as EUR20 for an average meal;
Cafe del Principe: The breakfast/brunch meal + drinks costs me about EUR8 per meal;
La Pizzateca: A portion/plate of pizza costs about EUR4 – EUR5;
Wowble!: A typical cup of bubble milk tea costs about EUR3 – EUR4;
Udon Restaurant: A meal with a drink costs about EUR10 per person; and
Nebraska Restaurant: A meal costs about EUR8 – EUR10 per person.
Transportation
Metro station: A single ticket costs EUR1.50; or a pack of 10 journey (in a single ticket) for EUR12.20.
Therefore, if you're traveling for more than 8 journeys (based on costings), I would suggest you to purchase a pack of 10 journeys (in a single ticket) and it can be used by multiple users.
Admission Fares
This could be an average of about EUR25-EUR35 per person depending on your interest.
---
Copyright © | Aspen See
Disclaimer: All the information and prices (as at July 2015) provided on this website are based solely on experience and you agree that you use such information entirely at your own discretion and will.