Valencia is a port city that is located on Spain's southeastern Orange Blossom Coast, where the Turia River meets the Mediterranean Sea in which it's best known as a city of Arts and Sciences. This place is a good stop if you were to travel south from Barcelona and I remembered that it goes as high as 38-39 Celsius during my stay here in summer. You must not miss the local Spanish food here, Paella that is originated from Valencia and the transportation system may not be as easy compared to any other major cities. Therefore, I would think that Valencia is more concentrated to bus services, apart from just Metro stations.
---
PLACES TO VISIT AND THINGS TO DO IN VALENCIA
Plaza de Toros de Valencia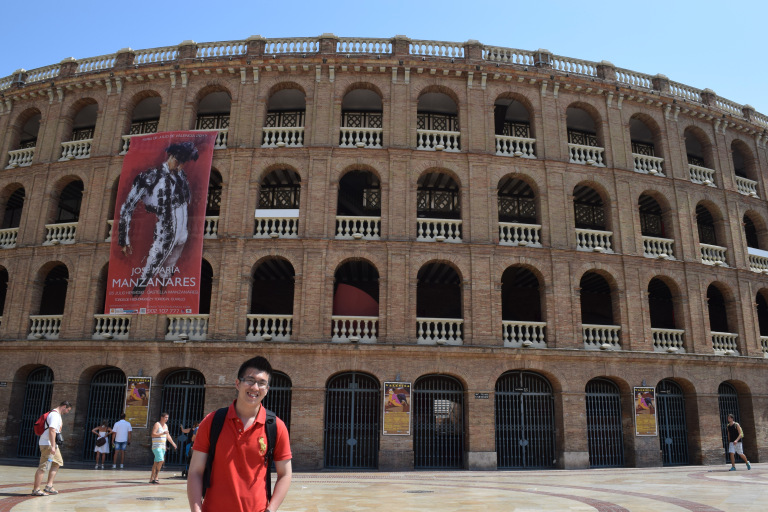 In my opinion, I find this building to look slightly similar to the Colosseum in Rome, Italy but this building is used for its famous bull fighting in Spain! This is just one, out of many other plazas being used for bull fighting. Unfortunately, I have missed that opportunity to witness such event.
Nearest Metro station: Xativa
Plaza del Ayuntamiento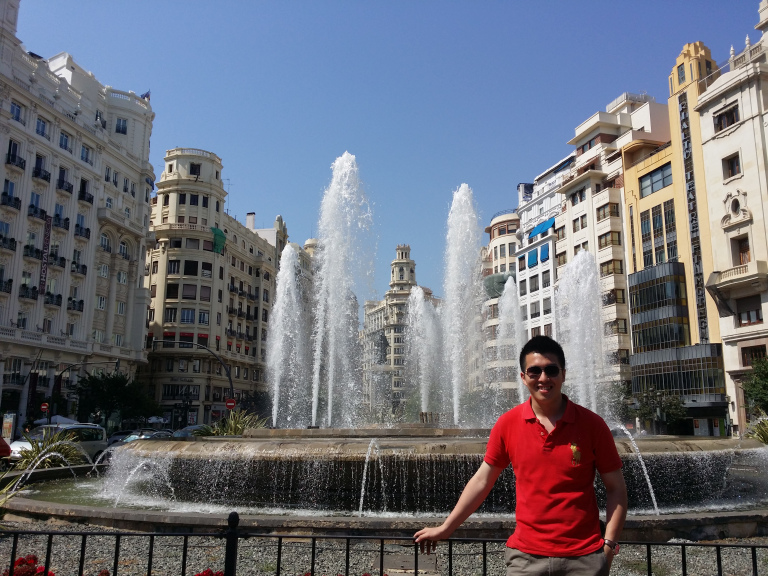 I don't think that you'll miss this spot if you are going through the city as this plaza is very much in an open area where you can find several restaurants and big hotels too! Well, I remembered noticing one couple making love at one of the hotel's room because they've remained their windows opened. Get your HD cam geared!
Nearest Metro station: Xativa
The Central Market of Valencia (a.k.a. Mercat Central)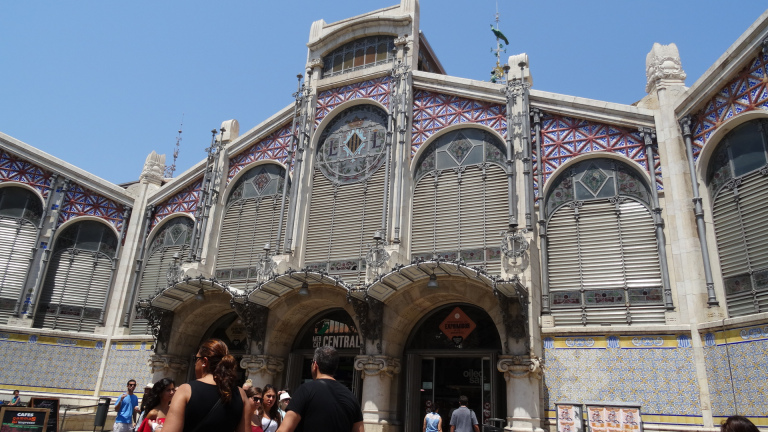 This is a place that you should visit if you're craving for some local food or fresh fruits! In Valencia, do try the Valencia's orange and you can get them here in Central Market. There are a variety of food but the operating hours may vary from 7am – 3pm, and they'll be closed on Sundays.
Nearest Metro station: Xativa
Valencia Cathedral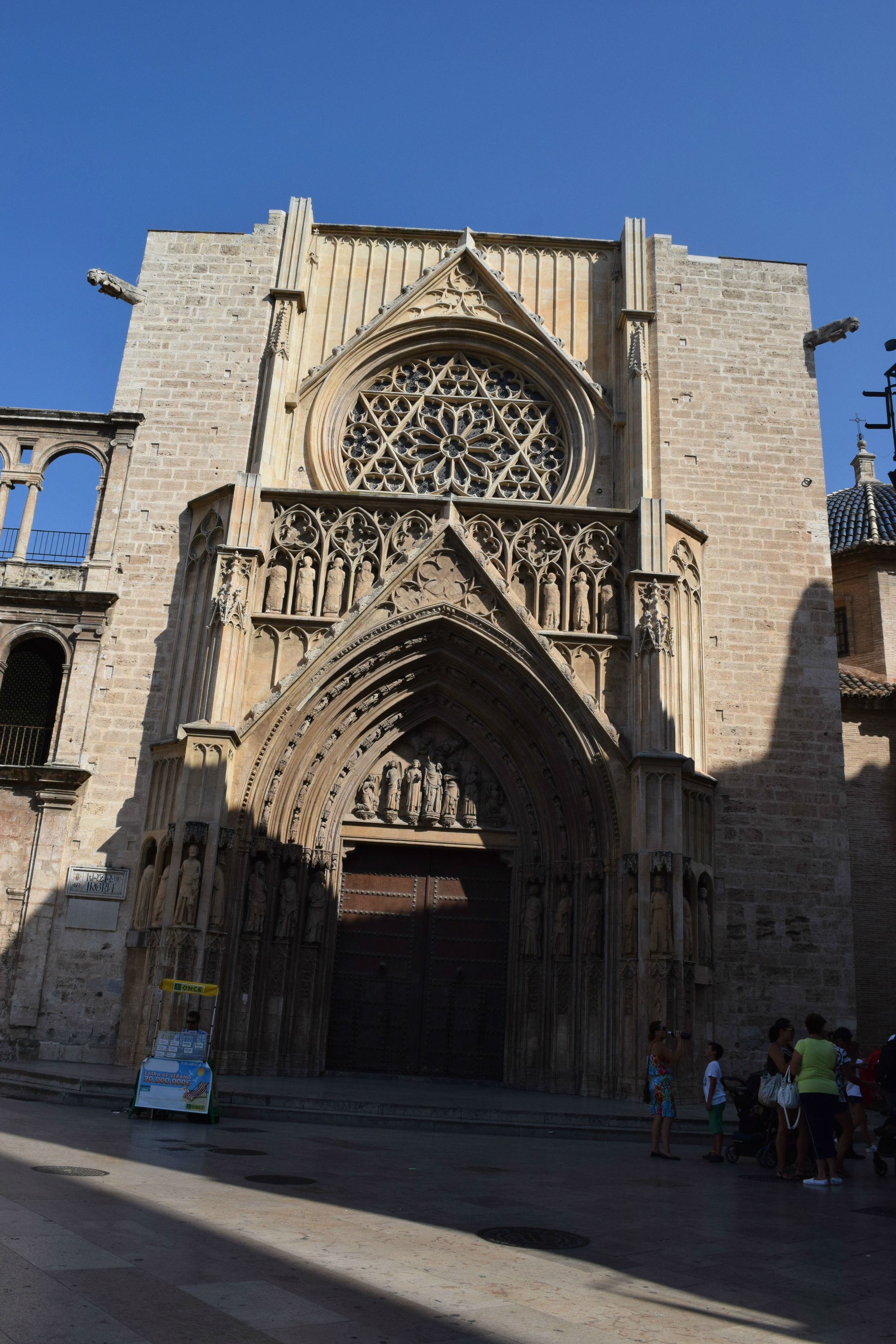 The interior was great and it was worth visiting the Valencia's Cathedral.
Nearest Metro station: Colon
Virgin Square (a.k.a. Plaza de la Virgen)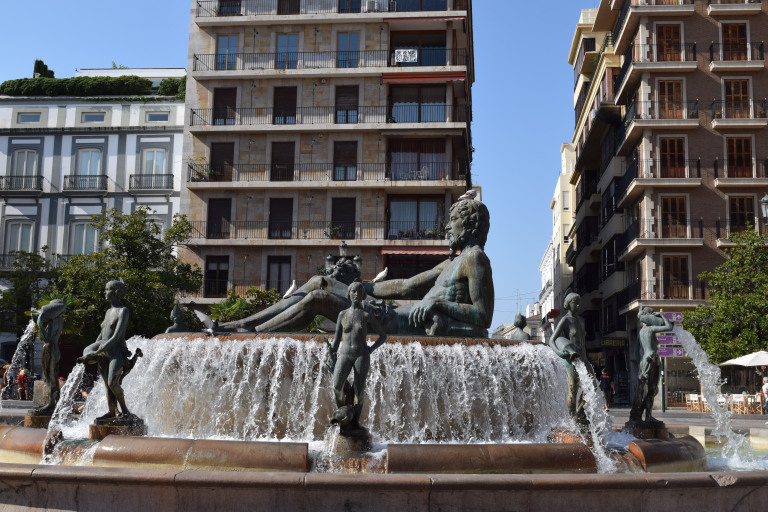 If you see the Valencia's Cathedral, you are likely to be very close to Virgin Square and this fountain, chaired by a statue of Neptune from the Roman Empire Age which has been used to supply water to the croplands that surround the city. To be honest, I felt like jumping in because it was one hot day that I could tear my shirt off.
Nearest Metro station: Xativa
Torres de Serranos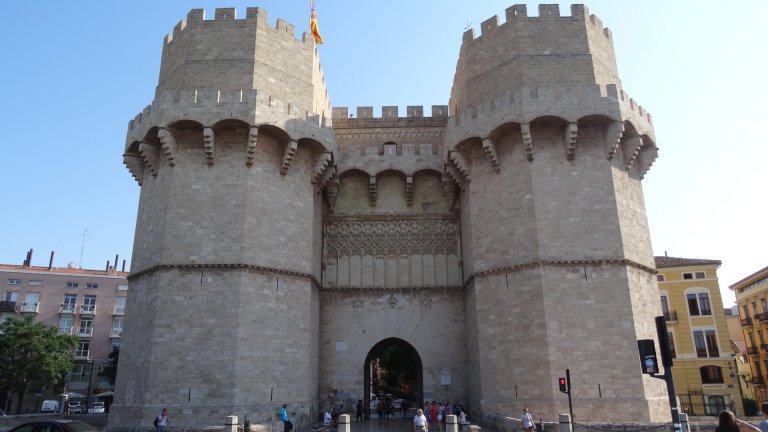 This is a tower of one of the twelve gates that was formed as part of the ancient city wall and by looking at a map of Valencia, you'll notice that most attractions to visit are centrally located within these gates and therefore, you will not find any Metro stations in it. So you will need your feet to do the job!
Nearest Metro station: Colon or Alameda
Torres de Quart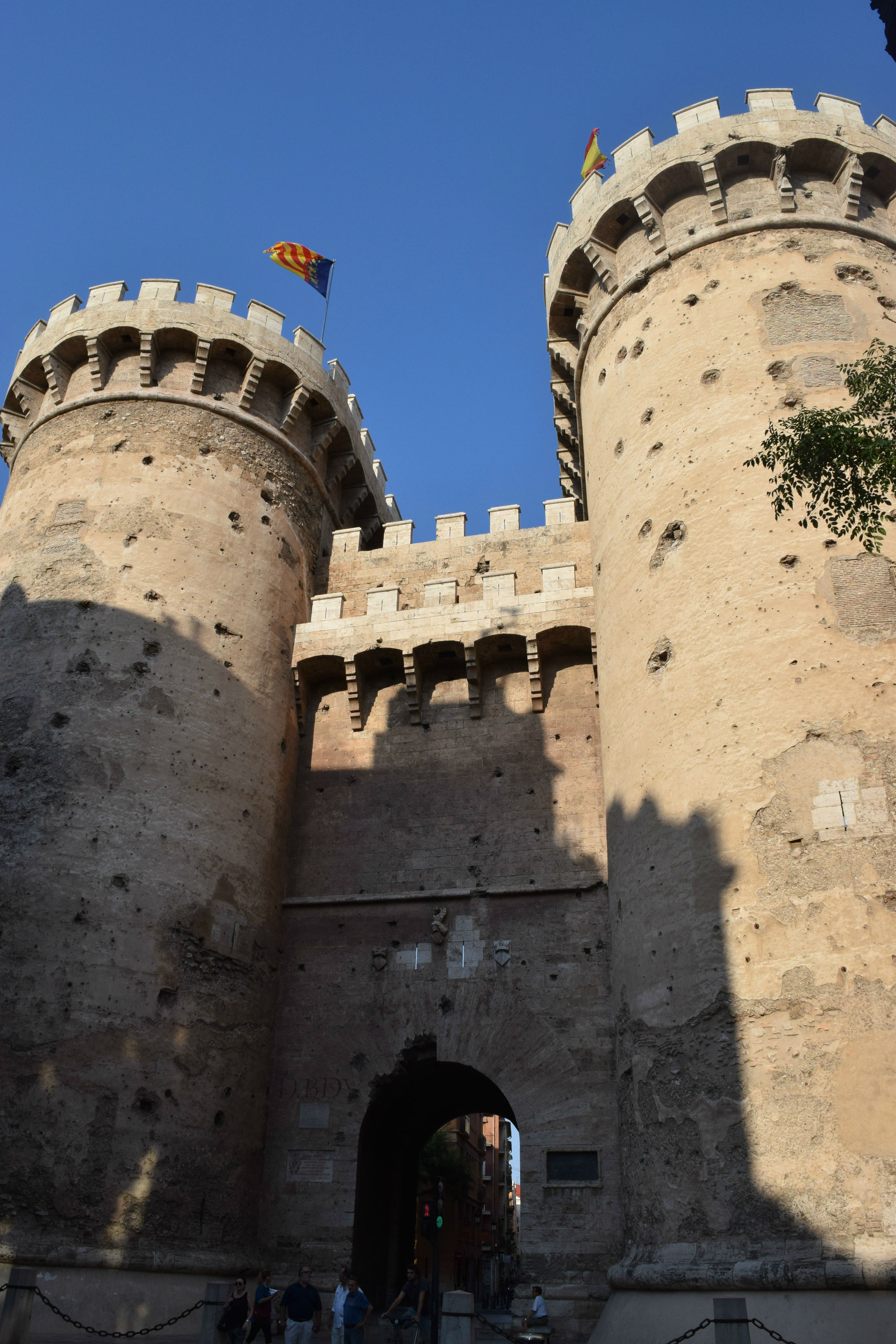 This tower is near to identical to Torres de Serranos and they played the same role. On the other hand, this reminds me of having to buy and carry some loads of groceries and 8 liters of water back to my accommodation, then realizing there is a supermarket nearby too. It wasn't easy due to the poor network of Metro station as I am not familiar with the route for bus services.
Nearest Metro station: Turia
City of Arts and Sciences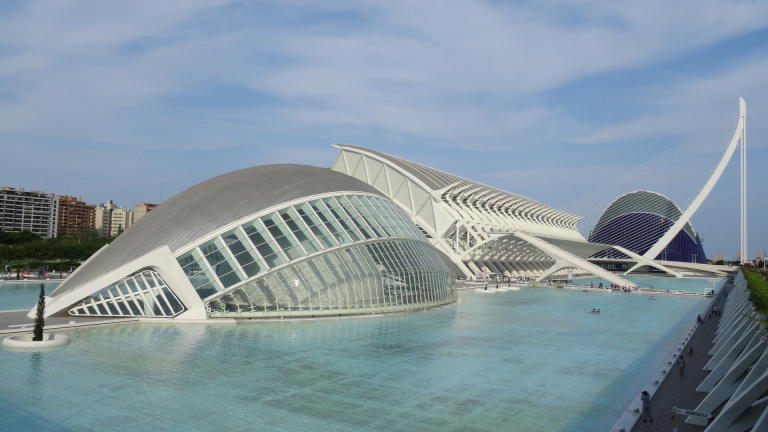 Sometimes I'd questioned myself about Valencia, somehow having both themes for its historical infrastructure and a modern tourist destination like the city of Arts and Sciences. It felt like being at two places in a city, however, it gives a great modern and unique look too.
Nearest Metro station: Amistat – Casa de Salud
L'Agora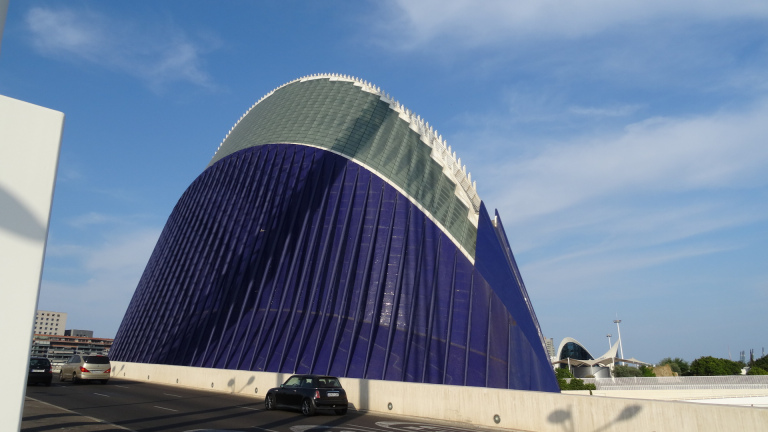 This is located pretty close to the city of Arts and Sciences and come to think about it again, this structure looks like an aubergine from a distant. Next to this, there will be a bridge that leads you to the other side, that looks very much like a financial hub.
Nearest Metro station: Amistat – Casa de Salud
Malvarrosa Beach (a.k.a.Platja de la Malvarrosa)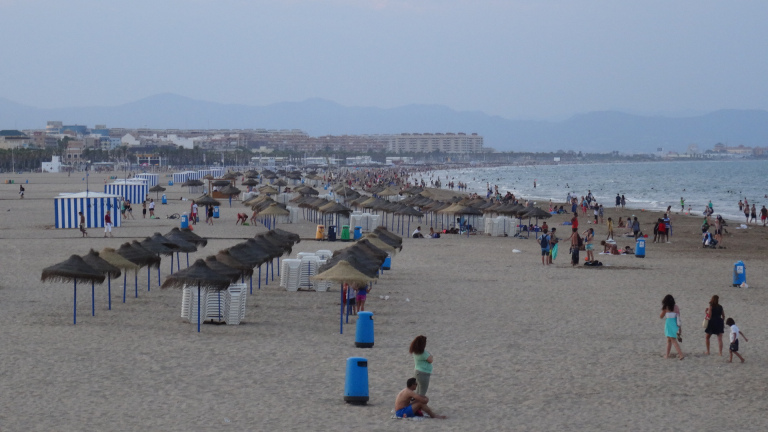 Well, you will need to put in some effort to come to this place due to its transportation system, but it's very much worth it and I'll usually see these places in the movies. However, it was getting dark when I got here but I did spend some quality time here, looking at the sea as it breezes through. Yes, watch out for your belongings because I have witnessed some belongings nearby were taken away, knowingly it wasn't theirs because two man later came asking if we ever get to see who had taken their belongings.
Nearest Metro station: Maritim-Serreria
---
OTHER OPTIONAL PLACES WORTH VISITING
Llotja de la Seda
This is a Valencian Gothic style building that is located very close to the Central Market of Velencia.
Nearest Metro station: Xativa
Museu de Belles Arts de Valencia
If you fancy or keen at arts, I would suggest you to visit this place but it's located on the outer court of where most attractions are centralized.
Nearest Metro station: Facultats
National Museum of Natural History (a.k.a. Museo Nacional de Ciencias Naturales)
Close to the Arts Museum, you'll also find this building if you fancy Natural History and I'll bet that you'll like this place.
Nearest Metro station: Facultats
L'Oceanografic
If you're heading down to the city of Arts and Sciences and L'Agora, you might not want to miss this because this is an oceanarium where different marine habitats are represented.
Nearest Metro station: Amistat – Casa de Salud
---
FOOD AND DRINKS YOU'D LIKE TO TRY

I would suggest trying some of the local Spanish cakes and pastries here, and you'll find them easily in the city. They do serve by slices, so not to worry if you can't finish them! From here, I had the "Alsaciana con Crema Fruta Escarchada" (2nd row, 3rd cake from the left), probably a cake with cream and candied fruit but all I remembered was, too sweet!
I had some Italian Gelato ice creams too due to the hot temperatures here in Valencia. It was too hot that I was really craving for something chilled, which one of the best thing to go with is ice creams!
Horchata, also known as a tiger nut milk, being very famous here in Spain. It was quite good but I guess that it wasn't the best. You can easily get them throughout the city and something not to be missed!
I am a big fan for orange juices and Valencia's orange is one big champion! Valencia is famous for its orange and you can get the bottled ones from supermarkets. The bottled one comes with pulps (Con Pulpa) and has always been my battery water!
---
RECOMMENDED MEANS OF TRANSPORTATION
Metro station
Well, the Metro station here in Valencia may not be as convenient compared to any other major cities like Barcelona or Madrid. Therefore, most stations/stops are located on the outer circle away from where most attractions are located.
Bus
There are bus services that goes around the city, thou' not being very familiar with this. I would suggest to seek advise from the bus driver (although I've remembered that the bus driver is not that fluent).
By Foot
It's a best way to get around the city by foot, apart from walking to the City of Arts and Sciences or the Malvarossa Beach. This way, you'll come across many local food, and beautiful infrastructures!
---
TYPICAL COSTS AND MONEY SAVING TIPS

Hostel Prices
Shared dorm rooms: Starts at EUR15 per pax/night, but EUR20 – EUR30 is average; and
Private rooms: EUR45 at average per night for a double bedroom.
 Hotel Prices
Hotel rooms: Starts about EUR60 per night but a room at a 3-star hotel could possibly be about EUR70 – EUR85 at average per night for 2 persons.
Food & Drinks
Typical restaurant: An average meal could cost about EUR15;
Good restaurant: Could start as high as EUR20 for an average meal;
Horchata: It costs me about EUR2 per cup at the Central Market;
Valencia Orange: I have forgotten about how much this one costs, but it depends on how many kilos you will weigh; and
Don Simon's Orange: This costs about EUR1.60 or less depending on which supermarkets you're going to.
Transportation
Metro station: I have gotten a Mobilis card (with a cute cartoon character on it), probably for EUR7.20; and
Bus: EUR1.50 per single ticket.
Therefore, if you're traveling that often using the Metro station in Valencia, you'll save more money by purchasing the Mobilis card for a 10 journey ticket and it can be used by multiple users.
Admission Fares
This could be an average of about EUR10-EUR15 per person depending on your interest.
---
Copyright © | Aspen See
Disclaimer: All the information and prices (as at July 2015) provided on this website are based solely on experience and you agree that you use such information entirely at your own discretion and will.