Hola! Barcelona, is located on the northeastern coast and being the second-largest city in Spain, has been one of the most popular destination in the country. This place is awesome with its Gothic architecture and a place where I first fell in love with its local Spanish food because it was too good to be true and I could not find anywhere better back in Malaysia. I was here for summer in July 2015, knowingly it was relatively hot and you would literally feel the heat ranged between 32-39 Celsius during the day time but I've got a beautiful clear-blue sky!
---
 PLACES TO VISIT AND THINGS TO DO IN BARCELONA

Sagrada Familia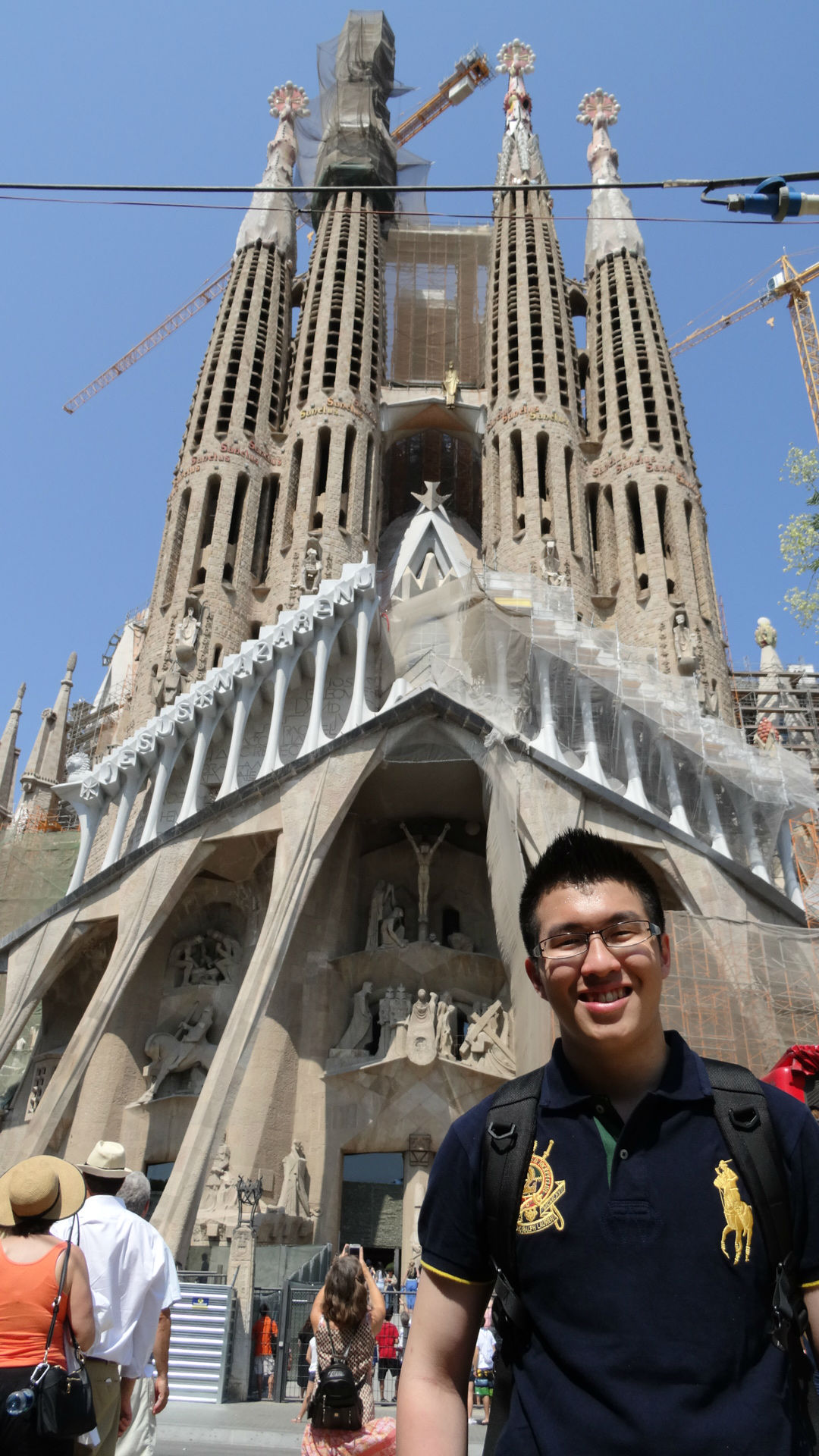 This infrastructure is a large Roman Catholic church offering an impressive Gothic architecture, both of its interior and exterior and its construction since 1882 has never been completed yet. You can never miss this large building if you're standing on higher grounds and it's located just next to the Metro station. You can snap some really good pictures from the front, as well at the back of this building, but don't get knocked down by cars due to its traffic because I would think that some of you would like to have a good spot for good pictures of its huge-looking exterior.
Nearest Metro station: Sagrada Familia
Casa Mila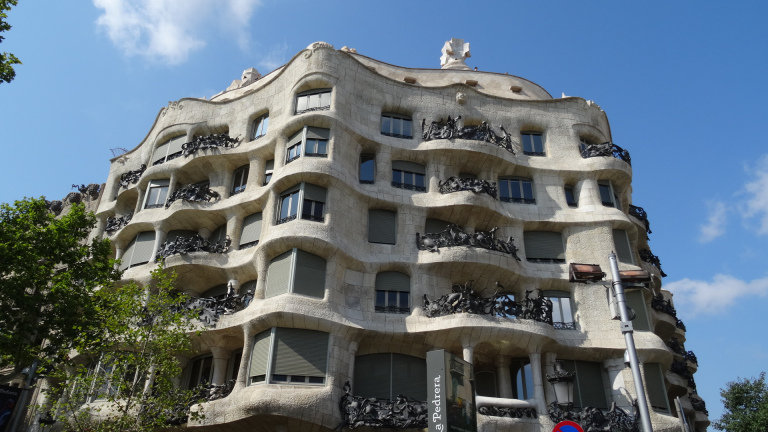 You may find this building ordinary but I find this building here to be very much unique with the materials used on its design and if you ever had an access to the roof, you will be able to see a very distinctive chimneys like ever. There are shops for souvenirs at the bottom and if you love walking, you could get to this place from the Sagrada Familia by foot and you'll have great sightings over the city as well.
Nearest Metro station: Diagonal
Casa Batllo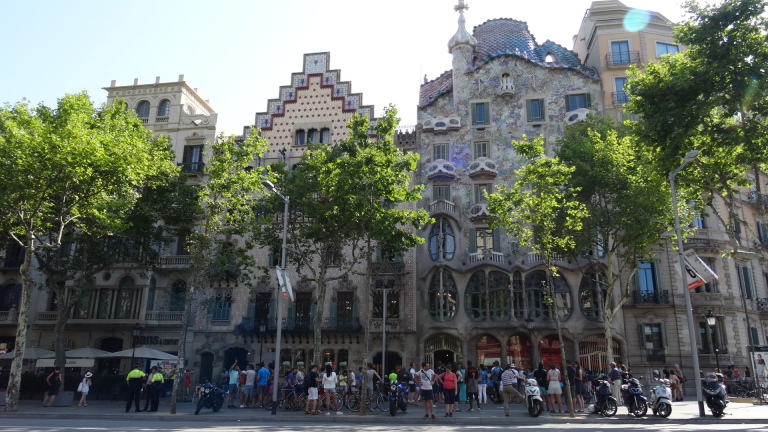 If you ever walk down from Casa Mila along Passeig de Gracia road, you'll come across a variety of brands and chains of restaurants like McDonald's, and do remember to notice several building like Casa Batllo with its own unique and distinctive looks of its exterior. Impresionante!
Nearest Metro station: Passeig de Gracia
Barcelona Cathedral (a.k.a. The Cathedral of the Holy Cross and Saint Eulalia) and the Gothic Quarters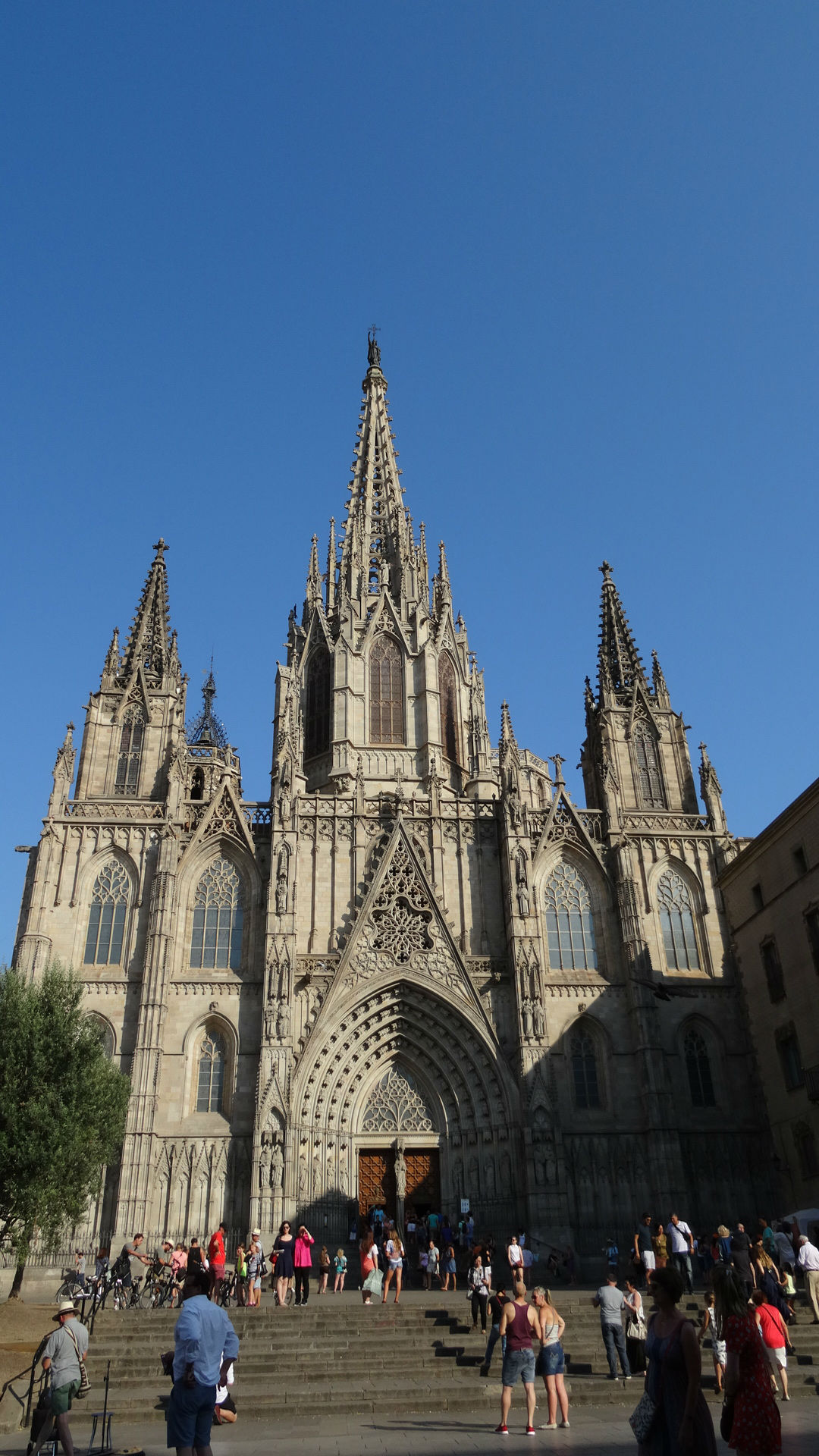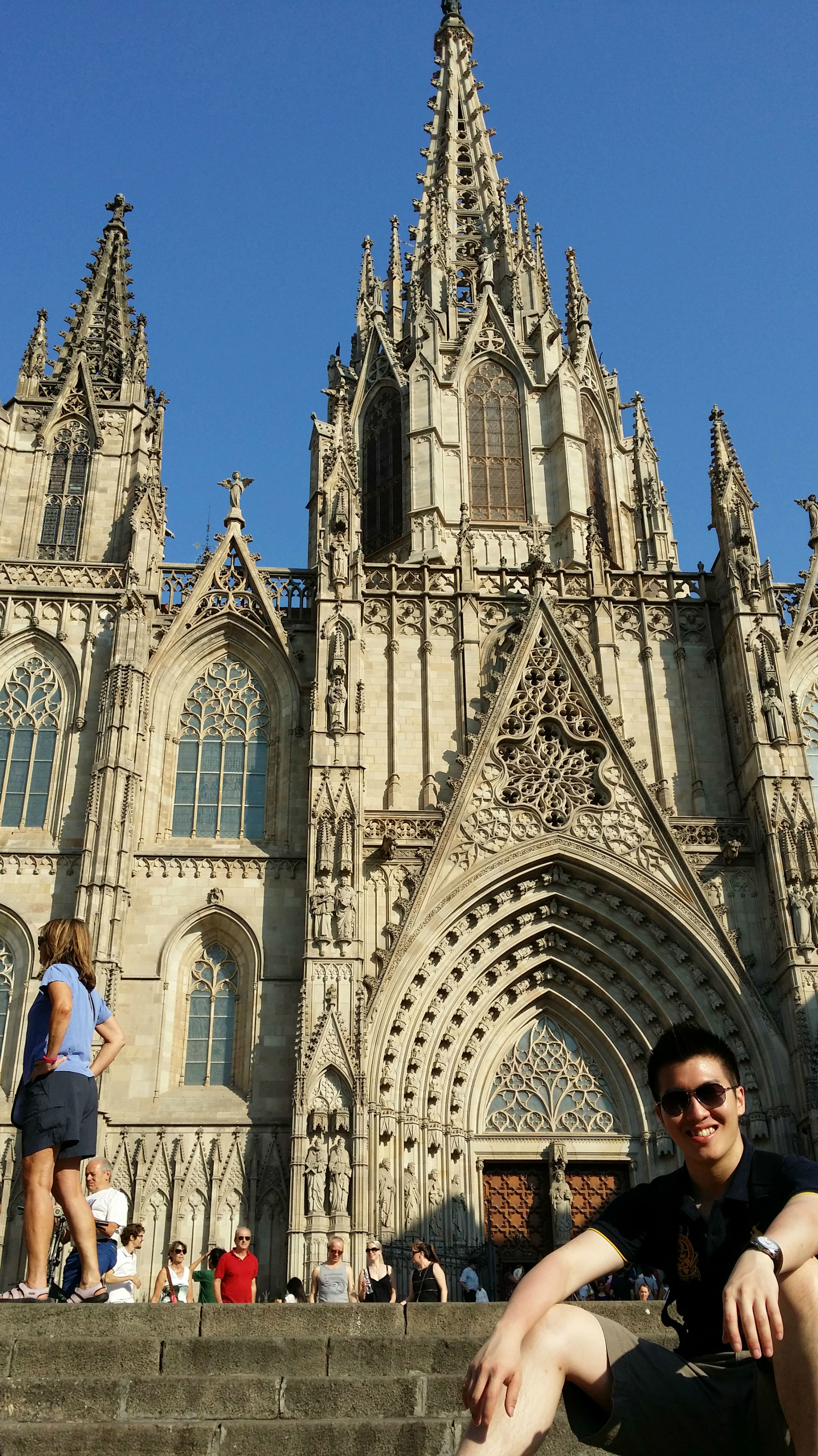 This cathedral is a place you must not miss! However, you will be required to cover your legs, only if you're wearing a skirt or a short dress. Not to worry if you forget to wear one, because there will certainly be somebody to sell you some long scarves or a casual long skirt so you'll not be restricted to get in. Well, I am not surprised when many has bought it from them because many tourists have worn less due to its hot, probably barbecuing weather. Maybe I could consider a job like this and earn a living!
Also, if you're heading to the Gothic Quarters, it is located just adjacent to the Cathedral.
Nearest Metro station: Jaume I
Basilica de Santa Maria del Pi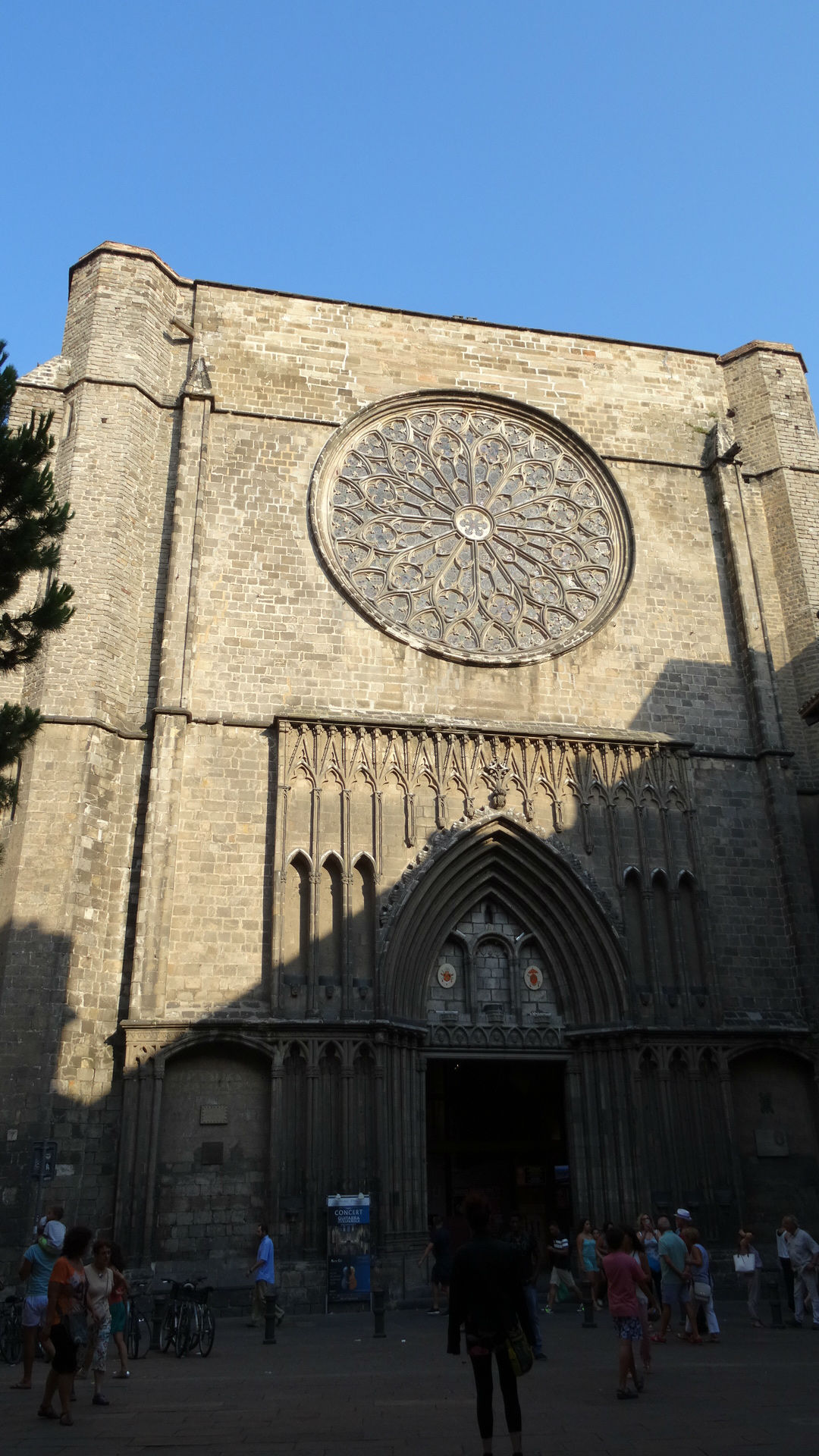 You will come across this church after going through the Gothic Quarters. Unfortunately, it was closed when I got here, nevertheless, it is located very close to Les Rambles street that offers you a variety options for dinner, and if you're looking for souvenirs, it is the right place too!
Nearest Metro station: Liceu
Magic Fountain of Montjuic (a.k.a. Font Magica de Montjuic)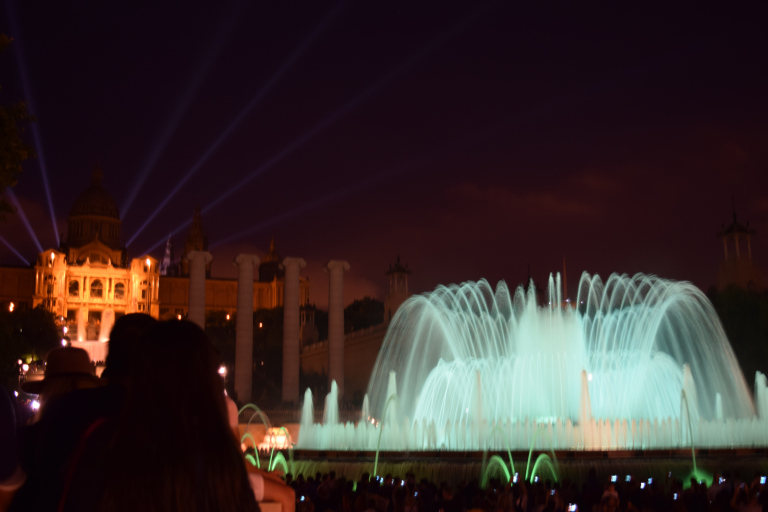 I would suggest visiting the Magic Fountain of Montjuic and you will witness a performing magic fountain that goes along with the rhythm of the music. There will be loads of people here, so you will need an effort  to grab a good spot!
Magic Fountain: Show Times & Dates
Nearest Metro station: Espanya
National Art Museum of Catalonia (Museu Nacional d'Art de Catalunya)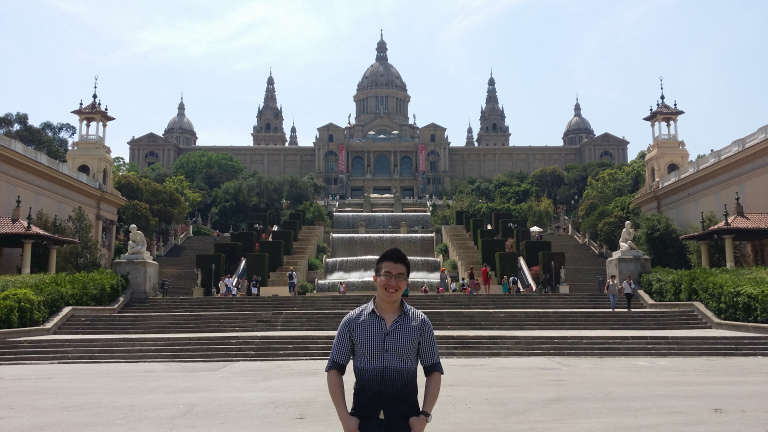 The Museum is located opposite of the Magic Fountain, and at the top, you'll be able to witness a panoramic view of the city. Not to worry because escalators are provided rather than taking the stairs! I would still remember how hot and sweaty that day was, and it was very tempting when vendors were selling you an iced water bottle.
Nearest Metro station: Espanya
Tibidabo (Amusement Park) & Sagrat Cor (a.k.a. The Temple Expiatori del Sagrat Cor)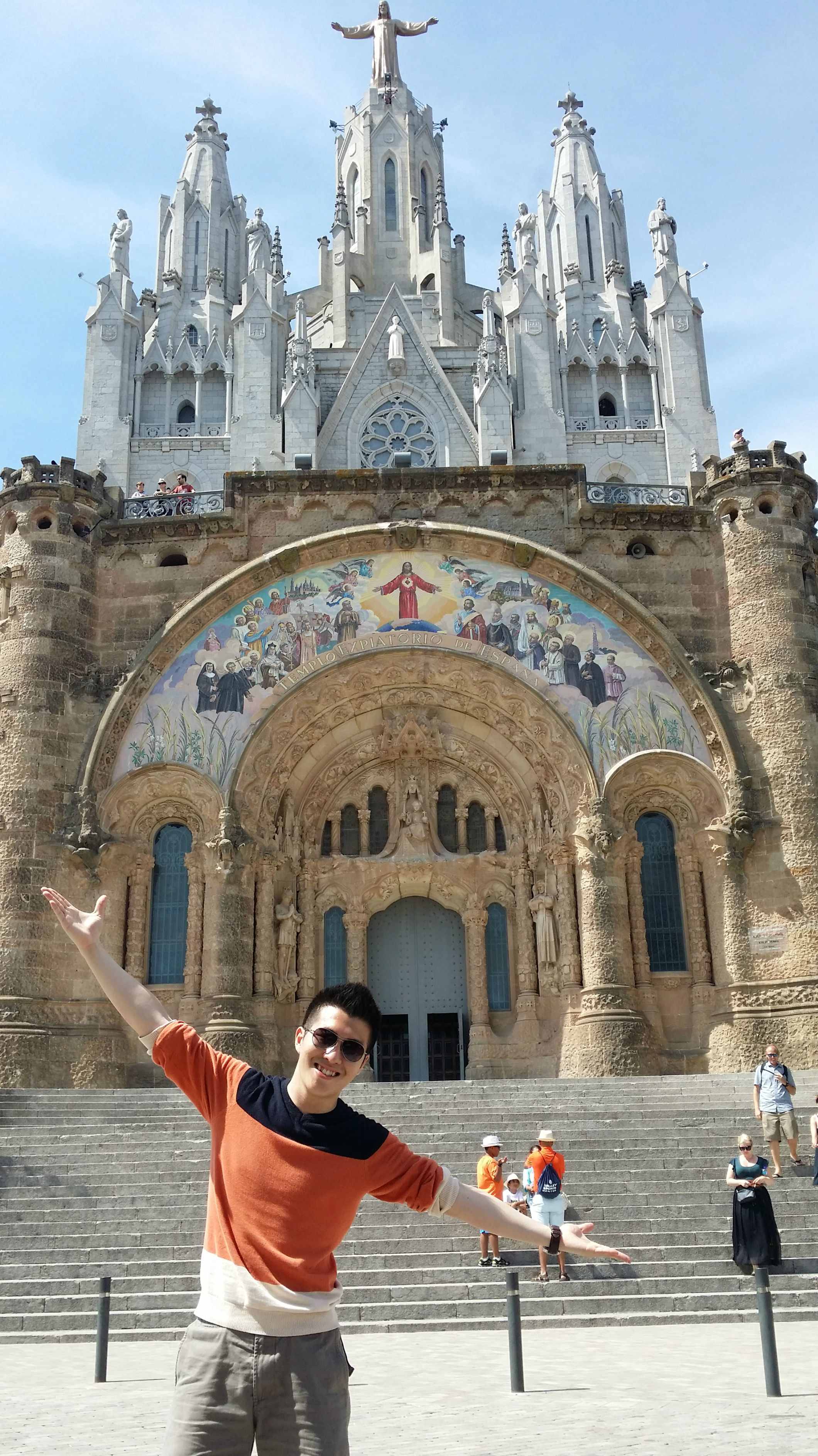 I would highly recommend you to visit Tibidabo / Sagrat Cor as it offers a panoramic view of the city on higher grounds. There will be an amusement park at the top as well as the huge Roman Catholic church, Sagrat Cor. Try imagining how beautiful this place would be with such huge infrastructure given an open space of the city. However, coming here could be a challenge because it involves several transportation means.
How to go by public transport:
Board any Metro station to Catalunya or Diagonal station;
Change to FGC train service leading to Av. Tibidabo station;
Board TMB Bus No. 196 at Av. del Tibidabo road to the end station (seek advise from the driver); and
Change to the funicular that leads up to Tibidabo.
This is one method and if you ever get lost at Av. Tibidabo station, the Metro staff could assist you. You could also take the tram instead of TMB Buses, and that gives you a different experience but it takes a longer time to reach the end station. You could take the same route back and although the process seems to be tedious, but it'll be all worth it!
Recinte Modernista de Sant Pau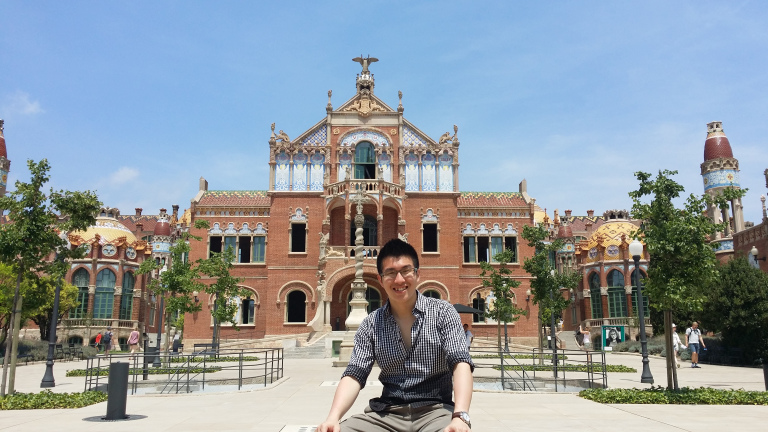 This is one of the oldest hospital in Europe and I believe that this place has been preserved pretty well because I find that this hospital, is huge and indeed beautiful! You will need to deposit your belongings such as tripod or huge bags at the security point upon entering!
Nearest Metro station: Sant Pau | Dos de Maig
Arc de Triomf de Barcelona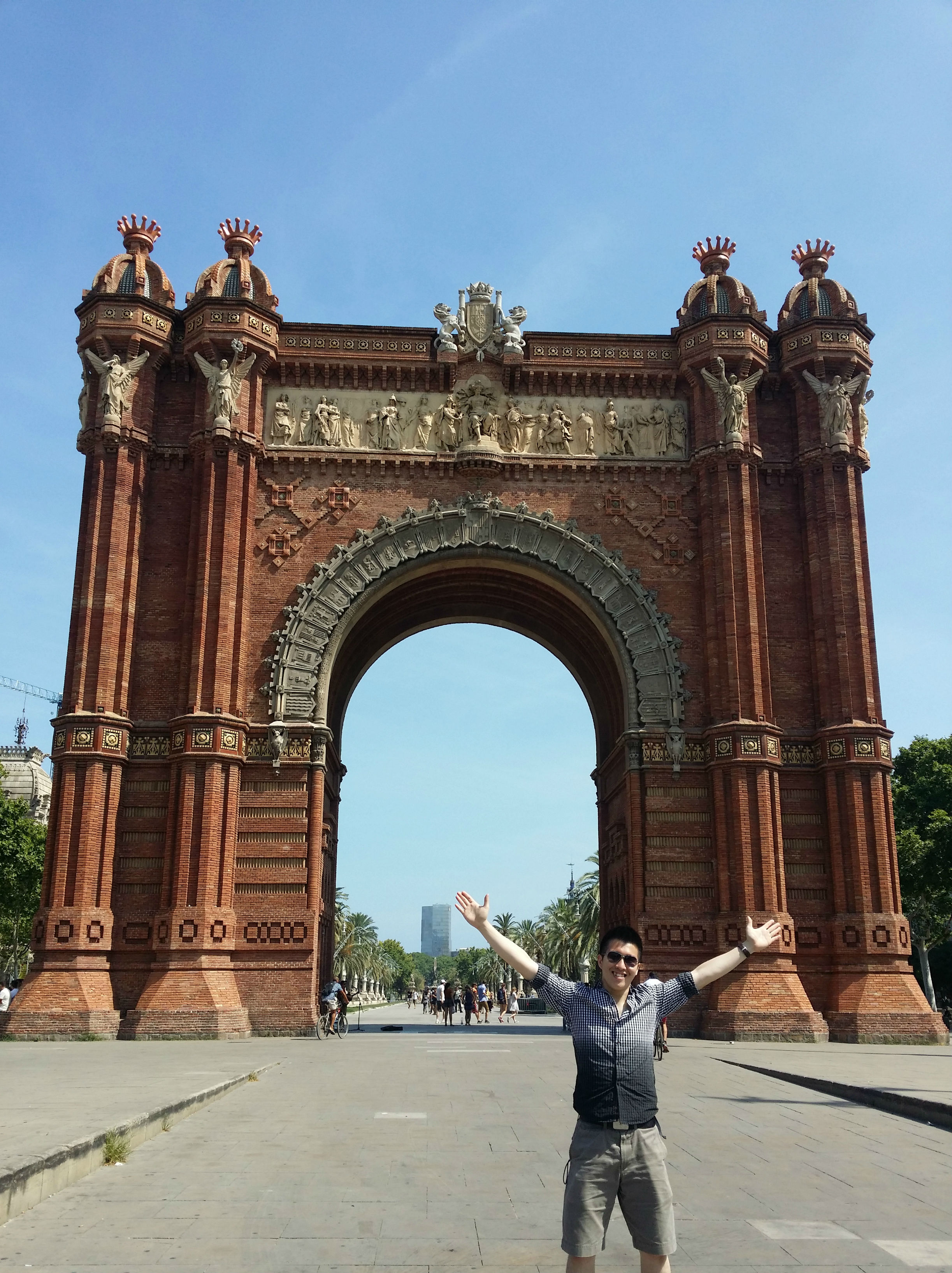 It looks and sounds almost similar to the Arc de Triomphe in Paris, France isn't it? Well it's not the same although this arch was also built in a manner of memorial back in those days. It was worth visiting this place because this also leads to the Ciutadella Park (a.k.a. Parc de la Ciutadella) where you would like to hang out and probably lay a picnic there!
Nearest Metro station: Arc de Triomf
Barceloneta Beach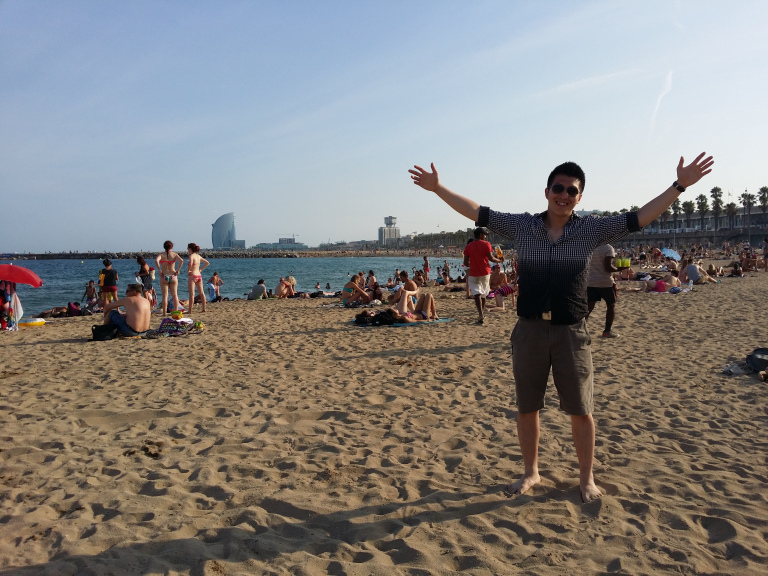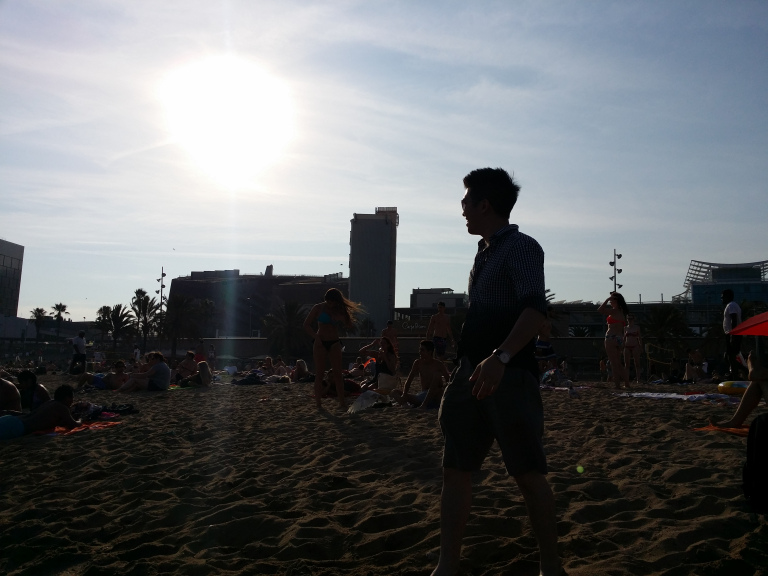 The Barceloneta Beach is very much highly recommended as well because there is nothin' better than taking a stroll on the beach! You would love this place I'd tell you, but do bring a sunblock and wear a bikini if you're planning to sunbathe or snap some really good pictures with your mates. Obviously I wasn't prepared for this, but at least I took them off to blend in with the rests and if you're wondering, there are courts and spaces available for netball too! So grab your margaritas along and head to the beach!
Nearest Metro station: Barceloneta
---
OTHER OPTIONAL PLACES WORTH VISITING:
Palau de la Musica Catana
If you fancy visiting concert halls, here's the place!
Nearest Metro station: Urquinaona
Les Rambles (a.k.a. La Rambla)
This place is centralized within the city as it offer a variety of chain of restaurants, including a square called Placa Reial where many restaurants are located, and souvenirs shops! Next to Les Rambles, you'll find Guell Palace (a.k.a. Palau Guell) too.
Nearest Metro station: Liceu
Park Guell
This is a public park system composed of gardens and architectonic elements located on a hill and would be a very good spot to watch the sunset too.
Nearest Metro station: Vallcarca
Place d' Espanya (a.k.a. Placa Espanya)
This is one of the most important squares and it is not too far away from the Magic Fountain of Montjuic.
Nearest Metro station: Espanya
Camp Nou
If you're a football fan to Barcelona fan club, do visit Camp Nou and show off to your other friends or fans!
Nearest Metro station: Badal
Agbar Tower
This building looks like a bullet-shaped tower.
Nearest Metro station: Glories
Ciutadella Park (a.k.a. Parc de la Ciutadella)
You will want to visit this place to hang out if you're visiting the Arc de Triomf.
Nearest Metro station: Ciutadella | Vila Olimpica or Barceloneta
---
FOOD AND DRINKS YOU'D LIKE TO TRY
You'll have to try the local Spanish dish, Paella that was first originated from Valencia and it comes with many different flavors and variety, i.e. chicken or seafood Paella. I love eating loads of rice, and they'll usually come in a portion of 2 pax, so I'll be a happier man to have it all by myself!
Next is Sangria, typically a local drink that is mixed with red wine, fruits, sweetener, and a small amount of brandy. Otherwise, they can be mixed with white wines too!
---
RECOMMENDED MEANS OF TRANSPORTATION

Metro station
You could easily get from one location to another by taking the Metro station because it has a wide range of network throughout the city.
Bus
You could also take the bus, but I would save the hassle and take the Metro station/or walk instead. However, I have only taken the bus during my way to TIbidabo and I found this to be much faster than taking the trams. If you're heading to the city from the airport, you could take Aerobuses or TMB bus No.46 from Terminal 2 to the city. I would think that TMB buses could be a better option than Aerobuses when it comes to affordability.
By Foot
If you're planning to walk, it would be a great idea if the following destinations from one place to another ain't that far. Who knows that you'd discover something extraordinary!
---
TYPICAL COSTS AND MONEY SAVING TIPS
Hostel Prices
Shared dorm rooms: Starts at EUR15 per pax/night, but EUR25 – EUR35 is average; and
Private rooms: EUR60 at average per night for a double bedroom.
I am not too sure about hosteling in Barcelona and based on estimated prices, you could save money this way.
Hotel Prices
Hotel rooms: Starts about EUR45 per night but a room at a 3-star hotel could possibly be about EUR60 – EUR70 at average per night for 2 persons.
I found one at this price, near to Poble Sec Metro station and I find this to be very convenient because the airport buses stops at Espanya (close to Poble Sec Metro station).
Food & Drinks
Typical restaurant: An average meal could cost about EUR15;
Good restaurant: Could start as high as EUR20 for an average meal;
Tapas: A variety of tapas could cost about EUR10 or less; and
Sangria: Could start at about EUR10 depending on the size of the jar.
Transportation
Metro station or bus: EUR2.15 per single ticket; or EUR9.95 for a pack of 10 tickets (in a single ticket);
FGC train: EUR4.30 per return ticket to Av. Tibidabo; and
Fenicular: EUR7.7 per return ticket.
Therefore, you could save money by buying a pack of 10 tickets (in a single ticket) if you're planning to travel for more than 4 times (due to costings) and these ticket can be used for multiple users. If the next location is not too far away from where you are, you could just walk and save even more!
Metro station and Bus: Tickets
Admission Fares
This could be an average of about EUR25-EUR30 per person depending on your interest.
---
Copyright © | Aspen See
Disclaimer: All the information and prices (as at July 2015) provided on this website are based solely on experience and you agree that you use such information entirely at your own discretion and will.