Edinburgh! The capital of Scotland and it has always been my second home where I used to study my MBA post-graduate course, and work! If I ever get to migrate, Edinburgh is just the right place. Indeed I was lucky that a place I was settled in, is as beautiful as gem. Let me tell you why – the people and cultural here are awesome, it has a vibrant environment that provides you a spacious breathtaking view over the city, just to name a few. There are too many to describe about this place and you have to see them by your own eyes!
Trust me, I used to live pretty close to the cliff where Edinburgh's Castle is located. I can see the scenic Edinburgh's Castle from the back of my room's window and it has always been mesmerizing. Not to forget about the awesome coffee shops, great and hidden bars for night-outs, and easy accessibility throughout the city and Highlands in Scotland!
---
PLACES TO VISIT AND THINGS TO DO IN EDINBURGH

Princes Street & Gardens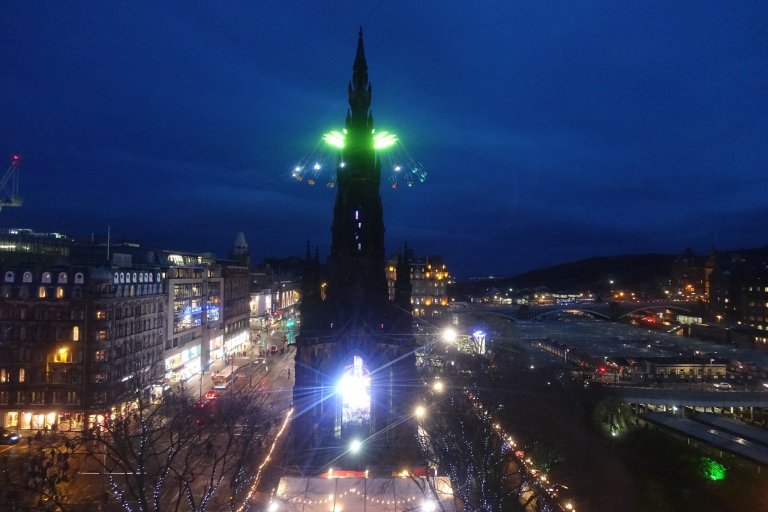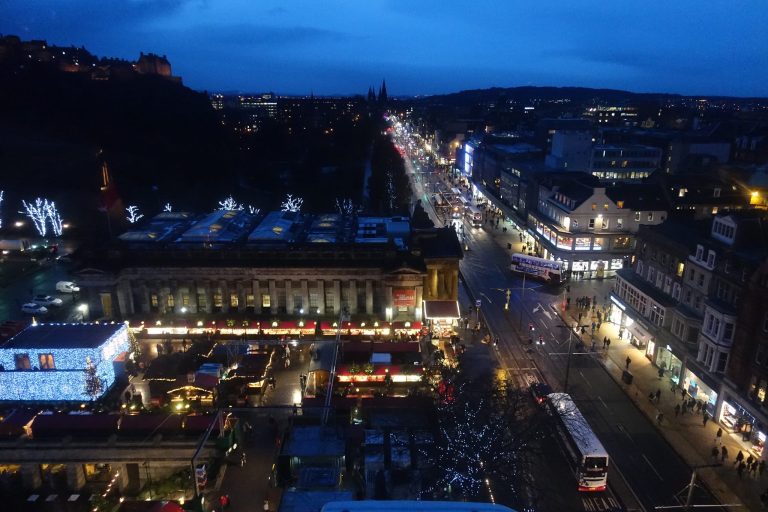 You will not miss Princes Street, as it overlooks the Edinburgh Castle and its Gardens. My selection of the above pictures was due to the different event that you may expect, depending on the season of your visit!
For instance, it was near to Christmas and this snapshot was taken from the Ferris Wheel ride. Every year, there will be German Markets being assembled in the Gardens, just adjacent to the Scott Monument. The Ferris Wheel, Star Flyer, together with other games are only assembled in December and may be taken down in January.
On the other side, you will see shops of various brands, banks, fast-food restaurants, and many more. Princes Street is one major street that is easily accessible by Lothian buses (Lothian is the bus company).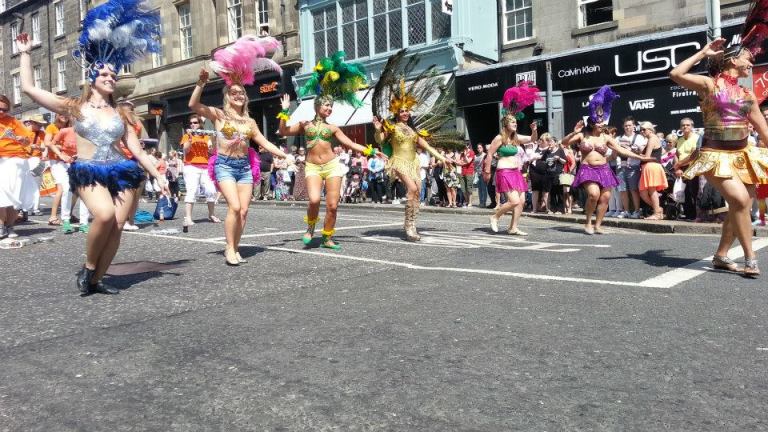 *side note: Edinburgh's Festival (Fringe) are being held in August every year. Please click Fringe Festival for your information and planning. Do take note of the Closing Ceremony which includes fireworks and concerts within the Gardens. It is impressive as the fireworks are released following the rhythm played by the performers. Going to Carlton Hill is an alternative option too!
If you are here in Edinburgh during the spring season, you may also witness the awesome cherry blossoms throughout the city!
Edinburgh's Castle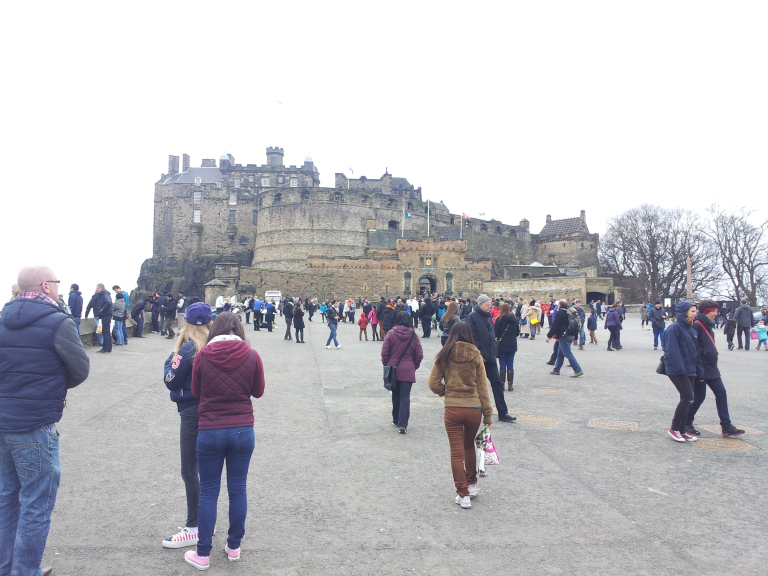 There will only be one obvious structure on a cliff, that is Edinburgh's Castle. There are several access points, some of which includes Waverly Bridge, Grassmarket, or Royal Mile. Up here, you will have a panoramic view of the city, but not as good in comparison to Arthur's Seat. At night, the Castle will be lighted at random colours and differently every night.
You will be able to go beyond these castle gates, but a gate further in will require a ticket from you. You may visit Edinburgh's Castle website for your information.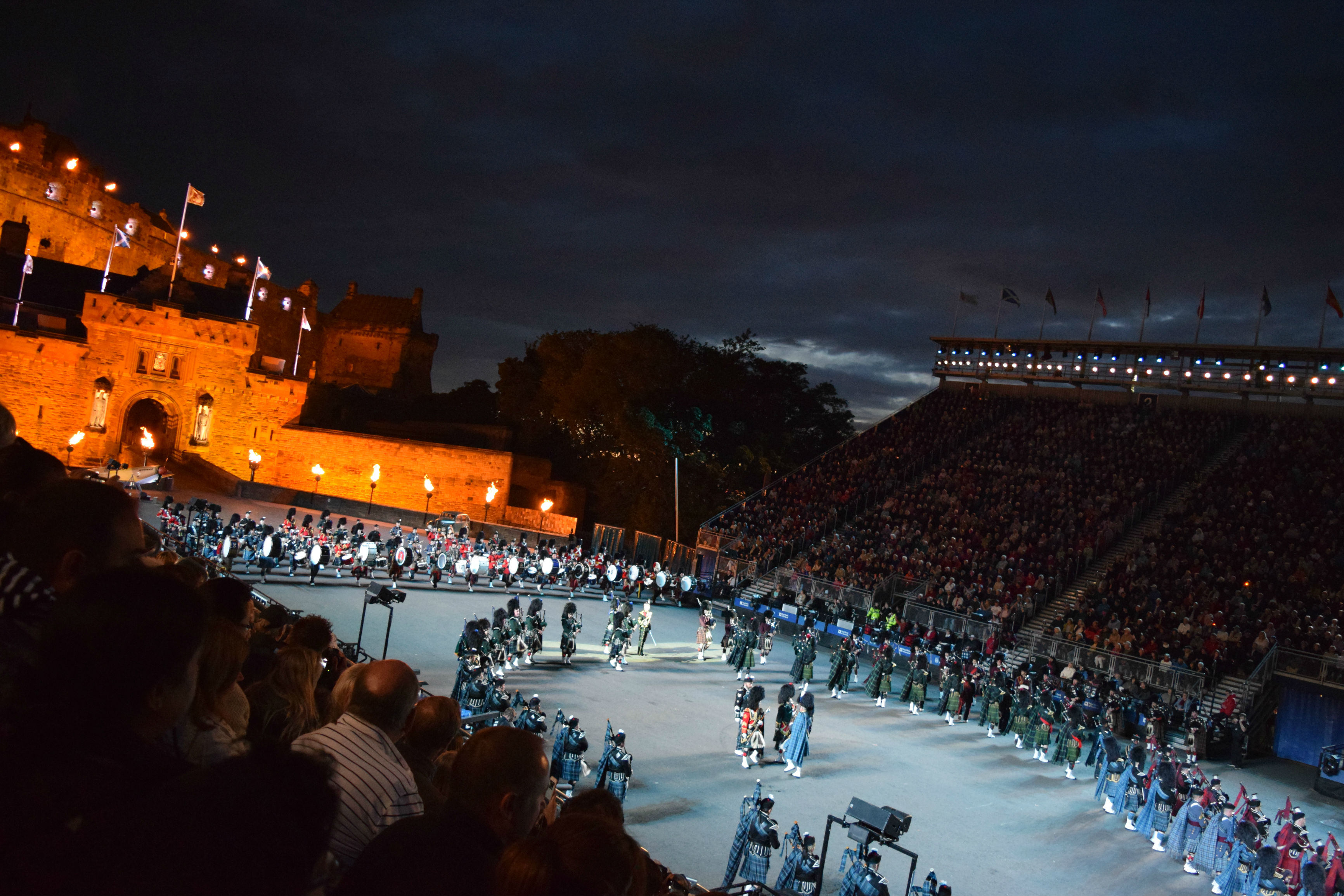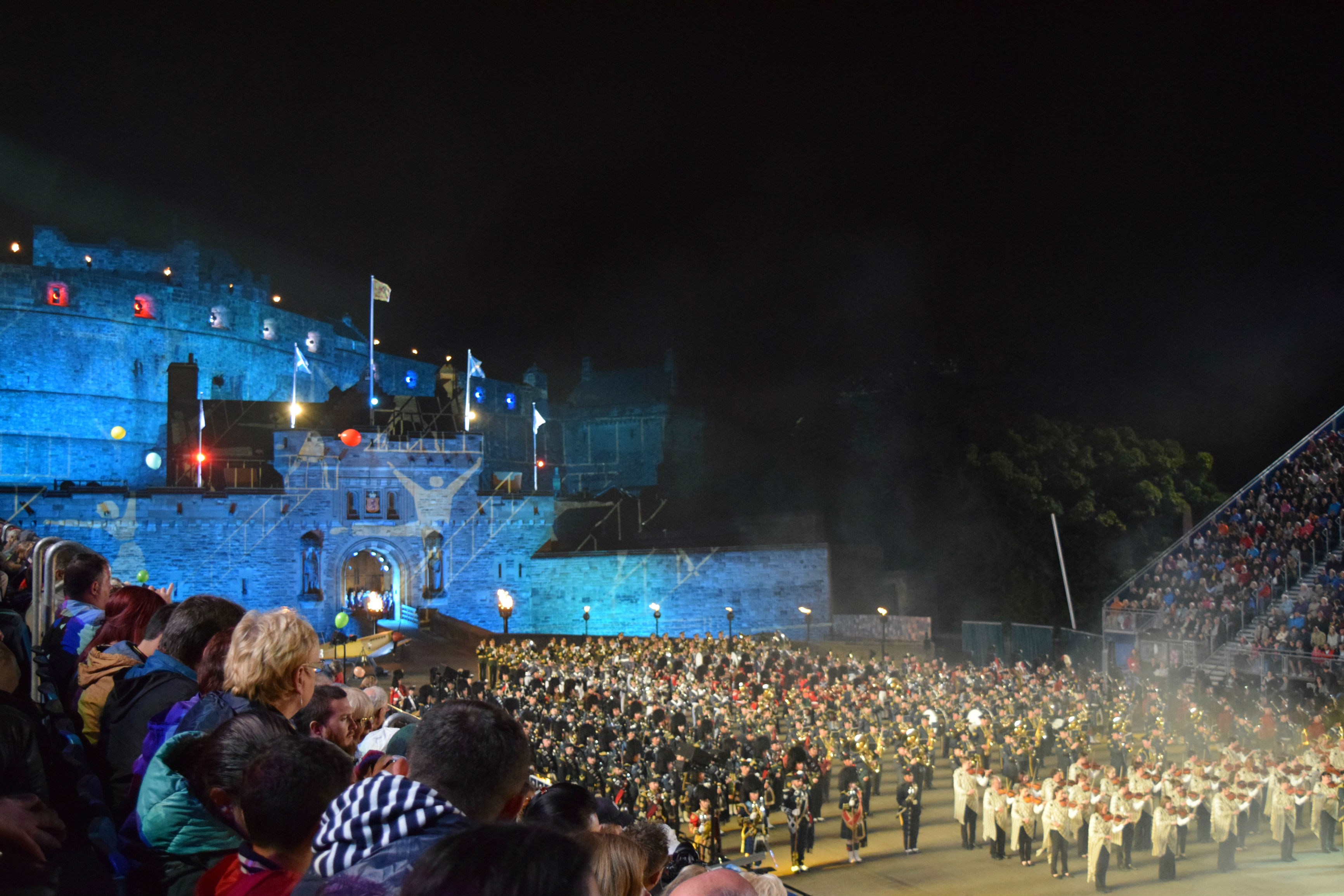 During the Edinburgh's Festival, there will be a daily run of The Military Tattoo performance, where they will assemble a stage, surrounding the compound area of the Castle. It is highly recommended that you participate and you will need to books your tickets in advanced!
The Peak of Arthur's Seat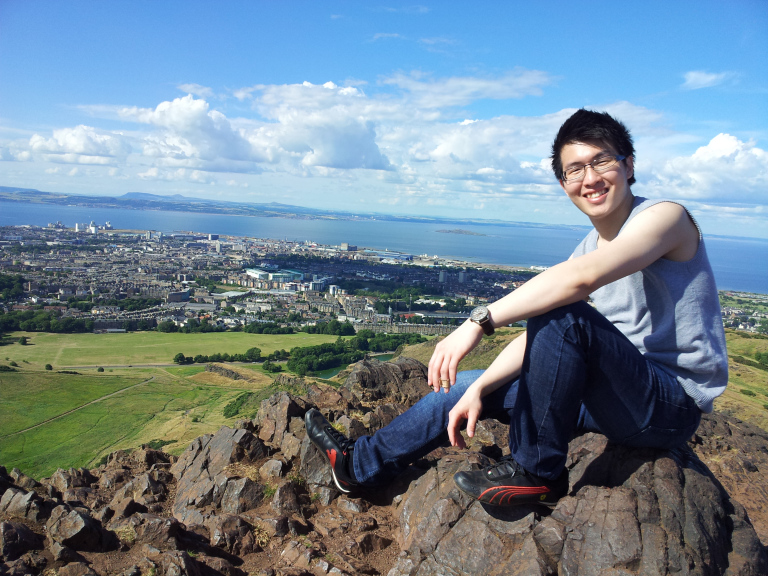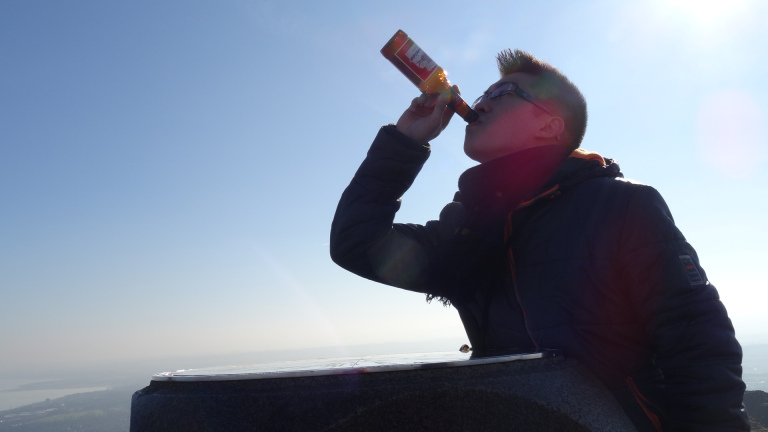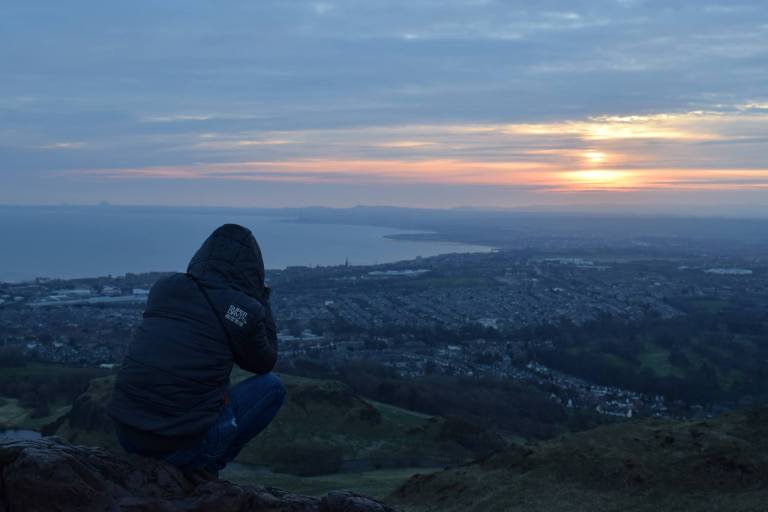 This is one of my favorite hidden spots in Edinburgh that takes approximately 30-45mins depending on your speed and familiarity of the different route, before reaching the peak!
To be honest, I had a record for climbing Arthur's Seat for like 4 times in 1 week. It is also a good spot to watch the sunrises, and sunsets! During winter, you may want to consider wearing an extra layer, before you get yourself froze as it may be really windy at the peak.
Arthur's Seat is absolutely an eye-opening and worth the climb (not too difficult, but can be really steep when you're close to the peak). On the other side (without having to climb), you will find a lake where you will see swans as well.
Carlton Hill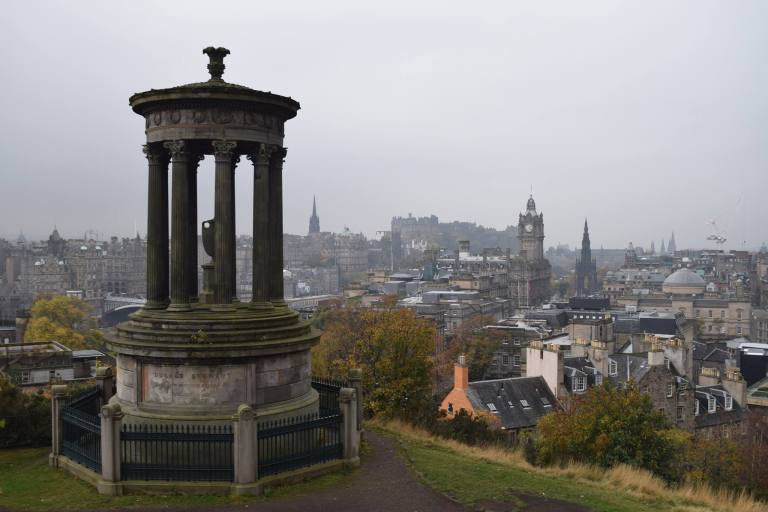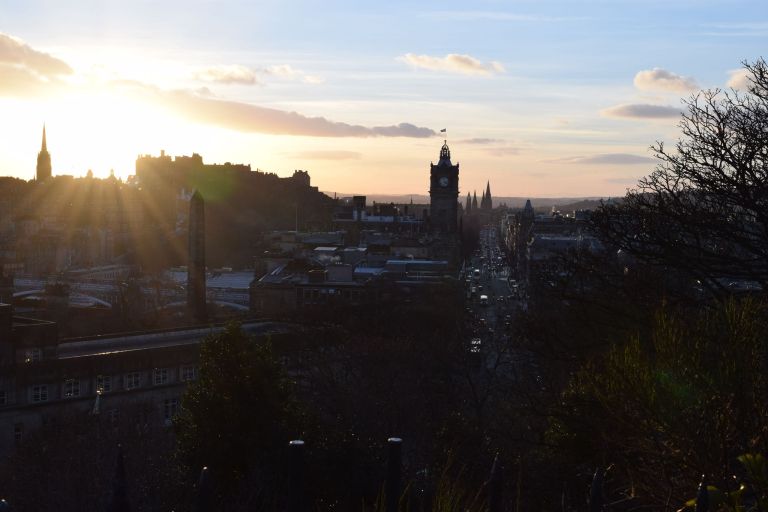 On the other end of Princes Street (east side), walk further up till you passes the Balmoral Hotel and its junction turning to the North Bridge, you will find a stairway (on the left) leading up to Carlton Hill. You will find several historic structure at the top, and it's a good place to chill. It is a popular spots for postcards too.
Royal Mile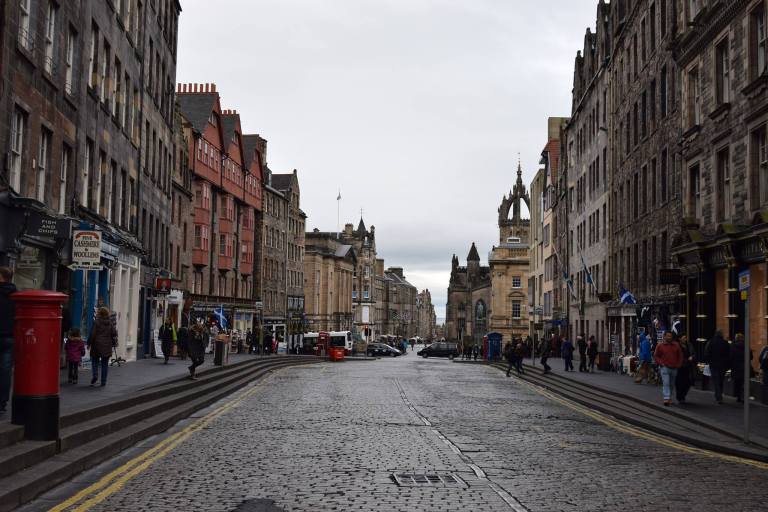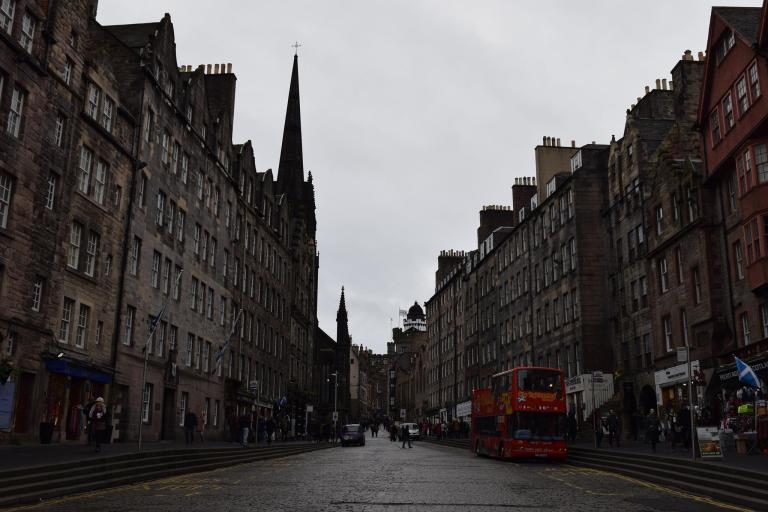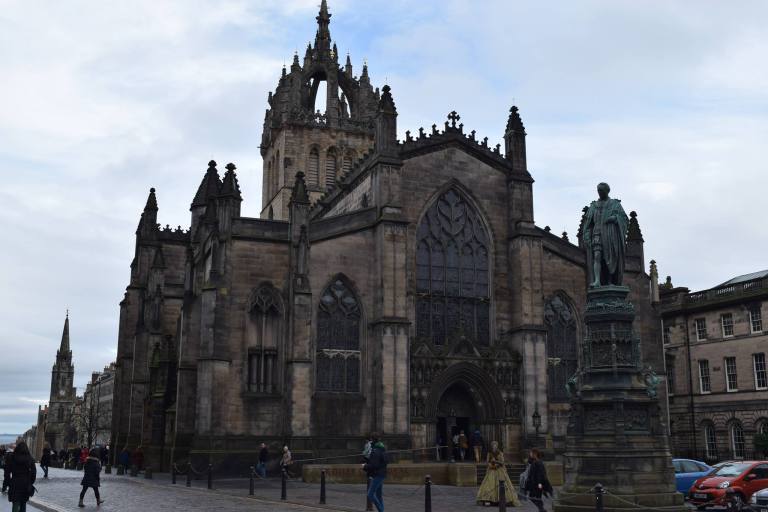 You will certainly not miss Royal Mile if you are heading to Edinburgh's Castle. You will find many cafes and tartan shops (that sells a large range of Scottish wears and souvenirs). You may also consider to get yourself, a cashmere! I would buy myself a kilt and a bagpipe in the near future.
*FUN FACT*
Go and find a statue with the golden toe: It was said that if you touch the toe, you will pass your exams / studies well; and
Find Edinburgh's Heart (Midlothian) embedded to the ground: You may spit on it! Although it is now said to be done for good luck,  but it was originally meant as a sign of disdain for the past as the heart serves as a doorway for public execution.
---
OTHER OPTIONAL PLACES WORTH VISITING
Dean Village
I would consider this as a hidden trail to tourists and it is located pretty close to West End (west side of Princes Street). If is worth taking a stroll, and very much preferable to do this in Summer.
Botanical Garden
You may want to also consider Botanical Garden, but only to do this in Summer.
Cramond Island
This is an island that lies on the foreshore of Cramond and to get here, you may do so by taking a Lothian bus. Very importantly, you will only be able to walk over to Cramond Island when the tides are low as the time may vary. You may visit Cramond Island – Tides Time for more information on the time of tides, so you could plan your trip to Cramond Island, by foot!
Portobello Beach
It is worth heading to the beach sit on the sands. I remembered visiting this beach on winter and my feet nearly froze!
The Meadows
You may also take a stroll at The Meadows and in summer, it will be a good sunny day for picnic and lay yourself on the grass.
Grassmarket
You will find many bars with unique histories, and you will also get to know that Grassmarket has a site that a bomb was dropped from Zeppelin Airship on the night of 2nd April 1916! Go and look for it!
---
FOOD AND DRINKS YOU'D LIKE TO TRY
Since there are many photos to select from, I would suggest listing down a few and how you can find them so that you may consider visiting and try them out yourself!
Lovecrumbs
This is one of the best and relaxing coffee places in Edinburgh, and if you have the chance, you will grab a spot by sitting by the glass windows!
Lee-On Chinese Restaurant
If you are craving for Chinese food or a restaurant that serves huge portion of rice with a reasonable price, Lee-On is the place! One of my favourite was the huge portion of rice served with vegetables and 3-kinds of roasted meat, that is priced at about GBP7.50. Some day may include a complimentary bowl of soup or fruits as well!
Chaophraya Thai Restaurant

Thai food that is worth to try! Food was good and whats better, is the environment of the restaurant being on the rooftop! I was there once and I was alone, having my sweet time enjoying the view.
Passorn Thai Restaurant

Passorn Thai Restaurant is located within the blocks of Tollcross. They do provide good service and food which was once listed the top Thai Restaurant in Edinburgh.
Bites from the Supermarkets
Surprisingly, you may find some good chocolate cookies / croissants from Lidl / Tesco / Sainsbury supermarkets if you have got a good pick!
The Local Food
Please try the local Scottish Food, some of which are Haggis and Black Pudding! I have come across a delicious Haggis (not too dry compared to other places) at Footlight Bar, located in Bread Street (where I used to live!) – from there, you will know how close Edinburgh's Castle is.
Other than that, please also try the following:-
Deep Fried Mars Bars; and
Deep Fried Pizzas.
Recommended place: Cafe Piccante located at 19 Broughton Street. They are somehow unique and it is proudly originated from Scotland!
---
RECOMMENDED MEANS OF TRANSPORTATION
By Foot
Honestly speaking, you may want to move around by foot especially in the city centre. If you are familiar with Edinburgh, you will know the shortcuts and all are very much accessible by foot!
Lothian Buses
This is an alternative means to travel around in Edinburgh. Most of its bus-stops do provide a digital screen, which will tell you an estimated waiting time of your bus.
Tram
You may also consider taking the tram, if you are heading out of the city / airport. Otherwise, you may take Lothian Buses or Airport Bus (if required).
---
TYPICAL COSTS AND MONEY SAVING TIPS
Hostel Prices
Shared dorm rooms: Starts at GBP20 per pax/night, but GBP20 – GBP30 is average; and
Private rooms: GBP40 – GBP60 at average per night for a double room.
I am not too sure about hosteling in Edinburgh and based on estimated prices, you could save money this way.
Hotel Prices
Hotel rooms: Starts about GBP60 per night but a room at a 3-star hotel could possibly be about GBP70 – GBP80 at average per night for 2 persons.
Food & Drinks
Typical restaurant: An average meal could cost about GBP10 – GBP15;
Good restaurant: Could start as high as GBP25 – GBP30 for an average meal; or

Otherwise food from supermarkets (i.e. Croissants) may cost about GBP 1.20+.
Transportation
Lothian Buses: A single ticket costs GBP1.60; or a day-ticket priced at GBP4.00. You may visit Lothian Buses website for your latest information.
Kindly note that your day-ticket is usable for Trams as well. However, I would suggest moving around by foot if the time allows you, or otherwise, do purchase a day-ticket if you are travelling around pretty frequently.
Admission Fares
This could be an average of about GBP10 – GBP30 per person depending on your interest.
---
Copyright © | Aspen See
Disclaimer: All the information and prices provided on this website are based solely on experience and you agree that you use such information entirely at your own discretion and will.