One of Scotland's famous bungee jump is located in Killiecrankie! Do visit the Highland Fling Bungee if you are keen to jump off the bridge, overlooking the beautiful River Garry!
The experience was one of the best and I'll remember the adrenaline while having your feet standing at the edge of the bridge.
---
ALL ABOUT BUNGEE JUMP!

Locating Highland Fling Bungee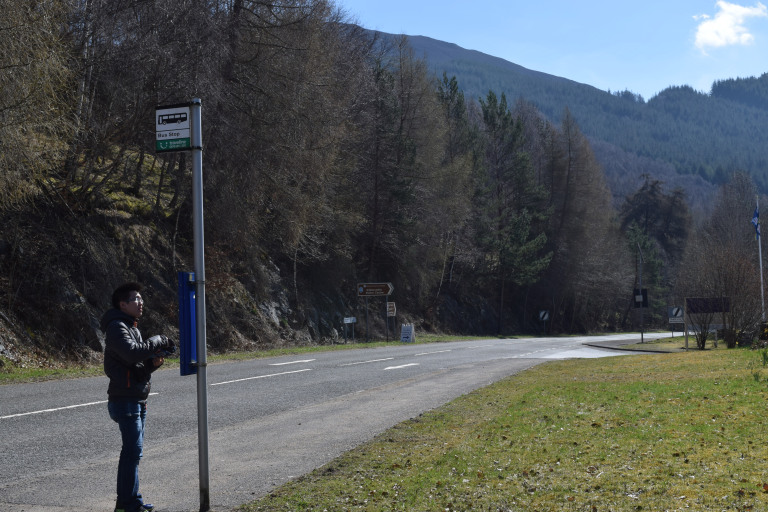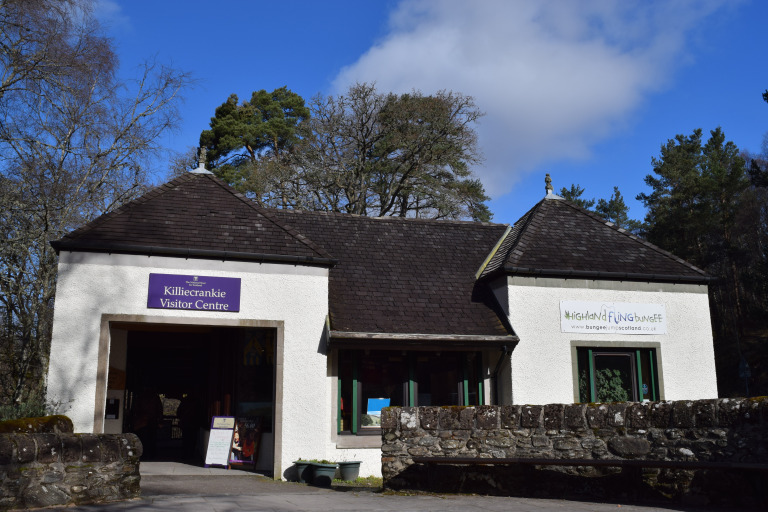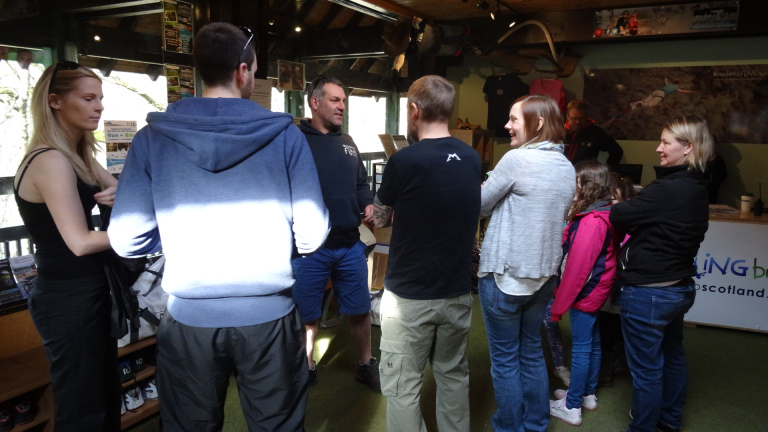 I was able to locate the Killiecrankie Visitor Centre and managed to check-in for our bungee-jump on time. A short briefing was given to us, mostly about the do's and don'ts. All bags and belongings are to be kept in the Visitor Centre, and you will be weighed!
Thereafter, your weight will be indicated and written on your hands as it is important to ensure that the pressure on the rope for jumping is aligned to your weight.
The Jump!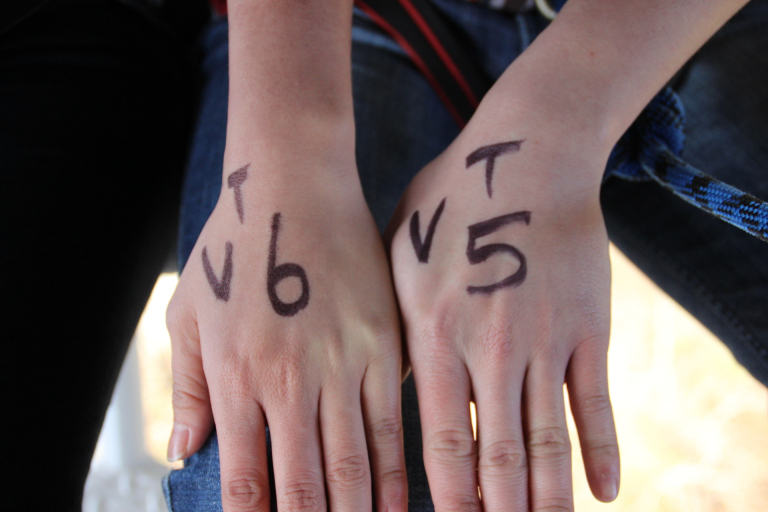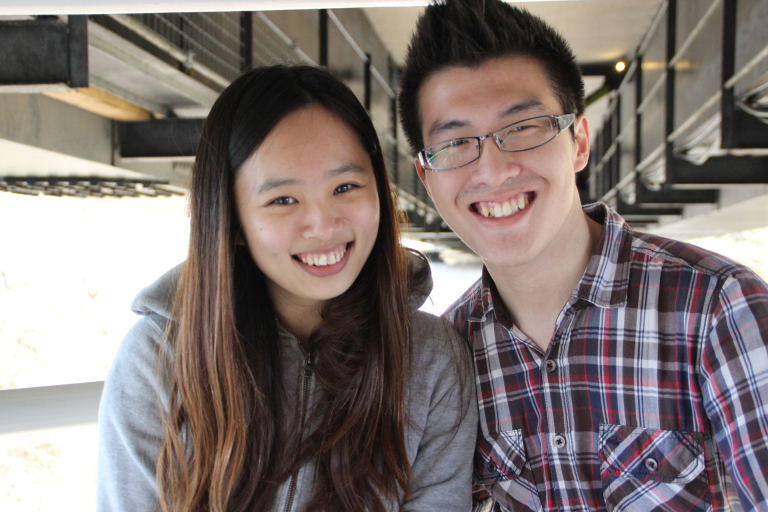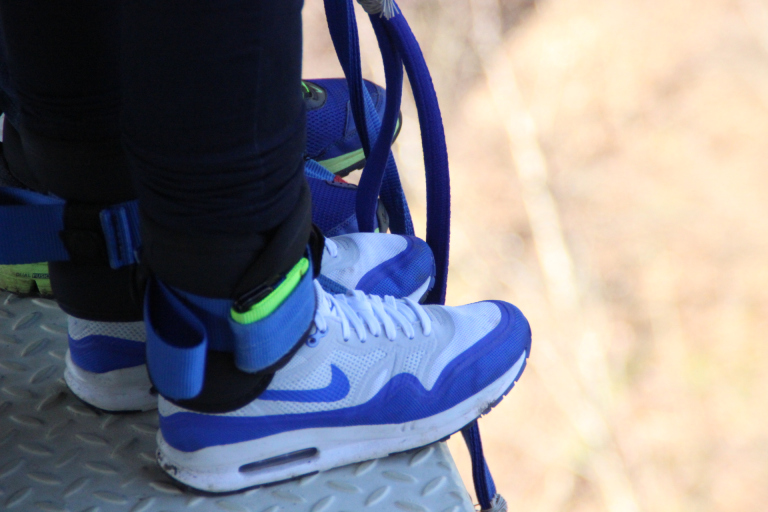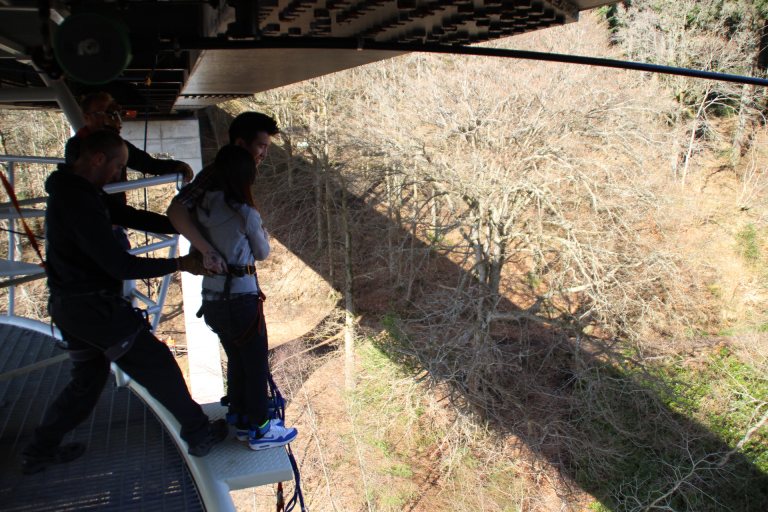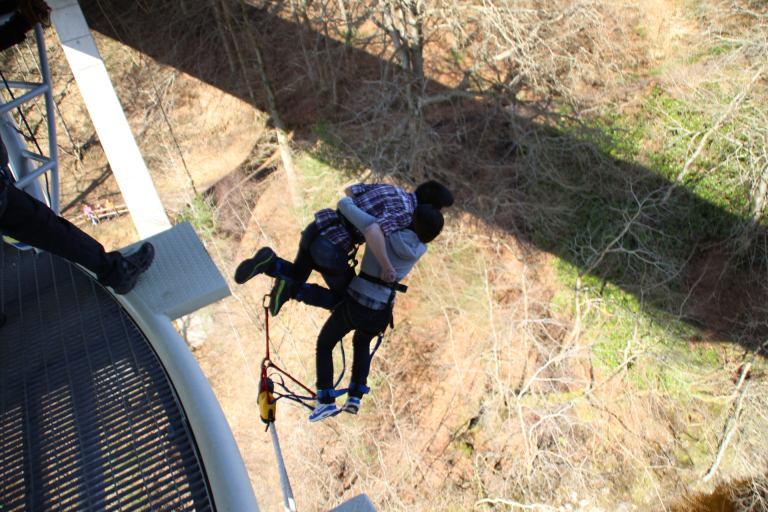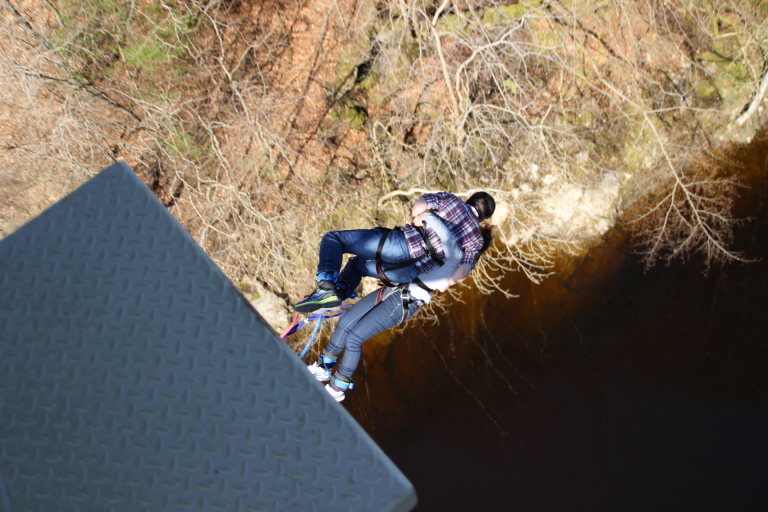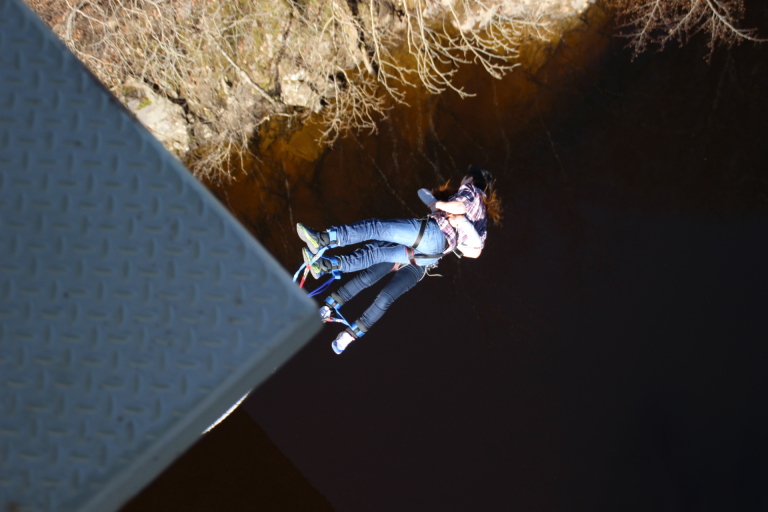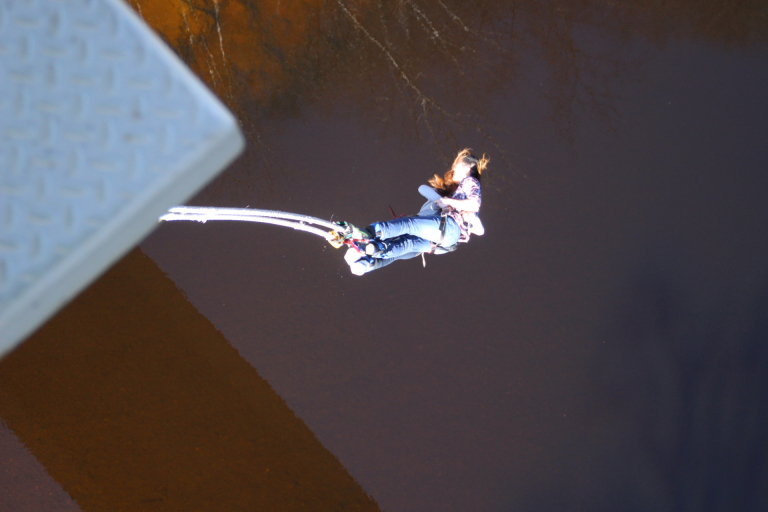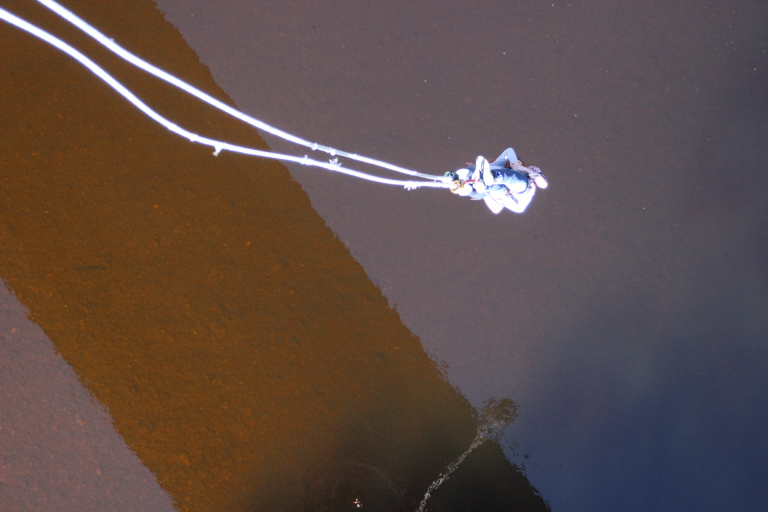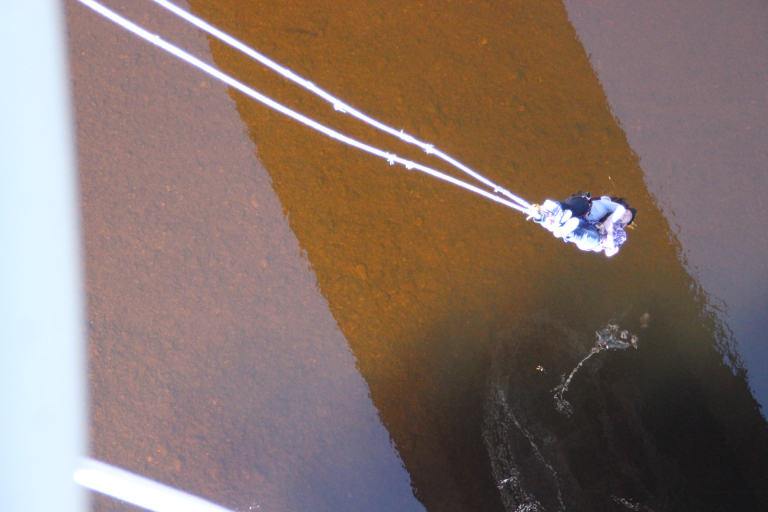 That was it! Well, I do have a video of the jump as well and will find ways to post them online! We have other members jumping at our bridge as well but we were the last team to jump.
It was a Tandem Bungee (which means a pair) that jumps together. It was actually fun to see how the staff locks one another, at every entry point of our movement on the bridge due to safety reasons (probably in case you fell off the bridge). Each steps that we took on the bridge, new rope locks you from moving further until you reaches your feet at the edge of the bridge. The staffs will also conduct a cross check to ensure that the rope are locked and tied properly with the correct pressure adjusted on the rope.
The Certificate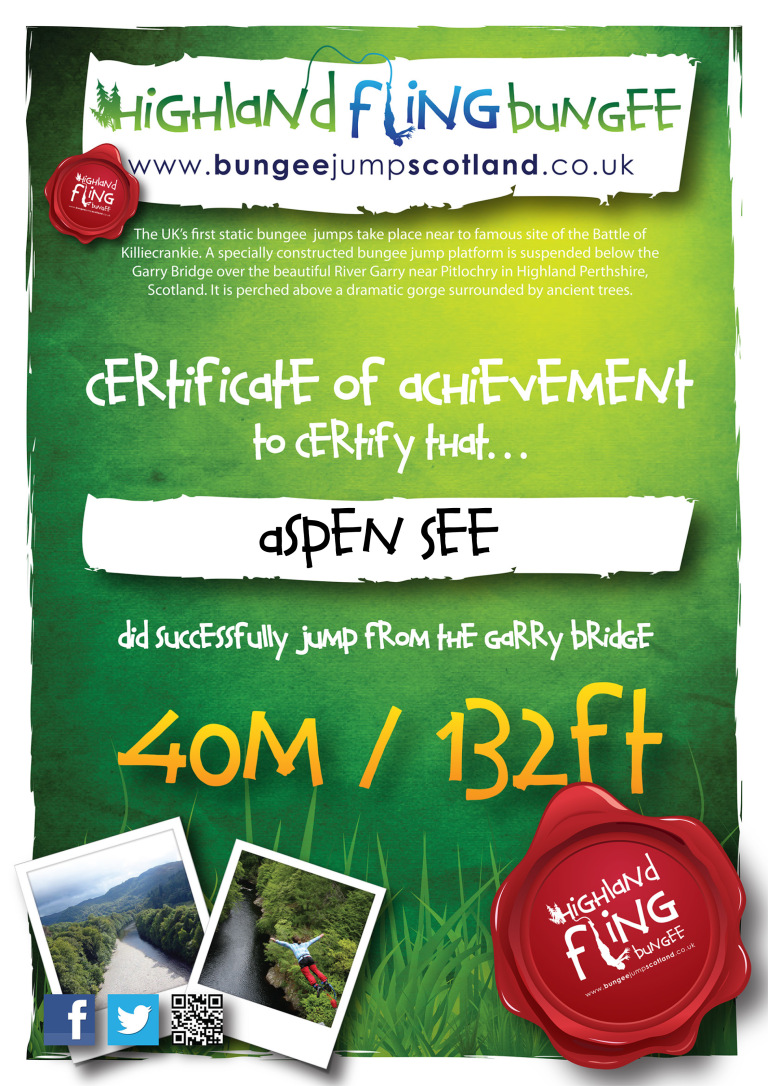 Achievement Unlocked!
---
RECOMMENDED MEANS OF TRANSPORTATION
By Bus
You may visit the Killiecrankie Visitor Centre by taking a bus from the West End Car Park at Pitlochry and the journey merely takes about 15 minutes.
By Foot
To jump off the bridge!
---
TYPICAL COSTS AND MONEY SAVING TIPS
Bungee Jump Activity
Whether you are jumping alone or by a pair (Tandem Bungee), it still costs GBP75 per person (GBP150 for two persons/tandem jumps). In addition to this, you may opt for a HD video and a photo for an additional GBP50+ if you are keen of keeping them as a memory as it will be saved and sent to you via email.
Kindly note that there will be a time frame for downloading the video and photos via email. Your photos will also be available for viewing on their official website.
For more information on Highland Fling Bungee, you may visit them on Highland Fling Bungee.
---
Copyright © | Aspen See
Disclaimer: All the information and prices (as at April 2015) provided on this website are based solely on experience and you agree that you use such information entirely at your own discretion and will.