London is the capital city of England, a region of the United Kingdom. This city is also known to be one of the most popular and visited country in the world. Air traffic can be really congested prior to landing, and its underground tube (metro) can be really packed as well.
I have visited London twice and I find London to be a vibrant city, but congested at times in comparison to other major cities like Edinburgh, being the capital city of Scotland, also in the United Kingdom. If you are wondering, it takes approximately 5 hours if you were to travel from London to Edinburgh by train, and vice versa.
I would say that proper planning is required before you visit London and its cost of living particularly accommodation can be expensive here in London. Most places you will be visiting ought to have many people, so there is nothing to be surprised about.
---
PLACES TO VISIT AND THINGS TO DO IN LONDON
London Eye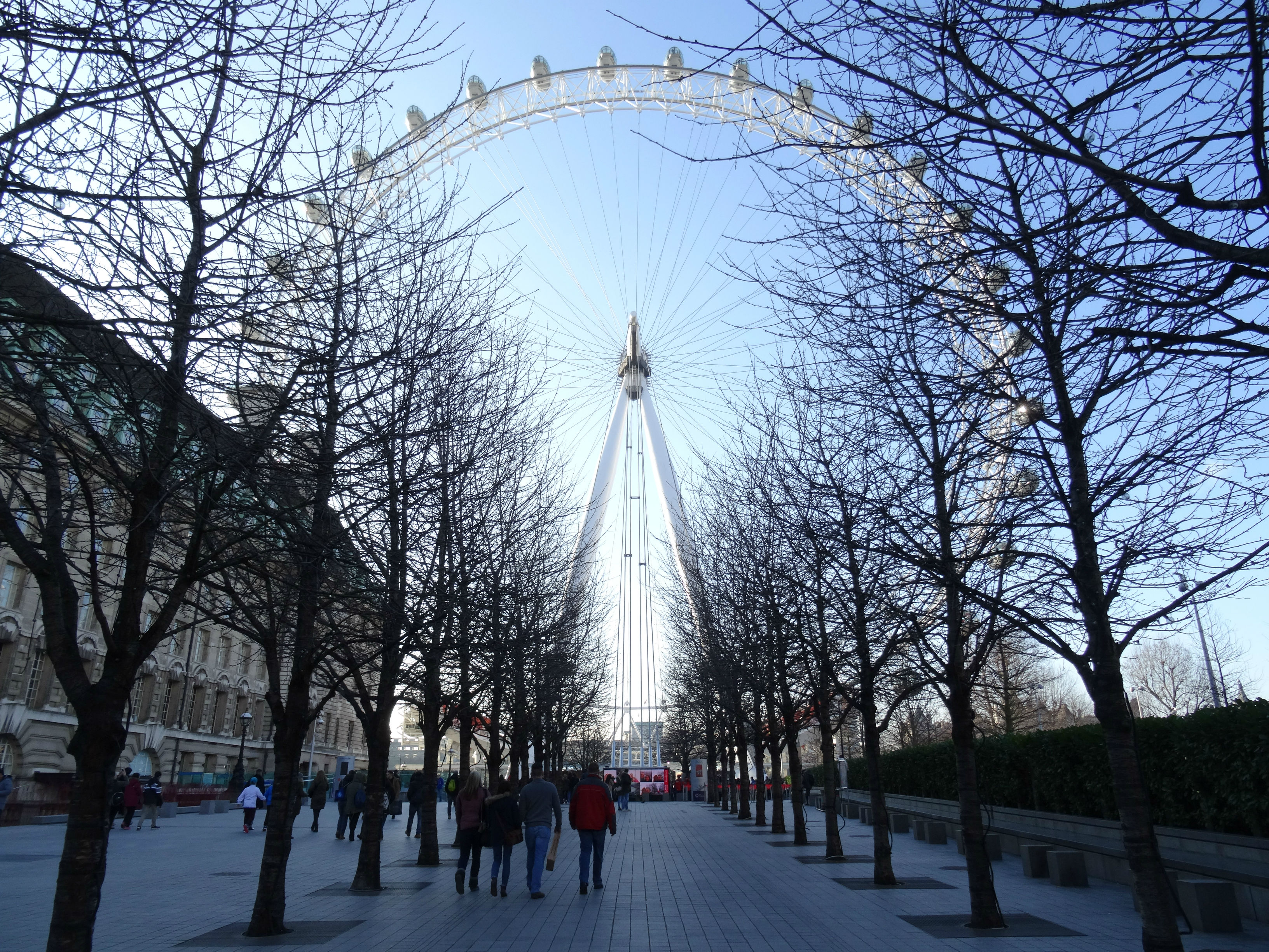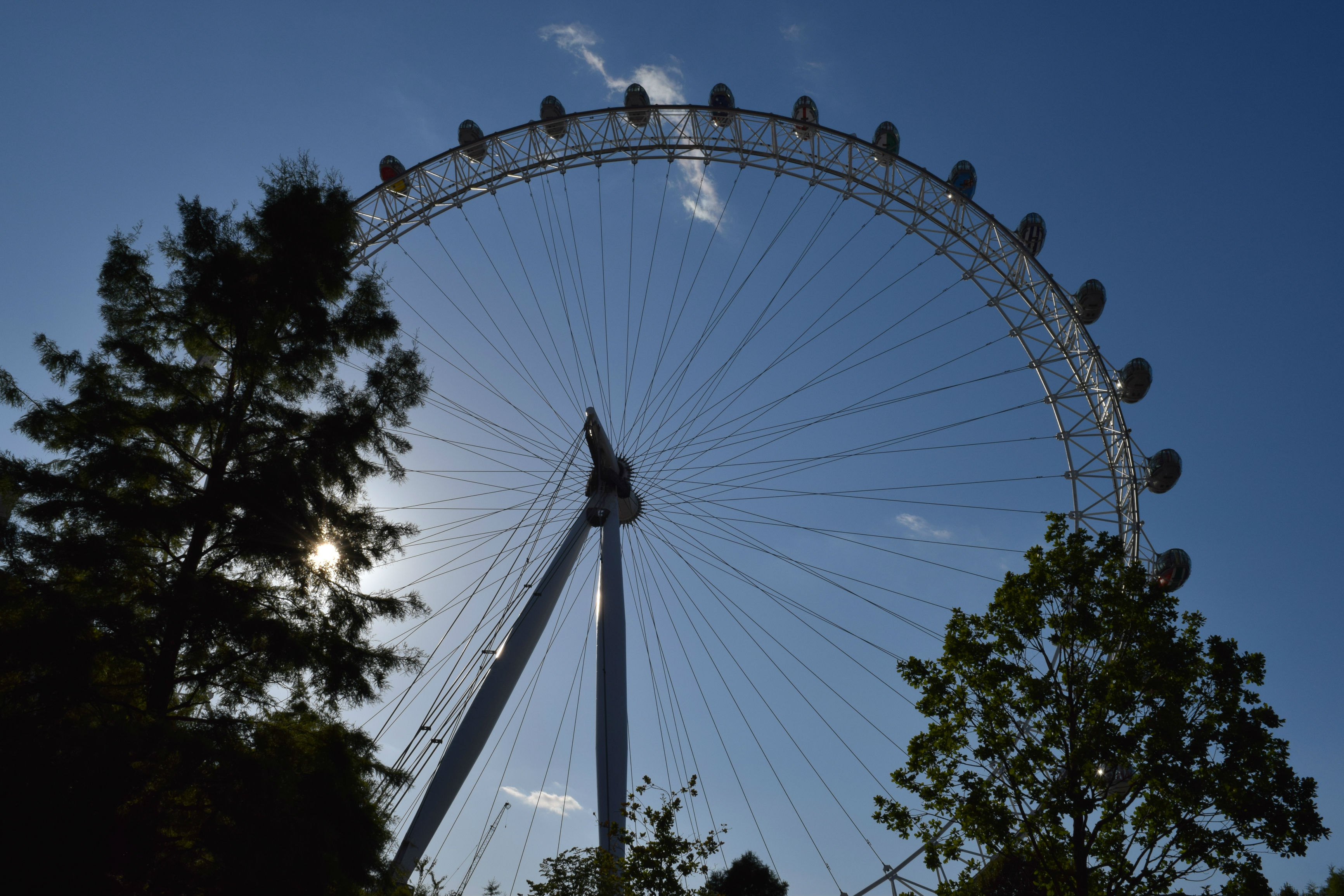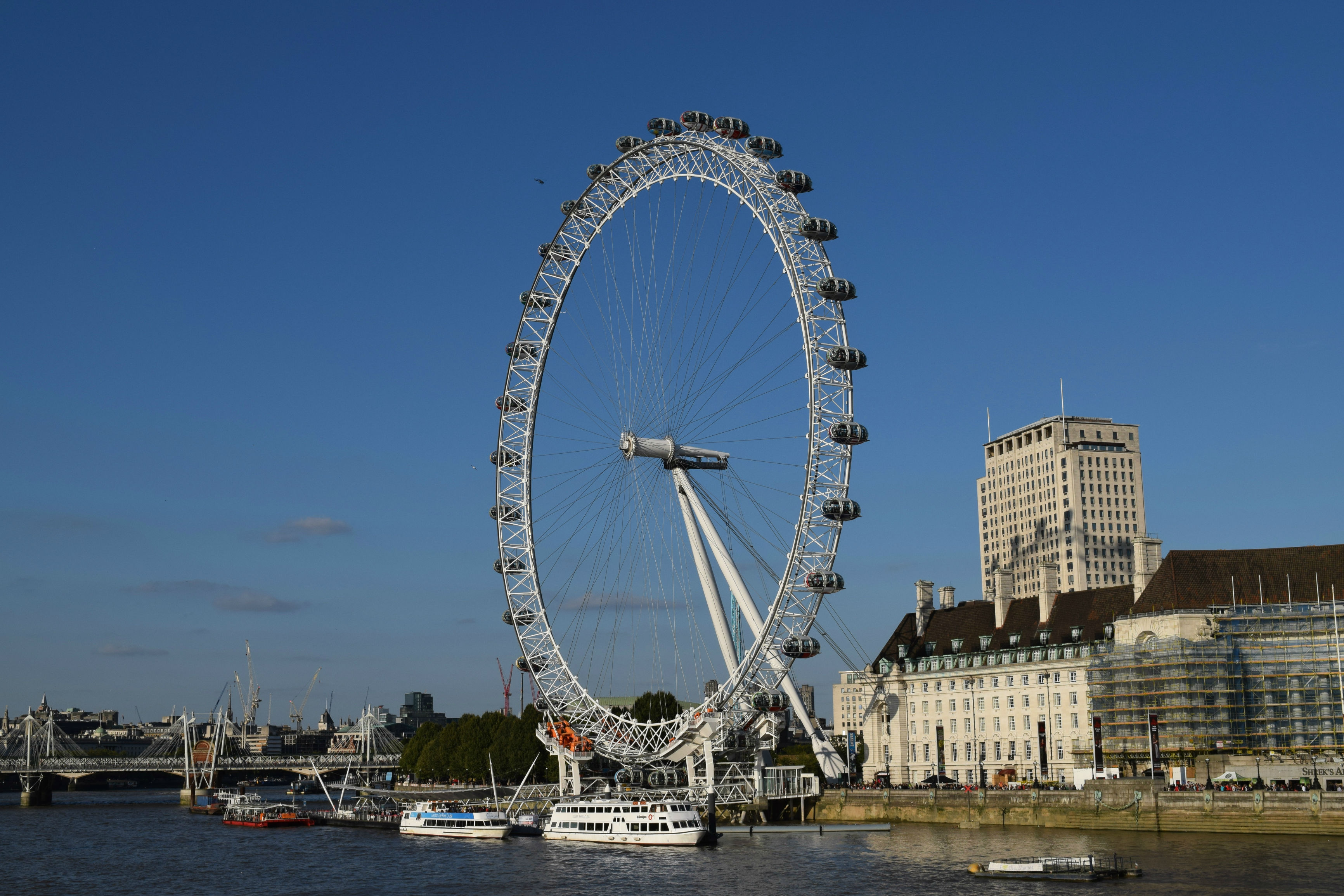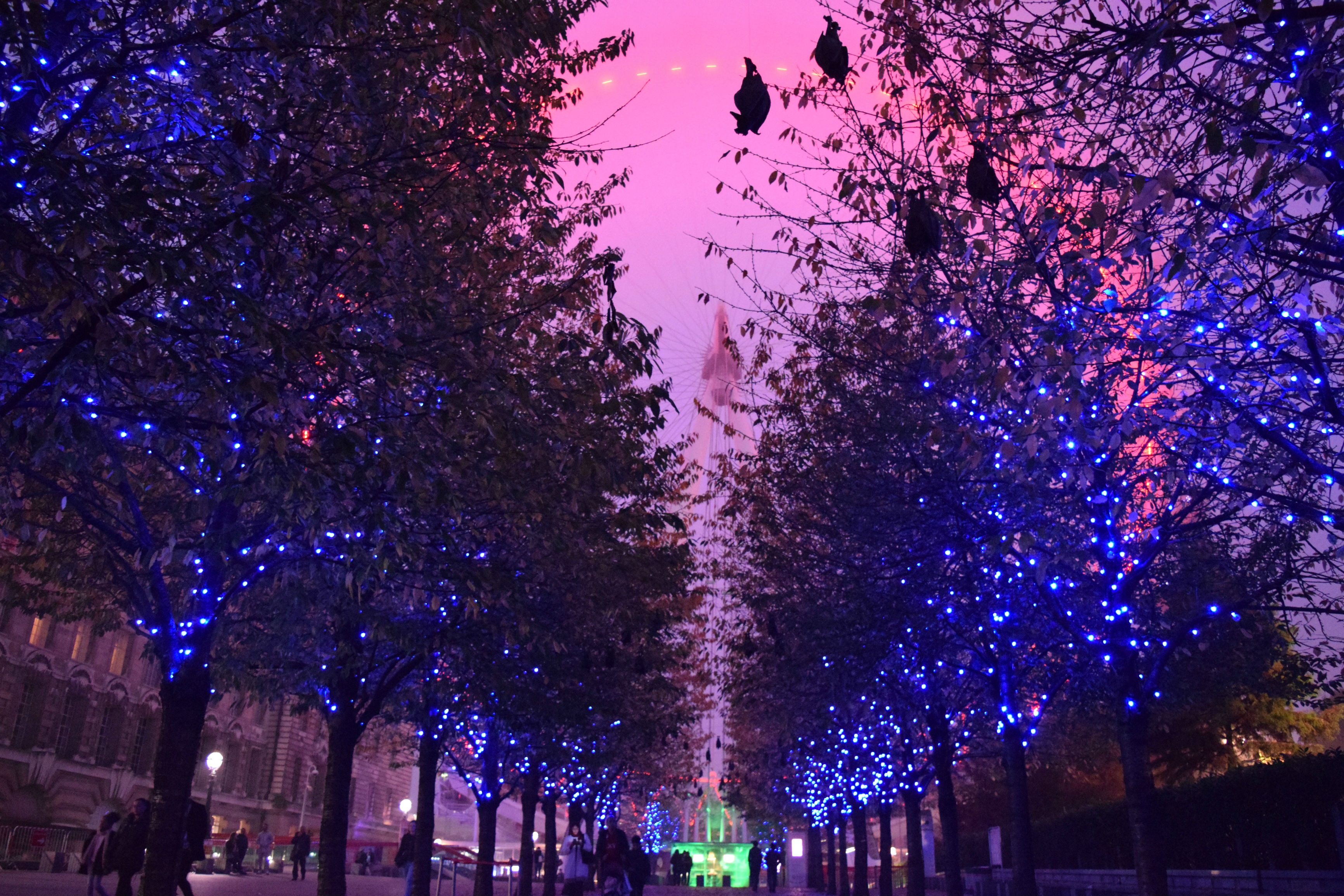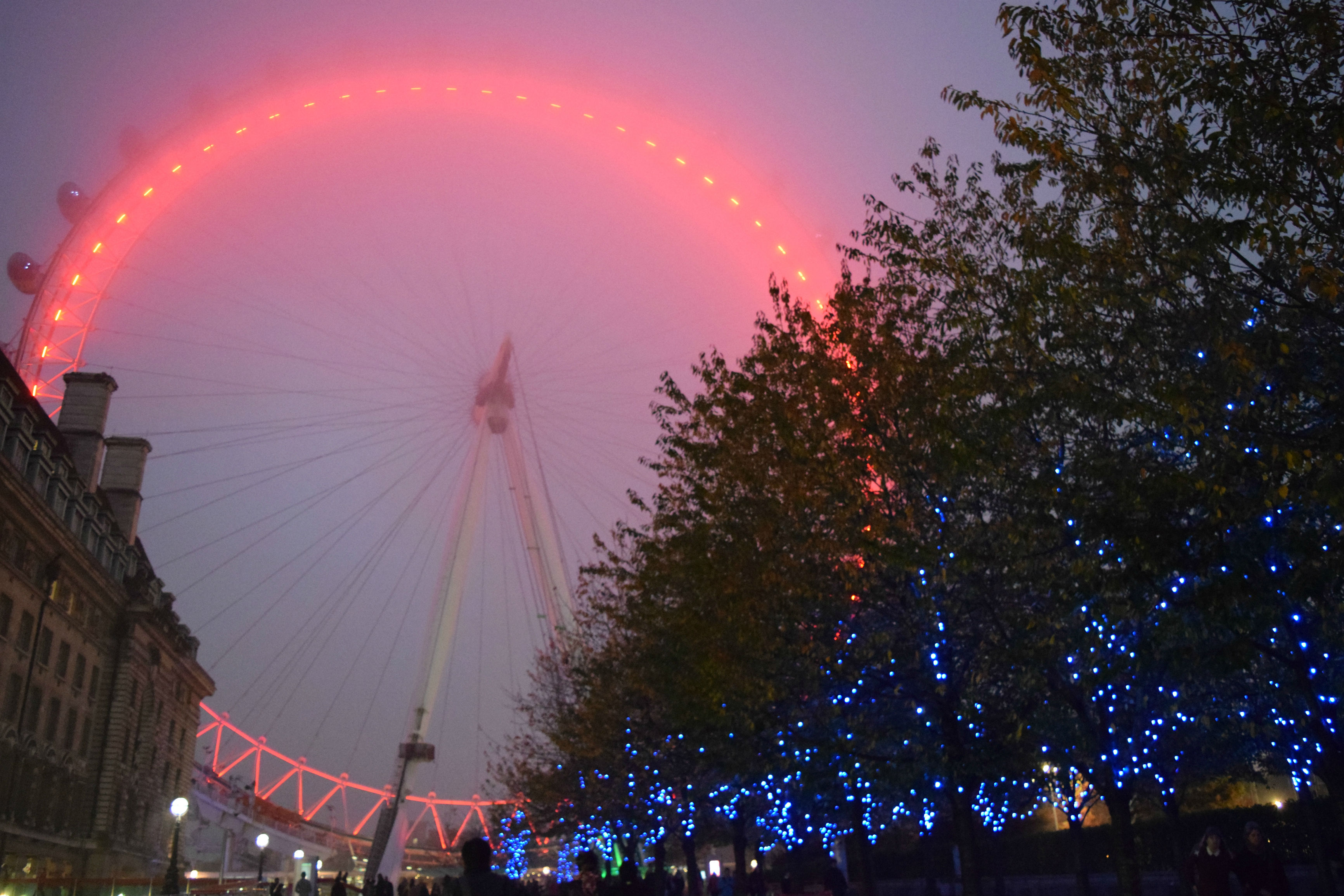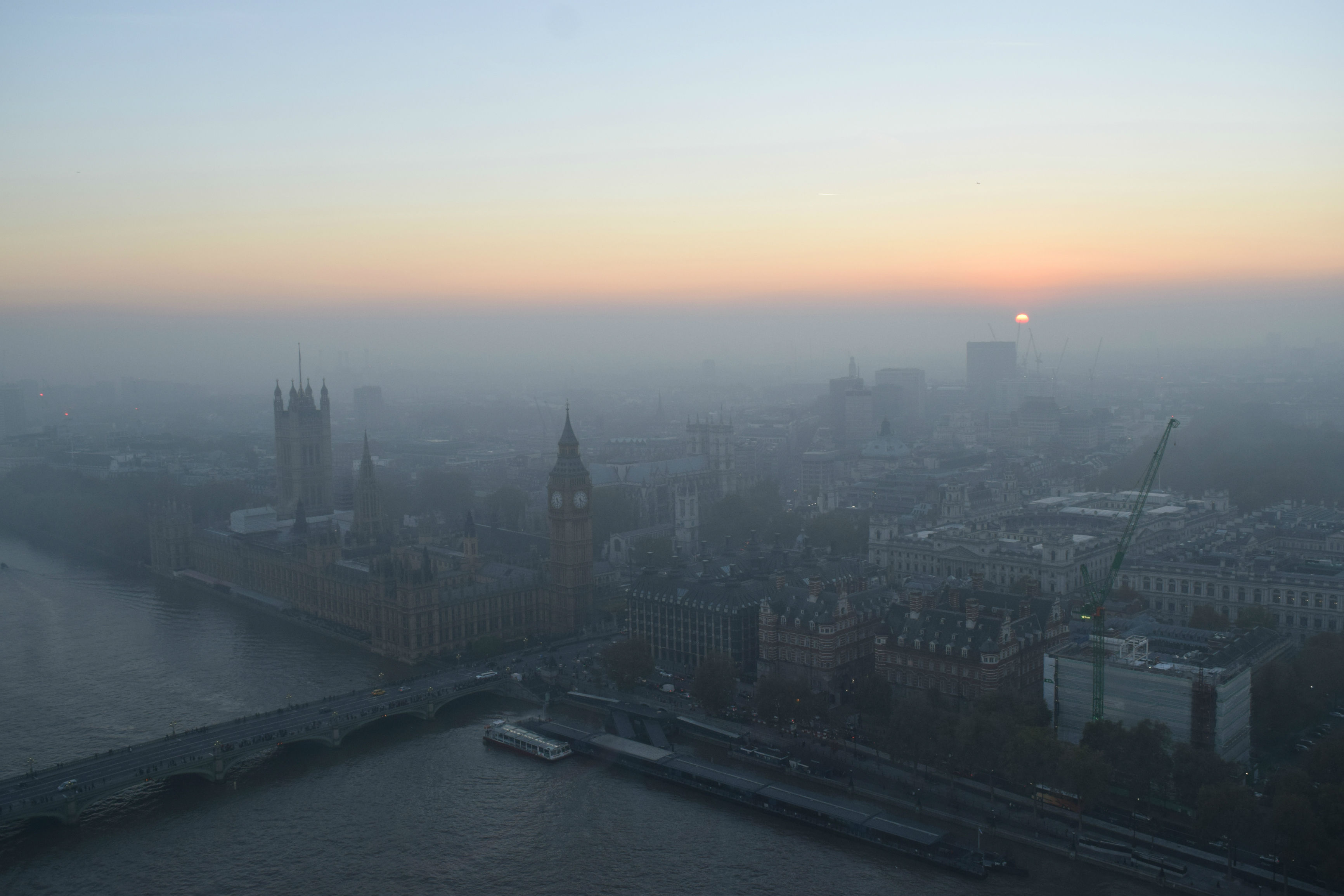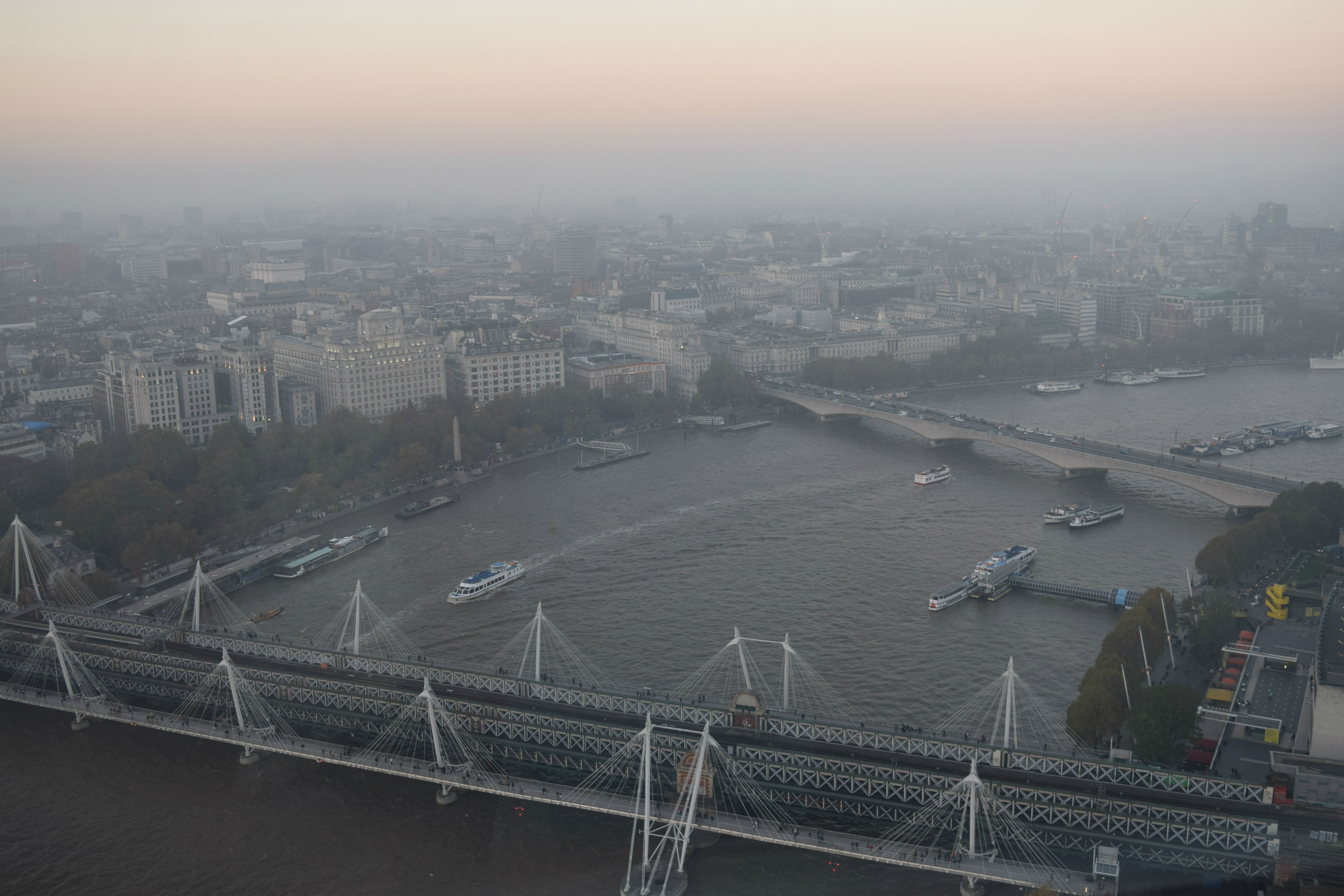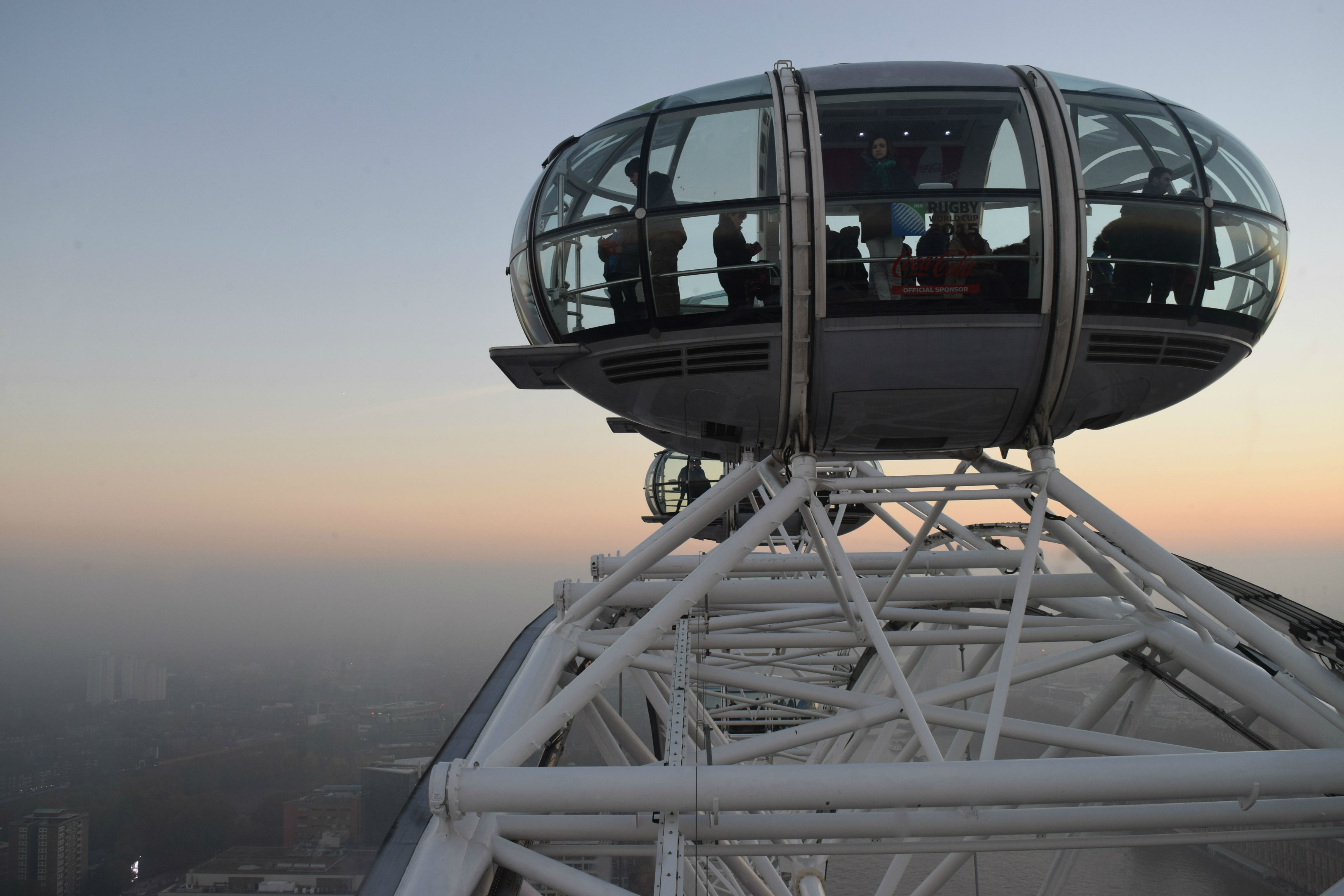 London Eye is a giant Ferris wheel located by the South Bank of the River Thames in London. The said river and the Ferris wheel is also used as a platform for its spectacular firework performances during New Year (when the clock hits 12am), and many tourists would flood the space to see the event. You may want to come earlier on New Year's Eye to grab a good spot (you may be charged for a ticket for certain entry).
A ride with London's Eye costs about GBP23 if purchased on that day, and about GBP19+ if purchased online. This fare however includes a single ticket (30-minutes rotation), together with an entry into its 4D Cinema Experience. However, hope that the weather and skies are clear!
You may visit London Eye – Website for more information.
Nearest Metro station: Waterloo Station (Zone 1)
Big Ben (The Elizabeth Tower)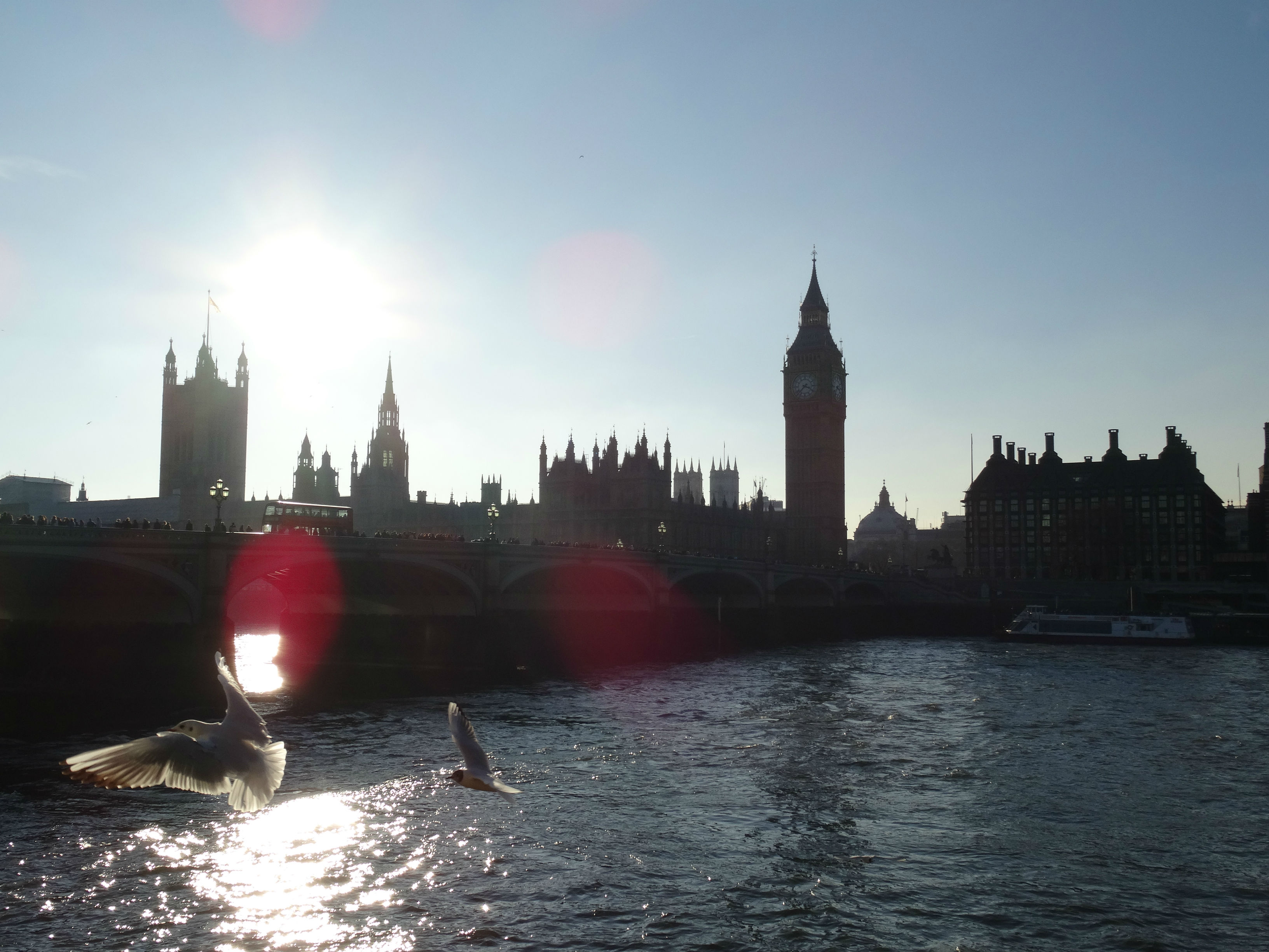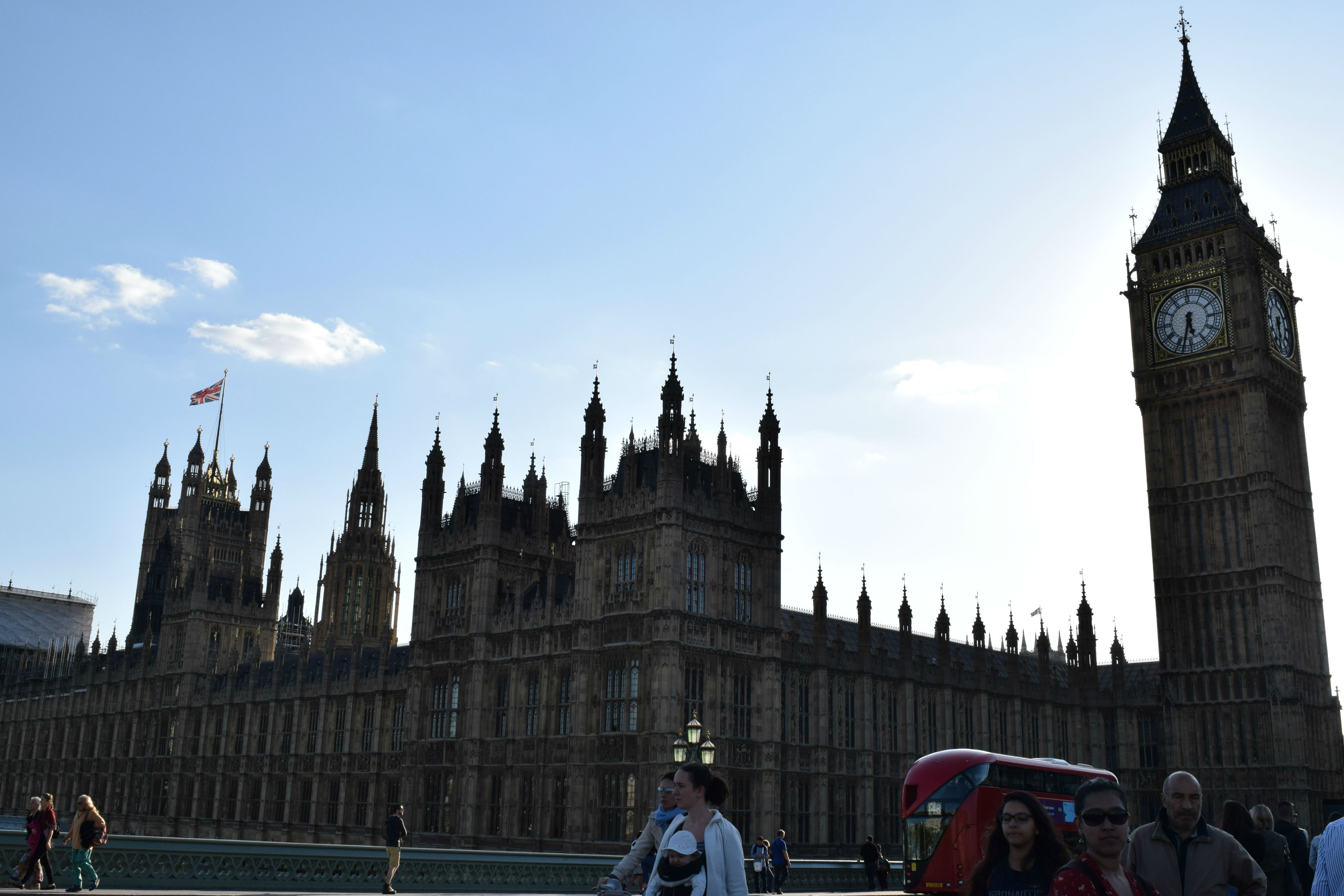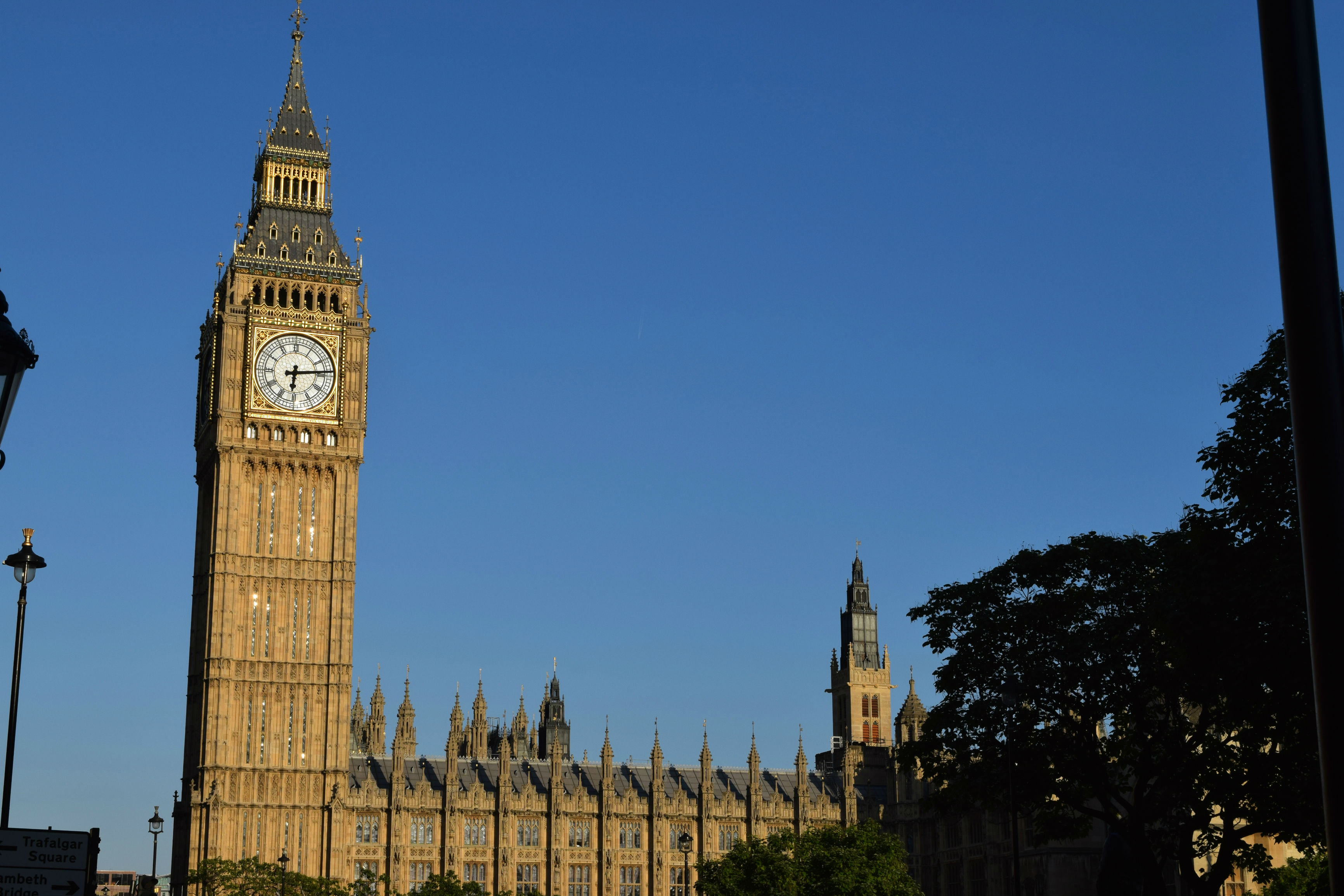 Big Ben is a nickname for the famous Great Bell in London, located across the Westminster Bridge just adjacent to London's Eye. It is a tower clock that was built in the year of 1859 and popular for its reliability, yet the biggest and most accurate four-faced striking and chiming clock in the world.
Nearest Metro station: Westminster Station (Zone 1)
Palace of Westminster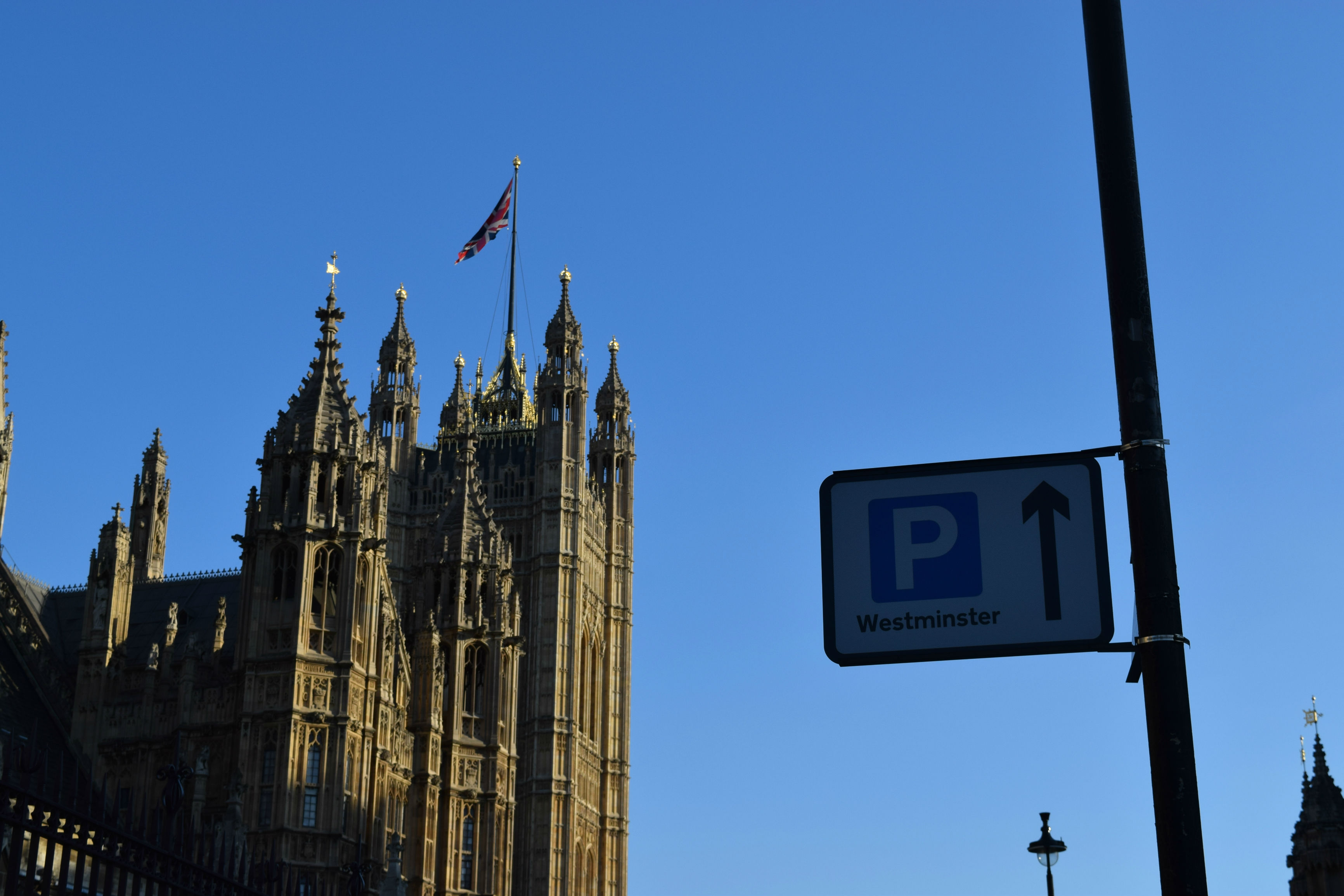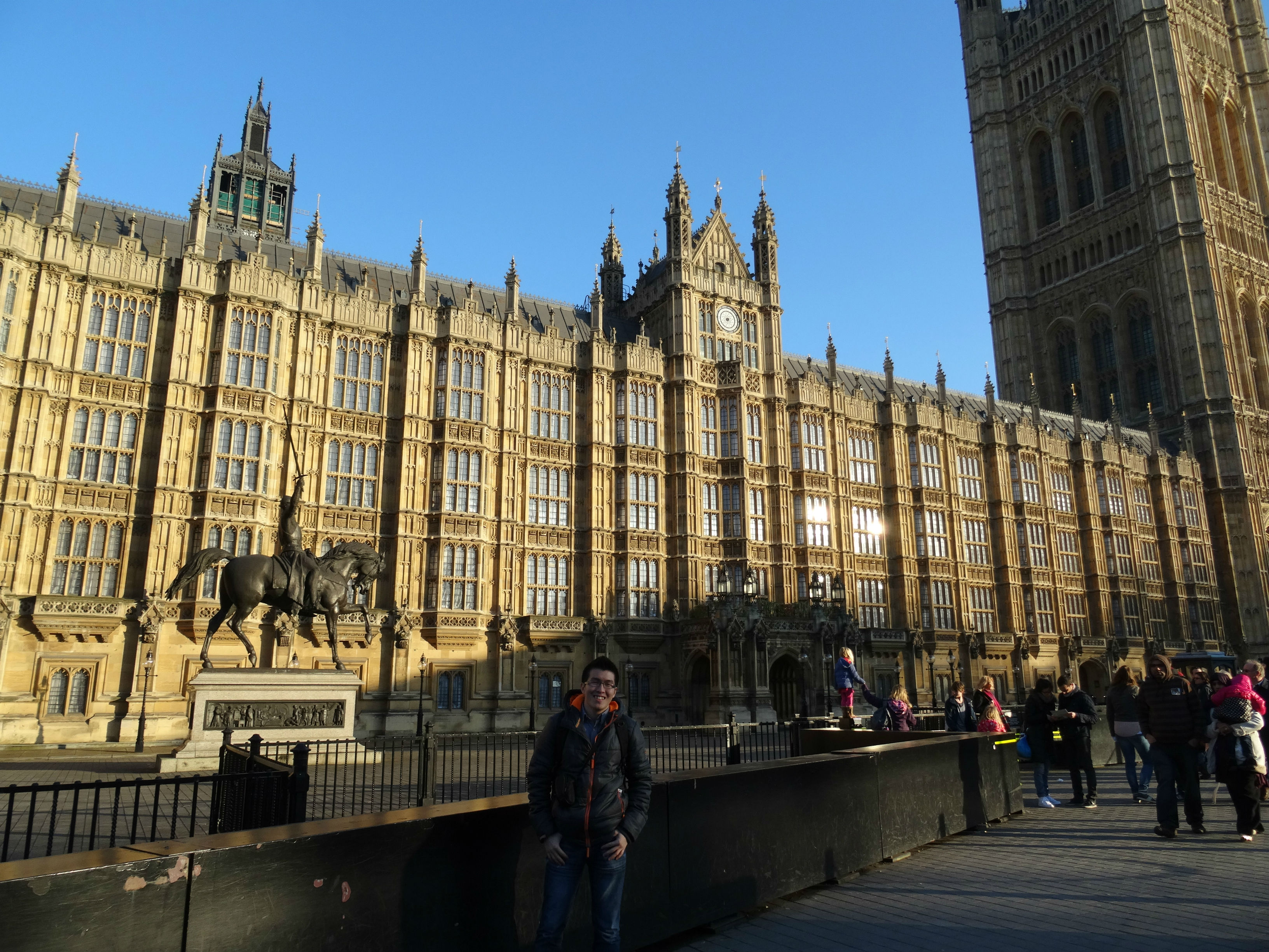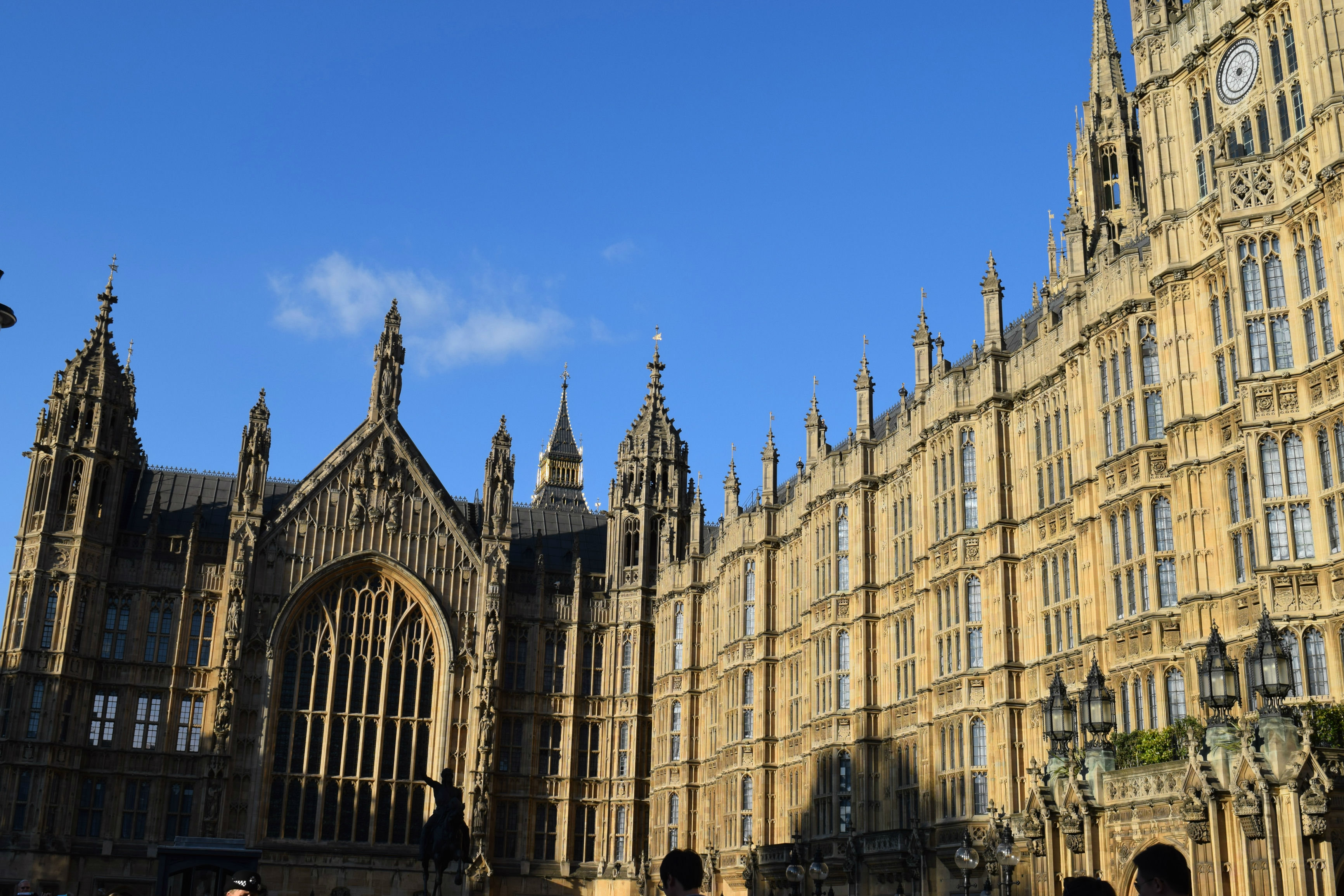 Next to the Big Ben is the Palace of Westminster. I find that this building too be really striking and classic, rather than Gothic as an impression. The Palace is being used as a meeting place of the House of Commons and the House of the Lords, where you will normally see on TVs.
Nearest Metro station: Westminster Station (Zone 1)
Westminster Abbey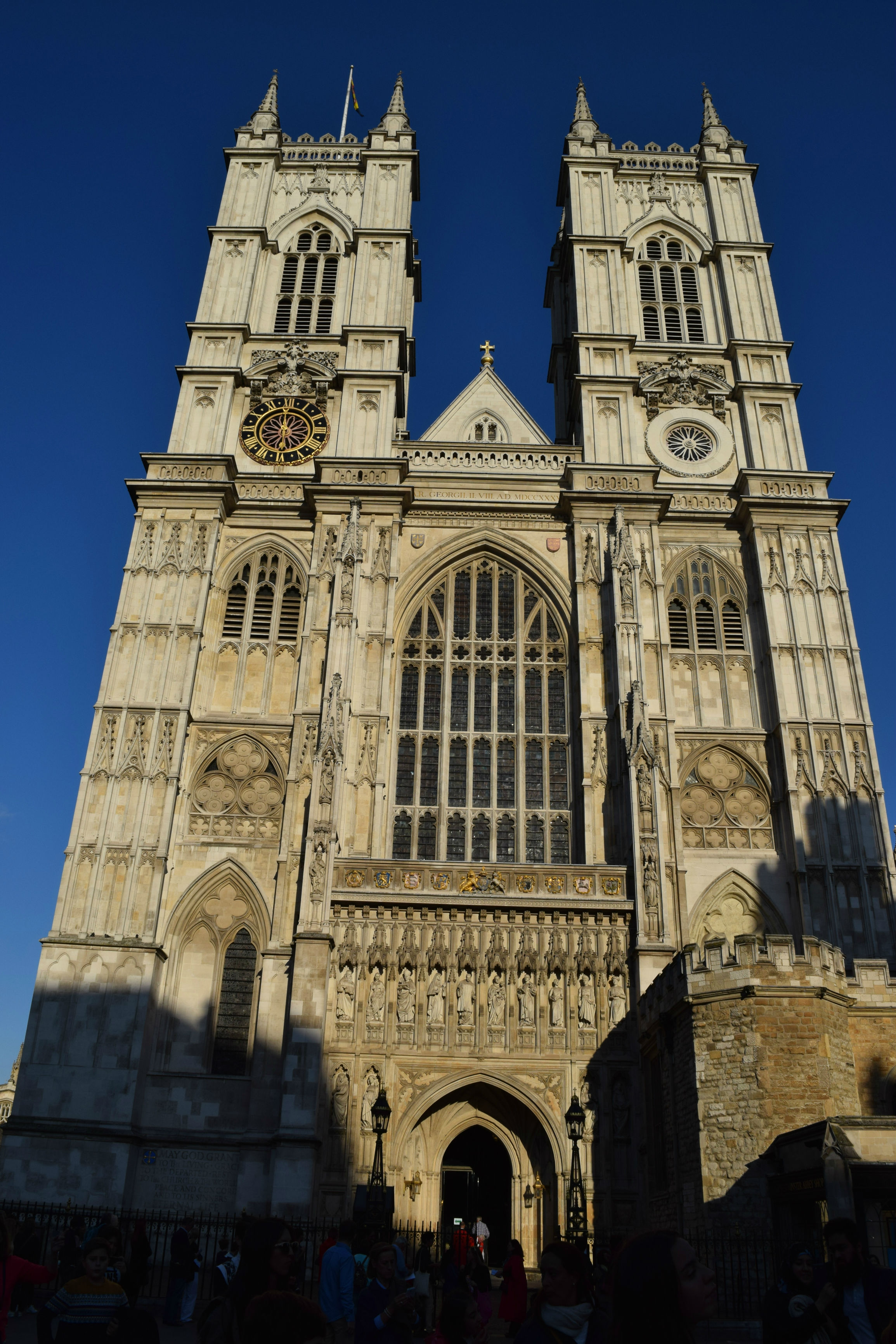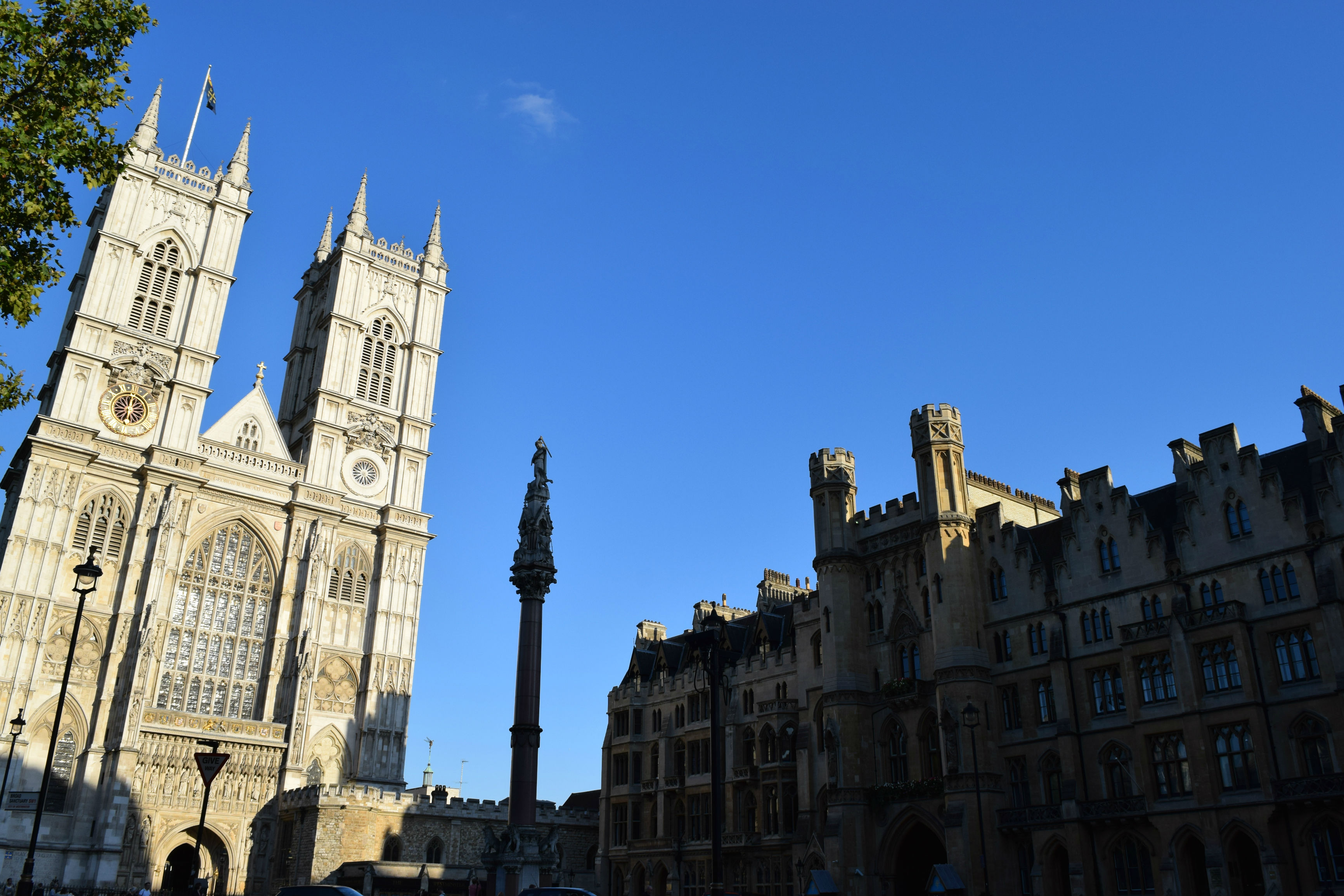 One of the world's greatest churches is here, in the city of Westminster, London. Too bad that I had no chance to visit the inner chambers of the church, for a forgotten reason. Nevertheless, pay a visit if you can!
Nearest Metro station: Westminster Station (Zone 1)
Trafalgar Square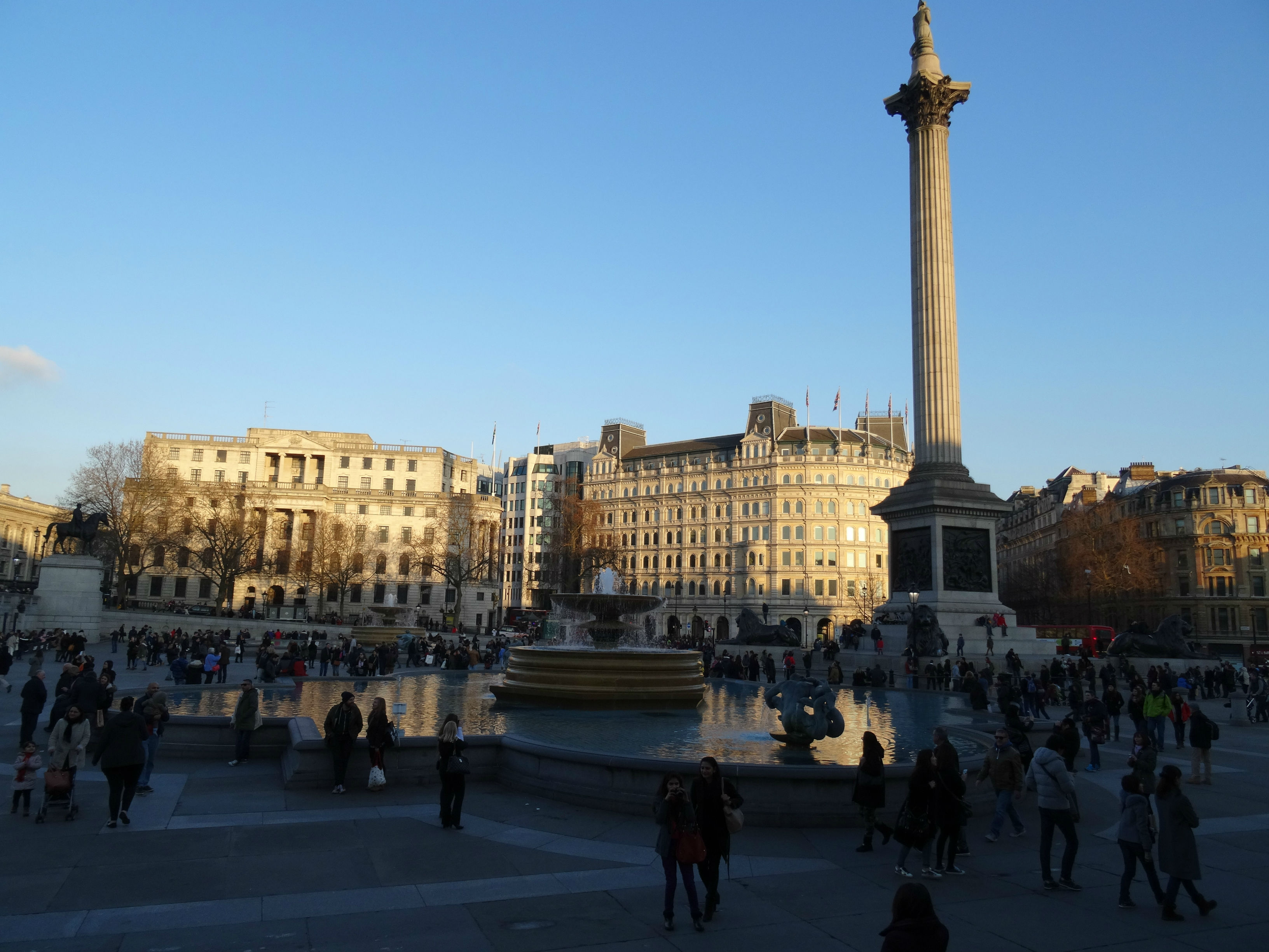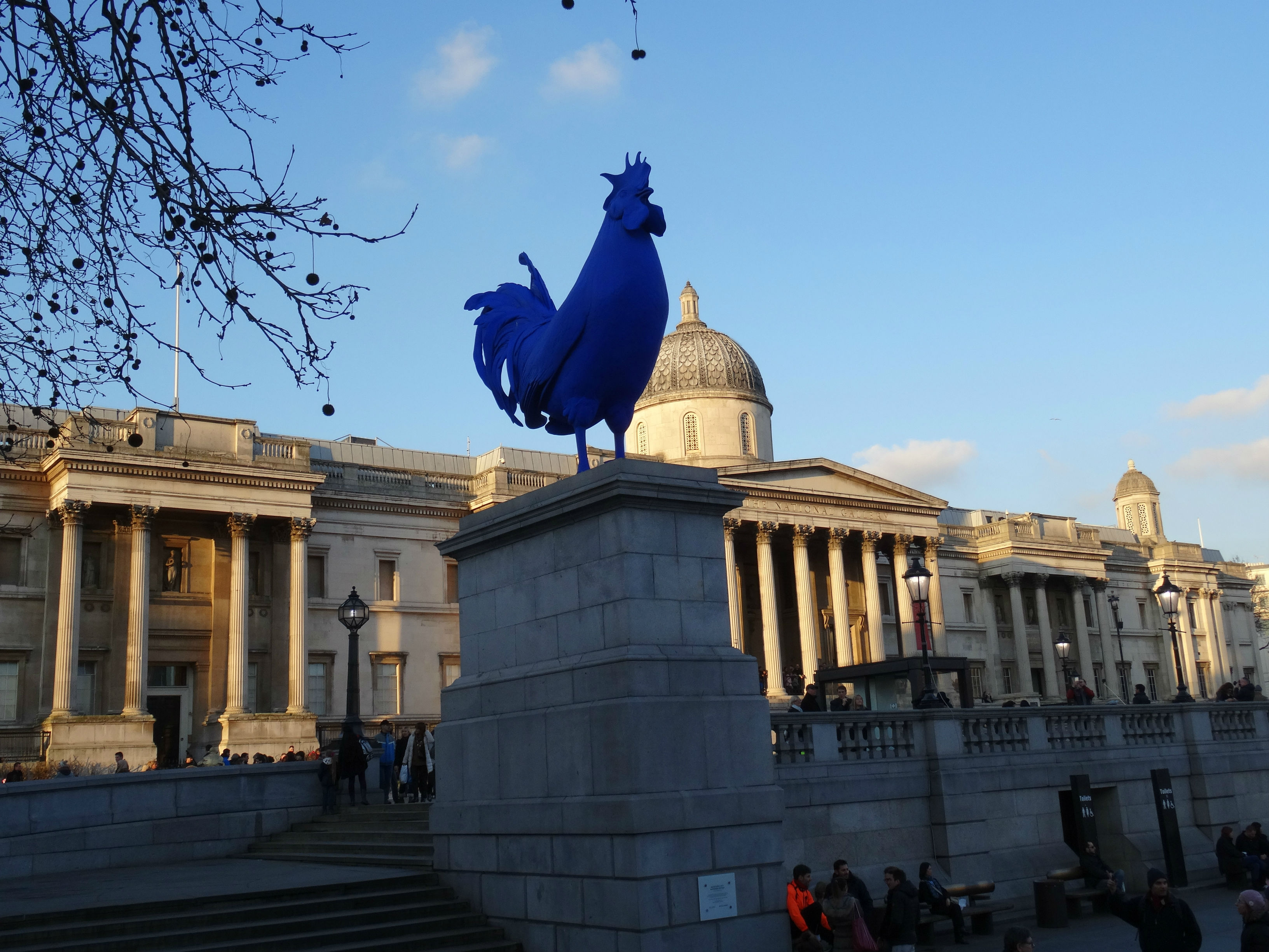 Trafalgar Square is a public square, located about 10 – 15 minutes away by foot distance from the Westminster Palace and Big Ben. If you ever notice a sculpture that is attached on a platform just at the corner of its square and the National Gallery, they changes from time to time!
I do remember that it was once a blue cock, while it was different on a later occasion. Felt weird that I could not find the blue cock anymore during my later visit in the following year.
Nearest Metro station: Charing Cross Station (Zone 1)
The National Gallery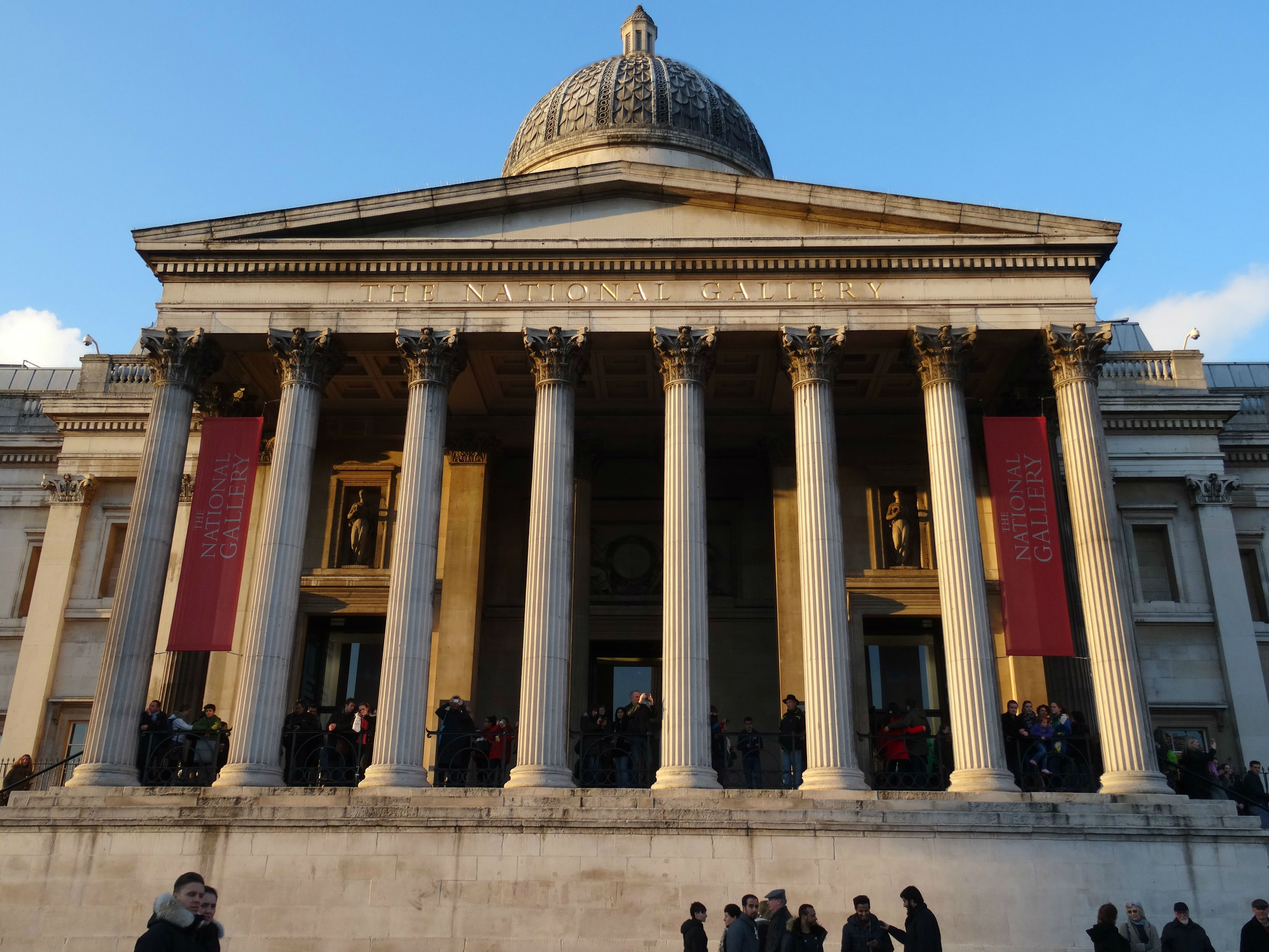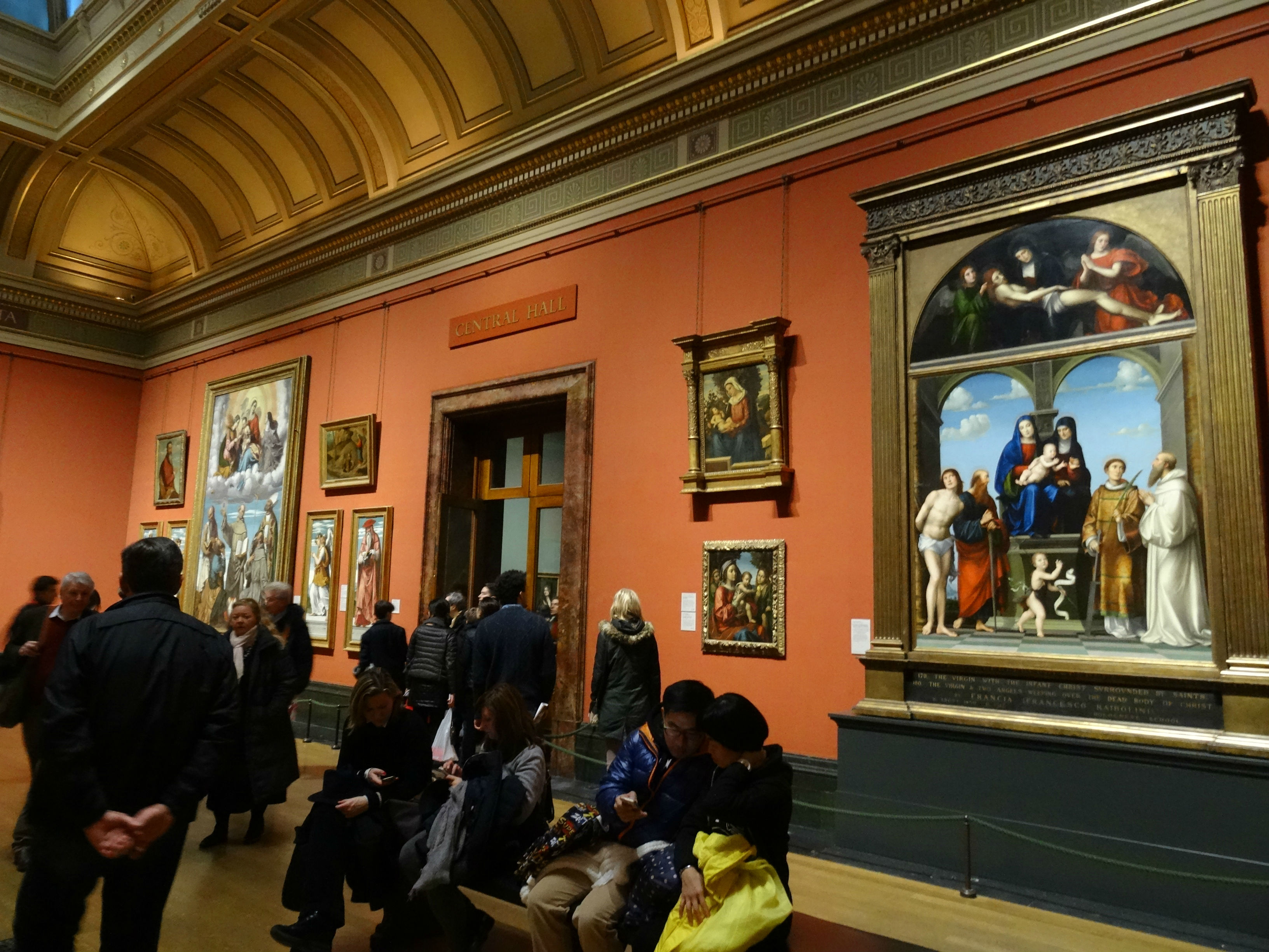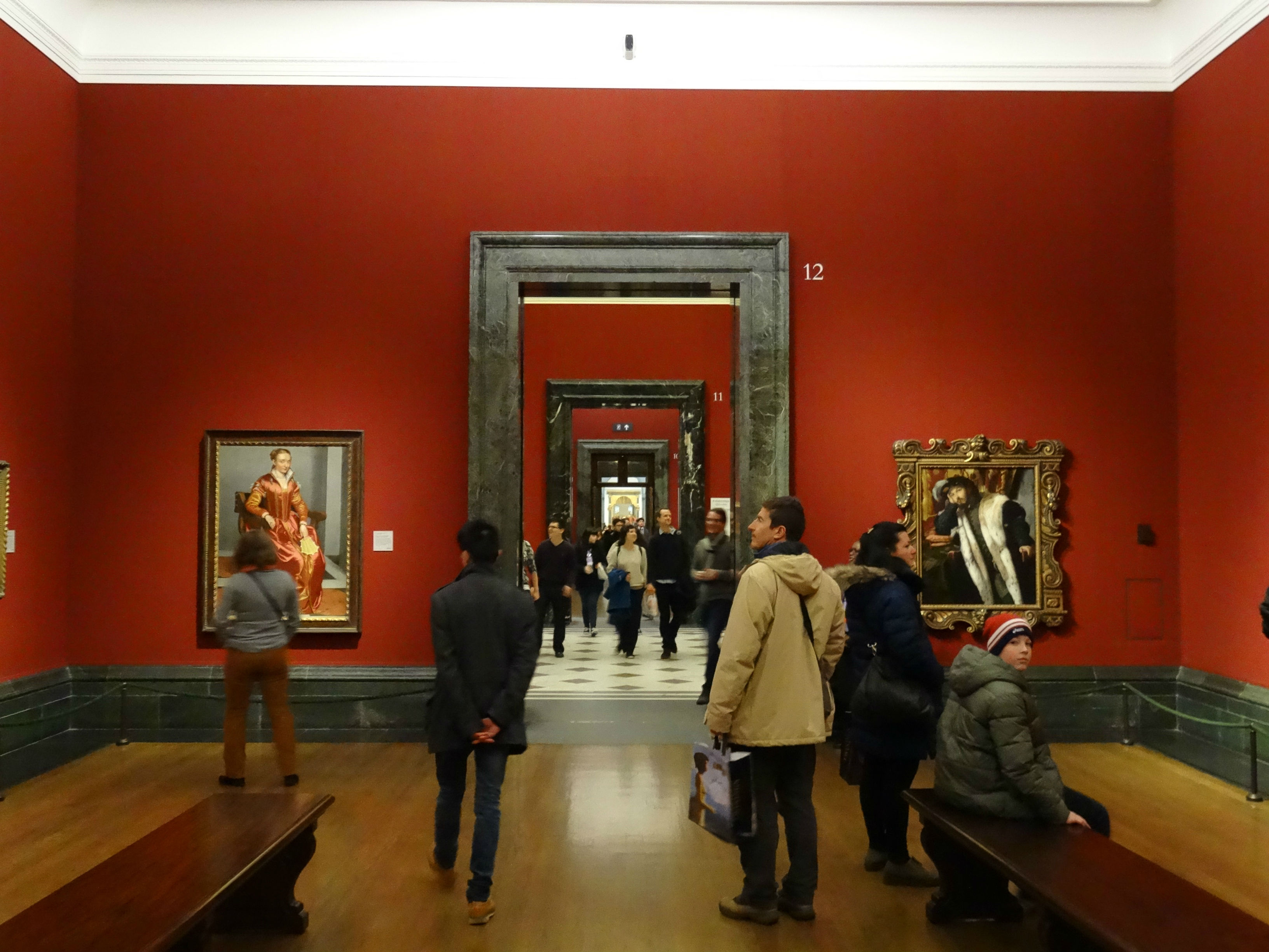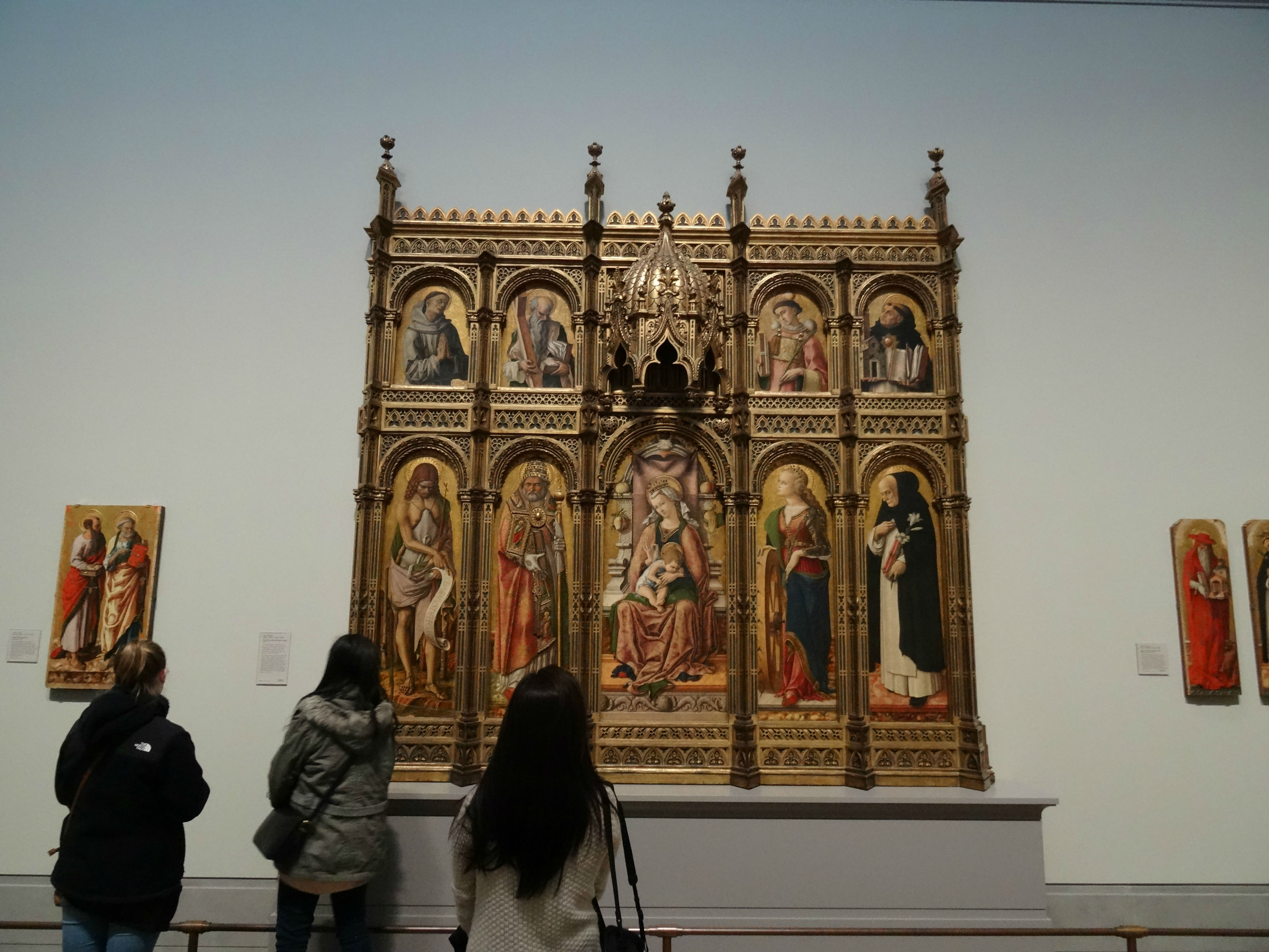 Just next to the Trafalgar Square, is the National Gallery. Do visit if you fancy these art works as admission are free too!
Nearest Metro station: Charing Cross Station (Zone 1)
Chinatown & M&M's World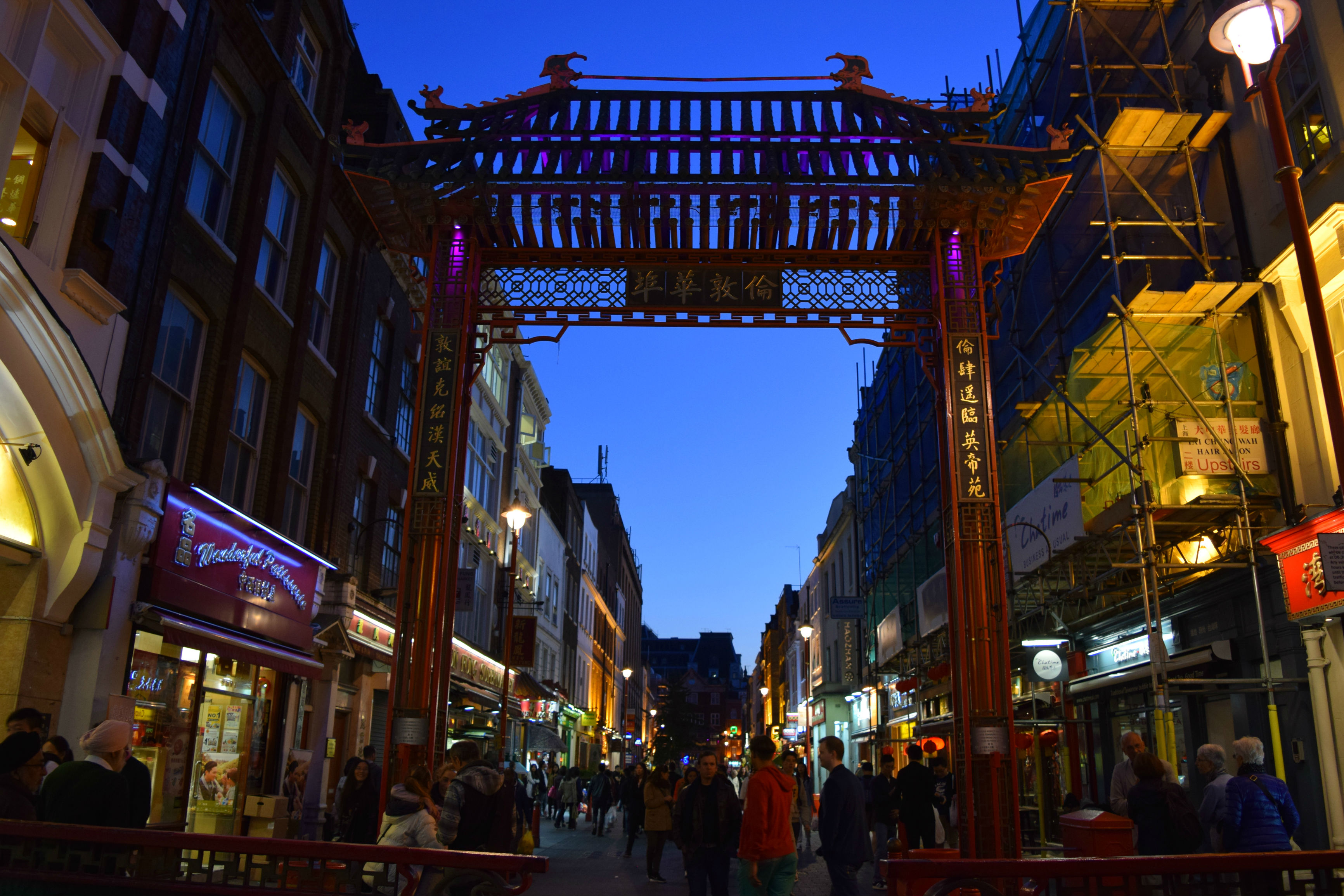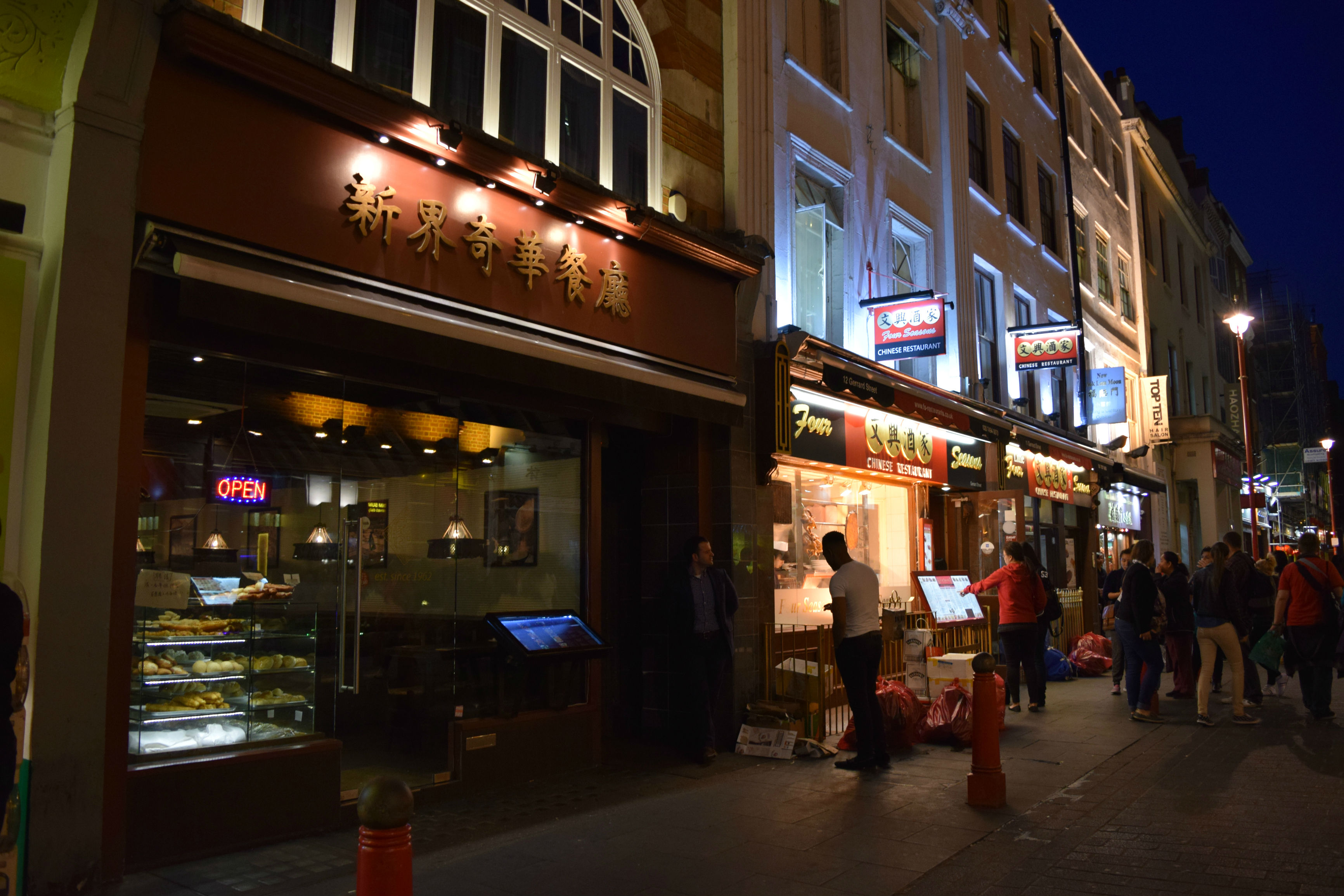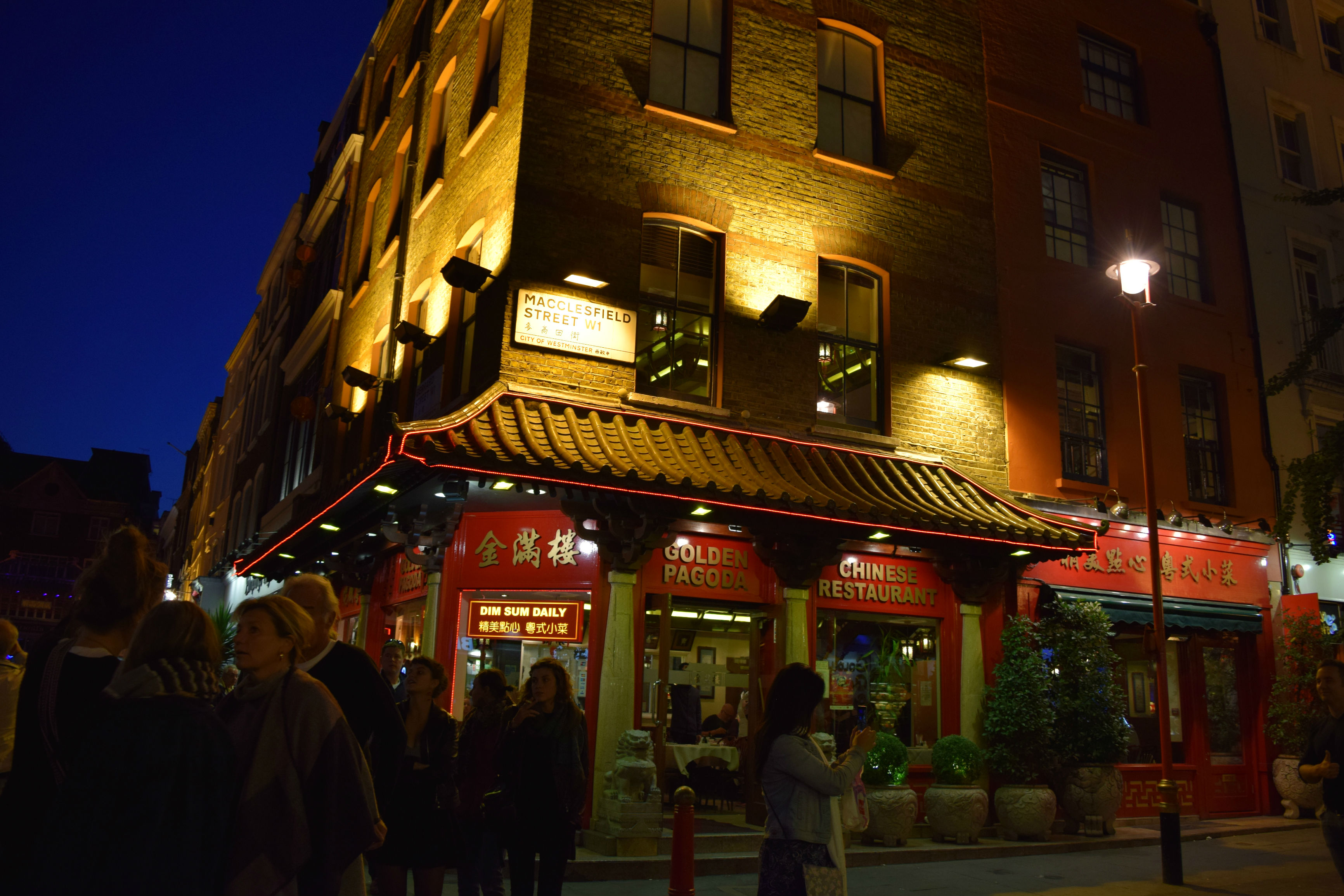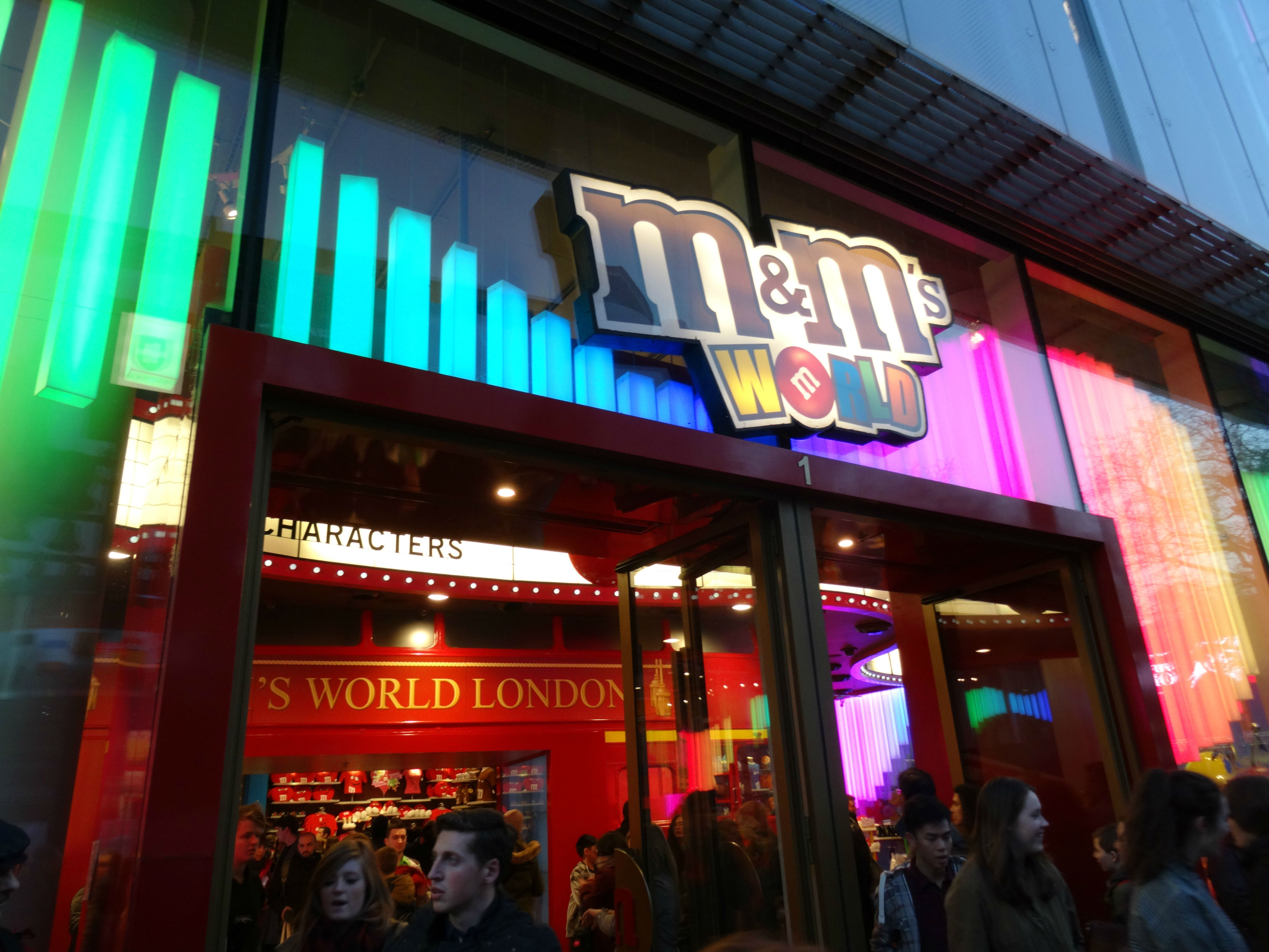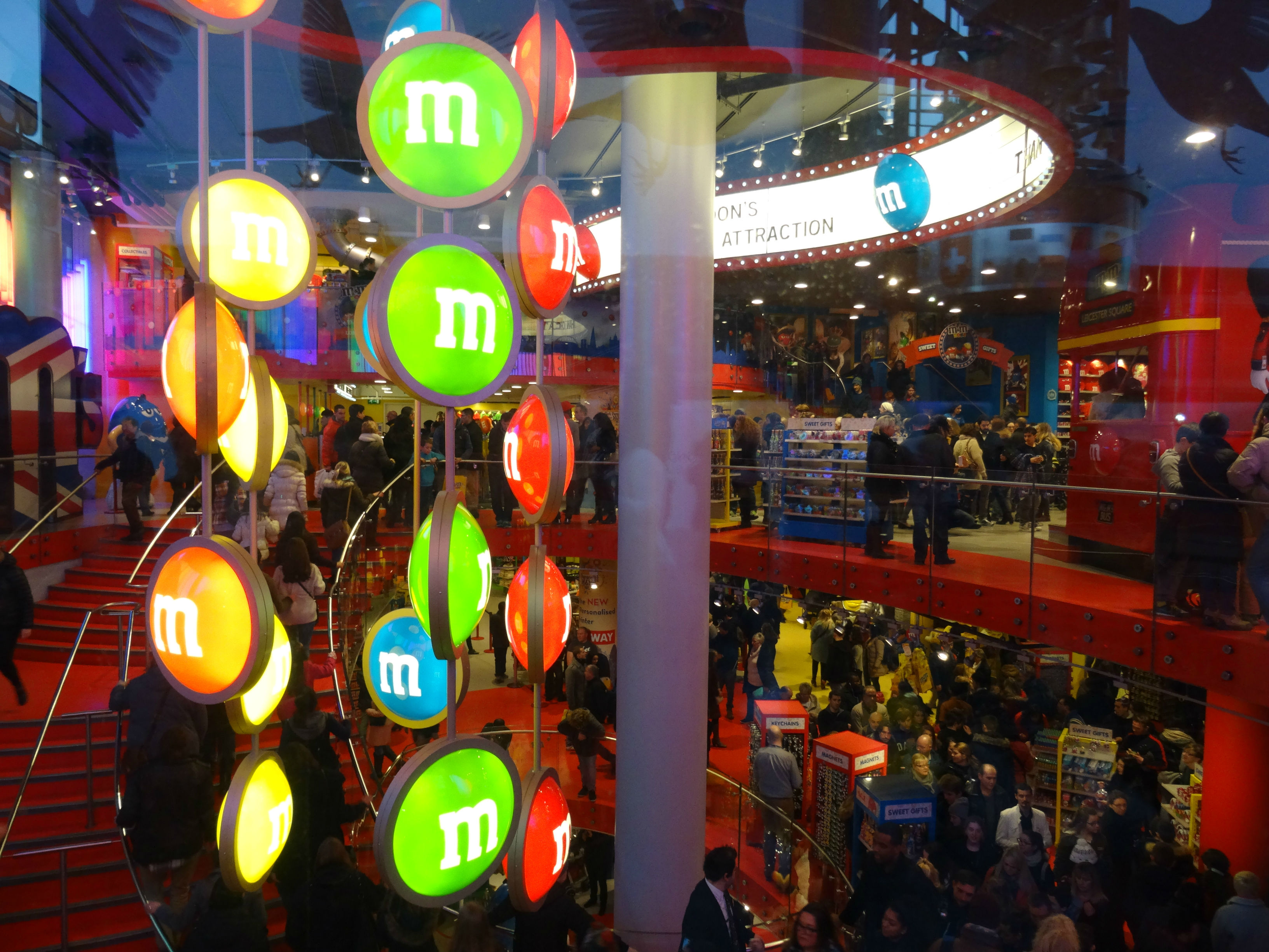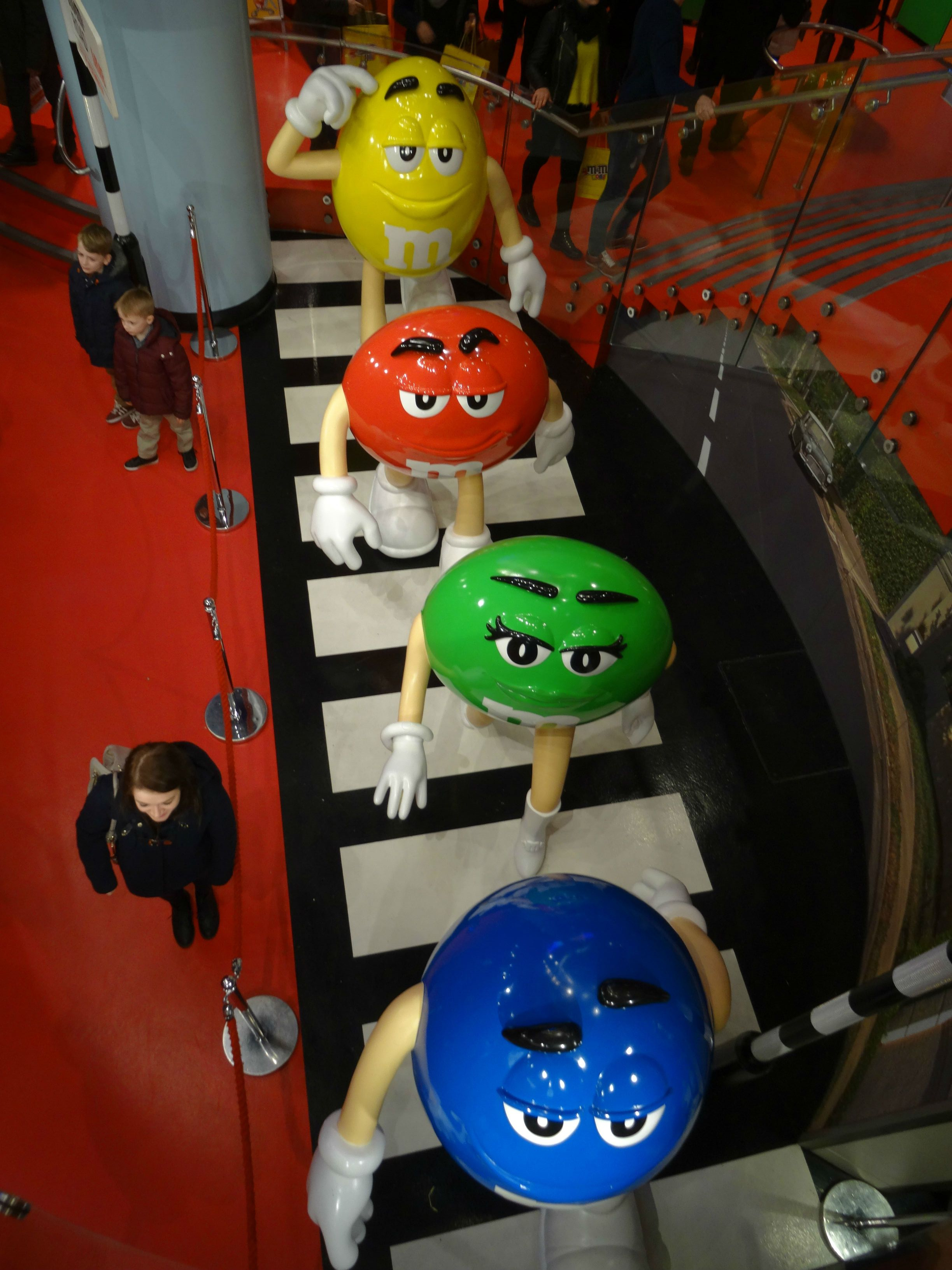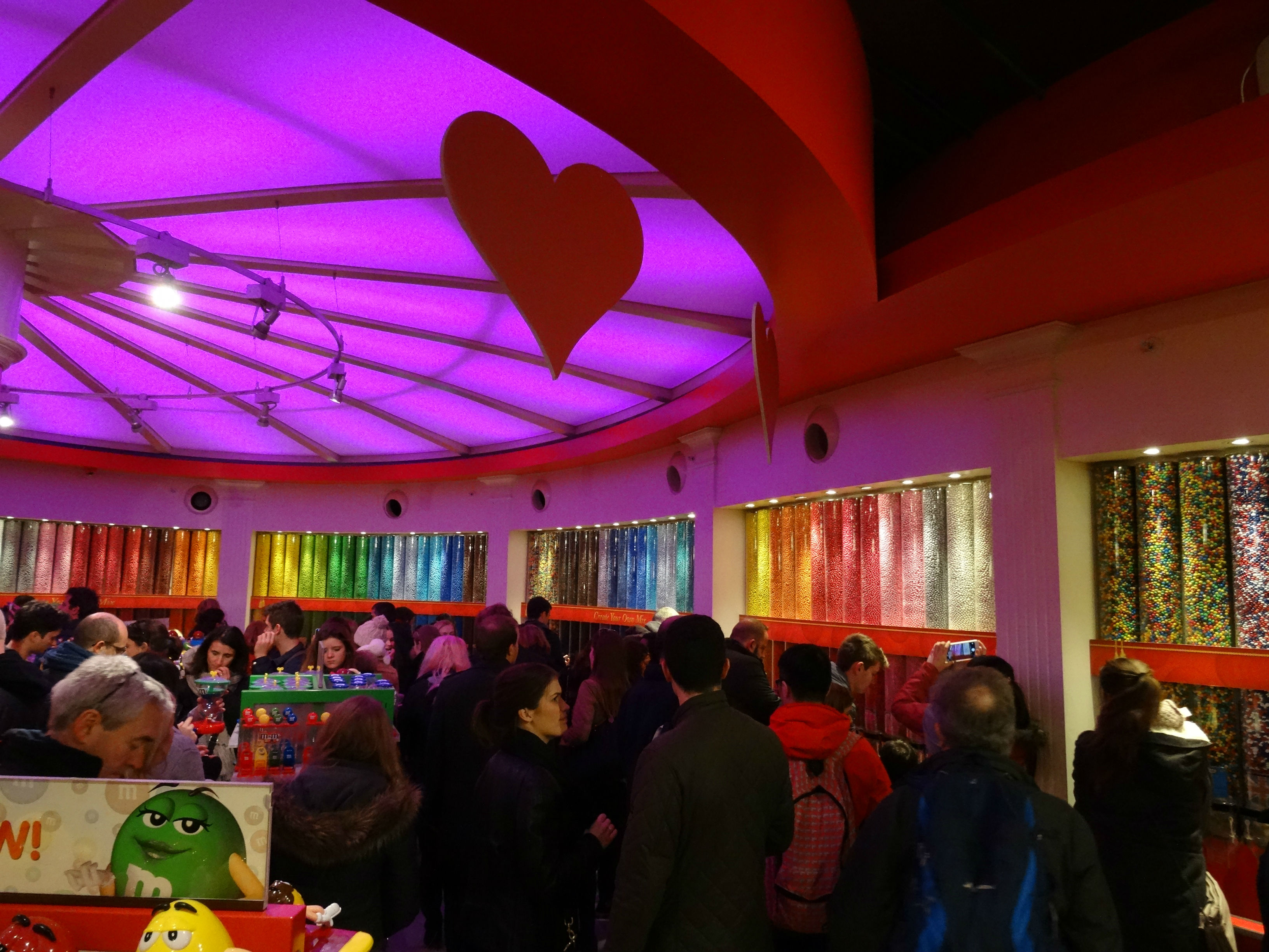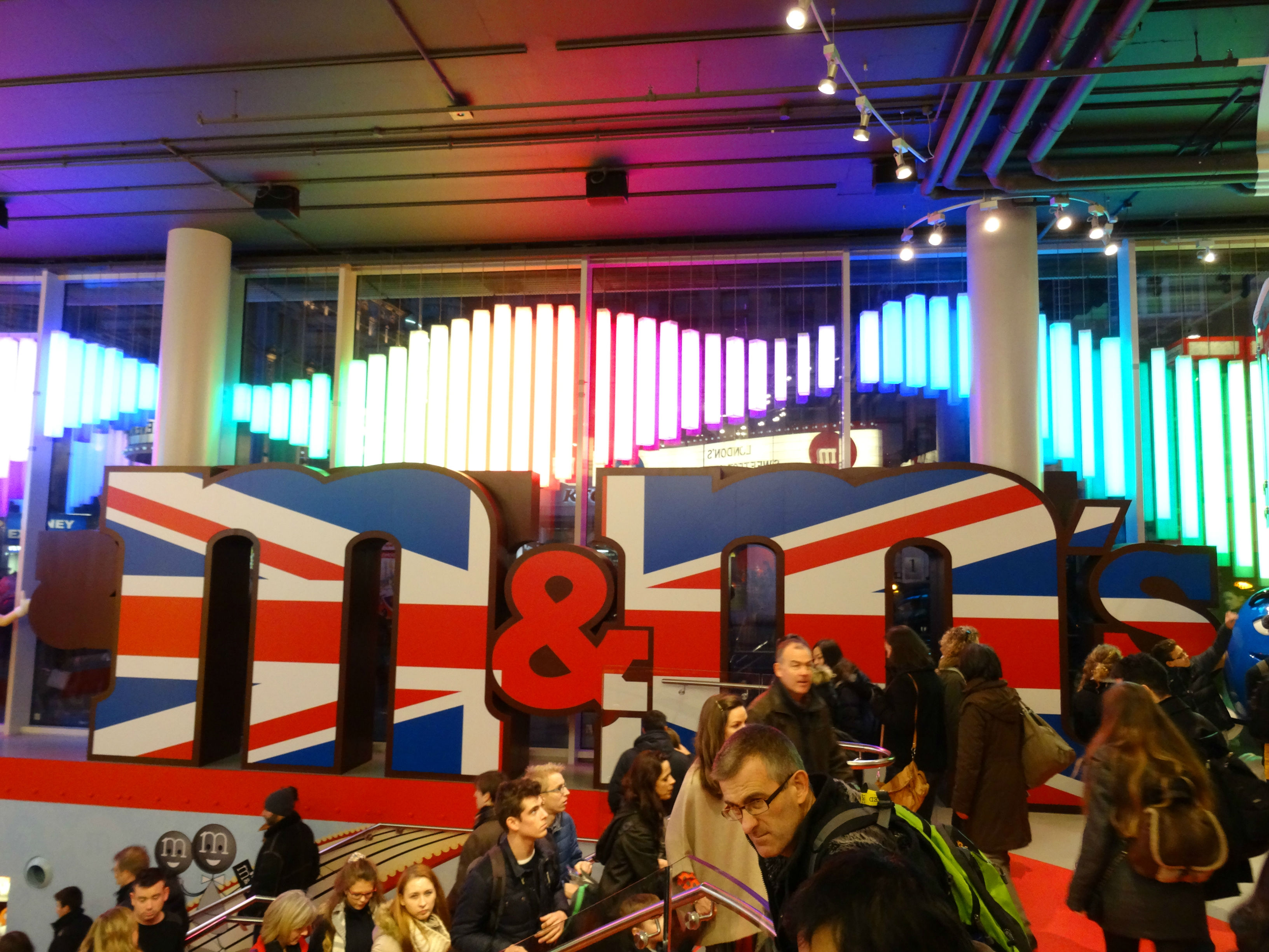 It takes about 10 – 15 minutes walk from Trafalgar Square/National Gallery to Chinatown. In Chinatown, you will find most types of typical Chinese cuisine, that some are really good, and some are bad! I would suggest doing your research, before dining in.
Near to Chinatown, you may also find the M&M's World when you don't just see it anywhere else. It is worth paying a visit its huge stores like this, offering cool goodies and chocolates! Well, M&M's has been part of my childhood's candy.
Nearest Metro station: Leicester Square Station (Zone 1)
London Bridge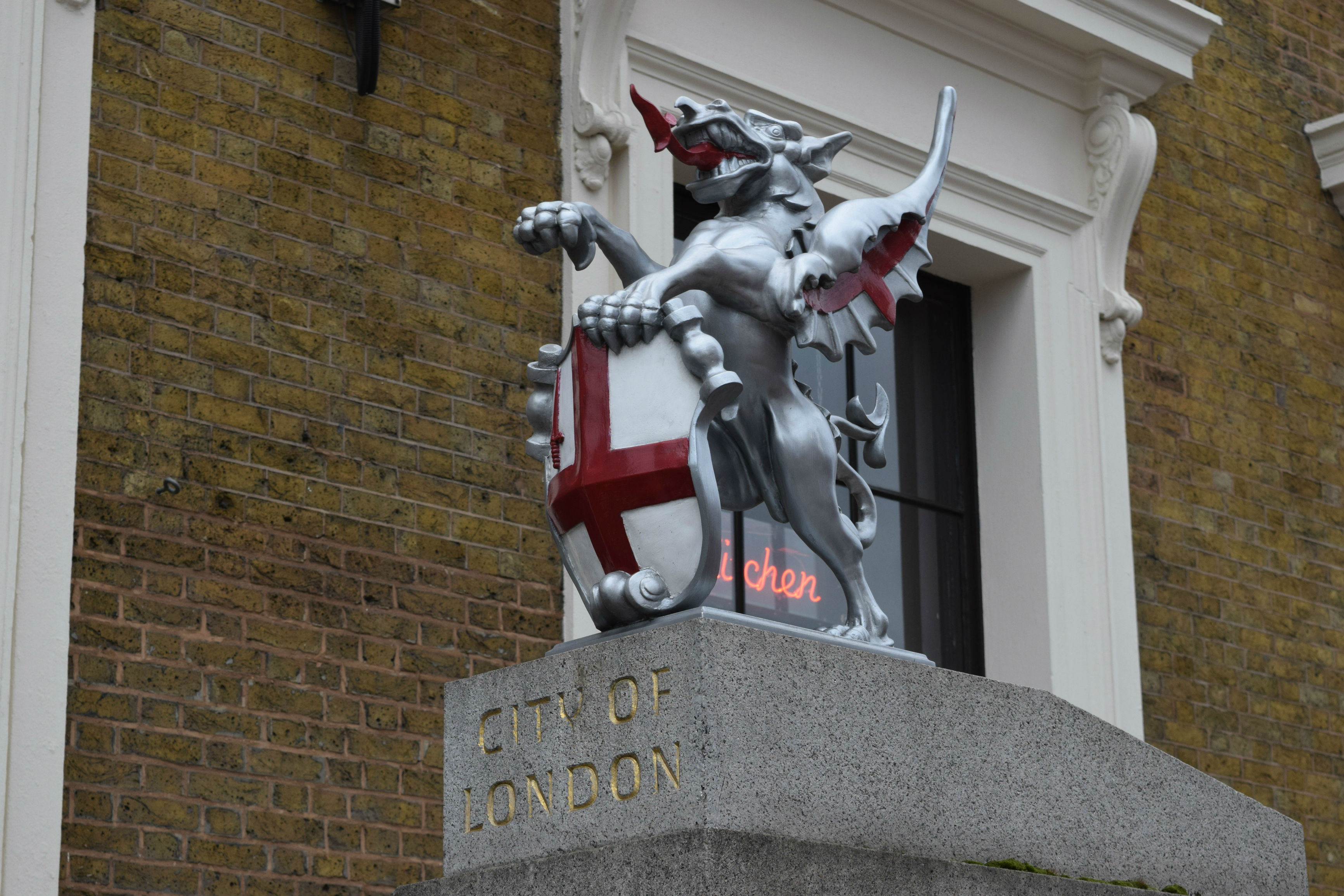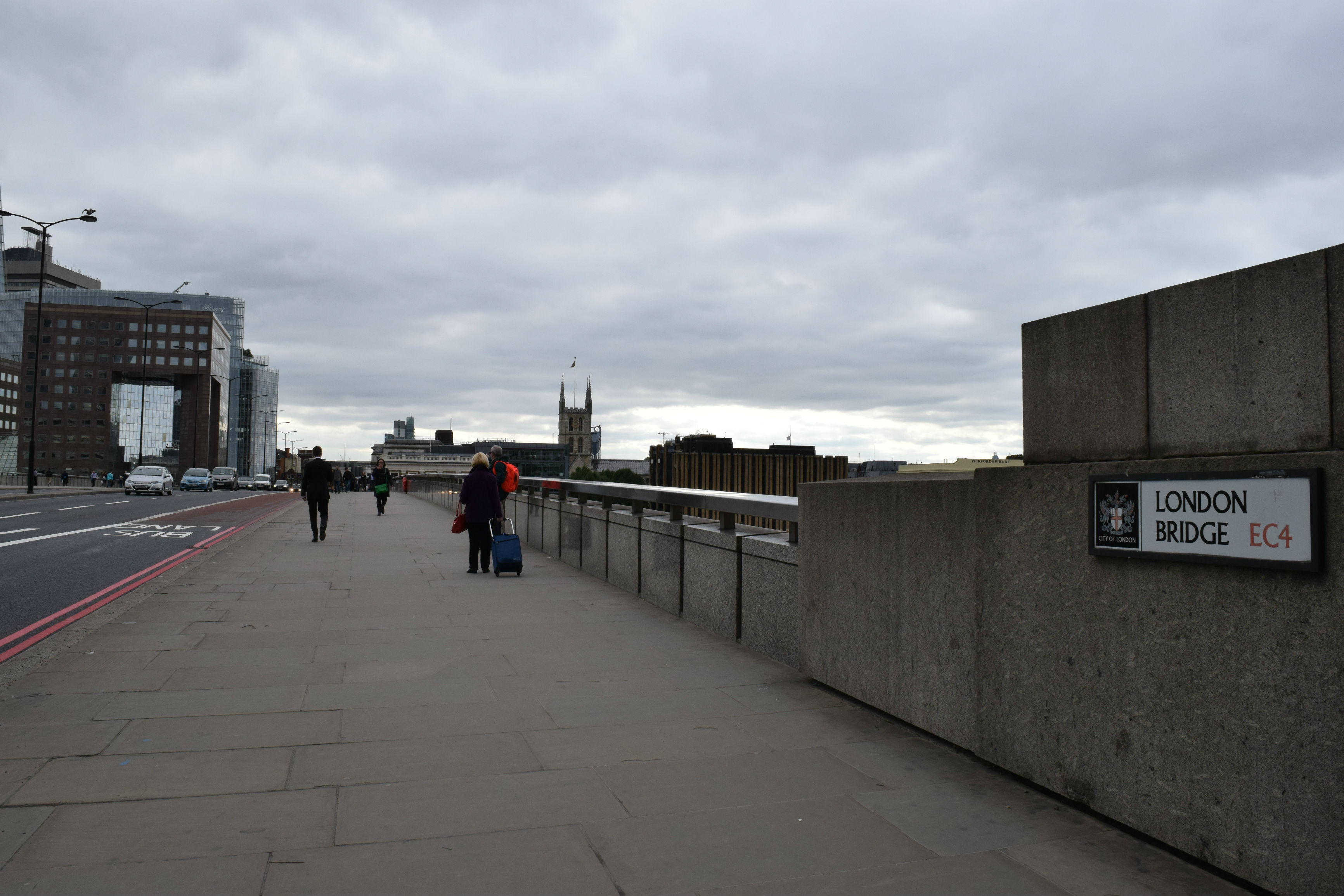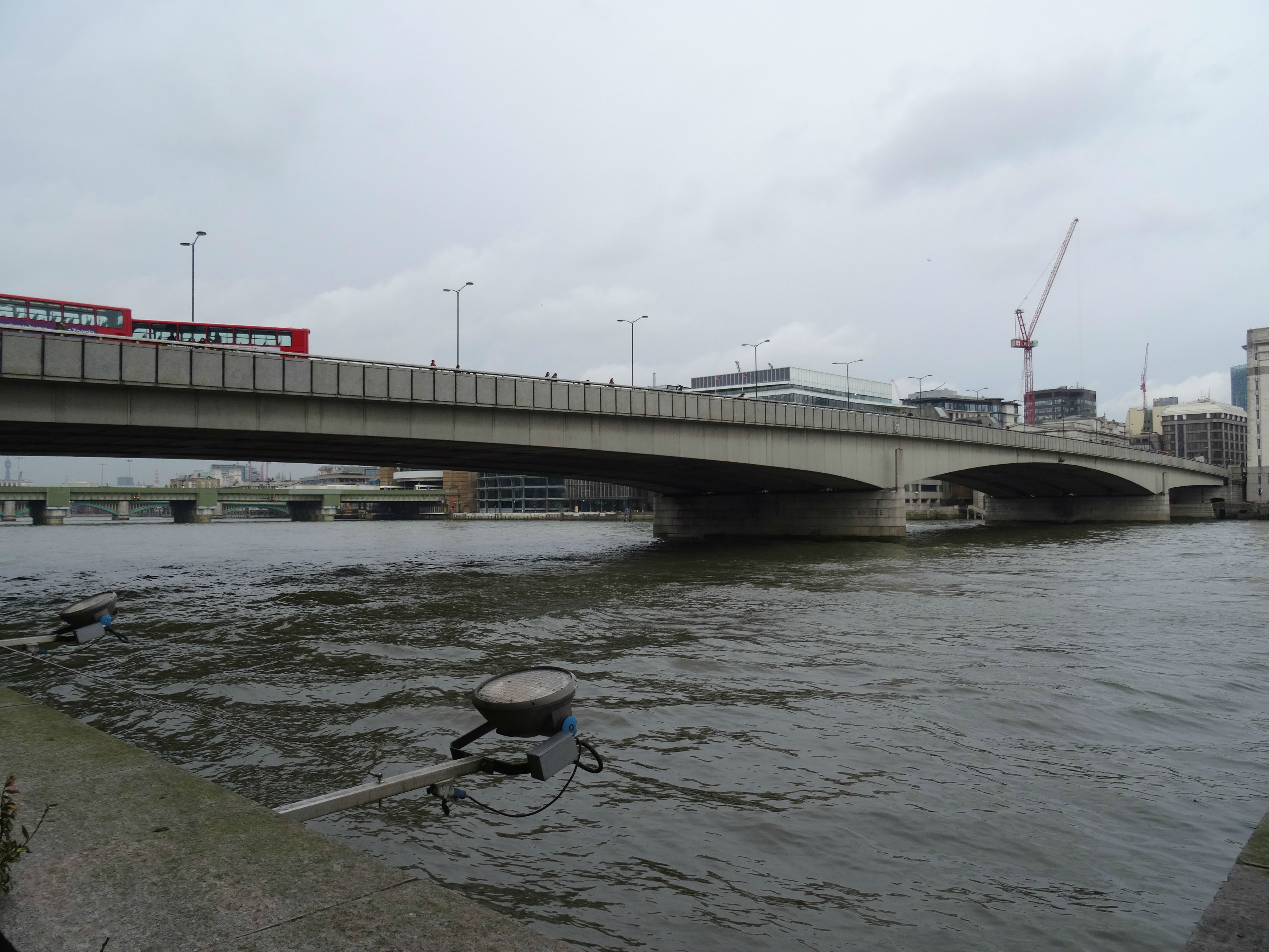 Do not get confused  between the London Bridge,and the Tower Bridge. Though, London Bridge does look ordinary but however, it has a history back in the medieval times.
Just to enlighten you, have you heard of the old nursery rhymes, "London Bridge Is Falling Down"? It was said that during medieval times, there are houses and buildings that were built on the London's Bridge got caught on a fire hazard and the bridge had to be rebuilt over the centuries.
Nearest Metro station: London Bridge Station (Zone 1)
Walking by River Thame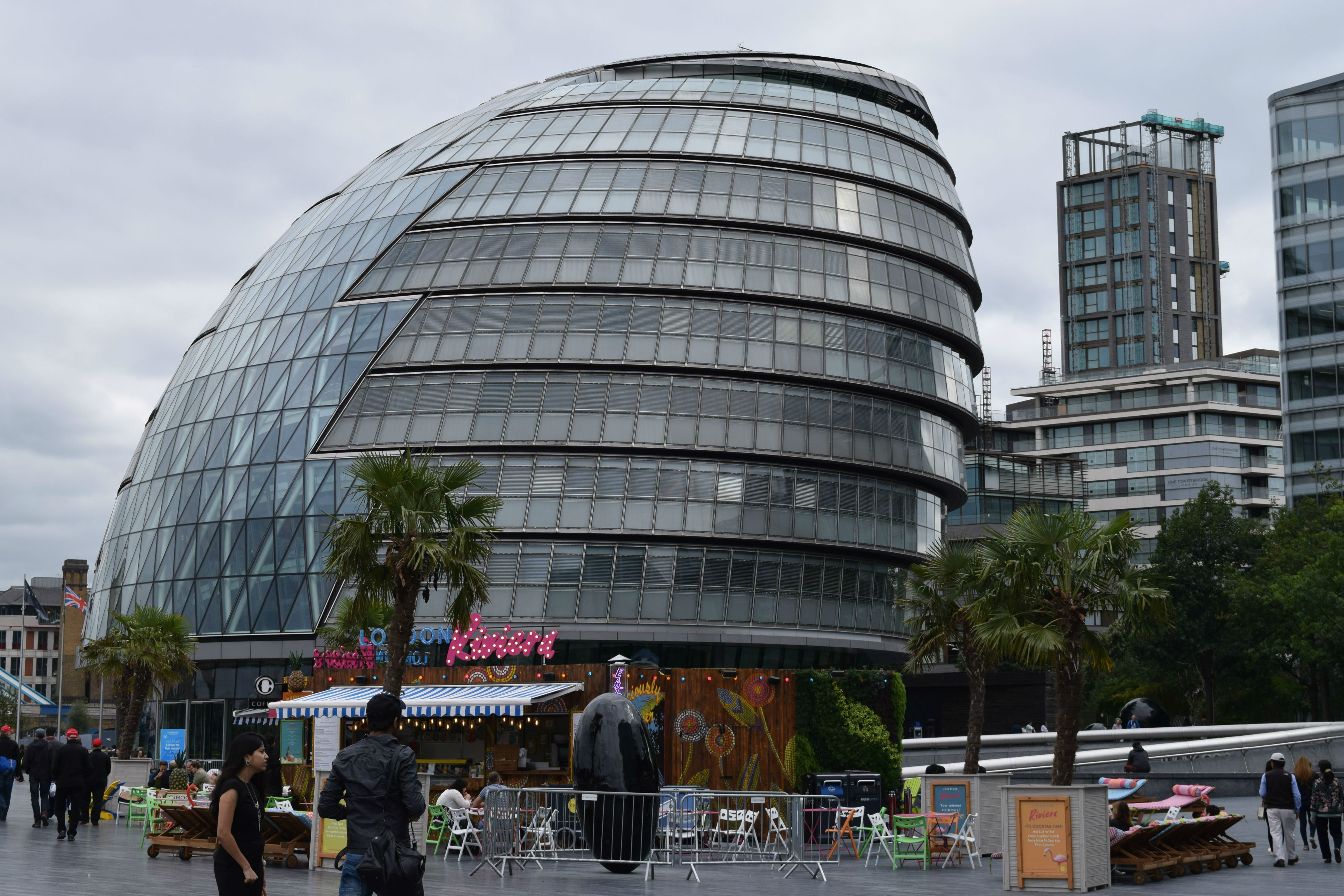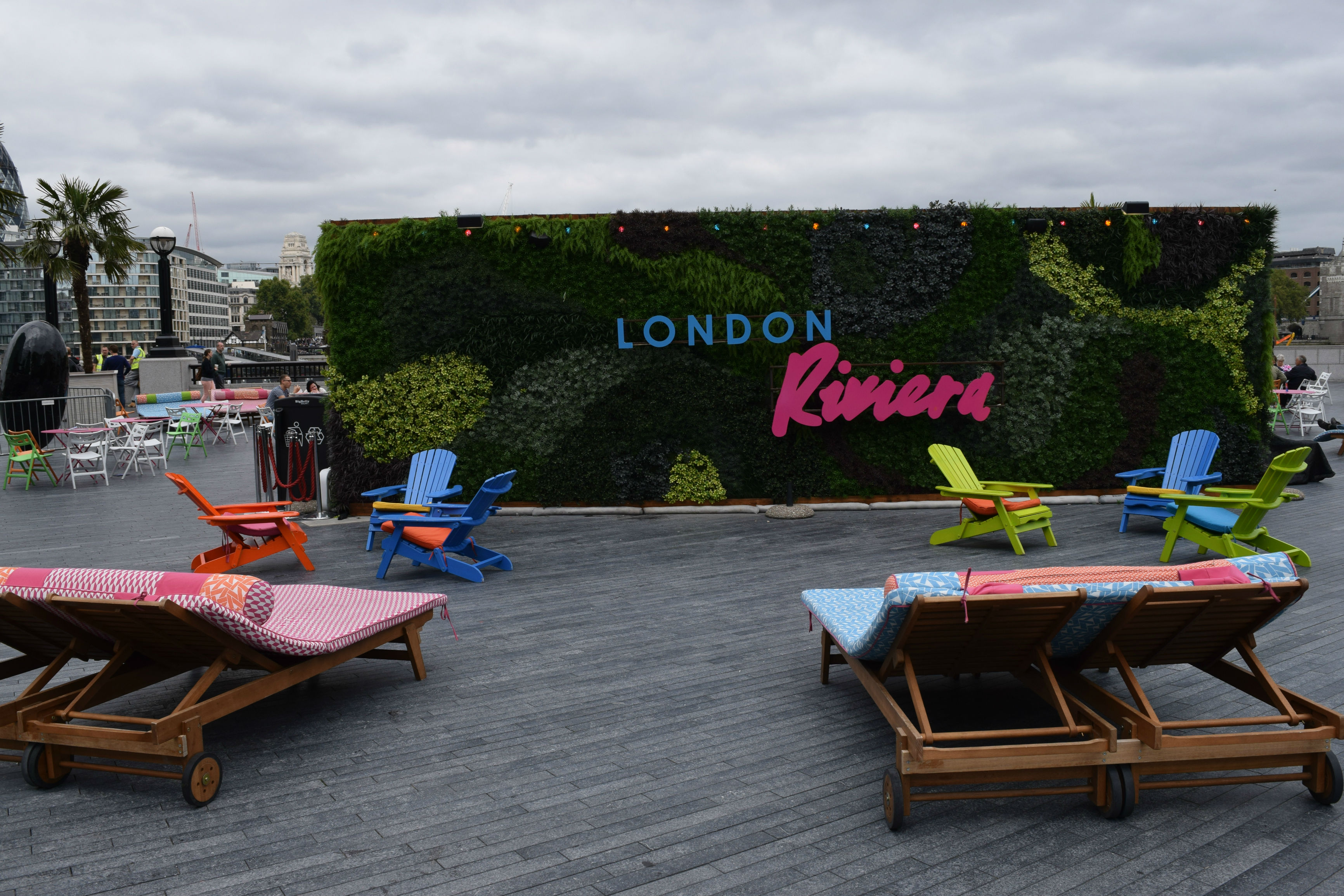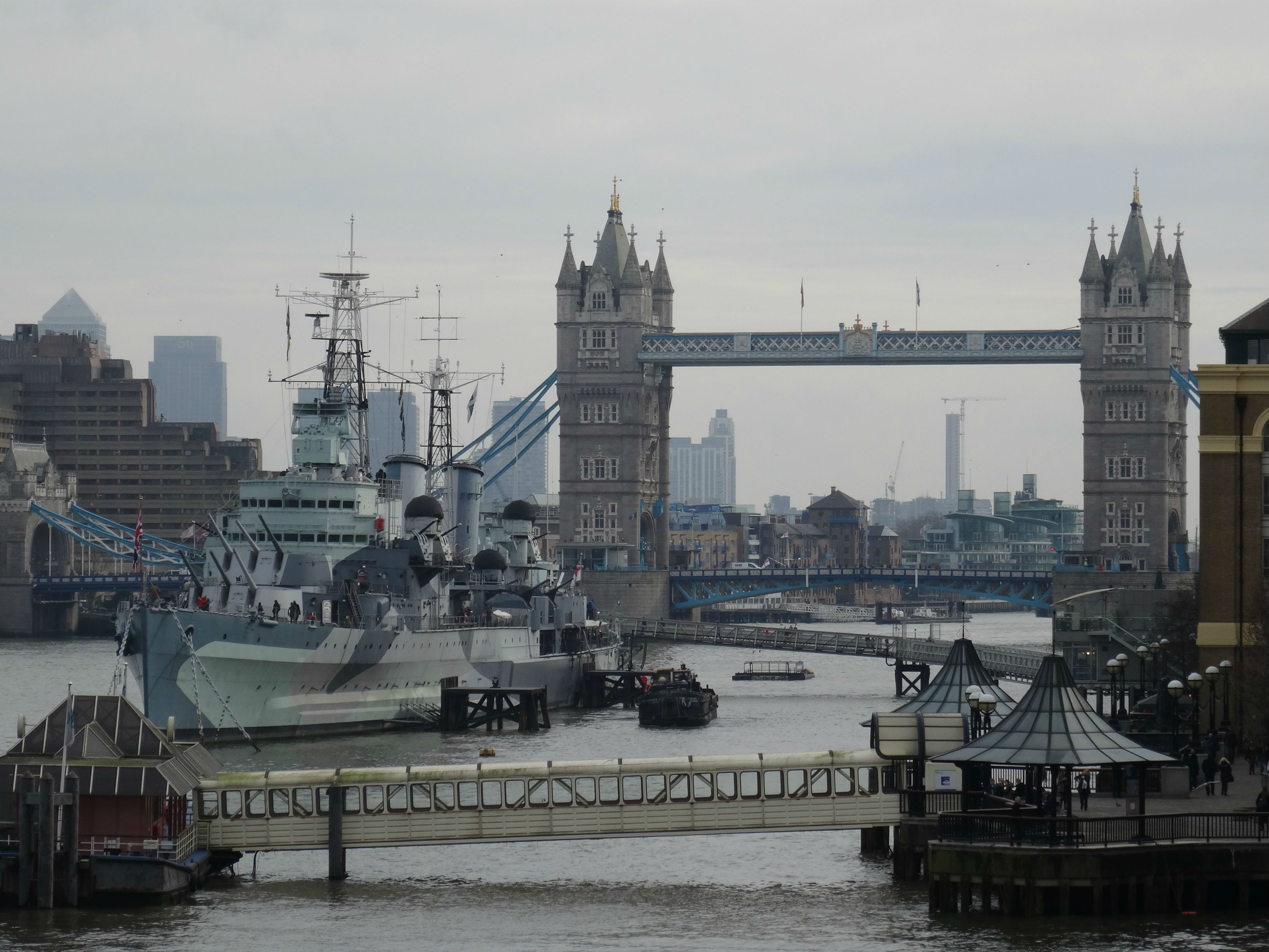 You may take a good stroll/walk down River Thame, from London's Bridge leading down to the Tower Bridge's direction. From here, you will come across various restaurants for dining-in, and most importantly a perfect view of capturing the famous Tower Bridge!
Nearest Metro station: London Bridge Station (Zone 1)
Tower Bridge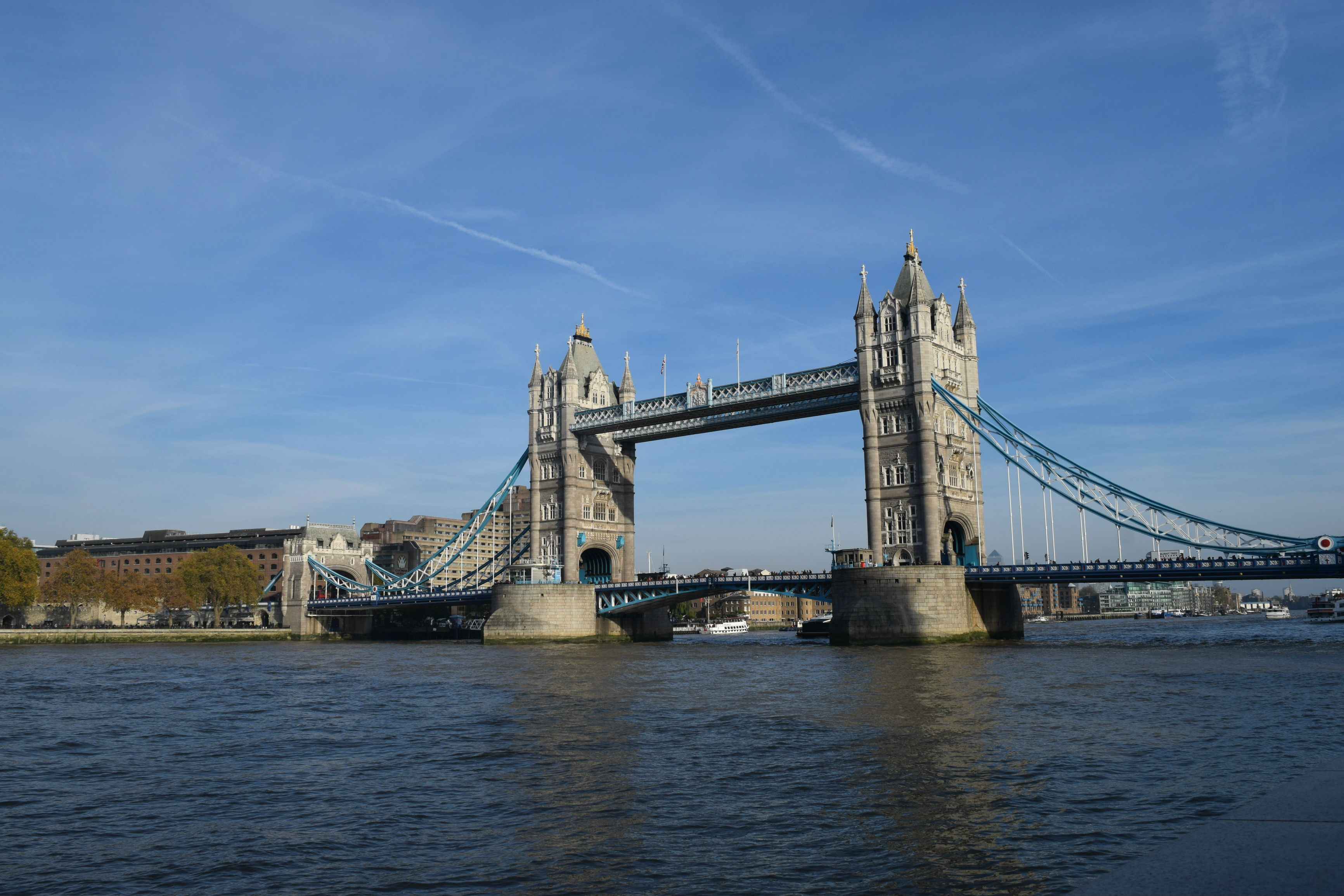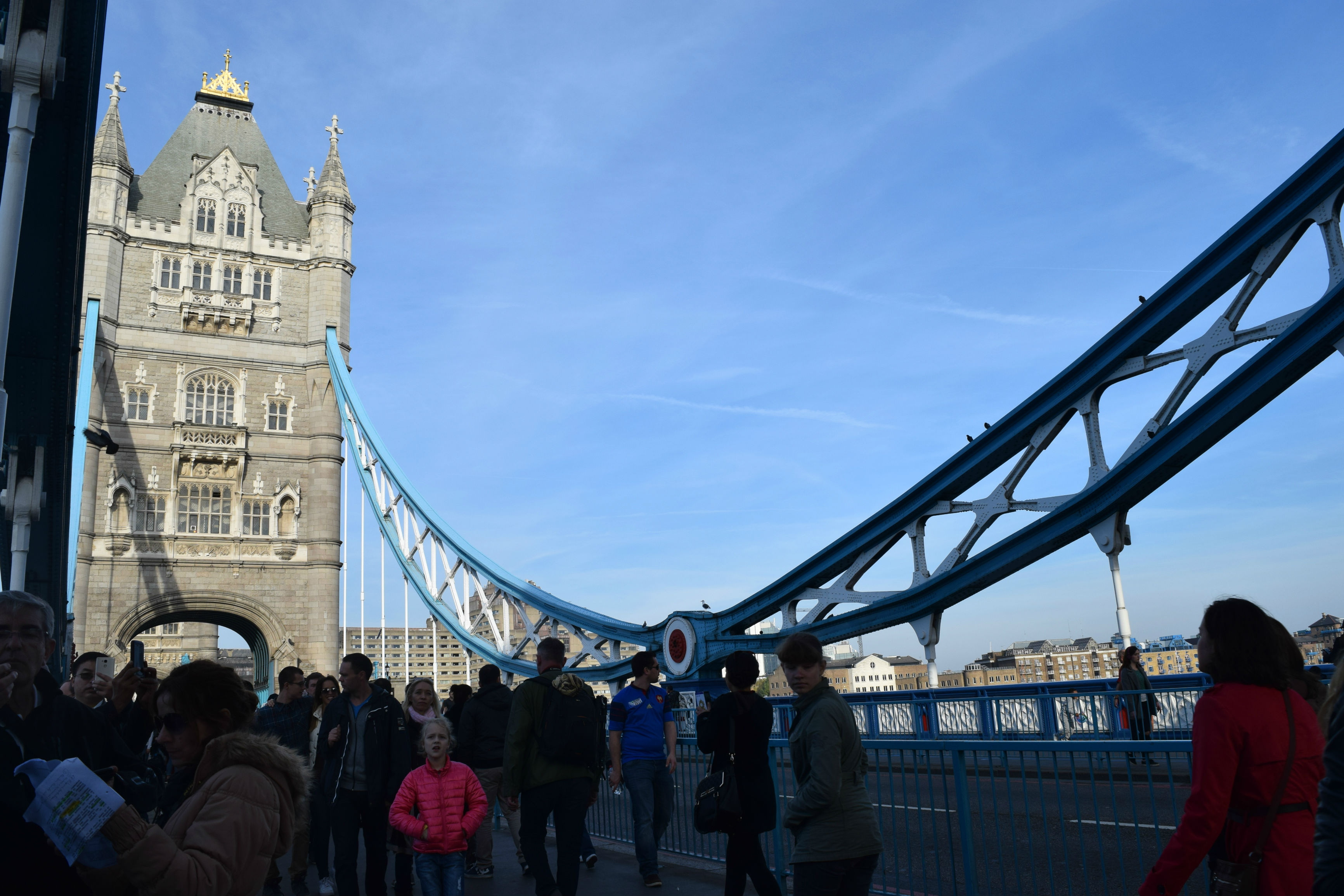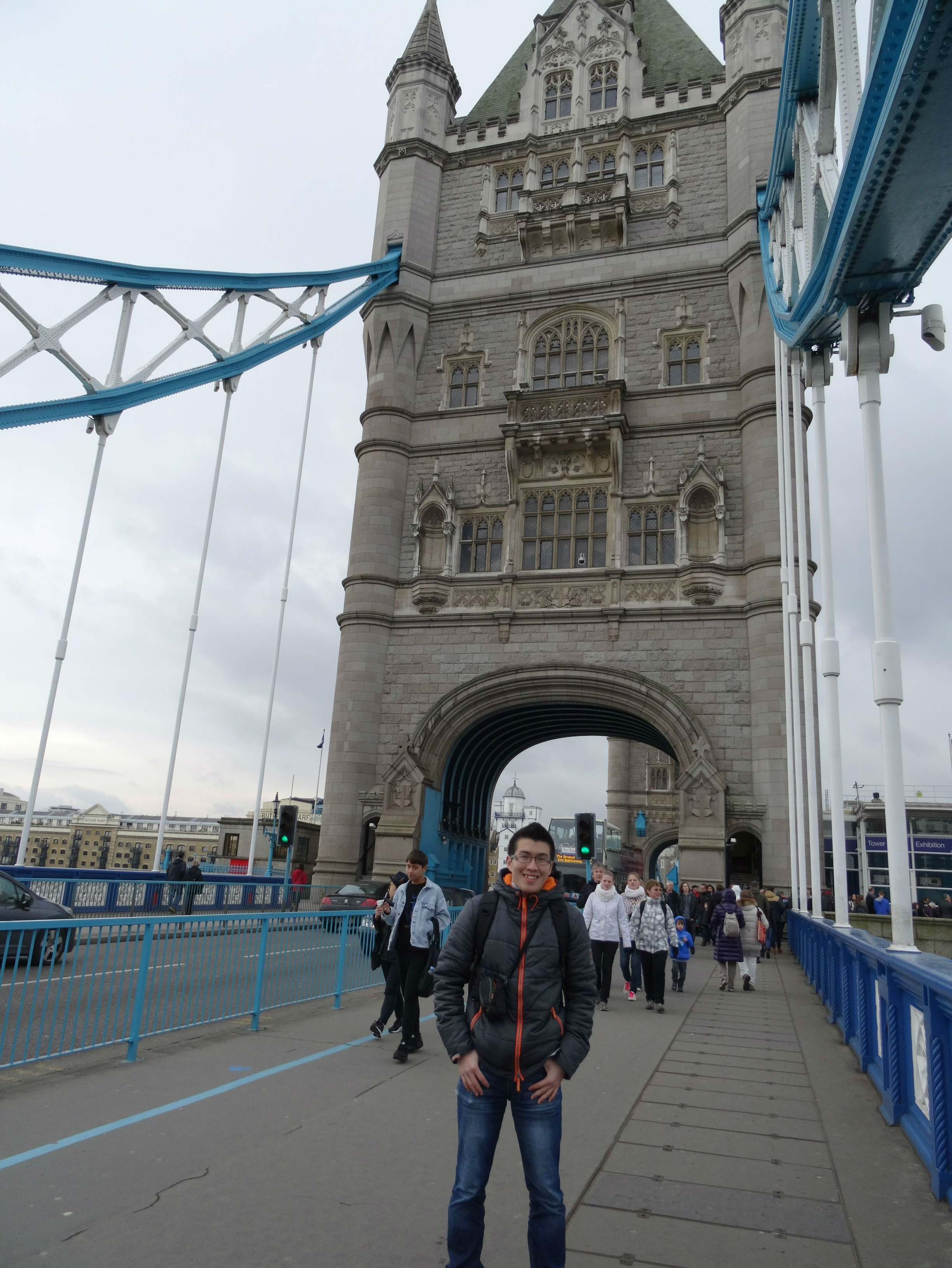 It takes between 10 – 15 minutes walk from London's Bridge to the Tower Bridge. While you make your way through, you will have got good view and space to really take a good snapshot of the Tower Bridge.
Tower Bridge is one landmark that you will certainly visit during your time here in London. You may also climb the Tower Bridge by participating its Exhibition, with a fee.
You may visit Tower Bridge – Website for more information.
Nearest Metro station: London Bridge or Tower Hill Station (Zone 1)
Tower of London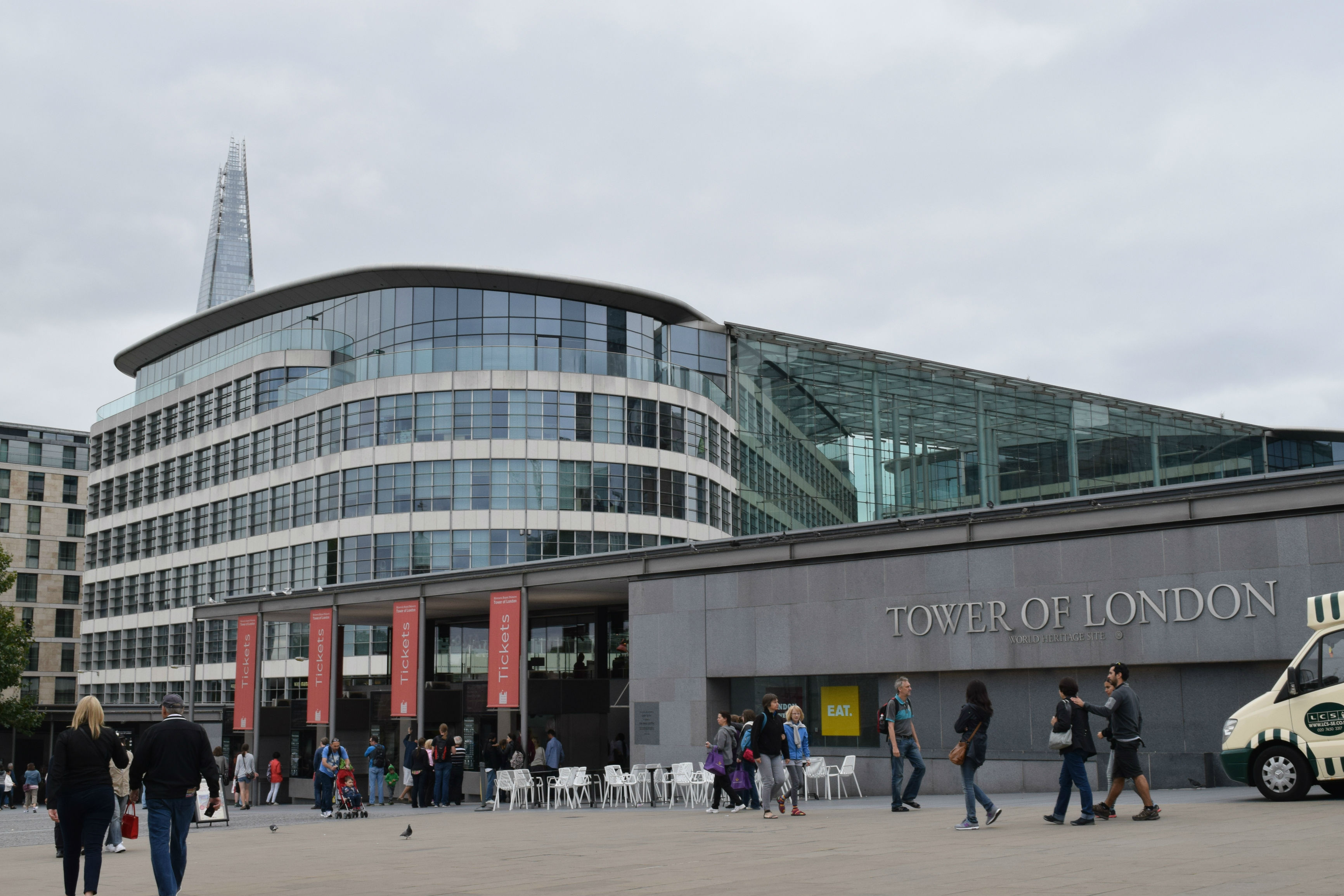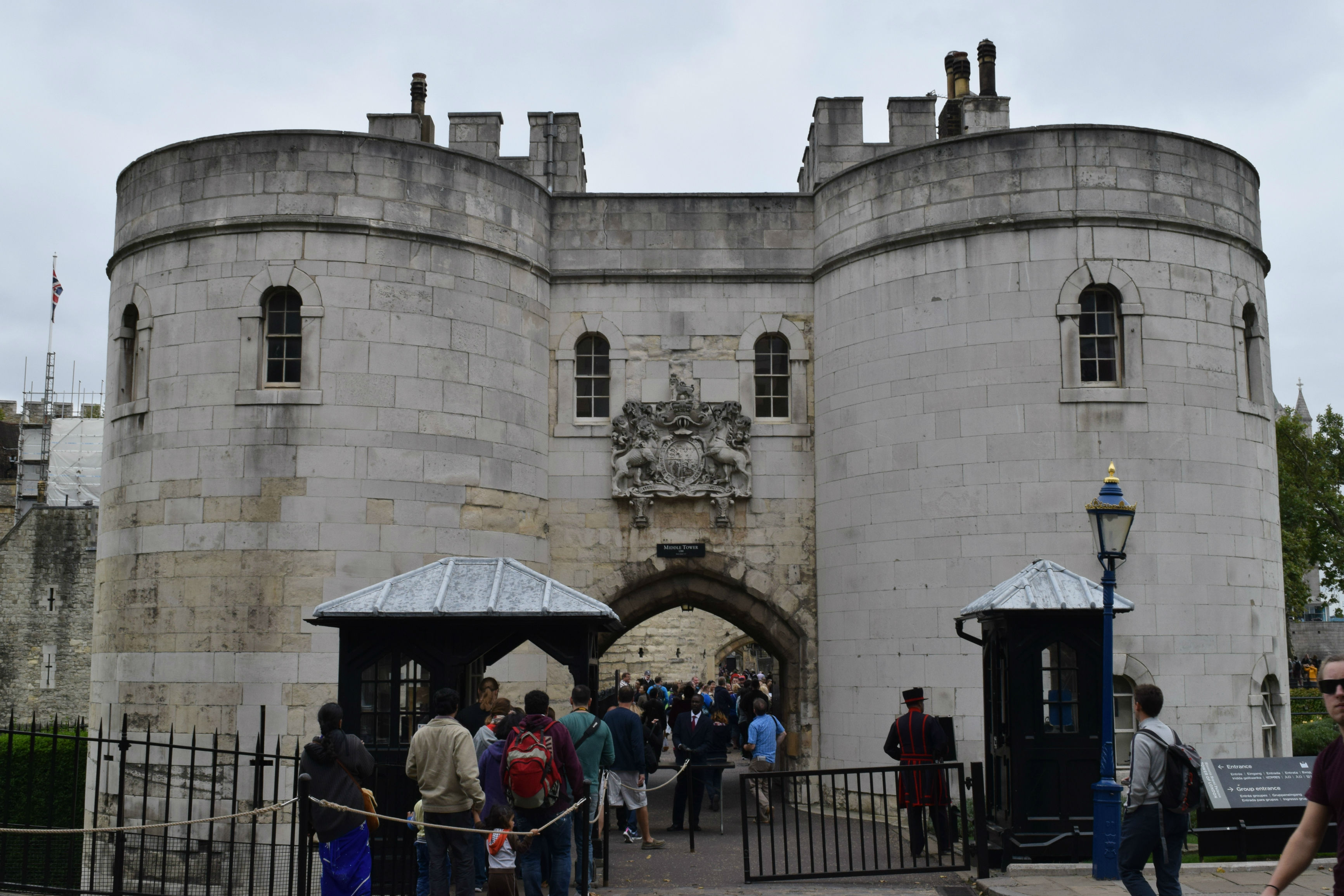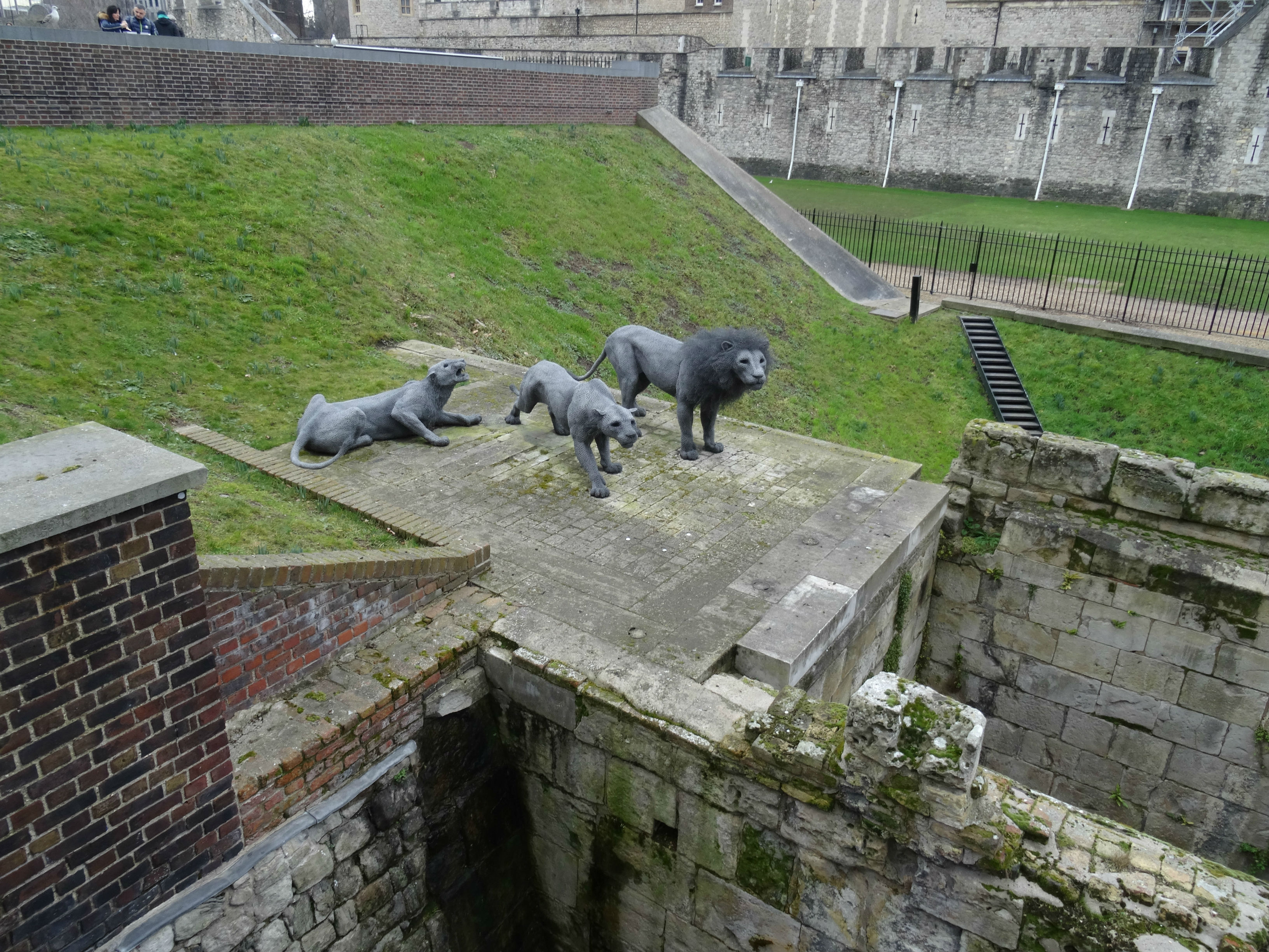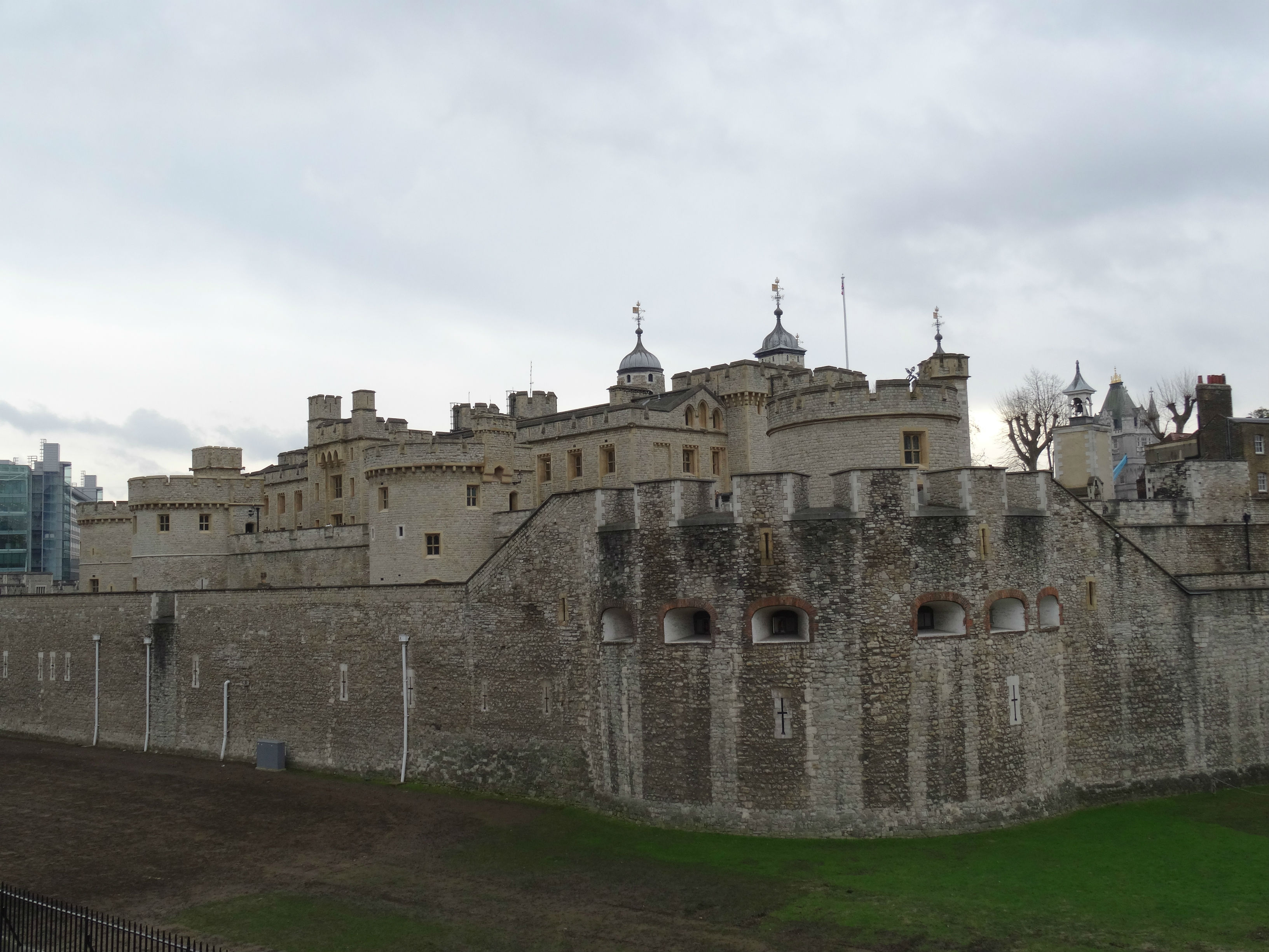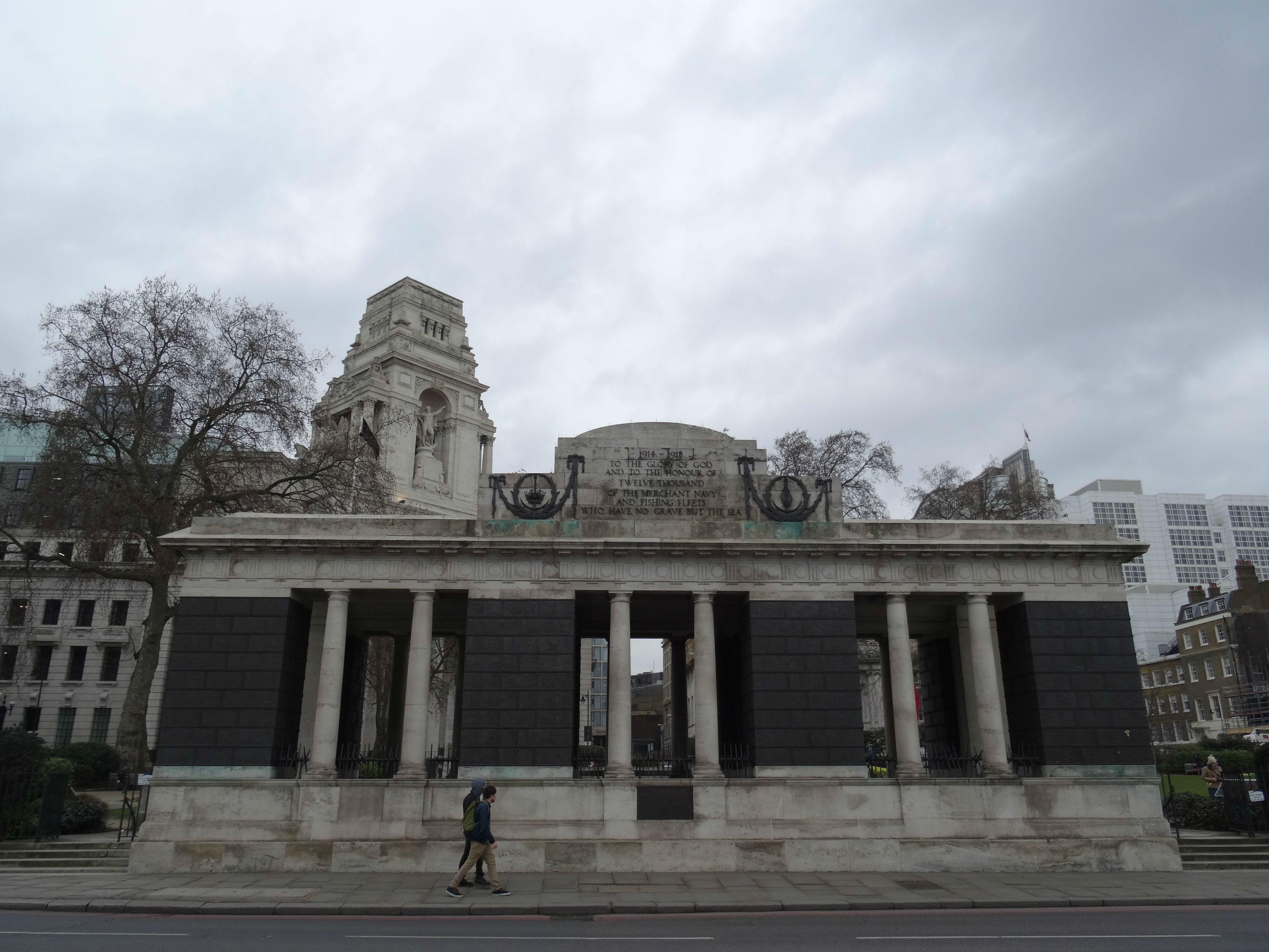 Over on the other side of River Thames is the Tower of London, which was once used as a prison and also served as a royal residence.
Nearest Metro station: Tower Hill station (Zone 1)
The British Museum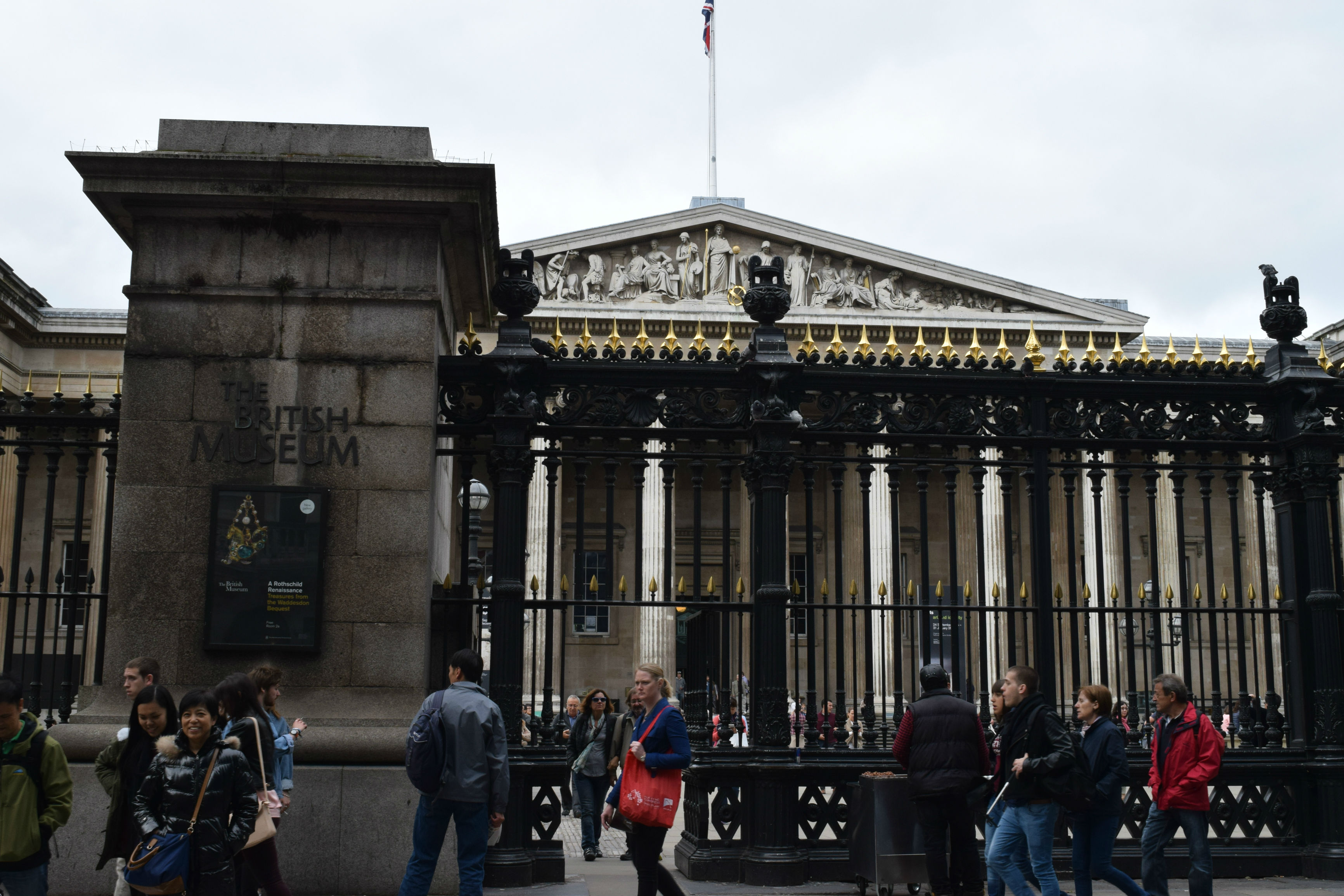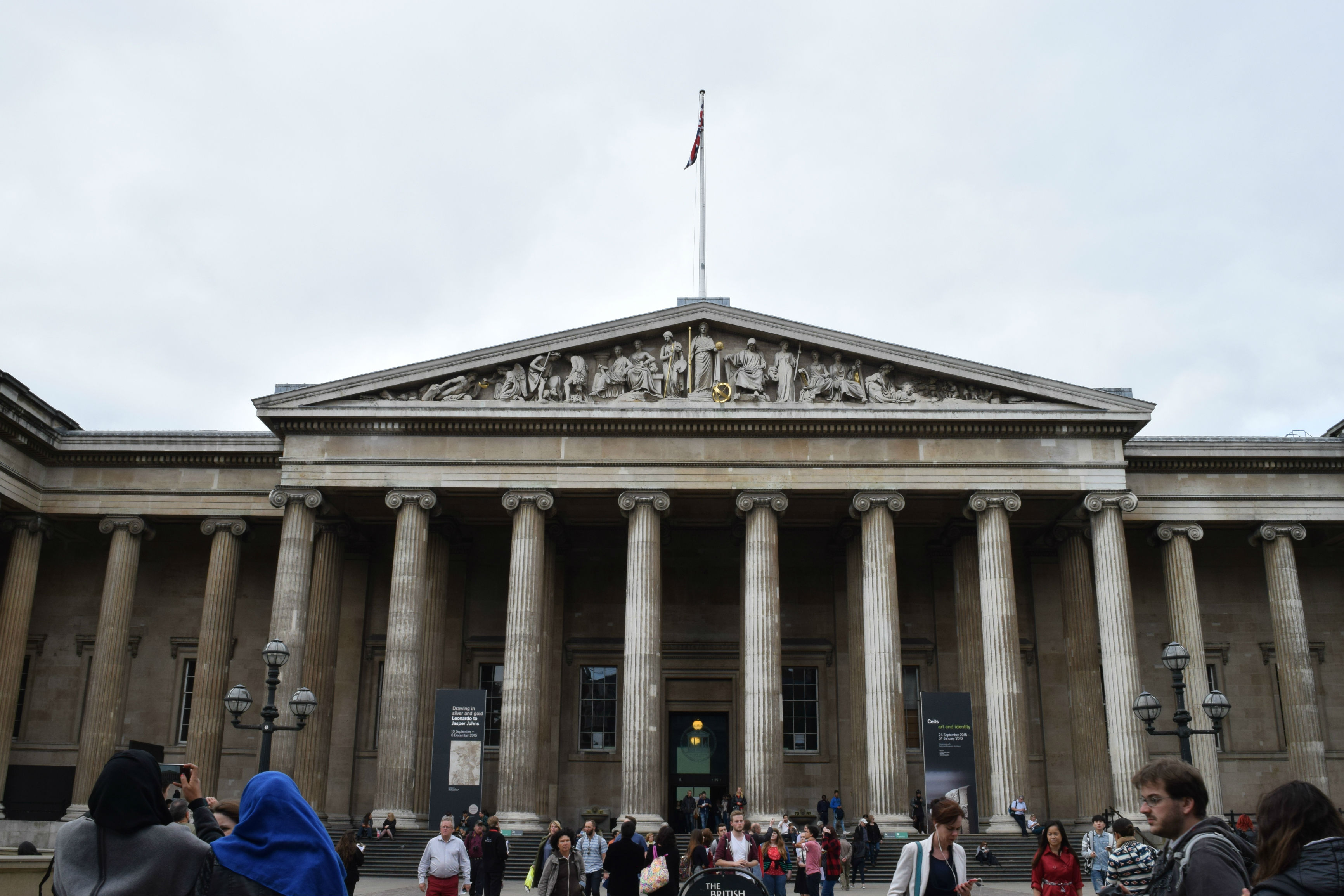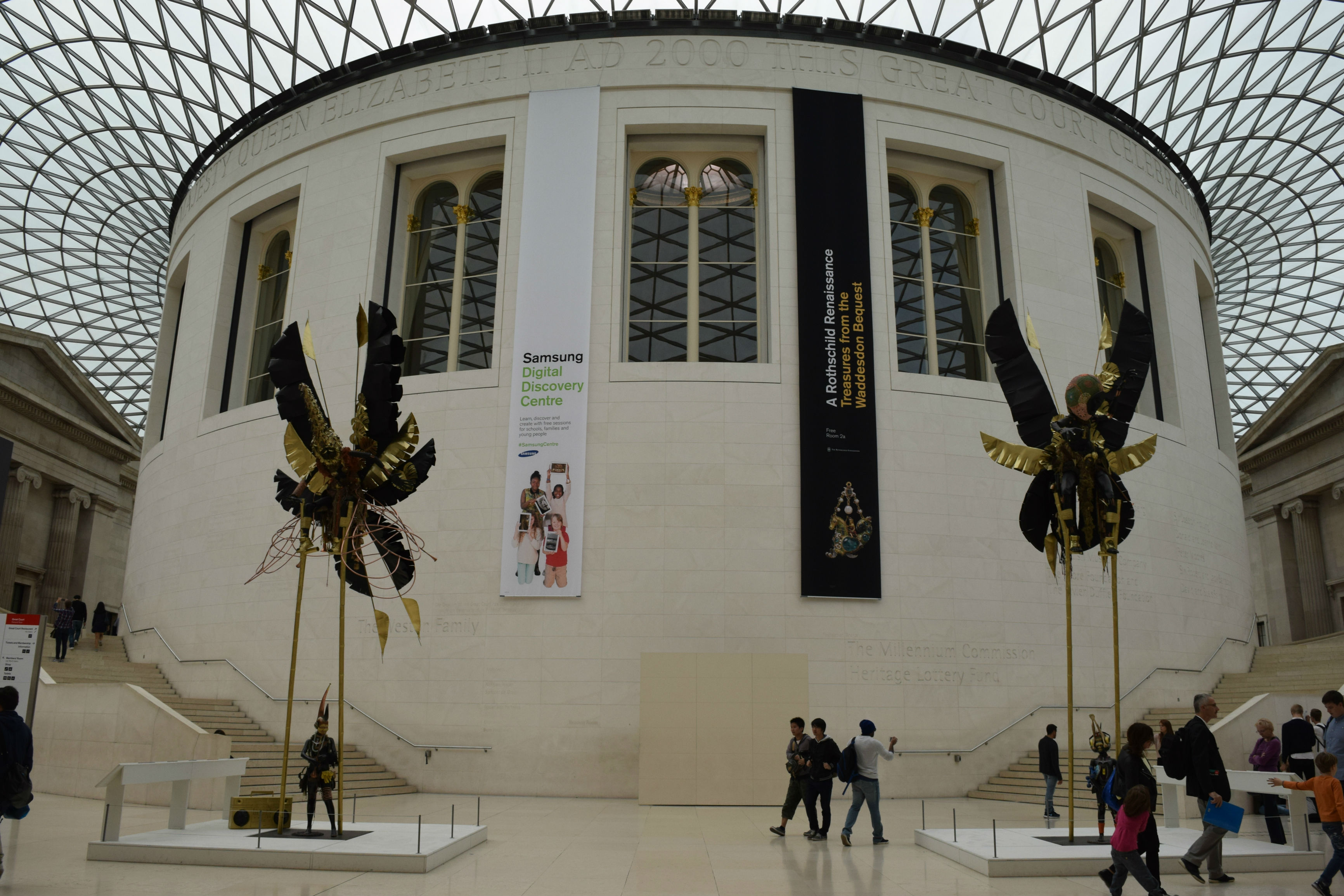 I find that the British Museum is one of the greatest and an-eye opening experience for all the museums I have visited in Europe. Probably because of the different theme and ancient histories that they have got to display in their archives.
I have learned a lot from the British Museum and it was not disappointing even during my second visit! Also, the admissions are free too!
Nearest Metro station: Tottenham Court Road Station (Zone 1)
Oxford & Regent Street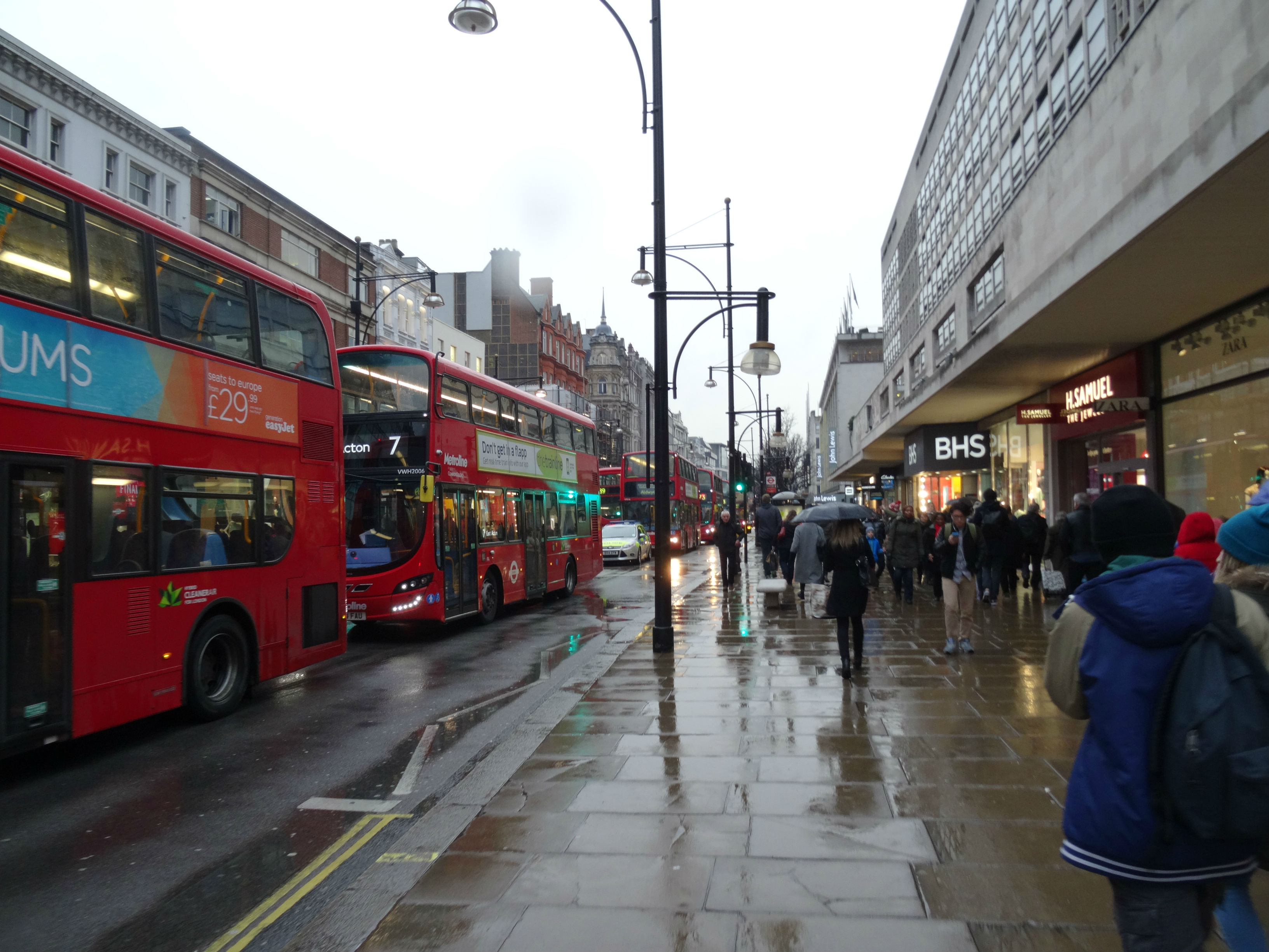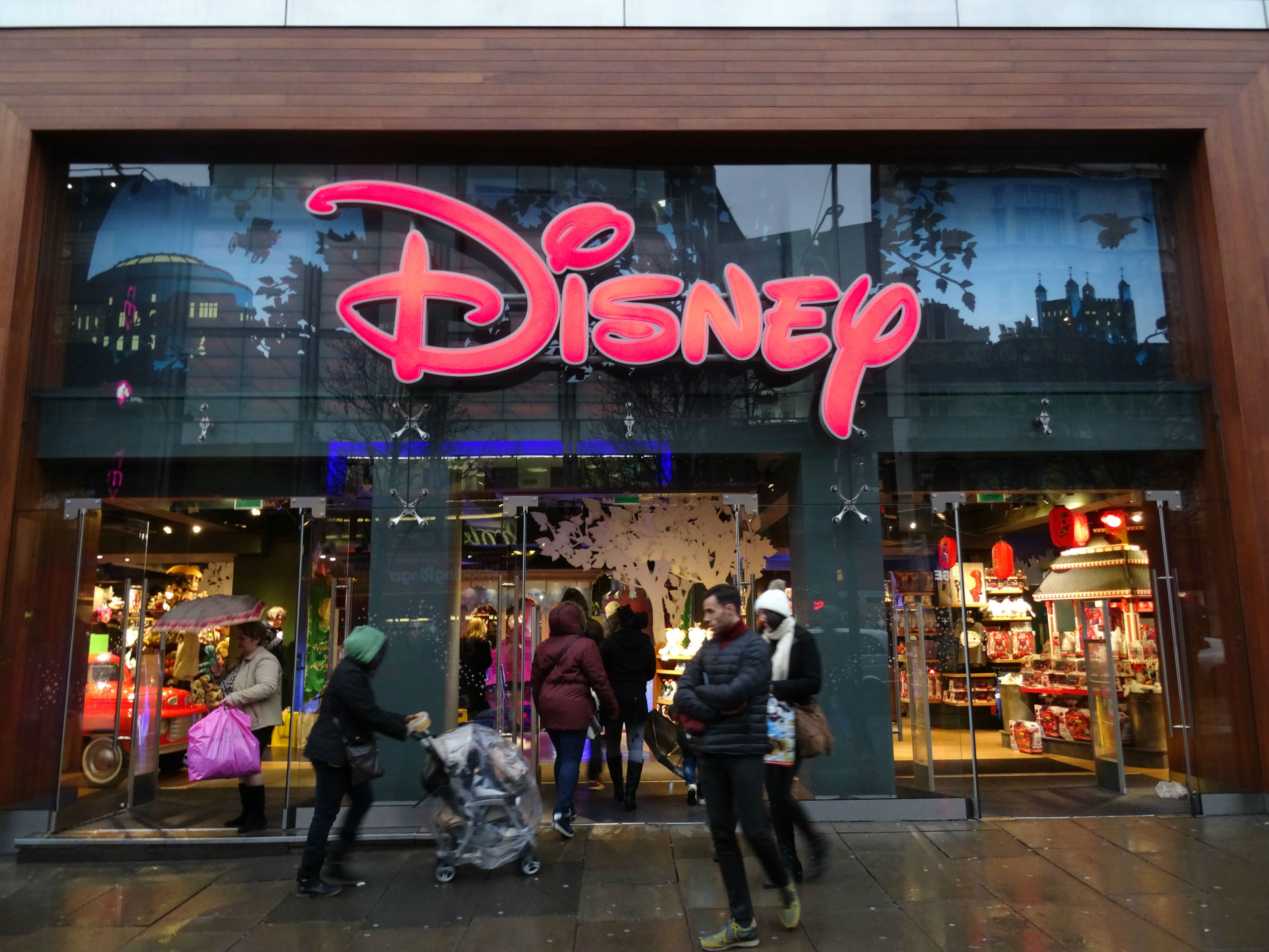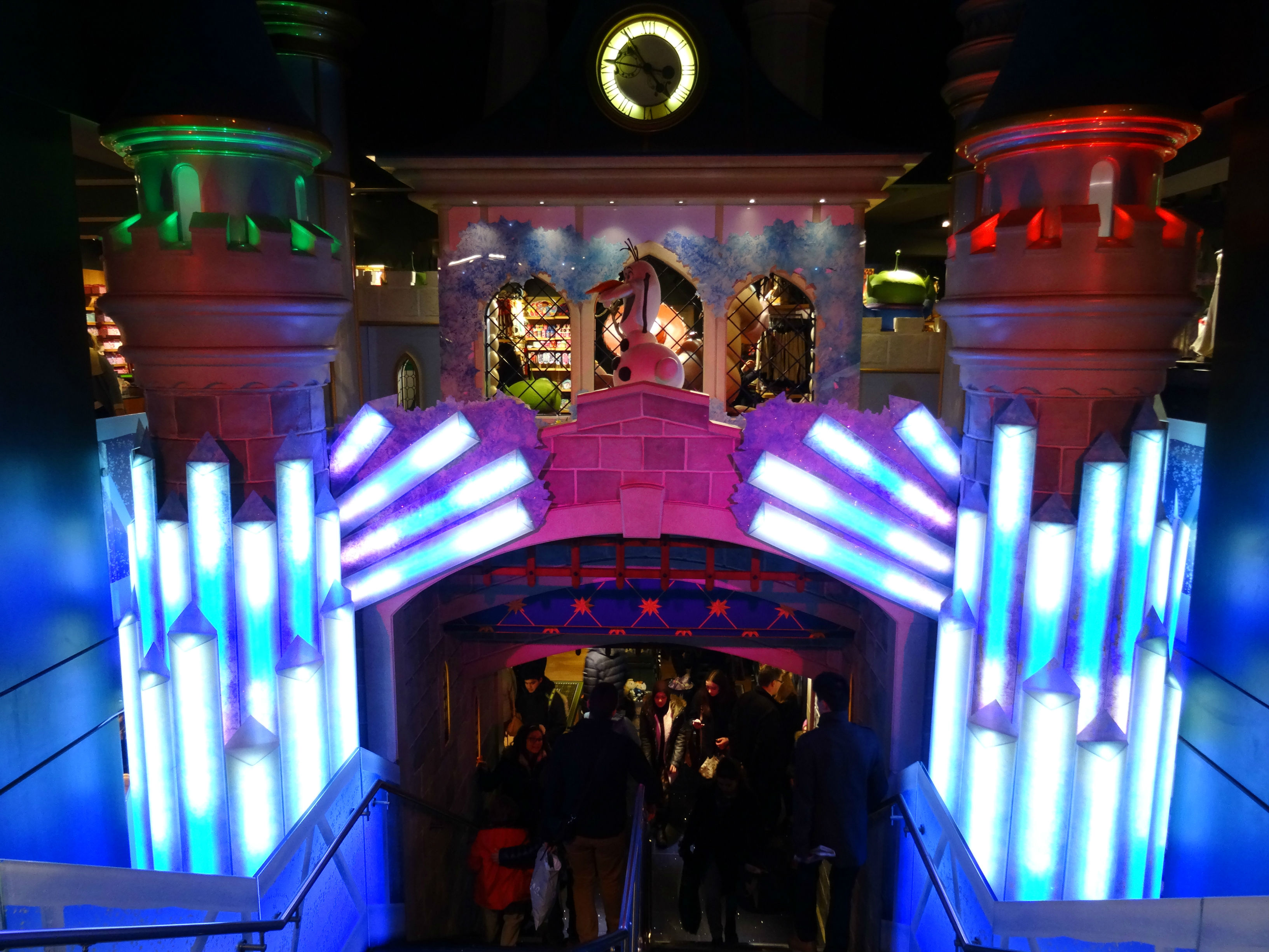 Just like any other major cities, there will certainly be a major shopping street! In London, you can find them here in Oxford or Regent Street, located about 15 – 20 minutes away by foot, from the British Museum.
The Oxford and Regent street are normally packed with London Double-Decker buses and you will also find stores like Disney's.
Nearest Metro station: Oxford Circus or Bond Street Station (Zone 1)
Buckingham Palace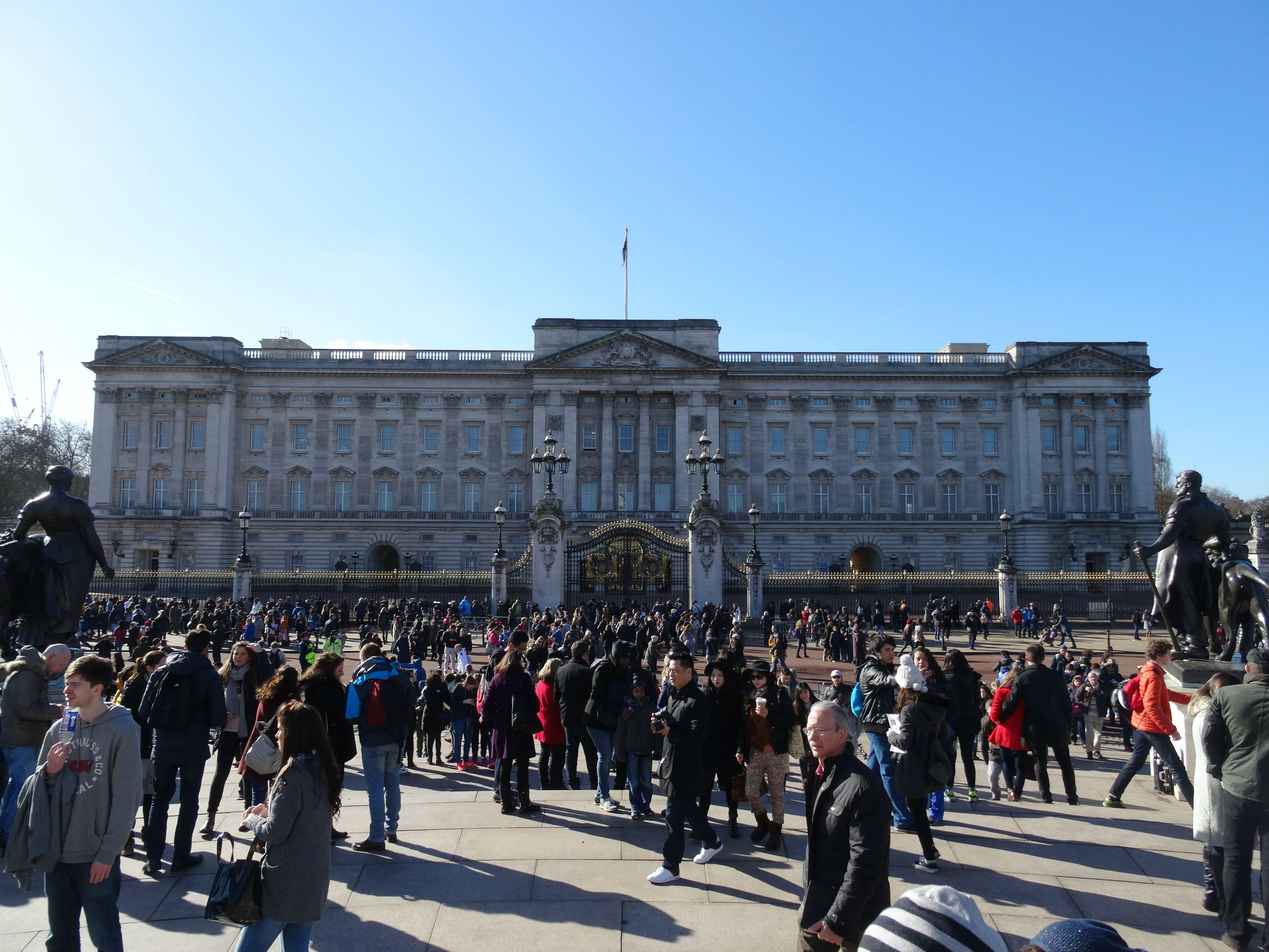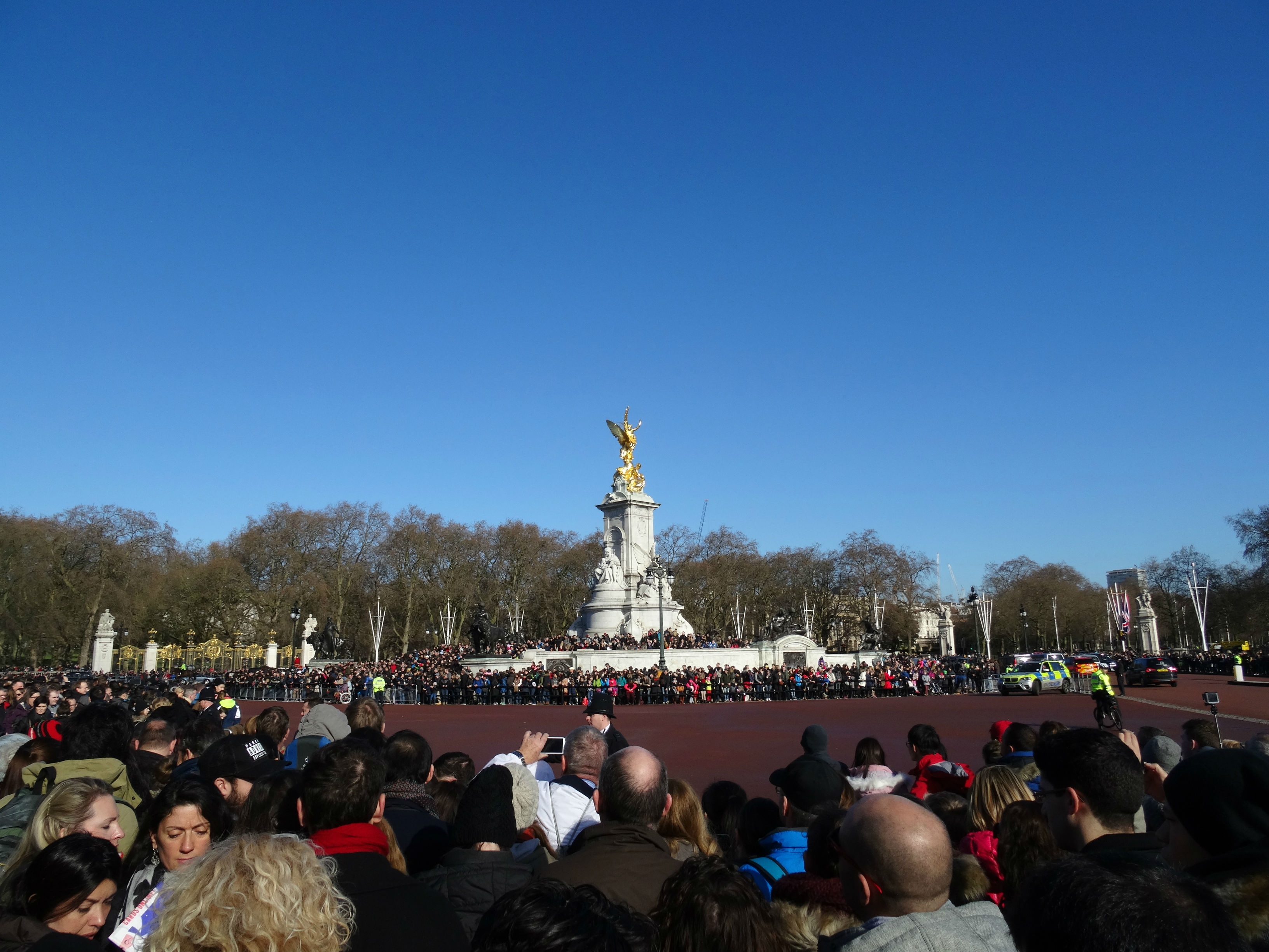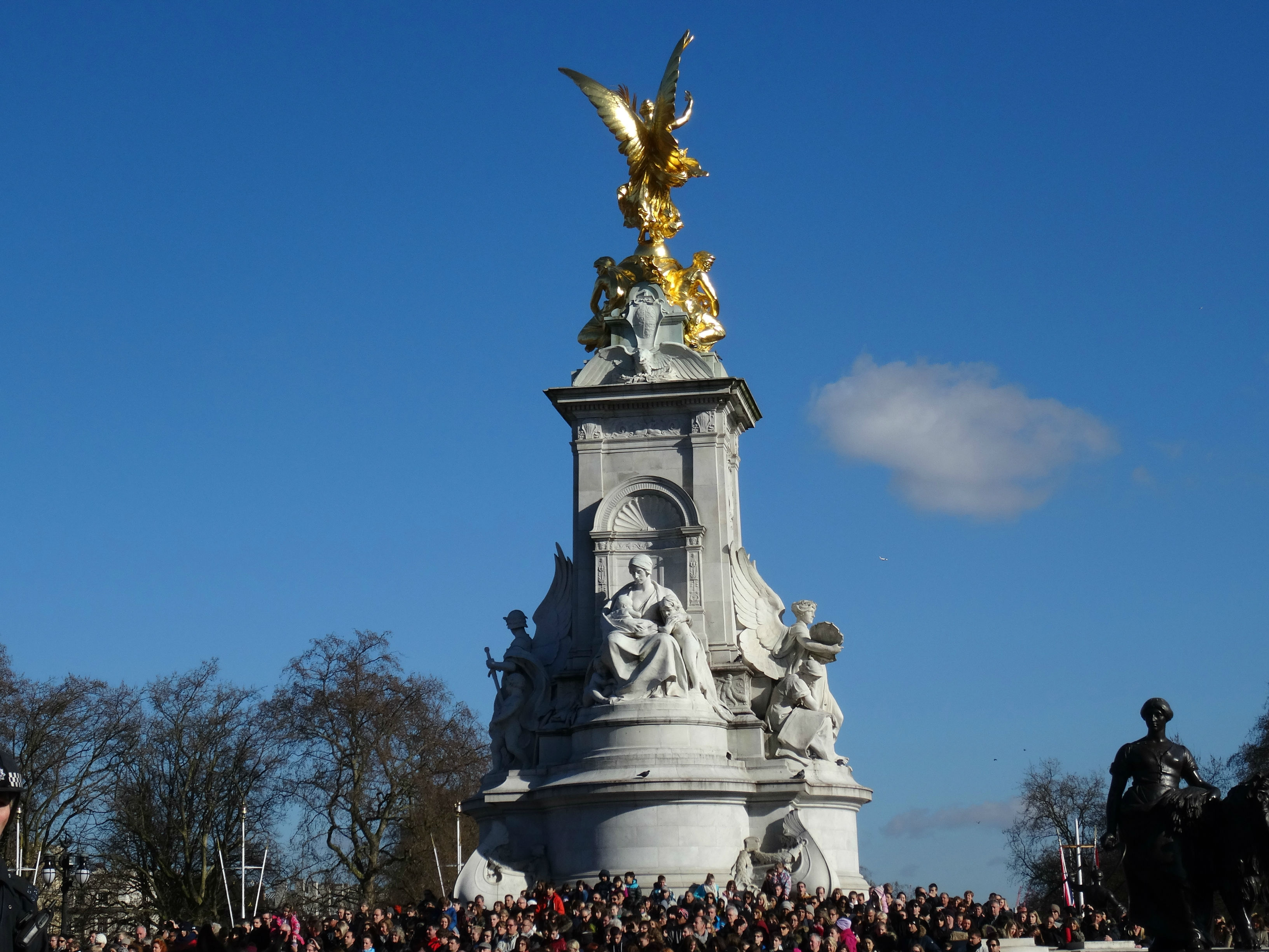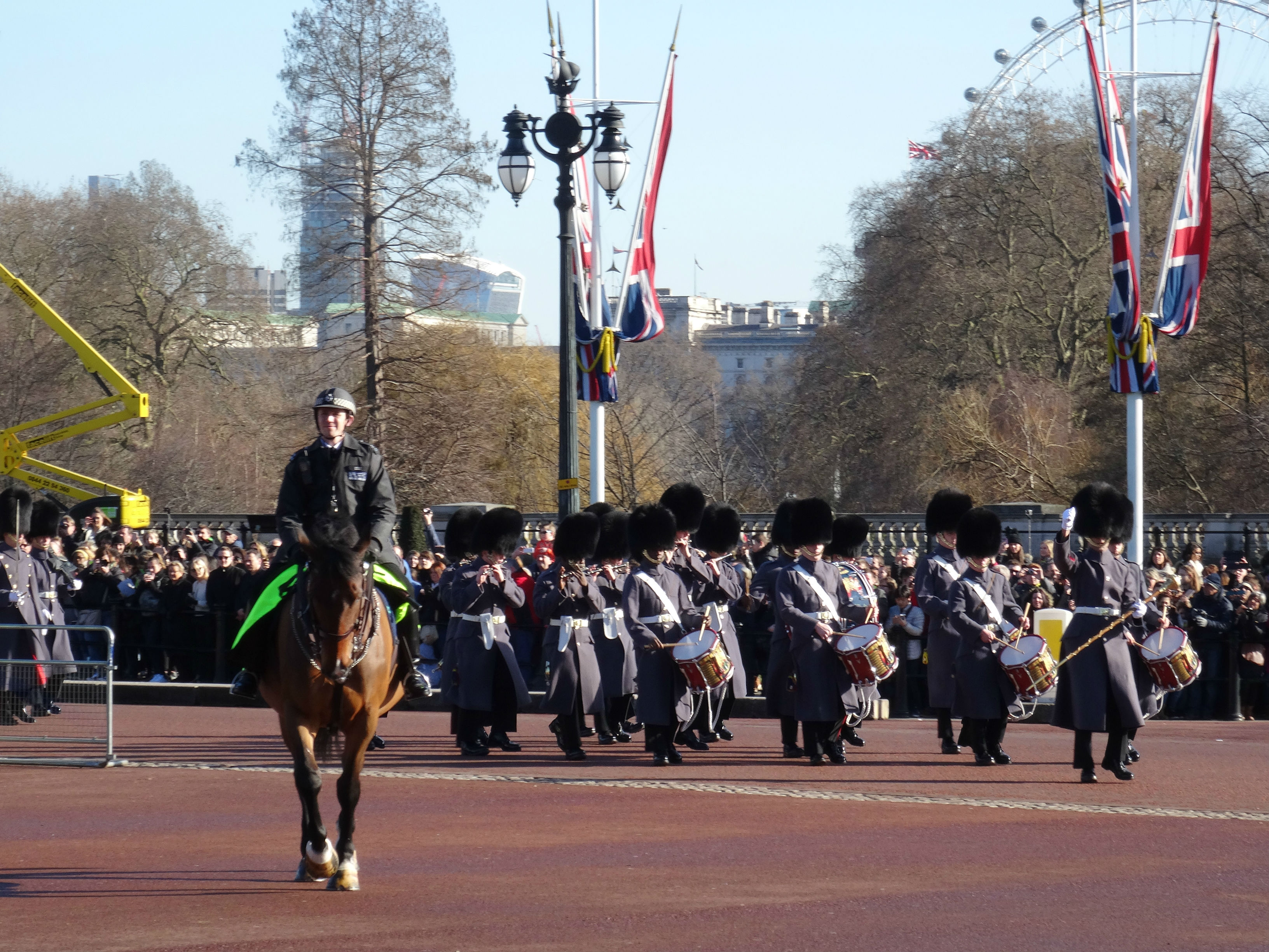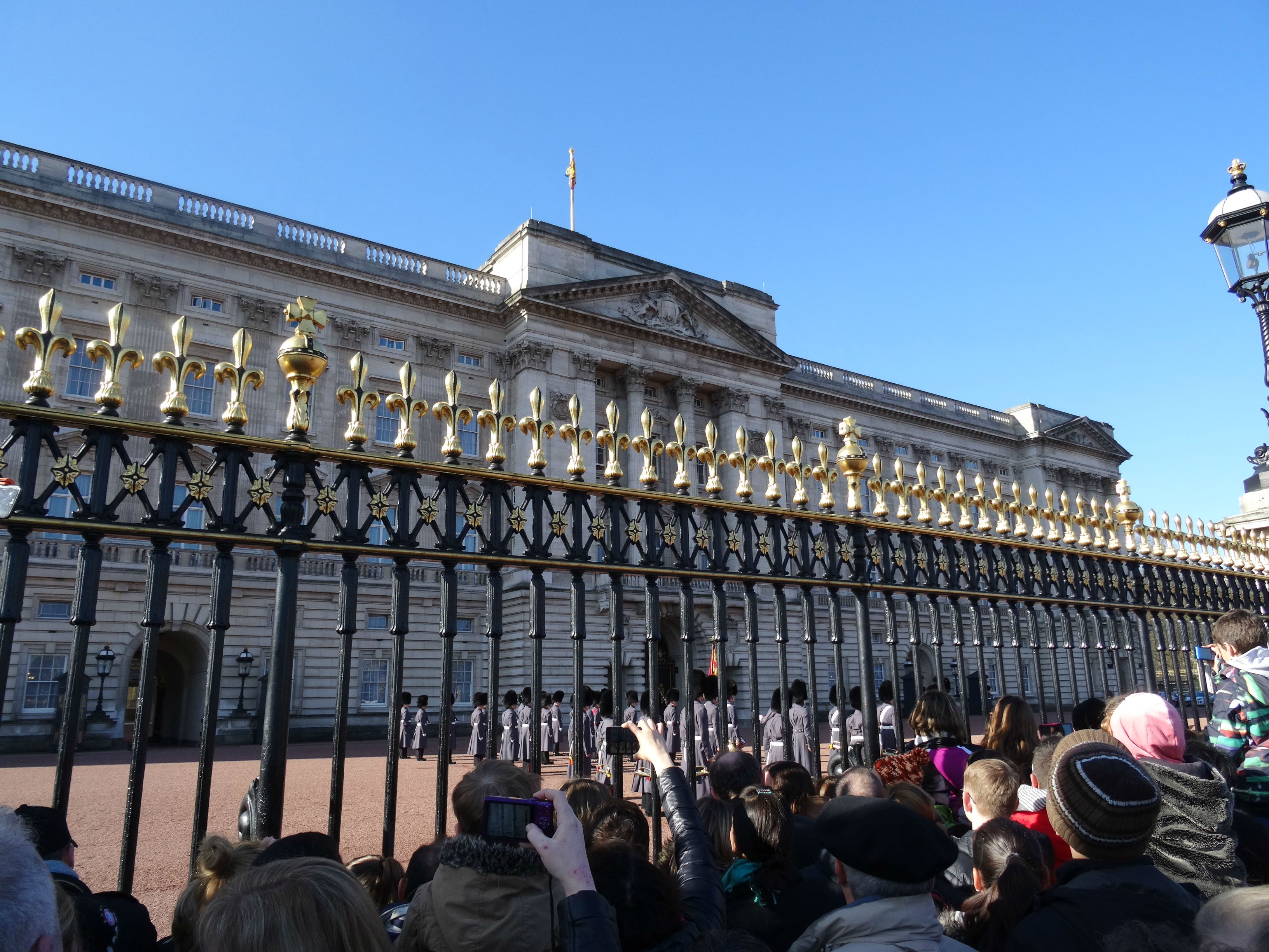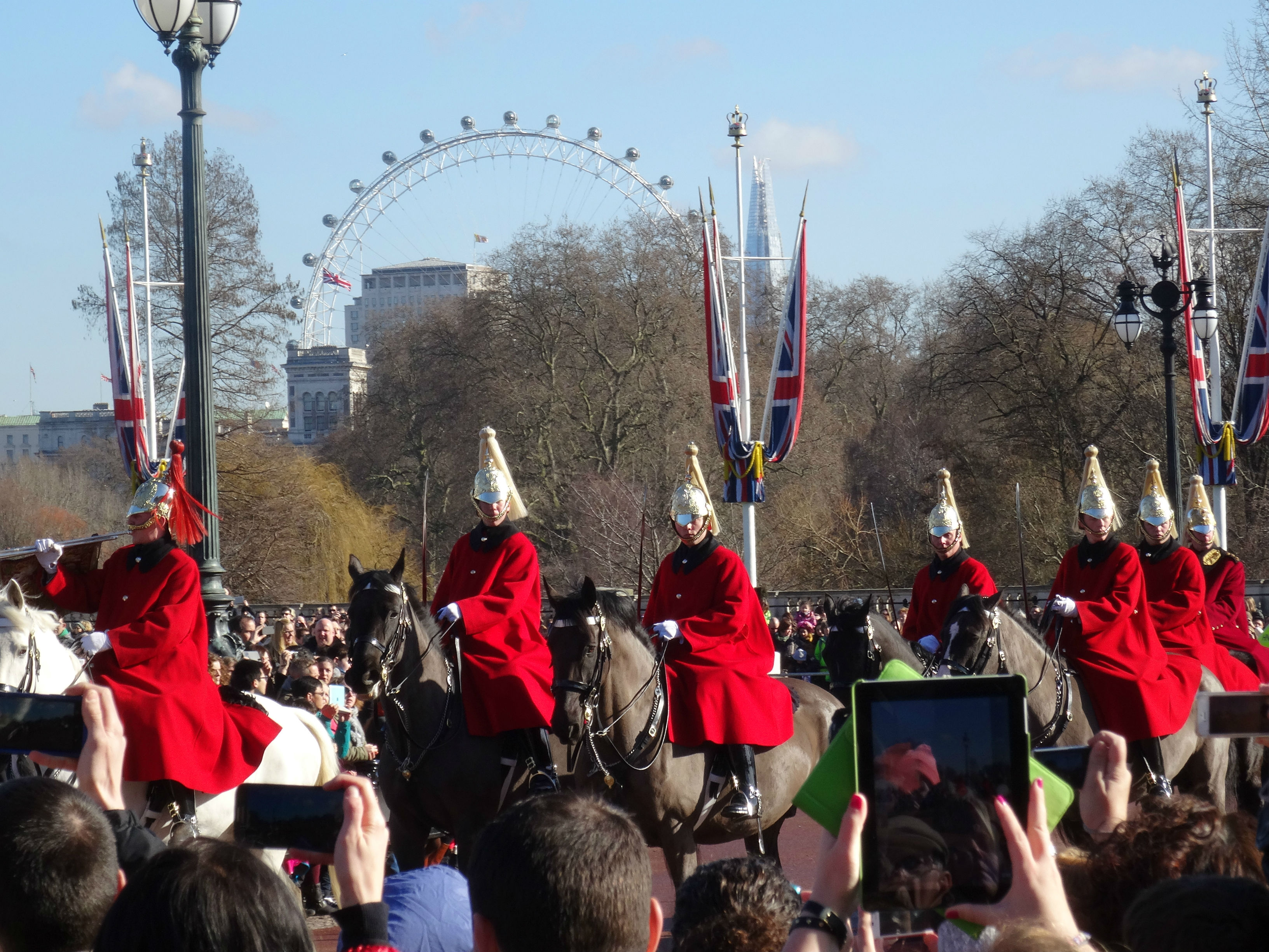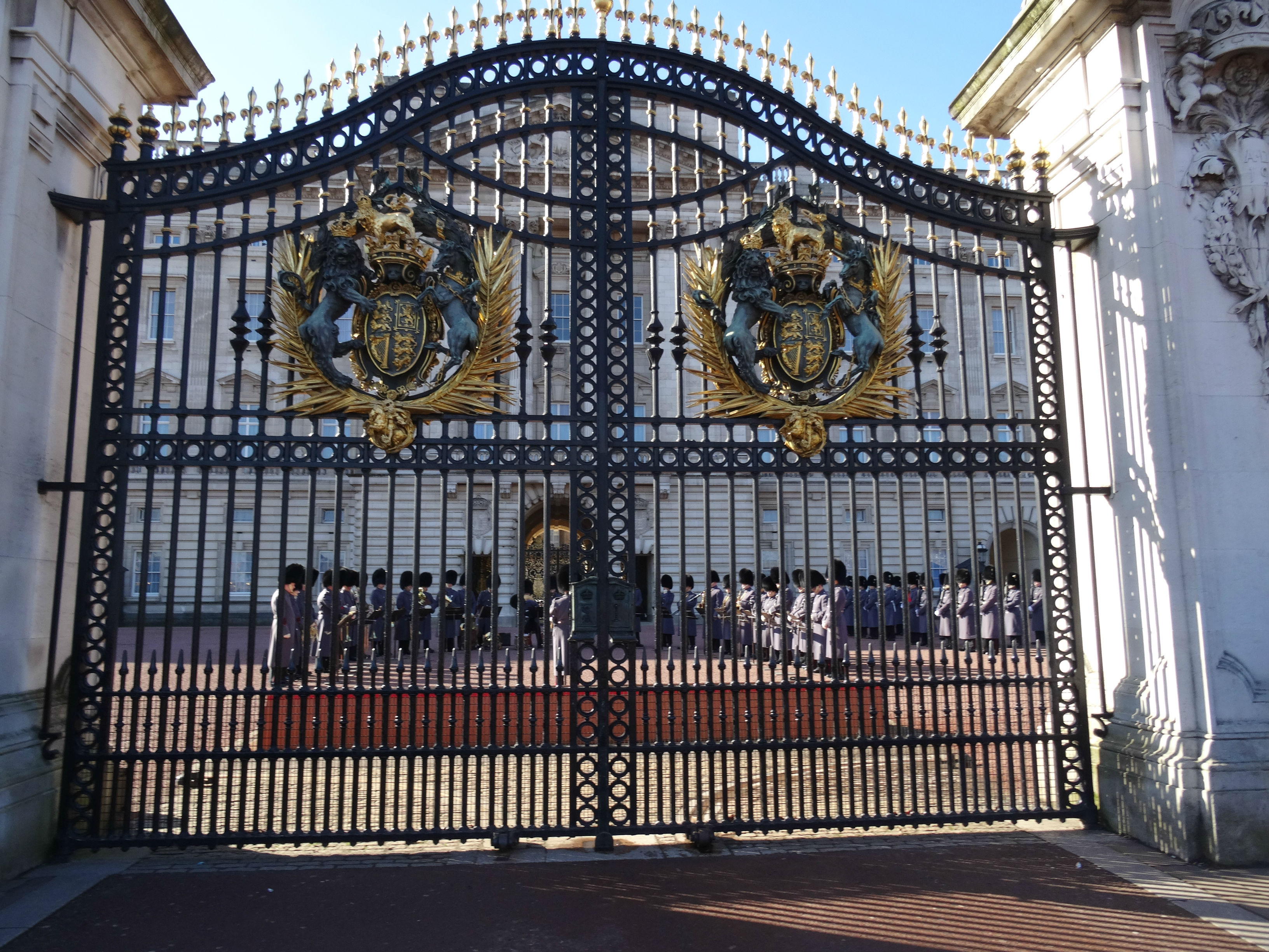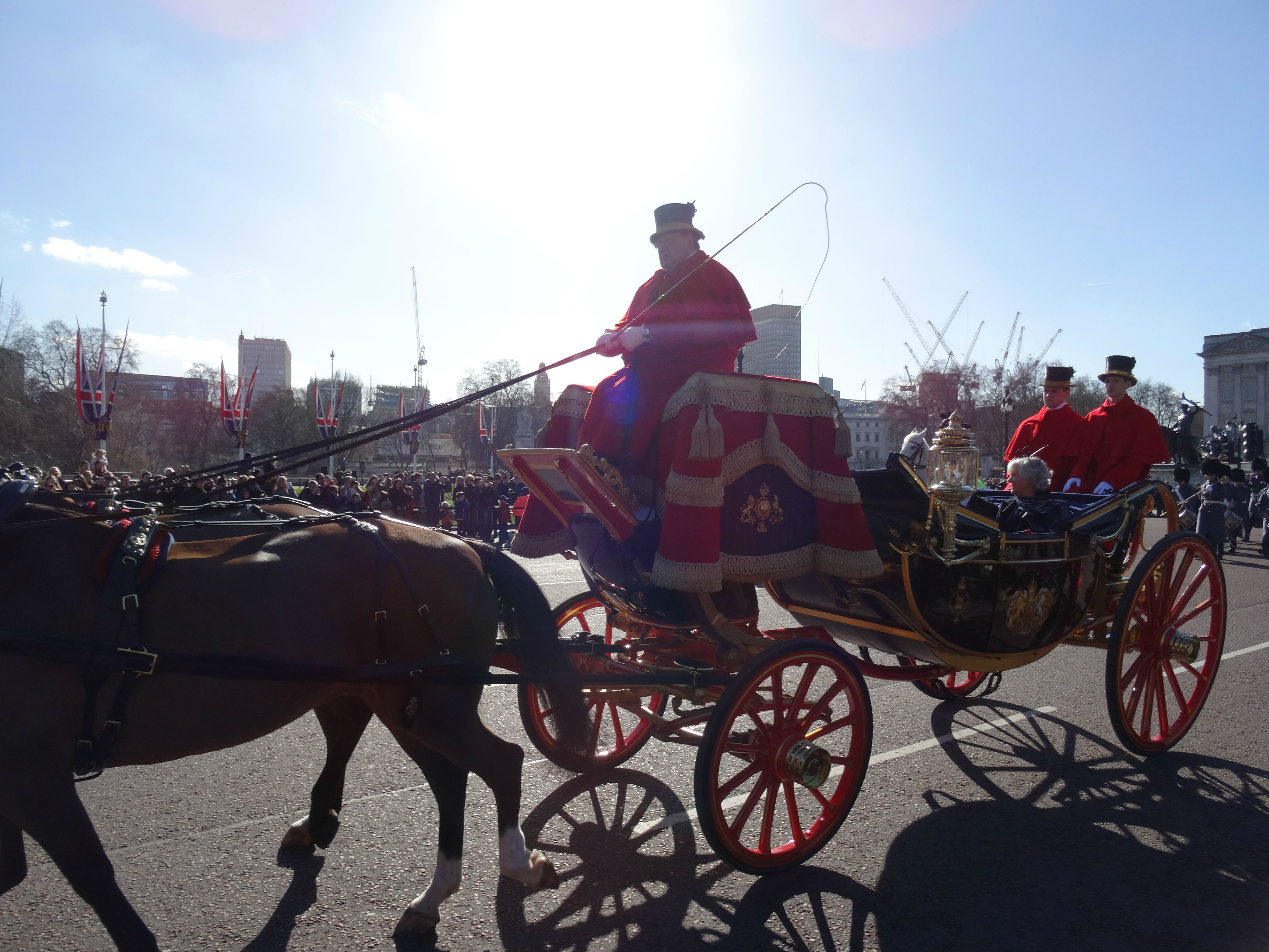 Plan your day accordingly with Buckingham Palace! If you are planning to visit the Buckingham Palace, you may also consider to visit on the dates that the marching or changing of guards are being held, at a specific time. Don't forget to go earlier to grab a really good spot or you will be left out in the crowd.
The time and dates for the marching and the changing of guards varies for the different dates, and you may visit Buckingham Palace – Changing of the Guard (Date & Time) for more information.
Nearest Metro station: Victoria Station (Zone 1)
Harrods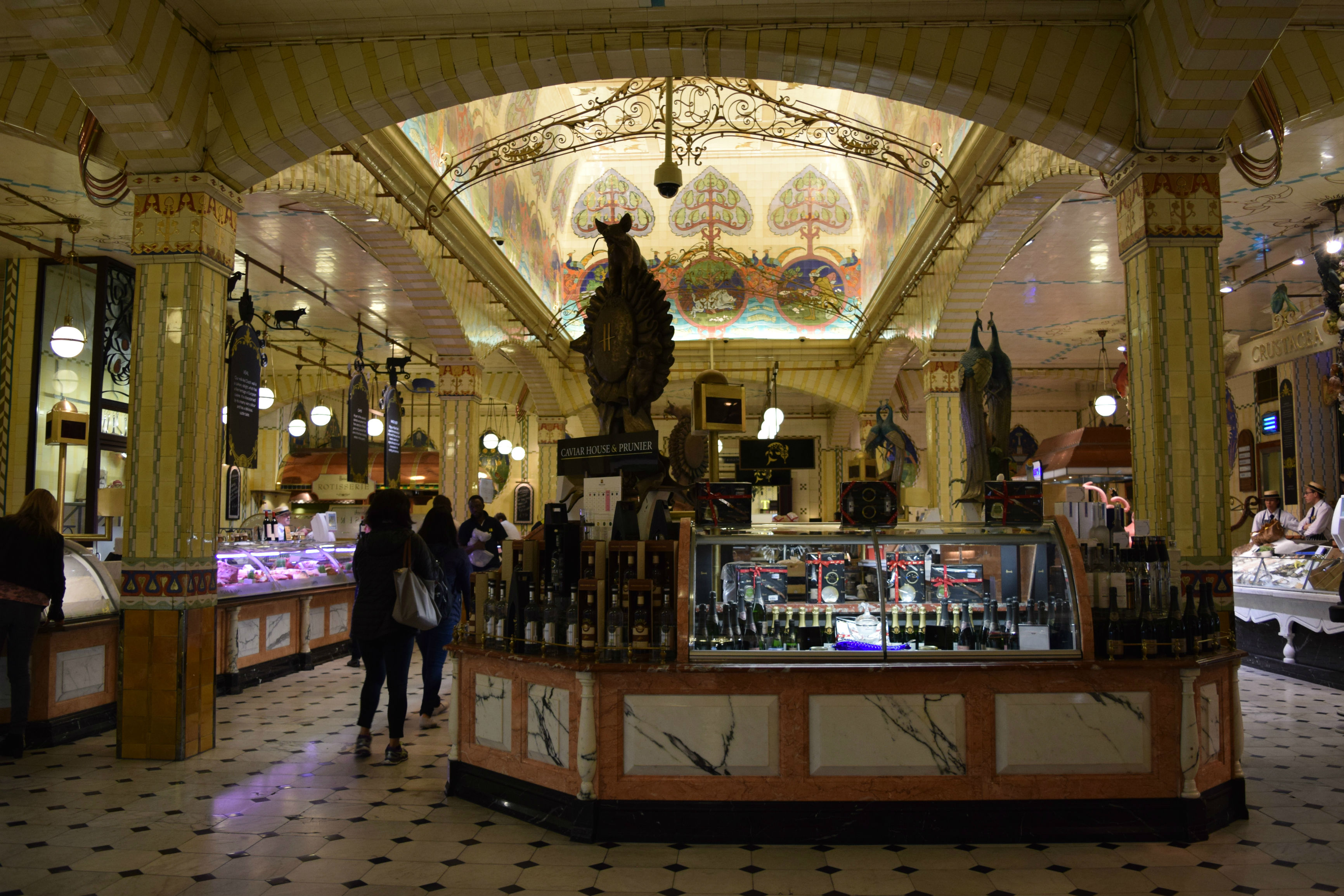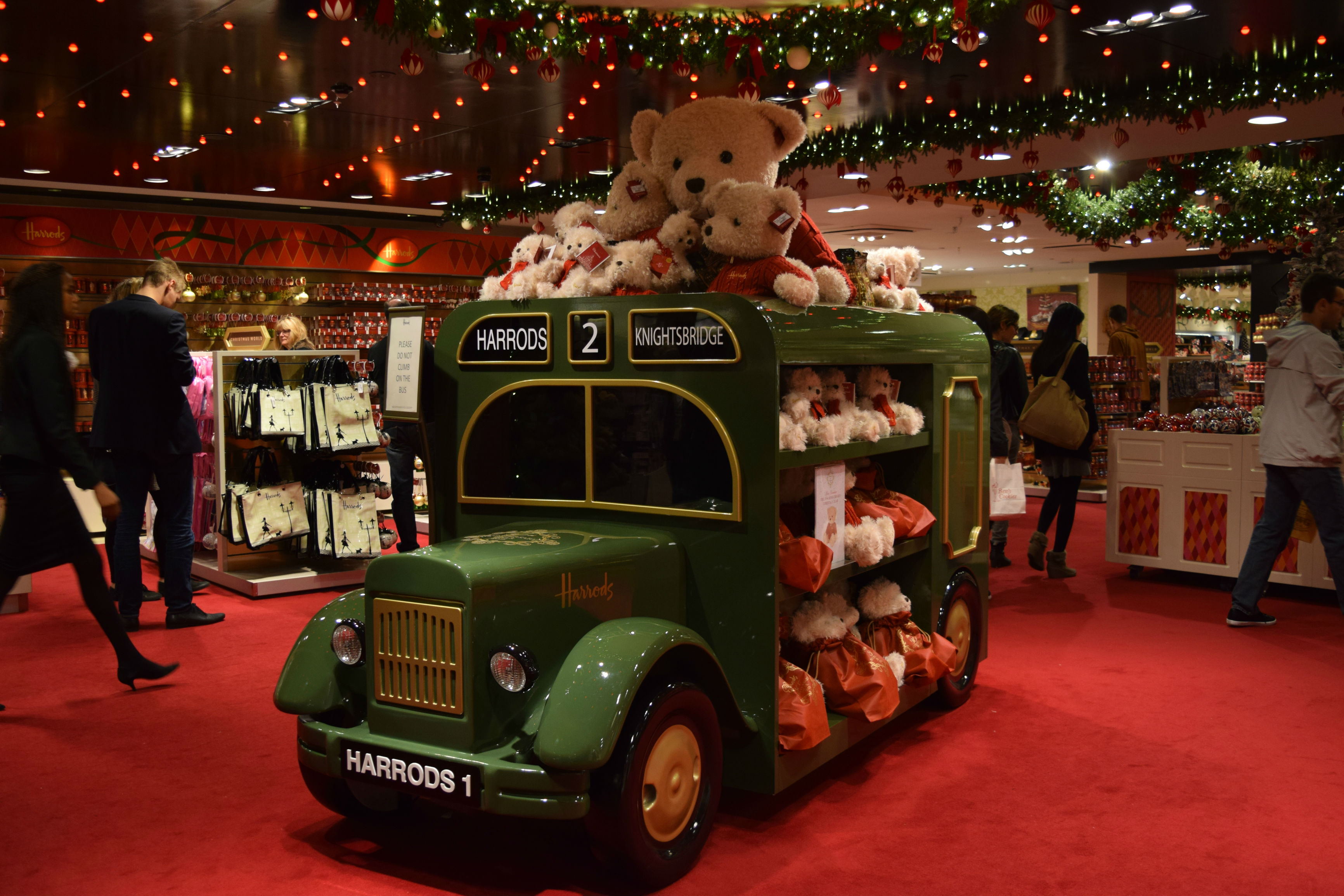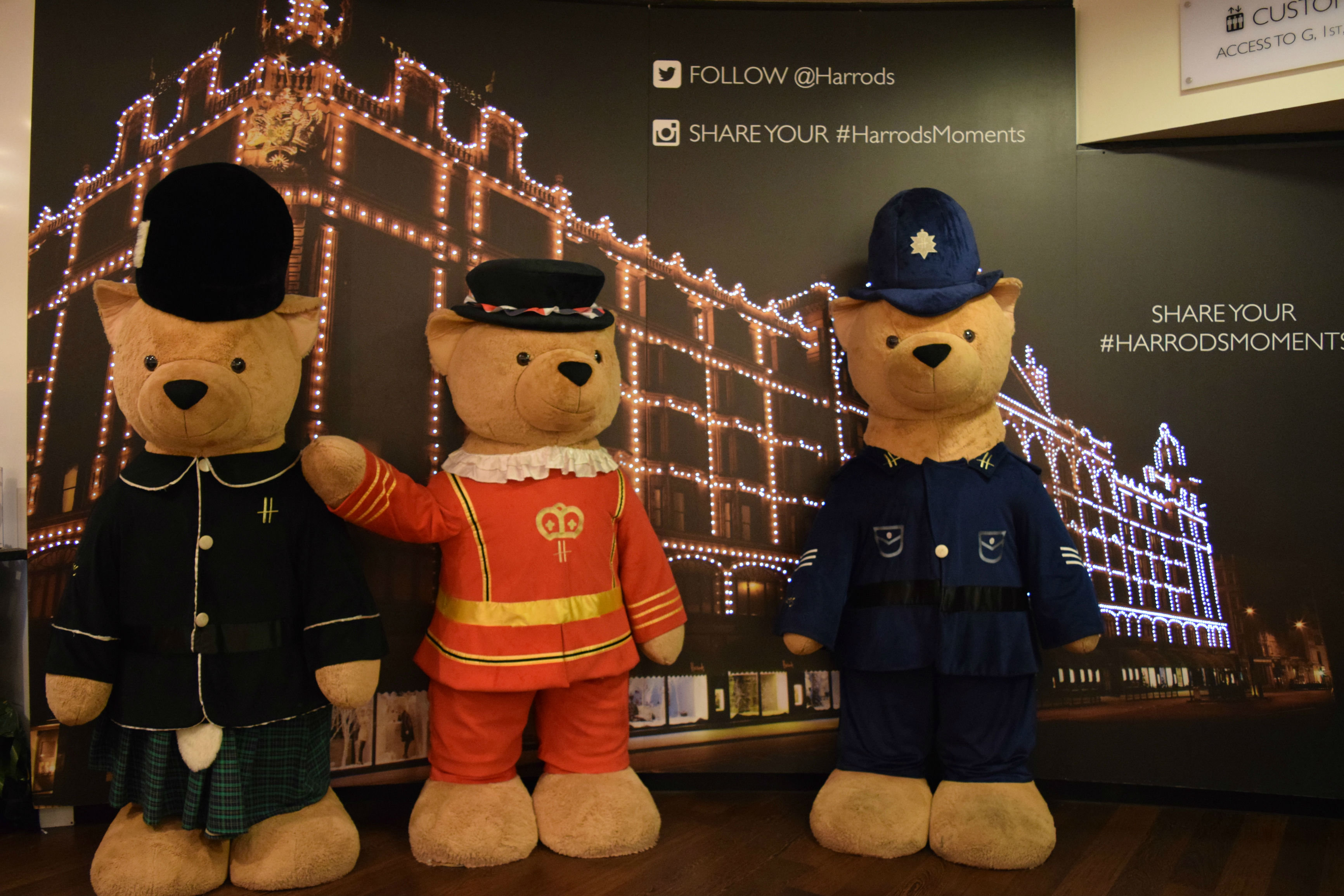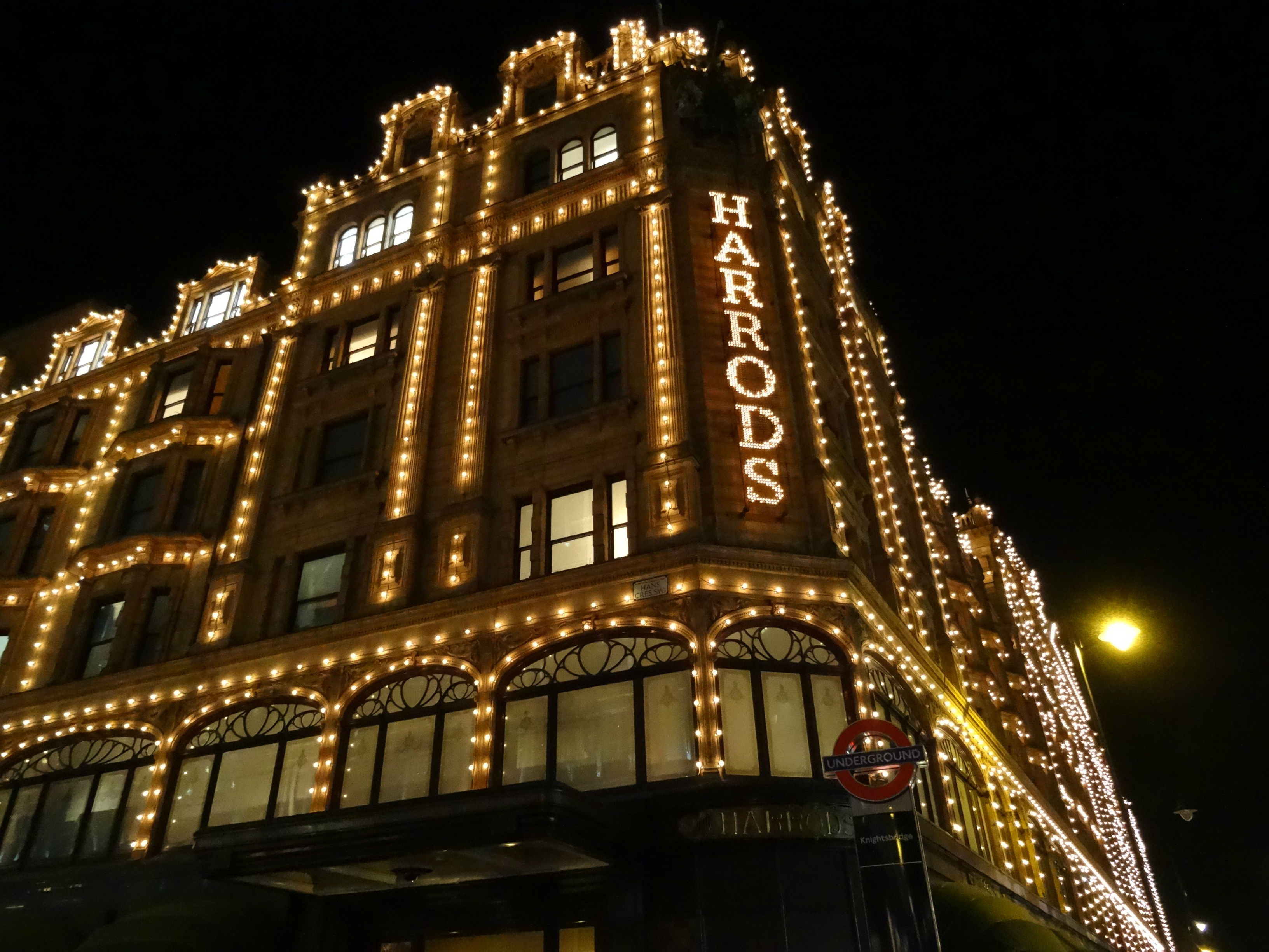 Harrods is known as a luxury department store located on Brompton Road where you will find a large range of departmental stores and restaurants, as well as cafes if you seek to chill out.
You may visit Harrods – Store Directory Guide for more information.
Nearest Metro station: Knightsbridge Station (Zone 1)
Taking a stroll by Notting Hill & Portobello Road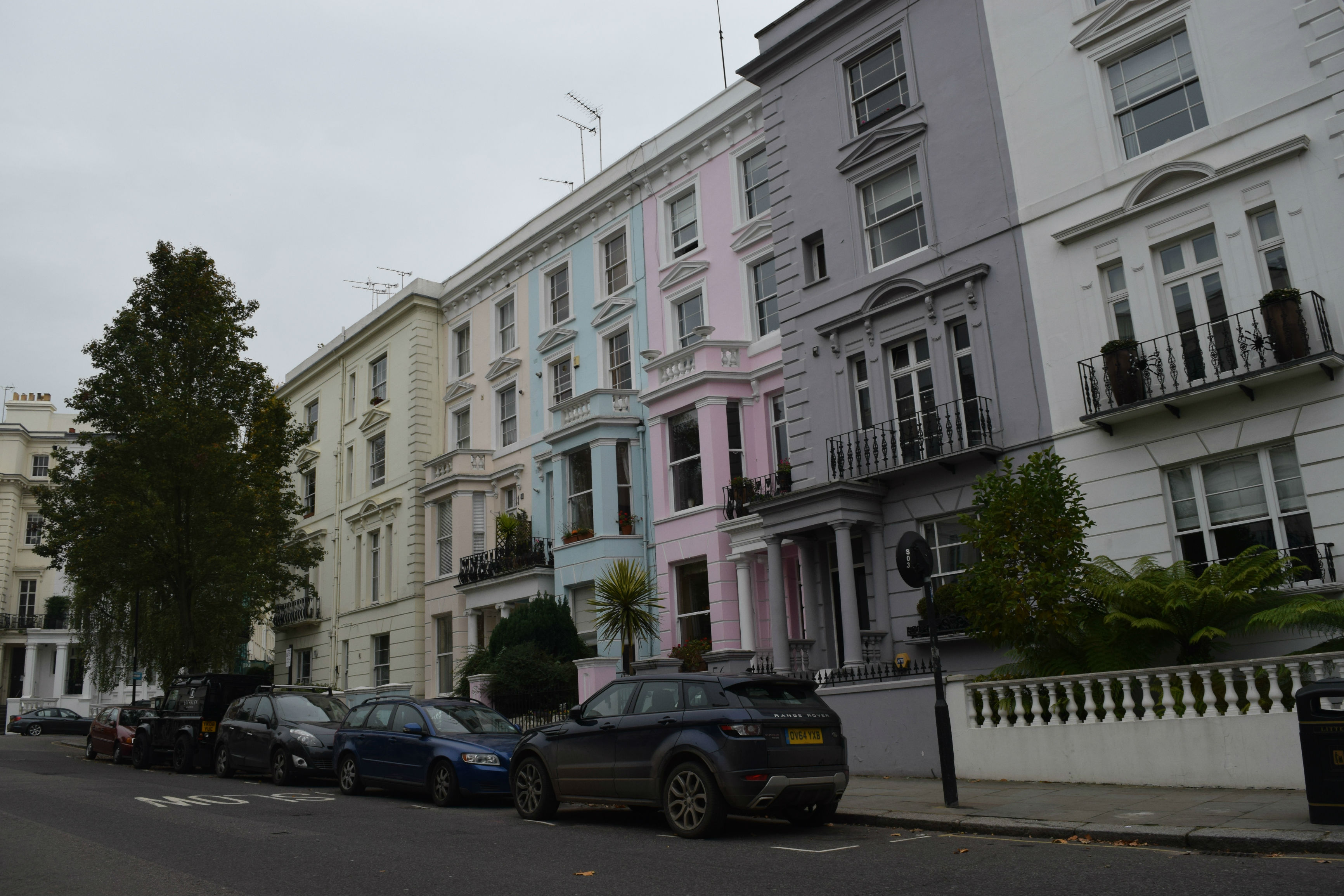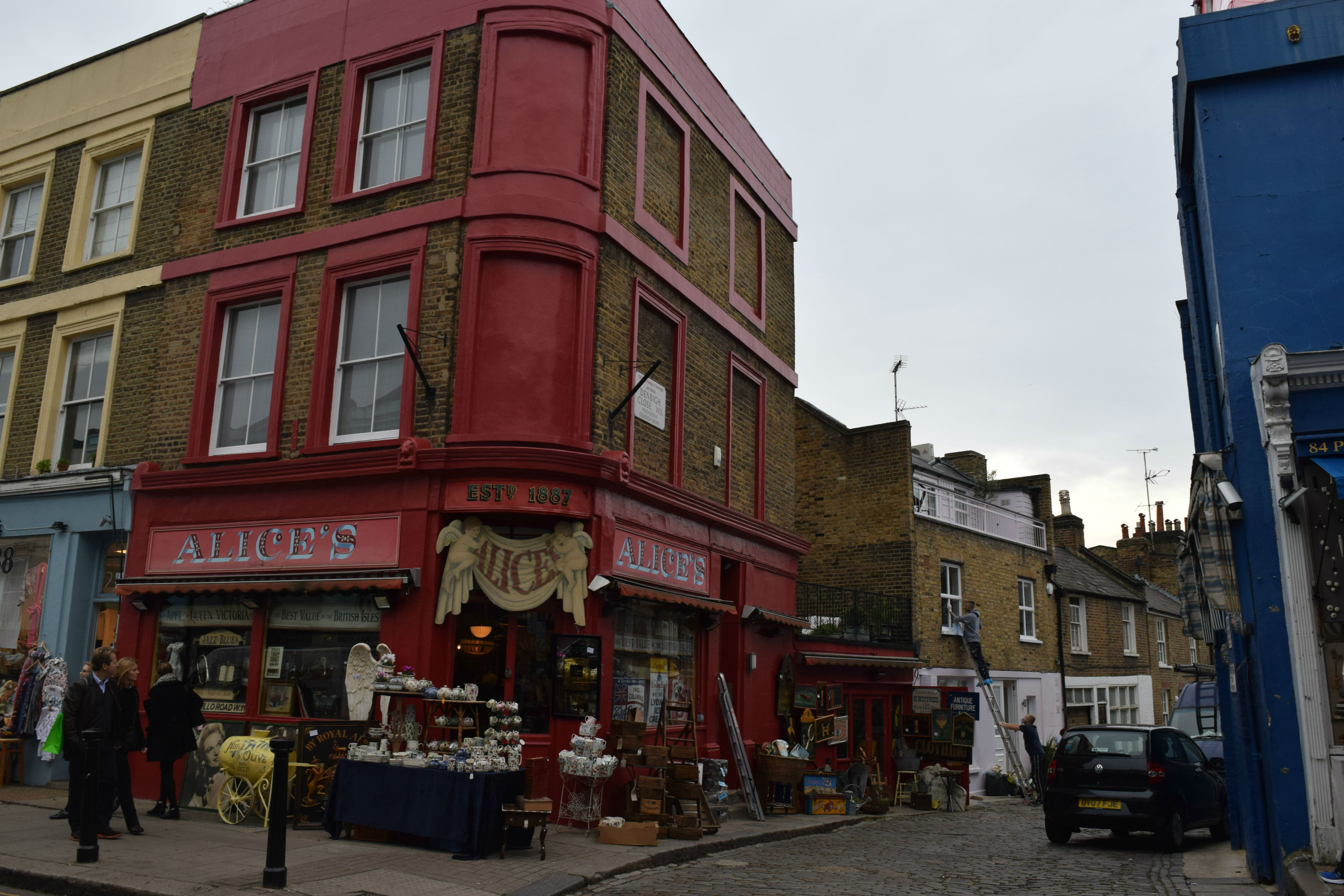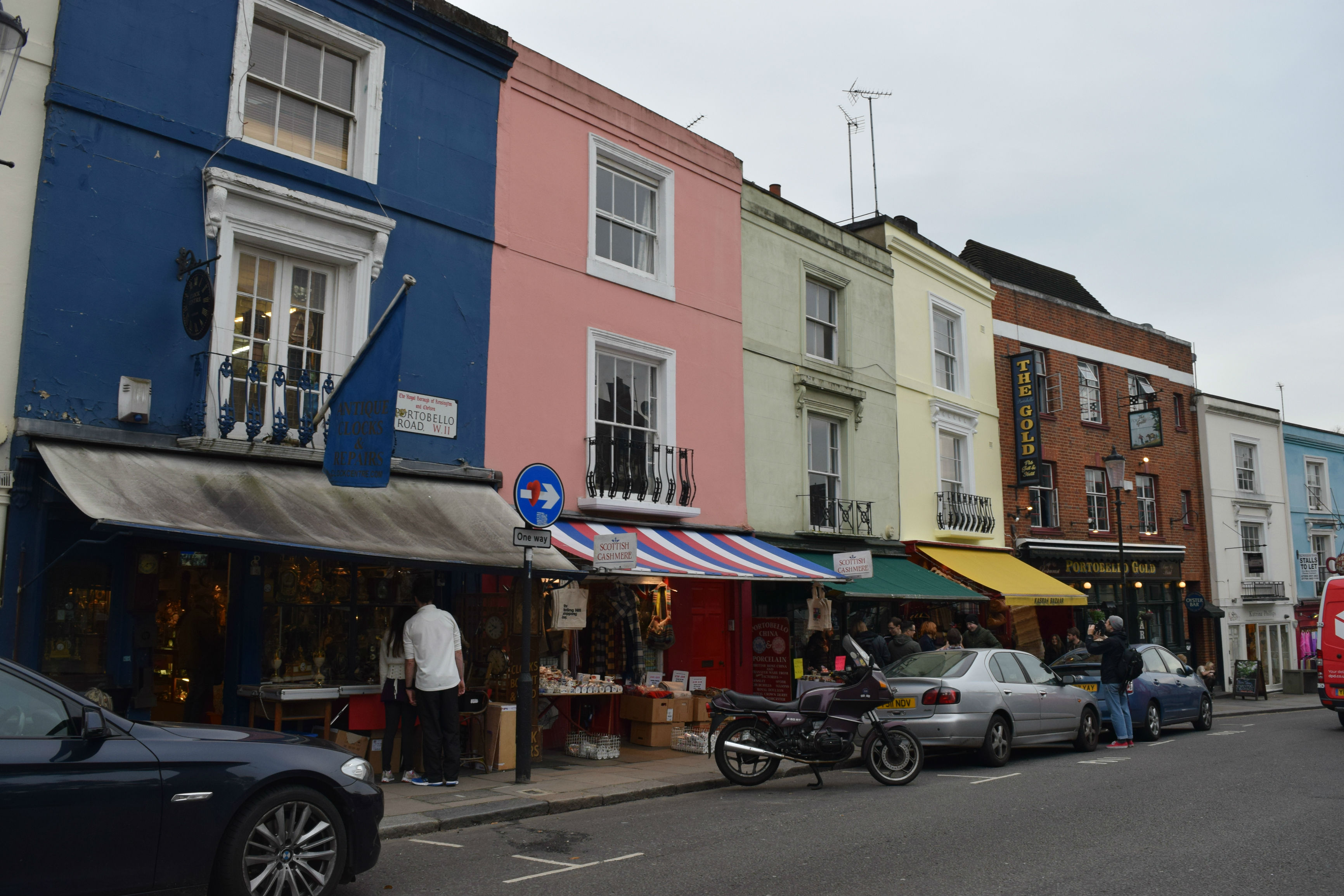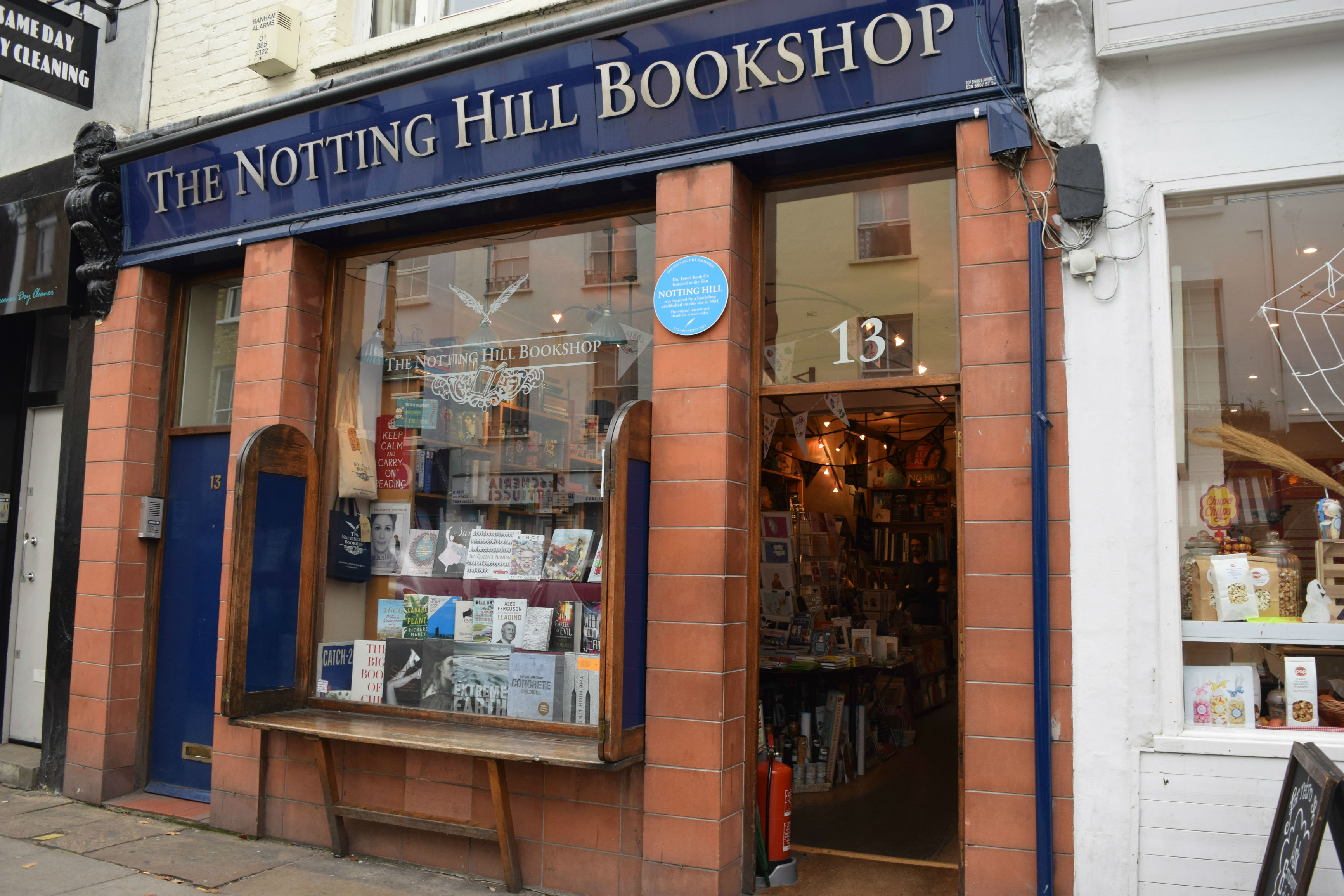 They are the neighbourhoods within the district of West London and if you finding something to bite, you may also try visiting the Portobello Road Market along the street!
Nearest Metro station: Notting Hill Gate Station (Zone 1/2) or Ladbroke Grove Station (Zone 2)
---
OTHER OPTIONAL PLACES WORTH VISITING
Harry Potter's Platform 9 3/4 & London King's Cross Railway Station
London King's Cross Railyway Station is itself a central railway and an Underground Tube in London that connects outbound trains. Over here, you may also want to visit Harry Potter's Platform 9 3/4 that was featured in the popular Harry Potter's movie.
10 Downing Street (Prime Minister Office)
Thinking where the Prime Minister Office is? Just 5 minutes away from Westminster Palace!
Nearest Metro station: Westminster Station (Zone 1)
Piccadilly Circus
Piccadilly Circus is a public space that is all popular about its iconic billboard advertising, as well of its memorial fountain and statue.
Nearest Metro station: Piccadilly Circus Station (Zone 1)
St. Paul's Cathedral
If you fancy seeing cathedrals or seeking a place to do your prayers, do consider visiting the St. Paul's Cathedral.
Nearest Metro station: St. Paul's Station (Zone 1)
Millennium Bridge
A uniquely designed bridge made of steel suspensions and used for pedestrian crossing from one side, to another.
Nearest Metro station: Blackfriars or London Bridge Station (Zone 1).
Madame Tussauds
Only if you were looking for something to do, you may want to visit the Madame Tussauds, a museum chain for life-size wax replicas of famous celebrities and historic icons.
Nearest Metro station: Baker Street Station (Zone 1)
---
FOOD AND DRINKS YOU'D LIKE TO TRY
Borough Market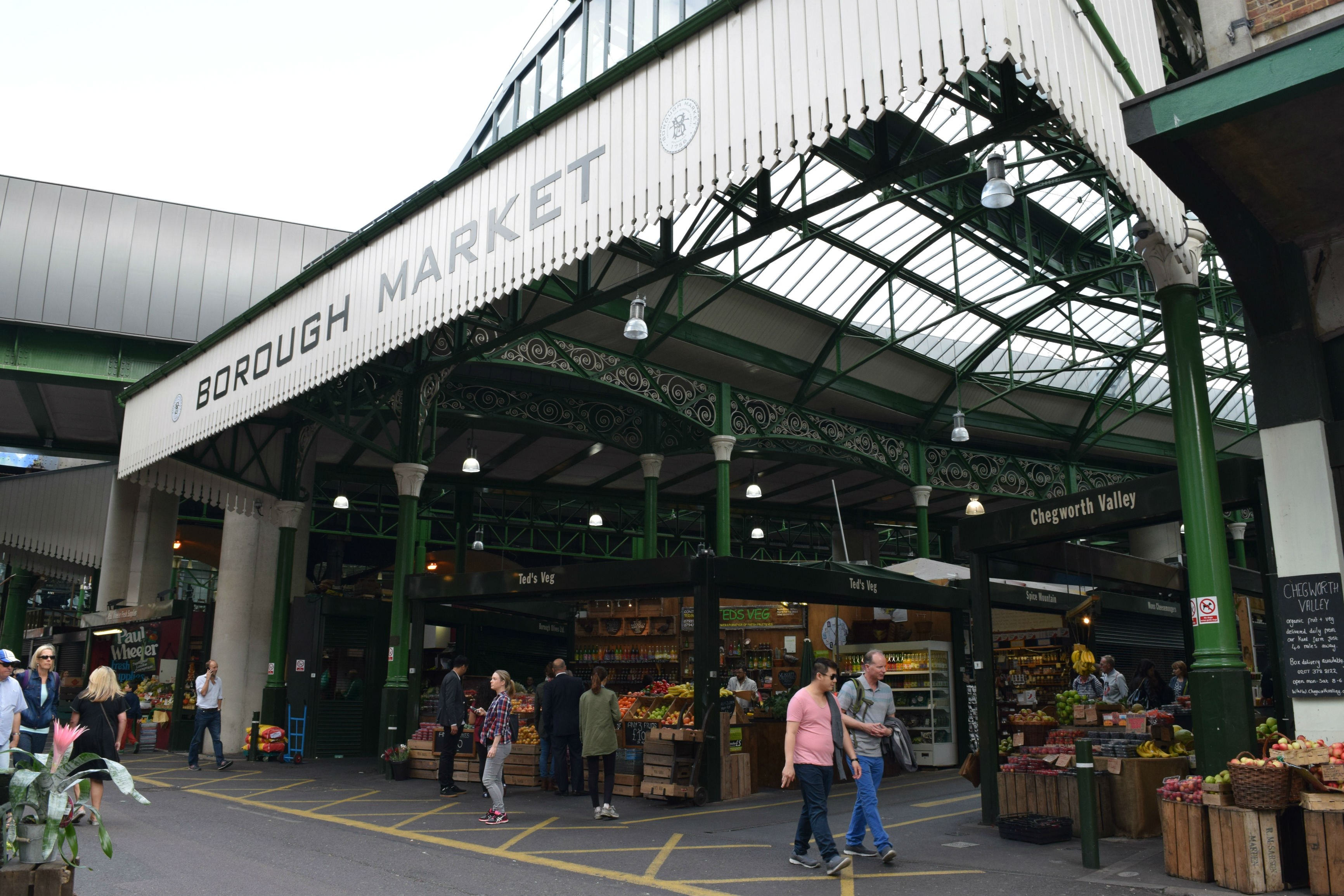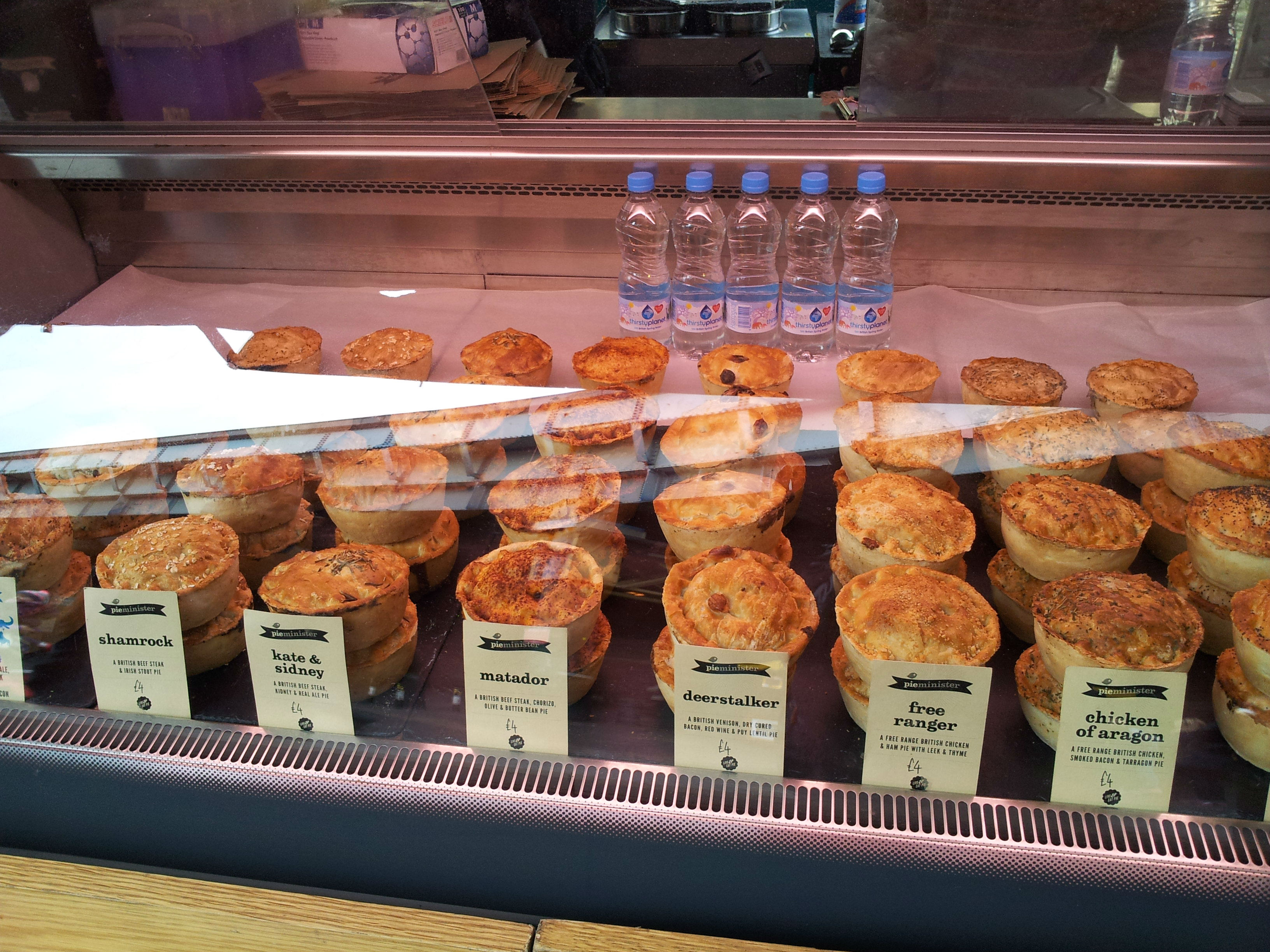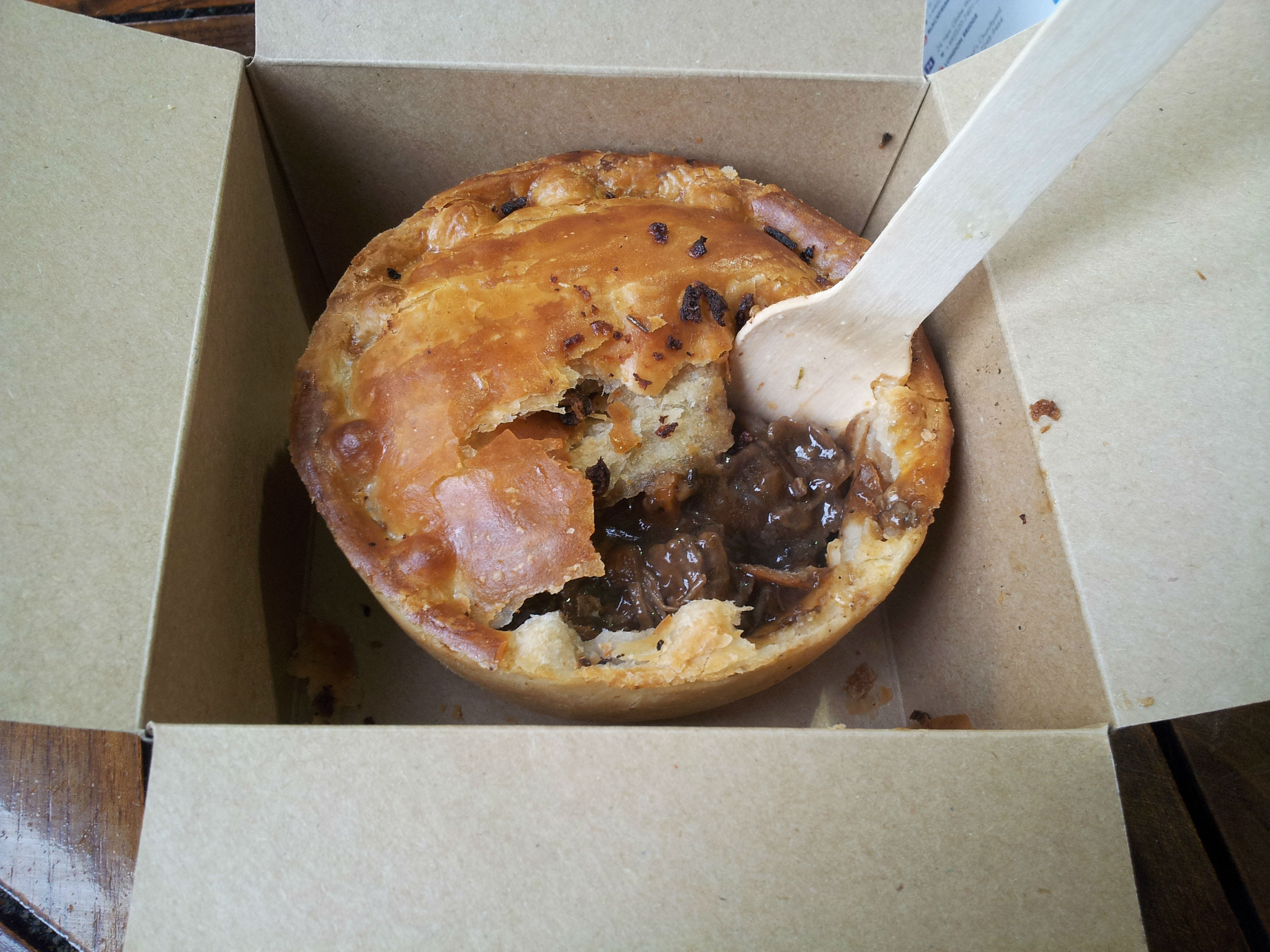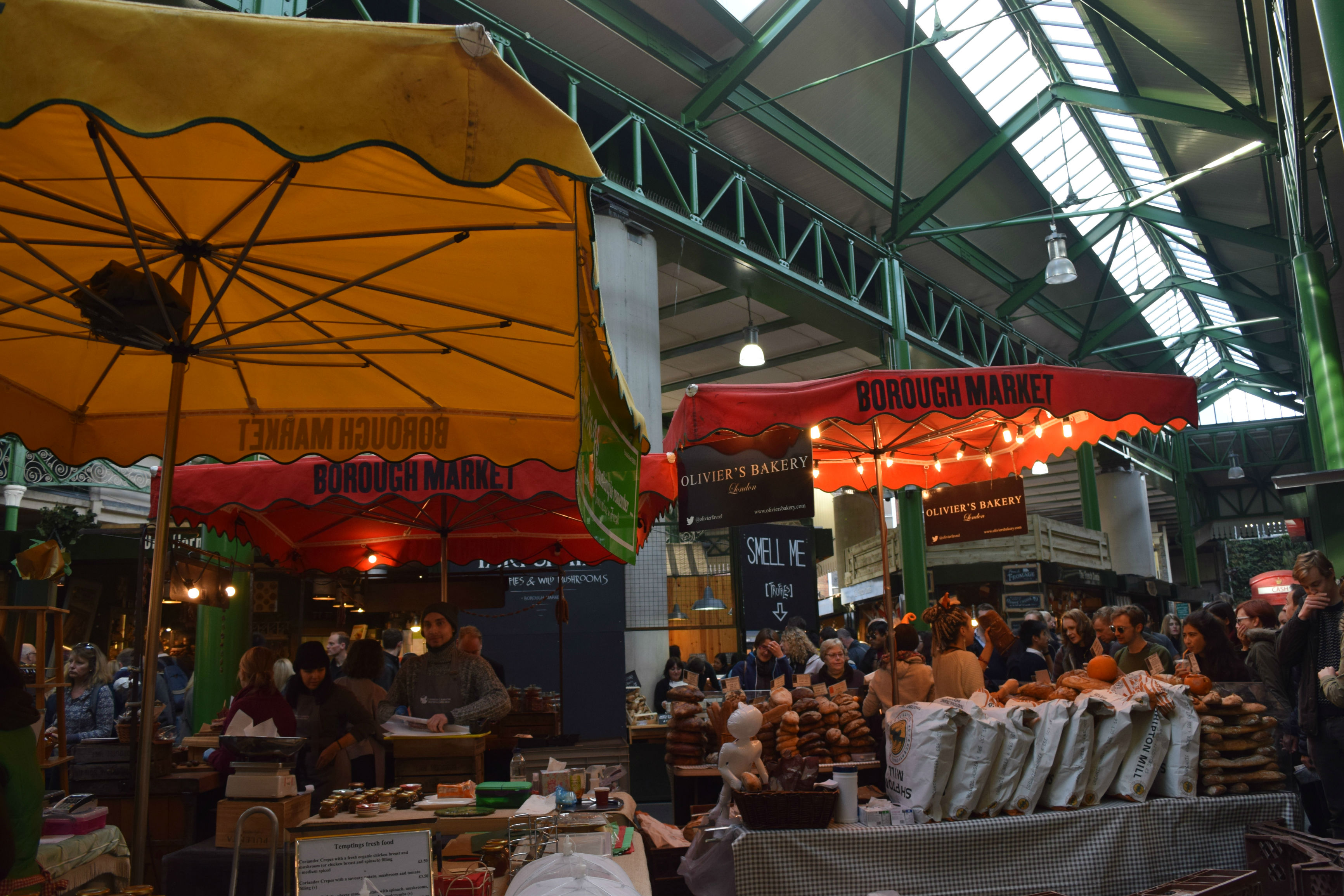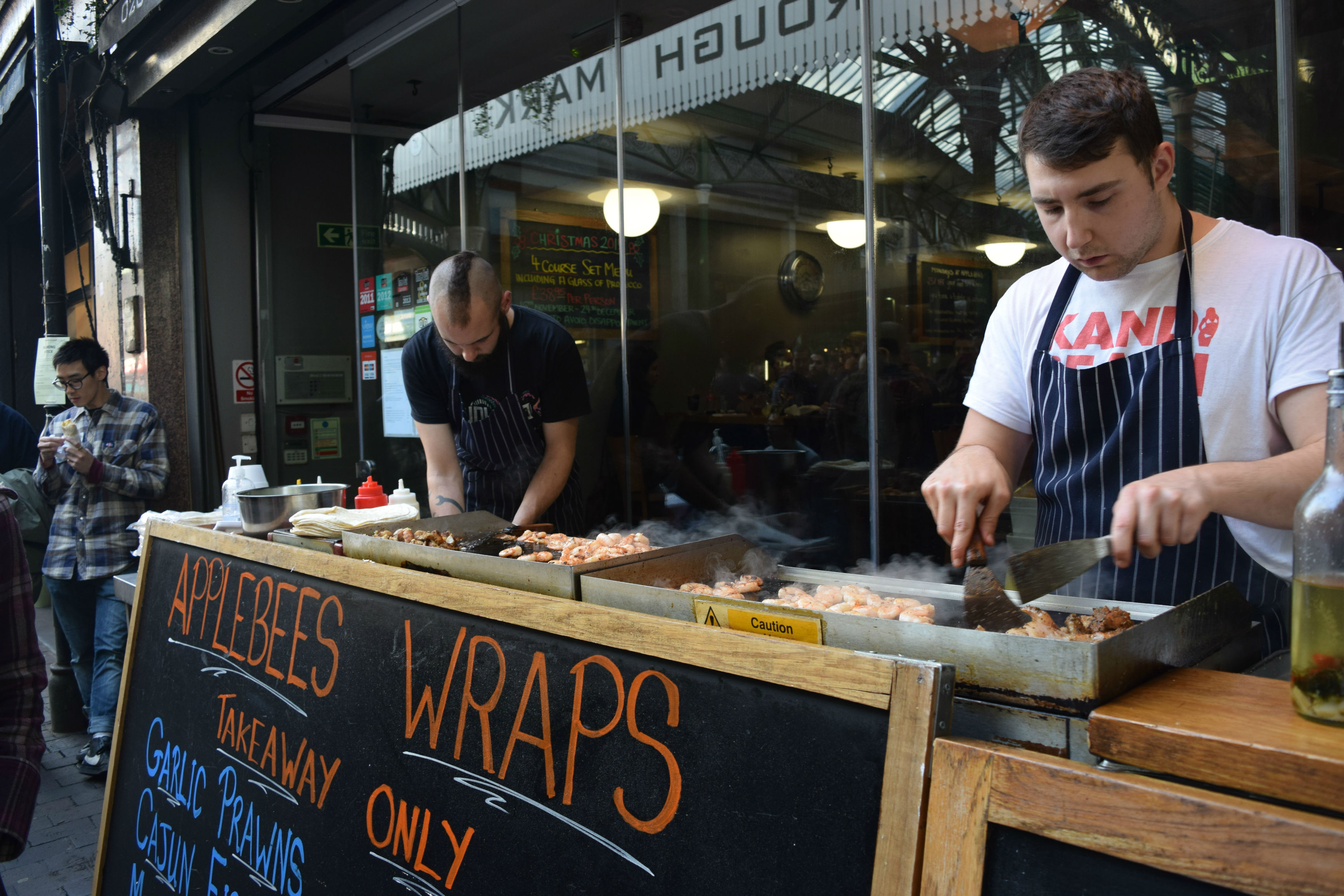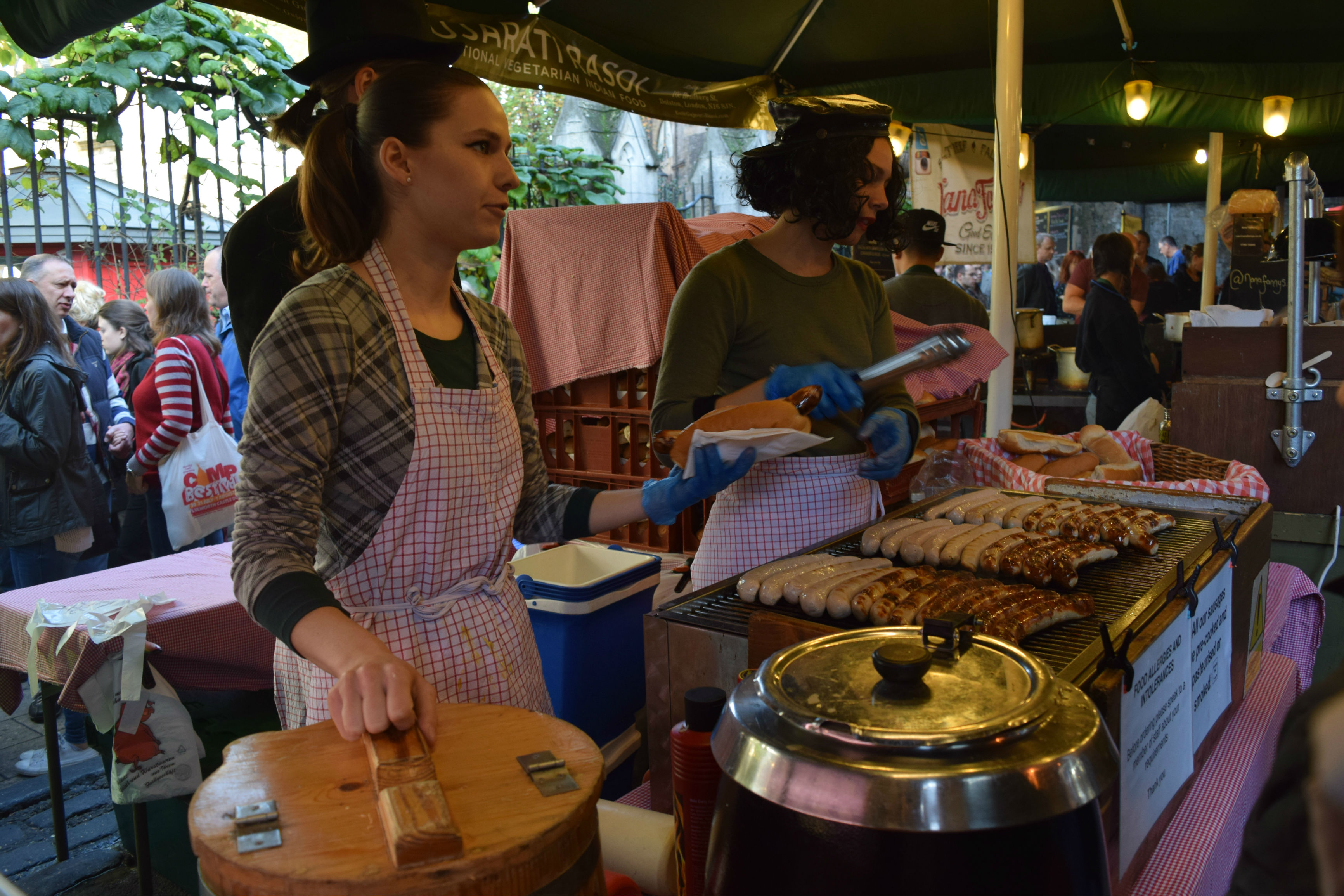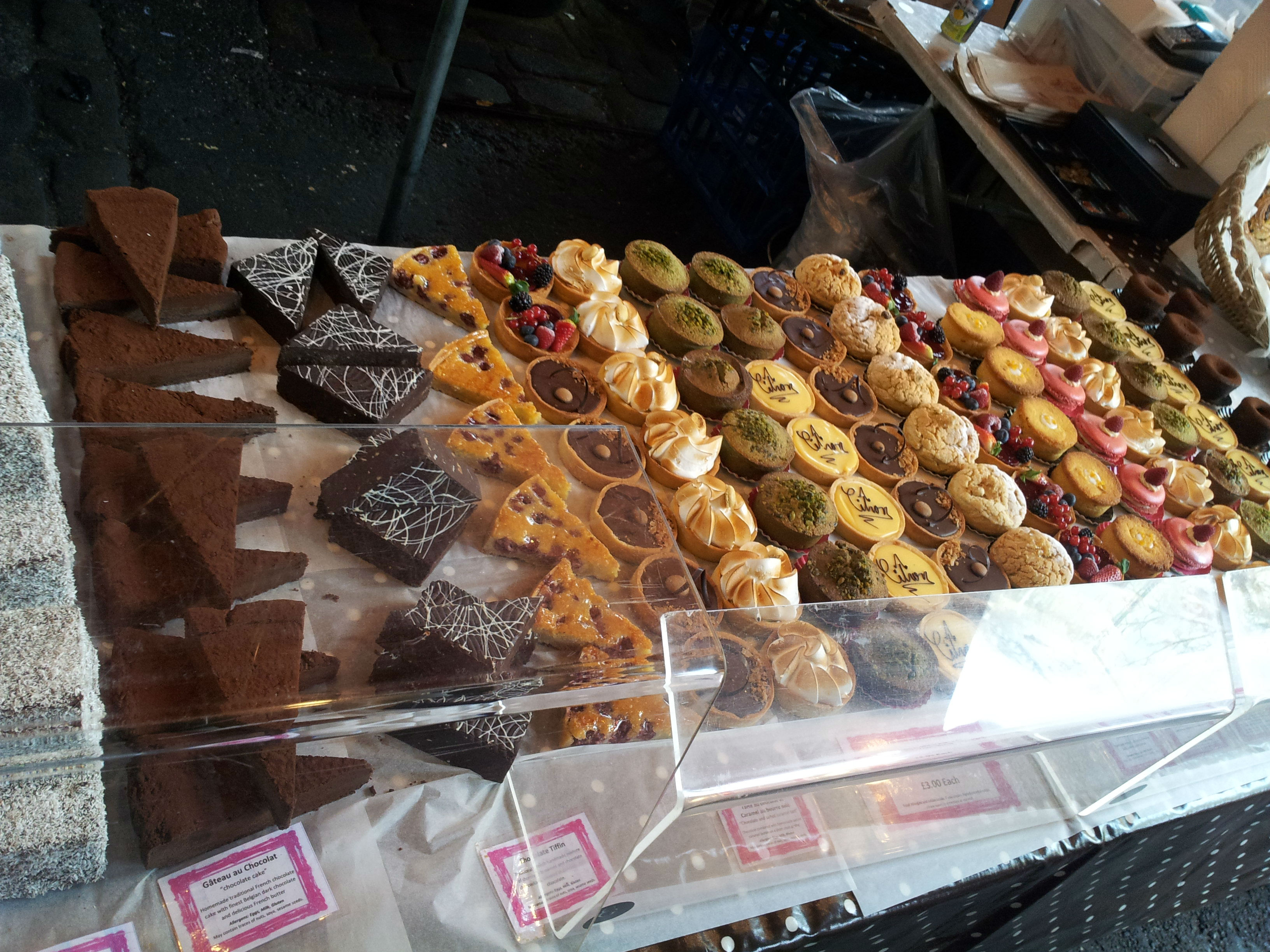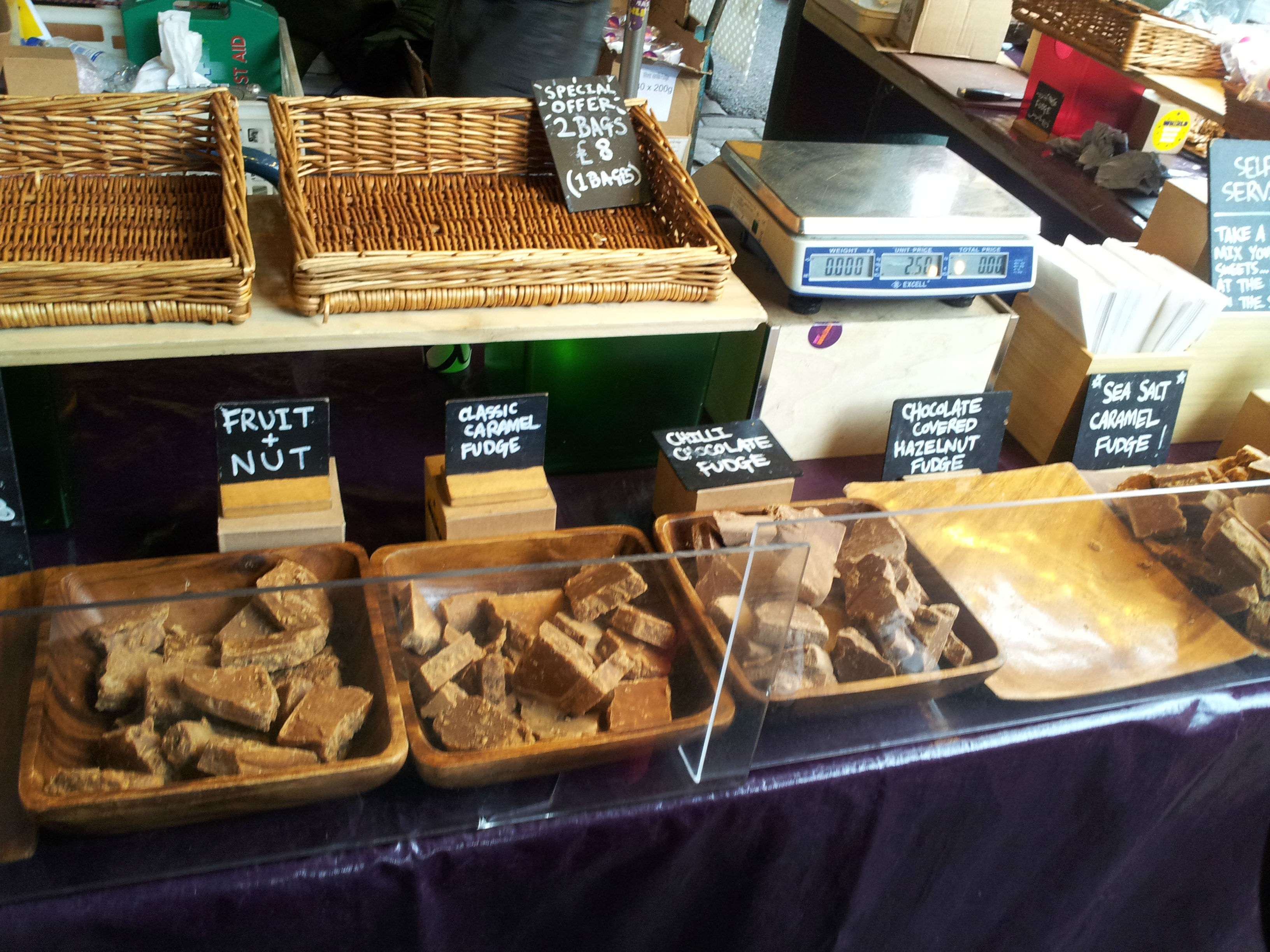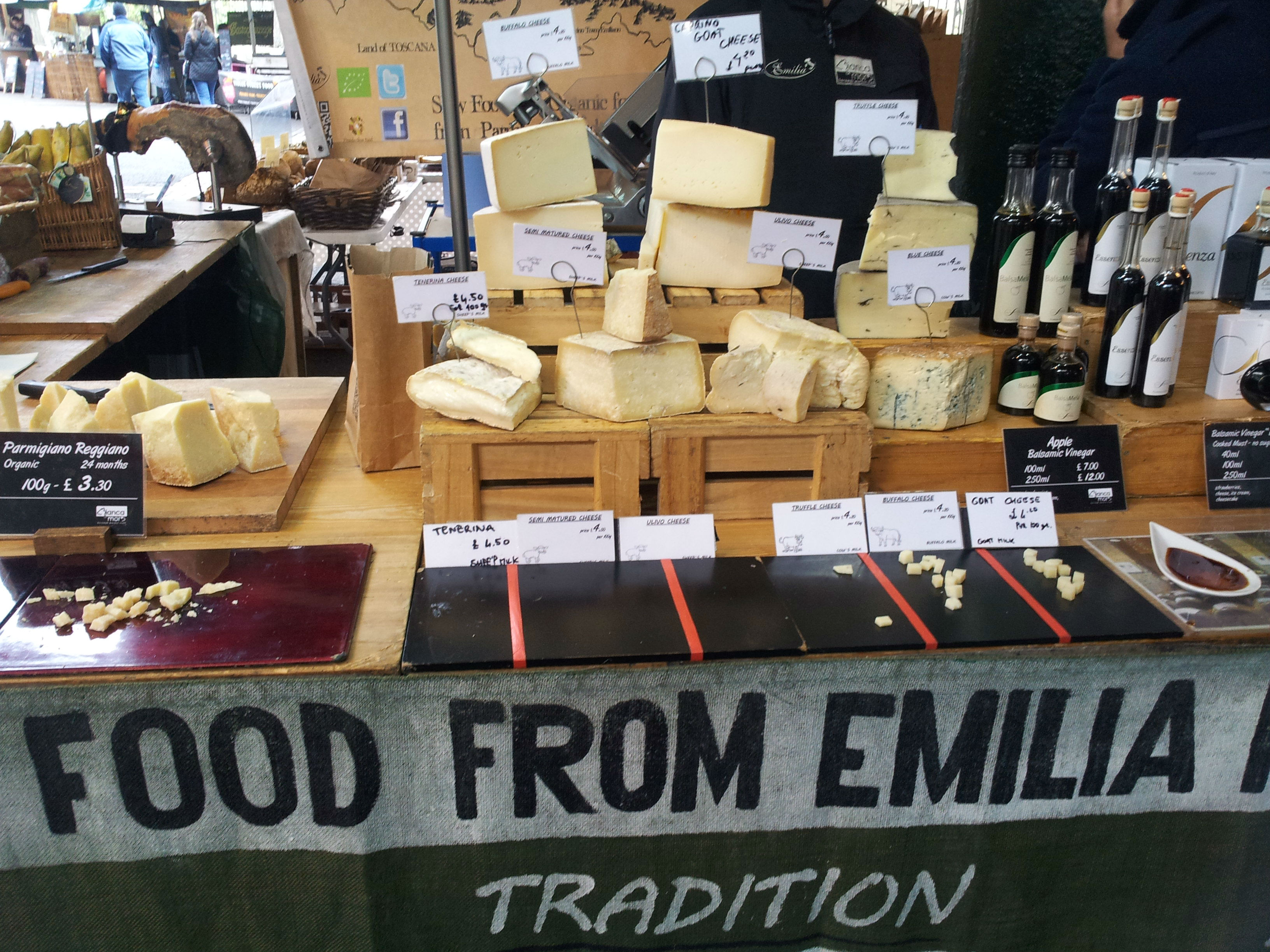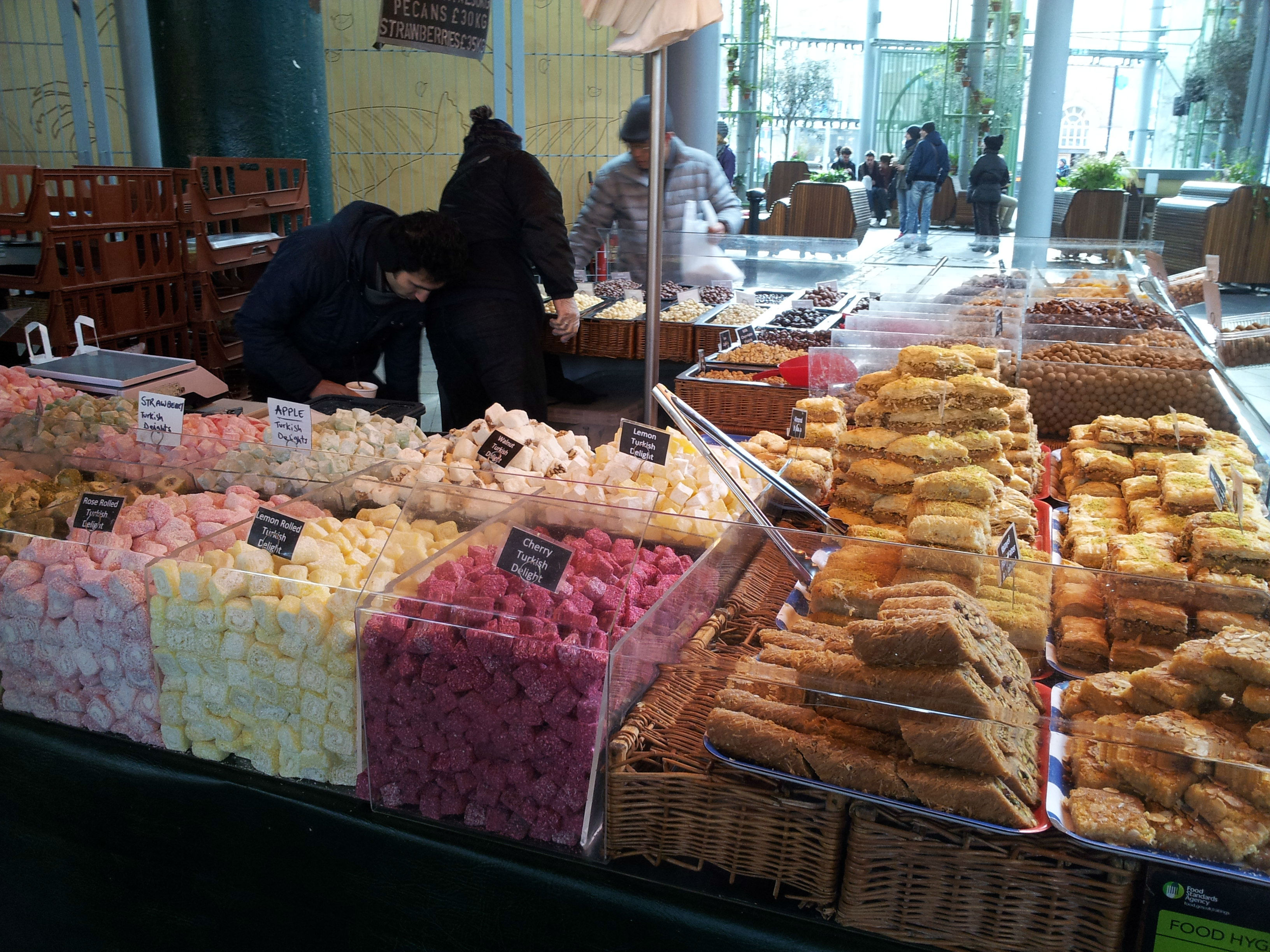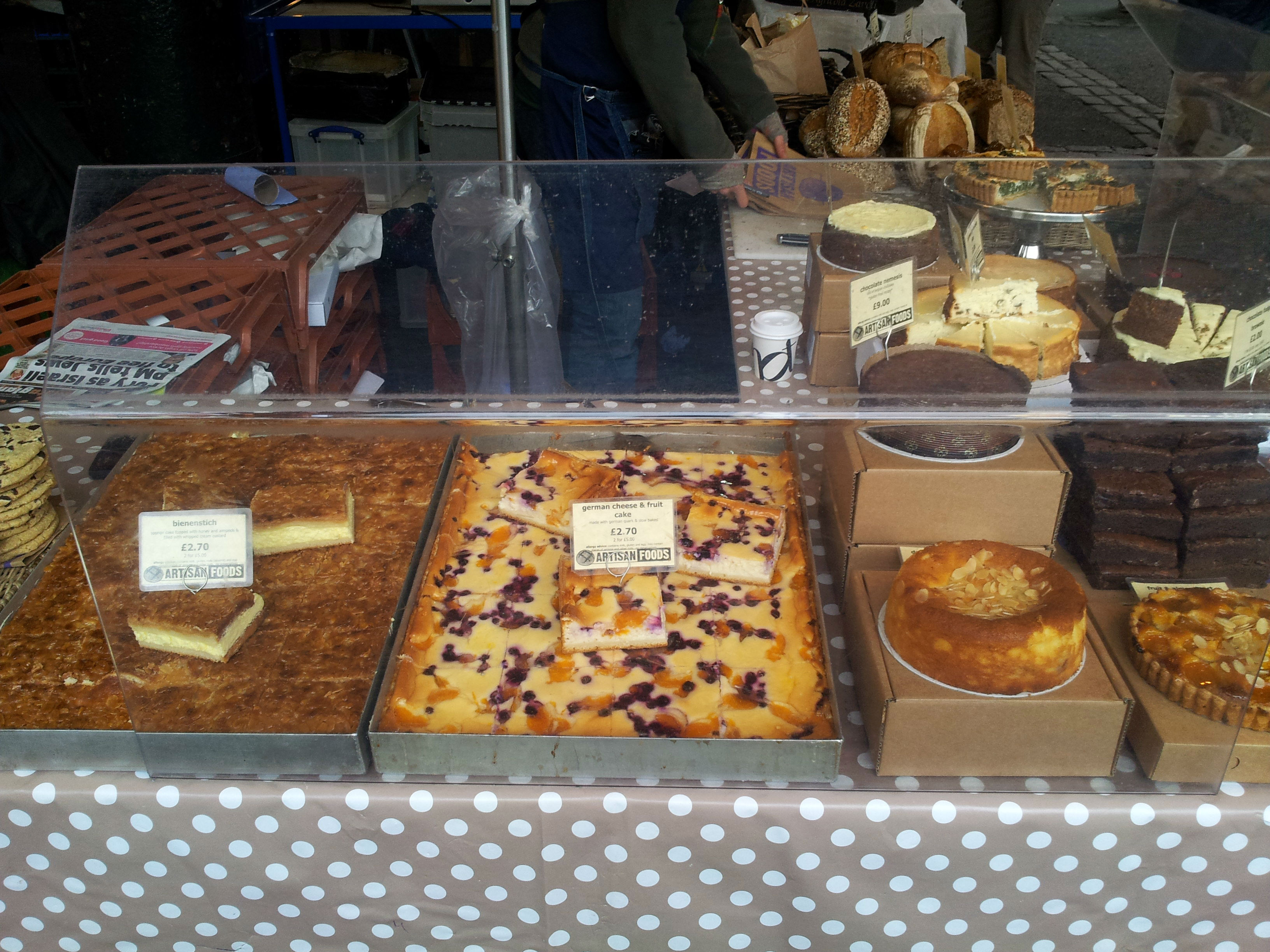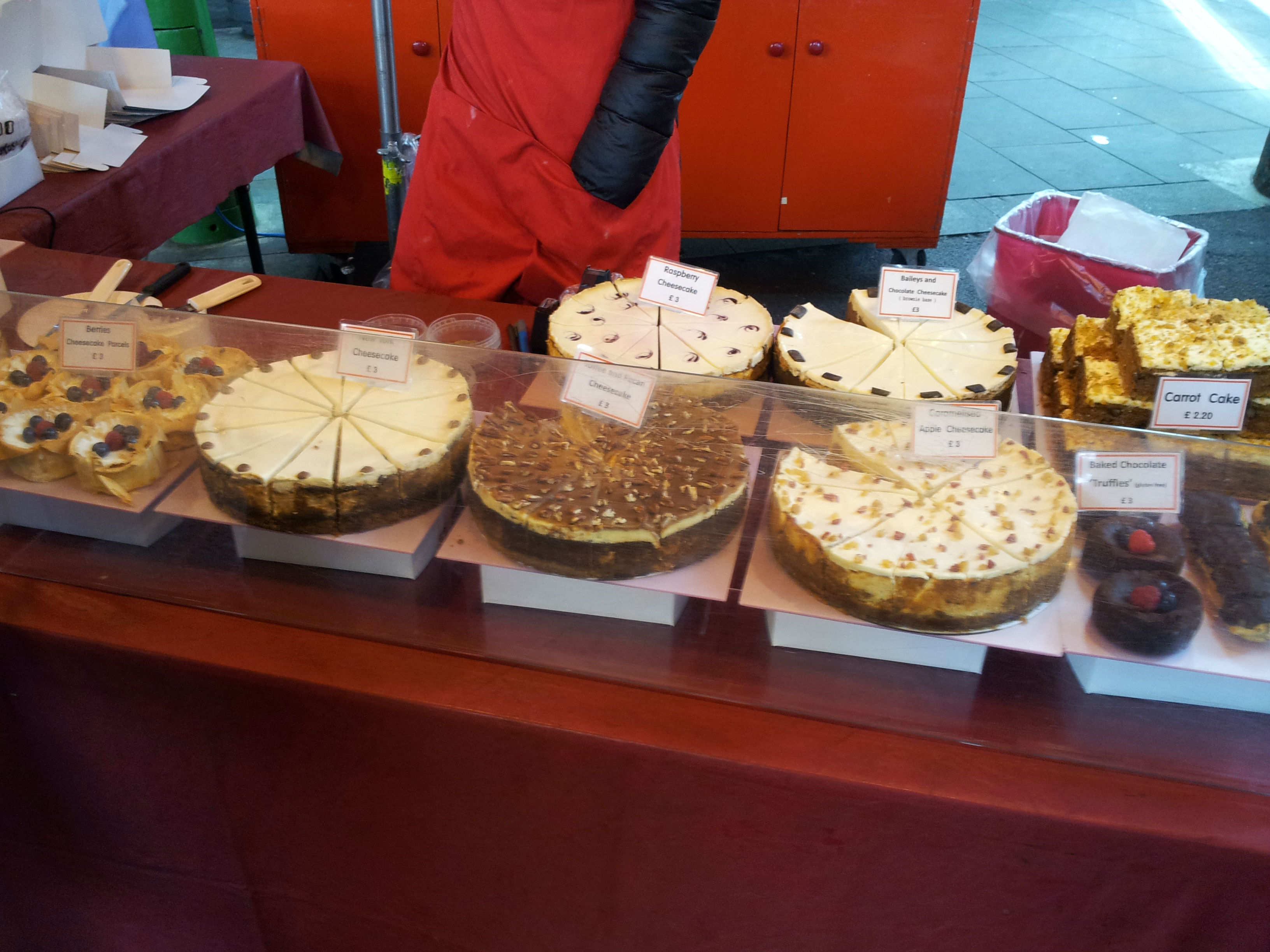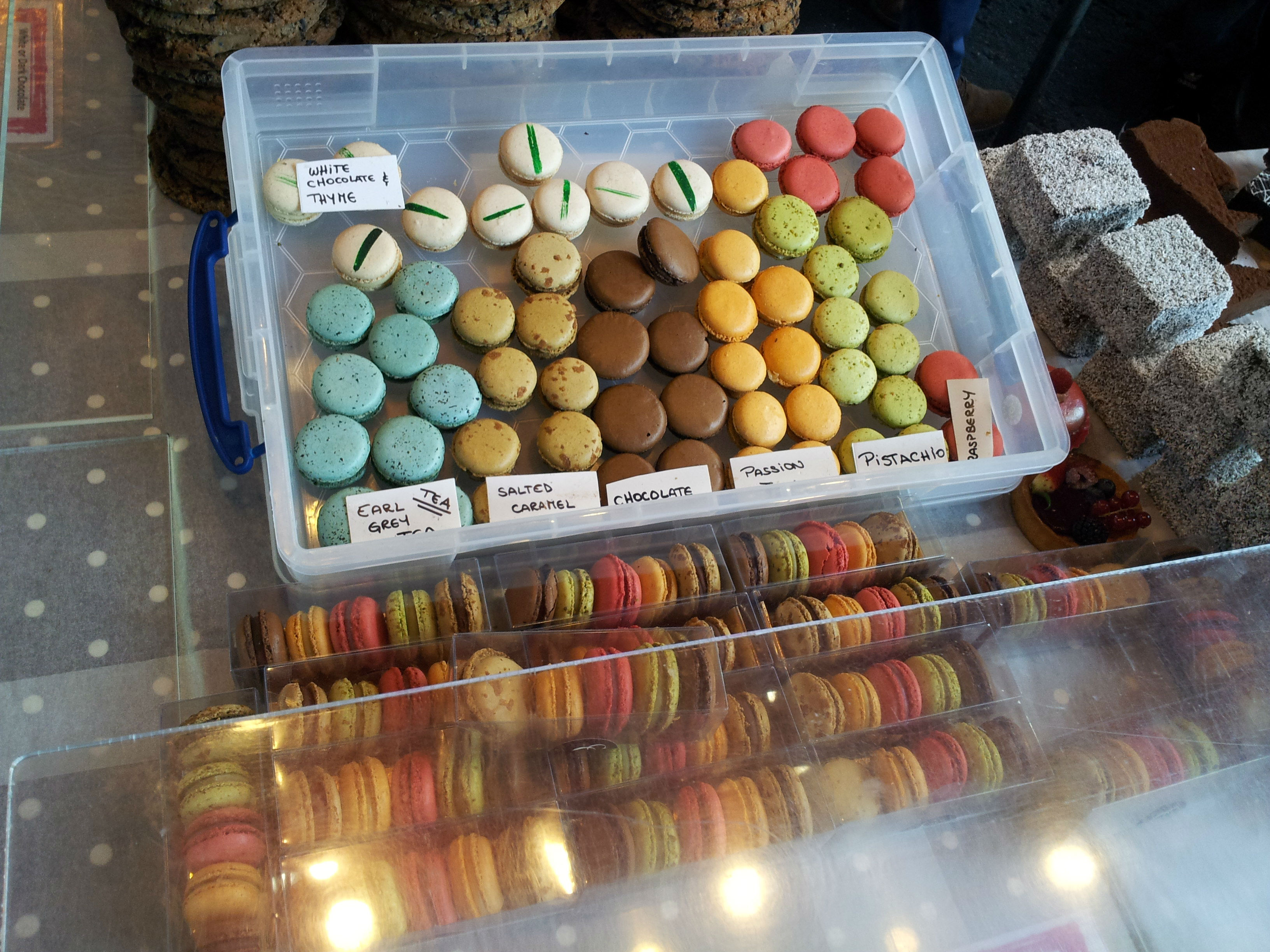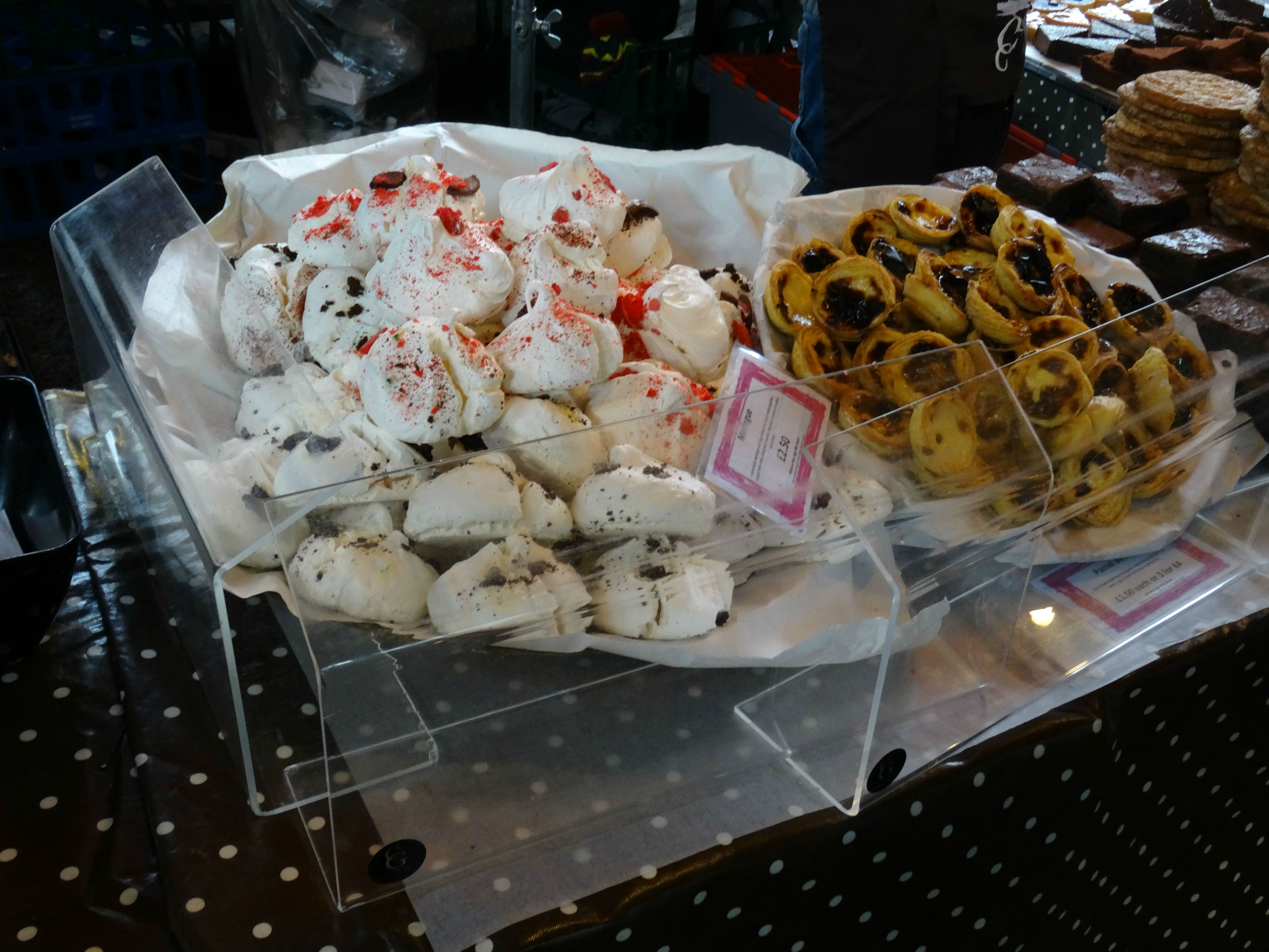 Really close to the London Bridge is the Borough Market. There are always new stores and food types being served within the Borough Market. Do visit them!
Nearest Metro station: London Bridge Station (Zone 1)
Camden Lock Market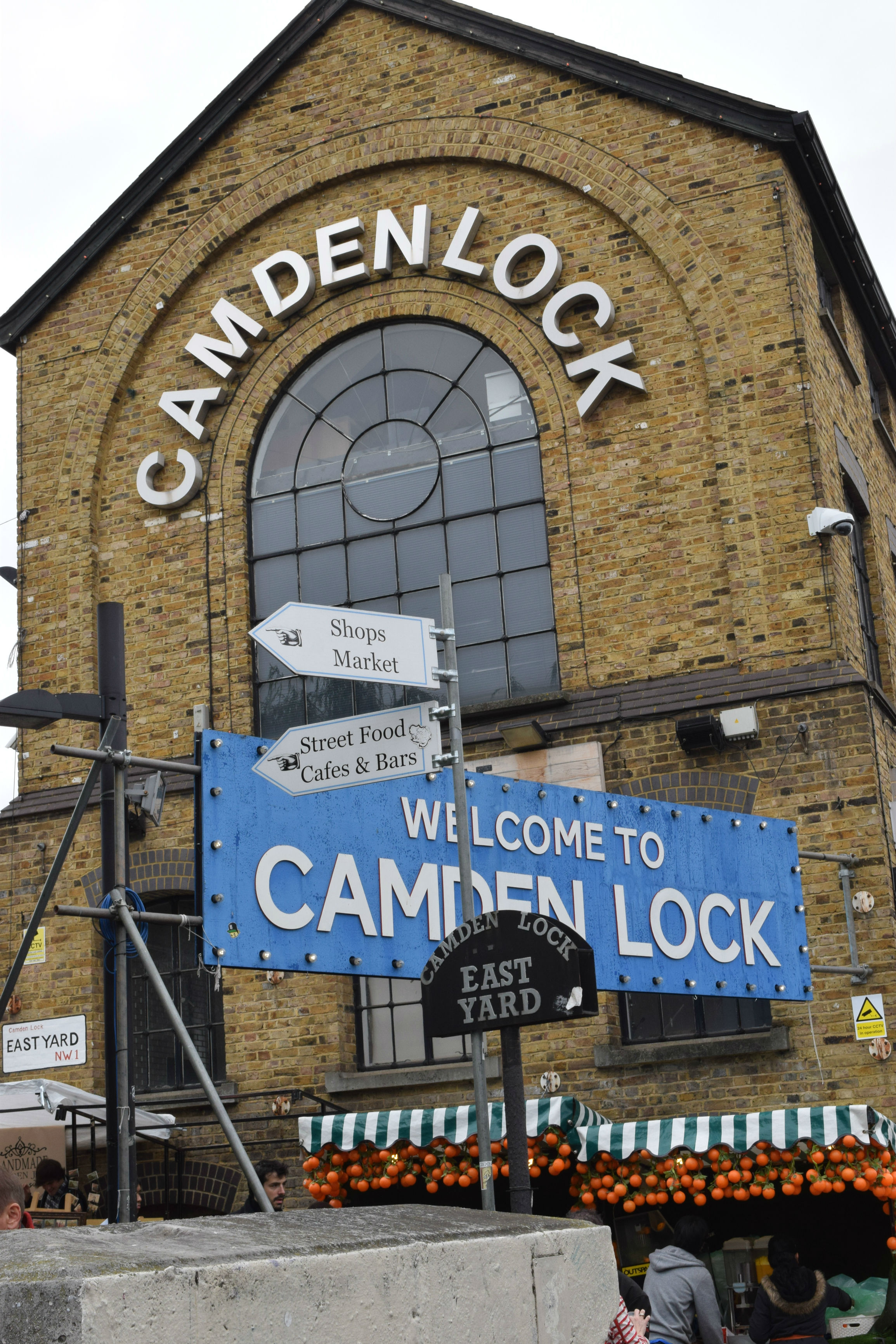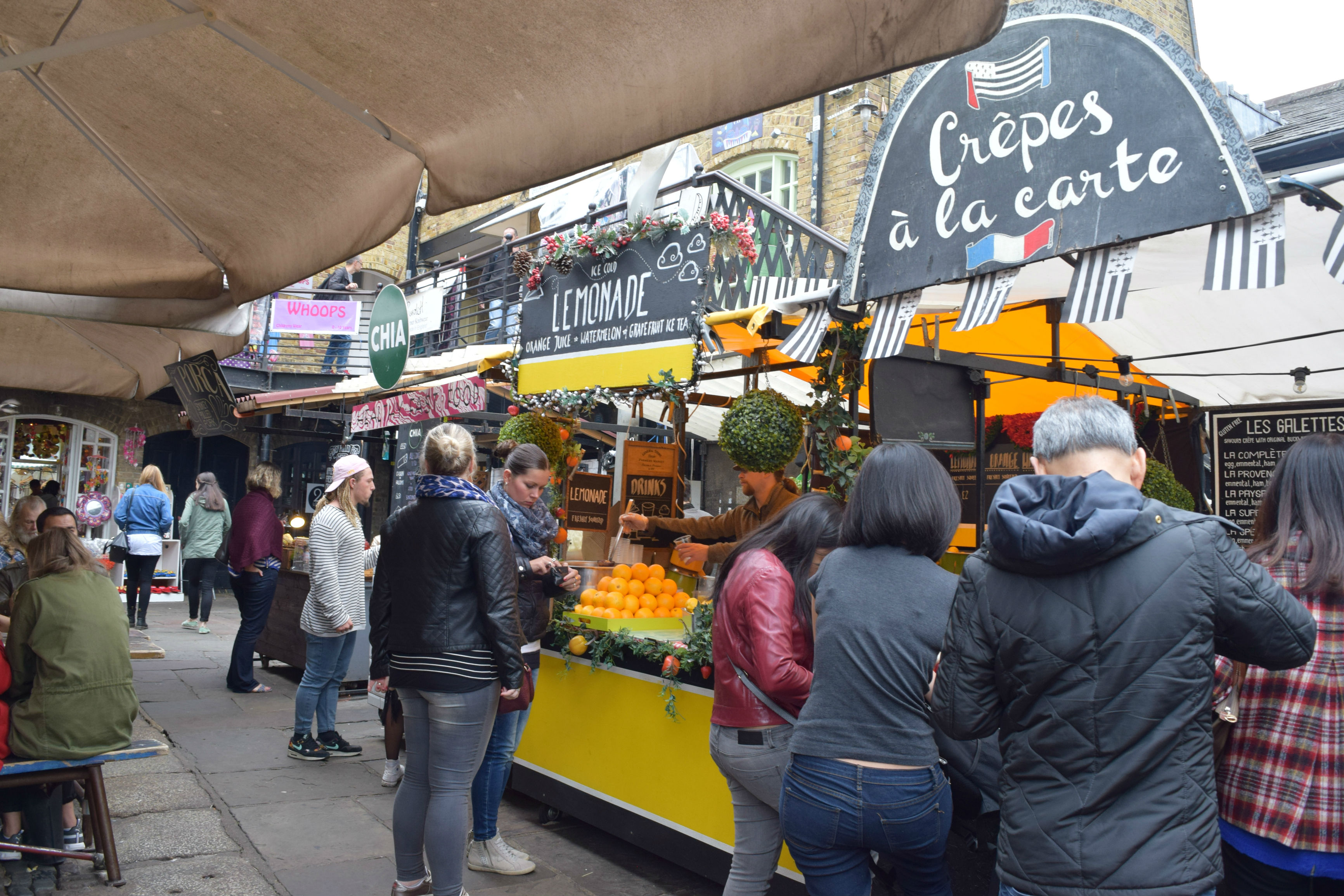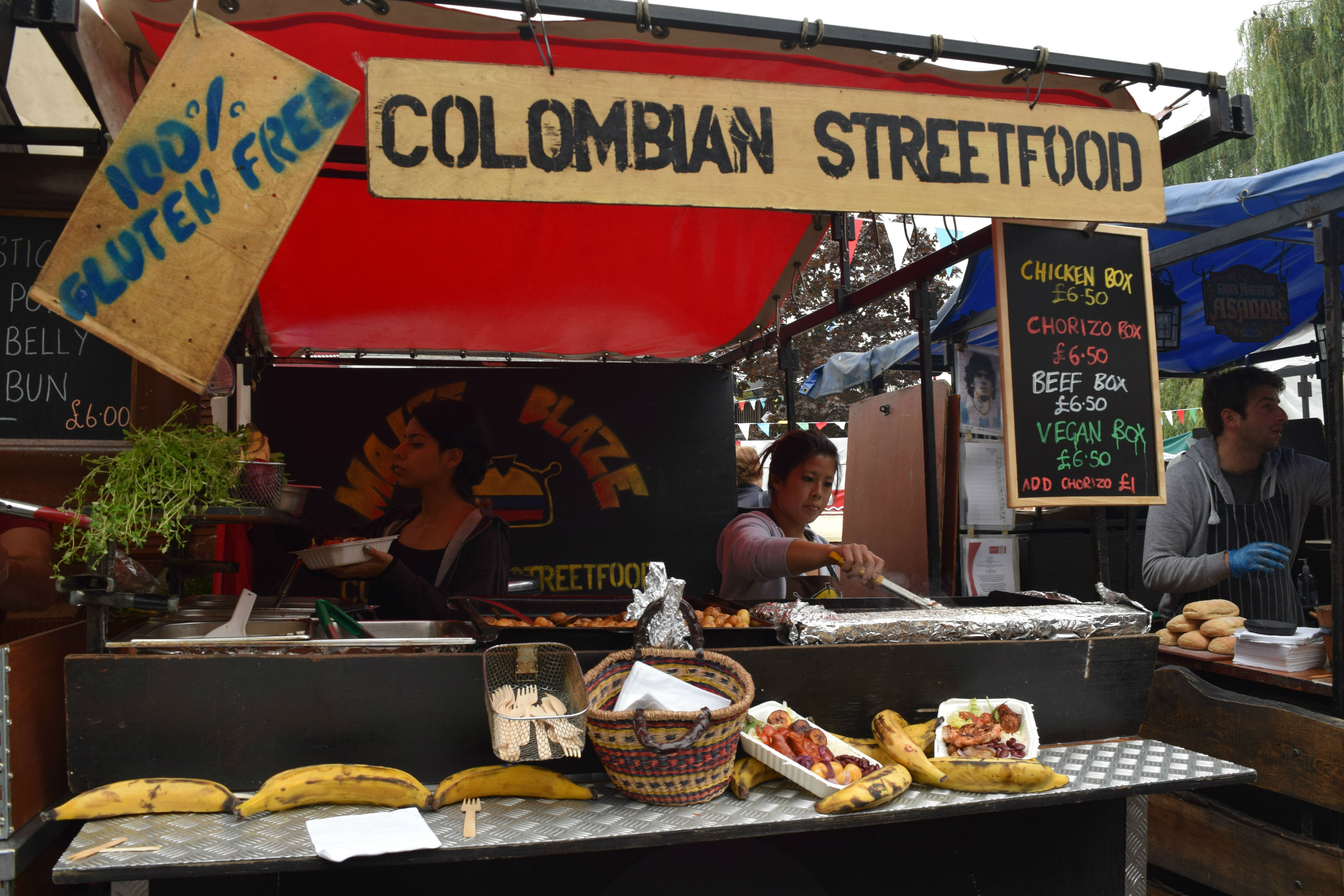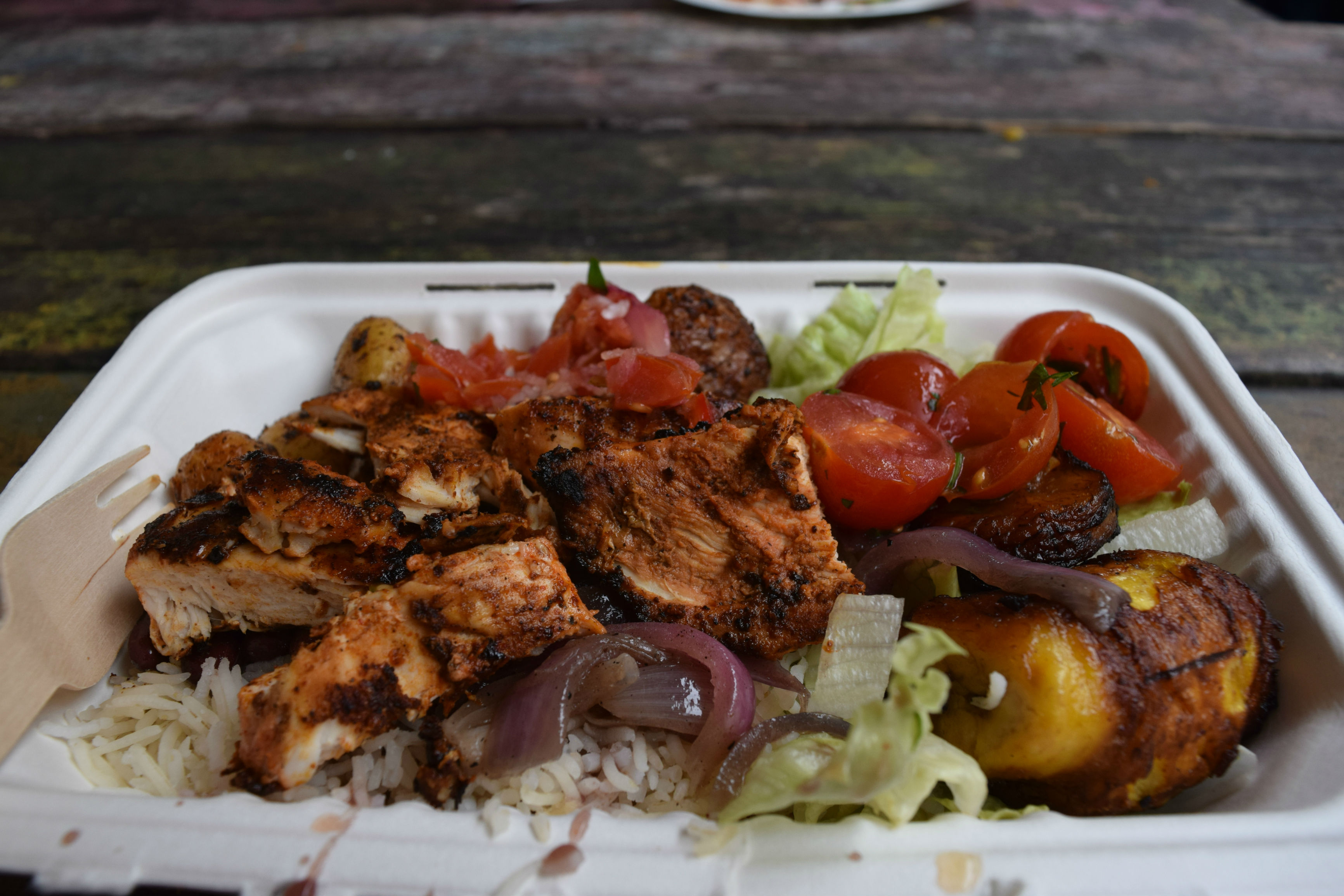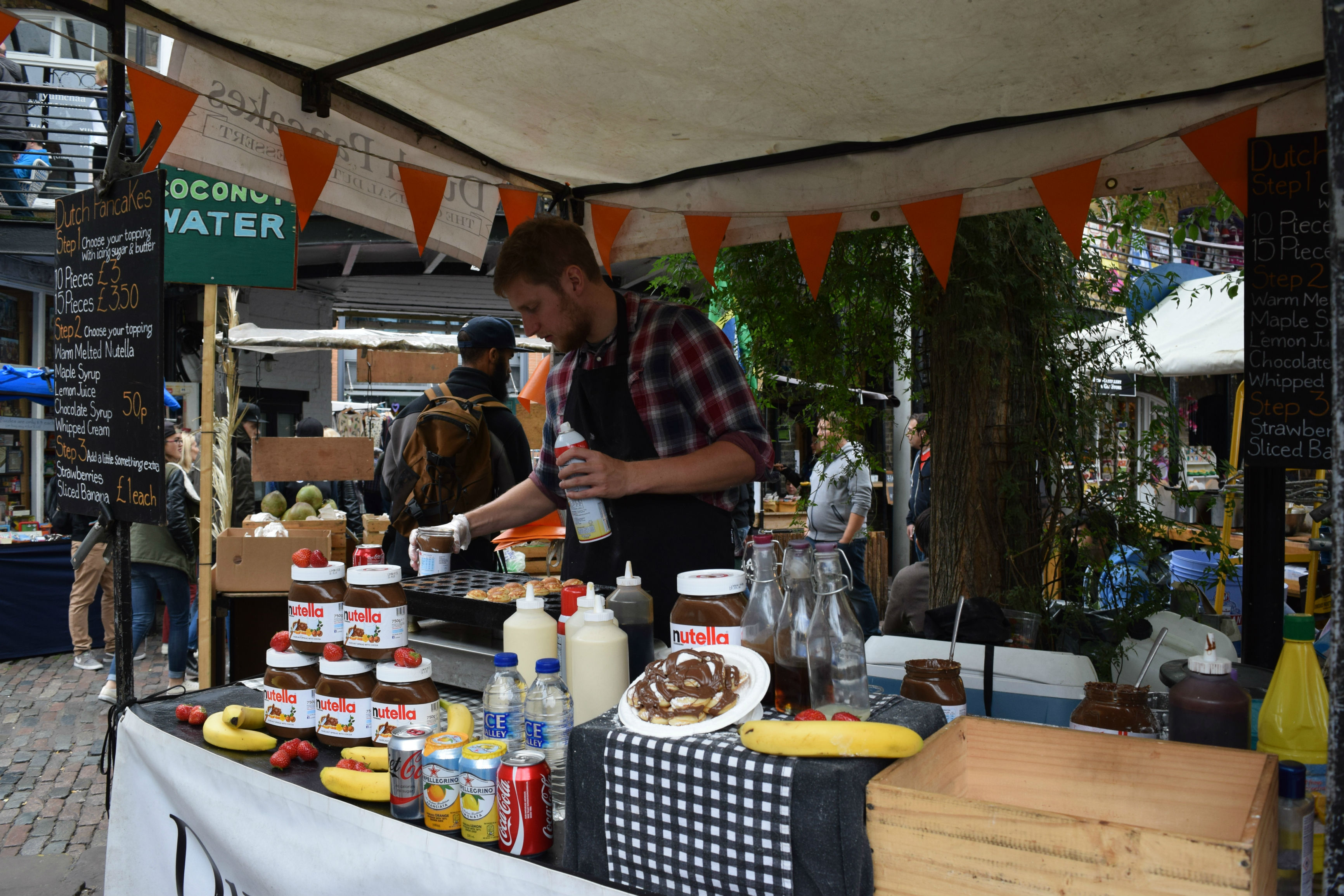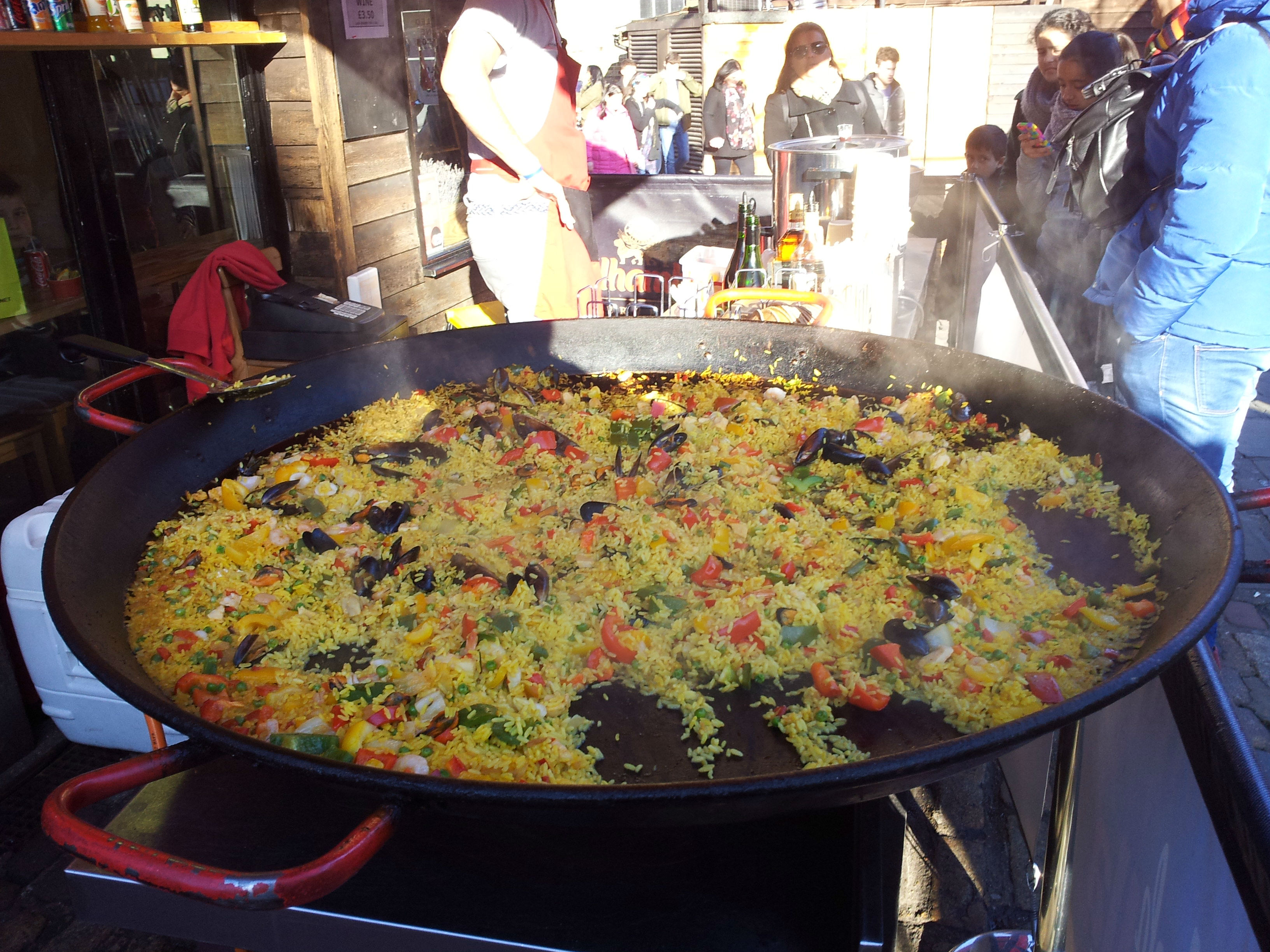 Camden Town is decorated uniquely which props attached on buildings. By getting further into the town, you will find the Camden Lock Market located just next to the river which you will find stores serving food of various cuisines. Try em' out!
Nearest Metro station: Camden Town Station (Zone 2)
Street Feast Market

Looking for other street food markets in London? Dinerama is one while you may visit Street Feast Market – Website for more information and other street food markets available!
You may adjust your itinerary to fit in your food hunting spree with any other available street feast market. If you were wondering what is nice, you may also consider trying the following:-
BOB's Lobsters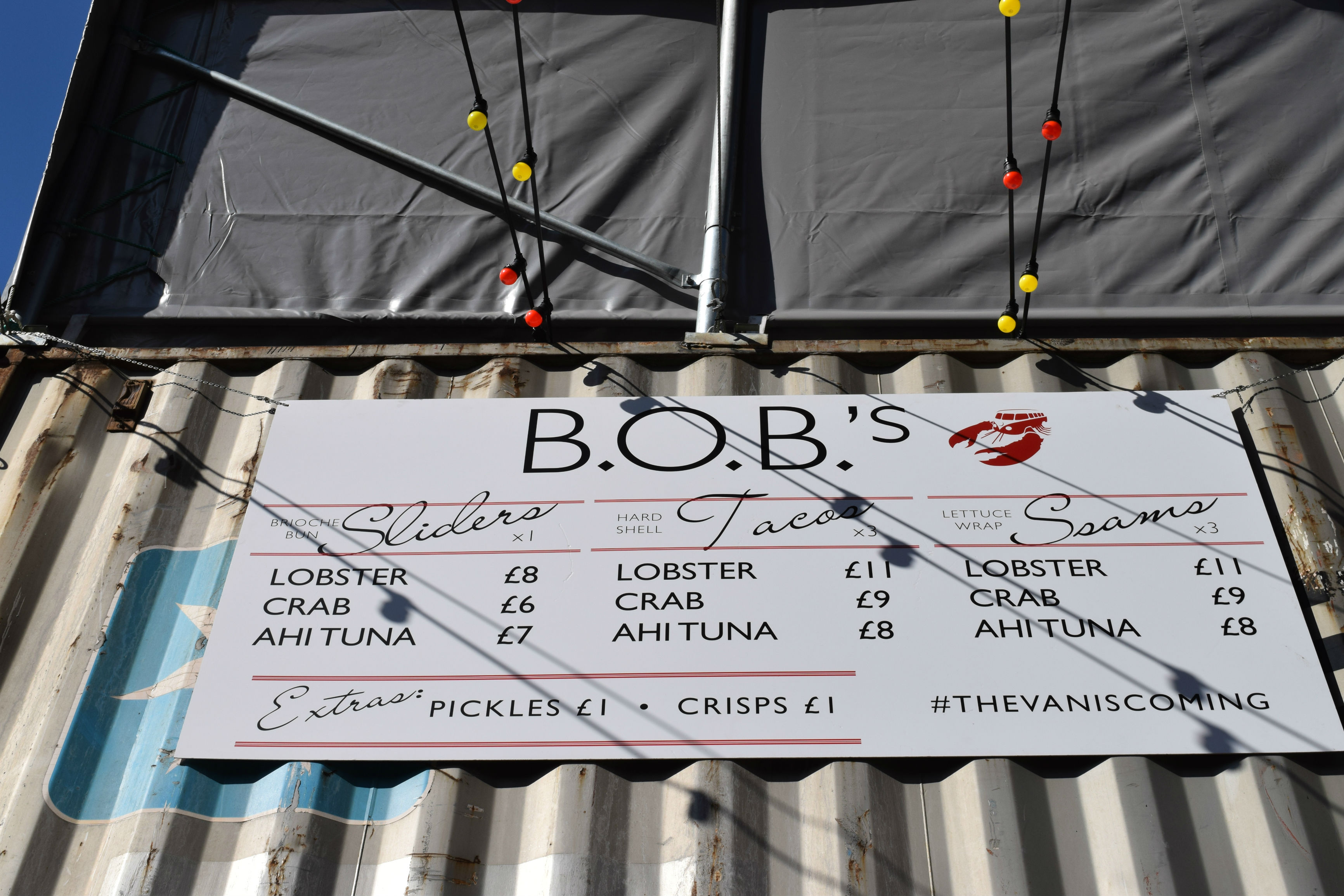 BOB's Lobster may not be primarily stationed and you may find them via BOB's Lobster – Website and hunt em' down. The lobsters are highly recommended!
Otherwise, you may also try searching for Tongue 'n Cheek and you may find them via Tongue 'n Cheek – Website for more information.
Four Seasons Restaurant (Chinatown)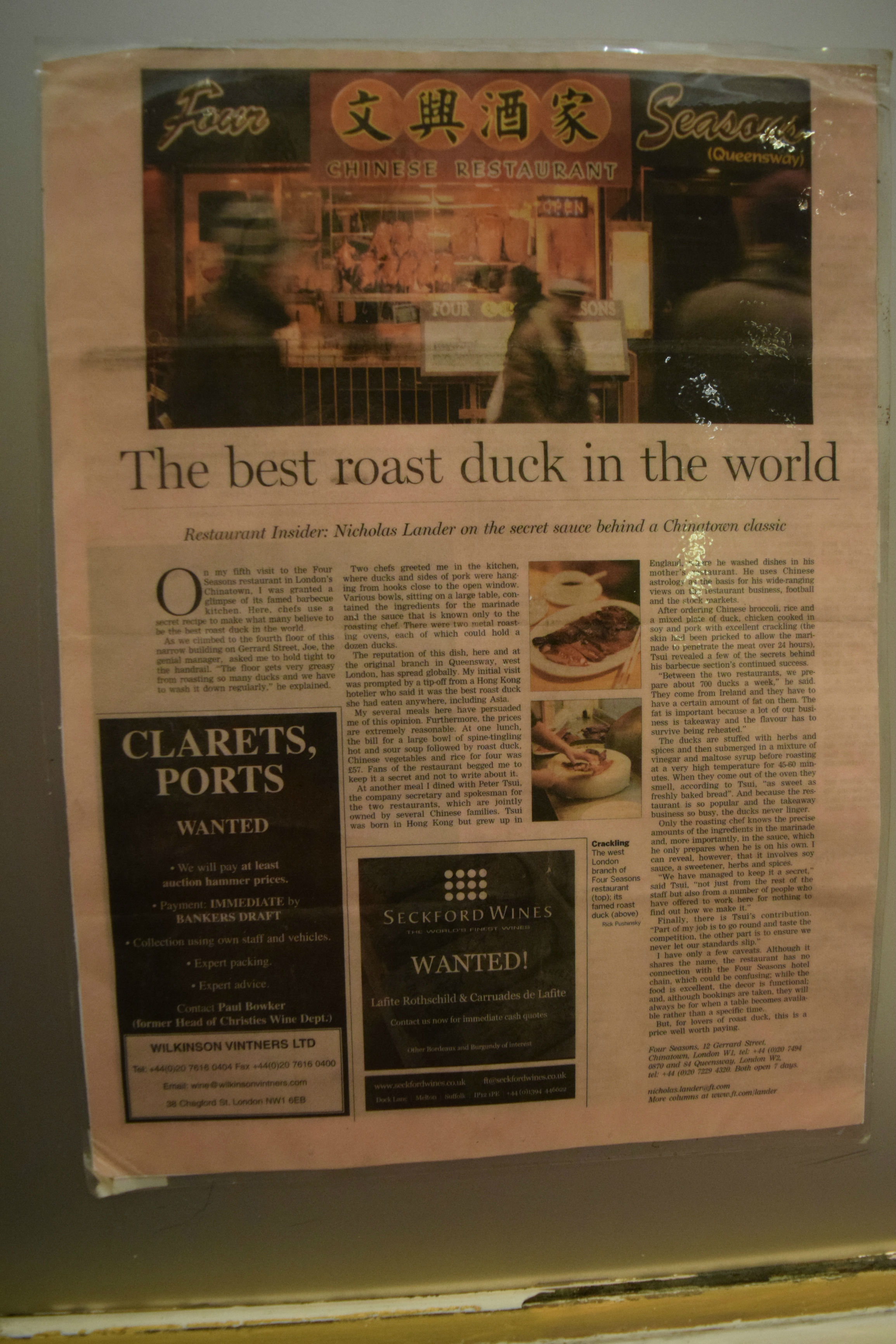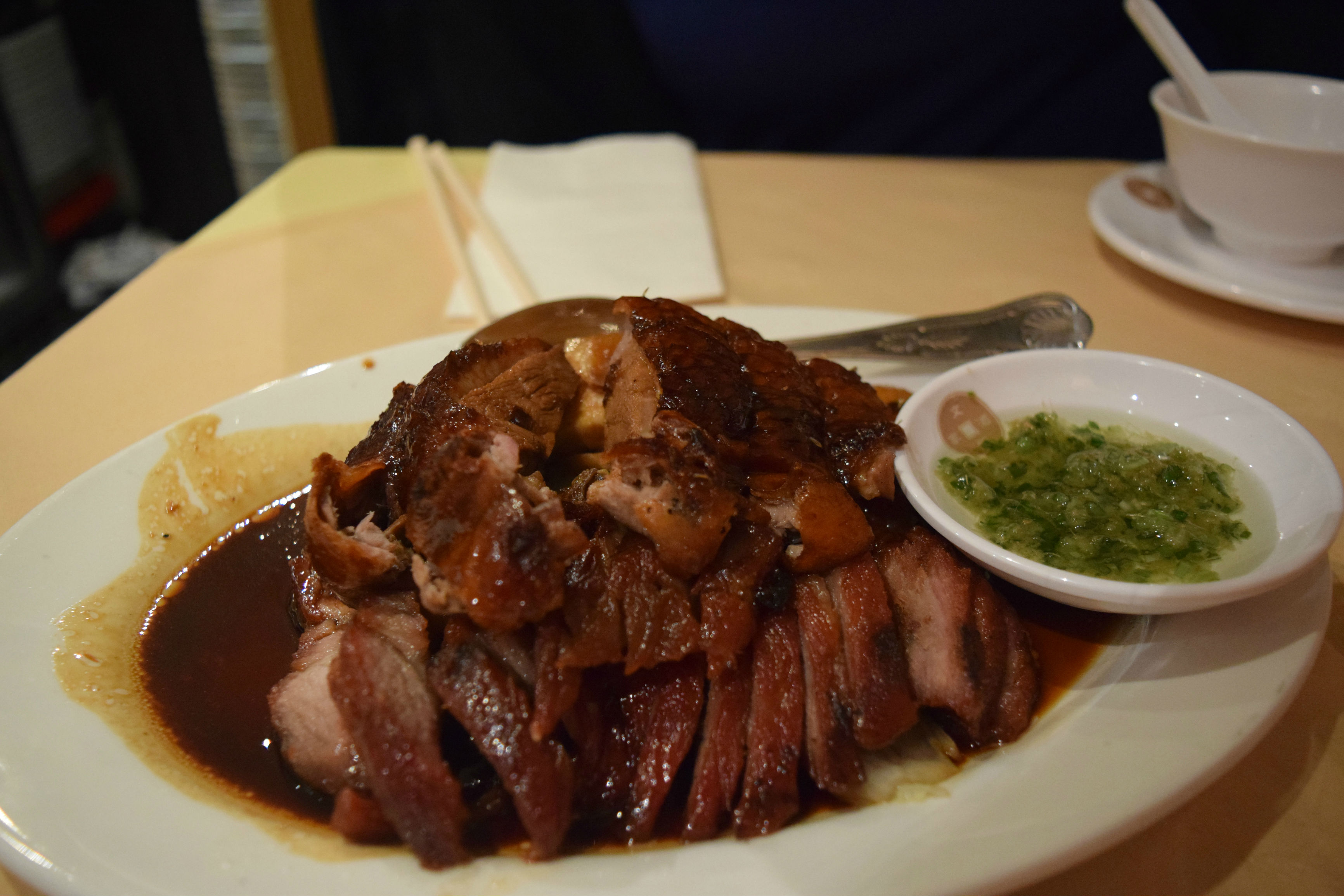 This restaurant was said (even in the papers) to serve the best roast duck in the world, located within the Chinatown. Curious? Go try em' out!
Steak & Lobster
The steak and lobster signature options are generally good, but not the best. However, I enjoyed it anyway. They each costs the following:-
Whole Lobster: GBP20 (or upgrade your lobster to 2lb for GBP45; and
10oz Ribeye Steak: GBP20 (or upgrade your steak to 16oz for GBP35.
The above 2 options do served with garlic & chive butter, unlimited fries and a mixed salad.
Disney Cafe by Harrods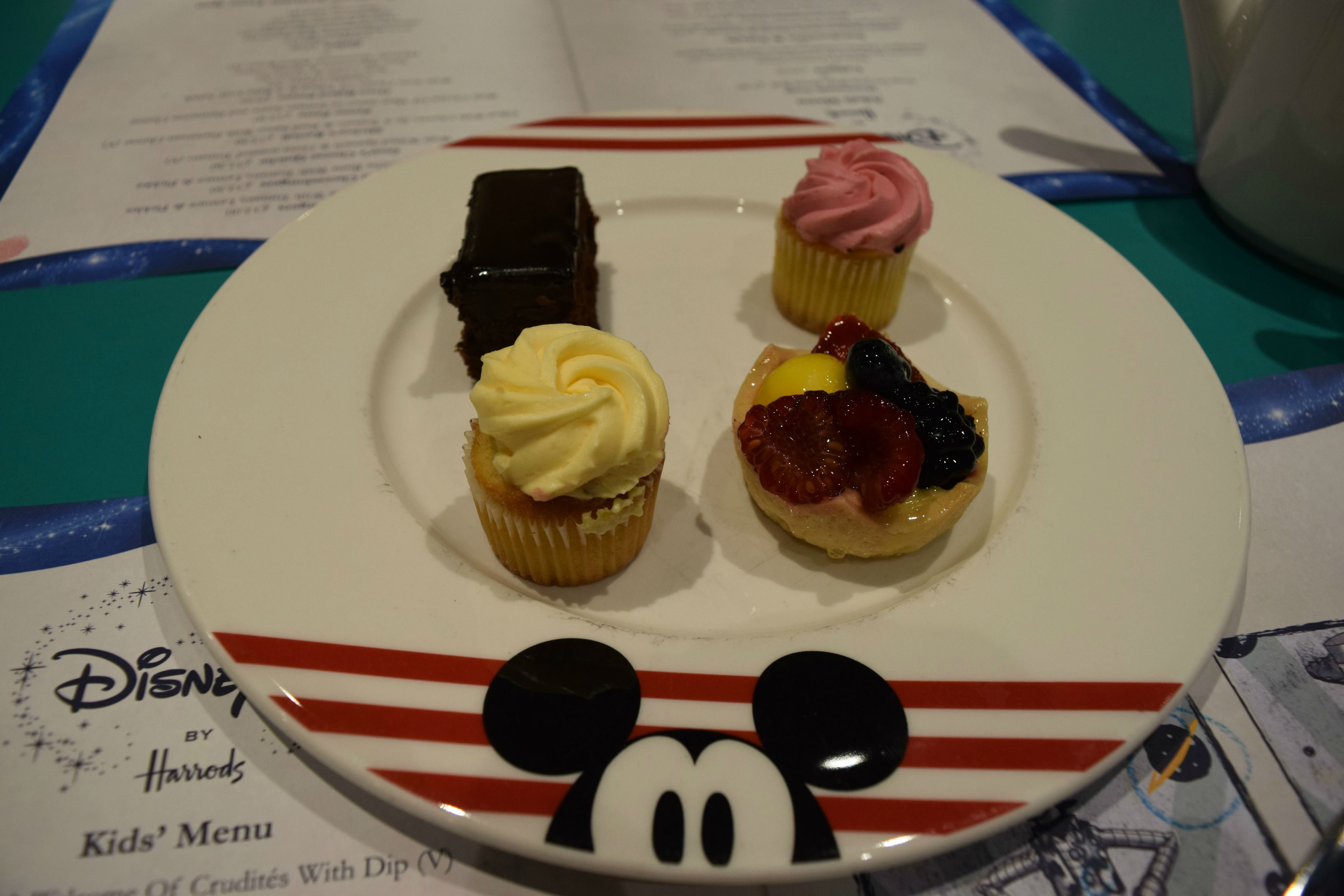 You may want to take your kid to this cafe, but taste wise was just average.
The Tea Room by Harrods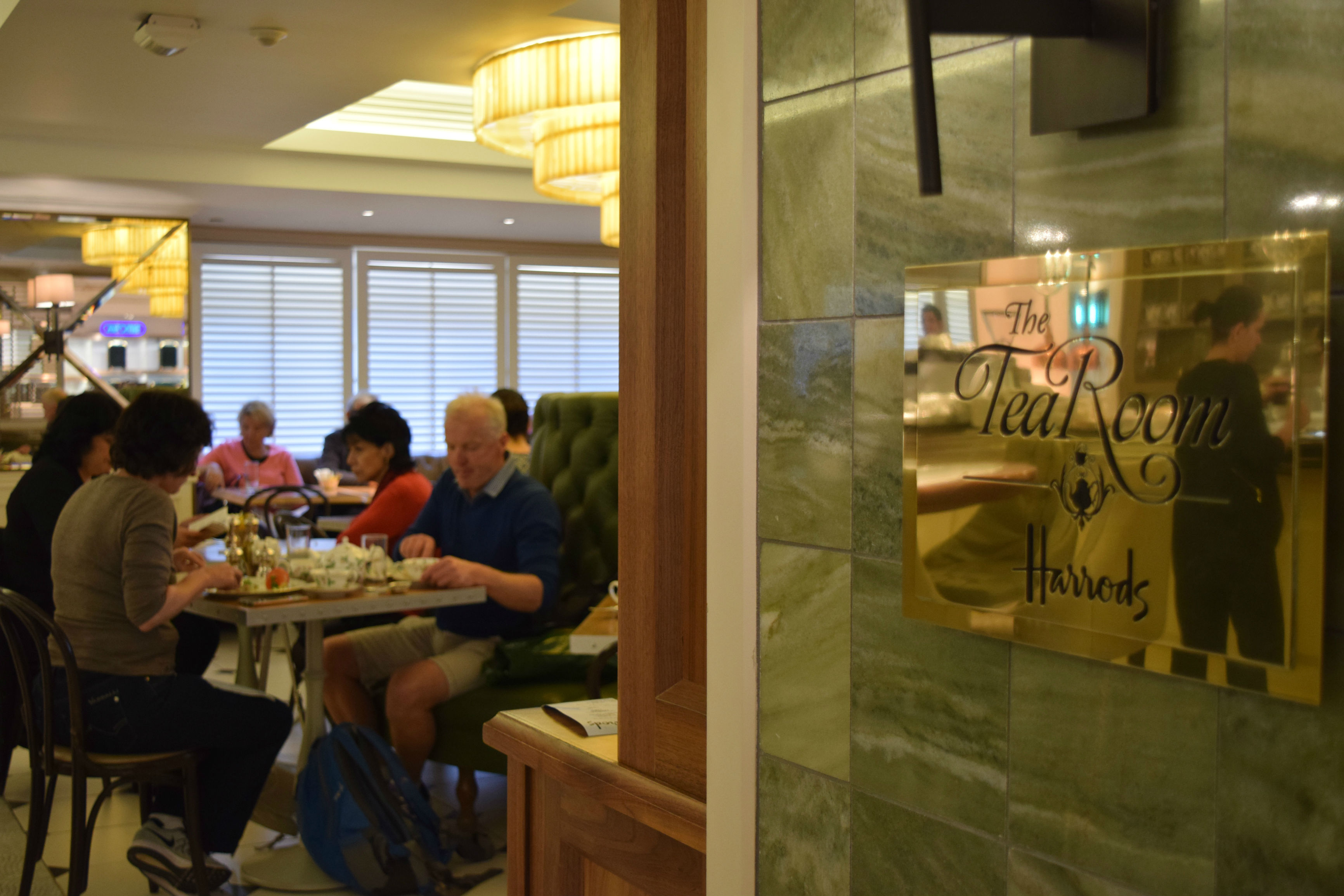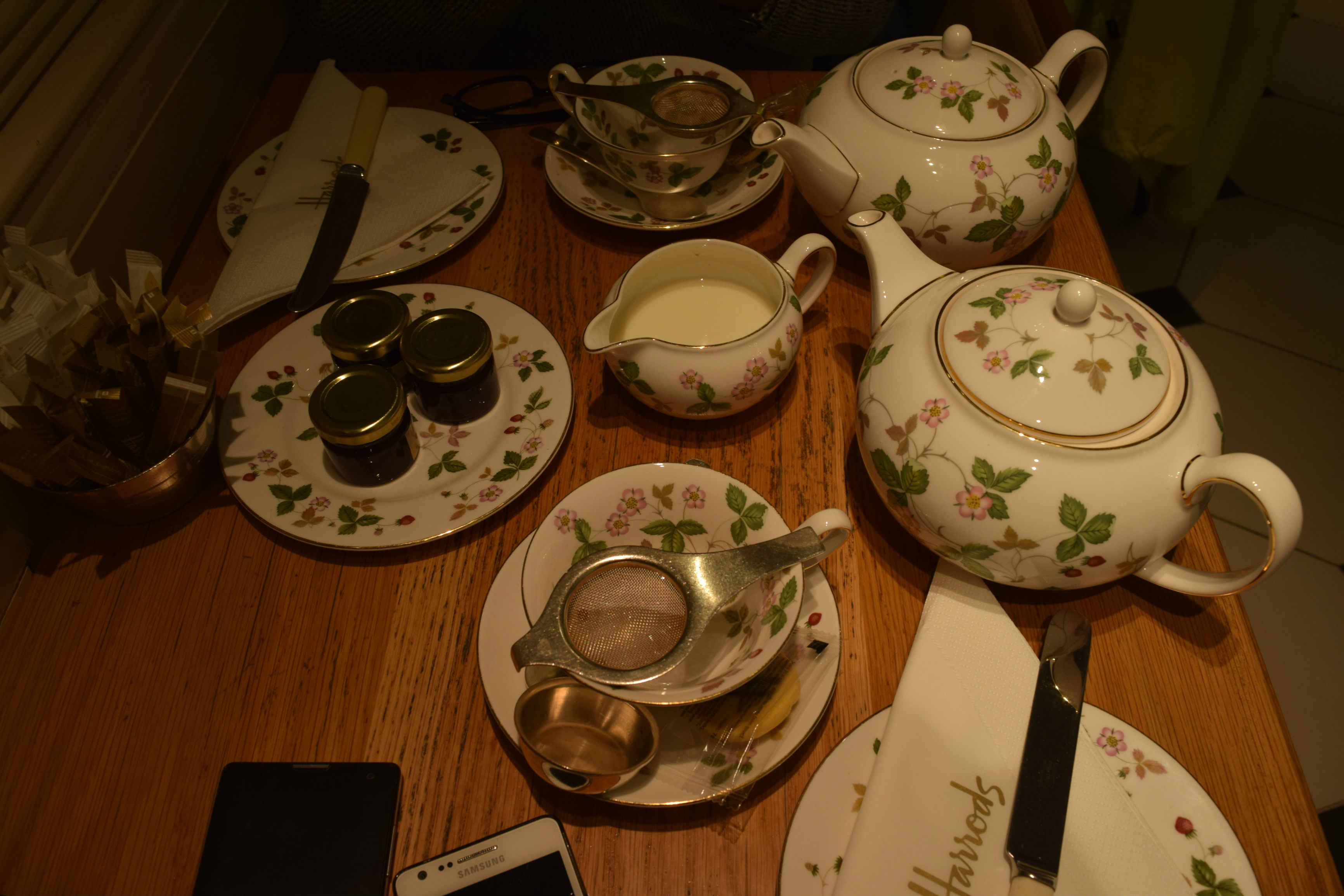 Time to grab a quality high-tea moment with the Tea Room by Harrods, being one of the most luxurious department stores in London. Take on by living a luxurious lifestyle!
---
RECOMMENDED MEANS OF TRANSPORTATION
London Underground Tube (Metro)
The Underground Tube's map may be complex and difficult to be read. However, it is not that difficult actually if you know where to take the shortest transit as well of its end station to know which direction you are heading to. Therefore, it is important to plan your itinerary according to the distance, knowing the places you ought to visit on every station you alight/disembark.
You may visit London Underground Tube Map – Website for the updated Underground Tube map.
To easily locate your stations on the map, please refer to the station index (page 2 of the map). Thereafter, you may located your station on the map by referring to the zone and grid indicated in the index.
By Foot
I would recommend you to walk along the streets in London upon reaching your Underground Tube Stations. Bus may not be necessary, unless you would like to experience them, especially the Double-Decker buses.
---
TYPICAL COSTS AND MONEY SAVING TIPS
Hostel Prices
Shared dorm rooms: Starts at GBP25 per pax/night, but GBP40 is average (depending on location).

I am not too sure about hosteling in London and based on estimated prices, you could save money this way.
Hotel Prices
Hotel rooms: Starts about GBP50 per night but a room at a 3-star hotel could possibly be about GBP80 at average per night for 2 persons (depending on location).
Food & Drinks
Street Food/Market: An average meal could cost about GBP3 – GBP12;
Typical restaurant: An average meal could cost about GBP12 – GBP17; and
Good restaurant: Could start as high as GBP30 for an average meal.
Transportation
London Underground Tube (Metro): Prices may vary for each individual group and category, the different and number of zones you are travelling to, and the type of ticket you will be buying.
You may visit Underground Tube/Rail – Ticket and Prices for more information.
You may also consider getting the Oyster Card from the counter (additional charge may apply for the card) and containing a certain value, that can be used as a smart card to travel at your convenience. Top-up is required upon having to deplete your credit balances.
Admission Fares
Depending on what you would like to see, admission fares may range between GBP25 – GBP80. Your activities may include the London's Eye, Tower Bridge, or perhaps even the Madame Tussauds.
---
Copyright © | Aspen See
Disclaimer: All the information and prices (as at January 2015) provided on this website are based solely on experience and you agree that you use such information entirely at your own discretion and will.